Best Running Shoes for Kids Reviewed & Rated for Quality
In a Hurry? Editors choice: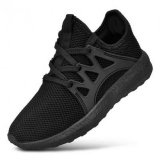 Test Winner: Feetmat

Depending on your child's age, the type of running shoes that is best suited for them differs. As a parent, making the right pick can be difficult considering that you have to juggle between functionality, durability, value and also
something the child will love
. So choosing a running shoe for your child requires more than just finding the right fit, and the variety of running shoes in the market does not make your work any easier. In this review, we will make your task easier by reviewing some of the best-rated running shoes for kids and highlighting some of the factors you should consider when buying a running shoe for your child.
Standout Picks
Criteria Used for Evaluation
Durability
Kids are not the best at taking care of their stuff. Which makes durability a key concern when buying anything for your children. It gets even more serious considering the amount of abuse the shoe will take from all the running down in the harsh outdoors.
Before buying a shoe for your child, you need to assess how he runs and consider this when choosing the shoe. Also make sure you pick shoes that are made from high quality materials and are up to withstand the harsh use and environment they will have to go through.
Materials
Choosing a running shoe made from the right materials will impact a lot of things. It will impact the durability, the experience your child is going to have when wearing the shoe and also the comfort and support the shoe offers. As the sports shoe industry continues to unravel, there are new materials being discovered on a daily basis that offer lightweight shoes while improving quality and increasing resistance to wear and tear.
For many years, the best materials for running shoes have been synthetic textiles. They can stand up to the challenge that comes with running while keeping the shoe highly breathable. They also keep the shoe lightweight. While other material like leather are more durable, the offer far less ventilation.
For the outsole, EVA has been proven to be the material paired with a rubber sole. These two keep the shoe flexible and offer plenty of shock absorption features without piling too much unwanted weight on the shoe.
Support
Giving plenty of support to your child's tender feet is essential. They are at a high risk of injury when running a round and having shoes that go the extra mile to make sure they are comfortable and have enough support can prevent this.
For most running shoes, this is achieved by having enough padding on the tongue and inside the shoe. Some also go further to have memory foam insoles. Laces and hooks and loops also play an essential role in keeping the shoe firm around your child's foot and offering some much needed support.
Breathability
Your child might need to have the running shoes on for a while. With all the physical activity, a lot of heat is generated inside the shoe which leads to sweating. Without proper ventilation, it is easy for the foot to start moving inside the shoe which could injury and it can be pretty uncomfortable.
If the running shoe is breathable, the feet stay dry and comfortable. The movement within the shoe is reduced and the child can play longer without risking any injury. For the utmost ventilation consider buying shoes made from synthetic textile mesh.
Shock Absorption
Getting some protection from the force that is generated with every day running is important and can protect your child's joints like the knees and ankles. Most of the shoes we have featured on this list offer plenty of shock absorption for everyday users. This is in the form of a foam midsole or an EVA foam sole. You might have others that have more advanced options like an air cushion but the more the features, the heavier the shoe is going to be which might pose a challenge to your child.
10 Best Running Shoes for Kids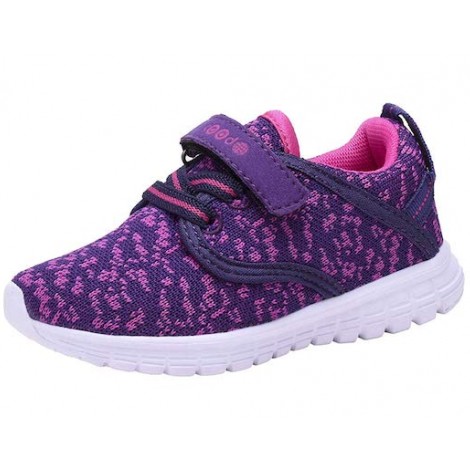 For children that have not taken athletics too seriously but still need a shoe that is capable of providing enough support and flexibility, this is a great shoe to consider. It is made from highly breathable materials and the comfortable outsole does not restrict the foot from its full range of motion. An added benefit with this running shoe is that you won't have to do a lot of convincing. It has a stylish and appealing design that will appeal to most kids. It is also quite comfortable to wear and it's made from non-toxic materials which makes it perfectly safe for your children. Since children are not the best at tying laces, the easy on and off design will be handy. It prevents tripping while keeping your child's foot in place when wearing the shoe.
Easy On & Off
When running around, laces can easily become undone and children are not always keen to tie them up. This can result in falls, trips, and injury with the elastic laces, you don't have to worry about constantly tying the laces and the hook and loop closure helps to keep your child's foot firmly tied down to the shoe.
Breathable Woven Fabric
Breathability is an important aspect to consider when buying running shoes for your child. With the woven fabric material on this running shoe, you not only have plenty of air circulating inside the shoes but, the fabric also wicks away the moisture ensuring your child stays comfortable and dry while they run around.
Cost and Value
For all the features and benefits that this running shoe has to offer, the price is very reasonable and affordable. You get a shoe that is optimized for your child's use and one that they will like and you don't have to pay through your nose for it.

2

. Stride Rite Made 2 Play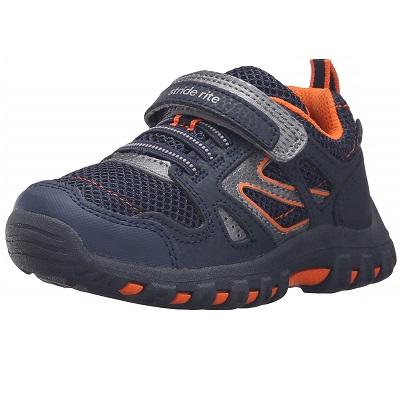 For older kids who don't pay much attention to style but prefer to have a hardy and functional sneaker for their nature trail runs, the Stride Rite Made 2 play sneaker offers everything they need. The shoes are made from synthetic leather and have a rubber sole that offers plenty of grip and is excellent at absorbing shock. The sneaker also has a cushioned mesh tongue, supportive overlays, a padded collar, and a memory foam insole to keep your foot snug and comfortable when wearing the shoe. The metal top eyelet guarantees a tight lace without damaging the eyelets over time.
Support
Considering the demanding nature of running, support is critical in protecting your feet from injury and at the same time ensuring you are comfortable during the run. With extra padding, supportive overlays and a padded collar, this one of a kind sneaker offers all the comfort and protection your feet need when running.
Rubber Sole
The thick rubber sole gives the shoe its identity. It is incredibly durable and is a good shock absorber in those hard landings. The thick nature of the sole also ensure that your child can use the shoe over a long period of time before you need to buy a replacement. It offers increased traction even in muddy conditions so your child never has a reason not to explore the great outdoors.
Cost and Value
Depending on the size of your child's foot, the price varies slightly. But, it is perfect for a shoe that will offer you great performance, long-term service and is durable. You might have to do a little convincing if your child is a little sensitive on style but nonetheless, this is a great sneaker that is worth its price.

3

. Nike Kids' Revolution 3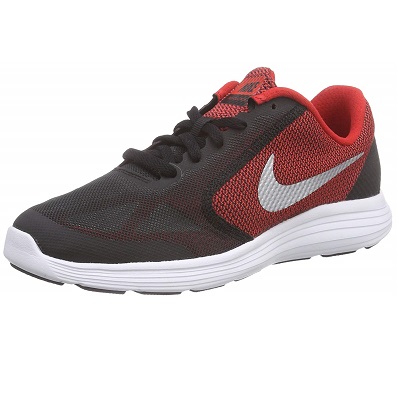 For kids aged between 8-12 years, you can consider buying the Nike Kids' Revolution. Other than the trust that comes with Nike's reputable brand image, the running shoe also has plenty of benefits that both you and your child will find to be perfect. For instance, the shoe offers a balance between durability and flexibility by having a rubber sole with deep flex grooves that promote natural motion. For comfort, the shoe has a full-length foam midsole which ensures the foot is comfortable without adding much weight to the shoe. The covering is made from mesh for breathability but, it's not no-sew overlays so it remains snug.
The Sole
With most running shoes, the sole can make or break the shoe. With its many years in the sporting world, Nike shows they understand the importance for a durable sole while keeping it flexible. The rubber sole guarantees durability and shock absorption and it has deep flex grooves that allow the foot its full range of motion.
Upper Material
The covering used for the shoe should be highly breathable yet strong enough to keep your child's foot inside the shoe and match up to the demanding nature of running. With Nike's Mesh covering with no sew-overlays the shoes offer a great and snug fit while allowing plenty of air inside the shoe for a dry feel full-length.
Cost and Value
You should expect to dig a little deeper into your pockets for this running shoes for your kids. But, it is for a good cause. You will be getting quality shoes designed for comfort and performance and ones that your kids will fall in love with.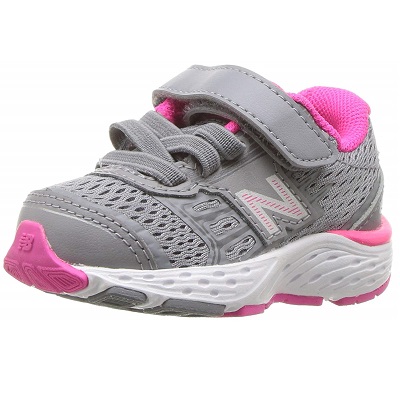 For kids that are between 4-8 years old, the New Balance Kids' Sneaker is a great buy. It has plenty of features to keep your kids comfortable as they run around. The shoe has a synthetic breathable mesh out cover that keeps your child's feet dry and comfortable throughout the day. To keep their tender joints healthy, the sneaker has an ANZORB heel and an injection molded EVA midsole for incredible shock absorption. Considering the age that this shoe is meant for, laces are a big concern. To address, this, the sneaker has a hook and loop and elastic laces that keep the foot firm inside the shoe while making it easy for the child to wear and remove the shoe without having to do or undo the laces.
Hook & Loop Laces
Hook and loop laces make it easy for the child to wear and remove their shoes without having to deal with the laces. This type of lace is particularly important for the younger children who might find tying the laces a challenge. It keeps the shoe tight and comfortable around the child's foot.
ABZORB Heel
Children are fond of jumping around. It is important that the shock created by the jumps and running does not find its way to the joints like the ankles and knees. The ABZORB heel takes up the role of absorbing most of the shock to keep your child happy and comfortable. Other shock absorbing features included with this shoe include the EVA injected mid-sole which also offer support.
Cost and Value
The New Balance Kids' 680V5 is quite affordable. It is a budget-friendly variety that guarantees comfort and safety for your child and their feet. The shoe is well built and the design has been carefully thought out. For the price, you will not only be getting a functional running shoe but also a nice looking option for your little one.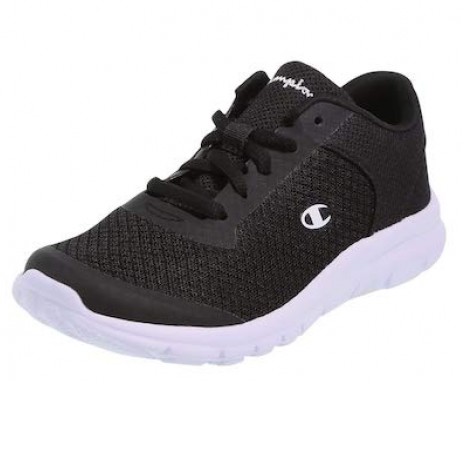 The Champion Gusto Cross Trainer is the perfect sneaker for very active kids that love running about. It is also one of the few options that you can consider if your child is starting to take athletics a little seriously. It is incredibly light and does not restrict the movement of the fit. Its wide range of features includes stretchy laces with a strap close making it easy to wear and remove. For comfort and support, it is has a padded collar and a memory foam insole. The addition of these two keeps the shoe comfortable without adding much weight to it. The outsole is quite interesting and features an EVA sole with no markings and the fabric ensures flexibility and breathability when wearing the shoes.
Support
There are plenty of additions that make this sneaker comfortable and add to the support it offers for your kid's feet. These include the padded collar, a soft lining, and a cushioned memory foam insole. These also go a long way in helping to absorb some of the shock generated as the child runs around.
Stretch Laces
Stretch laces are a great addition. They are easy to work with and you don't have to worry about constantly tying them up especially when engaged in vigorous activity. The add comfort to the shoe and improve the experience of the user.
Cost and Value
Whether you're buying the shoe for your above average active child or for a pre-teen who is starting to take the track seriously, it offers a great blend of value for money with its wide range of features that guarantee full range of movement and comfort. The price is also quite manageable and affordable.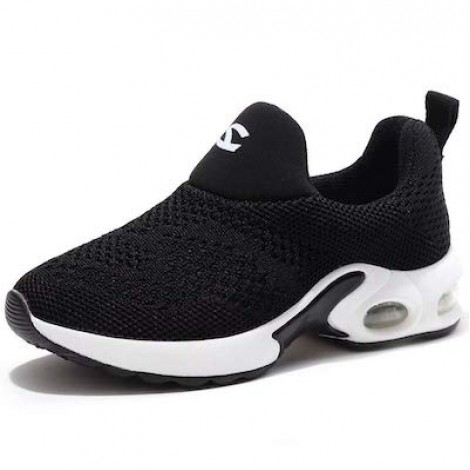 For little ones that love stepping out in style, the BODATU Kids' running shoes offers them the best of both worlds. It is not only a great looker but it is also quite functional. The upper part of the shoes is made from breathable fabric for comfort even when you have to wear the shoe all day long. The shoe does not have any laces. It has a slip-on style and that is easy to wear and remove. It also has a synthetic sole with a deep groove at the center to improve mobility and range of motion of the foot. They are not only great running shoes but they are also great for indoor sports, walking and casual wear.
Breathable Fabric
Having a breathable running shoe is very important. It keeps the feet dry and comfortable and also reduces movement within the shoe which can lead to injury. With an all-around breathable fabric, you have plenty of ventilation and air coming into the shoe.
Cushioning
With the laces, the shoe has extra max cushioning that not only provides better comfort, it also makes it easier for the shoe to absorb shock. The shoe also has an air cushion on the heel that maximizes on shock absorption and makes it easier for your child to move around.
Cost and Value
For a reasonable price, you get a shoe that checks on all the right boxes you have to consider when buying a great running shoe. The shoe is feature filled and applicable to a variety of other sports. It's great design and appeal will easily earn you some cool parent points.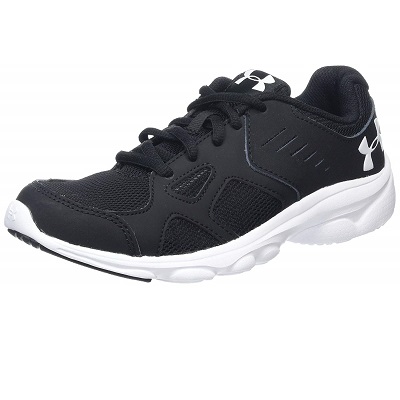 Even though there are plenty of different running shoes in the market, some parents still prefer to buy shoes from reputable brands. If you're one such parent, this pace running shoe from Under Armour might be appealing. It has an incredible, simple but elegant design and plenty of features. It is made from different materials which include leather, textile, rubber and EVA. The sole is made from rubber and the upper is made from breathable mesh to provide plenty of ventilation when running. To prevent the growth of microbes that cause odor, the shoe also has an anti-odor technology that is applied to the foot bed of the shoe.
Anti-Odor Technology
Even though this is not a feature that ranks high on your checklist, if your child has a problem with their feet and they produce an odor, this could be a feature that will save them a lot of embarrassment going forward. The technology is added to the foot bed of the shoe so you don't have to worry about any additions. It lasts over a long period and prevents the growth of microbes that cause odor.
Structure and Support
When adding support and structure to the shoe, it is easy to add weight making the shoe unsuitable for running. However. Under Armour has used overlays which add the needed support and structure to the shoe without adding unnecessary weight to the shoe.
Cost and Value
The price of the shoe is impressive. It is affordable and well thought out especially considering the quality of materials and the design and functionality of the shoe.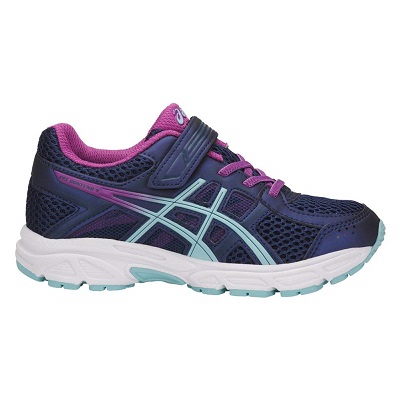 This running shoe for kids from ASICS has plenty of features and a design that you're going to love. It upper part of the shoe is made from synthetic materials and it has a reinforced toe cap. To guarantee durability, the outsole of the shoe is stitched to the upper shoe. Using this approach, the outsole and the upper stick together and can take on tougher outdoor activities. Other impressive features fitted in the shoes include a removable sock liner a durable rubber sole, elastic laces and a hook and loop fastener that makes it incredibly easy to wear and remove the shoe. For every parent that wants a great running shoe for their kids that is both durable and aesthetically pleasing, this would be a great choice.
Easy to Get On & Off
Wearing and removing the shoe should be easy. With laces, it takes more time to loosen and tie them back when you wear the shoe. The elastic laces which is a triathlon feature makes the sure easy and quick to wear and the hook and loop fastener adds an extra layer of fastening just in case the elastic laces don't do enough.
Removable Sock Liner
To most people, this might not be much of a feature but, if at some point you need to replace the sock liner with a medical orthotic, this feature will save you from having to buy a new pair of running shoes.
Cost and Value
The ASICS Kids' running shoes are going to cost you a pretty penny. Compared to most of the other shoes that we have reviewed, they are slightly more costly. However, they are worth every coin that you will shell out for them. They offer longer service and have a sturdier build.



When buying shoes for both boys and girls, you can save yourself the trouble and buy a shoe that is unisex and that both genders will love. It sounds far-fetched but this is what this running sneaker is all about. It comes in a variety of different colors that appeal to both boys and girls and the design is to die for. The running shoe is made from a knitted mesh upper that allows the shoe to have a lightweight feel while providing plenty of ventilation. It is fitted with a high quality cushioned anti-slip insole with a comfortable lining for all types of activities. They also have an arch support for kids to guarantee comfort.
Wide Range of Bold Colors
Kids are synonymous with color and sometimes finding running shoes that come in a wide range of colors that you can choose comfortably can be difficult. This running shoe comes in a rich collection of colors that you and your children will love. With that much variety, making the right pick is much easier.
Knit Mesh Upper
The upper features a knitted mesh that is a great pick to have on the shoe for two reasons. First, it gives the shoe a nice textured finish that is stunning and gives the shoes a durable finish. The knitted mesh also gives the shoe the hardiness it needs to keep with the demanding nature of running without adding unnecessary weight to the shoe.
Cost and Value
Despite its premium look, the shoe is quite affordable. The price is quite reasonable and allows your children to enjoy a great quality shoe that is stunning to wear without leaving holes in your pockets.

10

. Adidas Original Swift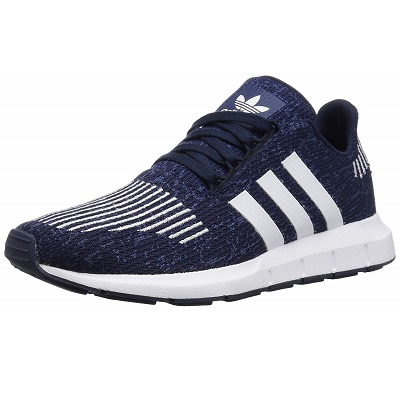 It is always nice to get a great running shoe for your kids that does not resemble its price. At first glance the look of the Adidas Swift running shoe makes it look expensive and unfordable but, the price is exactly the opposite. The shoe is simple yet properly designed with plenty of thought. It has a high toe and the upper is made from synthetic textile to guarantee a light weight running shoe with plenty of ventilation for your feet. It comes in a wide range of colors for both boys and girls and might be a great option if you have to shop for both sexes.
Design
The running shoe is extremely well designed. Everything from its aesthetic appeal, to the feel and the quality of the shoe. The contrasting colors are quite the eye pleaser and the rubber sole ensures that the shoe is able to keep up with the demands of outdoor rough play.
Upper
Weight is a big issue when choosing running shoes for kids. The upper has contributed significantly in keeping the shoe light weight yet flexible, durable and with enough breathability. This has been to a large extent thanks to the use of synthetic textile to make the upper.
Cost and value
You have probably come across poorly designed shoes that are quite expensive. The Adidas Swift Running Shoe. Without looking at the price, you might think of it to be quite expensive. However, it is quite affordable and the price is very reasonable.

Subscribe to our Newsletter