Best Therapy Swings Reviewed & Rated for Quality
In a Hurry? Editors choice: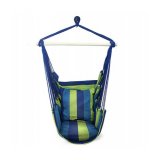 Test Winner: Sorbus Hanging Rope Hammock

Whether you just want something to
melt your day away
, or you need something to help prevent major meltdowns, you often will find yourself spending a lot of time looking for a
helpful therapy tool
that can be used outdoors and indoors. But one of the problems is that if you have sensory issues, or have a little one who suffers from them, it can get extremely expensive-looking for just the right tool to help keep everyone calm. It's really easy to break the bank looking for that perfect fit, only to have nothing that truly works for everyday use. Don't worry, we're here to help. Here's the list of our favorite therapy chairs.
Standout Picks
Criteria Used for Evaluation
Durability
We want to know, as always, that what you are outing your money towards will last. When picking out any product that could be a good choice we look to see how many people are satisfied. From those customers, we look at how many are still using the product. We check every corner to see if anything was broken or needed replacing, and if so, how long it took to replace or how easy it was to fix. Even more so we try to be sure that the few who were dissatisfied were using the product as it was intended and not in a way that would cause the product to break.
No one wants to buy something they can't use within a few days or weeks of purchasing the item, however, some products are not able to be maintained for as long as others based on what they are meant to do. How often you use something, or how much it is put through consistently can also wear on some objects quicker than others. Merchandise like these swings should last, under proper care and use, for months if not years, however, and so when we looked at those we placed on our list we picked out ones that we felt met this or surpassed this need.
Value
We normally list this as cost and value, which many may not fully understand the importance of. Buying something at a cheaper price can often mean you are paying more for less without even realizing it. The lower quality of material used in cheaper items can cause it to fail sooner or not work at all as intended. When we look at cost and value what we are really looking at is the long run- does the product pay for itself in comparison to the rest which may cost more or less than it.
When we do find a normally high-priced item for less we want to give it the same attention and offer it as an option, however many times this is like offering a buyer a car that runs for a week versus paying a little more upfront for a car that will run, under proper use, for many more years. While the cheaper offering seems better at the time you'll end up spending more than the pricier version just to have that working merchandise.
Given that these swings can help families in need of aid with their sensory-based children, both autistic and not, we want to be sure that they are getting as much out of any cheaper version as they would out of something more expensive. After all, those of us who have such needs are already putting forth a great deal towards other products and health care services and one more repetitive cost on the docket can break the bank.
Comfort
In the case of therapy, sensory or yoga swings, dependent on what you were seeking, you want them to be comfortable. If the swing can't offer comfort it isn't likely to help when you need it to the most.
These swings are meant to allow you to relax when using them, and by doing so, to relieve tension and relax the mind to a point where you can more easily go about your day. If the swing you buy can't offer you such, then it can't provide its main function and wouldn't be worth putting on our list.
Ease of Use
Whether you are buying a swing for outdoor or indoor use, they need to be easy to put up and safe once they are. If it is too complicated to set up you may actually cause yourself the very frustration you are hoping to ease yourself out of.
Once put up, you also want to be able to easily take down if needed as well without undoing the comfort and relaxation you had from the swing or it loses its core purpose. Knowing this, we tried to be sure that each product listed on our article was easy to set up and to take down so that its use didn't become the very thing it was meant to relieve.
Portability
When purchasing a therapy swing, portability becomes important. Unlike traditional swings where you need to have an entire set to rig it up, a therapy swing is meant to be easy and able to be moved from one location to the next. While certain swings on this list are outdoor use only, the majority of them are made to be able to be used both indoor and outdoor, making them able to be taken anywhere.
This is especially important with autistic children since even on vacation or spending the night anywhere, but their home can become stressful. Even a few hours at a friend's house can become a difficult thing to accomplish, so the portability and the ability to set it up without causing damage definitely is a need and a plus for any parent seeking to use this swung for their child.
For those seeking to use the swing for yoga, this can also be invaluable. After all most who practice this particular exercise do not stop just because they are out somewhere else overnight, and many take classes which the swing might be used in. Rather than using a public swing during class, having one of your own that you can bring with you can add to the ease of relaxation because you aren't left wondering who used it last.
Best Therapy Swings
1

. Sorbus Hanging Rope Hammock


Looking for that perfect swinging hammock for your little one to get their energy out on? This swing comes with a comfortable seat for your little one to reside in and enjoy a nice calming session in. It's definitely worth a look!
Use it anywhere!
With any therapy swing, you want to know, you can use it anywhere you like. Though you may have to purchase extra equipment if you don't want to drill a hole in the ceiling, this particular swing is intended to be able to use both indoors and out. This makes for a definite plus when you are purchasing to be able to not just get ready for the day, but also to help get a restful night.
One size fits!
A great thing to know is whether or not the swing you are purchasing is big enough to handle more than just a feisty little one. This product is made to handle up to 256 pounds and is big enough for an adult, but comfortable enough for a child to use without fear of getting tangled or falling out!
Cost and value
Though this swing requires you to purchase the right equipment to hang it up without drilling, between its price and its style it's a great buy. Some customers have brought up the need to inspect the support bar when it arrives, in case it needs to be replaced. Like many products on the market that use wooden supports, it can be faulty. Despite this, the average buyer has found no problems with theirs and it seems to be an uncommon issue with this well-priced swing at the top of our buying list.

2

. Swinging Monkey Products Fabric Saucer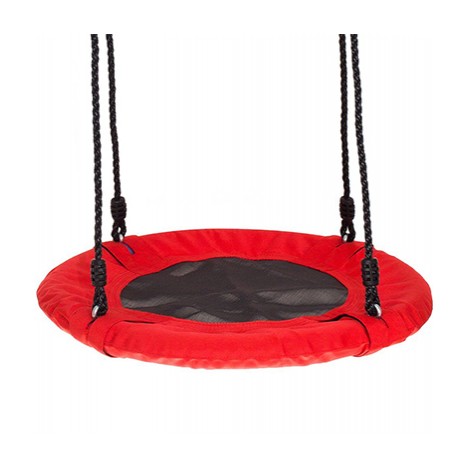 If your swing is meant to be outdoors this might be just the relaxing buy for you. Some of us don't want to find ourselves hugged by our swing when we lay down, and we want to enjoy the feeling of the air as we sway or the exhilarating feeling of being spun. This swing is perfect for the outdoor energetic types!
Satisfaction guaranteed!
Not all products, and especially things intended for children, come with a guarantee. To find a nice swing with such an offer is wonderful, especially when the young ones using it may have a habit of being rather rough on it. Knowing that if the swing doesn't hold up under the child that you have one year to either return it or get placement parts is relief on any parent!
Store it during the cold!
For an outdoor swing to be easily stored during cold or bad weather is a relief. Most swings you buy like this only survive a few years because once assembled and hung, taking it down is not something easily accomplished. It's good to know that anything with fabric can be protected!
Cost and value
Although you will have to purchase extra gear to give this the nice swivel spin, when using it for a normal back and forth swing it is sturdy enough for smaller adults or older children to swing on it with the little one in tow. Many of the swings of the same design that are out there can't handle the added weight, so it boosts the value of this swing into a spot that is recognized for the extra durability. Between the one year warranty and the ability to handle over 100 pounds, this is definitely worth looking into for any parent.

3

. Play Platoon Flying Saucer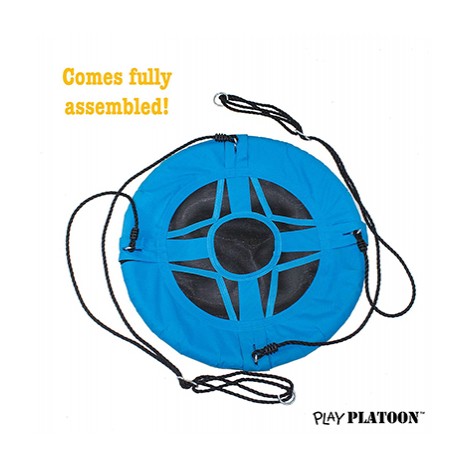 Need a swing that has the same playability as a saucer, but handles more than usual? Try this Play Platoon product and get a swing that holds 400 pounds of activity and stays right where you want it to!!
Plan ahead!
This swing comes with an automatic one-year replacement warranty in case anything wears out, but the company also thought ahead for those in harsher climates. When purchasing the swing you are given an optional additional warranty so that you can rest assured your swing is covered for a full two years instead of the normal one-year plan. It is a good idea, however with any fabric style swing to store it when it isn't in use.
Three is company!
With many swings it is a press to hold two people, with this one, however, it is made to play with a small crowd of little ones or for mommy or daddy to swing with their child! With it being able to hold up to 400 pounds, it's easy to see why we would rank this playtime treasure where we did. For those sensory kids who prefer a lot of open space, or who enjoy the comfort of someone they love being next to them while they relax, this is a great choice!
Cost and Value
With the already assembled package, the roominess and the warranty, this swing is surely worth every cent spent on it. Even for its type it already isn't a pocket breaker either! While it used to come with the straps to hang it from a tree, the company seems to have removed this from its packaging at one point. You can easily purchase the straps separately though or contact them to see if they have returned to including them. Either way, it still comes with the instructions on proper use and how best to set it up. The biggest bonus we can see with any product, however, is great customer service, and you definitely get it with this one!

4

. OUTREE Kids Pod Swing Seat Hammock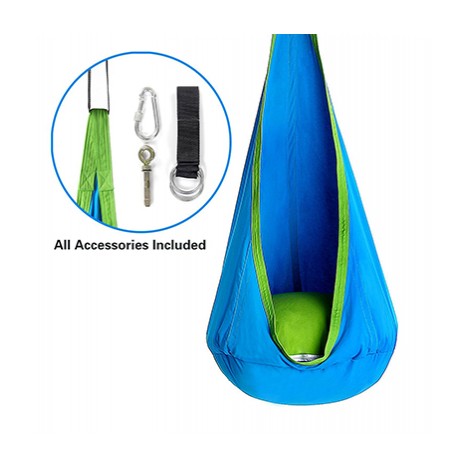 For those looking for something more akin to your typical sensory therapy or yoga swing, look no further. The Outree Kids hammock is the one you have been searching for. With a cushioned interior and a 'hugged' feeling as they swing, this product is perfect for relaxing with a stress-free quiet space indoors or out!
Use it in or out!
This is another great choice for those of us looking to calm a child at night, or who simply want something we do not have to go outside to let the little one use. These swings are designed for both indoor and outdoor use, and especially for those who need that little time out space to calm down and get out a little energy or frustration without feeling the need to explode all over.
Customer care!
With any product, knowing you can contact someone and get help with anything that may go wrong is calming for the one purchasing it. This customer care service responds quickly with solutions to any issue you may have with the product and does a great job trying to help with making their company work for you.
Cost and Value
This merchandise comes with everything needed to set it up, and the instructions as well so that you can do it right the first time. This makes this swing incredibly valuable for such a low cost! Combine that with its excellent customer service and willingness to work with the customer to provide the best and you have a definitive winner! This swing gives you everything you are looking for and more for a lower price than most of the other products on our list, so it is one you may want to look for if shopping for a child!

5

. Driftsun Hammock Pod Kids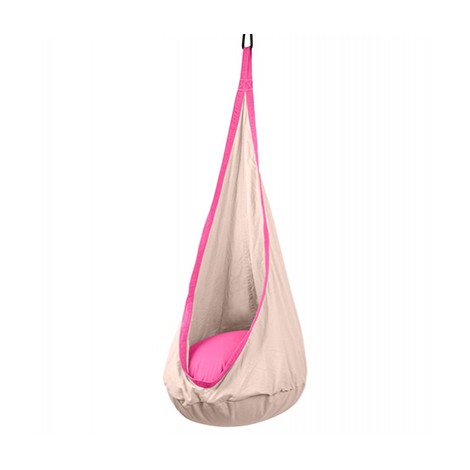 A little more open than the other pod swings we mention, this may be better for the little ones who don't want to feel so hidden away while relaxing in their swing. The Driftsun version costs the least on our list and still comes with everything you could want for a child to relax and get through their day easier.
Indoor/outdoor!
We can't emphasize enough just how much this means when purchasing for a therapy swing that it is able to be set up anywhere. With an autistic child, the option to go outside isn't always available when the child needs an immediate retreat or calming place to relax. So having a swing that can be set up both inside and out is an option we will always cheer on!
Recommended!
Not all therapy swings can get the claim to be used in an office, but the Driftsun is! For such an awesome price, knowing that even therapists use it can leave you feeling much better and safer about your purchase. If this swing helps so many kids in a day, surely it would be a great aid to any looking for a couple for their own personal use at home.
Cost and Value
This swing offers the comforts of all sensory swings and the cocooning effects of most swings used in a therapist's office for children with sensory issues. In fact, this merchandise is actually used by therapists as well! Add in the fact that it comes with everything needed to set it up and that it can be used inside or out, and you aren't just saving extra money, you are getting a great deal in the process! Some customers claim to have needed to purchase stronger eyebolts but given that you can usually get an entire package of them for under five dollars, even that added cost doesn't leave you spending as much!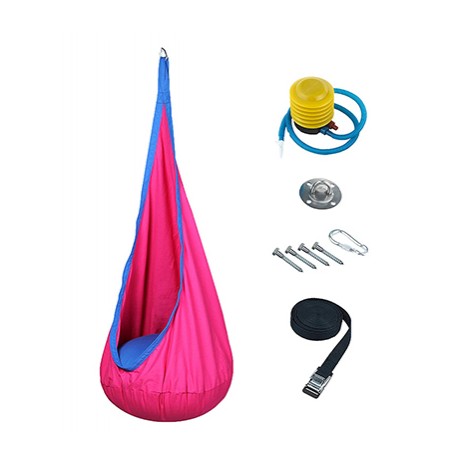 While a little more on the expensive side, you may find that this is a purchase that is well worth the extra dollars. This beautiful addition to your home may bring added calm and enjoyment for your child with the comfort of knowing you never have to worry about paying out of pocket again for another swing!
All things included!
Many of the outdoor/indoor swings on this list have needed extra purchases, overall this one doesn't. With everything in the package, it can be quickly and easily set up inside the home or outside, though it does require to be bolted to the ceiling without extra purchase to make it unnecessary. Once set up no one seems to have anything to say about it needing additional parts, so there are no added costs when setting up as originally intended from the box!
Lifetime?!?
Many products like this include a warranty, but it usually only lasts a year or two- not with Harkla! They provide you excellent customer service and care from the start and cover their equipment for life! That means you never have to worry about going back out if something is missing or doesn't work right, and everyone seems to agree that if you need something and call, Harkla will work with you right away!]
Cost and Value
While it may seem at first that this is a little pricey for a therapy swing when others we have listed are similar and go for less, Harkla gives you the ease of mind by keeping up with your needs. If you have a problem with your swing, even after years of use, they will be there to help you solve the problem without costing you another cent to resolve it. When it comes to the value and an autistic child's needs, there is nothing more calming on the parent than to know they can resolve the issue quickly and easily. Added to that is Harkla's wish to help you even beyond the swing, with an e-book that helps you to find other ways that might aid your sensory sensitive child in finding themselves relaxed.

7

. HappyPie Frog Folding Hanging Pod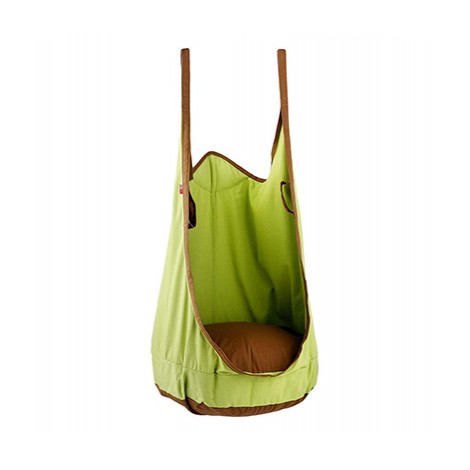 Want something cute for your toddler to elementary school-aged child to find their therapeutic comfort from? Why not take a look at this frog swing? It gives a slightly more open feeling to the child who both wants to escape but doesn't want to be alone when seeking a place for comfort.
Nice size!
While many of the hanging hammock swings are a little encompassing and can leave you surrounded, this particular one has a nice roomy feel and leaves your child able to take in more of their surroundings. For many children, this could be better than holing up in a nest-egg. Not only that, but it gives them enough room at smaller sizes that they can comfortably curl up on the pillow and not worry about dangling beyond the hammock. For older kids, that's also good for comfort when sitting inside.
This is actually comfy!
The fabric of these swings can often be scratchy or rougher than most care to deal with, however, this product is made with cotton and is softer and easier on the skin, giving comfort in touch sensors as much as the rest! It can be a godsend when you find your little one comfortable enough to nap in their swing or find enough relaxation that sliding off to bed isn't a hassle.
Cost and Value
This is one of the less expensive models on our list, and for its size and comfort seems well worth the price. Those who have gotten to enjoy this swing have been pleased with both its durability and how easy it is to take care of. When you are looking for something in the budget that will hold up to expectations, you don't need to look any farther than this cute frog swing for your little one's room.



Looking for something for the whole house to be able to relax in? The Wellsem Deluxe may be the answer you are looking for. Yoga swings are often perfect for both aiding with sensory issues as well as for exercise and relaxation. This particular swing is not only big enough for all but sturdy enough to handle an adult seeking a moment of peace.
Flexibility!
This product is versatile in more than one way, making it need a place on our list! Whether you are looking for something for a child with autism, or you need a relaxing escape for yourself from everyday stress, this swing will accommodate! It is made of materials that can hold nearly any weight and it stretches or bunches easily to form whatever type of swing you are looking for. With the many colors to choose from you can even color coordinate to match your home or personal tastes or the tastes of your little one so it's even more comforting!
Durable
Unlike many of the swings mentioned, this swing is made of the kind of material meant to last through just about any type of activity. Since it is made to be flexible it can hold a lot more without ripping or tearing and it is easy to clean and take care of. If you want long-lasting and comfort on every level this is definitely worth looking into!
Cost and Value
What is better at adding value to your dollar than to know the product you are purchasing can be used in multiple ways and will last through most anything you can do with it for ages to come? With a yoga swing, you have the benefit of something for the adults to use to exercise or meditate and any type of sensory swing a child with sensory issues may be most comfortable with. Definitely worth every cent asked for this wonderful product!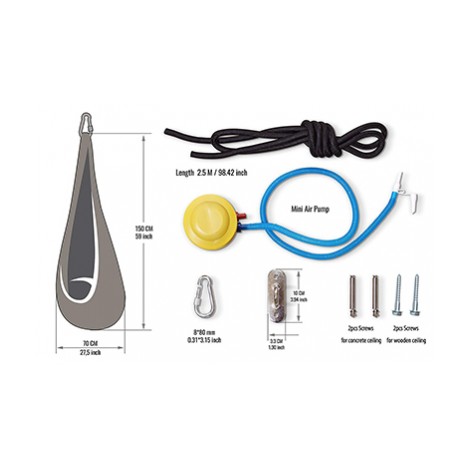 Another amazing purchase when looking for a child's sensory swing, for certain. This indoor/outdoor swing is built to last and to give you and your little one the comforting place they need to relax and keep calm.
Satisfaction guaranteed
This product comes with the comforting knowledge that no matter what you should be satisfied with it or you get your money back. When dealing with children this is a must need for a restful mind since not every child loves what you buy, and some kids are in need of specific styles. This lets you take a breath because no matter why it may not be right, you can return it easily and no harm is done!
Everything you need!
Along with the knowledge that you can hang this swing anywhere, you have the great knowledge that you also have the pieces needed to set it up right in the box! Not all of the merchandise in this price range and design offer this, so knowing that you won't have to go back out for extra supplies can continue the ease of mind when making this purchase.
Cost and Value
While the pillow may need replacing, it isn't always the case, and many of these swings can fit many styles of pillows cheaply and easily. That being said, everything else from the price to what comes with it is amazing for such an inexpensive buy!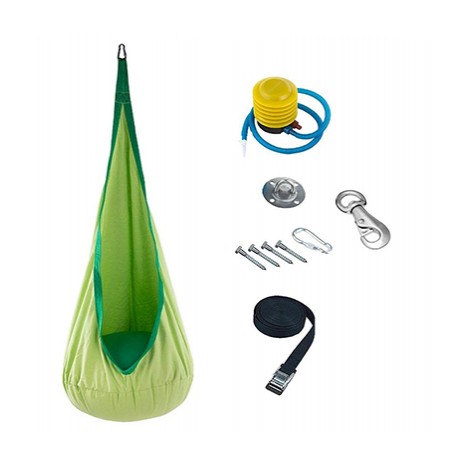 An uncommon thing with many of these products is to know that the supplier understands exactly what you might need for your child. This product can! The founders of the Sensory Jungle company have experience as parents of autistic children themselves, and, thanks to that, they understand the hardships of finding the right equipment at a decent price that will last.
Company that gets it!
Not all swings or sensory equipment can claim what the Sensory Jungle Swing can, and that is a company founded by owners who understand and want to help make sure your swing remains usable for your child. If you have any problems with any part of the swing you can easily get a replacement part by communicating with the company and letting them know. Even if what you have can't be easily replaced they are willing to help you find the right solution so that you can rest easy at night after purchasing their equipment.
Lasts!
While many of the sensory swings either require you to either purchase extra items or they seem to need to be repaired within a few months of use, this company makes not only lasting swings but swings that can hold up to larger kids and will help you quickly if anything doesn't work as intended. Of course, what do you expect when you know the owners understand what it means to need one of these swings ASAP and not have to wait on parts?
Cost and Value
Though this may be the last one on our list, it deserves to be acknowledged as one of the best. The comfort and quality alone make it well worth its cost, but the added ease of mind in knowing you are understood as apparent cannot be set as a dollar sign and that makes this one of the most valuable products on the market.

Subscribe to our Newsletter