Best Running Insoles Reviewed & Rated for Quality
In a Hurry? Editors choice: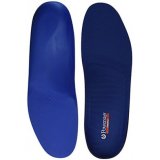 Test Winner: PowerStep Pinnacle

Whether you enjoy running on a regular basis or you want to make your running shoes a bit more comfortable, adding a good pair of running shoe insoles can make your daily activities a whole lot easier. Over the counter insoles provide an extensive list of benefits including; additional back and joint support, all-around comfort and better stability. But maybe it is time to consider other things to help you stop the pain before it starts, and it may be as simple as adding an insert for your shoes and we are here to help. While we cannot tell you exactly which ones are designed perfectly for you, we can give you the top ten brands of insoles and the ones they are most praised for to help you decide which ones to purchase after your doctor helps you pick out what it is you need them to do.
Standout Picks
Criteria Used for Evaluation
Durability
Duration
As a product meant to aide with worn shoes and new alike, durability comes with great importance. No one wants to either wear the shoe or their foot out with a product that doesn't last, not to mention the fact that some shoe inserts require you to completely replace the insoles of the shoe itself with them. So durability is of the utmost importance. There is one on our lists that lasts a shorter period than most, but there are factors in its design that make how long it lasts still show durability. The rest exceeded the expected limit for most shoe insoles and continued to work as intended when used properly.
Value
Cost and Value
Every product we choose to show you is met with this particular scrutinization. Does the value of the product outweigh the cost? We don't want to share with you, nor rate something, on a top ten list one that does not hold to expectations and exceed them.
As mentioned above, one product on this list does not outlast most, and yet we feel it passed this test with flying colors- why? Some types of feed and foot problems are harder to find a good insole for- especially when considering that all feet have a different shape and arch. Most brands can't support flat feet and finding one that not only can but supports the foot properly is extremely difficult. That being said, the product lasts a shorter life-span period, yes, but it does something most fail at- it can comfortably support a flat foot. This is what we mean when we say the value outweighs the cost.
Comfort
Comfort
As stated earlier in this article, not all feet are the same, and because of this deciding on what is the best can be difficult. For this list we wanted to not just bring the best for a single type of foot, rather offer the best we can find that either supports multiple types or does the best at the type of foot it is specifically designed for. With that in mind, when looking over our list to decide which might be most comfortable for your foot. Do you have a high arch? A mid-level? Or maybe you have flat feet? Some are great for wider feet, while others are best for smaller or thinner feet. Make sure when you go for your purchase that the one you choose is designed to aid with your foot so as to provide the best support and comfort for you.
Effectiveness
Effectiveness in Pain Relief
Obviously, we were focused on something with this one, pain relief. Not all pain is in the same area, and so not all of these products will relieve all conditions. Each one was specifically designed to tackle certain causes of pain that start at the feet. When choosing which is best it is good to keep this also in mind because choosing a product that is designed to take pressure off of the heel of the foot, it is likely shifting that pressure elsewhere. As with any product, if not paying attention to its intended applications may leave you dissatisfied on how well it works on your particular pain.
10 Best Running Shoe Insoles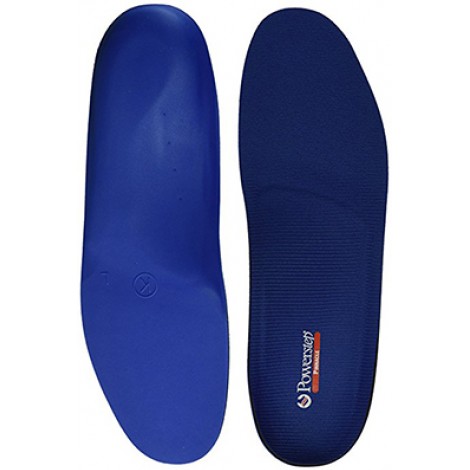 For those of us that spend a a lot of time on our feet either due to work or running we know just how sore they can get. Powerstep has done their best to help alleviate that issue by providing an insert to cushion out poor feet and help them get through the day.
Anti-Microbial
All feet sweat it is the cause of that lovely funk that permeates out sneakers and causes the kids to go running for the hills when you take them off. These inserts provide an anti-microbial top layer, meaning it will help keep your foot sweat from making your shoes smelly. We appreciate this both for our shoes and our noses.
Durable
While most of us are hard on our shoes we think that only applies to the soles. Not so, it also applies to the inside of the shoe. By using these inserts you're not only helping relieve foot pain you're also extending the life of your shoes. These seem able to take the abuse and not even pause lasting much longer than you would think.
Cost and Value
This is a nice moderately priced product. It's easy to use and doesn't require trimming like a lot of others. It is a semi-rigid style meaning it is going to take time to get used to, but that's a good thing in the long haul. That also means its providing true support to your instep meaning better alignment and less discomfort throughout your whole body. Based on what we have seen this could be a real back saver as well. Something to keep in mind when shopping for this style insert.

2

. Sof Sole Athletic Insert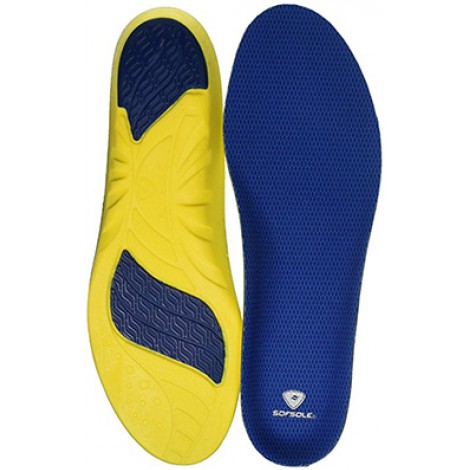 Yes, we spelled that correctly. Sof Sole had made this nice arch support to prevent us from unintentionally abusing our feet and thus our bodies. They have several options to choose from, but we picked what we felt was the best option. Read below to see what we discovered.
Neutral Arch
These implants have a neutrally positioned arch, meaning they aren't overcorrected. Those of us with flat feet didn't have the normal initial discomfort which was a nice change. You may need to trim down the font of these, so they fit your shoe easier, but it was worth it.
Not squishy
This product provided a feeling of padding without the squish. Sometimes when you put this kind of thing in your shoe it can give the feeling of sinking. These, however, took some of the shocks out of our day and we didn't have the feeling of walking in the wet sand once.
Cost and Value
Sof Sole manages to provide several options in their product meaning that the price varies. No matter what you are looking for you can probably find it. They have excellent size match options and even those of us with injured feet found one that worked. Overall, we liked everything we found involving this insole.

3

. Spenco Polysorb Cross Trainer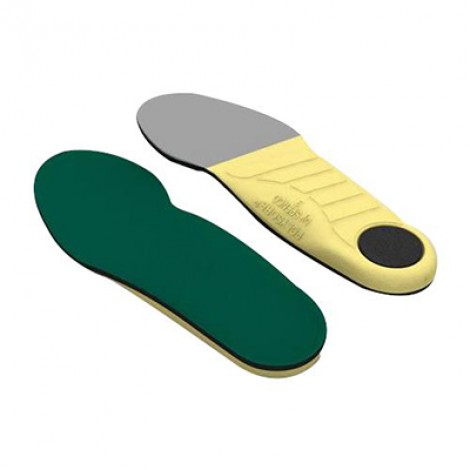 The trick with cross training is endurance. You have to build your endurance to really make progress, whether running or walking. We checked out what Spenco had to offer and we think you will be interested in the results.
Eliminates Shin-Splint Pain
Shin-splints are a potentially ongoing hiking injury that can happen from repeated trauma to your shin. Things, like running and jumping, are particularly tough on your feet, legs, an,d knees. Usually, this kind of injury would require taping and ice at the least and bedrest at the worst. These inserts made it possible to walk without the extreme pain normally associated with the injury.
Easy to trim
Sometimes when we buy this sort of product we are forced to make adjustments. Often times that can be difficult or impossible but not with these. The lightweight foam these are made from make it easy to trim as needed for a better fit into your athletic shoe and a more comfortable fit on your foot.
Cost and Value
While these may not have the longevity of some other brands, they also don't have the higher price tag. Knowing that we had no trouble with using these. They give nice support and made being on our feet all day much less of an issue. If you're looking for a way to minimize foot and leg pain this might just do the trick.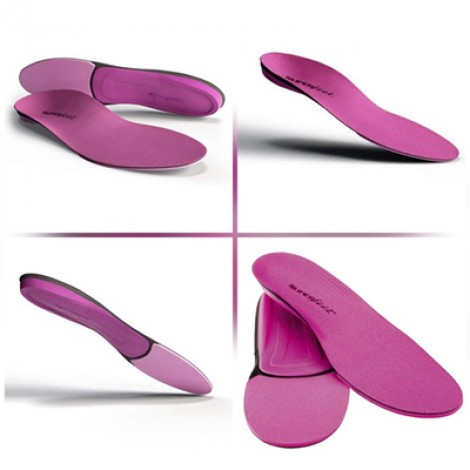 This one is for the ladies. Most women spend the majority of their time on their feet. Going to work, running errands, going out or doing things around the house and yard. We are on our feet a lot and that much abuse tends to bring discomfort. Check out the next item on our list for a potential way to relieve that.
Four types of arch support
Not all arches are created equal. Some of us have flat feet some have a high arch, most are somewhere in the middle. Regardless Superfeet should have something for you. Four different styles of arch support are available meaning you can take your time and figure out what works best for you.
Great for women
As a rule, the foot of a woman is shaped differently than that of a man and therefore has different requirements. Most of us have had the experience of getting an insole only for it not to fit our shoe but these are made for us. They are of course easily adjustable but as a rule, they seem to follow the rule of "If I fits I sits". Meaning they will slide into most women's shoes and lay just right.
Cost and Value
This insert seems to run at a nice mid-range. We found several that seemed to cost more but offer a lesser product than the one available from Superfeet. It seems like they knew what they were doing when they made this. Comfortable available in numerous sizes and with nice medium arch support, getting these could take you from oww to aww with a simple affordable purchase.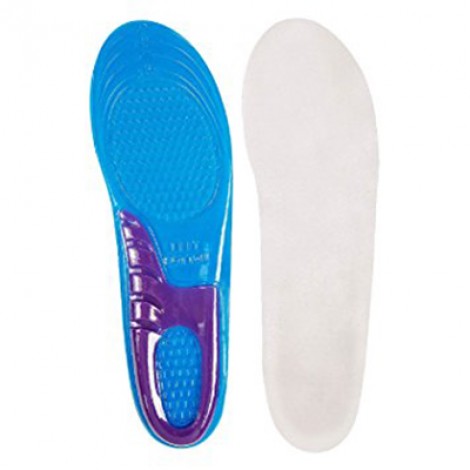 There are so many materials out there that it's hard to say which is the best. Various types of gel seem to be a big option nowadays, which works fine with us. We did a lot of research into these and found the results interesting as well as helpful.
Great for Ortho Sneakers
If you are the proud owner of an orthopedic sneaker then you know just how hard it can be to find an insole that works with it. Orthopedic sneakers tend to have more cushion initially but wear out. The Gel insole by Envelop helps to stop that issue with its honeycomb pattern and soft material. The gel somehow manages to cushion without the sinking of foam. Pretty cool.
Fast Delivery
We have said it before and we will say it again we do not like waiting. We just get bored to easily. Luckily with Envelop that isn't an issue. We were pleasantly surprised when our product arrived in days instead of weeks. It was especially nice for those who couldn't get out often and didn't want to make multiple trips to check the mailbox.
Cost and Value
For those that find themselves in a job or just generally on their feet a lot this would be a good pick. It works well with orthopedic sneakers and was comfortable for long periods of standing. The fact that we could rock slightly on our foot and massage it was an added bonus, and if you add that to the low cost this would be a great addition to your shoes.

6

. Plantar Fasciitis by WalkHero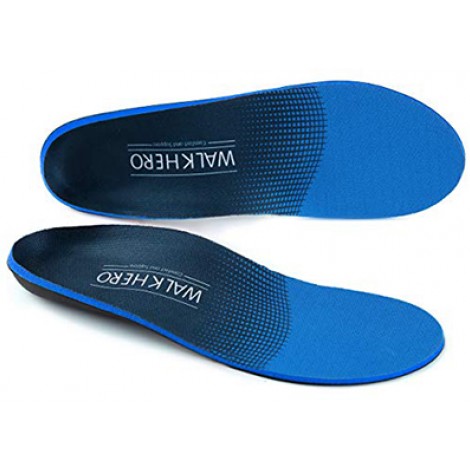 If you're looking for something to ease the burden of an overactive lifestyle on your tootsies this could work for you. WalkHero has really put heart and soul into their product. We made a list of the particulars below along with some observations we hope you find helpful.
Risk-free trial
When we found out about this our first thought was to (insert rude noise here), but as it turns out its true. Not only will they replace your insoles if something goes wrong but they will work with you and offer a refund if all else fails. Don't you just love it when things go your way?
Relieve pain in the heel
We had a couple people here complaining about how nothing helped their heel pain, then they tried these. We found that although it does offer mid to frontal foot support it also eases the tightness in the heel. It didn't slide around either so happiness all around for no heel discomfort.
Cost and Value
The inserts are true to size and helped with pretty much any issue we threw at it. Like anything you put in your shoes, it may take a few tries to get used to having them in there but once you do it's great. Firm cushioning without pressure a risk-free trial and the price is nice. Well heck… you could beat it with a stick but why would you.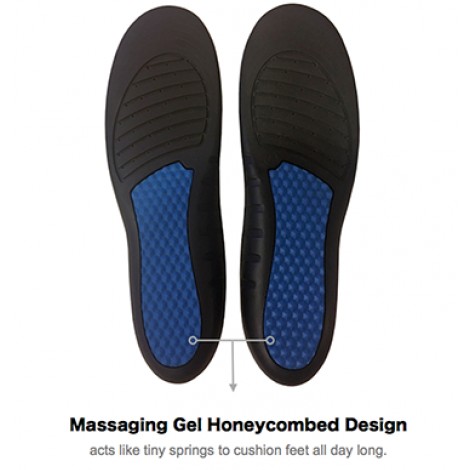 All through history various cultures have commended the healing properties of copper. You see it in everything from wristbands to knee braces and now it comes in an insole. We may not personally know much about the medical terms used for this, but we know results. Check out what we had to say.
100% Money Back Guarantee
Copper Compression is so sure you will love the results of this invention that they will refund your money if you aren't happy. No arguments no need for drawn out explanations just give them a call and they take it from there. Let's hear it for great customer service.
Good long-term support
Peoplthannd to be harder on their feet than almost any other part of their body. That means we are harder on shoes as well. The nice thing about these is even if you're on your feet for a job that includes long hours these will hold up. You don't have to worry about foam that collapses or your feet sweating through them. Stick them in your shoe and off you go.
Cost and Value
Most copper based medical type products seem to run high price wise, but these do not. Affordable, durable, and good at what they do we were happy with our results. A loss of overall pain and a relief in the feet were more than enough to convince us this was a good buy.

8

. Physix Gear orthotic Insert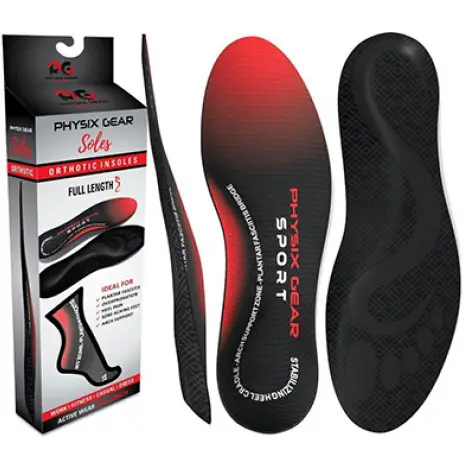 Coming in at number 8 on our list is the Physix Gear Sport full-length orthotic insert. We could keep adding titles and qualifications to this one, but we decided to stop it there. Physix is a brand some may have heard of through their friends, but if not, we have the down low for you.
Anti-microbial
For those that don't know that mean fewer germs. Germs come out of our bodies through our sweat, among other things, and are what cause that icky blah smell in your work boots or sneakers. These orthotics have that anti-microbial layer that helps reduce the germs and therefore the smell. Yay, you can take your sneakers into the house again.
Solid Arch Support
A lot of the products we checked out claimed arch support, but their idea was to add more padding to compensate. With Physix they took a different approach and molded the orthotic, so it helps the foot to arch naturally without having to buy new shoes, so they will stay on.
Cost and Value
Again, we managed to find a quality product that won't break the bank. Physix offers a replacement or 100% money back guarantee, a well-molded fit, and a product that seems to help with our pain relief. When your job is based on your feet, it's nice to know there is something you can use to help. Look out podiatrists we don't need your expensive insoles.

9

. New Balance 3810 ultra-support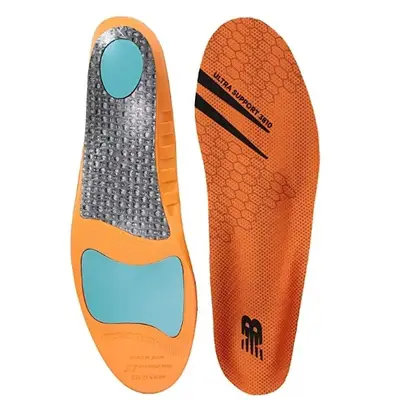 If you want a pair of insoles that can be used for more than just running, these could be the perfect pair for you. Not only are these insoles created to be comfortable, but they provide a second layer of support. Featuring extra-deep heel cups these insoles work with the shape of your foot to provide stability in the most comfortable way, it's all about providing a supportive structure exactly where you need it and when you need it.
Anti-shock cushioning
When you're seeking an insole that is perfect for you and your needs, one of the first features you may look into is "shock absorbance." You want to have an insole that absorbs shock as you walk and run, this will prevent additional pain on the forefoot and balls of your feet. This insole comes with anti-shock cushioning known as Abzorb. The cushion is strategically placed to help distribute your weight throughout your feet in order to prevent as much foot shock as possible.
Air Flow
Constructed to protect your foot while being comfortable these insoles offer special airflow channels, that work in conjunction with the arch of your feet to move warm air out while bringing cold air in. Having this constant circulation of air helps prevent foot perspiration from occurring, doing so will ensure you feel as comfortable as possible for an extended period of time.
Cost and Value
When compared to other options on this list these insoles are priced at a mid-level range. They offer enough features to feel luxurious without the hefty price tag. In addition to previously mentioned features, these come with an anti-blister top cover, to help reduce your toes from rubbing and creating bothersome friction.

10

. Dr. Foot's Orthotic Insoles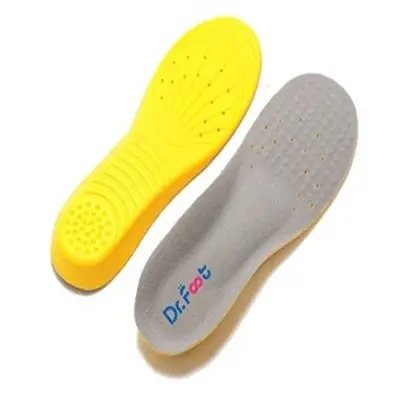 While most of our selection features generalized footcare, that isn't the case here. These Dr. Foot's Orthotic insoles were created with the purpose of bringing medical grade relief in the most convenient way. Made out of comfort velour fabric and soft, durable medical-grade PU material these insoles provide the perfect pairing between comfort and flexibility. Additionally, they have a gel layer in-between for a spring-like feel that reduces stress on the foot with every movement.
High Arch Support
If you happen to have a high arch then you know how daunting the task of finding insoles that meet your needs can be, the main reason being most insoles are not created to cater to higher arched feet until now. These insoles come with additional thicker, flexible cushioning for that added support right under the higher arch of your foot. Additionally, the extra support helps with shock absorption.
Multifunctional
Having a pair of insoles that can be used for multiple shoes and activities is always a good idea. These can be used for running, walking, jogging, sports, flat shoes, boots, and any other shoe you own that needs an added dose of comfort. This is mainly due to the flexible foam structure these insoles provide.
Cost and Value
These insoles are quite impressive they not only offer much-needed support with medical grade materials, but they are extremely affordable. They are so affordable you can purchase one for your most well-loved shoes.

Subscribe to our Newsletter