Best Bunk Beds Reviewed & Rated for Quality
last updated:
Jul 11, 2019
Bunk beds are awesome. So let's just get that out of the way right out of the gate. Not surprisingly, there are no documented origins of the common bunk bed. Some have traced stacked beds back to the ancient Egyptians, but again there's no hard evidence of that. Many people believe that the use of bone beds in mausoleums and tombs to save space was the original idea behind putting one bed on top of another, while others claim that transportation invention was the origin, considering trains and wagons have had stacked bed platforms for centuries. Whoever did it first, let's just say thanks and now head on to our list of the best bunk beds.
In a Hurry? The test winner after 11 hrs of research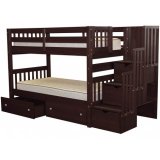 Bedz King Stairway
Why is it better?
Solid Wood
Stairs to the top bunk
Affordable price
Premium quality
Tons of storage
In a
Hurry? Editors choice: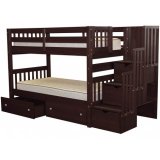 Test Winner: Bedz King Stairway

11
Researched Sources
10k
Reviews Considered
11
Hours Researching
10
Products Evaluated
Materials
Capacity
Accessories
Size
Value
By Default
Best Bunk Beds Reviewed and Rated for Quality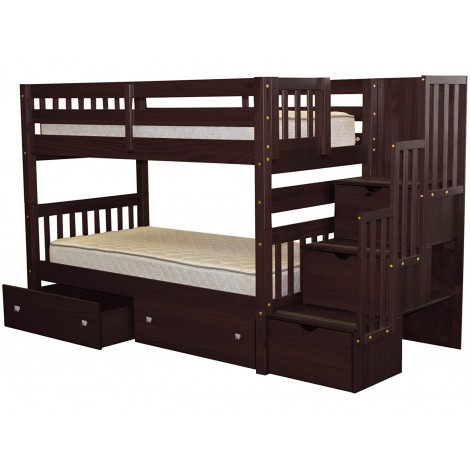 Solid Wood
Stairs to the top bunk
Affordable price
Premium quality
Tons of storage
Only twins
Low headroom on the bottom bunk
How many of our lists have you read? How many of those had my name in the by-line? Well, then you probably know we can't take products with King in the title for granted, which is only the start for reasons as to why the Twin over Twin bunk beds by Bedz King is the number one choice on this magnificently crafted list. (and yes, I did just toot my own horn).
Stairway to Heaven
Or just the top bunk. Because, one of the main things when considering which bunk bed to acquire, should be how the top bunk is accessed. Many people (parents of young children, mainly) don't necessarily want their small child climbing a vertical ladder in order to get in and out of bed, and who can blame them? The Twin over Twin from Bedz King has an awesome set of stairs that lead to the top bunk, that also have built-in drawers along the steps. Making the best out of their great situation.
Drawers Mean Business
And business is booming. The Twin over Twin from Bedz King has not one, not two, but five extremely large drawers built right into the design of the frame. The drawers are so large that you can basically replace an entire, extremely large, dresser all within the bunk bed frame you choose.
Cost and Value
Being an industry that consists of designing and manufacturing two or more beds, usually with the express intention of making an amazing and stable product, you've got to understand the average price, which might shock you a tiny bit. But, the Twin over Twin with stairs, and amazing storage, from Bedz King is a high value, at a medium price.
2

. Coaster Home Furnishings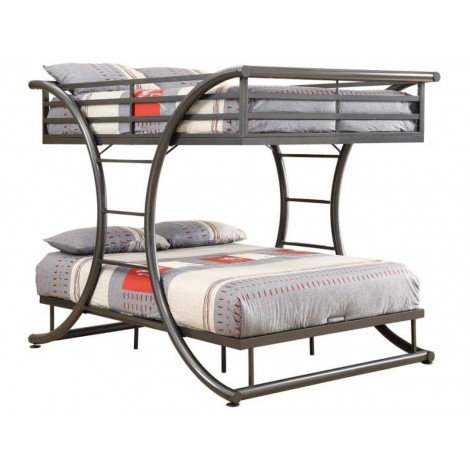 Futuristic design
Full size bed frames
Affordable price
Metal frame
Premium quality
Hardware woes
Shipped in some large full pieces
Here we've got a number two selection that goes a little weird. We love the oddities here at GearHunt, especially if they don't sacrifice their purpose for the odd stuff. That's exactly what Coaster Home Furnishings brings to the table (or bed, if you will) with their 460078 Bunk Bed. If only they could have brainstormed the product name a little bit longer than thirteen seconds.
Jetsons Bed
If you've ever wanted to take off from the twenty-first century and land somewhere near the extremely far future, then you're in the right place. Nothing says "The Jetsons" like this poorly named bunk bed from Coaster Home Furnishings, with it's unique arch-like designed bedposts, and the double-sided ladders, the top bunk looks and feels more like it's floating than any other option on the market.
Full Over Full
It's an unfortunate product of the consumer market for bunk beds, that most bunk beds are geared towards children or young people. It's the most common reason why folks would want to bunk up (putting multiple kids in a room), so the reasoning isn't crazy. But the side-effect is that most bunk beds come in twin sizes. But not the *random numbers* model from Coaster Home. This futuristic beauty comes with two full bed frame sizes.
Cost and Value
Right around the middle of the "normal" pack, the Jetsons bed from Coaster Home Furnishings is an astoundingly unique option for anyone looking to stack some sleepers on top of one another. The well-made frame, and extremely futuristic design mix well with the full-sized bed frames, to make a whole pile of value here.
3

. Discovery World Furniture Twin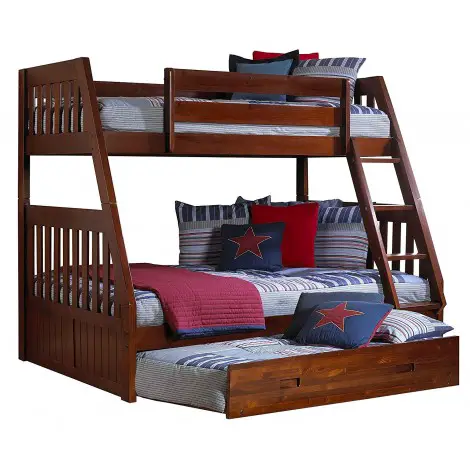 Twin size trundle
Beautiful solid wood
Budget price
Premium build
Full bottom mattress
Reports of brittle wooden parts
Shipping damage
Contrary to the very awesome title of this product, there is no David Attenborough narration that comes with this bed. You won't really discover any new worlds unless of course, you use your bunk bed to read or something like that. But the Discovery World Furniture does boast an extensive history of making beautifully crafted, and long-lasting pieces of furniture, so we're in good hands here.
Sleek Wood
Plenty of models these days are made out of metal (said metal usually is a multitude of blends, or something more premium if its a more expensive piece of furniture) but nothing really beats the aesthetic, or longevity of a beautiful and well-made wooden structure. The solid wood bunk bed frame is super sturdy and looks absolutely wonderful in any space.
Trundle From Down Under
The Discovery World Furniture bunk bed here comes standard with a twin sized bed over top of a full sized bed. Which is fantastic, as most bunks stick with the twin or double formula, as the products are geared towards children. Better yet, is that this bunk comes with a trundle underneath the full-sized bed, one that comes in a twin-mattress size. Essentially making three beds in this bunk. Or, remove the twin and get a huge under-bed storage unit.
Cost and Value
This grand, and essentially triple-bed bunk slides in under the average for the current marketplace, making it nearly a budget option. It has an astounding design, coupled with high-quality materials, and a few tricks up its sleeve. The value, at a near-budget price, is a bit ridiculous.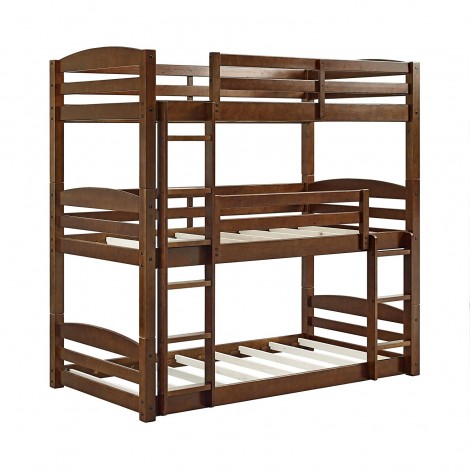 Three beds
Simple and elegant design
Premium build
Budget price
Solid wood frame
Some assembly woes
Reports of missing hardware
Have you ever been to a pod hotel? There's a lot of smarts, and a lot of pride in the design and function of the globally popular sleeper pod hotels. Essentially, these beds hold a lot of the same spacial goals and ultimate design choices. Which is why -- should you have more than two children -- you might want to look for a bunk bed option with three levels to it instead of just two. Like this one.
Triple Decker
By removing the height normally found underneath the bottom bunk, manufacturers like Dorel Living have found remarkable ways to facilitate three tiers of beds within the same confines as a normal two-bed bunk would live. It's possible that in some spaces, those with limited heights, you'd be pushing it a little bit. But fitting three bunks in the same space is great.
Simple and Elegant
One of the most beautiful things about the Dorel Living Sierra Triple Bunk Bed is that there's no wasted space in the design of it. The frame is elegant and beautifully sparse, the middle-tier ladder marks one side of the full structure, while the top tier ladder climbs all the way up the opposite side. It's wonderfully simple.
Cost and Value
Dorel Living makes amazing furniture, and they have done so for years, which is how they've managed to make this beautiful triple bunk and release it at a budget price. We go back to the fact that they've developed this bed in the most simple, and refined form, keeping the frill, and extras to a minimum. There is a ton of value in this bed.
5

. Discovery World Furniture Full Loft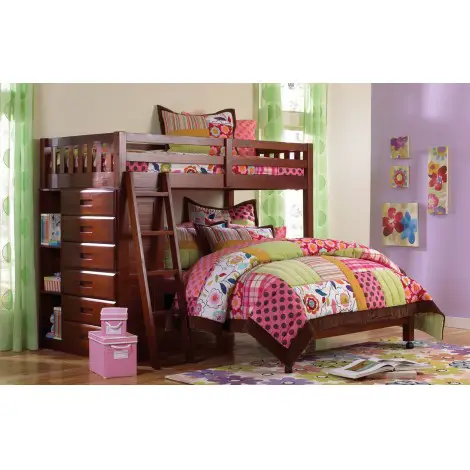 Unique design
Full dresser
Affordable price
Premium build
Bookshelf
Shipping Woes
Shipping damage reported by some
Another beauty from Discovery World Furniture is here to prove, for the first time on this list, that bunk beds don't have to be aligned with one another, to be awesome. This bed throws the first real wrench into the common bunk bed plans, and we couldn't be more excited about it.
Big and Firm
It's astounding how much structural support that just a few really great pieces of wood can provide. There's nothing like making an extremely solid piece of furniture from wood, and it looks stunning too. Which is why the merlot finish on this extremely well-crafted bunk bed is one of the prettiest pieces of furniture you will ever lay your eyes on. It's well solid in structure on top of it all.
The Suite Life
The goal out the gate when picking up a bed for your space is almost always going to be to save space. So what if your bunk bed also replaced your child's bookshelf? Or it's dresser? Well, the Twin Over Full Loft Bed from Discovery World Furniture does both of those things. Not only is there a twin bed, above a full bed, but there's a six-drawer dresser, and a full-size bookshelf next to it, all on the end cap of the bunk.
Cost and Value
At a very solid median price tag, the Discovery World Furniture Twin Over Full with the bookshelf, and dresser on the side truly makes up one of the greatest bunk beds we've ever witnessed, let alone put on a list of the best bunks. Everything is near flawless with this bunk bed, and you'd be missing out on an amazing option if you passed this one up.
6

. DHP Junior Twin Metal Loft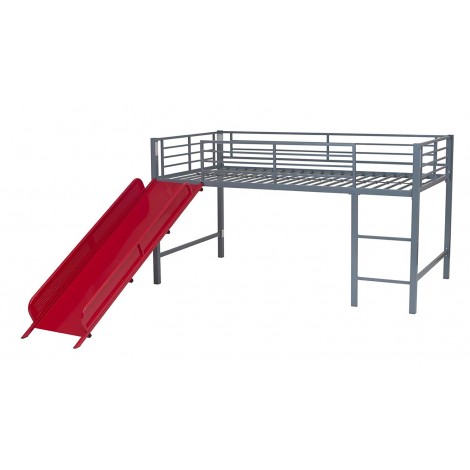 It's got a SLIDE!
Loft bed design
Premium build
Budget price
Did we mention SLIDE?!
Assembly woes
Really poor instructions
There is another very common application for bunk beds in the modern world, and it's not always to use as little floor space as possible, but rather, to use no floor space whatsoever. That's where loft beds come into play. Basically, they're a bunk bed, without the bottom bunk, giving you complete freedom to use the space underneath for whatever you care to do.
The Simple
There's honestly nothing to this bed frame. It's an extremely simple four half-walled design that holds the mattress above the ground. The long legs suspend the bed frame up into the air (although this loft bed isn't as high as most loft beds), giving you plenty of space underneath for activities.
The Red Elephant
Alright, we can't avoid talking about the red elephant in the room, so let's get to it. Sure, this loft bed isn't the same high height as most lofts available on the market. And sure, there isn't a whole lot of wonderful addition to the rest of the frame, but there is a giant red slide, and that makes this the absolute best to get out of in the morning.
Cost and Value
The deepest into the budget space we go on this list, the DHP Junior Twin Metal Loft Bed with Slide is cheaper than a lot of other pieces of furniture, even the smallest os additions to your space. Most of the budget price comes from the minimal design, and thin metal frame, but there's a ton of value in the piece as a whole regardless.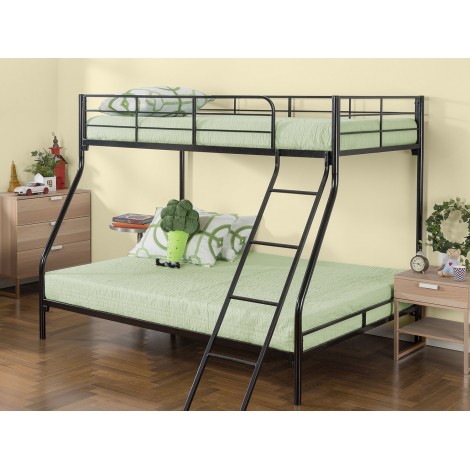 Contemporary design
Premium build
Strong metal frame
Full-size bottom bunk
Budget price
Shipping Woes
Threading issues on fasteners
Zinus swoops in at number seven on our list with this magnificently simple double bunk bed. Heading back into the territory of normally structured bunk beds, the minimalist trend takes full effect here and offers consumers a boiled down wonder of a bunk bed. In a trimmed down world, there is a real place in our universe for designs and builds like this one.
Twin Over Full
Again, we've got another manufacturer that refuses to play by the "two small beds" rule, and instead, leans into the full-size mattress on the bottom of the bunk, with the twin left for the top bunk. This not only bolsters the structural strength of the bed by having a larger bottom than the top but also gives you far more sleeping area on the bottom bunk.
Patent Pending
Yes, this magnificent bed is beautiful and simple, but the best part is their patent pending assembly design. The Quick-Lock Easy Assembly design made by Zinus brags that it is so simple and easy to put together or install, that it will potentially take less than an hour of work to have your finished bed altogether and ready for slumber.
Cost and Value
Alright, so maybe we spoke too early with our previous entry, as the Zinus Easy Assembly Quick Lock Metal Bed is also of an extremely budget-friendly realm of price ranges. But the additional structural support, the extremely fast and easy assembly, and the wonderfully simple design all make for one of the best beds on the market today.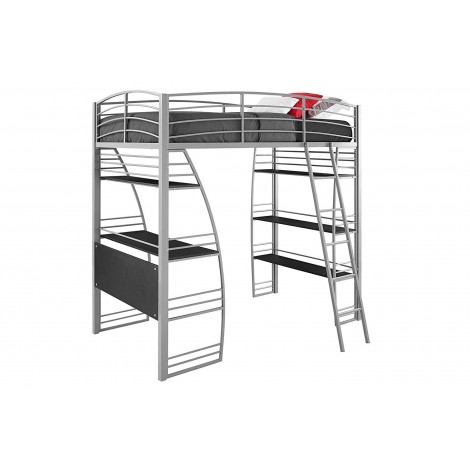 Bookshelf
Premium build
Budget price
Build-in desk
1-year warranty
No color options
Shipping damage
And we're back on the loft bed game, here, with this magnificent species of a bed. The loft bed ideally, leaves a bed-sized hole in the bedroom space you've got available, a space that you can always plan to use in whichever way you prefer. But what if there was something that the manufacturer -- who obviously knows how to design these things -- could do about maximizing the space you now have under your bed. That's where the DHP Studio Loft shines.
Bring The Studio Home
DHP has designed and manufactured the most wonderful loft bed with their Studio Loft Bunk Bed that makes the utmost use out of the space now living underneath your bed. The Studio Loft Bunk takes the simple four-legged stilts normally supporting a loft bed and has built a full-size desk on one side, and a three-tiered bookshelf on the opposite side. It's a full office suite under your bed.
Simple and Warranted
Other than the ideas, and the execution, that make up the brilliantly unique loft bed with a studio underneath, there's not a whole lot going on with this bed. The frame is pretty simple, and the ladder attached to the front-side of the bed (like most loft or bunk beds). On top of all that, there's even a one year warranty.
Cost and Value
Sitting just above the other budget beds on our list, this bad boy with the heart of steel and fully equipped for all the homework and desk-jockey battling that may or may not need to take place in your space. You've basically got a hyper tool, and brilliant furniture, all in one, for a ridiculously low price.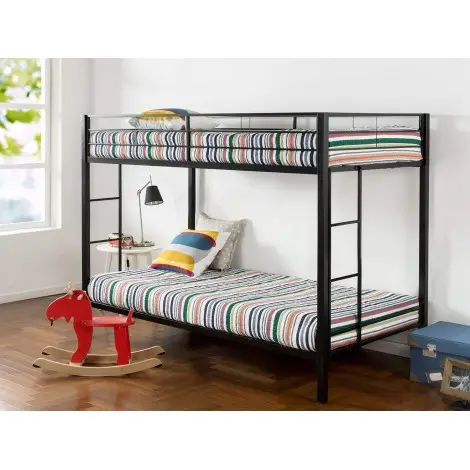 Beautifully modern
Easy to assemble
High-quality build
Simple design
Budget price
Lacks in color options
Only twin mattresses
There goes Zinus again, coming back to the list with a wonderful product that takes the classic form of the bunk bed, and makes it that much better. Which is what the best products on earth do, right? But if you were to ask someone to draw up the plans for a common bunk bed, maybe make a few modern changes, you'd wind up with the baseline of something extremely close to this bed frame by Zinus.
There's That Game
Stepping up as the second Zinus model to make our list, you won't be surprised to find out that this Twin Over Twin Classic Metal bed also includes the wickedly designed Easy Assembly Quick Locking construction that Zinus has under current patent pending application. Meaning that this bed, much like their other options in the bunk bed market, can be assembled in record time, and with a sturdy structure.
Refined Simplicity
In a marketplace that sees nearly no end to the advancements and amazing design choices by manufacturers, the simple options (mostly rounding out in the budget atmosphere) are often some of the best. The Zinus Twin Over Twin doesn't make any fluff out of the simple idea that bunk beds can be plain, and well made.
Cost and Value
Another star of the budget platform, the Zinus Twin Over Twin Bunk Bed with their amazing quick install and hyper locking patented design, is one of the best values of any model the world over. You get an astoundingly well-made bunk, with an elegantly simple design that will look amazing in any space.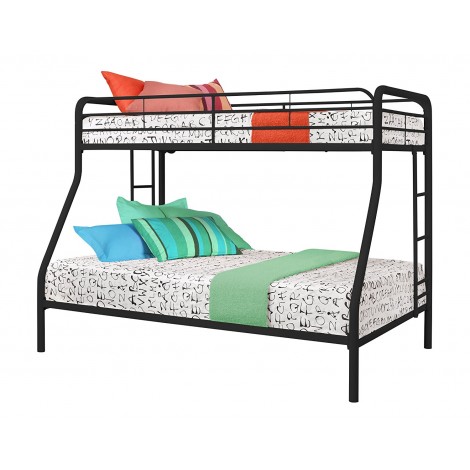 Full-size bottom bunk
Easy to assemble
Budget price
Premium build
Simple design
Color options aren't the best
Shipping Woes
This DHP model goes a step further and offers one of the most wonderfully uncomplicated bunk beds you could possibly find. Their sleek, and space-saving design offers up all the contemporary needs of a bunk bed, at a fraction of the price that you'll find in most cases.
Uncomplicated Glory
The simple things are beautiful. The modern world, swimming in the twenty-first century, wants the job done, without flaw, and without the fluff. The minimal way of the future, of the now, and in contrary to the past is something that most folks are truly getting behind. Much like the Zinus bunk bed before this one, the DHP twin over full has a minimal frame and built-in ladders. The metal is a gorgeous dark finish, and it looks sleek and simple.
Tall & Full
One of the best parts of the DHP Twin Over Full Bunk Bed is that the bottom bunk (the Full-size mattress) has a nearly three-foot height of space above it before the top twin comes in, making for one of the tallest bottom bunks on the market. It's not a crazy amount of space, but you can also see that there's a third of the bottom bunk with nothing above it, due to the top bunk simply being a twin.
Cost and Value
At a price of nearly nothing, the DHP Twin Over Full model is an elegant and wonderfully space-saving option for any of your bunk bed needs. If you seek a simple, and budget-friendly option for your children's room, then there's nothing better than this DHP bed.
Criteria Used for Evaluation


Materials
We put a focus on the materials used for these pieces of furniture, before allowing them a spot on our list. There are two common materials used in today's furniture, and that is metal (of various compositions), and wood (again, with various compositions). If you're seeking something a little bit more premium, then you want to set your sights on steel frames, or solid wood.


Capacity
We've spoken at great lengths regarding the options of having bunk beds (multiple beds stacked on top of each other) versus having loft beds (mattress platforms suspended above the ground, usually around 5 feet or so, without another bed platform attached). One is an option for those looking to sleep as many people in the same floor space, while the other is the option for people looking to free up the floor space that is normally spoken for by the bed itself.


Accessories
Other than the obvious two things (that we just spoke about), there is a whole lot of variety in the bunk bed world. Take ladders, for instance. Some bunks offer built-in ladders, which provide rungs up to the higher bunks in a vertical fashion. Or there are ladders that attach to the top bunk and hang down. These can be rope-based, or diagonal ladders. Then there are those ladders that aren't actually ladders, but instead, are stairs.
Storage is also a major factor when it comes to bunk beds in the twenty-first century. Do you get storage on the sides (usually in the form of shelves, or drawers)? Underside storage is also a major plus if that option is available.


Size
Because bunk beds are most commonly used for children's rooms -- namely rooms where one or more child will have to sleep -- you're going to find that almost every single bunk bed or loft bed option is going to have a twin mattress (or a frame for a mattress) or at the very biggest, a full.
Most bunk beds will be a twin over a twin (or three twins for those crazy triple-decker bunks) while some bunks might have a larger bottom bunk to strengthen the balance and support of the entire thing, but will only ever go up to a full-size mattress.
Unfortunately, there aren't many options for bunk beds or loft beds for adults, which is why you will not see queen or king size frame options.
Height also plays a huge factor in the viable nature of the bunk bed you choose to bring into your space. If you've got average ceilings or even high ceilings, then your options are pretty much limitless. Those with shorter roofs or limited space might need to ensure they double check the listed height of the product you're shopping for. Most of the manufacturers on the market, and on our list are careful to list the assembled measurements of their offering.


Value
As with all things, the price at which you purchase a thing usually reflects the quality of the thing it is you're buying.
Bunk beds aren't in the most lucrative market, but furniture as a whole definitely has a bit of a spiky history of variety in price ranges, and quality. Kind of like the fashion world, there is an overwhelming selection in the general consumer market and can range from a few hundred to just under a thousand dollars.
Then there's the couture side of things that can get a little bit dicey, as the fancy one-offs can mean the difference between purchasing a new piece of furniture or a new sports car. But that's not really the end of the pool you're going to want to dive into, nor is it the common end of the spectrum. Instead, you fine folks, as well as we have, will want to play the more common game, and in that realm, you're going to find a whole lot of fair prices, amazing construction, and interesting designs to pick up something to suit your specific bunking needs.
It's important, as always, to keep your eyes on the prices of the products you're shopping for. Don't overreach too far, and don't stoop too low. Going into your shopping experience with a safe and sturdy understanding of how much you're able and willing to spend will ease many of the headaches that can be bred out of hitting wide markets like this one.
We've attempted to put a fair shake of multiple tastes (and price ranges) on our list, to give you all an ample example of what is out there, for fair prices.
Expert Interviews & Opinions
Most Important Criteria
(According to our experts opinion)
Experts Opinion
Editors Opinion
Users Opinion
By Default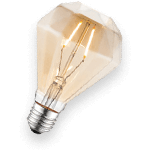 Why Bunk Beds
Bunk Beds and loft beds aren't just for kids and summer camp anymore. They're a great way to save space if you're sending a kid to college. A loft bed will have plenty of space for a desk or chest of drawers underneath and bunk beds can also come with either storage or another pullout bed right underneath. The point is that the simple bunk bed construction is a thing of the past. There are so many options these days take a look through our list and you might just find something that will not only give you extra space but might just make your room look perfect.
Frequently Asked Questions
q:

What is the size of the bunk mattress?

a:

The most asked question is, obviously, regarding the size of the mattress. Luckily for most folks, the marketplace is an open book, and most manufacturers (especially on Amazon, where the naming convention of products can get a little long in the tooth) put the sizes of the bed frames in the title of their products. If there isn't a designated size in the title, then you should check the product descriptions. If it's not there as well, it's very safe that they have bed frames built to fit a twin size mattress on the top bunk, and if the bottom bunk looks a bit bigger, it's probably a full-size mattress frame.
q:

Is it easy to assemble?

a:

Errrrr … most of these aren't. Bunk beds are complicated forms of beds stacked on beds, and it makes for a rather intricate system of supports and struts. These things don't usually ship together in any way, so you're going to have to put it all together piece by piece. Some brands and manufacturers, like Zinus, have developed (patent pending as we mentioned earlier) easy locking assembly that does a fantastic job of continuing the support needed, and also making the construction of the bed extremely easy.  
q:

How much weight can it hold?

a:

Due to the fact that most bunk beds are manufactured and designed with children in mind, the frames and support aren't really meant for adults. Most of the quality bunk beds out there will be useful for adults, but strictly on the bottom bunk alone. Every so often, there will be a bunk bed with the structure, and integrity that can hold an adult on the top bunk, but again, there will most likely only be a twin mattress up there, so even if it can hold an adult, it won't be all that comfortable.
q:

What kind of ladder does it come with?

a:

Oftentimes, manufacturers will include a ladder attached to the top bunk. This is how bunk beds have been since the beginning of time -- or at least, since the invention of consumer home bunk beds -- but it's not the biggest trend these days. The more modern bunk beds will have verticle ladders built right into the frames of the bunk beds. Or, the other side of that coin is the stairs. Some pretty fancy, high-quality bunk beds will have a whole set of stairs leading from the floor to the top bunk, and often they include built-in storage or shelves.
Subscribe to our Newsletter