Best Cycling Jackets Reviewed & Rated for Quality
In a
Hurry? Editors choice: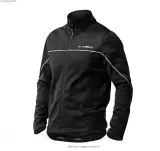 Test Winner: INBIKE

You should shop around for the ideal cycling jacket that matches your own individual requirements, and need to ask yourself a few basic questions before you make your purchase. The variety on the market is quite substantial and the different brands and prices that are available can make you feel lost at sea when you begin to seek out your ideal cycling jacket. This simple guide and review will ask and answer some fundamental questions and variables that you may be thinking and provide you with an overview of
ten of the best
cycling jackets.
Standout Picks
Criteria Used for Evaluation
Comfort
Why wear cycling gear? Comfort.
In reality of course; it has to be noted that you don't have to wear specific cycle clothing, but the positives substantially outweigh the negatives to wearing some specialist gear. It really is more comfortable to wear lighter, functional clothing and this can increase your overall enjoyment whilst cycling. It can offer some varying qualities that may enable you to continue riding whereas with regular clothing you may have to knock it on the head.
Cycle clothing is made of technologically proven performance improvers; the skin-tight way the clothing is worn is designed to reduce not only drag; but also increases breathability and is lightweight. The last thing you want to be wearing to cycle is heavy, obstructing clothing that may increase fatigue, moisture build-up, cold and chaffing.
Materials
Materials
It may seem as though the products that are available to choose from are all very similar and perform the same way; however, there are a few differences and varying combinations that may help you to choose a better cycling jacket that meets all of your needs. Cotton and lycra mixes are favorable due to the stretchiness of the lycra combined with the practical qualities offered by cotton. Clothing made with these two materials tends to be long lasting and is very comfortable to wear.
Supplex and lycra mixes are another common blends, attributes being its low moisture absorption, which allows quicker drying and reduces chill factors when it gets damp; it also benefits from being stretchy and very comfortable to wear. This is available as a lighter, UV protective treatment that is suitable for riding in sunnier climates in a mix of Meryl and lycra.
Drytex offers both waterproofing and breathability with a blend of polyester and polyurethane, this is a practical functional material that is very comfortable, breathable, and boasts waterproofing qualities. Gore-tex is in this realm but does tend to be more high end and therefore more expensive. Nylon and lycra blends are practical for thermal qualities and for great wicking properties, a must for those rides in cooler temperatures.
This list is by no means exhaustive and there are many variations of primary materials and blends currently available; you may be better to decide what temperatures and conditions you are likely to be cycling in the most; this will help you to choose a better product that serves you better for your own individual needs and requirements.
Fit
Fit
You may want to consider the fit of your potential cycling jacket, and there are two main pointers that may help. If you are planning a cycling trip and are expecting to be wearing your jacket for longer periods of time in one go, you may want to consider a performance style fit. These are designed slightly looser and are more comfortable for you to wear whether you are cycling or taking a well-earned break, they are versatile enough to be worn in comfort throughout the day and will not restrict your movements or activities.
A race fit is designed to be just that, it will be specially designed with shorter more intense periods of cycling and the fit will reflect this. It may be a tighter, more aerodynamic fit that feels close to a second skin – and consequently may not be practical or comfortable to wear for longer periods of riding or during rest periods.
The following section asks and answers some frequently asked questions, they are an overview and hopefully, their addition may cover any worriesPearl Izumi – Ride Pro Pursuit Softshell Jacket, Black/Black, XX-Large you may have. If you are unsure or require in-depth advice or information, however, it is recommended that you seek the advice of a professional who can point you in the right direction. The overall guide and following reviews are a small snippet of what is available on today's market, and hopefully, there has been enough useful information to get you on your way to finding and purchasing the right cycling jacket that is up to your needs and requirements.
Top 10 Picks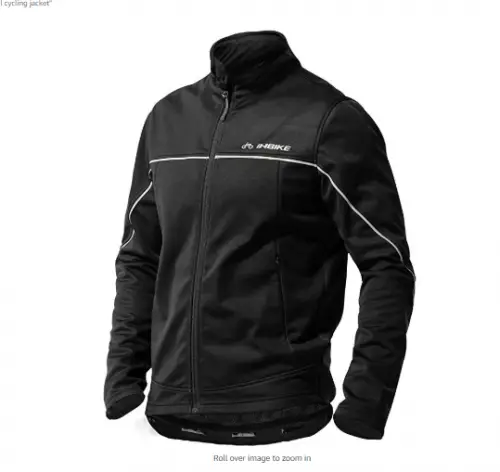 This INBIKE thermal cycling jacket has been designed for wearing in the cooler months, it offers both windproofing and waterproofing and thermal qualities. It is available in two color designs; plain black and black with complimenting red sections, it's outer is a soft shell and offers comfort and practicality when it's needed the most. It boasts high permeability that improves the overall waterproofing, windproofing and breathability to keep warm in and moisture out.
Fleece Lining
The interior of the INBIKE cycling jacket is lined with soft and comfortable polar fleece, this boasts being smooth to the touch as well as increasing its warming qualities that enable the locking in of warmth to enable longer rides in cold or cooler temperatures.
Premium Fabric
The jacket is produced using premium breathable fabric with a stand-up collar to keep warm in, wind and rain out and stops the underside of the chin getting chaffed and caught on the top of the zipper. As a bonus, it has mesh cloth pockets inside to enable secure storage of small personal items.
Cost and Value
The quality of the manufacture of this cycling jacket, combined with the polar fleece lining and the comfortable weatherproofing; ensure that the balance between cost and value are well balanced and this is a great product for the money.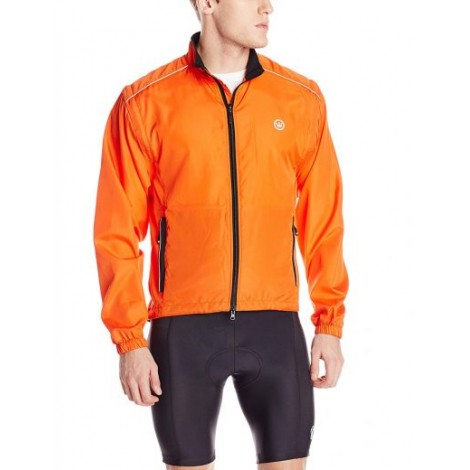 This stylish Canari cycle jacket is available in three colors; lava, breakaway blue, and killer yellow, with combined white shoulder piping and contrasting black zippers and inner collar. It is manufactured with polyester and boasts being water resistant with Wind Shear technology to help keep the elements at bay and increase cycling time in comfort. The fleece lined collar offers to keep the back of the neck warm and keep out chills that reduce body temperature, and it also benefits from a two-way front zipper that acts with a draft flap to keep chills from the chest as well.
Convertible
The Canari cycle jacket has fully removable sleeves, so it has increased versatility when temperatures fluctuate, this reduces the requirements for separate cycling vests and therefore less room is needed for extra clothing.
Storage Pocket
The rear of this cycling jacket has a useful nine inch back zippered storage pocket, this increases it's practicality and enables secure storage of valuable items; the side pockets are easy to reach and won't impair riding when utilized for a personal kit.
Cost and Value
When taking into consideration the qualities of this Canari cycling jacket, including the stylish design and weatherproofing, both cost and value are well represented and reflected both ways, the added functionality of the convertible sleeves adds to its' overall value.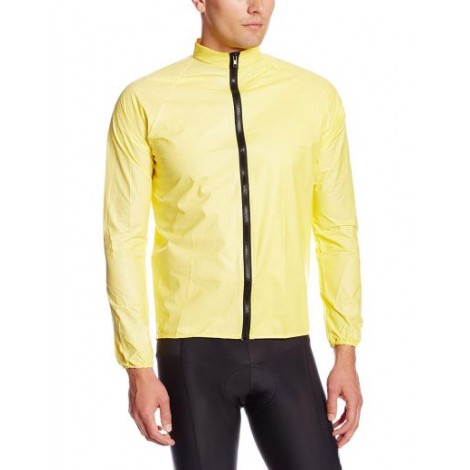 O2 Rainwear offers this bright yellow cycling jacket that is manufactured with one hundred percent polypropylene and boasts having a tight closure to reduce water intake when caught out even in heavy rain. The high visibility it offers increases the safety aspect and reduces the risk of accidents even on the darkest of rides. It is light and rolls into a compact small bag for convenient storage when not being worn, and also benefits from having breathable qualities for increased comfort.
Elasticized Wrists
The wrists on the O2 cycling jacket are elasticated which reduces the chances of the sleeves riding up the arm and lowering body temperature. The waterproofing it offers is complimented with a tough easy riding zipper from waist to chin.
Collar
The jacket benefits from a stand-up collar to reduce wind and water getting down the back and chest, and it is a rider-friendly design being higher at the front than the rear to maintain comfort when riding for whatever distance.
Cost and Value
This O2 rainwear cycling jacket combines both style and substance with the qualities it offers in the form of its water resistance and windproofing, the practical lightweight and compact jacket is a great value and ensures a good buy for the price.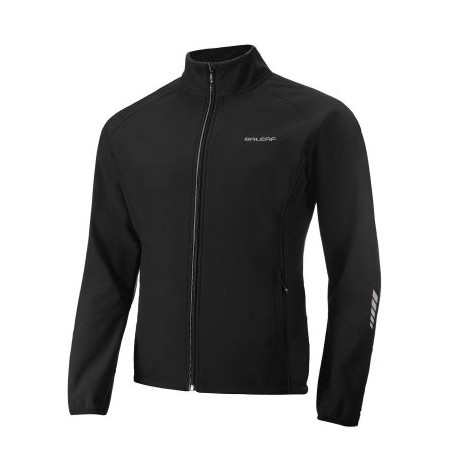 This cycling jacket is available in two colors; plain black and black with striking red inserts, it boasts an easy gliding full front zipper that has a bonus of an internal draft flap to reduce the risk of wind getting in and also helps to keep the warm in. For convenience, it has an anti-slip silicone band around the waist to prevent the whole rear of the jacket from riding up the back. This aids comfort, reduces wind chills, and is complemented with a dropped back hem so it keeps warmth where it's meant to be for longer.
Storage
The Baleaf cycling jacket has two hand pockets with easy use zippers for safe secure storage of smaller personal and valuable items. It has a handy pocket to the rear to increase good placement of items when out on the road.
Fleece Lining
This jacket boasts a soft fleece lining that keeps in vital body heat, the double thickness collar and practical outer fabric also offers protection from the wind and rain, without compromising on comfort and functionality.
Cost and Value
The features that are offered and come as standard with the Baleaf windproof cycling jacket, including the three conveniently places pockets and soft warm lining, ensure that the balance between both cost and value is mirrored adequately and this is a great buy.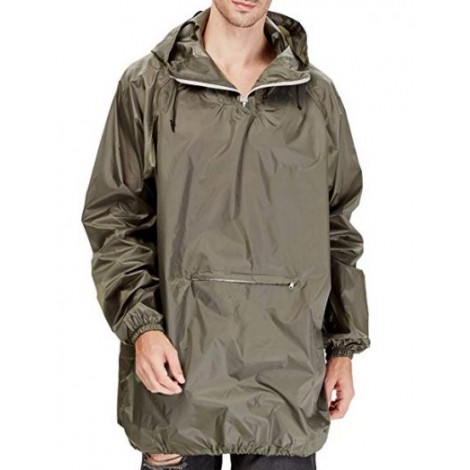 This comfort fit cycling jacket is lightweight and is produced from nylon for one hundred percent waterproofing. The design enables freedom of movement that doesn't restrict in any way when cycling or taking a well-earned break. The versatility it offers is boosted by its windproofing and makes it ideal for a variety of outdoor activities, and it offers an industrial strength durability with the bonus of an adjustable hem for improved convenience when on the move.
Hood
The design takes in the addition of a functional drawstring hood that offers increased protection from both wind and rain, and the comfortable sizing allows for layering of under gear to protect from the cold in the winter months.
Practical
The overall practicality of this 4ucycling jacket is increased by its lightweight material, it is conveniently packable into a compact size so won't take up valuable space when it isn't required, it has a handy easy to reach front pocket for personal valuables too.
Cost and Value
This well priced practical cycling jacket is functional and comfortable, and the value features are presented as wear-resistant and useful ensures that both cost and value are well reflected and the jacket is good value for the price.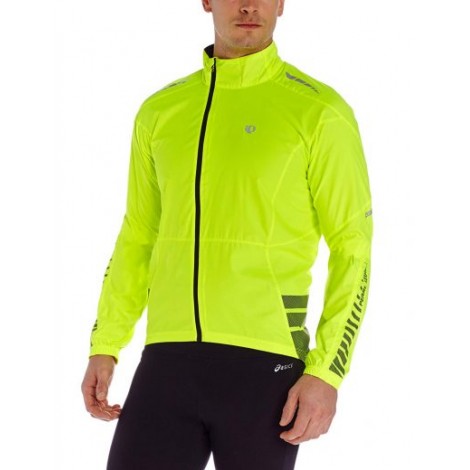 Pearl offers this elite cycling jacket in a range of eight complimenting colors, ranging from black through to bright yellow. It is manufactured with polyester and boasts being both water resistant and windproof, it offers Elite Barrier fabric for all-around weather protection. To improve functionality, it has a useful pocket in the rear that is zipper accessed for safer storage of small valuables.
Ventilated
The Elite jacket has direct vent panels to improve the airflow and ventilation in most weather conditions, and it also benefits from a contoured and shaped sleeve hem to keep the rain and wind out and keep the warmth in.
Practical
The jacket is easy-care and boasts being machine washable which improves its functionality, and the hem and cuffs are elasticized for better comfort with less riding up. The full front zippers are easy gliding and allow quick access and removal.
Cost and Value
This quality cycling jacket benefits from both functionality and full practicality with its features that include the weatherproofing and comfort fit, the ventilation and elasticized hem and cuffs, all reflect well on the overall product and this is excellent value for money.

7

. Pearl iZUMi Convertible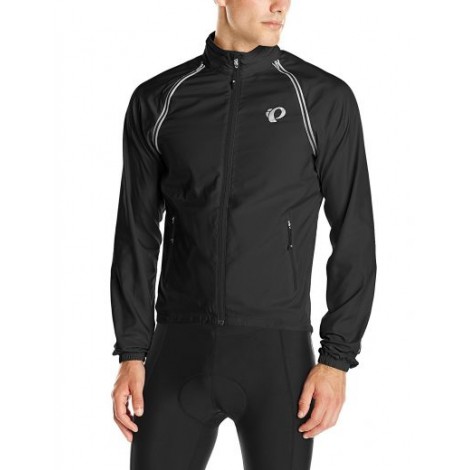 This fully convertible cycling jacket is offered in ten stylish color combinations and is produced using one hundred percent polyester twill for supreme comfort. It benefits from an elasticated drawstring waist to ensure different weather elements are kept at bay by reducing the risk of the back riding up when worn. The weather protection is added to with a full zipper length draft flap to protect the chest as well as the back from unwanted chills and moisture.
Convertible
The cycling jacket is easy to turn into a cycling vest with the easy removal of the sleeves and the neck yolk, this improves practicality and versatility because it is two garments in one easy package, this makes it ideal for long cycle rides and reduces unnecessary extras to be carried.
Versatile
The ventilation offered with this Pearl iZUMi convertible cycling jacket is added to with the option of opening the sleeve zippers at different levels to increase or reduce air flow around the jacket, coupled with the direct vent panels on the vest this serves as a useful option for warmer days.
Cost and Value
This convertible jacket offers two for one and varying options for comfortable ventilation, the features including the Elite Barrier fabric, the draft flap and weatherproofing all add up to an equally proportional jacket in terms of both cost and value.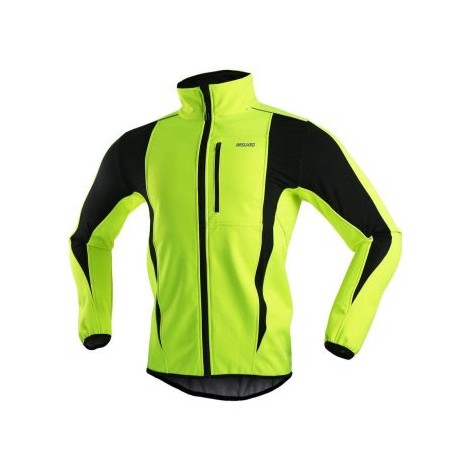 ARSUXEO offer this functional jacket in four appealing colors; green, black, orange and red – the colored options having contrasting black inserts and zippers. The jacket has two conveniently placed zipped pockets; one to the rear and one on the chest for easy storage of smaller personal items. It boasts being an ideal cooler weather fleece jacket that is not only windproof but also waterproof to keep the body warmer through winter month cycling.
Comfortable
The black material inserts on the arms through to the chest benefit from a unique four-way stretch fabric that aims for optimum comfort when cycling and reduces unnecessary stress pulling points, it is also breathable and elastic for better performance.
Reflective
The ARSUXEO winter cycling jacket has a reflective stripe and brand logo to improve nighttime visibility and reduce the risk of accidents in changing light conditions. The sizing options recommend the purchase of bigger jackets for the best comfort.
Cost and Value
This softshell thermal cycling jacket offers both protection from the colder weather elements, whilst maintaining ventilation and comfort. The features added like the full front, high zipper and collar ensure good value for money.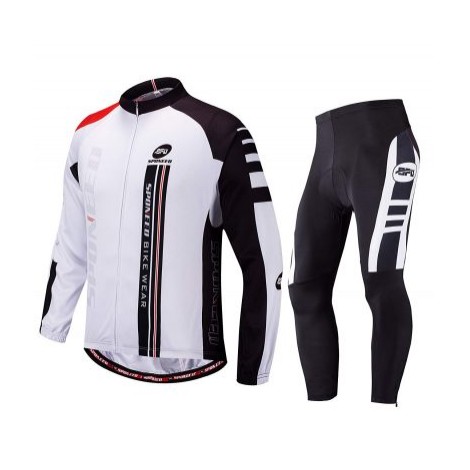 This Sponeed cycling suit offers both a jacket and bicycle shirt tights for a full outfit when out on a cycling trip, there are a variety of color combinations in blue and multi, white and green, white and red, and white and black. The suit is manufactured with eighty percent polyester and twenty percent spandex and boasts being suitable to wear in temperatures between fifty and sixty degrees Fahrenheit without the extra requirement for a fleece liner.
Comfort Design
The jacket is designed with comfort in mind and uses a flat seam construction which reduces the risks of rubbing and chaffing, this is carried through the whole suit and helps to improve comfort and temperature regulation for longer cycle rides.
Easy Care
The easy care instructions that accompany this suit boast a hand warm wash or a machine wash when inserted into a pocket. This is beneficial and cost-efficient because it may reduce the cost of specialist cleaning outside the home.
Cost and Value
When taken into consideration this Sponeed suit is designed for ultimate comfort, the features added like the flat seaming and integral pockets – help to ensure this product is well balanced on both cost and value.

10

. Przewalski Men's Winter Thermal Cycling Bike Jacket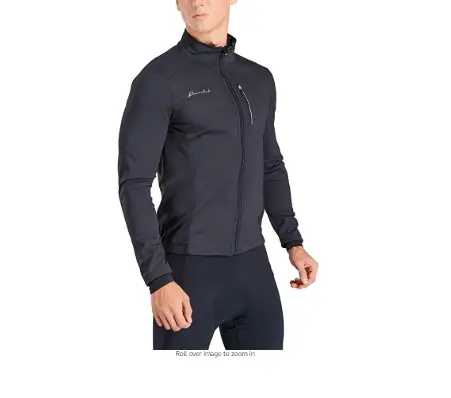 Przewalski Men's Winter Thermal Cycling Bike Jacket is designed to keep you warm regardless of the temperature with its fleece liner and wind resistant collar and storm proof cuff design. The back has two pockets for extra storage. This is a lightweight, breathable jacket with reflective accents.
Warm and Dry
This jacket is designed for somewhat cooler temperatures of fall and winter with its brushed fleece liner design to keep you warm. The seams are treated to prevent moisture seepage by being fully taped. The cuffs are designed with two windproof layers of protection as is the wind resistant lined collar. The waistline is elastic to stop the wind from blowing up the jacket.
Breathability
This jacket has fabric under the arms and on the back that is breathable which wicks away moisture and provides excellent ventilation to keep the body dry.
Pocket
The chest pocket is an SBS brand zipper style for easy reach storage. The back has 2 elastic pockets to hold your items securely.
Water Repellent
The fabric on the arms and chest area are effective against light rain due to its water repellent treatment.
Cost and Value
The Przewalksi jacket offers reflective safety, a windproof shelf that is also breathable. This offers protection from cold, water, and wind. The price is a great value.

Subscribe to our Newsletter