Best Raccoon Traps Reviewed & Rated for Quality
In a
Hurry? Editors choice: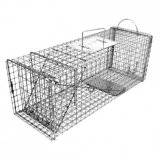 Test Winner: Tomahawk Original Rigid

If there is one critter you are likely to face out there that will
give you a world of trouble
if you let it, it has to be raccoons. They very good at making humans ability to coexist with them rather difficult. So, you need to find a way to handle them if you have an infestation. So, if you've noticed that your home has taken in some unwanted house guests, and you would like to get rid of them as humanely, but as efficiently as possible, then one of these ten cages may be exactly what you're looking for.
Standout Picks
Criteria Used for Evaluation
Versatility
Though the products on our list are all designed to catch raccoons, there is a bit of versatility here as many of them are able to catch other kinds of unwanted visitors to your home and garden as well. For a live critter cage, there are a number different creatures they can catch, such as raccoons, weasels, stray cats, and anything else of that relative size and shape. So, if raccoons aren't your only trouble, this kind of cage can be a big help to you for getting rid of those other unwanted visitors, too.
Effectiveness
You should never underestimate the ability of a raccoon (or three) to mess with your life. While perfectly willing to coexist with humans, the common raccoon is tragically unable to understand how to actually do so without making the other half of that equation (i.e., us) not want to coexist with them. You name it; a raccoon can do it from harmless stuff like getting into your garbage, to outright chewing through your wires and messing with the electrical grid of your house as a result. Raccoons are adorable creatures when you don't have to deal with them, but it's funny how quickly that appeal can fade once you do. That's why the effectiveness of the options on our list was an important criterion we used when it came to judging the products. You don't want to mess with a raccoon, especially considering that they can carry rabies and be deadly.
Durability
You don't want to catch a raccoon to only have it escape moments later. Your cage will need to be durable enough to withstand a raccoon and be able to be re-used once you've relocated the first offender so you are able to use the product again in the future. Raccoons are smart and persistent little creatures so your product needs to be able to provide enough durability to withstand even the smartest critter.
Value
The last criteria we used to judge the entries for this list was the price of each entry. Funny enough, the most expensive entry on this entire list was our first entry, purely based on the materials used to make it. That combined with the type you're looking at, the size, and the features it offers, all come together to determine the overall price of the product. However, due to the inconsistent nature of the prices of these entries, we decided to judge each entry by how well they justified the prices they had, rather than the prices themselves. After all, if the product has the features to back it up, you're probably not as likely to get testy about a high price tag.
Subscribe to our Newsletter