Best Animal Traps Reviewed for Affectiveness
It seems like with the advent of animal rights trapping has taken a back seat. It has been frowned upon and all over the net there are articles about the terrible acts of trappers. Still, there are plenty of trappers out there taking very safe and responsible actions in their process. They are using the most up to date technologies and traps that hold animals in a very humane way. The best animal traps are checking the traps regularly as well and not leaving animals out there to suffer.
Featured Recommendations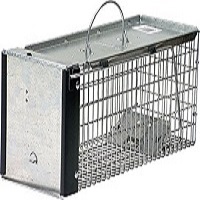 Havahart Woodstream 16

Our rating
One gravity action door
Price:

See Here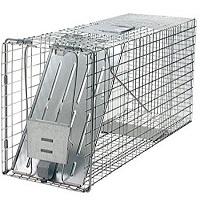 Havahart Woodstream 32

Our rating
Rust-resistant wire mesh
Price:

See Here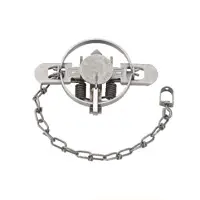 Duke 0470 AT

Our rating
Traditional trap design
Price:

See Here

Trapping is a unique outdoors experience. It is much akin to hunting and fishing. In some ways, you could argue that holding an animal in place is far less painful than pulling one through the water with a hook in its mouth and then suffocating it while you smile and get a photo. For some reason, however, scales don't get the same type of love as fur in the activist world.
That said, for my trapper brethren out there I would love to take the time to review some of the best animal traps on the market today. We will look these over based on several criteria. I think it's important particularly this day and age that we discuss the following when considering a good trap.
10 Best Animal Traps
1. Havahart Woodstream 16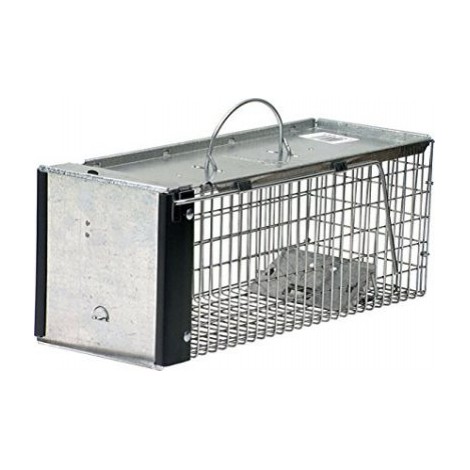 The Havahart company is dedicated to the humane aspect of trapping animals. All of their traps are designed to inflict virtually no damage to the trapped creature. This will give the trapper ( and the trapped animal) peace of mind when using products from Havahart. The 16-inch Woodstream 0745 live trap is designed to catch small nuisance animals like squirrels and chipmunks.
Expand to see more
No Sharp Edges

Keeping up weith the Havahart tradition, this 16 inch trap is designed with no sharp edges on the inside. This keeps the trapped animal safe from harm and lets you release them elsewhere healthy and ready for relocation.

Trigger on the Outside

Some live animal traps have the trigger release on the inside of the trap. This leaves it vulnerable to a trapped animals thrashing and could damage the trap or the animal. The Havahart 0745 has the trigger on the outside to keep it protected so you can use it over and over again without worrying about damage from the trapped animal.

Cost and Value

For its size, the Havahart Woodstream 16 inch trap is set at an average price. Havahart has designed their products so that little to no harm is caused to the trapped animal. This fact alone should make you feel good about using this trap.
Gravity action door

Ideal for nuisance animals

Internal edges

Trigger rod is on the outside
May need to calibrate trigger rod from time to time
2. Havahart Woodstream 32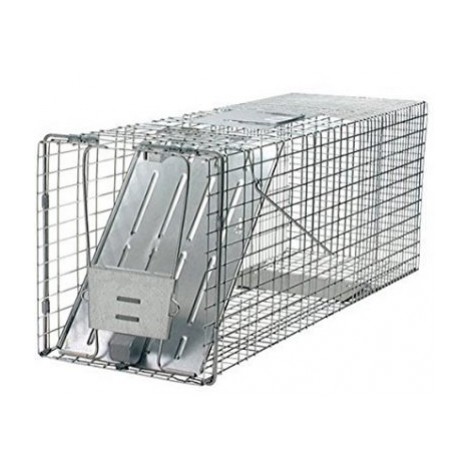 Yet another from the Havahart company is the previous traps bigger brother. This Woodstream 32-inch trap is the next best-reviewed item on the list and for good reason. This trap is designed to capture raccoons, armadillos, cats, and similarly sized animals. It has a lot of features similar to the sixteen inch such as the trigger rod being on the outside.
Expand to see more
Rust Resistant

This trap is completely made from rust-resistant components. This keeps you and the animal safe. Live traps are often products that you can have for years. Since they are primarily used outside, especially ones this size, it is important that it stays mechanically sound and not rust away.

Wire Mesh

Raccoons are smart. Sometimes instead of going into the trap for bait, they just reach inside and grab it. Wire mesh surrounding the trap keeps this from happening and ensures that the animal must go into the trap. It also keeps you safe from the animal trying to claw at you while you are transporting it.

Cost and Value

The Havahart Woodstream 32 inch live animal trap is a good buy for the price. It sits at around a medium range in terms of affordability. However, the door of the trap leaves something to be desired. You may have to use gloves or a long object to open the door to keep yourself out of harm's way when releasing the animal.
Rust-resistant wire mesh

Steel reinforcements

Mesh openings

Prevents stolen bait
Difficult to release animals due to the door design
3. OxGord Cage Trap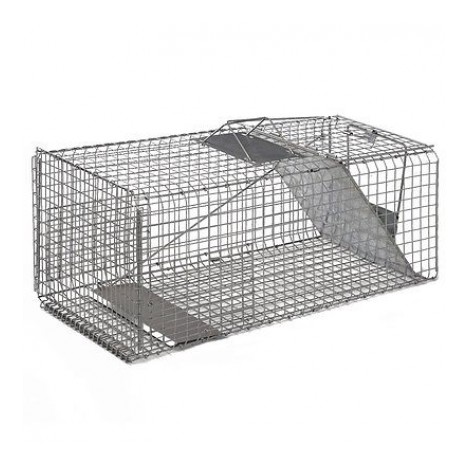 This is a trap made of professional steel grade for cats, rabbits, raccoons, squirrels, chickens, opossums, moles, gophers etc. Oxgord traps are the go-to for many professional pest managers.
Expand to see more
Professional Quality

The OxGord trap is a trapper's standard for humane live catches. This trap is an easy to use model that looks and works like the effective traps of professionals who remove vermin and other species of animal that people may not want in their homes. Its straightforward design is what makes it easy to use.

Humane

The bait, set and release on this particular trap is about as easy as it gets. That makes it a great option for all types of trappers. The OxGord shines when you talk about its ability to trap animals in a humane way. There is practically no way this unit can injure an animal. If you are dealing with a responsible trapper this is the best bet for the animal to be retrieved. It gets held in the small cell without clamps of any kind.

Cost and Value

This trap ships well and is reviewed extremely well for its effective and easy use. I think this would be a great addition to anyone's set of traps. It's also priced very reasonably for something so effective and easy to use.
Humane design
Sturdy materials
Goods size
Ease of use
Can be difficult to assemble
4. Duke DP Coon Trap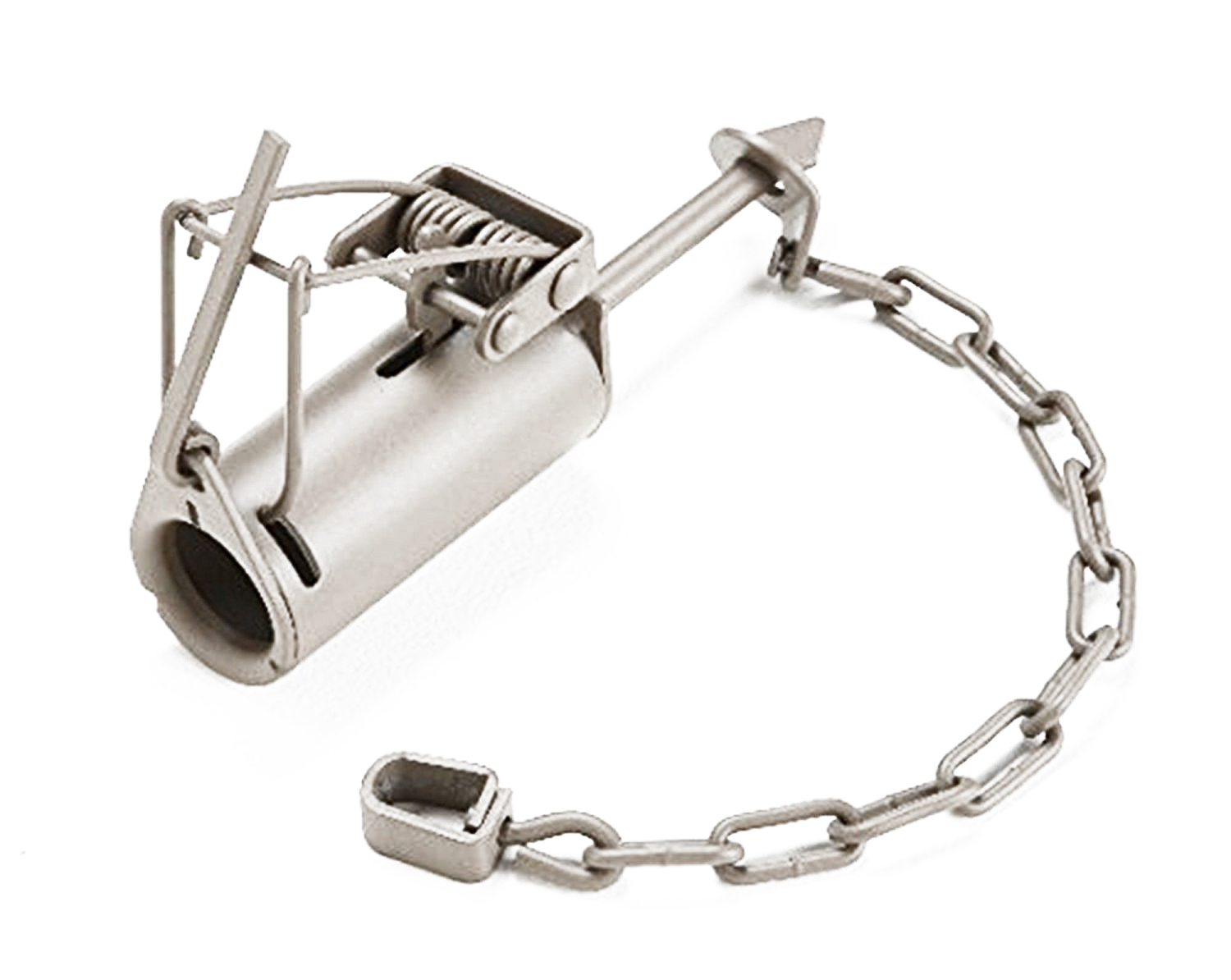 You'll see Duke quite a few times on this list of the best animal traps. They are a well-known brand for seasoned hobbyists and professional trappers alike. The Duke DP Coon trap is designed specifically for raccoons. It is very safe to use and extremely durable. Just fill it with bait, set it, and get your coons!

Expand to see more
Dog Proof

One of the main worries of a trapper is the safety of himself and his best friend. Steel jaw style traps are not picky about what they snap shut on. For this trap to work, the animal must reach inside for the bait. This makes it nearly impossible for a dog to ensnare itself. Sadly they are not cat proof so if you are trapping around an area where you suspect a cat it is recommended that you use an alternative bait that isn't appealing to felines. Like sweets.

Do No Harm

This trap grabs the animal's leg after it has reached inside and tripped the trigger. The trap does not break a bone or even break the skin. However, a panicked animal that is trapped may do some harm to itself so it is recommended that you take care of it promptly for maximum humane effect.

Cost and Value

This trap is priced a tad higher than other traps listed. However, it is designed to be very efficient and safe so paying a few extra dollars might be worth it to you (and your dog).
Dog Proof

Easy to set
Insanely durable
Humane trapping
May require some maintenance if trigger is sticking
5. Duke 110 Body Trap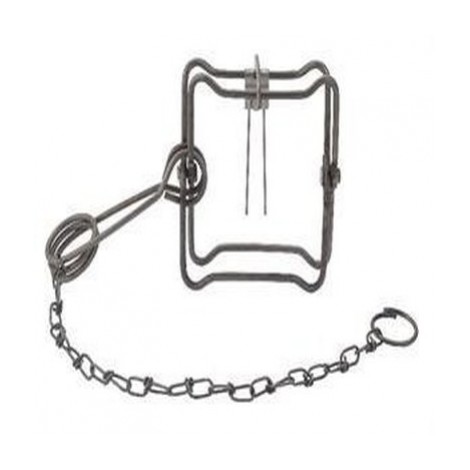 The uniqueness of this item is that you are receiving 6 traps at this price. They are also available to buy singularly if you ever lose or have to replace one.
Expand to see more
Versatile

These are very simple body traps designed for mink and weasel as they collapse better on these long-bodied animals. The full jawspread on these traps is 4.5" by 4.5"

Durable

These are standard and are made of very durable metal which is a plus. In the reviews, I saw a lot of comments about these traps working well once you learn how to set them properly. That said there may be a bit of learning curve on these traps when it comes to set up.
It was also mentioned that they are very reliable though they may take a while for the animals to be trapped in them. Not sure if the design when set creates something that warns the animals or if it's simply a matter of the area.

Cost and Value

These traps are a very affordable option. You can either buy them in singles or in a 6 pack for a bit of a discount. If your trying to trap long-bodied animals, the Duke 110 is a great option for your consideration.
Multiple traps in package
Durable metal design
Sturdy
More humane than foot hold traps
Challenging to set
Takes time to get animals to trigger them
6. Amagabeli Professional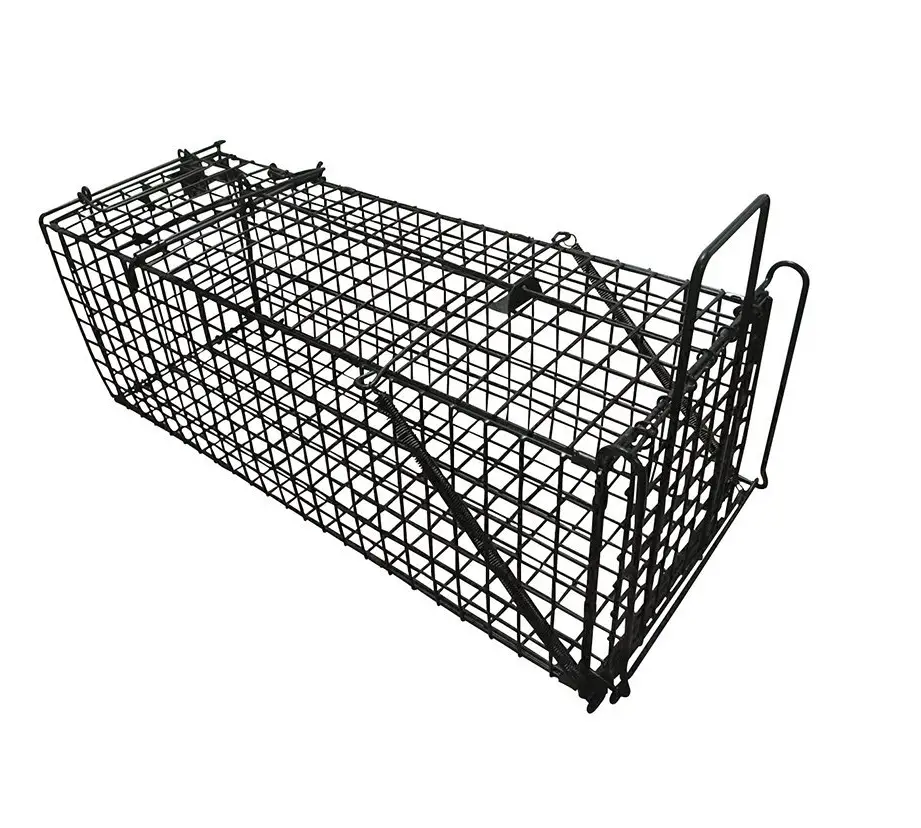 Traps that have a plate trigger work well if you have an animal that trips it when going after the bait. Some animals though, such as cats, are more mindful when they walk. They may just step over such a trigger. This professional grade trap has a unique hook (not sharpened) that triggers the trap if the bait is accessed.
Expand to see more
Coated Wire Mesh

This wire mesh has a black coating on it that keeps the trap safe from the elements while outdoors. This trap can also be used inside and is easy to clean. The mesh has smaller openings than other traps of its size which you save you from getting clawed at. This also prevents creatures, such as raccoons, from reaching inside the trap to get the bait. This also means it is suitable for trapping other pests like birds.

Feel the Tension

One of the things that is immediately noticeable about this trap is the unique door design. While most traps rely on gravity to close the door, this trap has a spring loaded door that shuts the trap quickly and efficiently. The springs also serve as a secondary means of keeping the trap shut.

Cost and Value

This good quality trap is priced slightly above the medium price range for traps its size. With features such as a spring-loaded door and weatherproof mesh, you will not be upset about spending a few extra dollars for a rugged live animal trap.
Designed for large animals

rust-resistant wire mesh

Spring-loaded doors

Unique trigger
7. Tomahawk Original Rigid 32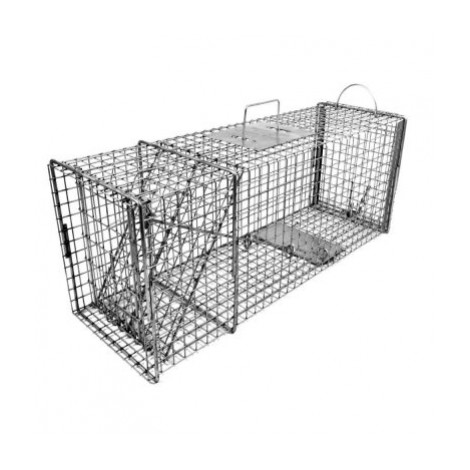 Tomahawk is hands down the leader of the live trapping industry. They have been creating live animal traps for almost 100 years and have been perfecting the traps ever since they began. They have their own sponsored animal control officers and offer things other manufacturers don't like education on trapping plus a multitude of trapping accessories, personal protective equipment, and specialty traps. They even have animal specific traps such as their feral cat models.
Expand to see more
Built to Last

The 12-gauge galvanized mesh incorporated into the design makes this trap very sturdy and easy to carry. There is something to be said about the leeway other traps have when you are carrying them. Moving a lot of animal traps, especially if something is in them, can be an anxiety-producing event. Some lesser designed traps feel like they could give away if you are moving it with an uncooperative animal inside of them. Not Tomahawk traps. They are rigid and very well constructed.

Easy to Use

Like most Tomahawk traps, this model has a sliding back door. This allows you to bait the trap from the back and not have to reach in from the front and around the trigger mechanism. This also allows you to easily release the animal with having to get your hand right next to it.

Cost and Value

Tomahawk builds products that they hope you only have to buy one time. They are designed for years of use. That is why they typically are set at a higher price point. While paying more does not always sound appealing, consider how much you would spend buying cheaper traps that lack quality over and over again.
12-gauge galvanized wire mesh

Various mesh sizes

Rear sliding door

Rust resistant
8. Tomahawk 603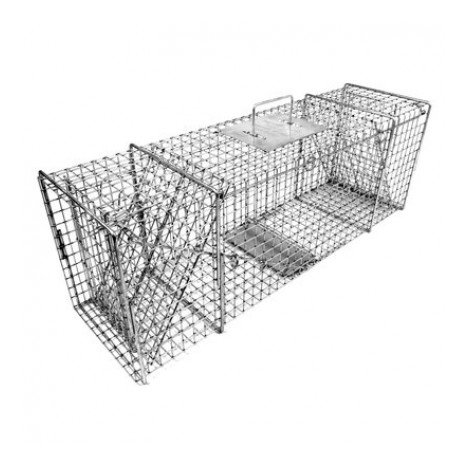 Easy Release Door for Raccoons/Feral Cats/Badgers.This is a powerful trap that is constructed from 12-gauge galvanized wire mesh. Tomahawk is one of the leading manufacturers in the live animal trapping industry. This trap has an easy release door which makes life easier for you and the trapped animal. The one inch galvanized mesh is rust proof which ensures years of usefulness. The trap can also be used inside in places like attics and basements. Tomahawk is another brand that leads the live trapping industry in quality and is considered a "high-end" trap.

Expand to see more
Use It Where You Need It

Like our second trap reviewed this trap would work as well in the woods as it would around your house to catch nuisance animals. It is a solid design and I am impressed by the simplistic design and easy setup of this model. This model features a rear sliding door for easy baiting and transfer of animals. This is a feature convenience that goes a long way. This trap is a smaller one that is used primarily for squirrels, muskrats and similarly sized animals. Using a larger trap than you need can create issues when you are trying to rough them into the landscape. The ability to camouflage these traps is much harder than the classic clamp style traps

Catch and Release

Not just a slogan for fishing. Catching animals and relocating them is a lot more difficult than just spreading poison bait or getting a trap that kills the animal. However, there is a lot of room for error in lethal trapping and baiting especially if you have smaller children or pets of your own. When it comes to the humane catch these models take the cake because the creatures are captive rather than pinned to a closing trap. You simply cannot argue a more humane trap than the these models that cage the animal rather than snare it. Poison baits work but sometimes you have to find the dead animal and if it is in your house this could be a tedious and smelly task.

Cost and Value

This is a very sturdy heavy duty live animal trap. It is made from high-quality materials and has a very nice design which includes the sliding door for easy baiting and releasing. Tomahawk is one of the top brands out there so you'll pay a little extra for this trap. Sometimes though, paying a little more is worth it in the long run. This is definitely the case with the Tomahawk 603.


Rear sliding door for easy baiting
Humane catch design
Reasonably priced
Handle for easy carrying
Harder to hide then the more traditional clamp style traps
9. Minnesota MB-550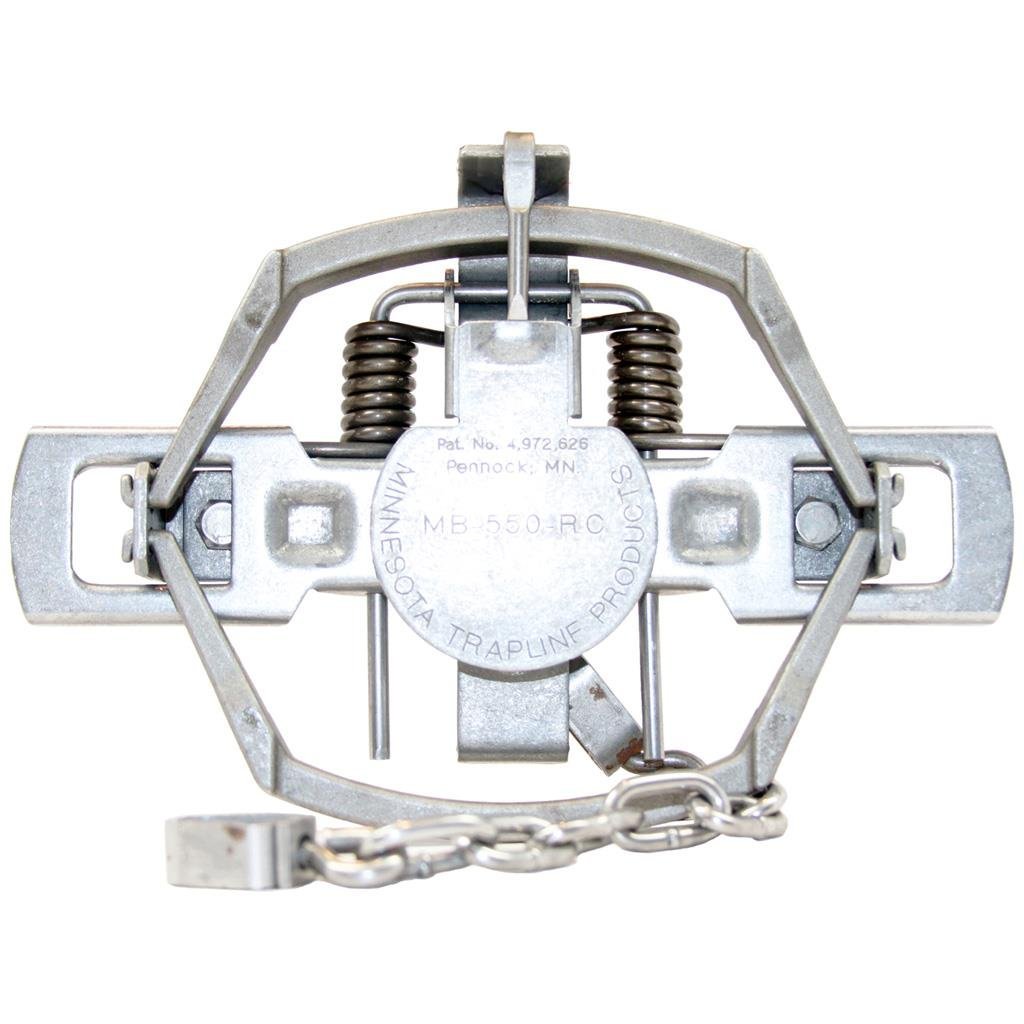 If Batman were a trapper, he would carry the Minnesota Brand MB-550 Offset. It is a well built and portable trap that can be used for a variety of animals.
Expand to see more
Swivel Action

With cast jaws, this trap has the power to hold tight and the crunch proof swivels to allow the animal the ability to move around once trapped. This is an impressive design and a beautiful look as well.

Performance

The reviews on this model are short and sweet it is a powerful trap that is ready for battle right out of the box. Many mentioned how readily it caught the 'elusive coyote' and held on tight. These traps have the power trappers are looking for.

Cost and Value

The price of this trap is comparable to the quality of the trap itself. Though the Minnesota Offset prices best on Amazon in comparison to other online outlets. Even if this trap was twenty dollars more I believe trappers would buy it and love it.

Powerful and sturdy design
Well reviewed trap
Ready to use right out of the box
Swiveling design
May require rust proofing
10. Duke 0470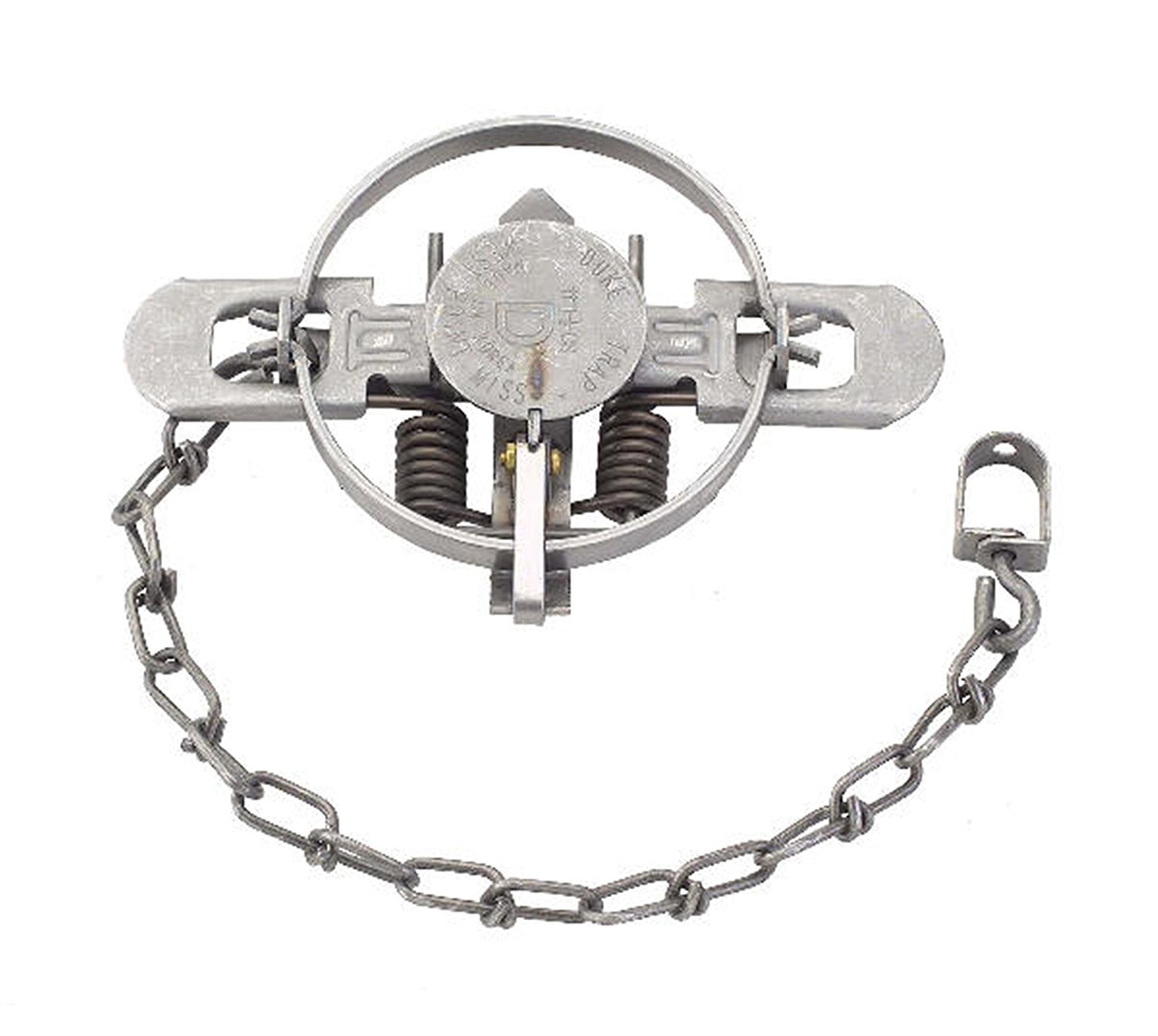 The Duke 0470 hits a more traditional note when it comes to animal traps. It is a jaw style trap that clamps down on the animal. These are easy to conceal and use and can be set up in numbers along a game trail. Make sure your dog doesn't go near them though.
Expand to see more
Traditional Trapping

This model comes in two sizes and features the circular clamp style design. It's a very strong design and though I wasn't thrilled with one of the comments about this trap being able to hold an animal for two weeks or more it did speak to the durability of the trap.

Smooth Edges

If you are a trapper yet respect the animals you are after you will be pleased to know that this is a clamp but does not have the sharp jaws that some bear traps do. I would give this smooth holding design thumbs up for its humane trapping ability. Clamping traps do not necessarily need sharp teeth to hold an animal. It is possible to humanely trap your targets and not employ a trap that inflicts damage to the animal. The smooth design on the clamp ensures that the animal will be held in place and not suffer needlessly.

Cost and Value

If you get your hands on one of these traps you will be spending under ten dollars for a small game size. Though, this trap was also very well reviewed for its ability to catch large game as well. On a whole, I think you have a great value in the Duke 0470. It is also available to buy in a 6-pack.
Traditional trap design
Great value
Durable
Humane
Needs some tweaking before use
We have looked at 10 traps in this buying guide and all of them will perform for you in the field. There is much consideration not only to the type of animal you are going after but also to the style of trapping you'd like to do.
If you are setting the classic clamp style traps look to the Minnesota Brand Offset or the Duke 0470 animal trap. These both bring the classic clamp style with reliability to boot. There is much that differentiates even these two models but either will get the job done for you.
Other trappers may be in the business of the caged capture of their animals and in that realm, you have two very special traps in the Tomahawk and the OxGord which are both sturdy traps that will over you a live humane catch option that is not possible with the crushing power of any other style trap.
This buying guide should aid you in your next trap purchase. Whether you buy one of these new traps or just review them and make a purchase elsewhere this guide will no doubt give you a better look at what's available out there in the trapper's world.
Criteria Used to Evaluate the Best Animal Traps
Design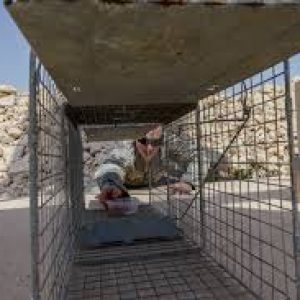 A good trap is one that is designed with the safety of the handler as well as the animal in mind. Even if you do not necessarily prioritize humane treatment of the trapped animal (as you should as an outdoorsman) handling a frantic and injured animal can have disastrous results for you or anyone else involved in your operation. Well designed traps take this into account. More and more animal traps are becoming humane means of capturing animals so certain features should be sought after.
A reliable way to carry the trap is one consideration.  This, of course, is more of a consideration with live animal trapping when you are looking to relocate and release the animal. If you are hunting this may not apply to you. Having a good handle will ensure your fingers remain intact and you don't accidentally drop the trap and release the animal.
And speaking of releasing, make sure your trap has an adequate means to be opened without putting yourself or the animal in harm's way. Some traps have slid back doors or handle on the door to easily release the animal.
For trappers who aim towards the sports side of trapping, respecting your prey should be of the utmost importance. If not for the welfare of the animal at least for maintaining the quality of your catch. A lot of clamp style trap manufacturers have done away with brutal teeth style traps in favor of smoother edged clamps that trap the animal without unnecessary harm. Some even incorporate swiveling components to keep the animal from breaking the trapped appendage.
When considering a trap keep in mind your goals as a trapper. Look for features that will make the experience the least stressful for you and your prey.
Types of Traps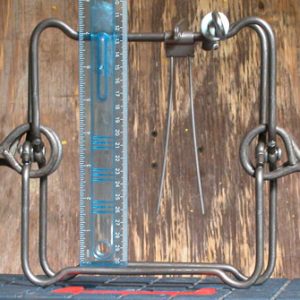 There are a plethora of trap styles that are used today. Most of the time the style of trap you choose will depend on two things: what your trapping, and why your trapping. This list of best animal traps is comprised mostly of live cage-style traps that are used to relocate an animal. There are also foothold traps that can be used by sportsman if they are legal in your state.
Of the many types of traps out there, some rise above the rest in terms of humane usage. Things like snares and cornibears are being discovered to not cause quick deaths as they may have been designed to. A cornibear is a full body type of trap that originally intended to cause sudden death to the animal that became ensnared in it. However, many factors such as the direction of travel and size of the animal that triggers it are hard to calculate which leaves a critically wounded animal instead of one that was humanely killed. Reasons snare traps are being phased out are kind of simple, strangulation is a horrible way for anything to die.
If your trapping to relocate, cage-style traps are your best bet. They cause the least amount of stress for the animal and also for the handler. However, if you are trapping for sport a foothold trap that has a smooth finished or padded clamp is easier to conceal on a game trail. They can also be set up in a series. It is important (and legally mandated in some states) to mark these traps if you use them. This keeps other outdoorsman and hunting dogs safe while around the trapping area.
Again, consider what works for you. Picking the right type of trap can mean the difference between success and failure.
Repeated Use
As with any purchase you make, you want to get your money out of it. A good trap can be used repeatedly and perform as expected every use.
Look for traps that are resistant to the weather. Good traps are rust and corrosion resistant. This ensures that the trap remains in good working order and will not unexpectedly have pieces falling off of it while you are carrying an animal. This also keeps the trapper safe from things like tetanus.
Traps should also have an air of simplicity to them.  If you have a trap and you can see exactly how it works you can do regular maintenance on it to keep it performing at its best.
Traps that are not sold rust proof can be modified to be so by painting, waxing or adding certain chemicals to the finish.
Take care of your gear and it will take care of you.
Personal Protective Equipment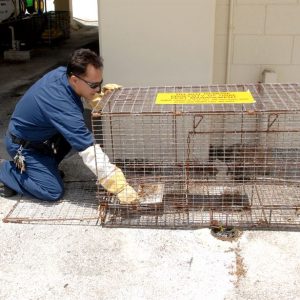 Personal safety should always be a priority no matter what you are doing. This is true whether your trapping to relocate an animal or if your trapping for sport. It is always a good idea to have some kind of PPE handy.
Professional animal handlers use thick gloves when handling most of the animals they catch. This is a good idea for a few reasons. You have to try and understand how stressed and panicked an animal might become in the process of being trapped. For them, they might feel like they are fighting for survival. An animal in this state of mind will inflict damage on themselves if they think it means that they will ultimately survive a situation. What do you think they will do to the person trapping them?
Always wear some type of thick glove when handling a trapped animal. This is especially true if you are looking to relocate an animal. No matter how mundane or calm the animal may appear, a wild animal that has been trapped can go from 0-90 in a second without warning. Hence the title "wild". It might also be a good idea to keep an animal control pole called a Ketch-All handy. These are the poles with a loop on the end that are designed to keep the animal away from the handler. Or just use a stick.
Other things like high topped boots and thick clothing will also do a lot to keep you safe from what you are trapping.
FAQ
Frequently Asked Questions
Q: What do I look for in a quality trap?
A: The best animal traps are going to be made up of reliable metals and have very few reviews about issues with damage or damage upon receipt. Also, I like to see traps that survive sometime in the field as well. The dark reality of trapping is that these animals are struggling for their lives. You better have the power in your traps to hold them. Depending on what kind of animal you are wanting trap, it should also be a trap you are comfortable having both indoors and outdoors. This is especially true for nuisance animals such as squirrels or possums which might be trying to make a home in your attic or crawl space.
In considering the construction look for features that will make your life easier such as rear sliding doors for releasing the animal and something that you can hang on to when you are carrying the traps. This is more important for live animal traps. You do not want to grab the cage by the wire mesh and leave your fingers exposed to the animal. If a cage does not have a handle other means may be used to carry the trap such as a gloved hand or wrapping it in a blanket.
Q: How do I know the trap is humane?
A: If animals are made to suffer than no one wins. As hunters, trappers and general outdoorsman, we should have the utmost respect for the prey we stalk and our number one goal should be a humane and quick death. These traps must show that they will not cause more suffering than necessary. Look for claims by the company or the humane nature of their traps and look at the products themselves. Obviously, if a clamp trap has razor sharp teeth it is not going to be the most humane of traps. On live animal trap, cage styles pay attention to what is on the inside of the trap. Sharp edges or protruding components may be dangerous for a scared trapped animal.
A humane trap is important for more than just the animal you wish to trap. If you have pets or kids they could accidentally set off one of these traps. Be sure you get a trap that you wouldn't be scared to have gone off on something you care about. Especially if you are using it in or around your home.
Q: How do I assemble a trap?
A: If a trap is a struggle to set up that should count for something and it shouldn't be something good. No one wants a trap that takes 20 minutes to set and needs 2 tools to get it done. There is much to be said about the convenience of assembly.
Many traps come preassembled and have instructions or user guides. If they do not the internet is a great source of information and there is bound to be a youtube video somewhere of someone using or assembling the trap. Another factor in the assembly to consider is how easy it is to set and access bait. I personally have had many frustrating experiences tripping the trigger plate on live animal traps because I had to completely extend my arm inside of it to put the bait where it needed to go. It is also important to know how to open the trap to release the animal. Some traps rise above the others in this aspect.
Q: What size of a trap should I buy?
A: Depending on what you are after the size of your trap is very important. Size affects your ability to cover the trap and camouflage the trap. Traps are sold in different sizes based on what you are looking to trap. While you could catch a squirrel in something designed for a raccoon, the size of the trap would be impractical for your goals plus it would be more difficult for the trigger to be tripped.
You also do not want a trap to be too small. Things like raccoons and possums can grow into pretty large creatures. If an animal is trapped in a cage where it is impossible for it to move it will become more panicked. This makes things dangerous for the trapper as well as the trapped. Not to mention what a frantic trapped animal might do to try to break out of the trap. It could leave your animal trap in a state of disfigurement that makes it unable to use again. All in all, ill-sized humane traps can become inhumane traps.
Sources