Best Dog Crates Reviewed & Rated
In a Hurry? Editors choice: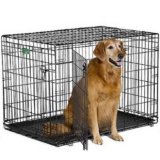 Test Winner: Midwest iCrate

Our puppies are more than just pets they are part of the family. And like with other family members, we want to take care of them and provide them with the best we can offer. This means
ensuring their safety
every time you take a trip together. A dog crate will not only protect them in your vehicle, but they are also great for plane rides and as a bed in your home. Whether your furry friend is traveling or at home, crates offer a safe haven for your
puppy
to spend time. Our list of the top-rated crates features a diverse selection in order to give you the best choices on the market. You will easily find a little home for your pet here and more!
Standout Picks
Criteria Used for Evaluation
Features
Obviously, you need to know that your puppy won't be able to get out of its crate, and some crates are better equipped for that task than others. The key is in the latches. It shouldn't be difficult for you to maneuver and secure in place, but it shouldn't be so easy that your puppy could undo it. For example, barrel locks may not be the best choice for some puppies. We've been careful to list crates that boast excellent levels of security; you can rest assured that your puppy can't escape without requiring an unreasonable amount of effort simply to set the latch properly.
Durability
There are various ways to make puppy crates, and all of them have their pros and cons. The most common materials used for them are probably plastic, canvas, wood, and metal. No matter the method of construction, however, your crate should be able to contain your puppy. After all, outsmarting the latch is only one way to get out; chewing and sheer force are also options.
Plastic and canvas crates are more likely than metal ones to be destroyed by chewing, but it's possible for strong puppies to bend or break metal bars and wood panels enough to escape as well. Whatever crate you choose, make sure that it's built well enough to stand up against your puppy's determination. Our list consists of crates that tend to be sturdy and resistant to decimation, but only you know your puppy's capabilities.
Comfort
If your puppy has to be caged up for any length of time, you'll want to make sure it's as comfortable as possible, and that's especially true for long hunting trips. Of course, you can customize any crate that you buy with beds, toys, and food, and simply knowing how to buy the right size can go a long way, too.
However, choosing a crate that offers some sense of safety and coziness in the first place is quite helpful. One of the most important things to take into consideration is whether the crate has ventilation and the potential for insulation, depending on the weather. Your puppy needs to be able to breathe and avoid both overheating and freezing. The crates on our list take these matters into consideration.
Portability
Sometimes, people buy crates for their puppies to keep them from wreaking havoc in their homes while they're away at work. However, as a hunter, you may want a crate to make it easier for you to take your puppy on your trips, especially since it's statistically safer for puppies in the event of a crash. In this case, crates that balance lightweight with strength are ideal, as are ones with handles and/or wheels. It also helps if there's some way to secure it in your vehicle so that it doesn't slide around much while you drive.
Effectiveness
An effective crate does more than keep your pup in, it also needs to keep them comfortable and - to put it frankly - alive. That is why proper ventilation and insulation is one of the most important things to take into consideration. Your puppy needs to be able to breathe and avoid both overheating and freezing. The crates on our list take these matters into consideration.
Top 10 Picks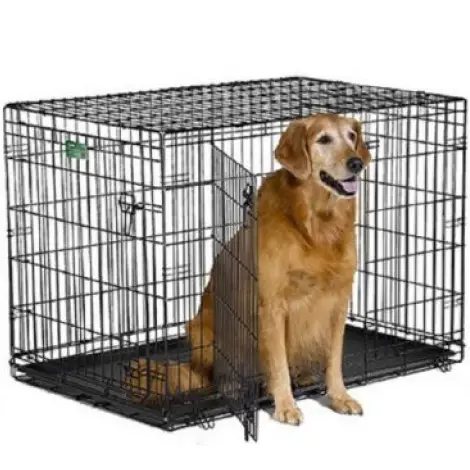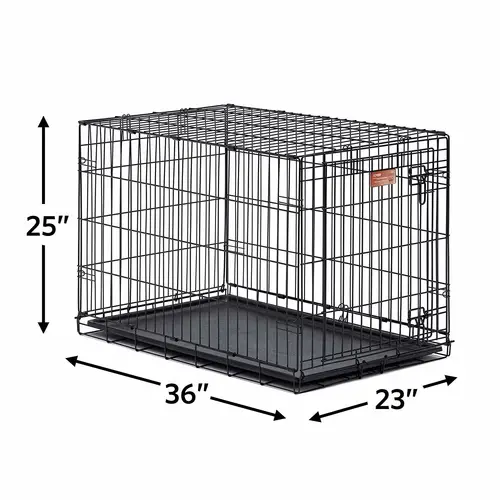 While the iCrate is not suitable for destructive puppies or those with anxiety issues, it makes a great travel or indoor enclosure. The wire build is lighter than other wire crates, making it a cheaper option for those that need a lightweight, foldable solution for housing their pet. This is a great option for your well-behaved, calm-tempered puppy.
Many Different Sizes
This crate comes in both single- and double-door and ranges in sizes that support pets between 6-110 pounds. A divider panel comes with the crate, so you have the option to buy big and adjust the size inside as your pup grows.
Foldable
The lightweight build and easy folding system make it an ideal choice for traveling in vehicles, on airplanes or in hotel rooms. It folds down in one piece and locks in place so it is easy to store and carry without the worry of losing anything.
Cost and Value
The iCrate is cheaper than its cousin crate, Midwest LifeStages, due to the lighter build, and close price to the AmazonBasics folding crate, which has similar features. If you want your well-behaved pooch to have a safe enclosure while not breaking your bank, the iCrate would be a great choice.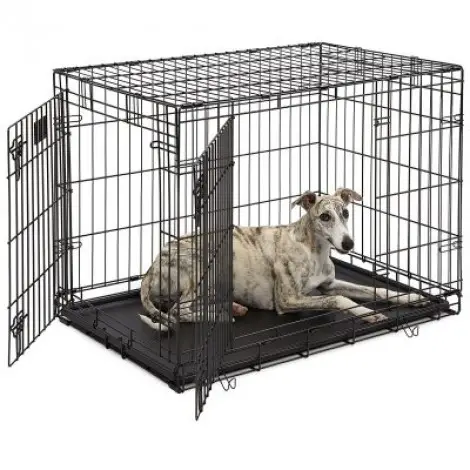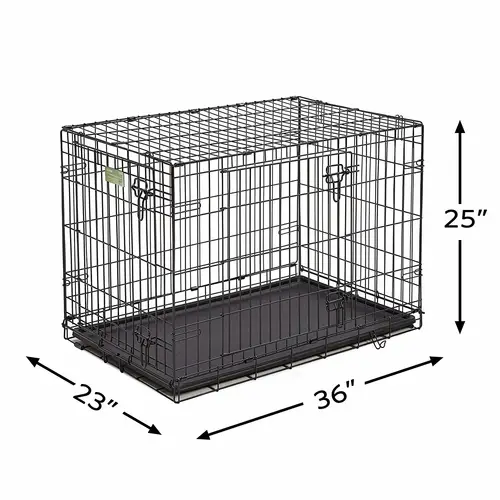 If you have a puppy with separation issues or destructive habits but enjoy the open wire structure over closed crates, this is a great option for you. Designed with a sturdier wire that its cousin, the iCrate, and two latches per door, it makes a more secure habitat for dogs of various sizes and temperaments.
Versatile
This crate comes in one-, two- and three-door options so you can choose what's right for you. It also includes a divider so you can buy big and change the size inside to conform to your growing puppy. It folds in one piece for easy storage and travel.
Sturdy Wire
The sturdier design of this crate makes it great for many different uses and puppy breeds/temperaments. Using a thicker wire than other crates in its category, you can be assured that your pooch won't be escaping while you're at work.
Cost and Value
The Midwest Life Stages made the editor's choice because it offers the most bang for your buck. While being slightly more expensive than other wire crates outlined, this shows through with a sturdier design, a better latch system, and the greatest versatility.

3

. AmazonBasics Double Door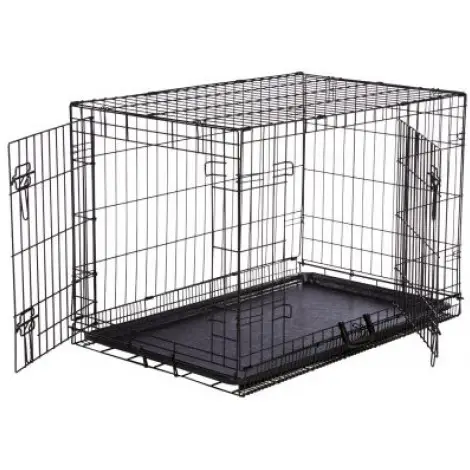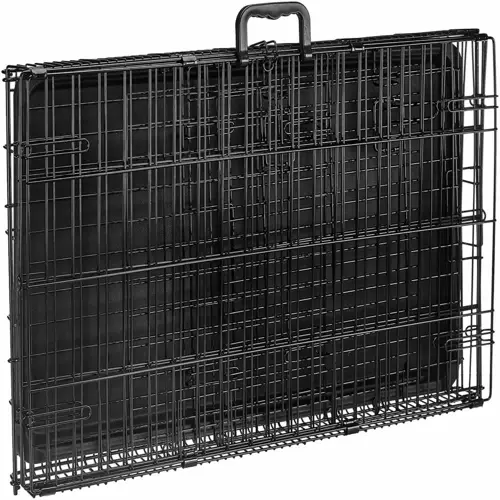 Similar to the Midwest iCrate listed below, the AmazonBasics Folding Metal Crate has a host of features to keep your pooch safe and secure during training, travel, or at home. The design is slightly sturdier than similar products for the same price while showing off a wide variety of options to suit your needs. Best suited for well-behaved puppies.
Sturdy Door Latches
This crate offers two slide-bolt latches on each door, giving peace of mind that your puppy won't be able to bend the door at the corners while you are away, keeping them safe and secure.
Lightweight
While also boasting a foldable design, the AmazonBasics crate is a few pounds lighter than products of similar price without compromising its sturdy design. This also makes for easy travel and carry.
Cost and Value
The AmazonBasics crate offers one of the lowest price points for wire crates while keeping a relatively sturdy build for a variety of puppy breeds and temperaments. This crate is best for pet owners who want a rigid, lightweight design they know their puppy will stay safe in.

4

. Petmate Two-Door Top-Load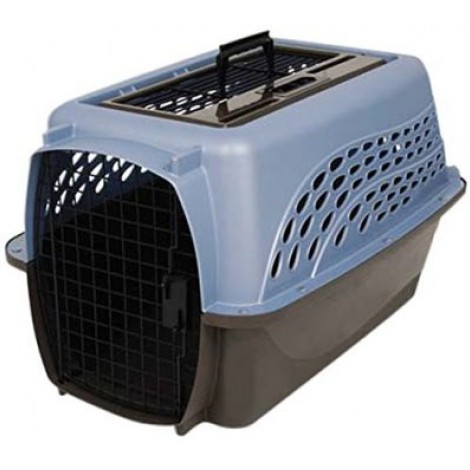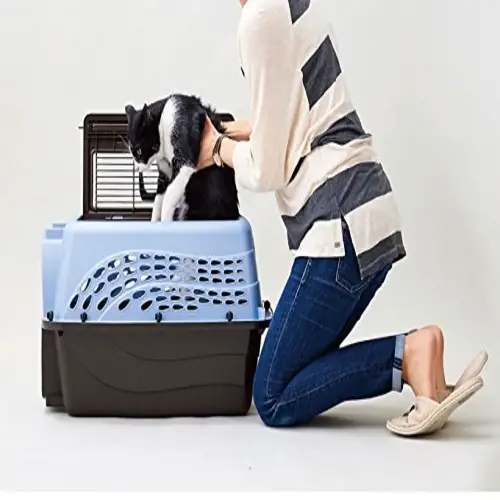 The Petmate Two-Door Top-Load is a rigid plastic crate for small puppies offering ventilation on all sides and easy access from both the front and top. Made in the USA, this crate follows most airline guidelines for flying, making it a great choice for frequent travelers. A convenient carry handle on top makes it easy to transport your pet safely.
Heavy Duty Construction
The high-quality plastic and steel door with secure latch make this the perfect travel home for your pet to ensure safety. Great ventilation holes allow your puppy to see you at all times and makes it ideal for any time of year.
Top-Loading Door
In addition to the front door, the top-loading door allows easy access to your pet while decreasing the chance of them trying to escape. It also allows for easy travel in cramped vehicles.
Cost and Value
The Petmate Two-Door Top-Load is comparable in price to other rigid-sided crates of similar size. Being approved by most airlines, this crate makes a great option for a variety of activities while keeping your pet safe and secure.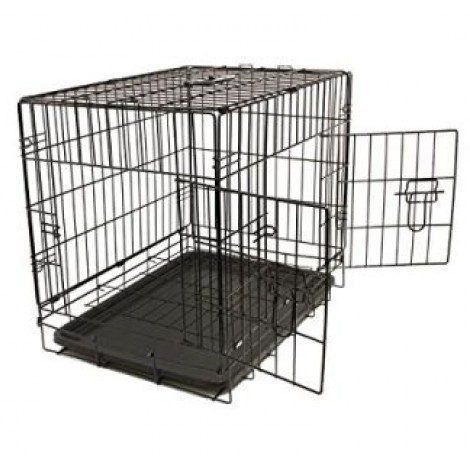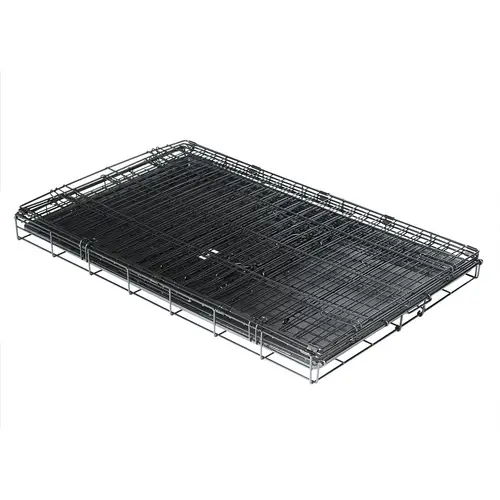 Similar to other wire crates, Paws and Pals offers single- and double-door options and sturdy construction for a variety of pet temperaments. The foldable design and easy setup make it great for travel or at home and offers a divider for growing puppies. Large doors make for easy entry and cleanup.
Sturdy, Spacious Construction
For at home, this crate is sturdy enough for most puppy breeds and will give adequate space to move around for even the biggest pets. The Paws and Pals are best suited for any well-behaved puppy, or for a small-medium dog with anxiety issues.
Easy Setup
One of the easier wire crates to set up, it makes for a great travel crate and folds down into a self-contained case for easy storage and transport. Lacking any sharp edges makes it safe for anyone to handle.
Cost and Value
Slightly cheaper than the Midwest LifeStages, but more expensive than the iCrate and AmazonBasics, this puts the Paws and Pals in the middle-ground of wire crate pricing and quality. Durable enough to contain most puppies makes it a versatile option for your pet.

6

. PetNation Port-a-Crate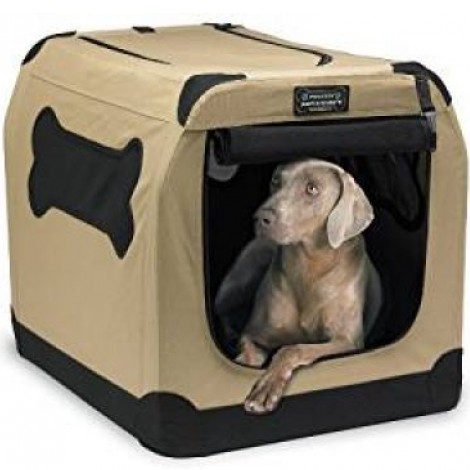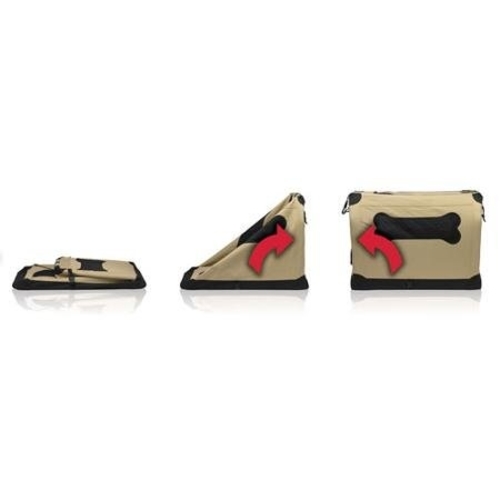 This soft-sided crate suite well-behaved pets up to 70 pounds. High-strength mesh, zippers, steel frame, and latch makes this a safe option for puppies. Waterproof fabric will keep your puppy dry during travels for a reasonable price. Keep your puppy feeling comfortable and at home even while on the road.
High quality material
The tightly woven mesh protects your puppy's paws from accidentally getting caught on the sides. A strong steel frame keeps its shape to make it easy to carry while keeping your puppy safe and comfortable.
Portable
Comes with detachable straps to help you carry your pooch around during travels. Its lightweight design makes for easy transportation and its ability to flatten makes for easy storage when not in use.
Cost and Value
The PetNation crate is slightly cheaper than the previously mentioned EliteField soft-sided crate, while still holding a high-quality design and being a convenient and versatile option for frequent travelers.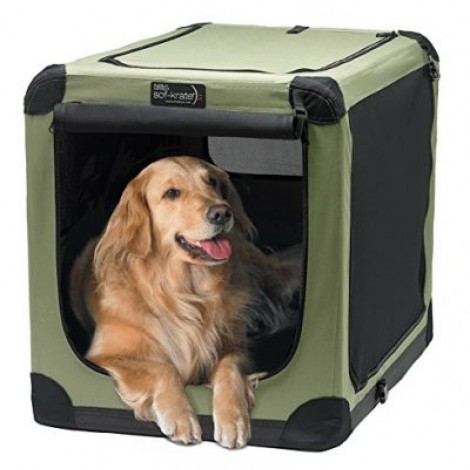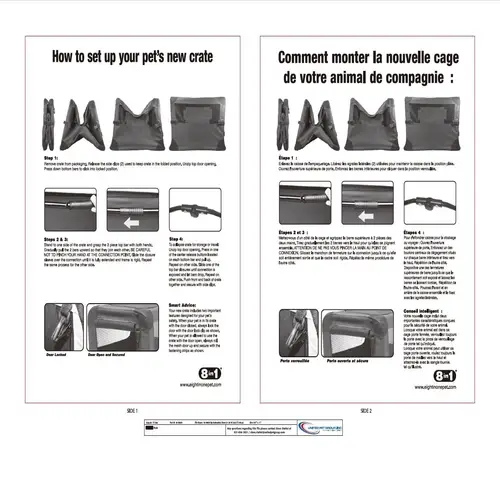 With a great ventilation system on three sides, three access points, and a sturdy build, the Noz2Noz Sof Krate makes a great home for your pet while traveling. A lightweight build means it is easy to transport, and simple setup gives anyone the ability to use this item without instructions. This crate can hold non-destructive pets up to 90 pounds.
Three Access Points
One front, one side, and one top access point make this crate easily accessible while in a packed car. The zippers are reinforced with a latch to ensure that your puppy can't weasel them open when you're not looking.
High Quality Canvas
The tightly woven canvas and mesh make your pet feel secure while still being able to see everything around them. The small mesh holes reduce the risk of your puppy getting nails stuck or making holes.
Cost and Value
The Noz2Noz is slightly greater in price than the similar EliteField Soft-Sided crate but shows this price difference in ease of cleaning, strong construction, and portability.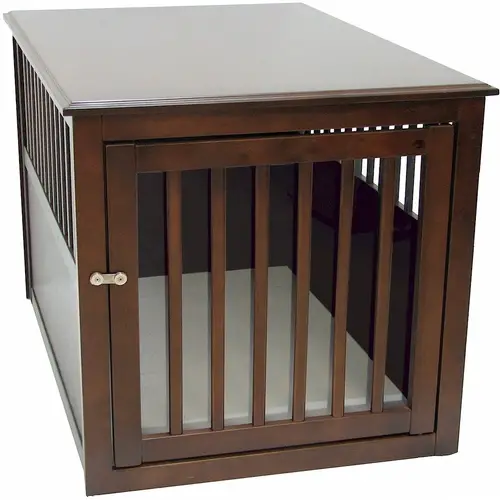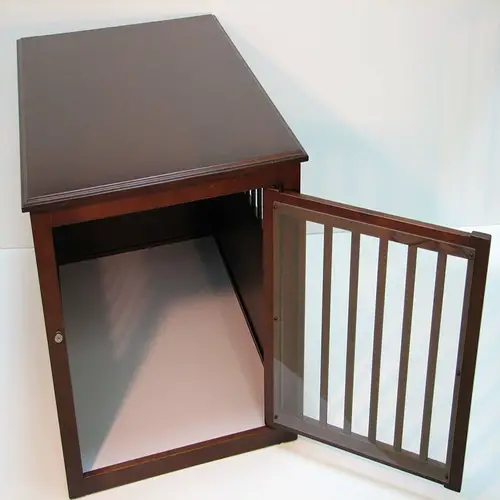 When most of us think of crates, we typically think metallic, large and minimal; however, this crate will make you think completely different. Built for luxury and convenience the Crown Pet Products Wood Pet Crate comes prepared to give your pet the comfort they desire while ensuring you have a piece of furniture that makes you proud to have.
Multipurpose
While most of us will look at and not know where to place it, the Crown Pet Products Wood Pet Crate is completely versatile. This is mainly due to the material that its created from. The exterior is made out of quality wood that is not only durable and long-lasting but its aesthetically pleasing. Furthermore, the hardwood is stained and lacquer finish allowing you to double up as an end table. That is how versatile and sleek this crate is, it looks just like traditional wood furniture but with the beauty of being able to hold your best friend.
Swinging Doors
To make the crate as versatile and easy to work with as possible, this one comes with a two way swinging door. While this might seem like an easy feature it's quite convenient, as you won't feel stuck in any way when opening the door for your dog. The floor of the crate is created out of waterproof melamine MDF for easy cleaning in case any mishaps were to happen.
Cost and Value
If you reading how luxurious and versatile this product is you might have already guessed that this crate is a bit on the pricey side. However, with that being said, it is very well worth it. Particularly, if you want the option of using it as furniture in your home. Think of it as the perfect multipurpose product.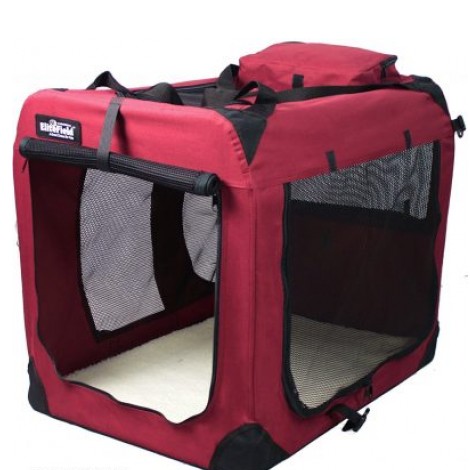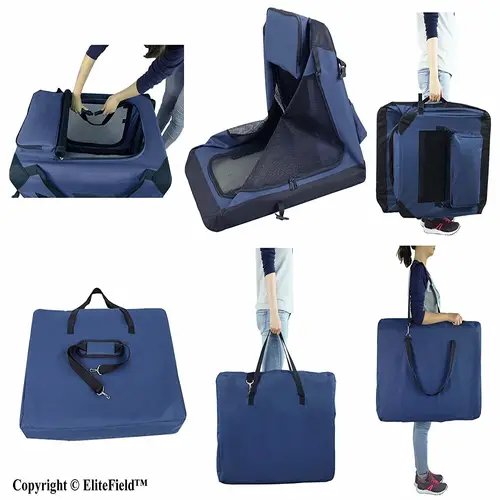 This soft-sided crate boasts three mesh doors for easy access from any direction and great ventilation, along with two accessory pouches. It comes with a removable crate mat for easy cleaning, and is available in various sizes and colors. The steel tube frame makes for a sturdy option for non-destructive puppies.
Roomier than other soft-sided crates
The EliteField boasts being wider and higher than most other soft-sided mesh crates on the market, making a great space for Fido to move around and get comfortable.
Accessory Pouches
The built-in accessory pouches on the carrying case make great storage for treats, medication, or toys so they are within easy reach when needed. No more searching through your bags while traveling to find something to keep your puppy preoccupied.
Cost and Value
Compared to similar soft-sided puppy crates, the EliteField is slightly more expensive, reflecting the quality design and build, and extra space for your puppy to move around and get comfortable, making it a great option for them to sleep and travel in.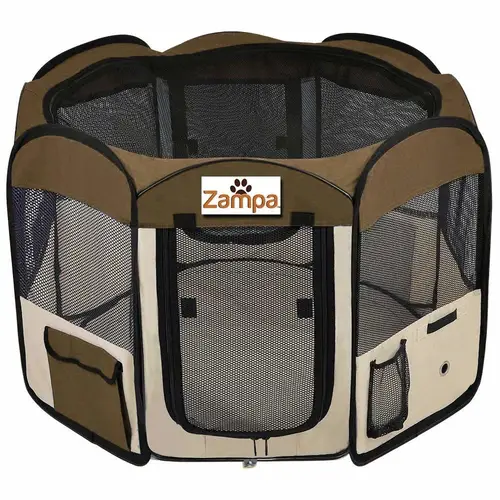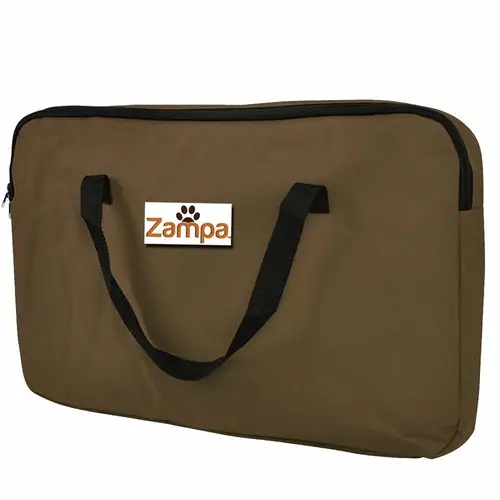 If you are constantly on the road or enjoy taking your pet with you to events or even doggy daycare, having a portable crate is the way to go. Zampa Portable Foldable Pet playpen is the perfect portable crate due to how versatile and effective it is.
Works for Multiple Dogs
Though most crates are created for one specific size dog, this one is not. Measuring 45 inches in diameter, and 24 inches in height this crate can hold adult and puppy dogs equally. Furthermore, the design itself was created with pet comfort in mind. Featuring an 8-panel display the interior is extremely spacious and breathable so that your dog feels involved even when t is inside of the playpen.
Outdoor Safety
This dog playpen is perfect for those that want a safe environment for their dog while being outside. Many dog owners prefer their dogs to be inside a crate when being outside due to the elements and other animals that might be around. Additionally, this playpen is spacious enough that your dog can get excellent exercise while still being in a safe environment. You can zip and unzip a panel in case you want to open some areas for your dog.
Cost and Value
When it comes to the cost and value of this product, you are getting quite the bargain. Not only can this crate easy to fold and easy to carry but the price is just right particularly if you have multiple dogs and want an area for them to get together and safely get a workout in.

Subscribe to our Newsletter