Best Knife Sharpeners Reviewed and Tested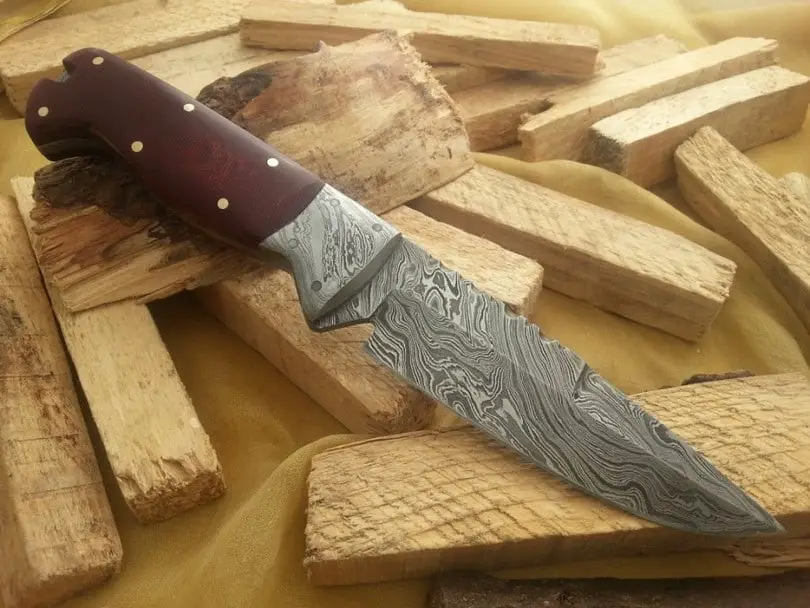 A pro hunter is never without his go-to hunting gear which also includes a razor-sharp all-around tactical knife. A tactical knife is a valuable asset of seasoned hunters, military personnel, campers, and more. Only a true survivalist understands the importance of a tactical knife. However, even the finest hunting knife is nothing but a piece of crap without a razor sharp edge. A tactical knife is as good as useless with a dull edge. But nothing is inevitable. Even blades get blunt over time and they need to be on the cutting edge to be effective. They aren't immune to the everyday wear and tear of time and blades don't sharp just like that. This is where a knife sharpener comes to the picture. After all, you need your survival gear in their best shape and condition to tackle the elements of nature and the horrors of wilderness.
Our Top 3 Picks
Types of Knife Sharpeners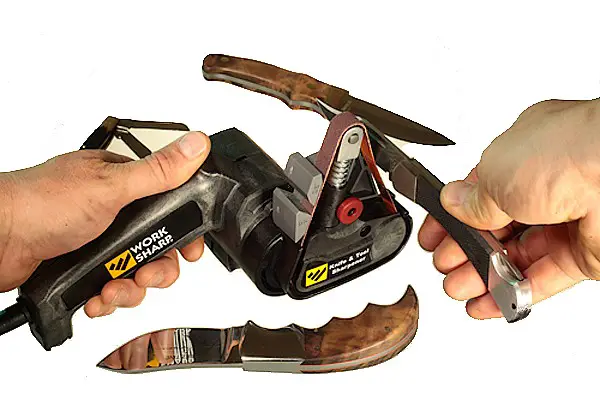 Even in this digital age, manual sharpening technology hasn't gone totally obsolete. However, the sharpening tools have changed dramatically over the years to become high-tech and highly efficient. These tools are generally divided into two main categories: Electric and Manual. The manual knife sharpeners are used mostly by the seasoned professionals or serious hunters because the manual sharpening technique requires a lot of patience and skill. An electric sharpener, on the other hand, is an efficient substitute for the manual ones, but mostly for the chefs and busy housewives who don't have the luxury to spend hours on sharpening their knives.
Electric Knife Sharpeners
Automatic or electric knife sharpeners are fast and convenient to use and offer the precision of manual sharpeners. You don't need to be a pro to use an electric sharpener; in fact, you just have to hold the knife across the tool and the tool takes care of the rest. Plus, they are so compact and easy-to-carry that so you can easily carry it around anywhere you want and it can also fit in your kitchen just perfectly. The tool resembles a box with a motorized grinding wheel. But for obvious reasons, electric sharpeners come at a higher price that their manual counterparts. But the time and energy you save in the process are worth the investment.
Manual Knife Sharpeners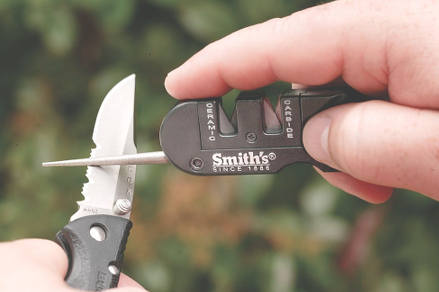 The manual technique requires a great deal of your patience and certain skills. You take one wrong move and you can end up doing more damage than good. While there is no better way to get the perfect razor-sharp edge on your knife than with a sharpening stone, it's a method that requires a great deal of practice to do it efficiently and correctly. Humans have been using this old-school technique for thousands of years and one still needs to practice for years to excel at the technique. There are a few fundamental kinds of manual sharpeners available in the market – sharpening stones, rods, and steel stones. Most people prefer using the rods for sharpening the knives because they are always readily available and require less expertise. They are also a significant part of a hunter's gear since they are portable enough to be carried in backpacks.
Pocket Knife Sharpeners
If you follow the episodes of the popular series Man vs. Wild, you'd realize just how crucial a pocket knife is when you're out in a dense forest or some deserted island for camping or hunting. A dull-edges knife could land you into some deep trouble in desperate circumstances. And carrying an over-sized, knife sharpener is not an option either when you're traveling so much. Hunters have prior knowledge of knife sharpening with stones, but that too is a time-consuming technique and finding a perfect sharpening rod or stone in an unfamiliar land is too much of a hassle in itself. So for the same reasons, it's wise to go for a perfect knife sharpener that's compact enough to fit in your pocket.
Sharpening Techniques
The basic thumb rule here is grinding the blade against a hard rough surface at a particular angle. There is a common saying that iron cuts iron. Regardless of the tools being used, there are three basic steps involved while sharpening knives.
Sharpening – This process involves removing all the unwanted material or chunks from the blade by setting the blade at an angle between 20 to 30 degrees against the stone or any other material being used for sharpening. This results in the blade tapering at the edges thus removing the dullness of the knife.
Straightening – This process is done at a slightly lesser angle of about 15 to 20 degrees, which eventually makes the edges straight by removing the excess metal but not as much as in the sharpening process.
Polishing – Finally, it comes the finishing part that ultimately gives the blade a mirror like smooth edge. It's usually done by polishing the knife on a rotating cloth wheel which eventually helps the knife retain the sharpness for a long period of time.
Choosing the Best Knife Sharpeners – Factors to Consider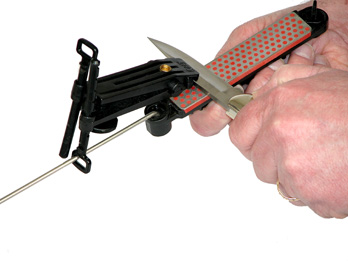 Finding the best knife sharpeners requires a little patience and a lot of research, but do it correctly and you'll get your perfect sharpener that will keep your most-loved knives on the cutting edge all while saving you a great deal of your hard-earned money and your precious time in the long haul. But before you make the decision, you have to consider a few factors first.
Brand
The brand is one of the first things to consider before choosing any product – doesn't matter if it's your casual daily use shoes or a tactical knife for your little hunting expeditions – for the obvious reasons that it guarantees quality and reliability of the product. When you look for a good knife sharpener, it's important to consider the brand. There's a myriad of options to choose from when it comes to the brands. With a multitude of options available in the market, it's more likely you'd find the best ones depending on your needs.
Type
It's important to choose between the different types as it helps narrow down other factors under consideration when choosing the right knife sharpener. An electric knife sharpener, as discussed earlier, is easier to use and provide more precision, while a manual sharpener needs a great deal of expertise and physical effort.
Material
The material is one important factor to be taken into consideration because each sharpener is equipped with different materials in their abrasive wheels or surfaces; it can be diamond, steel, stone, ceramics, tungsten, etc. Most of the electric sharpeners leverage diamond-cutting technology for precise sharpening and they last for a long period as well.
Sharpening Angle
Some sharpeners use a bevel angle which intends to determine the blade's sharpness. Smaller the bevel angle, sharper the knife's blade. Some manufacturers provide the bevel angle as a specification parameter in their catalog or product description. So make sure you have the smaller bevel angle. Many provide adjustable bevel angle which helps set the right angle depending on your needs.
Flexibility
When going through the various options when choosing the right knife sharpener for your hunting trips, it's equally important to factor in the flexibility of the sharpener. While some units are capable of sharpening tools and scissors, many take the fun in sharpening serrated blades. This may not be the most important factor worth considering, but it's worth looking into.
10 Best Knife Sharpeners 
FAQs
What is the ideal sharpening angle for a knife edge?
Well, it depends mainly on the knife you're using and your ability to sharpen. It's an important factor in sharpening and one of the easiest too but requires a little getting used to. A 20-degree angle is great to start with and works fine with most knives. The sharpening angle depends on two main elements – sharpness and durability. In simple terms, a bevel angle refers to the angle at which hold your knife. The thumb rule is – the lower the angle, the sharper it becomes.
Does an electric knife sharpener ruin the sharpness?
The old-school method has never gone entirely obsolete and is not going anywhere anytime soon. However, the modern day requirements and technological advancements have given rise to a new breed of sharpening tools that we know as electric sharpeners, which are not perfect but make the job easy and less painful, exactly for what they are designed to do. They also provide an easy way to sharpen most serrated kitchen and sports knives to a razor sharp edge. So the answer is both Yes and No.
How do I know if my knife is sharp enough?
To understand sharpness you must understand the definition of an edge. An edge, in simple terms, is the line of intersection of two surfaces. So a highly sharpened edge means the two surfaces are perfectly polished to form a very fine edge. Thus sharpening is achieved when it's highly polished to that very fine edge.
Why do knives become dull?
All the loss of sharpness is a result of damage caused by contact with items you don't want to cut, causing the very edge of the blade to begin to bend and fold away. Eventually, these areas break off and leave a dull edge. To keep the sharpness intact, these bends need to be regularly pushed back into shape before they further damage the blade. This can be done by frequent honing.
Which one's better – a manual sharpener or an electric one?
While the good old manual sharpening technology is still an ideal method for seasoned hunters and survivalists alike, the modern-day electric sharpeners are a fast and reliable way to retain that razor sharp edge to your knife's blade. Manual sharpening requires a bit of patience and a lot of expertise, but the results are excellent. The electric sharpeners, on the other hand, are a fast and easy-to-use sharpening tool which doesn't require much of the hard work or expertise. But both the techniques has its fair share of pros and cons. So it entirely depends on your needs and use.
Decision Time
Your hunt for the best knife sharpeners would remain incomplete without a detailed, insightful knowledge of different types of knife sharpeners and the techniques use in getting a razor sharp edge for a long period. What sharpening tool will be the most appropriate pick for you is contingent upon the environment you're going to deal with and the activities you wish to perform – which in your case would be hunting. Purchasing a good hunting or surviving knife is not the end of your duty, you need to take care of your survival companion to keep it in prime condition at all times. We hope our little knife sharpener guide has helped you in some way or the other in choosing the best knife sharpener for your unique hunting needs.