Best Motion Activated Cameras Reviewed and Rated
In a Hurry? Editors choice: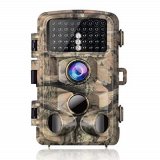 Test Winner: Campark Trail Camera

Have you ever wondered what type furry or scaly neighbors you have living in your backyard? Do you like to observe nature at its best? Are you a hunter looking for that once in a lifetime trophy buck? Motion activated cameras are perfect for getting the information you need. They are
small and camouflaged
, so you can easily hide them in trees, bushes, and along the ground, allowing you to record any movement within a certain range. Whether you're a farmer, hunter, nature enthusiast, or just looking to
increase the security
around your home, cameras can provide you with what you are looking for. We've reviewed and rated some of the top models on the market, each with their own unique features and benefits to help you find exactly what you want!
Standout Picks
Criteria Used for Evaluation
Visibility
Photo Quality
Photo quality was the first criteria was looked at for all on the list. It was an important step in determining how the equipment held up to the most important part of its feature set. We didn't pit ones together based on their top resolution and instead looked at how well they performed when at the same resolution.
So standard definition was not pitted against HD for the sake of balance. Other areas that determined a high score was being able to customize the resolution used. So big bonus points were given for HD models that could lower their resolution to SD format without losing tons of quality.
In the end, we were left with a lot of great choices without having to take too many off the list. That is a good sign for the industry and how serious they are about picture quality with their devices. None of them took 'bad' pictures, even when they used night function.
Video
The video is where we turned our sights to next, and this one turned into a mixed bag. There was a large gap in HD video when jumping from the SD video which was either average or really bad. Cameras that we're able to shoot in high definition really pulled away with these criteria and even held their own when the video was outputted to an HDTV.
Sound during the videos is where all the units were the same, with no one camera really pulling away from the other. Improvement of sound can only happen with external mics or different positioning.
Durability
Durability was measured, but only for the case. All of them inside the case had the same level of damage resistance. Things became interesting when we compared the non-screen models to the ones that had screens on the back.
Non-screen models have full protection and can be mounted as customers see fit. Cameras with an included screen have a weak point if the company didn't include a small open/close mechanism to keep it from being exposed. So for this criteria, we subtracted points from the models that had an exposed back that didn't protect the screen.
Style
Design played a small role in durability, and it was the next criteria. Products were given points for a variety of colors or cases that blended well with the environment. So dark colors and camo were major winners with this criterion even when the product didn't offer alternative colors.
Not a lot of models came in more than their basic colors, leaving a lot of the scoring decisions to individual design. Ones that captured the outdoor look perfectly and blended in well during the day and night cycles. None had a design that was bad enough to get them kicked off of the top ten list.
Value
Price was a criterion worth mentioning since it got rid of a lot of notable contenders.Nikon was one of the models that failed to make the list based on price. Even with great specifications, the Nikon model would either be equaled or outclassed by-products much lesser in cost. This was also the story for other models, both name brand and generic. We price balanced a lot of good products off of the list as long as there were comparable options at a lesser cost. Price was a multi-layer criterion and was connected to extras.
Battery Life
Battery usage was a double-edged sword for many on the list. The ones with the most user-friendly options were also the most powerful ones. That means in competition with cameras that provided fewer features, they would lose.
This was an unfair advantage, so we evened the playing field by looking at a products battery usage in SD and HD, separately. By doing this we were able to fairly pit both types against one another without either one having an unfair advantage. For transparency reasons alone this criteria was worth the effort for new and experienced users.
10 Best Motion Activated Cameras


The Campark T45 is designed to please more than just hunters. It can provide pictures at 14 megapixels and videos at 1080P for some of the most incredibly crisp images you can take. The 120-degree field of view is larger than most others in its class and makes it ideal for anyone who loves nature and wants to enjoy and observe it at its best.
3 PIS
This comes with a 3 Passive Infrared Sensors design that makes it highly sensitive to light and allows it to detect and record motion up to 20 meters away while consuming less energy. The increased sensitivity also helps decrease the trigger time down to 0.3 seconds, ensuring that you'll never miss the action.
Wide Angle Lens
It would be great if all the action always happened right in front. Unfortunately, that is not how nature works. The waterproof and dustproof wide-angle lens gives you 120 degrees field of view for a broader vision and will even record during rainy days.
Cost and Value
This is not the most expensive item on the list, but it is not the cheapest either. It has a lot of great features that allow it to be used for a wide variety of purposes. The high-resolution image makes it great for monitoring and observing, the sensitive sensors help with security, and the durable, tough build and fast trigger system helps hunters find what they are looking for.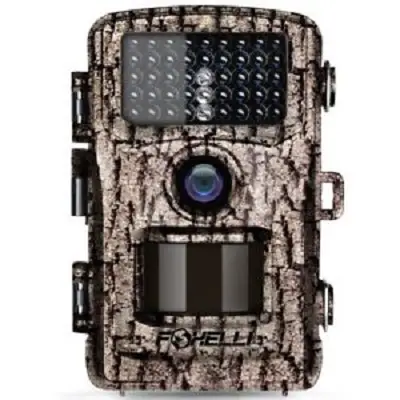 This device from Foxelli has a ton of amazing features that make this a popular choice among hunters, wildlife enthusiasts, and property owners alike. Some of these unique features include a moon phase and temperature time stamp display, interval recording, real-time replay, and password protection. First-time users will appreciate the 2.4-inch LCD color screen and it is easy to follow the menu.
Long Range Night Vision
Foxelli put 42 pieces of no glow infrared LEDs in the design in order to provide great lighting without a flash that would scare the wildlife away. The super-sensitive PIR motion sensor can detect movement up to 65 feet away during the night, allowing you to capture all the action no matter how dark it is outside.
Security
If you are a homeowner with a critter problem or have a farm that is being visited by unwanted animals during the night, this will help you identify the problem. It also comes with password protection, so whatever video or image you capture will stay private if something happens to the camera.
Cost and Value
Although this item does cost more than many of the other products on the list, it is still a great bargain considering all the features that come with it. It's very energy efficient and stays on standby mode for up to eight months before losing power. It's also backed by a one-year warranty and no questions asked 120-day money-back guarantee.

3

. Bushnell Trophy HD Essential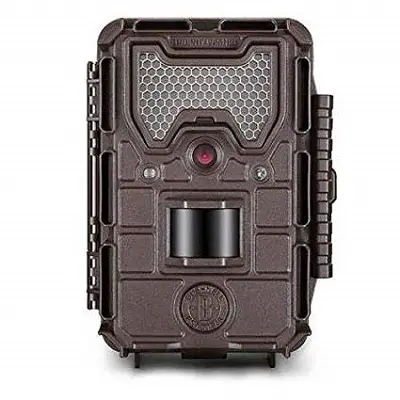 With the Bushnell Trophy HD Essential, this company doesn't disappoint us and again bring us yet another excellent selection for the outdoor environment. With great night pictures of 12 MP, 720p HD videos .3 second trigger speed, field scan 2x, and true 1-year battery life, Bushnell brings a product that will most likely take care of any of your motion sensor needs.
Excellent battery life
This consumes 0.84 mW while resting, 2.86 W during the daytime, and 4.3 W during nighttime. Aside from the battery-saving format, it runs on a 12-volt system, this set to last an incredible amount of time on the field. If this were to take 35-day pictures and 35-night pictures every 24 hour period, it would last about 11 months on a single set of batteries.
Field Scan
Advanced technology allows you to view your photos in two separate files. So you can monitor the morning and evening. Since this is not set off by movement you get a better view of the surroundings. But rest assured you will still have pictures of the animals in the area.
Cost and Value
This product is the most expensive of all on this list – but it's also one of the best. Aside from featuring decent image quality, the Trophy HD essential is a highly durable product. If you've owned Bushnell cameras before, you'll know that this is most likely a purchase you won't regret.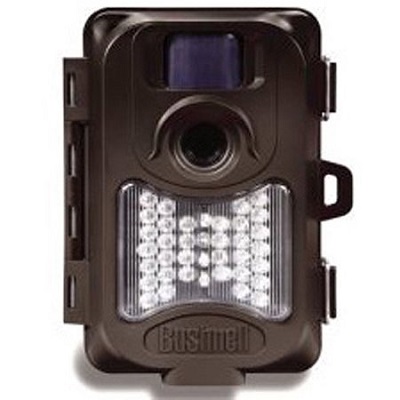 With the Bushnell X-8, the Bushnell Company is delivering an excellent product for people who love activities with the nature of hunting. With a very rapid trigger speed, it captures sharp images and 640x480 video.
Excellent detection movement
With its 45' range, the X-8 picks up deer from quite a distance away, allowing you to capture the traffic through your area with ease. The trigger time is blazing fast on this, actually triggering in less than a second. And with its 5-second recovery time, the Bushnell X-8 is ready to take another picture very quickly. The Passive Infrared sensor on the Bushnell X-8 is adjustable for different sensitivities, so you can set it properly according to the ambient temperature.
Night vision and Field Scan
Capable of taking color photos in three resolution settings. While automatically placing relevant info on the photos. You can record a brief video as well with this option. This allows you to keep track of what is prowling your hunting grounds.
Cost and Value
The cost of the Bushnell X-8 Camera exceeds the average cost, but barely. Still, the Bushnell X-8 is a great unit. It is easy to use, easy to set up and takes quality pics without breaking the bank. It's slightly worse than the Bushnell Trophy HD essential, but still, something to look forward to.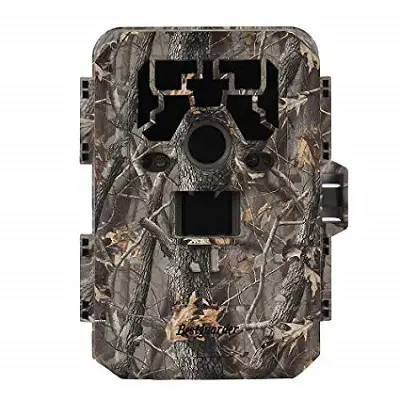 And this is when things start to get a little bit interesting, with the advanced optics of this Bestguarder device. A dark horse on many top lists, it has managed to make a name for itself due to superior specifications matched with a pretty safe price point. All three available colors are made for game hunting since they use different versions of the camo design.
Great Photos and Video
The 12-megapixel performance of the unit takes top-class photos and videos. And for users that don't need such a high quality, this can be toned down to save space and battery power. Modes available are 8MP, 5MP, and even 2MP.
Undetectable Flash
The whole point of having one of these set up in the wild is so that you can capture videos and pics of animals in their habitat. This model has an undetectable flash that works up to 75 feet, allowing a wide area of visibility even during the night.
Cost and Value
Although it is not as expensive some of the other models on the list, it has some pretty cool features. You also have a choice of different colors and it can also zoom in up to four times.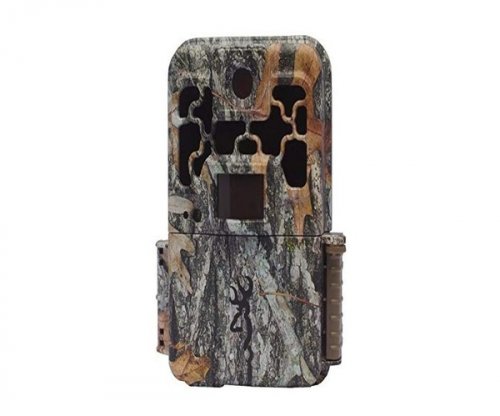 When seeking a motion-activated camera that you can travel with yet offers crisp images in pitch-dark areas, this one excels quite well. Constructed to be the only one you truly need while hunting the Browning Spec Ops comes prepared to work from the moment you unpack it. Furthermore, it's compatible with the Browning's Buck Watch Timelapse Viewer software so you can always access the images you take.
Viewing Screen
One of the features most if not all lack is having a view screen. The Browning Spec Ops offers a 2-inch color viewing screen where you can see all the pictures and videos you might have taken in real times. It's about the experience of seeing the quality of images the camera took while you weren't looking. Furthermore, you have an option to adjust the speed of the trigger. giving you flexibility in how often a photo is truly taken.
Video Processor
Just like you are getting quality images you are also getting quality videos. This is all thanks to the fantastic 1920 x 1080 HD video processor. Having such a high video processor ensures you get crystal clear images every single time. Furthermore, you are also getting lightning-quick photo recovery time paired with a detention range of 80 feet. This means your object can be 80 feet and you will get an image or video of it every time. It's all about precision and quality every time.
Cost and Value
As for the cost and value, this is quite cost-effective, especially when you take into consideration everything you are getting. You are not only getting the camera you will also receive a SanDisk SD card and a card reader. It's the perfect bundle for those that want a startup model with all the bells and whistle minus the price tag.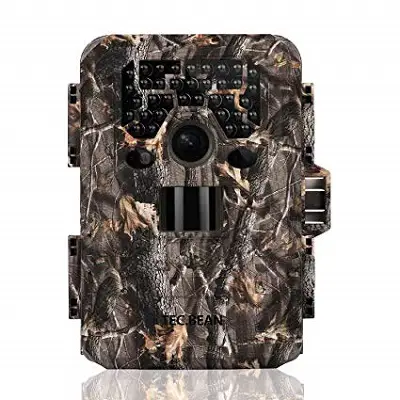 Now comes the powerhouse of the list, which of course comes from the innovative TEC.BEAN company. The hardware inside is next level and is pretty much futureproof. Ahead of its time in many ways, there is still a lot more to this than its interior.
High Tech
This is easily a top 3 model when it comes to raw power in both pictures and video. True HD that lives up to expectations is hard to find without glitches. Yet this TEC.BEAN model takes great media in the day or night time cycles. As a result, there is also less blur in photos that are taken at high angles.
Full HD Video
If you are really into your high-tech devices, then you'll want the best. This model delivers an excellent picture and video quality, which is great if you really want to capture that one of a kind image.
Cost and Value
This model has a lot of great features, but it also requires a lot of batteries to power it. You also need to buy extra accessories, like an adapter.

8

. MOULTRIE GAME SPY A-5 GEN 2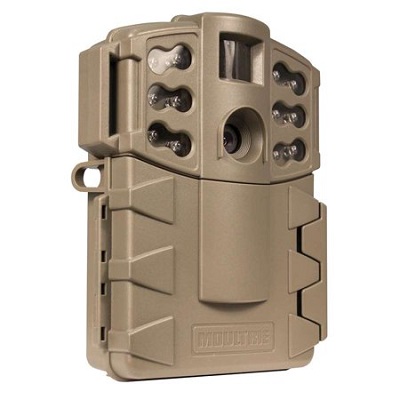 The Spy A-5 Gen 2 is all about reliability for hunters or home security enthusiasts. Using a tough as nails casing and sporting an easy to use interface, this is the one that people default to when they want a no-nonsense design. It is one of the all-time greats and continues to serve millions of people faithfully.
Bigger, Better and Faster
This is an updated version of their previous best-seller, the Fame Spy A-5. Everything about the previous model has been updated. That includes some of the shortcomings like battery life, which has almost doubled.
Small and Lightweight
The ability to effectively hide the camera is important when you want to catch a pic or video of an animal that can be easily scared off. This model's size and weight allows you to get more creative in the way you set up in order to get that perfect shot.
Cost and Value
This is great if you are looking for something simple at a great price. You may not get the best picture quality, but it does the job if that is all you need.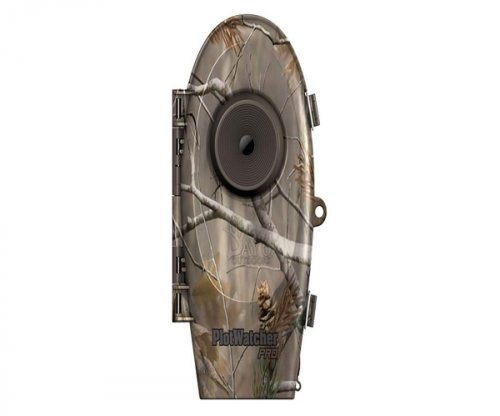 When it comes to gaming cameras finding one that gets the job done without being big and bulky the Day 6 Plotwatcher Game Surveillance System is one of the best. Featuring a unique model, it immediately separates itself from the rest of the competition. However, though it is different you will not be sacrificing any needed features. You are getting what you want without missing a beat.
Quality
One of the best features this has to offer is just how easy it is to set up. Whether you are technology-driven or you simply enjoy something easy to install this one is perfect. Showcasing a one-button setup, you can easily get yours up and running. Furthermore, not only are you getting a quick set up, but it is accompanied by a huge 2.5inch LCD that allows you to have front row seats in every image or video you take. Rather than having to transfer the images to a bigger screen to see them, you can shuffle through them instead. Its convenience right at the palm of your hands.
Great Video Quality
As previously stated, this has a 2.5inch LCD screen; however, it doesn't stop there, as you will also be getting quality videos in 720p range at 1280×720. Those numbers are great when you are working with a smaller unit. Additionally, you get 32 GB of SD card storage, so you never have to worry about missing anything anytime soon.
Cost and Value
When it comes to the price, you kind of would expect it to be on the higher end due to how well constructed and how much you are getting out of this; however, the price point is pretty good. You will not be getting a bargain, but you won't be spending an extensive amount of money either. It's pretty midrange allowing you to purchase without worrying too much.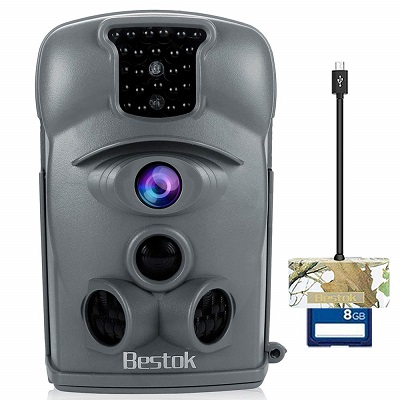 Available in 6 models, this comes as Bestok's best offering in the lineup. The company has surprised many with a 12MP model that takes some photos even better than Bushnell's 14MP models. With a little bit of time with the manual, there is a good chance all of the features will be used by all levels of users.
Accessories Are Always A Plus
All six available models come with an eight gigabyte SD card for extra storage. That is enough for most users and will keep you from having to make a separate purchase. An adequate amount of photos and video can be stored on that size with room to spare.
Enhanced Response Speed
Animals are fast, and if you are not ready for them you will miss them in a blink of an eye. Thanks to this model's fast response time, it is even able to catch pics and videos of animals running by.
Cost and Value
This model allows you to use different battery configurations which allow you to save money in the long run and avoid using the power it doesn't need. It also has a large memory so you can save your info for a long time.

Subscribe to our Newsletter