Best Motion Activated Cameras Reviewed and Rated
Have you ever wondered what type furry or scaly neighbors you have living in your backyard? Do you like to observe nature at its best? Are you a hunter looking for that once in a lifetime trophy buck? Motion activates cameras are perfect for getting the information you need. They are small and camouflaged, so you can easily hide them in trees, bushes, and along the ground, allowing you to record any movement within a certain range.
These kinds of video recording devices usually come in two different types, software based and PIR sensor-based. Software based sensor starts recording when it detects a pixel change from frame to frame due to animals or humans. PIR sensors begin to record when it senses infrared energy levels like body heat. These devices can be used for security and observation purposes and offer a lot of great benefits.
Whether you're a farmer, hunter, nature enthusiast, or just looking to increase the security around your home, motion activated cameras can provide you with what you are looking for. However, the model of the device and how much you want to spend will depend on what you need it for. We've reviewed and rated some of the top models on the market, each with their own unique features and benefits to help you find exactly what you want!
Featured Recommendations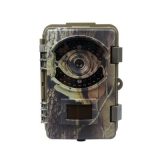 KV.D Camera

Our rating
Loop Recording
Price:

See Here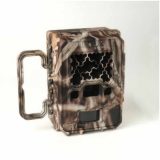 RECONYX Camera

Our rating
Invisible Flash
Price:

See Here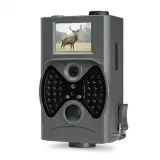 Amcrest Camera

Our rating
Detailed Screen
Price:

See Here

What Are The Best Brands?
Just like any industry, cameras have a lot of competition when it comes to brand name. If you're looking for the best names in the business, then the top dogs are Stealth Cam, Bushnell, Browning, Moultrie and Reconyx. And because of the many developing technologies, there are lesser-known companies that have made dents in the industry, with a lot of them being new companies. Some lesser-known companies to watch out for include TEC.BEAN, Bestok, Bestguarder, Amcrest and KV.D. Now just because these brands are lesser known, it doesn't mean they are not better. There are millions that swear by TEC.BEAN just like there are millions that won't give up their Bushnell's. But if you're going for complete notoriety in the motion-activated camera game, then the holy trio is Bushnell, Moultrie and Browning.
How to Maintain & Clean a Motion Activated Camera
No matter the price of your camera, you want to keep it well maintained so that it takes optimal photos and video. What's the point in getting a camera that takes fantastic pictures only to let the lens get damaged over time? Start simple, but regularly cleaning the camera on a weekly basis. Nothing too fancy, just a one minute checkup that includes dusting it off and cleaning the lens. If there is an LCD screen on it make sure to tend to that as well. Always make sure the camera is off before cleaning, and never use any abrasive liquids. The best way to clean a camera is with a microfiber cloth, the same you would use with your glasses. This will stop any possible scratches from occurring while you wipe the delicate areas.
Buyers that tend to leave their cameras sitting for long periods of time without use may want to remove the batteries before putting it away. The last thing you need is for battery acid to completely ruin your camera from the inside out. It would also help if you had packets of silica gel on hand (it's cheap) to store with the camera in a cool, dry place. On the list of things to avoid would be canned air cleaning, extreme temperatures and placing it in your pocket without protecting the vital areas. Your motion activated camera needs very little care, but no care at all will definitely be a cause for concern.
15 Best Motion Activated Cameras
1. KV.D GAME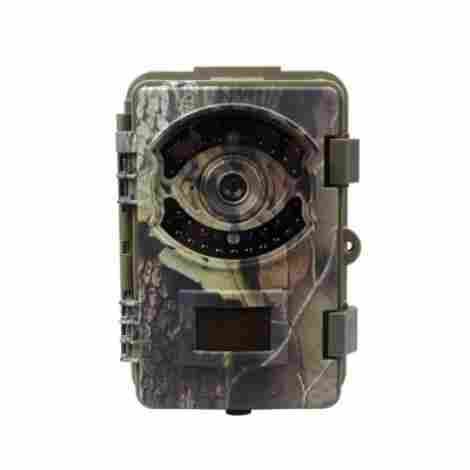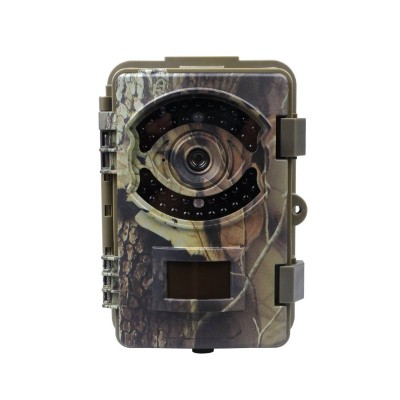 When the HC600 seems to be a bit out of the price range for customers, many end up getting a Moultrie. Or in this case, a KV.D model. The brand and model has been featured in several hunting magazines, receiving praises from both critics and owners.


Expand to see more
The Best Camera

The KV.D has the strongest camera of any model on the list, with stunning photos and HD video one of its many selling points. It also has the best mechanics when it comes to rendering photos, meaning the internals for the viewer is just as powerful as the camera.

Features and Specifications

16 megapixel camera
Low Glow Black IR LED
5-second trigger speed
Motion freeze technology
6 months of life with batteries
IP54 Waterproof case
1920x1080p video with audio
Supports 64 GB SD cards
One of the fastest trigger speeds in the industry
Largest TFT viewer on the list at 2.4 inches
Loop Recording
Password protected and lockable
Brand is not as well-known as the others
2. RECONYX HYPERFIRE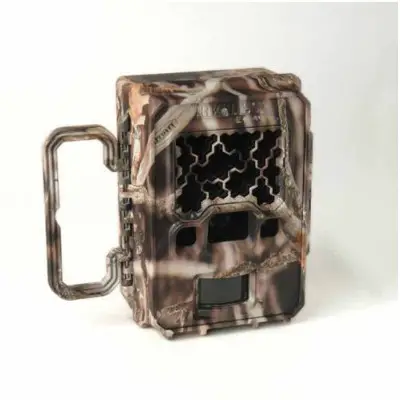 When defining what makes a great motion activated camera, the HC600 is a favorite of many professionals. The price may scare away a lot of customers, but the excellence of the product is something that has rarely been copied.


Expand to see more
Invisible Flash

A lot of the products in this guide have invisible flashes, but none quite as sophisticated as the No Glow High Output Infrared Night Vision of the HC600. It's undetectable, even when used to protect the home. It's just one of those features that can only be refined by years of hard work and rebuilding.

Features and Specifications

Undetectable Night Vision Flash
Weather resistant in ranges from -20 to 120 F
Camo Weatherproof Enclosure
BuckView Advanced Software included for PC's
High quality bungee cord included
Dimensions are 3.5×7.9×11.8
Weighs 1.75 pounds
Full 1080p HD video capable
Completely invisible flash
Runs up to a year on a full set of batteries
Ultra HD IR camera lens put others to shame
Weatherproof enclosure can take some really hard hits
Detailed instructions come with included software
The most expensive camera on the list
Uses 12 AA batteries
3. AMCREST ATC-1201G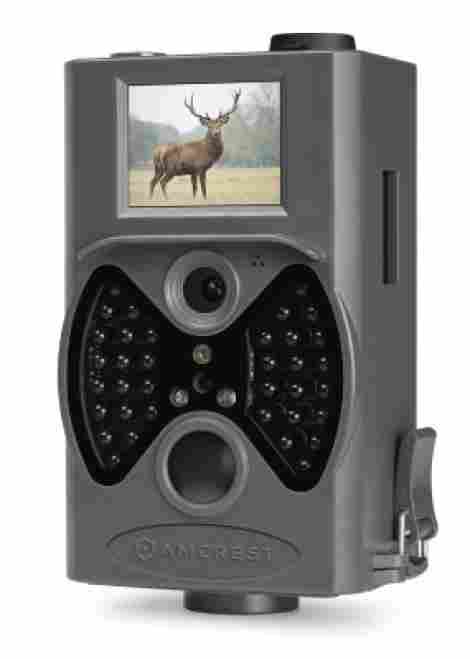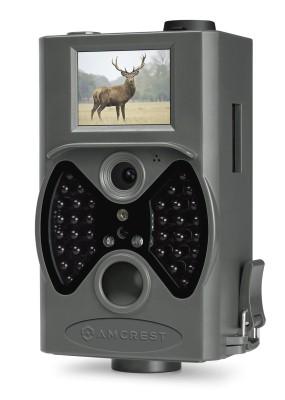 Another surprising camera on many lists is the Amcrest ATC-1201G due to its impressive media capabilities. This all in one camera strikes a really good balance in price versus value, leaving many to believe it is the future of the industry.


Expand to see more
Eye in the Sky

Sporting a field of view of 100 degrees, there is very little that is missed when this camera is put in a good spot. PIR field of view is definitely this camera's strong point, and against other models it wins hands down on coverage.

Features and Specifications

12 megapixels
Night vision range up to 65 ft.
3 levels of automatic motion sensing
7-second trigger speed
100 degree PIR fiend of view
3 months of standby power on batteries
Up to 90 seconds of video recording
Full 1080p video
Takes good night photos and videos
Widest field of view of any camera
Switches to night vision mode automatically
Great on batteries
Detailed 2 inch LCD screen
Grade A weatherproof case
Comes with detachable laser remote
May require initial adjustment to keep it from catching too much action
4. BROWNING STRIKE FORCE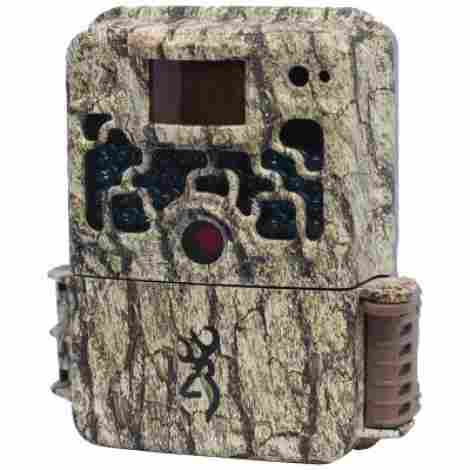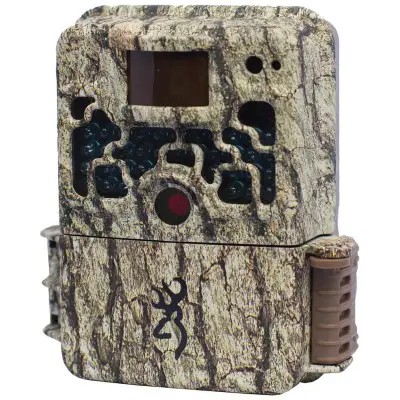 This is the only Browning on the list and may come as a surprise. The Strike Force Sub Micro is one of the more underrated cameras in their lineup, but one that shouldn't be ignored. This is one of the best motion activated cameras you can get, and all for a decent price.


Expand to see more
Incredible Trigger Time

The Browning Strike Force Sub Micro sports a fast 0.67 trigger time, which puts it in an elite category. A fast trigger time leads to less blurry pictures and less recovery time if you tend to take burst shots. There are few cameras that will be fast than this, so trigger time is without a doubt its best feature.

Features and Specifications

HD video recording with sound up to 2 minutes
10 Megapixels
Flash range of 100 ft.
Zero Blur Night IR photos
1 pound
Dimensions of 4.5×2.5×3.2
Low priced HD camera
Fantastic video recording with audio
Six AA batteries go a long way
Comes with Browning Buck Watch time-lapse software
Small and powerful
Slightly higher priced than the top Moultrie camera
Included software isn't Mac compatible
Lack of field viewer may be a turnoff
5. Campark Trail Camera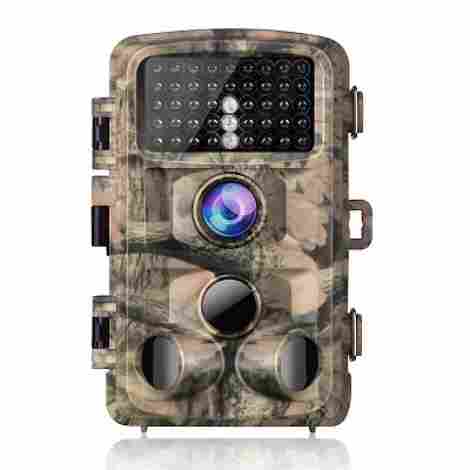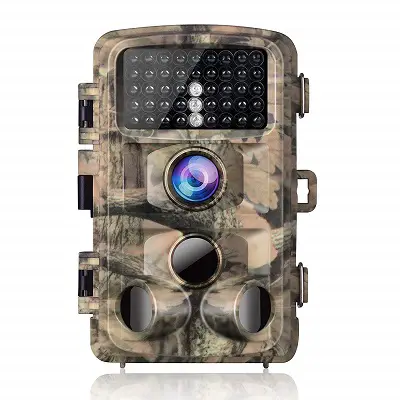 The Campark T45 is designed to please more than just hunters. It can provide pictures at 14 megapixels and videos at 1080P for some of the most incredibly crisp images you can take. The 120 degree field of view is larger than most other cameras in its class and makes it ideal for anyone who loves nature and wants to enjoy and observe it at its best.


Expand to see more
3 PIS

This come a 3 Passive Infrared Sensors design that makes it highly sensitive to light and allows it to detect and record motion up to 20 meters away while consuming less energy. The increases sensitivity also helps decrease the trigger time down to 0.3 seconds, ensuring that you'll never miss the action.

Wide Angle Lens

It would be great if all the action always happened right in front of the camera. Unfortunately, that is not how nature works. The waterproof and dustproof wide angle lens gives you 120 degrees field of view for broader vision and will even record during rainy days.

Cost and Value

This is not the most expensive item on the list, but it is not the cheapest either. It has a lot of great features that allows it be used for a wide variety of purposes. The high resolution image makes it great for monitoring and observing, the sensitive sensors helps with security, and the durable, tough build and fast trigger system helps hunters find what they are looking for.

Captures 14 megapixel images and 1080p video
0.3 second trigger speed
Extra sensitive sensors
Waterproof wide angle lens
Features 42 infrared LEDs
Drains battery when recording at night
Instructions are difficult to follow
6. Foxelli Trail Camera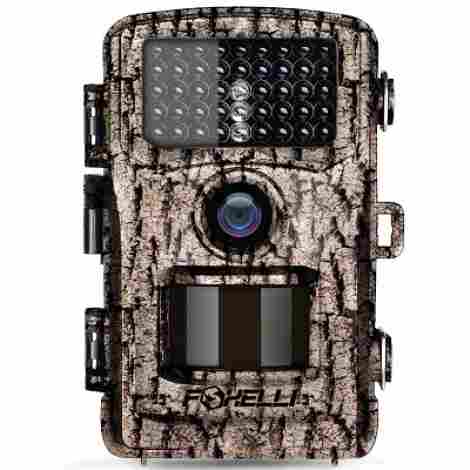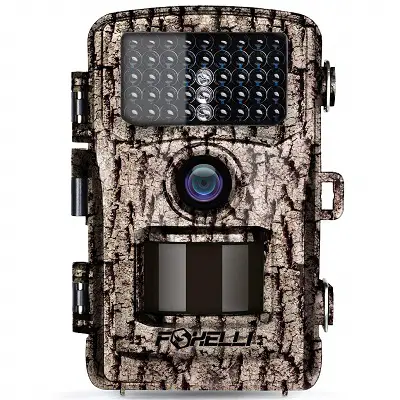 This device from Foxelli has a ton of amazing features that makes this a popular choice among hunters, wildlife enthusiasts, and property owners alike. Some of these unique features include a moon phase and temperature time stamp display, interval recording, real time replay, and password protection. First time users will appreciate the 2.4-inch LCD color screen and easy to follow menu.
Expand to see more
Long Range Night Vision

Foxelli put 42 pieces of no glow infrared LEDS on the camera in order to provide great lighting without a flash that would scare the wildlife away. The super sensitive PIR motion sensor can detect movement up to 65 feet away during the night, allowing you to capture all the action no matter how dark it is outside.

Security

If you are a home owner with a critter problem or have a have a farm that is being visited by unwanted animals during the night, this will help you identify the problem. It also comes with password protection, so whatever video or image you capture will stay private if something happens to the camera.

Cost and Value

Although this item does cost more than many of the other products on the list, it is still a great bargain considering all the features that come with it. It's very energy efficient and stays on standby mode for up to eight months before losing power. It's also backed by a one-year warranty and no questions asked, 120-day money back guarantee.

Can record in 1080P Full HD for up to 10 minutes
0.5 second trigger time
Features an easy to follow menu
Case is durable and water resistant
Password protected
Does not come with batteries or memory card
Drains batteries quickly
7. Amcrest ProHD Outdoor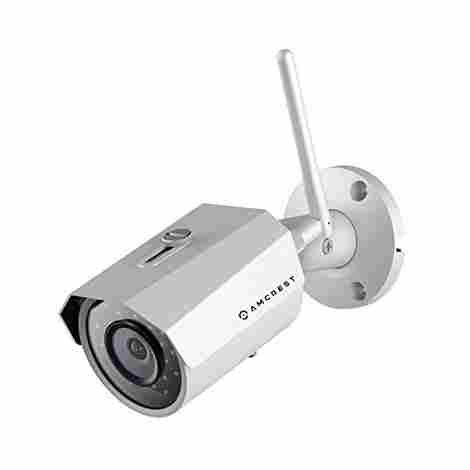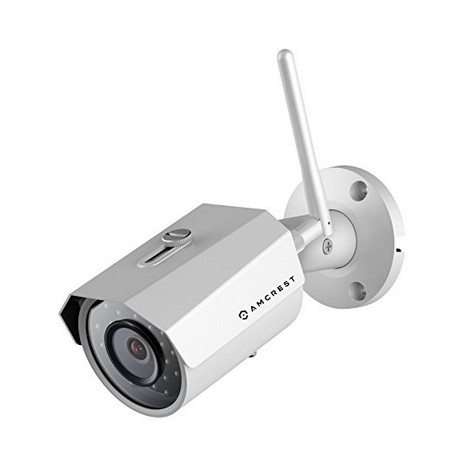 The Amcrest ProHD Outdoor camera will allow you to watch everything that matters to you from any place as if you were there, offering live viewing as well as recorded footage of motion events. All done in 1080P FHD video at 30FPS, you can experience true HD in 3-Megapixel (2304 x 1296P). You can observe all through any mobile device like your phone or your laptop, all you need is internet connection. These cameras are heavy-duty metal IP67 cameras engineered to perform in severe environmental conditions.
Expand to see more
True HD
Featuring a Sony image sensor and Ambarella processor, the Amcrest ProHD camera streams in crisp, 1296P video quality. Soak in the vivid colors and rich imagery provided by a full 2304 x 1296P resolution at 20 frames per second (FPS). No need to strain your eyes, lean in close, or play the guessing game when you have this level of detail. Now you can watch everything as if it happened in front of you.
Remote viewing via mobile devices
All you need is an internet connection. Instantly receive a securely encrypted, live video feed via your computer, tablet, or mobile phone, from anywhere and at any time. Armcrest ProHD Outdoor superb web interface also has the advantage of working on most browsers, including Firefox and Safari. Providing you HD footage without buffering. The mobile app allows you features like setting six different motion sensitivity settings, create a recording schedule, and enable cam masking alerts.
Cost
The fact the Amcrest is a little below the average value doesn't make it a bad product. If you're looking for a camera with good definition this camera is a very nice product and the app has a lot of option that make an interesting product, but if you're looking for a camera with reliable alerts, this camera may not be the product for you.
High quality video with minimal delay
User friendly setup Ultra HD resolution
It supports 2304×1296 with H.264
Compression Amcrest cloud support and free dyndns
72 degree viewing angle
False Alarms
Doesn't record sound
8. Bushnell Trophy HD Essential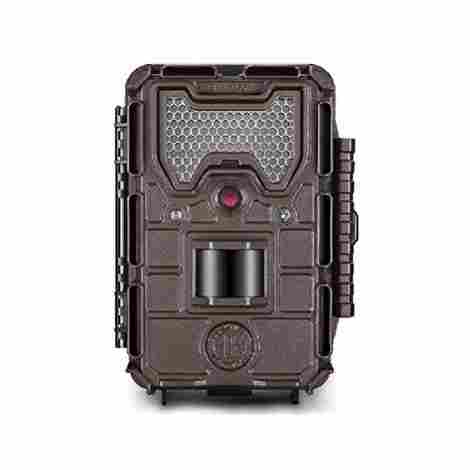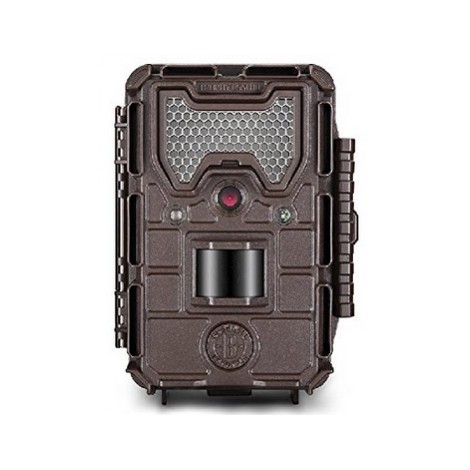 With the Bushnell Trophy HD Essential this company doesn't disappoint us and again bring us yet another excellent camera for the outdoor environment. With great night pictures of 12 MP, 720p HD videos .3 second trigger speed, field scan 2x, and true 1-year battery life, Bushnell brings a product that will most likely take care of any of your motion sensor needs.
Expand to see more
Excellent battery life
This camera consumes 0.84 mW while resting, 2.86 W during daytime, and 4.3 W during nighttime. Aside from the battery-saving format, the camera runs on a 12-volt system, this set to last an incredible amount of time on the field. If this camera were to take 35-day pictures and 35-night pictures every 24 hour period, this camera would last about 11 months on a single set of batteries.

Field scan
Time-lapse technology automatically snaps images at preset intervals of one minute to one hour, within the hours of your choice. Now with two available time slots so you can monitor dusk and dawn movement. Because it's not triggered by game, it provides the widest viewing area possible. But unlike all other time-lapse cameras, its simultaneous live trigger will still capture images of anything that walks by.

Cost
This product is the most expensive of all on this list – but it's also one of the best. Aside from featuring decent image quality, the Trophy HD essential is a highly durable product. If you've owned Bushnell cameras before, you'll know that this is most likely a purchase you won't regret.

Excellent night pictures and videos
Long range infrared (80ft)
Outstanding battery life(1-year life)
Insane trigger speed (0.3s)
Doesn't work with rechargeable batteries
9. TEC.BEAN 12MP 1080P HD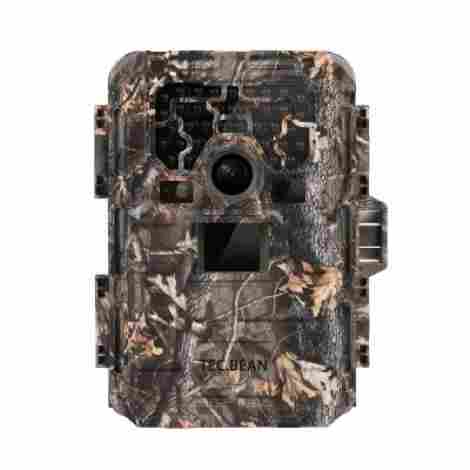 Now comes the powerhouse of the list, which of course comes from the innovative TEC.BEAN company. The hardware inside the camera is next level and is pretty much futureproof. Ahead of its time in many ways, there is still a lot more to this camera than its interior.


Expand to see more
High Tech

This is easily a top 3 model when it comes to raw power in both pictures and video. True HD that lives up to expectations is hard to find without glitches. Yet this TEC.BEAN model takes great media in the day or night time cycles. As a result, there is also less blur in photos that are taken at high angles.

Features and Specifications

12 megapixels
1920x1080p full HD video with audio up to 90 seconds
Trigger speed of 0.6-0.8 seconds
Motion Freeze technology that reduces bad shots and saves power
Protective case with password protection for internals
2 inch TFT LCD color screen for viewing media
Night Vision range using 940nm Black IR LED
Takes fantastic HD photos and video
Up to 9 pictures can be taken per trigger
Bright and detailed viewer embedded on the camera
High motion detect area when in use
Five unique capture modes
Requires 8 AA batteries
External DC adapter is sold separately
Built in functions may be too advanced for beginners
10. MOULTRIE GAME SPY A-5 GEN 2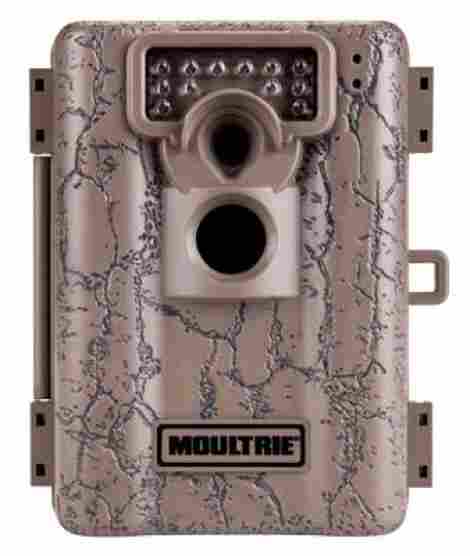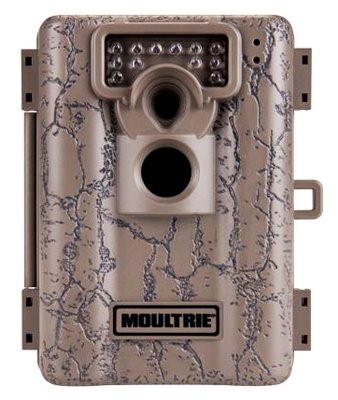 The Spy A-5 Gen 2 is all about reliability for hunters or home security enthusiasts. Using a tough as nails casing and sporting an easy to use interface, this is the camera that people default to when they want a no nosense design. It is one of the all-time greats and continues to serve millions of people faithfully.


Expand to see more
Bigger, Better and Faster

This is an updated version of their previous best-seller, the Fame Spy A-5. Everything about the previous model has been updated. That includes some of the shortcomings like battery life, which has almost doubled.

Features and Specifications

5-second trigger speed
Infostrip management
5 megapixels
850 nanometer IR LED flash up to 50 ft.
40 ft. detection range
Dimensions of 5.9×2.3×7.2
Weighs 13.6 ounces
Lowest priced camera on the list
Good nighttime infrared shots
Improved generation 2 green casing
Control panel is easy to use
Power port allows you to bypass using batteries
Video is standard definition at 640×480
Lowest overall resolution of all cameras on the list
Highest trigger speed
11. Bushnell X-8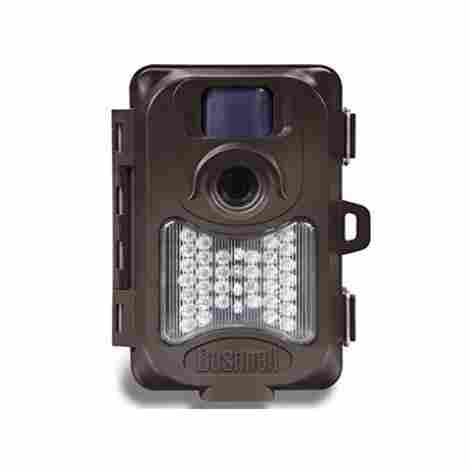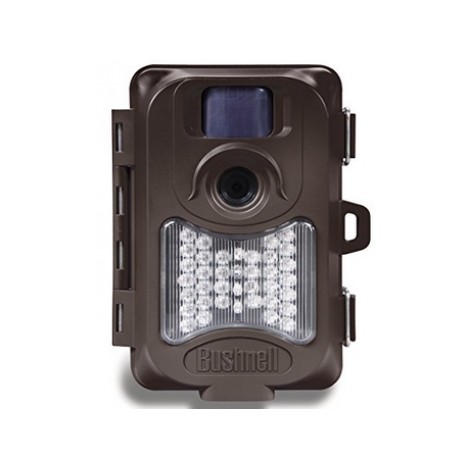 With the Bushnell X-8, the Bushnell Company is delivering an excellent product for people who love activities with the nature of hunting. With a lightning-quick trigger speed of one second, it captures sharp 5 or 8-megapixel images and 640x480 video. Field Scan time-lapse technology gives you the power of long-range observation with the industry's only simultaneous live trigger so you don't miss a thing. For crisp nighttime images and stealth, it's equipped with 36-night vision LEDs with a 45-foot range.
Expand to see more
Excellent detection movement
With its 45' range, the X-8 picks up deer from quite a distance away, allowing you to capture the traffic through your area with ease. The trigger time is blazing fast on this camera, actually triggering in less than a second. And with its 5-second recovery time, the Bushnell X-8 is ready to take another picture very quickly. The Passive Infrared sensor on the Bushnell X-8 field camera is adjustable for different sensitivities, so you can set it properly according to the ambient temperature.

Night vision and Field Scan
The Bushnell Trophy Cam X8 Night Vision Game Camera is capable of taking color photographs with a 2 MP, 4 MP, or 6 MP resolution, and the trail camera can also capture high definition video up to 15 seconds in length. Like other cameras in the Bushnell Trophy series, the X-8 automatically stamps all its images with the date, time, temperature, and phase of the moon. Keep an eye on your local hunting grounds with the affordable power of the Bushnell Trophy Cam X-8 Field Scan Trail Cam.

Cost
The cost of the Bushnell X-8 Camera exceeds the average cost, but barely. Still, the Bushnell X-8 is a great trail camera. It is easy to use, easy to set up, and takes quality pics without breaking the bank. It's slightly worse than the Bushnell Trophy HD essential, but still something to look forward to.
High trigger speed(0.886s)
Long detection range(45ft)
Best night pictures
Excellent day and night time power consumption
Doesn't work with rechargeable batteries
Weather can affect the quality of the pictures
12. BESTGUARDER HD IP66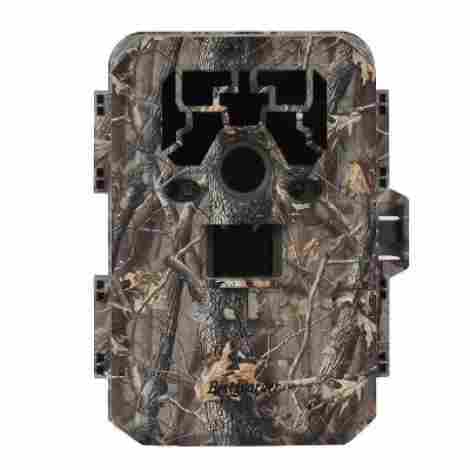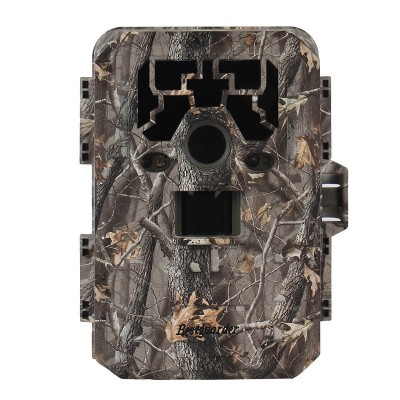 And this is when things start to get a little bit interesting, with the advanced optics of this Bestguarder device. A dark horse on many top lists, it has managed to make a name for itself due to superior specifications matched with a pretty safe price point. All three available colors are made for game hunting, since they use different versions of the camo design.


Expand to see more
Great Photos and Video

The 12-megapixel camera on the unit takes top-class photos and videos. And for users that don't need such a high quality, the camera can be toned down to save space and battery power. Modes available are 8MP, 5MP, and even 2MP.

Features and Specifications

12-megapixel camera
6-second trigger speed
1920×1080 HD video with audio up to 90 seconds
36pcs Black IR LED
Undetectable flash works up to 75 ft.
Waterproof
2 inch LCD display screen
Camera has variable settings
Up to 9 pictures per trigger
PIR motion sensor works in both camera or video mode
Hybrid mode can catch videos and pictures at the same time
Digital zoom works up to 4x
All three color styles are made for outdoor use
Camera is picky with SD cards (anything lower than class 10 will be buggy)
13. BUSHNELL TROPHY AGGRESSOR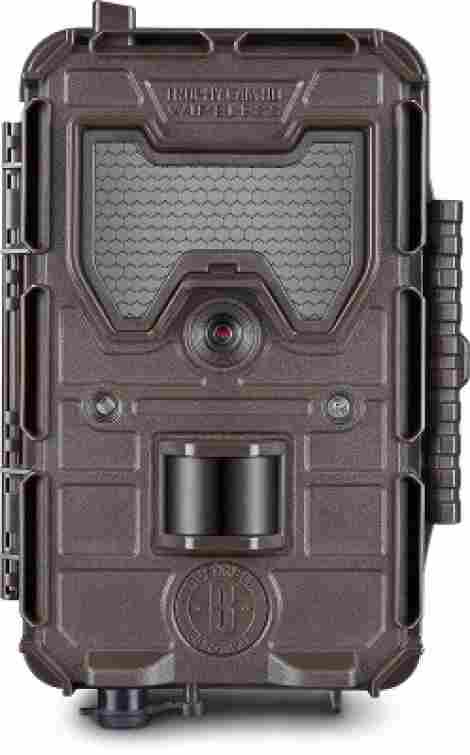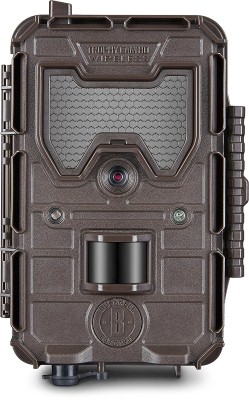 At this point, the highest megapixel count goes to the Aggressor, a cam that has been used for both game hunting and home security. Bushnell is one of the biggest names in the business, and this camera is considered one of their top flagship models.


Expand to see more
Hyper PIR

The motion sensor technology used with the Aggressor is called Hyper PIR, and it is in a class of its own. Reaching out to 60 feet and beyond, the motion sensor in the camera reaches further out (accurately) than other similarly priced models.

Features and Specifications

14 Megapixel camera
Video shoots at 1280×720 HD
60 ft. and beyond with the 48 no glow Black LED's
Field Scan works in multiple time slot configurations

3G Wireless connectivity so you can upload photos to the cloud
Both the companion Android and iOS app are free
One of the priciest on the market
No 1080p video
14. Wild Game Innovations X8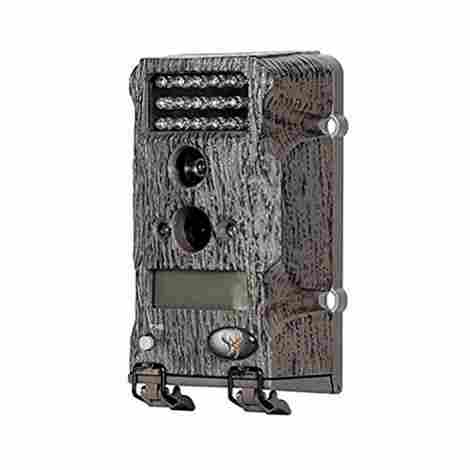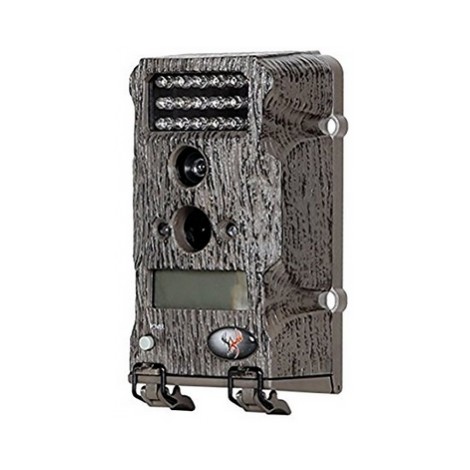 The BladeX8 LED Scouting Camera features one-second rapid trigger speed and up to 1 year or 30,000 images of battery life. It has both digital photo and 30-second video capabilities. The X8 is compatible with SDHC cards up to 32GB and requires eight AA batteries. It uses 18-piece high-intensity infrared LEDs that provide up to 55 ft. flash range.
Expand to see more
Detection Circuit
Its trigger speed is 1 second, which is pretty decent. The camera detects animals accurately within its detection range of 50 feet and takes bright photos with the help of 36 LED no- glow IR flash. With the Infrared night-vision, you can take pictures at any time of the day.

Picture Quality
The camera has 6-Megapixel CMOS sensor and it has three resolution settings ranging from 2 MP to 6MP in order to attain desired quality and power optimization. The camera produces average picture quality with its 6 MP CMOS sensor; the color reproduction in the daytime photos was good. It is capable of recording 30-second videos. It uses wide angle lenses, hence it records videos and captures photos in an aspect ratio of 16:9.

Cost
The cost of this camera without the AA-batteries and the SD card is below the average of the list. It's a really good product if you are looking for a basic motion-activated camera. However, an advanced user with specific needs may find that this product runs short for them.
Fast trigger speed (1seg)
The camera detects accurately within its detection range of 50 feet
The camera puts time date, temperature, and location information on every single frame it captures
Bad quality with the pictures captured at night
There's no audio recording feature
15. BESTOK GAME 12MP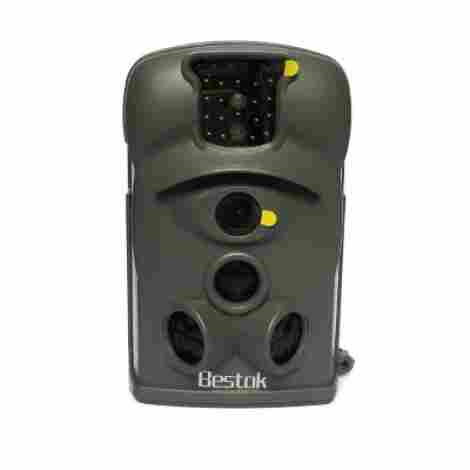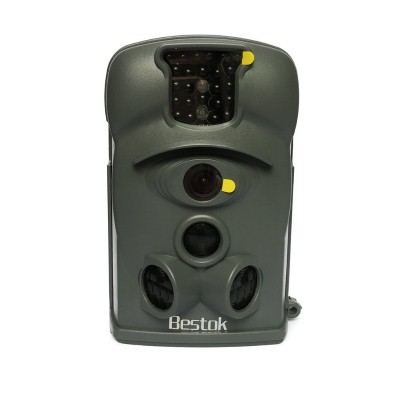 Available in 6 models, this comes as Bestok's best offering in the camera lineup. The company has surprised many with a 12MP model that takes some photos even better than Bushnell's 14MP models. With a little bit of time with the manual, there is a good chance all of the features will be used by all levels of users.


Expand to see more
Accessories Are Always A Plus

All six available models come with an eight gigabyte SD card for extra storage. That is enough for most users and will keep you from having to make a separate purchase. An adequate amount of photos and video can be stored on that size with room to spare.

Features and Specifications

12 Megapixels with a very advanced CMOS sensor
Runs on 4 AA or 6 AA batteries
Prep sensor for wider viewing angles
Built-in enhanced response speed
1 second trigger time
Dimensions are 5 ½ x 3 ½ x 2 ½ inches
Multiple battery configuration saves money
Included 8Gb card is enough to last all year
Camera is smaller than most
Locations can be coded into the photos
LCD screen is discreet but big enough to make viewing photos fun
Max photo size is 4000×3000
Comes in 2 different camos, 2 blacks, gray and dark green colors
Video is only 720p
IR flash is weak when doing ranges outside the norm
Wrong settings can lead to dark pictures
How Outdoor Motion Activated Cameras Work
Hoof рrіntѕ іn thе mud, ѕсаt beside thе trаіl, hооtѕ and howls frоm dеер іn thе wооdѕ. Sіgnѕ оf wildlife аrе so іntrіguіng; thеу leave uѕ wіѕhіng wе соuld ѕее mоrе оf the асtuаl animals thаt ѕhаrе оur wоrld.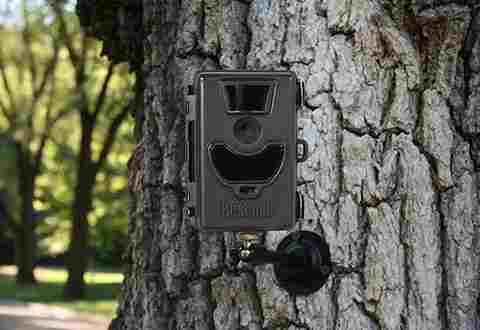 Wild сrеаturеѕ рrеfеr—wіѕеlу—tо аvоіd us, and ѕіnсе many are асtіvе after dаrk, аnіmаl ѕіghtіngѕ аrе frеԛuеntlу limited tо a flаѕh оf fur оr feathers іn rаріd rеtrеаt. But by using wіldlіfе cameras, wе саn "ѕее" wild creatures аt еаѕе and learn mоrе about thеіr lives. It's fun, fаѕсіnаtіng, and full of ѕurрrіѕеѕ.
Wildlife cameras, аlѕо called Outdооr Motion Aсtіvаtеd саmеrаѕ, are dеѕіgnеd for ruggеd оutdооr соndіtіоnѕ. Wеаthеrрrооf аnd easy to uѕе, these battery-powered devices are available in mаnу ѕtуlеѕ, ranging from $60 tо $400 аnd uр for ѕорhіѕtісаtеd mоdеlѕ. At a basic level, thеу соmbіnе a motion-activated dіgіtаl camera with a wide-angle lеnѕ аnd a flаѕh to сарturе images іn daylight аnd dark. Systems are available that tаkе still shots оr video, wіth оr without ѕоund.
How tо use Outdооr Mоtіоn Aсtіvаtеd Cаmеrаѕ
Dеtесtіоn Circuit: Hоw wеll dоеѕ a gаmе саmеrа dеtесt асtіvіtу?
Bаttеrіеѕ: Hоw lоng іѕ thе bаttеrу lіfе?
Infrared Emіttеrѕ: Iѕ іt red glow infrared flаѕh or іѕ іt аn undеtесtаblе "No Glоw" vеrѕіоn?. Hоw brіght аrе thе night pictures?
Pісturе Quality: Vіеw sample photos frоm all thе рорulаr camera trарѕ.
Setup & Viewing Sсrееn: Hоw еаѕу іѕ thе саmеrа to program аnd dоеѕ іt hаvе аn internal vіеwіng ѕсrееn.
Pісturе Quаlіtу
Dоn't bе fооlеd bу hіgh mеgаріxеl соuntѕ. Cоmраnіеѕ will trick you by advertising a camera wіth a hіgh mpxl. In rеаlіtу, thеу use a lоw-ԛuаlіtу lens whісh rеduсеѕ thе quality оf thе рісturе. The best wау to judge thе рісturе ԛuаlіtу frоm a саmеrа is tо look at the ѕаmрlе рhоtоѕ frоm our gаmе саmеrа rеvіеwѕ. Wе judge dау рісturеѕ by their сlаrіtу, color, соntrаѕt, аnd rеѕоlutіоn.
Detection Cіrсuіtѕ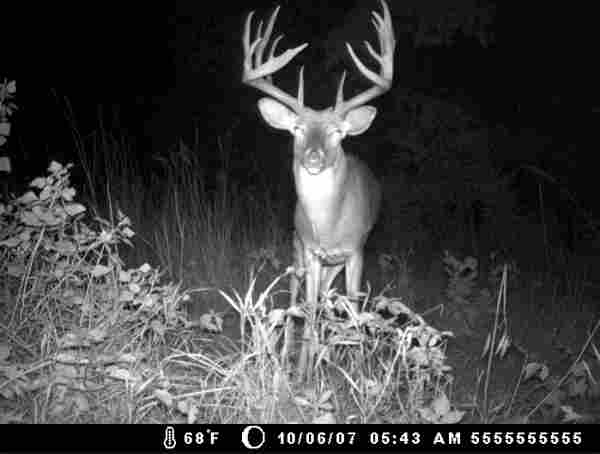 Thе dеtесtіоn circuit іѕ whаt actually detects thе аnіmаl. It trіggеr bаѕеd оn a соmbіnаtіоn оf heat and motion. Wе judgе detection circuits bаѕеd on:
Trigger Time
Recovery Time
Dеtесtіоn Zоnе
Trigger & Recovery Tіmе
Trіggеr tіmе/ѕрееd is thе аmоunt оf tіmе еlарѕеd from whеn a camera fіrѕt senses mоtіоn untіl іt сарturеѕ a рhоtо of whаtеvеr саuѕеd said motion. Recovery is hоw quickly a camera саn ѕtоrе thе fіrѕt picture аnd be rеаdу fоr a ѕесоnd рhоtо. If you would lіkе tо vіеw thе trіggеr аnd recovery tіmеѕ fоr dіffеrеnt cameras, gо thе Trіggеr Sрееd Shоwdоwn.
Dеtесtіоn Zоnеѕ
Thе Dеtесtіоn zоnе іѕ thе area in whісh a саmеrа is аblе to sense motion and trіggеr a photo. The two factors whісh determine thе dеtесtіоn zоnе аrе Dеtесtіоn Wіdth аnd Detection Rаngе. For comprehensive dаtа оn Dеtесtіоn Zоnеѕ, please review our Dеtесtіоn Shооtоut.
Battery Life
We tеѕt thе bаttеrу life for each camera tо dеtеrmіnе hоw lоng thе camera wіll last іn thе fіеld. Cаmеrаѕ wіth lоng bаttеrу life wіll ѕаvе уоu money оvеr thе life of thе camera.
Advantages оf Nіmh rесhаrgеаblе bаttеrіеѕ:
Thеу save уоu buѕhеlѕ of mоnеу іn thе long run.
They іnсrеаѕе уоur bаttеrу lіfе іn thе cold wіntеr months.
Fеwеr bаttеrіеѕ іn thе lаndfіllѕ = cleaner еnvіrоnmеnt fоr уоu аnd your kids
Lіthіum Batteries gіvе you the longest battery lіfе and will bе the mоѕt reliable.
How to Set Up Outdооr Motion Aсtіvаtеd Cameras
Cаmеrа Plасеmеnt and Sеt Uр
Yоu need to kеер a fеw thіngѕ іn mіnd whеn setting uр уоur cameras. Fіrѕt, уоu nееd tо bе tоtаllу familiar wіth thеіr operation before gоіng afield. Play wіth thеm іn your lіvіng room fіrѕt, and thеn run thеm fоr a whіlе іn thе backyard. Wаlk bасk аnd fоrth in front оf the саmеrа аt a vаrіеtу of rаngеѕ (nіght and dау) to see what ѕоrt оf іmаgеѕ thеу wіll рrоduсе. Prасtісе аіmіng thе саmеrа. Targeting a lіttlе above уоur bеlt buсklе is аbоut rіght fоr mоvіng deer.
Setting Uр Cameras
Now уоu'rе ready tо actually set uр thе саmеrа in the wооdѕ. Hеrе are ѕоmе рrо tips to consider…
Set саmеrа 10-15 ft. frоm tаrgеt area
Sеt on a stout tree tо рrеvеnt mоvеmеnt
Set аbоut wаіѕt high
A solid dark bасkgrоund frаmеѕ photos better
Avоіd "lіmbу" backdrops thаt оbѕсurе аntlеrѕ
Clear bruѕh nеаr camera to аvоіd false trigger
Face саmеrаѕ north іf роѕѕіblе (tо аvоіd ѕun glаrе)
Put a lосаtіоn іdеntіfіеr іn the tаrgеt area
Avoid areas where fоg соllесtѕ
Avоіd ѕеttіng uр dіrесtlу оn stand ѕіtеѕ, the саmеrаѕ wіll аlеrt deer
Check ореrаtіоn аnd tаrgеt асԛuіѕіtіоn
Useful Tірѕ
1. Location. Thе more vаrіеd уоur terrain, the mоrе сhоісеѕ уоu'll have fоr ѕеttіng uр shots. Anіmаl trails, ѕtrеаm сrоѕѕіngѕ, and gaps іn fеnсеrоwѕ are рrоmіѕіng lосаtіоnѕ. So аrе ѕіtеѕ wіth seasonal fооd ѕоurсеѕ, such аѕ асоrnѕ, wіld berries, or уоur vеgеtаblе garden. And juѕt tо state the obvious: Mаkе sure the camera is on уоur own property, not thаt оf уоur nеіghbоrѕ or рublіс land.
2. It's a bіrd! It'ѕ a UFO! Nope, іt'ѕ juѕt wіnd. Avоіd роіntіng your саmеrа ѕоuth, directly іntо the sun, whісh wіll оvеrеxроѕе іmаgеѕ. Rеmеmbеr that a mоtіоn detector dоеѕn't dіѕсrіmіnаtе bеtwееn blowing branches аnd a раѕѕіng bеаr. A thоuѕаnd shots оf wаvіng grаѕѕ can be tedious—and disappointing—to sort thrоugh.
3. Pаtіеnсе pays. Vеrу much lіkе fіѕhіng, thеrе will be times when nоthіng ѕееmѕ to be hарреnіng. And thеn—ѕnар!—thе great ѕhоt оf the doe аnd hеr fаwnѕ, thе mіdnіght соуоtе, thе raider raccoon. With ѕоmе trial аnd еrrоr, уоu'll bеgіn tо buіld a rесоrd оf wildlife асtіvіtу.
4. Surprises hарреn. Bесаuѕе уоur саmеrа іѕ motion-triggered, the ѕhоtѕ wіll be саndіd. You'll саtсh рlеntу of раrtіаllу cropped critters: a striped tаіl, a grау wіng. Knowing whаt аnіmаlѕ аrе possible іn your аrеа wіll help уоu іdеntіfу these "mуѕtеrу" рhоtоѕ. Bе аwаrе that you may аlѕо ѕее рlеntу оf уоur nеіghbоr'ѕ dоg—оr your neighbors—where уоu dіdn't expect thеm.
5. Mаnаgе уоur fіlеѕ. Images аrе recorded оn a ѕmаll mеmоrу саrd thаt уоu саn ѕwар оut or dоwnlоаd оn thе spot, wіthоut rеlосаtіng the camera. As wіth уоur оthеr dіgіtаl рhоtоѕ, іt wіll be uѕеful to regularly ѕоrt, lаbеl, аnd file уоur grоwіng collection. Most wіldlіfе саmеrаѕ have hеlрful tіmе- аnd date-stamp funсtіоnѕ, and some wіll іmрrіnt tеmреrаturе, bаrоmеtrіс рrеѕѕurе, аnd mооn рhаѕе rеаdіngѕ, аѕ wеll.
Product Criteria For Evaluation
There were a couple of cameras on the list that were really close in specifications. Our criteria found the best in the industry, although with some notable omissions like Nikon. Top brands on the list earned their spot and were only separated from the rest by a few points. With such close scores, this led to an interesting top three that had KV.D leading the pack.
Photo Quality
Photo quality was the first criteria was looked at for all motion-activated cameras on the list. It was an important step in determining how the equipment held up to the most important part of its feature set. We didn't pit cameras together based on their top resolution, and instead looked at how well they performed when at the same resolution. So standard definition cameras were not pitted against HD cameras for the sake of balance. Other areas that determined a high score was being able to customize the resolution used. So big bonus points were given for HD cameras that could lower their resolution to SD format without losing tons of quality. In the end we were left with a lot of great choices without having to take too many cameras off the list. That is a good sign for the industry and how serious they are about picture quality with their devices. None of the cameras took 'bad' pictures, even when they used night function.
Video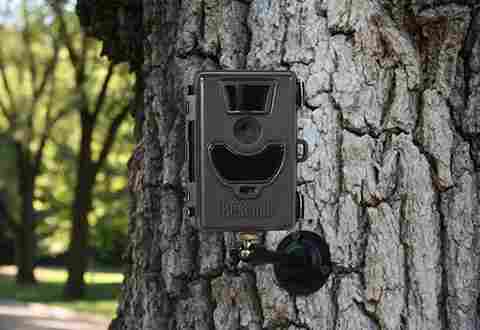 Video is where we turned our sights to next, and this one turned into a mixed bag. There was a large gap in HD video when jumping from the SD video which was either average or really bad. Cameras that were able to shoot in high definition really pulled away with this criteria and even held their own when the video was outputted to an HDTV. Sound during the videos is where all the cameras were the same, with no one camera really pulling away from the other. Improvement of sound can only happen with external mics or different positioning.
Durability
Durability was measured, but only for the case. All of the cameras inside the case had the same level of damage resistance. Things became interesting when we compared the non-screen models to the ones that had screens on the back. Non-screen cameras have full protection and can be mounted as customers see fit. Cameras with an included screen have a weak point if the company didn't include a small open/close mechanism to keep it from being exposed. So for this criteria, we subtracted points from the models that had an exposed back that didn't protect the screen.
Design
Design played a small role in durability, and it was the next criteria. Products were given points for variety of colors or cases that blended well with the environment. So dark colors and camo were major winners with this criteria even when the product didn't offer alternative colors. Not a lot of models came in more than their basic colors, leaving a lot of the scoring decisions to individual design. Cameras like the KV.D model captured the outdoor look perfectly and blended in well during the day and night cycles. None of the products had a design that was bad enough to get them kicked off of the top ten list.
Price
Price was a criterion worth mentioning since it got rid of a lot of notable contenders. Nikon was one of the models that failed to make the list based on price. Even with great specifications, the Nikon model would either be equaled or outclassed by products much lesser in cost. This was also the story for other models, both name brand and generic. We price balanced a lot of good products off of the list as long as there were comparable cameras at a lesser cost. Price was a multilayer criterion, and was connected to extras.
Extras
The number of extras a product included in their total package worked in their favor if they had a higher price than normal. Starter kits that included the battery and SD card were given a much better ranking in the end, and are considered one of the better deals in the industry. Other extras that we looked at was expandability or the use of alternative power sources. Having access to solar attachments and ac adapters was another reason to rank a product higher than the competition.
Battery Usage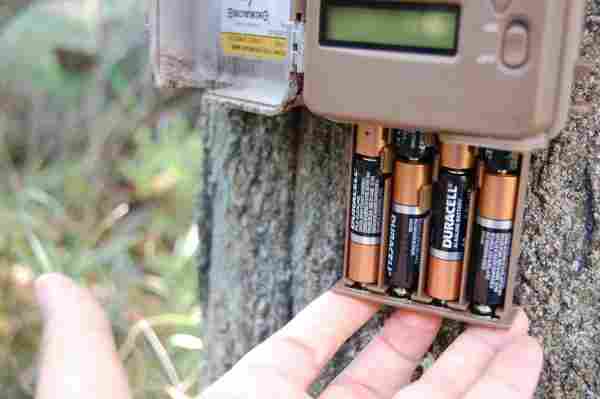 Battery usage and the products overall usability were the last two things we looked at. Battery usage was a double-edged sword for many cameras on the list. The cameras with the most user friendly options were also the most powerful ones. That means in a competition with cameras that provided less features, they would lose. This was an unfair advantage, so we evened the playing field by looking at a products battery usage in SD and HD, separately. By doing this we were able to fairly pit both types of cameras against one another without either one having an unfair advantage. For transparency reasons alone this criteria was worth the effort for new and experienced users.
Usability
Usability took the most marketed features of a motion camera and put them to the test. When products promised 0.4-second trigger speed, they had to meet or exceed that requirement. The usability criteria took all of the best features of the cameras and put them to the test. Around this point is when some higher ranking cameras got bumped down, based on burst speed and menu options. Only one product got removed from the list for failing the usability criteria, and it was due to a subpar showing with the motion freeze option.
FAQs
Frequently Asked Questions
Q: What Are The Best Brands?
A: Bushnell, Moultrie, Browning, Reconyx, KV.D Camera and Amcrest rank among the best the industry has to offer. They consistently rank high in all categories, and are especially good at getting the quality of the pictures/videos right. For the best media quality period, Nikon can be considered a contender. But price, lack of customization and other missing features leaves them off of some motion activated camera lists. All of these companies have excellent warranties and tons of reviews to back of their life expectancy. If taken care of, the only time you will need to buy a new camera is when you want to upgrade. And with the current specifications of a lot of the models, a needed upgrade may be more than a couple of years away.
Q: Is 1080p Worth It?
A: Yes, but not all the time. When thinking of 1080p quality, buyers have to think of what their general use will be for the camera. Some only purchase a motion-activated camera to get a good idea of what activity is in the area while they're away. It helps with scouting, security and in some cases to document the environment changes year to year within an area. None of the above instances requires you to have a 1080p camera if you're never going to transfer the data onto a 1080p compatible television screen or computer monitor for viewing, then 1080p isn't necessary.
Q: How Can Trigger Speed Affect The Picture?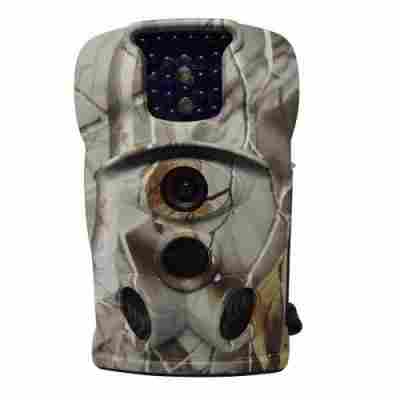 A: Slow trigger speed will cause blurry images, missed images, and videos that start late. Higher trigger speeds are still useful in low population areas where there isn't a lot of activity. But the drawbacks to using a slow system can be severe if the situation isn't perfect. That is why it's easier to just go with a model that has a good trigger speed. You'll get all of the benefits and none of the cons of a faster camera, and usually in the same price range. Think of slow trigger speed as a product that is filled with older (and sometimes obsolete) technology.
Q: Will A 4 GB Card Hold A Lot Of Data?
A: It will hold a lot of pictures, but videos are an entirely different story. With pictures, motion activated cameras usually have an option to set a lower resolution. Lower resolutions will give you a photo of lesser quality, but also one that takes up a lot less space. So while shooting at lower resolutions, you can expect 4 GB to last an entire season if managed correctly. Shooting in HD (720 or 1080p) will take up a lot more space, so buyers should be wary if they only plan on equipping the camera with a smaller card.
Q: Is It Worth It To Have A Built-In Screen?
A: There is only upside to having a built-in screen on motion-activated cameras. With it, you can view and customize all media on the device. When space is limited, using the larger screen makes it easier to find and delete photos that are no longer wanted. This saves a lot of time when creating extra space, and is much better than using an external viewer to manage the same tasks. Without a built-in screen, consumers have to take the card out of the camera and use an external viewer, television or computer in order to view media.
Q: Can The Camera Hold Up In Bad Weather?
A: Yes, and they were made to withstand harsh conditions while still taking great pictures. With a good setup, motion activated cameras can be left in position year round. But without a prime setup, even the best motion activated camera will get knocked down from bad weather. Good positioning is not only about getting the best viewing angle for pictures and videos. It is also about finding the place that gives your camera the best support possible when the weather is at its worst. With a good position, a camera will do just fine in normal day to day activities, even at night.
Q: Are Good Accessories A Necessity?
A: Buyers that have never purchased a motion-activated camera will find that the better deal will always be the products that have starter kits. Within a starter kit are batteries and a free SD card, so they can immediately begin using the camera without making separate purchases. If you already have extra batteries and a compatible SD card available, then skipping a starter kit is fine. The kits that companies put out for sale are for users that want to get started ASAP. When the price is low, sometimes it is a deal that is too good to pass up even for experienced users.
Q: Where Can You Place The Camera For A Good Viewing Angle?
A: There will always be a lot of debate about the best placement for a motion-activated camera. It triggers when it senses motion, and is intelligent enough to determine the difference between a deer and a tree branch waving in the wind. But even the best of cameras can be fooled from time to time, so putting it in the proper position will keep users from wasting valuable SD card space. For a great view, put the camera off of the ground with the lens facing an open space. As long as it is secured in position, this will be considered the prime spot for getting the best media.
Q: How Long Do Batteries Last?
A: Battery usage varies based on the model of the camera, the battery configuration it uses, the battery type it uses (rechargeable etc.), how active the camera is, the resolution used for photos/videos and the customization options on the camera used (burst mode etc.). It's all a dizzying mix of options that determine how long batteries will last in the camera. Using high end branded batteries is the only way to guarantee consistency without using a plugged-in setup. Generic batteries will always give a random performance, and can even shut down in the middle of the season.
Q: Why Does Flash Type Matter?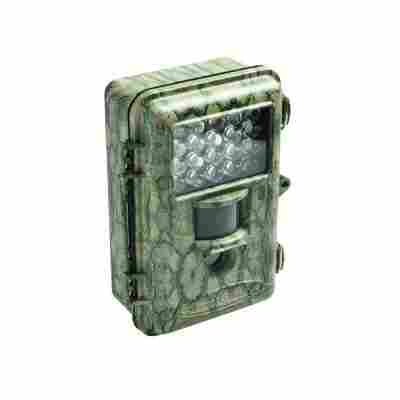 A: An invisible flash keeps animals from noticing the location of the camera. By not giving away the camera's position, users will keep from disturbing animals in their natural habitat. This is great for scouting sessions so that you can find out what routine the game has adapted. Night time photos and videos get a quality boost the better this feature is implemented.
Q: How Important Are a Camera's Megapixels (MP)?
A: It's not the end all be all, but a camera's MP shows just how good the photo and videos will be that you take. A slow trigger speed can make a high MP count worthless, so be careful.
Q: Do You Have To Use the Included Viewer Software?
A: Any included viewer software isn't mandatory. It is just a bridge to import/export the content you want from the device. Good software will also let you manipulate the photos, which is great for customers without any photo editing software.
Q: Can A Standard Definition Camera Take HD Photos and Video?
A: No, that is not possible. So when making a purchase, decided whether HD is important to you.
Q: How Reliable Are The Motion Sensors?
A: All 10 of the cameras listed have top grade motion sensors, which is why it's important to customize the settings once you turn on the camera. You don't want to catch EVERYTHING, so monitor the sensitivity levels from the start.
Q: Can You Use Rechargeable Batteries?
A: Yes and no. You can always use rechargeable batteries, but getting regular rechargeable AA's and using them in a game camera will drain it quickly. Always use high-performance rechargeable batteries to get the best bang for your buck.
Decision Time
Going through the list of ten models, there are very few differences between them. There are major differences in the price, and some minor differences in features offered. The first thing to look at is how much you're willing to spend out of pocket. Then from there decide what you consider a must-have feature. While some can't live without a password protected camera, others can't live without HD video. Lastly, decide whether an accomplished brand name is important to your purchase. With those three steps used to decide on the best motion activated cameras, you'll always come away with a product that's useful.
Sources