Best Oven Mitts Reviewed & Rated for Quality
In a Hurry? Editors choice: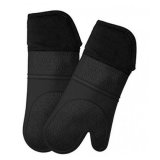 Test Winner: Homwe Professional

Whether you
bake
, cook, or engage in any activity that exposes your hands to hot trays or pots, you need to protect them from burns. Though there are other utilities for this, none of them can compare to using oven mitts.
There are several different brands and styles on the market. They are insulated with materials ranging from cotton to silicone coated and others. They are tailored to handle different degrees of Fahrenheit. With a variety of options available, choosing the right pair may not be so easy. Besides, who has the patience and time for reviewing hundreds of brands and test their capabilities? Just when you feel like this is too much of a hassle, let's make things easy. We did the work so that you can make your choice based on your personal preferences. The following information will serve as an important guide.
Standout Picks
Criteria Used for Evaluation
10 Best Oven Mitts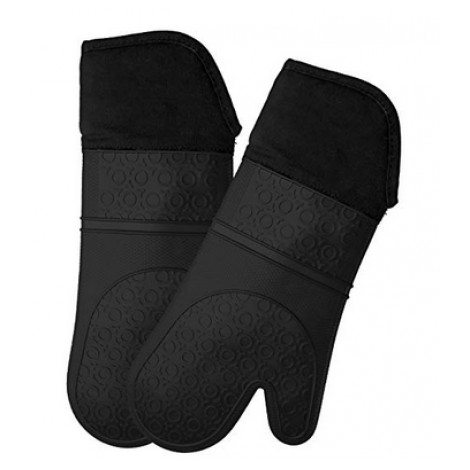 The Homwe is one of the most popular brands on the market. The silicone designed oven mitts provides very wonderful features that ranked them high among consumers. They offers extra protection against scalds and burns. You can cook with confidence! The measurements are about 14.7 inches long - meaning that they are long enough to protect the whole length of your hands from burning. The Homwe ovenware is comfortable to use because of their quilted and soft liner which can resist heat up to 450 degrees Fahrenheit. They are perfect for handling different kinds of cooking activities.
Superior Safety Length
The most outstanding aspect of the product is the safety length. Measuring over 14 inches, your hands and forearms are protected. There are two different lengths available for purchase and both sizes are long enough to do the job. They are heat resistant and these cooking gloves will easily protect you from any burns. The manufacturer is one of the best ovenware designers in the market and that is why this product makes the top choice here.
Heavy Duty
Another great feature is the heavy duty protection. They are strongly designed and that is why they can withstand temperatures up to 450 Fahrenheit. They are made with a high-quality quilted cotton lining that provides top protection. In addition, they are comfortable to wear. The inner component of the mitts are soft. You would enjoy absolute coverage and comfort whenever you use them to cook, grill, or bake. It is indeed a wonderful product to have in your kitchen.
Cost and Value
Even though they come with great features, this does not skyrocket the price. It is still within the affordable range. Because of the superior construction, your satisfaction is guaranteed. The product comes with all the accessories required to use it. Furthermore, they are durable and highly reliable. You can enjoy using them for many years to come. They are readily available for ordering and ships quickly. You will have real value for your money.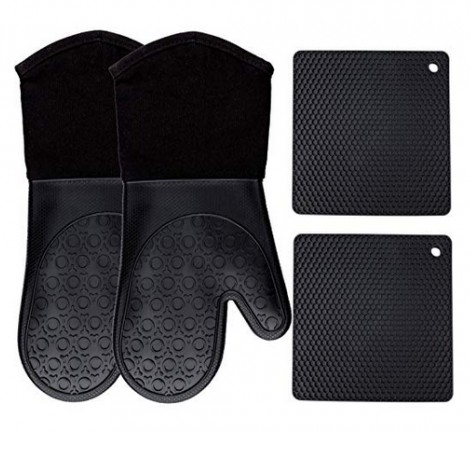 Whether you are a professional cook or an amateur, you can make do with the Homwe 4 piece set. This is one of the best protective ovens sets you can buy. It comes with 2 silicone oven mitts and two silicone potholer trivets with the capacity to protect your hands from flames, the heat, and other kinds of burns. This set is perfect for that. These provide multifunctionality as they are good for daily use in the kitchen.
Complete 4-Piece Set
It is more than just an ordinary set; it is a complete cooking set. When you order, you will get the necessary accessories such as silicone potholer trivets and oven mitts. This set is necessary because they will ensure effective grilling and cooking. They are heat resistant and accommodates temperatures up to 450 Fahrenheit. The set is ideal for handling hot kitchen utensils with utmost confidence.
Heavy Duty and Highly Durable
The Homwe brand is one of the best in the industry and their cooking sets are highly durable. This is because of the superior quality materials used to make it. These are very comfortable and provide long lasting durability. It's highly versatile so that you can use it for both indoor and outdoor use. There is hardly any other cooking set that can protect your hands better than this. Very highly recommended.
Cost and Value
These products will provide great value to your daily cooking. In addition to their high-end quality, the costs are within range. You are not expended to spend heavily before you can starting using this set. In fact, you have plenty to gain and nothing to lose! Any money you spend is worth it. The manufacturer is one of the best on the market. The set is available for ordering. You may reach the seller at any time regarding product information.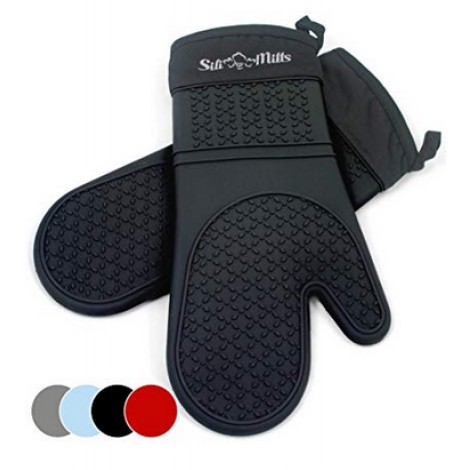 The Frux Home mitten set is the perfect pair! They are stylish because of the wonderful design. Your hands will feel comfortable wearing them as they are highly durable. The manufacturer selects top-quality materials such as flexi silicone as well as 100% cotton approved by FDA for safety. Silicone may seem a bit bulky, but it does an awesome job in providing resilience to water and other liquids as well as heat resistance. Highly attractive, they are extremely comfortable to wear.
Long Length
These mittens measure up to 13 inches. They covers the entire hands so that you can use them for the protection they offers. They protect the hands from grease splatter which can be far-reaching on low oven racks. Most importantly, you are 100% protected from painful steam burns and so on. The most important thing is that you are guaranteed all-around protection once you start using this wonderful product.
Superior Quality
Another important aspect is the superior quality construction. The outer shell is highly protective and are designed from FDA certified food grade material. This is considered the best silicone material in the industry. This implies that they are safe to use. Other members of the family can also use them with confidence. Furthermore, they are highly heat resistant - protecting your hands from temperatures ranging up to 482 degrees Fahrenheit. This product is highly recommended.
Cost and Value
The high quality and heat resistant properties are the best on the market. With an attractive offer, you are entitled to a return or replacement if the defect is the fault of the manufacturer. This glove set can serve you for a long time. Furthermore, other members of the family can use also use it. They are highly valuable and available to order.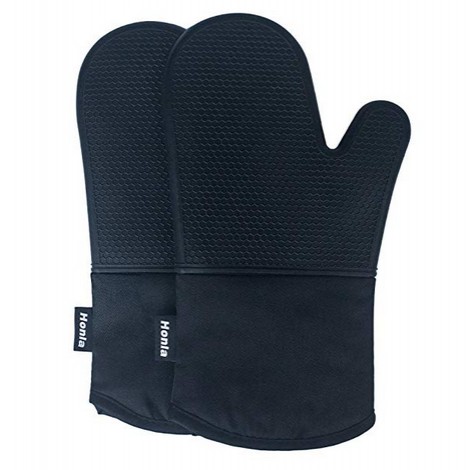 The Honla mitts are larger and longer. They stand out on the market and can fit many users very well, though some have complained about the size. The items are about 13 inches long. This means that your hands will get good coverage and protection. No more worry about burned fingers, which makes them safe for handling. You and your family will absolutely love them! These gloves are highly flexible.
Heat Resistant
Honla mitts are highly heat resistant. They can accommodate heat up to 500 degrees F. This simply suggests that you are getting a superior quality product. When you use them, you are guaranteed full protection of your whole hands. The risk of burns will become a thing of the past. Designed with an FDA approved silicone, will make the product safe to use. Every family requires one in their kitchen for safe cooking.
Easy To Clean
Even though this product is not waterproof, it is user-friendly. After using, they are fairly simple to clean. If you like, you can toss them into the washing machine. You can use them everyday due to their simplified design. It is one of the everyday essentials that's becoming part of the kitchen for many households. They will make great gifts!
Cost and Value
Your protection is highly guaranteed when you purchase the product. Take advantage of a useful accessory which is in high demand! Many people like oven sets because they are easy to use and requires very little maintenance. Users will get high value from the product. Honla silicone mitts are readily available for purchasing. Place your order today. Products ship fast!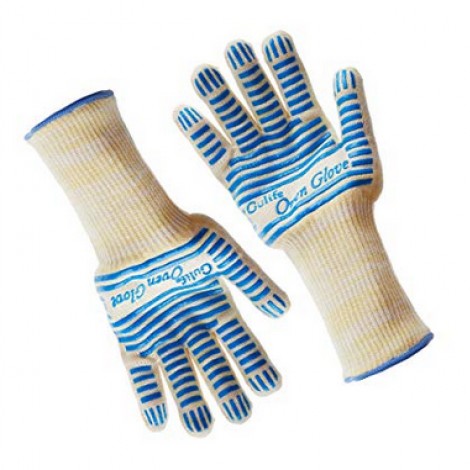 The Gulife ovenware glove is a top class product which is a perfect solution for every cook. When you use it, you will appreciate the seamless design and flexibility with the non-slip silicone grip. It is a heavy duty product that can offer protection even under extreme heat. It is usable up to temps of 662 degrees Fahrenheit. The interior size is designed to be large and can be worn on either hand; meaning that it can accommodate different hand sizes.
Heavy-Duty Protection
One of the key considerations in your selection process is the issue of protection. The design is such that it can withstand extreme heat. You can use it with great assurance. The Guilfe oven glove provides the perfect solution for preventing severe burns. For this reason, you will have peace of mind when cooking. It is designed with the best quality materials.
Covers Up The Wrist
You will get protection from the heat when you use the product. It could be worn the right or left hand and covers all the way to your wrist. It can fit perfectly well. The interior is made with excellent quality material and it is large enough to accommodate different hand sizes. The glove is user-friendly and the fabric is soft.
Cost and Value
There is no doubt that this is a wonderful option when you factor in the high ratings and approval by previous users. It can be used under intensive heat and complete safety is guaranteed. The product is currently available for purchasing and the seller ships to many parts of the country. You will get the best value for your money. If there is a default with your item, you are entitled to a refund or replacement.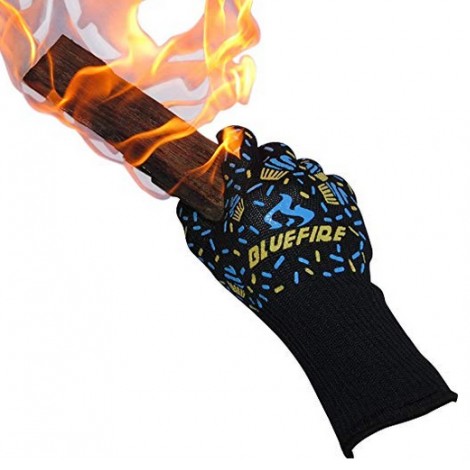 BlueFire Pro is one of the best models on the market. It is the preferred model of bakers, cooks, and housewives. It is powerful as they can comfortably handle temperatures up 932 degrees Fahrenheit. Although used for different purposes, these gloves the preferred choice for grilling, baking, and cooking. They can be used for the campfire, BBQ grill, as well as for cooking and other activities. The gloves are highly durable as they are made from the best quality materials. These gloves are known for their superior heat dispersion properties.
The Best Heat Resistant Rating
The key factor is the heat resistant properties. They have high rating here for resisting heat up to 932 degrees Fahrenheit. This shows that they are designed with one of the best raw materials that you can lay your hands on today. BlueFire Pro gloves are made with 100% Kevlar, Nomex, Aramid, and silicone. They are EN 407 Certified so that you can use them with no worries.
Versatility
Another outstanding aspect is their unique diversity. They can be used for different purposes such as cooking and other tasks which involve handling extremely hot items. Most people can use it for other purposes like BBQ grilling, rearranging burning wood in the fireplace, and so forth. Some people even use them for protection when using hot countertops and other purposes where hand protection is needed.
Cost and Value
There is no doubt that when you are working with sharp objects while handling hot pots and pans, you need adequate protection. This manufacturer specifically designs their ovenware for that. There are various ways of using them for protecting the hands. When you buy, you will expect to derive the best value for your money. If you do not get what you anticipate, you are entitled to replacement or return. Your safety is one hundred percent guaranteed when you use the product.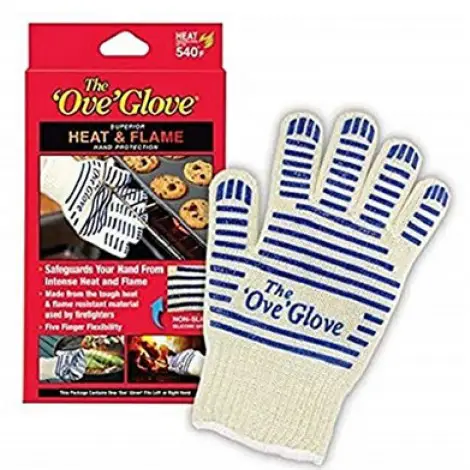 The Ove Glove is very comfortable and is designed for longevity. It is made to fit both left and right hands and can withstand extreme hot temperatures of up to 540 degrees. The product is made using the best raw materials used by firefighters. You are guaranteed complete satisfaction when you use it for your cooking needs. It comes with fantastic features that makes it a great kitchen accessory to have!
Comfortable
One of the aspects is that the product is comfortable to use. It fits all five fingers comfortably. The fact that you can use it in extreme hot temperature is a sure sign that it will bring you great value. It is recommended for those who are looking for the best.
Flame Resistant
The key factor with the Ove Glove is that it is flame resistant. The exterior forms a thermal protective seal, slowing the temperature increase inside the interior layer. When it touches an open flame, this layer does not catch fire and melt. You can use it without fear. Both the internal and external layers are well protected.
Cost and Value
When it comes to value, the brand is one of the most valuable in the market when you consider the functions. It is not the most expensive on the market. Hardly could any other product compare with it in terms of value. It is protective and durable. More importantly, it is comfortable for use.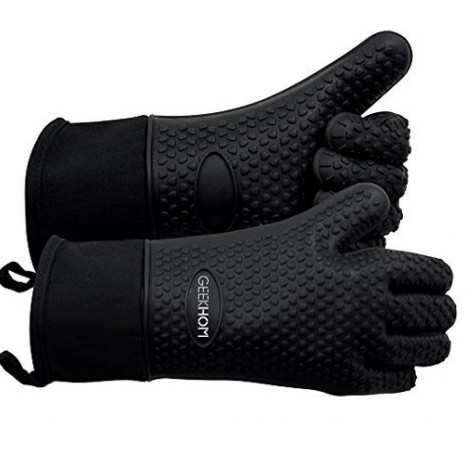 The GEEKHOM 13.7 inch grilling gloves are constructed with a longer sleeve for protecting your arms and wrists, and not just your hands. They make the perfect companion for your Hamilton Beach grill or Weber Blackstone Char-Broil. Because these oven gloves won't retain smells or leave stains, it's time to exchange your used oven mitts for a new pair! These waterproof silicone gloves can handle the messiest and dirtiest ovens and sink. They can easily be cleaned in a dishwasher or sink.
Full Warranty
This item is designed for your lifetime satisfaction. They are one of the best on the market. Reviews have shown that they wear more comfortably than several other silicone models on the market. Comes with a double layer design. That is the reason for their durability and usefulness. Moreover, the product offers more heat resistant features. You can use it with full assurance that your safety is guaranteed.
Double Layer Design
The design is quite different from several other models out there. You will be getting gloves made with a double layer silicone design. The first layer is composed of superior quality silicone and is flame and heat resistant. Then comes the second layer, which also serves for heat protection. The inner layer is made to be comfortable on the hands. You would be one hundred percent protected when you use this product.
Cost and Value
It is made from one of the most expensive silicone on the market , yet it is one of the most useful gloves out there. It offers lots of functions which you can hardly get anywhere else. First, you will get heat and flame resistant protection. In addition, you will be getting a durable product. They are comfortable to wear and unlike others, your hands will not feel dry after using them. The fact that they are 100% waterproof, makes it easy and simple to clean after use. Items ship quickly upon ordering.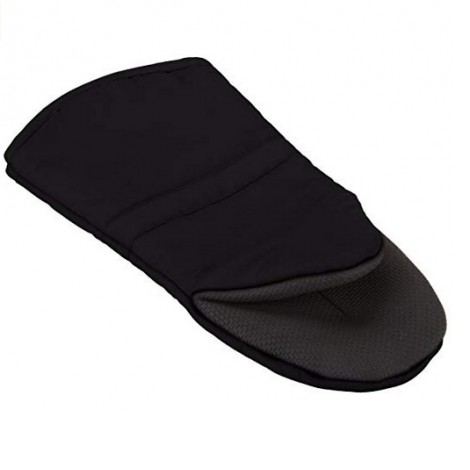 RITZ Royale is not a novice in this kind of business. For more than 125 years, they have been providing quality kitchen ovenware for customers across the globe. The Cotton Puppet oven mitt is one of the best inventions for providing kitchen safety for cooks and professional chefs. Worn on the left or right hand, it can endure temperatures of up to 500°F to colder temps that fall below freezing. As expected from an experienced company, you will be getting a highly durable product. The problem of hand burns is gone forever.
Excellent Protection
The manufacturer actually understand the importance of superior hand protection for cooks. They came prepared with the emergence of the Cotton Puppet oven mitt. The design is such that it can adequately protect your forearms whenever you use it for handling hot cooking utensils. It works with both your left and right hand. This makes it different from similar products which are not right hand compatible. It is long enough to protect each hand as it is up to 13 inches long.
Comfortable Grip
Another outstanding feature is the non-slip grip you get from the product. It will stick to your hands properly. The textured neoprene treatment as a layer of heat protection and acts as a secure grip when handling slippery or hot objects in the kitchen. The danger of the glove falling off your hands while you are reaching into the oven would not be an issue when using this innovative product. Because it does not fall off, your safety is guaranteed when you use it.
Cost and Value
The cost of the Cotton Puppet mitt is competitive with other brands on the market. You will get real value for your money because of the quality features you will get. It is not the most expensive and yet is exceptional when it comes to the level of protection and safety of use. The product is designed with the finest quality materials available in the industry and that is why it will never disappoint you.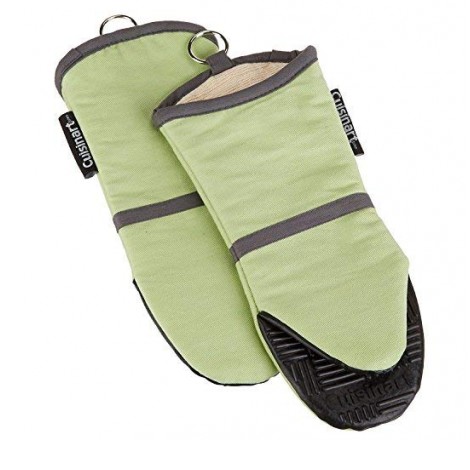 The Cuisinart silicone gloves are one of most innovative on the market! This model is simplified. It completely removes all the stresses that are involved in removing prepared foods, cakes and other dishes from the oven. It is very powerful for their heat resistant properties. They provides burn-proof protection for temperatures up to 500 Fahrenheit. This shows that the material is made from high quality fabric which consists of the finest polyester. That is why this brand makes our top list.
Effective Protection
The greatest value you will get is the extra protection it offers to the users. It provides great coverage to the hands, wrists, as well as the lower arms. Additionally, the material is extra comfortable. The interior of these gloves is conducive because they are made with 100% thick cotton and is lined with a premium filling. It is certain that you will be satisfied when you use them because your protection and convenience of use is guaranteed.
Ergonomic Design
Another great attribute is the ergonomic design. They holds solidly onto your hands and because of that, they will not slip off when you use them. The simple design also makes them conducive and very comfortable to use. You will get up to 500 degrees protection - meaning that your safety is always assured when you purchase this product.
Cost and Benefit
Cuisinart believes is creating kitchenware that brings value to the consumer. You will receive guaranteed protection versus similar products out there.You will truly appreciate these gloves for their features. They are readily available for purchasing. If you encounter any defect that is contributed from the manufacturer, you can return the product in exchange for another pair.

Subscribe to our Newsletter