Best Bakeware Sets Reviewed & Rated for Quality
In a
Hurry? Editors choice: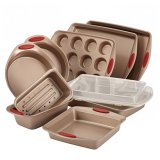 Test Winner: Rachael Ray Cucina 10 Piece

Baking doesn't have to be set aside for the holidays. It can be something you do all year round. And many people do! Whether you
enjoy baking
on your own, with friends or family, if you are new or an expert, you need a good set of bakeware. End of story. There are so many complete baking sets on the market now that will be a
great addition to your home
that you would get great use out of, or purchase these as a gift set to your loved ones.
Standout Picks
Criteria Used for Evaluation
Materials
Aluminum materials are high for trapping and conducting heat. This is why we can use aluminum foil in the oven when we are baking (do not apply in the microwaves!). Aluminum is a thin material and is often inexpensive. However, because it is so light, it is also prone to damage in high heats and susceptible to bending.
Sometimes aluminum bakeware can get corroded or turned out of shape after months or years of constant usage in extreme heat. These may be best if you're on a budget or if you plan to use bakeware temporarily, or if you move often and need temporary bakeware that you can dispose of after you move.
Cast iron bakeware sets, like cast iron pans and tins, are often coated multiple times in a protective enamel, which prevents the container from corrosion or rusting. These are great for cooking in extremely high heat, and the iron coating makes it easier to clean burnt items on the bottom of the pan.
These are popular because you can use this on the stovetop and also in the oven, and are often used by professional chefs and home cooks for its supreme ability to trap in heat. These also ensure that heat is distributed evenly and you don't end up with uneven brown spots on the bottom.
Ceramic bakeware sets are popular to use during hosting events or at home because they can be transferred from oven to table without extra dishes or plates. Ceramic sets are often colored and with aesthetically pleasing designs, making it an excellent centerpiece for the table. These are great for casseroles or lasagnas, or generally any shareable dish. Ceramic is a fragile material and can break easily, so these are great to use in the home, but probably not for heavy-duty baking.
Silicone has become a popular choice in material for bakeware. Although it is flexible and may seem like a flimsy, rubber-like substance, it's fantastic in that it can withstand extremely high heat. Its unique texture allows for flexibility, and this is great for molds. It's also useful in transferring from the heat and storing in the refrigerator and freezer. Silicone is also very easy to clean and have nonstick properties.
Glass bakeware sets are least commonly used in baking because of its extremely fragile characteristics. It's necessary to handle glass bakeware, especially if they have been exposed to high heat, with care, so they don't shatter or break. Aside from its clear aesthetic, some cooks or bakers like to use glass bakeware if they are sensitive to a certain metal or aluminum aftertastes that can be caused by cookware made from those materials.
Features
Nonstick pans and tins should allow cleaning to be simple. The last thing you want to do after baking (which is a time-consuming activity in itself) is to spend hours scrubbing ferociously on a black, rusted pan where the burned crisps refuse to come off. You want one that cleans effortlessly. Most bakeware can be used in dishwashers, and this can help immensely in your cleaning process. Baking can require a lot of items in preparation! Hauling all of these into the dishwasher while you sit back and enjoy your recreation can add on to your enjoyable experience.
I don't know about you, but I have gotten a few burns on my wrist and hands from trying to squat down and reach in to take my pan out of the oven. Even though I always used oven mitts, the lack of grabbable handles made it challenging to take out the pan with ease, causing extreme discomfort and pain. Cookware should be designed for everyone in mind, with large enough handles to grab quickly and place on the countertop without pain.
Capacity
Most bakeware or cookware will be designed, or they should be designed, to withstand high temperature. Baking can go up to temperatures as high as 500 degrees and can stay in the oven for hours on end. Make sure that whatever the recipe calls for, the bakeware you have has the heat capacity to withstand that temperature for that time. You don't want to use the wrong pan or tin and end up with a black, crusty cake bottom and a damaged pan.
Weight
You want baking sets that are not too lightweight because this can signify a cheaper material that will cause your creations to burn. You also don't want anything too heavy, which can cause uneven heat distribution and uncertain time in transferring in and out of the oven. You should be able to carry and move the bakeware with ease- you also want to consider that your creation might be heavy also! You don't want to end up dropping it because it's too heavy to carry.
Safety Hazards
These will be in the oven in extremely high temperature for long periods. You want to make sure that the material is not burning and causing cancerous chemicals to be emitted, and we end up consuming these harmful chemicals. Look for lead, BPA, PFOA, and phthalates FREE items to ensure these hazardous materials are not used in your bakeware.
10 Best Bakeware Sets
1

. Wilton Perfect Results


If you're looking for a high-quality set that will handle all of your baking needs- from muffins to pizzas to Thanksgiving dinners- this set will make sure your dishes come out perfect every time and will still be as good as new with little to no damage or residue year after year.
High Quality Steel
Wilton Perfect Results model is made from heavy-duty, cold-rolled steel, which gives the surface a durable strength that is not an only nonstick coating but dishwasher safe and made to last for years.
Complete Kitchen Set
This eight-piece set offers everything you will need in the kitchen- cookie sheets of varying sizes, large rectangular pan, round pan, muffin pan, extra-large pizza pan, and a meatloaf pan with convenient built-in grease catcher.
Cost and Value
This set is a heavy-duty, higher than the average quality model that comes with a higher than average price point. You'll save time and money with these long-lasting pans- less energy scrubbing the nonstick coating and more time eating and baking.

2

. Rachael Ray Cucina 10 Piece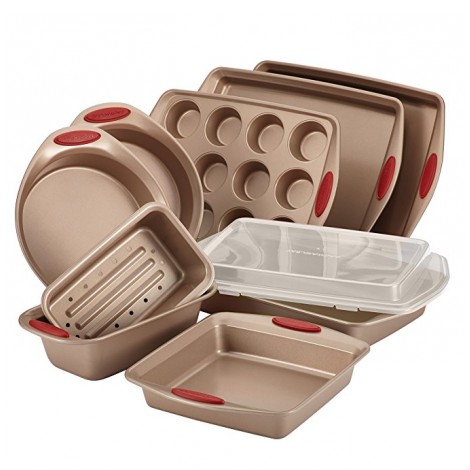 Rachel Ray is a modern pioneer in the baking world, so it's no surprise that her bakeware set would be on this list. With all the essential pans to create delicious dishes, nonstick carbon steel construction, and an attractive latte-colored finish, you'll feel just like Rachel Ray herself when baking from these pans.
Nonstick Coating
You don't have to risk the fear of ruining your bans with burnt residue or oil. These have been specially constructed and coated to facilitate cleaning and have your pans looking brand new with just a swipe of a sponge!
Cucina Collection
This bakeware set partners with the entire Rachael Ray Cucina collection. Its latte-colored finish with safe silicone handles designed so you can match with other items in the collection- perfect for those who take their kitchen accessories to heart!
Cost and Value
This set of 10 pans and sheets come at a higher price point. It's a good deal, though, considering that they are made from highly durable carbon steel and eliminate the need for harsh scrubbing during washes, you may find yourself using at least one of these pans every day!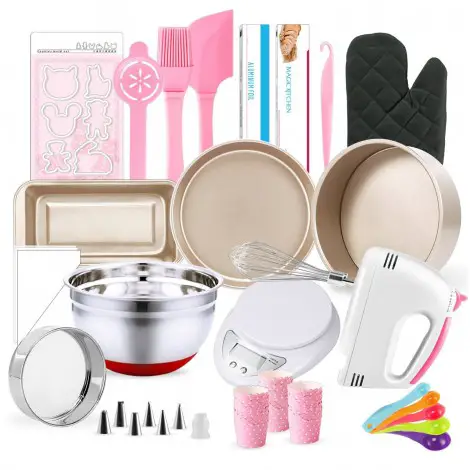 This MCK complete cake baking set is the perfect gift or purchase that you can enjoy with your children or even by yourself. It comes with literally all the tools you need to bake a cake- save multiple trips to the store because you will have everything you need in this set.
21 Pieces of Baking Equipment
This is the complete package, let us count the ways: this comes with a hand mixer, electronic scale, nonstick springform pan, mixing bowl, decorating tips, pastry bag sets, molds, measuring spoons, spatulas, egg separators, and more! What's great is that you reuse most of this equipment for other baking needs.
Top Quality
All of the equipment in this set is made from high-quality stainless steel, BPA free silicone, and APS plastic, ensuring long-lasting use for all your cake-making days.
Cost and Value
This is a very cost-effective purchase when considering all the electronic equipment that is included. It would cost more to purchase each item separately, so this is a great way to get the most value for your money.

4

. Rachael Ray Cucina 5-Piece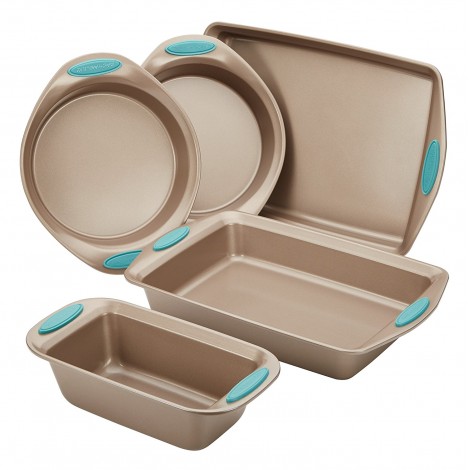 This set is perfect for those who want the quality and name of a Rachael Ray baking set with the essentials needed for cooking without the higher price point. With 5 of the most popular, essential baking pans, you can produce FoodNetwork worthy dishes right from your kitchen.
5 Essential Pans
This set comes with 5 of the basic pans you would need for your kitchen. You have a roasting pan to roast meats and vegetables with ease. There are two cake pans for your pastries and goods. There are two square pans for loaves of bread or roasted veggies.
Oven and Dishwasher Safe
The fact that these have a nonstick coating and are also dishwasher safe making cleaning a breeze! Let's face it- the worst part of baking is cleaning up afterward. Rachael Ray's set makes all aspects of cleaning enjoyable.
Cost and Value
Given that this includes half of the number of pans compared to the 10-Piece set, this also comes at half the cost. This set is perfect for those who need the baking essentials but don't want to jump the gun and invest in the whole set.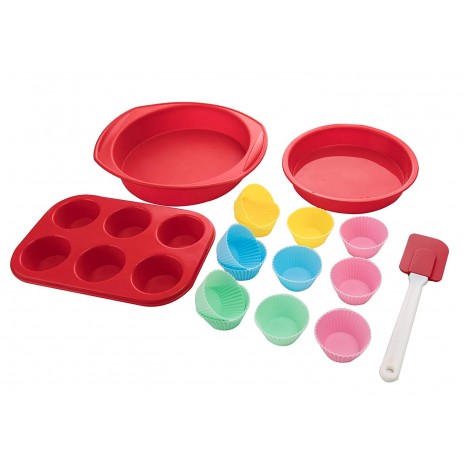 Bakers of all sweet treats can appreciate this silicone bakeware set. Their flexible, comfortable use can be used for a variety of different baked goods and can be used for baking, microwaving, and even freezing.
Food Grade Silicone
Silicone is a great material for bakeware because it's versatile, flexible, and FDA and BPA free, and easy to remove baked goods without hassle or damage. Muffins and cakes can slip right out without the additional expense of oils or parchment papers.
16-Piece Baking Set
This set is a baker's dream- it includes all the necessities that you would need. It comes with one muffin pan, 2 round cake pans of different sizes (great for layering!), one silicone spatula, and 12 silicone baking cups that you can reuse!
Cost and Value
This 16-piece set comes at a very affordable cost. Just the fact that you won't ever have to purchase disposable baking cups is reason enough to buy this set! (not to mention that is very good for the environment)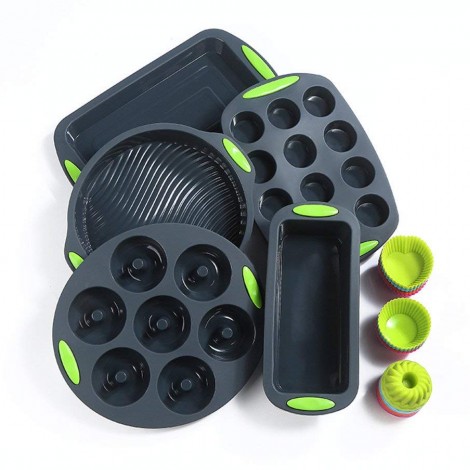 If you're the one in your friend's group who bakes large amounts of donuts and cupcakes for events and gatherings, this To Encounter 41-piece model is perfect for assisting in your baking process. With a wide variety of different molds and shapes, your baked goods will be a crowd-pleaser for any occasion.
Variety of Shapes
This set comes with a whopping 41-pieces- you get your essential cake pans and muffin tins, but you also get a set of 36 molds in 9 different shapes, from donut shapes to hearts to stars.
Flexible and Durable
These silicone folds are super flexible and easy to use- no oil is required, so all you need to do is pop them right out of the pans or molds. The molds are also heat-resistant up to 450 degrees.
Cost and Value
This 41-piece set is a great deal- not only do you get 36 different molds, which make baking in large batches a breeze, but you also get food-grade silicone cake molds, toast pans, donut pans, and tiramisu pans.



Perhaps you have absolutely nothing in the kitchen and need the sheer basics, or maybe your son or daughter just moved into their first apartment. This is a perfect set that includes the basics of what you need for cooking and is great for single servings and most conventional toasters.
Basic Set
This is great for people who live alone or have a smaller space. This set includes a baking pan with a cooling rack, a roast pan, and a muffin pan. These are versatile enough to be used for both savory and sweet baking.
Lifetime Warranty
You know you're getting a quality product when it comes with a lifetime warranty. Chicago prides themselves in using high quality, durable material that will be free from defects and corrosion, ensuring you get the most out of it for years to come.
Cost and Value
This four-piece baking set comes at a very affordable price point, making it the best value product on our list. For people who are just starting out cooking and need the bare necessities, this is a perfect purchase.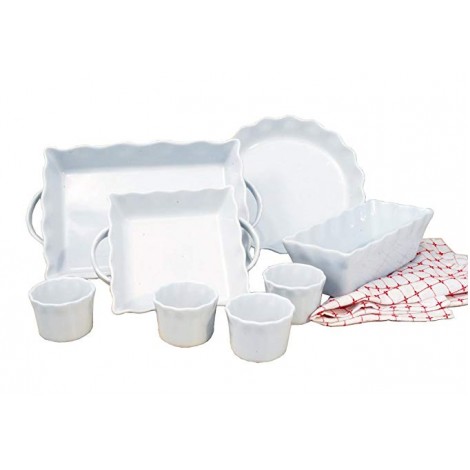 The Cook Pro ceramic model is great for people who want to limit as much cleanup as possible and go straight from oven to table. The elegant white ceramic design ensures that these dishes will look great at any dinner trouble and for any event.
Great to Display
Most bakeware set to come in silicone or steel, making it not very attractive to display at the dinner table. These can go right from oven to table and have a great festive design. These are great for casseroles and shareable dishes that can go right in the middle of the table.
Easy to Clean
The white ceramic is also non-stick and easy to clean after use, similar to other dishes that you can throw in the dishwasher or wash at the sink. They're also surprisingly light and easy to carry, despite looking hefty duty.
Cost and Value
This comes with a set of 8 pieces and can be used in a variety of different dishes and for several different occasions. These are designed to be displayed and come with a slightly higher price point but are still considered very reasonable for the quality.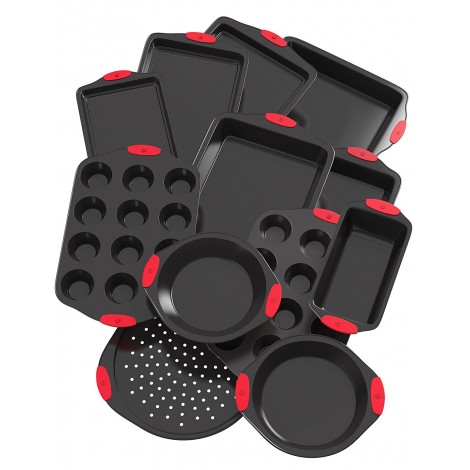 The Vremi 12 Piece model comes with all the fixings you need to create all your favorite baked pastries and goods- made with nonstick carbon steel, comfortable to hold silicone grip handles, and thorough heat distribution, you'll be sure to use at least one of these pans every day in the kitchen.
12 Essential Baking Pans
Even if you have a sweet tooth or a savory palate, this set comes with all the pans you need for your household. It comes with three cookie pans, two roasting pans, two muffin tins, one pie plate, one cake tin, one square baking pan, a bread pan, and one pizza pan! You can get so many uses out of any of these pans, and you may never need another one again.
High Quality Material
These have a BPA free silicone handle to ensure safety when cooking. These pans also are made of heavy-duty, non-stick carbon steel, so you ensure even heat while cooking, and prevent sticking to your pans! All you need to do is hand-wash when you're done, and the residue comes sliding right off.
Cost and Value
This complete bakeware set comes at a very reasonable and affordable price point. Where else can you get twelve high-quality pans that are made from carbon steel at such a low price? These are the perfect addition to your kitchen or the perfect gift set for the chef in your circle.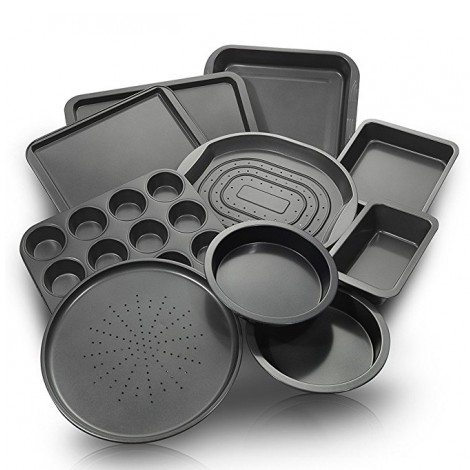 The ChefLand 10-piece set is the perfect starter's pack for someone who wants to get better at cooking at baking, for experimenters in the kitchen, and even for seasoned chefs! These pans are designed for convenient and everyday use. They are perfect for using your imagination and creating your wildest creations!
Oven Ready 10-Piece Set
This has all the essential pans you need to get started. It includes one crisper or toaster pan, 1 cupcake tin, one bread loaf pan, one cookie sheet, one pizza pan, two cake tins, one versatile square pan, and one roasting pan. These are the basics anyone needs in the kitchen, and are versatile enough to be used for all your baking needs!
Commercial Grade Material
Although this is intended to be a starter kit for the aspiring chef, these pans are made from high-quality material that can be found in any restaurant or commercial kitchen. The metal base of these pans set them apart from others, giving anyone's beginner dish restaurant-worthy status.
Easy Cleanup and Use
The nonstick coating of these pans makes them extremely easy to clean up- no more sticky and burnt residue that takes effort to clean! These also feature extra wide and easily holdable handles, which make them convenient to carry in and out of the oven.

Subscribe to our Newsletter