Best Hot Plates Reviewed & Rated for Quality
In a Hurry? Editors choice: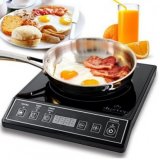 Test Winner: Secura 9100MC

Whether you live in a dorm without much access to a kitchen, traveling or entertaining a large number of guests, having a hot plate on hand can be quite useful. With a heating plate, you have the
option of warming up a dish
, cooking up a meal or using it to boil water while on the road. Like all
kitchen appliances
, hot plates have evolved over the years. Not only do they work better these days, but they're more useful. If you are on the market for a hot plate yet don't know where to begin, stop everything you are doing and take a look at this guide.
Standout Picks
Criteria Used for Evaluation
Power Source
There are a couple of major contenders when dealing with hot plates. The two most common, and the ones we'll discuss here, are Induction hot plates and electric based styles. No matter the style though, most are fairly lightweight, easily stored, and transportable.
The first, and perhaps fanciest of options is an Induction cooktop. This style of hot plate heats up food incredibly quickly. It does so by use of an electromagnet that heats the pan that you are cooking the food in rather than the plate itself, and in turn, the air around it. This means that the heat gets to your food much more quickly and as an added bonus, you are conserving energy.
Most units in this style come with built-in sensors that will automatically shut the cooktop off when, not in use and also have many temperatures, power, and timer functions. There are cons to this type of cooker though - they are more expensive, require a specific type of pan, and come with a learning curve since everything cooks much faster than when using a gas or electric stovetop.
Far more common and well known are electric units. These function exactly like your electric stovetop would and the coils are even a near-identical match found on those in your kitchen. This offers the convenience of familiarity and the ability to use whatever pan you desire to cook in. They are a very reasonably priced and quick and easy addition to any kitchen - or room that you want to be functional for food preparation.
However; they also get less reliably hot. Complaints about induction cooktops not producing enough heat to boil water are basically non-existent; however, that is not the case with electrical units. You will need to ensure you are getting a high-quality unit and mentally prep yourself for the possibility that things will just take a little bit longer than they do on your standard stovetop burner.
Effectiveness
While this goes along with the last point, it's worth repeating again. How hot do you want your hot plate to be able to get? Induction ones will produce a lot of heat - most of them over 400 degrees at the hottest. However; you are going to be lucky to get that hot with electric. That may not be a problem if you don't want the hot, scorching heat that can be found when you are still learning how to control an induction cooktop.
There is also a third option here that we haven't discussed in our criteria just yet and that is a warmer plate. Sometimes, you don't need to cook on your hot plate and simply want it to keep your food warm, potentially for hours. You can absolutely get a plate that will do that and allow you to prep for a party and serve large amounts of people over hours of time warm food without having to redo anything. These can be very helpful if you throw parties or ever need to serve food buffet style. Do be careful not to get this style if you are looking to actually cook on it though.
Size
The amount of hot plate you can get may not be a matter of money, it might be a matter of space. For many of us, countertop space is at a premium in our kitchens and so a small hot plate is going to be the way to go, and these babies can be surprisingly small. On the other hand, if you are a culinary master and you've got square footage to spare in your kitchen, well then size doesn't matter and you can go for the Big Bertha of hot plates. Either way, we've got you covered.
How much cooking are you looking to do with your hot plate? There are several options on this list that will come in one or two burner varieties. The one burner units will obviously transport and store much easier. They are smaller and more compact and won't cook as much food. However; if you need two for whatever reason (maybe you're remodeling your kitchen and need something in the interim for example) that is also an option. While these will take up more space, they will equate to double the amount of cooked food and will earn the extra room that they occupy.
Safety Hazards
We can't ignore the safety factor when it comes to hot plates. These will burn they will get really hot and they can do a significant amount of damage especially when there are cords laying. So we're looking for plates that cool down quickly have auto-off switches and timers, and generally, try to be as safe as possible.
Best Hot Plates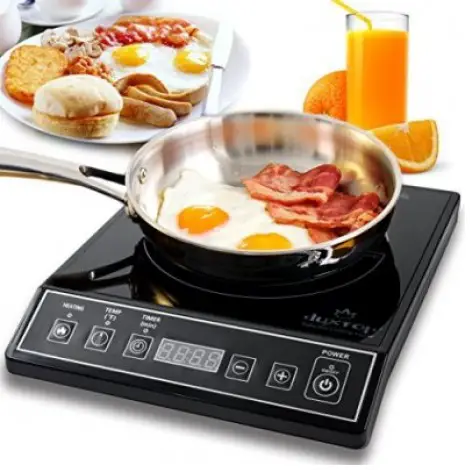 This burner is a step above the first one we discussed here. It has all the same features, but elevates them. It is an induction cooktop with a built in timer that goes all the way up to 170 in one minute increments. It is built to electrical standards in North America and has built in safety features like an auto-off when it doesn't detect a pan, diagnostic error messages, and a warning system for both high and low voltages.
LIghtweight and Compact
If you are looking for a small and easily stored unit, this one should definitely be on your radar. It is lightweight as well as thin and compact. This makes it easy to lift, move, store, or pack with you whether you are going to another room, outside, or into the office.
Wattage and Temperature Options
There are very few other units in this price range that will give you as many options as far as power and temperature go. You have 15 settings on each. Power settings range anywhere from 200 watts up to 1800 watts and temperatures span the range of 140 degrees to 460 degrees. This really allows you to customize your cook and choose the exact settings that work for you and the particular situation you are in.
Cost and Value
Because it has more features than the induction cooktop we discussed earlier, it does cost more as well. It is among the more expensive on our list but earns that spot with the features that it offers. It is a really good hot plate that will serve you many meals prepared basically anywhere you want them to be. That makes it more than worth the price.

2

. Aroma Housewares 3-Quart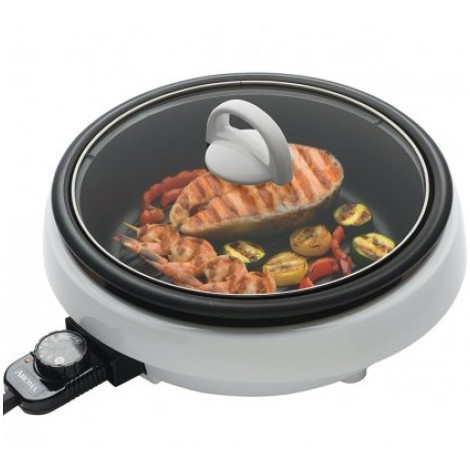 This one is a little bit different than the others you see here in that it is a pot instead of simply a surface. That means it is truly all in one. The unit itself is plugged into the wall and the pot comes in and out. It also comes with a glass lid and the combination here makes for many a delicious dish. The surface itself has a 10-inch diameter and the pot will hold up to 3 quarts. The outside stays cool which furthers the safety of your cooking experience here.
Grill-Like Surface
The bottom of the dish is much like a grill and has raised parts. This allows fat to drip out and helps you to get the beautiful grill marks that everyone loves on their steak - because, yes, you will be cooking a steak in here. The best part is that it won't produce a ton of smoke so it makes a great addition to any sort of travel by allowing you to eat food you prepare in your hotel room and not have to go out every single night.
Can Do It All!
Were you hoping to have a pot roast? Maybe a steak? Or did you want some soup? Don't worry, this Aroma unit can do all of those things. Not all at once obviously, but your options here are pretty limitless. You can cook meat, veggies, soup, and others by steaming grilling, or slow cooking. This pan will truly do it all. In addition to that, cleanup is a breeze because the pot can be thrown in the dishwasher!
Cost and Value
Considering the versatility found here, this unit will make up for its price in the first week of owning it. While other options require you to have your own pan - and sometimes a very particular, potentially pricey pan - this one comes pan (pot) included. This fact makes it an even better deal. You're food while traveling will never be the same again.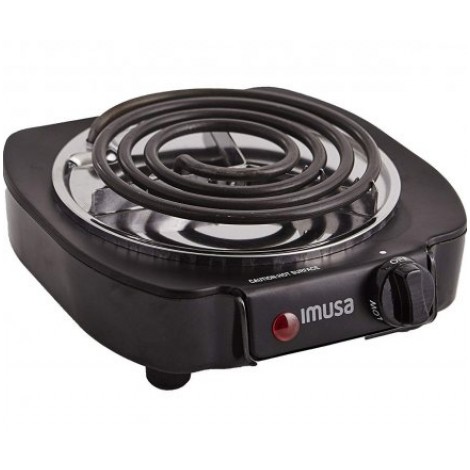 This device is small and compact. It is perfect for taking around with you whether outside, to the office for work parties, or simply for use in a space that doesn't have room for a full stovetop. It heats up quickly and stores easily. It works well for large and small pots and will really help to diversify where you can cook.
Options
This unit comes in a variety of options. There are a couple of different color options and you can also choose one or two burners. This will really help you to get exactly what you need instead of only satisfying part of your needs. There are even options for the exterior construction of the unit itself so you can match the design of your home better.
Drip Tray
No matter the design you choose, you will be getting a stainless steel drip tray. This feature helps to make clean up a breeze. Stainless steel is quick and easy to clean and when it catches all of the spills, then you can simply wipe it out and you are good to go the next time you need your hot plate!
Cost and Value
The cheapest variation of this IMUSA unit is the cheapest you will find on this list and likely at all. Even fancier and bigger units are still very inexpensive. If you need a cheap option that will work and reliably get the job done, then look no further than this one. You will get a lot of cooking done here and not have any issues with storage.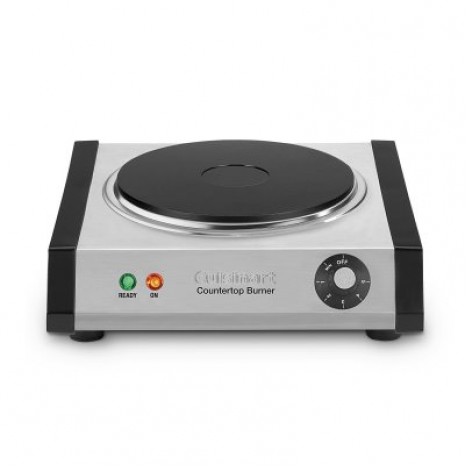 This hot plate is made of stainless steel and has a true cast iron burner. That means it is resistant to rust and will heat evenly and stay that way. It offers 1300 watts which is powerful enough to heat up quickly. The unit itself is relatively thin but does weigh just over 8 pounds thanks to the cast iron plate. It is easy to store and will offer great convenience and functionality in cooking any meal you choose.
Cast Iron Plate
There is a reason cast iron is often the go-to in pots and pans when cooking. It is capable of getting nice and hot and manages to do so in an even manner. It will retain the heat very well and will cook your food evenly and very well.
Indicator Lights
You will find two indicator lights on this unit. The first one is when it is on. The second comes when it is ready. This lets you know when it is ready to cook and you won't be wasting your time trying to cook your food before your plate is hot enough to do so.
Cost and Value
If you take into account how much is typically spent on a cast iron pan as well as how much is reasonable for a quality hot plate, then you are getting a screaming deal with this Cuisinart. It comes to you very reasonably priced, not even in the top of our list here. If you love cast iron and are looking for another option to cook with, then this may be your best bet.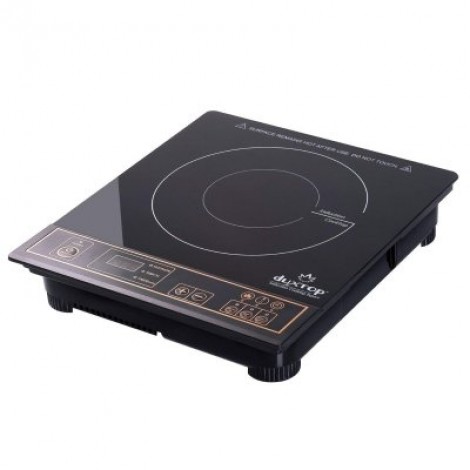 This hot plate is an Induction cooktop and will heat up your food faster than anything you've seen. It works with an electromagnet and has various temperature settings from 140 degrees to 460 degrees and power settings ranging from 200-1800 watts. It is 120 Volts and uses 15 amps. It works great indoors or outdoors and has a 6-foot cord so you can place it where you need it.
Built-In Timer
This unit comes with a built-in timer. It will go all the way up to 170 minutes and does so in increments of five minutes. This will allow you to time your food so it doesn't burn and while you shouldn't ever really leave your cooking food unattended, this feature will help if you get distracted and forget.
Auto-Pan Detection
Another neat feature you find here is an auto-pan detection. What that means is that if the hot plate is on but there is no pan on it, it will shut itself off after 60 seconds. It detects your cookware and won't allow itself to be on if you've completed your cooking and removed your pan or turned it on before you were ready and forgot about it.
Cost and Value
As far as small appliances go, you are getting a lot of bang for your buck. You will cook many a good meal on this hot plate which will make it more than worth the amount you end up spending on it. It is significantly cheaper than buying a bigger fancier stovetop or a grill and allows you the flexibility that can't be found in those items.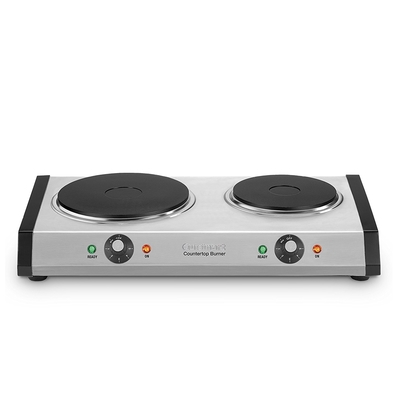 The Cuisinart hot plate features a double burner model, what this means is you get a compact design that allows you to cook more then you could if you solely had one burner on hand. Measuring at 5.75 inches in length, 22.50 inches in width, and 15.25 inches this hot plate is not only spacious, but it's also compact enough that you can easily travel with it whenever needed. Additionally, it has non-slip feet for a stable surface while you ate cooking.
6- Setting Adjustable Setting Controls
Having control of your hot plates is quite the advantage to have. You will be able to control the temperature with this model due to it having 6 different adjustable settings that work differently on both sides. You can have water boiling on one side, and have something else frying on the other. The two temperatures will never cross, this allows you to create a full-course step meal as you would in a traditional stovetop. Furthermore, this hot plate offers powerful 1800 watts on the primary burner and 1300 watts for the secondary burner.
Easy to Clean
Due to this hot plate being constructed out of quality cast iron, and stainless-steel material it can be wiped down easily. All you really need to do to clean it is use a wet rag with water and soap. Once it is wiped down, you can choose to put it away or display it on your countertop.
Cost and Value
Whether you're seeking a one burner hot plate or two the price point for this hot plate is mid-range. It comes with everything you need for convenient cooking while being easy to clean and store. There is also the feature of being able to control the temperate separately of each plate. Having this feature is excellent for those meals that take a bit longer to cook.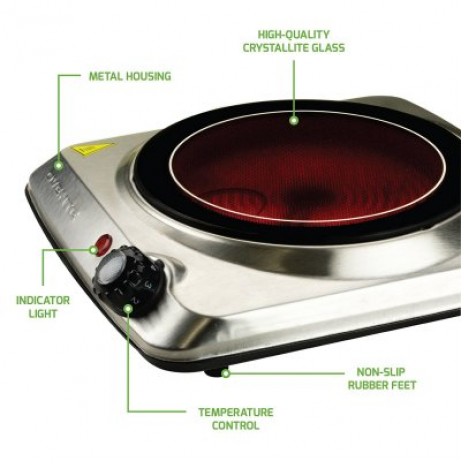 This infrared cooktop will have you preparing quick, healthy meals in no time anywhere you happen to be! It is small and portable and works in any standard 120-volt outlet. It is as powerful as any gas or electric stovetop and compatible with any type of pan, though it works best with pans around 7 inches in diameter.
Compact Size
The compact size and shape of this unit make it very easy to carry along with you wherever you go. It weighs in at only 3 pounds and has an attractive, thin design. It is easily packed away in a suitcase for travel, a drawer or cupboard in a dorm room or RV, and is even attractive enough to leave out on your counter if you wish.
1000 Watts
Because it is powered by 1000 watts, it will heat up your food quickly and efficiently. The infrared heat element will ensure that it is done in a nice, even manner with no cold or hot spots to be found. Because the heating element is underneath the surface, it is easy to clean with just a simple wipe over the top.
Cost and Value
This hot plate will come to you at mid to low range cost comparatively. It has all the functionality of a standard stovetop and is light and transportable. You will get a lot of use out of it in many different situations making your money more than well spent here.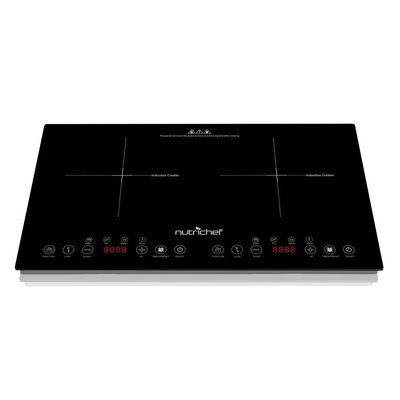 If you are looking for something modern and with top-notch quality, this is the one for you. Created by NutriChef this hot plate comes with everything you need for a well-balanced meal on the road, in a small kitchen or in a dorm room. This plate measures about 6.7 inches and was constructed out of lightweight material to ensure easy travel. Furthermore, it has a lock safety function that will lock all buttons on the plate to ensure children do not burn themselves if they happen to accidentally touch the cooking area.
Multiple Cooking Modes
When seeking a hot plate, the very first feature you will want to take into consideration is how many cooking modes does it have. You want to be able to cook multiple meals in one cooking space this will save you a ton of time and a whole lot of effort. Featuring multiple cooking modes including; fry, steam, boil and a warming function that keeps all of your meals warm even after they have been cooked. Having these options allow you to cook your food at the right temperature every time.
Energy Efficient
Due to having 120v Electric Induction electromagnets this hot plate has the ability to cook your food without having heat seep out of it from the cooking surface and the pot. Having this feature allows it to be energy efficient while allowing for faster more evenly cooked meals.
Cost and Value
Being that this is a cost-effective, dual cooker with multiple cooking modes, and it has a child safety look this hot plate is a bit on the expensive side, yet it is very much well worth it. If you are looking for something that is a bit more elevated in technology, this is the perfect one for you. Additionally, it is aesthetically pleasing to look at and have as part of your kitchen.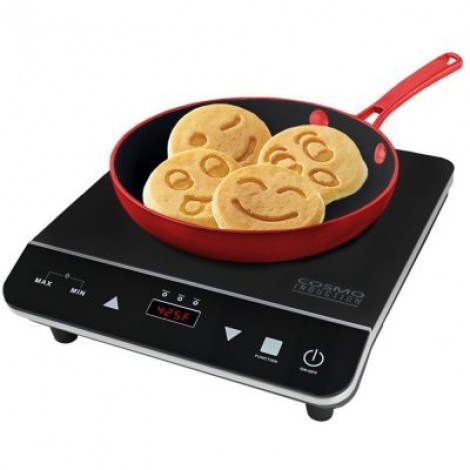 There is a good reason you find so many induction cooktops on our list of the best hot plates - they work! Not only that, but they are fast and effective and will boil water faster than any other type of stovetop. They are well worth the addition of a magnet compatible pan. This one has 9 power levels, 10 temperature levels, and will accommodate pans up to 10 ½ inches in diameter.
Safety Features
This unit is equipped with a couple of very helpful safety features. It has a child lock on it so that no little hands are able to turn in on unwanted and cause damage. It also has an auto shut off feature that will turn the entire unit off if it is not in use for more than 1 minute. It also has a cooling system that ensures that it cools down quickly and effectively and doesn't overheat.
Power
You will find a whopping 1800 watts of power with this hot plate. That means that it heats up fast - like you'll have boiling water in less than 1 minute fast. No gas or electric cooktop can boast that boil rate. It is also very energy efficient and almost all of the energy it pulls will go directly into heating the pan and food. You can rest easy knowing that your electric bill won't take a hit when you are using this.
Cost and Value
Induction cooktops are inevitably a little more expensive than their electric counterparts. The technology is a little more complicated and they tend to come with more features than your standard cooktop. All that combined and you are definitely getting your money's worth, even if it is a little more initially.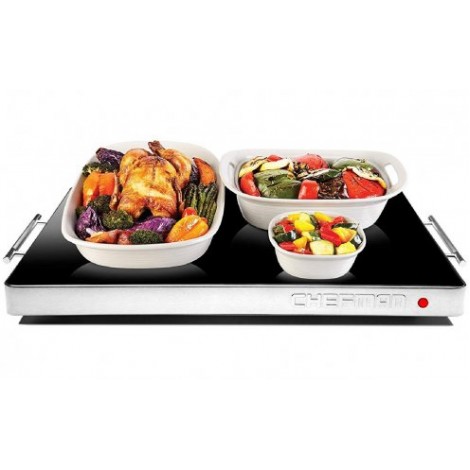 Sometimes your need for a hot plate is not to cook on, but to simply keep food warm. That is where this Chefman Warming Tray comes in. It will keep food warm and ready to eat all day - and not just a small amount of food as it measures 21"x16". It includes a 3-foot long cord so there is a little variability in where you can put it.
Aesthetically Pleasing
When you are preparing and serving for a crowd, you want the items that you use to look good and even be memorable if possible. It has a beautiful black glass top and is completed with stainless steel accents. Cleaning the glass top is a breeze, which means that you will be able to keep it looking good through many uses. In addition, the handles are cool to the touch so you can move it anywhere at any time.
Compatible with Any Cookware
As long as you can cook in it, you can use that dish with this warmer. Pots, pans, glass, aluminum, ceramic, etc. It heats up to 265 degrees so as long as your dish is capable of withstanding that amount of heat, you are good to use it.
Cost and Value
This item rings in at the most expensive on our list. It is easily the biggest and can hold the most food at one time without question. If you are looking for a warmer for holiday gatherings, family get-togethers or anything that is well-served buffet style, then you will be very grateful you own this item and it will be worth every penny.

Subscribe to our Newsletter