Best Nikon Camera Lenses Reviewed & Rated for Quality
In a Hurry? Editors choice: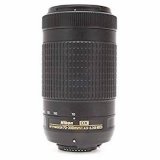 Test Winner: 300mm f/4.5

If you
love to take pictures
or if you are looking to take your picture game to the next level, then a good
lens
is imperative. Good camera lenses have really raised the bar for good photography and Nikon is one of the best brands on the market. When capturing a great shot, the lenses you have are extremely important. And
Nikon
offers some of the best lenses in every price range and for every situation. So if you are looking for the perfect lens, fret no more because we have you covered. We have put together a list of our top favorite Nikon lenses to make sure you feel comfortable and confident with your new lens purchase. So now the hard part, which Nikon lens will you choose?
Standout Picks
Criteria Used for Evaluation
Use
As you may have noticed, there are not many all-arounders on our list and that's because it's more difficult to pick the best out of the lot, should the use for that lens span a wide gap.
Most of the items on this list have a more narrow, designed, and fruitful specific use case that it was made for. Photographers all over the world, from professional to hobbyists keep a large selection of lenses in their kits because you might find yourself needing the best tool for a specific job.
It's this focus on a specificity that makes most of these lenses pop out of the wild ocean of lenses available to the public today. Knowing that the manufacturers had a particular focus on their product while crafting it should do the most to dissolve any speculation that this piece of glass isn't the perfect tool for the job it was made for.
Through our process of elimination, we avoided all camera lenses that might not have a normal use case, and that the specific use case didn't have a better lens to do said job. What you need to accomplish is usually the biggest factor in your choice of which lens to grab from your bag.
Advanced Features
Plenty of people could, have, and will continue to argue that digital tools are the worst thing to happen to photography, and there are some pretty solid arguments there. But with the advancement of digital photography and the technology it uses to create beautiful still photos, comes an evolution in the art form, and a new breed of photographers.
Camera bodies are great, and some can make a huge difference in the end product, and the product you can attempt to achieve, but as we said in the list, lenses are the game changer.
Camera lens technology can easily get pretty overwhelming, but there are too many positives in this equation that deserve your time, research, and basic understanding.
Nikon specifically has a slew of really premium internal lens technological advances, that can do many things from allowing you to quickly switch from autofocus mode to manual mode in an instant, to glare-free lens glass, and all the way up to near complete vibration reduction.
In order to be considered for our list, the technology included in the lens had to be uniquely useful for photographers of the twenty-first century. Most of the lenses we chose have top of the line quality of life technology. Nothing crazy fancy, but all of these little assists coming from the build and technology itself can make the difference between a great photo and a rubbish one.
In addition, most of the lenses we chose have a substantial quality of life technology within it that act passively. Improvements that help perfect your experience without having many actions to actually perform.
Value
Being the biggest, and most expensive part of your kit, lenses can run from anywhere between a few hundred dollars, and north of ten thousand dollars. Regardless of the potentially enormous investment, photographers (should they want to have the ability to capture more, or to "kit out" as it's often called) will have to open their wallets and get the glass that they need for whatever it is they might need it for.
Prices are volatile and depending on the generation of the lens that you're looking at, it could be minimally expensive, versus the astounding investment that you would see if you went to purchase those lenses when they launch brand new.
All of the lenses we chose for this list are both expensive and competitive. Manufacturer name has a lot to do with how much a piece of glass will cost, and there are cheaper versions (that will lack some of the brand-specific technology) of all these types of lenses, to a degree. But as this list is Nikon specific, we threw out the idea that we should search for the best prices, rather, seeking out premium options at multiple price points.
We selected specifically lower price points, and extremely high price points, sprinkling the best options in between the two.
In our choices, you will find that there is little to no comparable lens for that specific duty, at that particular price range.
The price of digital camera lenses is daunting, and it's crucial that you begin your purchasing journey by plotting out the needs you have. Only then should you construct your budget.
10 Best Nikon Camera Lenses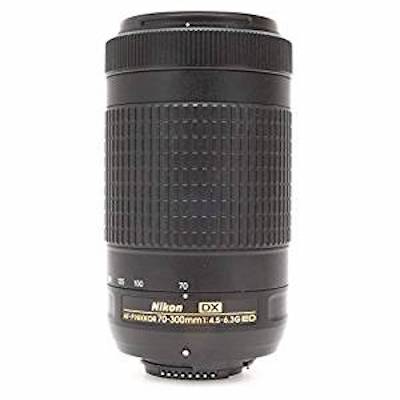 There are a lot of better camera lenses and a ton of great Nikon lenses for your DSLR Nikon camera. Regardless of other, better-crafted lenses, the 70-300mm lands on the top spot of this list because it is the only lens you really need.
Image Quality
This lens is one of the more expensive lenses, but you also get a lot better image quality. The lens is tough and is weather-resistant, making its performance and image quality excellent in all aspects. This lens has excellent handling, making it a great option for top-end photography if it is in your budget.
Autofocus System
This lens has an AF-P (Pulse motor) autofocus system that's superior to other lenses. It is super fast and basically silent and features an electromagnetically controlled diaphragm.
The new Vibration Reduction technology gives enhanced 4.5-stop performance and enables easier tracking of fast-moving objects in the viewfinder.
Cost and Value
If you're looking for the best all-around lens, then look no further. With a fairly strong f-stop (or focal ratio) of 4.5, you're going to get a lot of light with this lens, but not so much that you'll pay four or five times the price.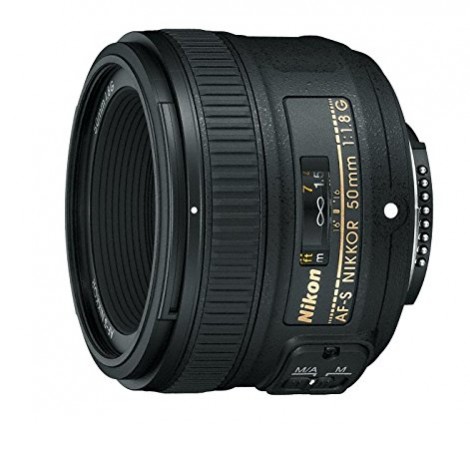 Here is my go-to lens. With a very standard 50mm focal length, this is often the only lens that I leave my house with. The human eye is said to (and this is rough, based on an average) work about the same as a 30-50mm lens. Which is why the 50mm is my gold standard. There is only one way to take photos of the real thing, and that's to use a lens that functions at the same (again, rough) standard of our own eyes. Real photos, of real things. Bubble baby bumpers though, am I right?
Silent Wave Motor
Real life photography is as important to the art of stills as anything else. Of all the things to brag about this lens about, it's close range, idealistic one-to-one capture capabilities, and it's sharpness, the Silent Wave Motor is probably the best part about it.
F-Stop 1.8
When you think about lightning fast focus, go no further than the 50mm f/1.8 offered by Nikon. One of the fastest lenses you will ever use, there are little options that are comparable to the speed of this 1.8 Focus Number lens. And with a minimum focus distance of 1.48ft, this is a versatile, and sharp beast of a tiny little lens.
Cost and Value
Nikon being the cheaper option for bodies and lenses (generally), it's amazing to get this kind of action out of a lens that one would spend less than $400 on. It's amazing what a few hundred will buy you, and with this 50mm f/1.8, you won't be reaching for many other lenses if you're in the business of displaying real life, from a real vantage point.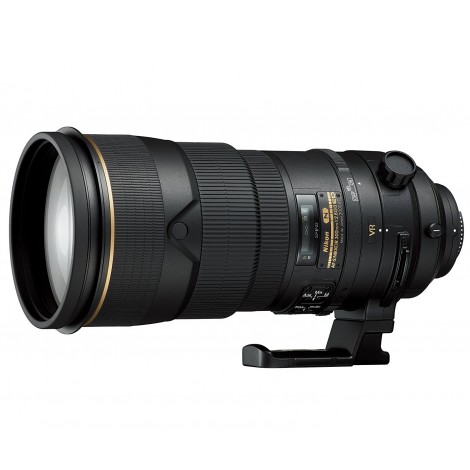 This fixed zoom lens is a dynamically ranged hyper-specific tool to get your job done if your target/focus is pretty far away from you. It's that specific lack of zoom that sets the 300mm apart from the rest. With a fixed zoom, you lose the extensive costs of zoom lenses, but you retain all of the splendor and technology of that top-end far-sighted lens.
Compact
For a telephoto lens, and a super-telephoto one at that, the 300mm from Nikon's Nikkor line is extremely small and lightweight. What you lose in ability to change your zoom, you truly win in its practicality. There is no better everyday telephoto lens than the Nikkor 300mm.
Rapid Focus Switching
Talk about paperwork doing a gross injustice to the capabilities of a lens. This 300mm lens has the unique ability to switch between manual and auto-focus modes at the speed of a lightning strike. Without much of a delay at all, you won't be held up by your need to wait for the technology you shoot with to catch up to you.
Cost and Value
With the Nikon 300mm f/4D, you get the powerful end of the common zooming telescoping lens, without the absolutely insane price tag that will come with a lens that does magic on both ends. In addition to those savings, you also get a quiet, and lightweight single-use option. But if that one use is what you need, you can't go wrong here.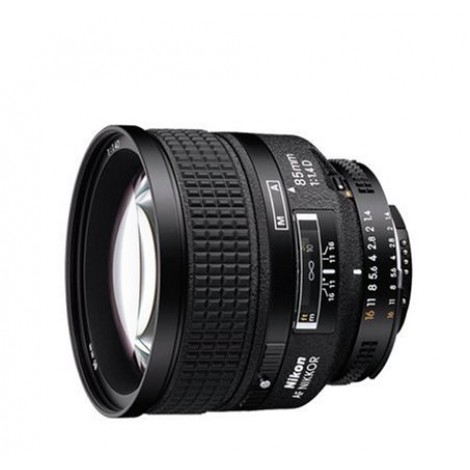 One of the best general lenses that Nikon has on offer, with its very wide 1.4 f-stop, there is hardly any competition in the realm of smaller sized lenses. Boasting a "re-designed" optical system, the 85mm is a pretty powerful package that can unleash a whole lot of potential from that stale, out of the box body you've got.
Portrait Perfection
There's a type of photography, matched only by the certain type of photographer, that can use a high end and wide open lens like the 85mm 1.4 lenses by Nikkor (Nikon's premium accessory line). The "ultra-fast" aperture of this lens is the most flawless tool for that blown-out background that will make any subject you have leap from the image.
Nano Crystal Coat
Part of the table-flip that Nikon did of their old technology, and re-launch of a premium lens line, came in the form of their lens material. Their new "Nano Crystal" lens glass, in all of its glory, is nearly one hundred percent anti-reflective. Which might not sound like much, but truly keeps the sun from destroying your photographs almost in its entirety.
Cost and Value
The wonderful 85mm 1.4 is the newest of the new, and the most premium close quarter lens you could buy for your darling Nikon body to partner up with. That being said, the cost of entry on this beauty is steep. However, for that price, you're also getting the best lens that money can buy.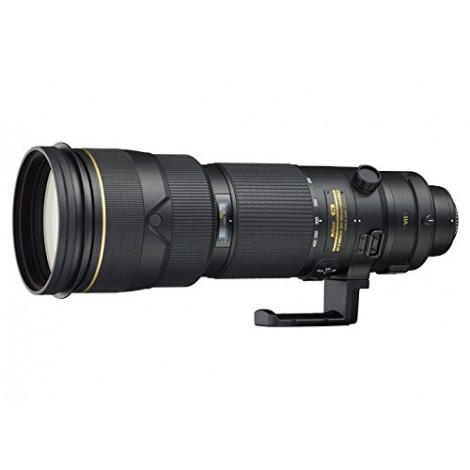 Attention all photographers that want to stay as far away from your subject as possible! This is the lens for you. There are very little lenses that will have the stretched out length and capabilities that this 200-400 mm telephoto lens has. The perfect lens for all of your distance needs, whether it be sports or dangerous wildlife, this will give you the edge to get you the shot of your dreams, at a galactic distance. Okay, that last one is a bit of an overstatement.
Vibration Reduction
Much like the number one lens on this list, the 200-400 f/4 has an advanced vibration reduction system that will solve those distance problems. Extending the range of view exponentially increases the effects of shaky hands and camera vibration.
Range
There's nothing a professional camera operator needs more than access. Generally, your out-of-the-box camera lens will do you fairly well as far as you can flip a water bottle. But you'll need to get past that range eventually, depending on the job obviously. This eye of reach will help you get there.
Cost and Value
Running over five thousand dollars, this extreme end of the super telephoto line is every bit a mega purchase as it's technologically advanced build says that it should be. There isn't a lot of room in most people's camera bags for a nearly five figure lens, but if you ever were to find that room, or you have the means to expand your line-up to superstar status, this lens has the value that the price tag implies.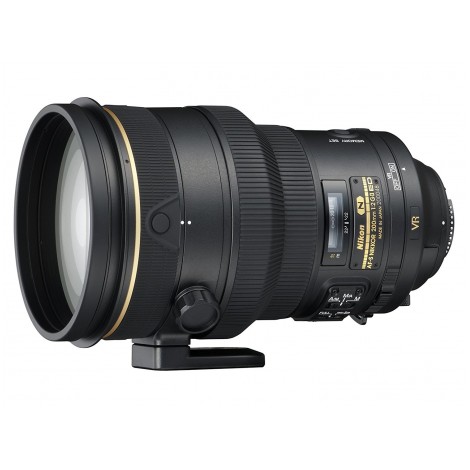 This heavy-duty 200mm prime lens has a fantastic light range with a 2.0 F-stop is a king of the medium to long-range subject game. It's an exclusive club, having such a high-end fixed zoom lens like this one. The market isn't saturated with massively priced, worth every dime, kinds of lenses, but the Nikon 200mm is one of them.
Vibration Reduction
Part of Nikon's Nikkor premium line-up of lenses, the 200mm has an advanced vibration reduction system that eliminates all of those blurry camera shakes. With this fixed zoom lens, you're not going to want anything getting in the way of those clear distance shots. Especially if you're shooting in handheld.
Heavy Mount
Balance and stability being key to the game here, the tripod mount on this heavy lens brings a chi to your shooting that you didn't know you needed. Or maybe you did. Because this bad boy will weigh down your set-up like no tomorrow.
Cost and Value
Another item on the "Woah! I need to spend how much on a good lens?" list, the fixed 200 here from Nikon is a must-do for those with the whereabouts to take the right skills. Proof yet to the age-old adage that "it's all about the glass you shoot with" and nothing else.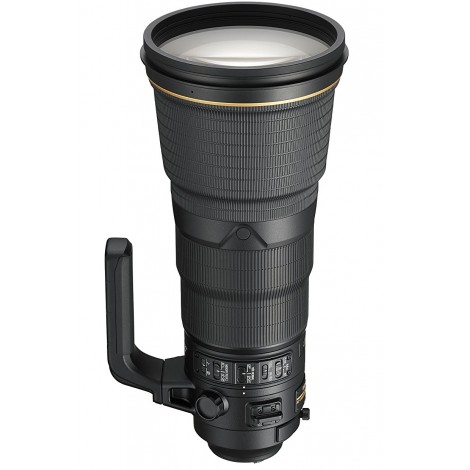 At the tail end of the royal table, sits the king of all fixed zoom lenses the entire universe over. The zoomless 400mm from Nikon is as much a beast of burden on your wallet, as it is the most powerful, and relentless ultra telescoping lens. We're talking the absolute sharpest long-distance shooting you'll ever put out into the world.
Speed Demon
With a solid f/2.8 light lens, this addition to your arsenal will light up your life. It's so fast, and grabs so much light from the world around you, that you might not even realize you're taking photos, and before you know it, you've got yourself a few masterpieces on your hands.
Full-time Manual Override
Many beautiful moments have been lost because of an autofocus dependency. But the 400mm has a full-time override just waiting in the wings to save you, and save your shot. Even in automatic focus mode, one twist of the focus ring slings you back into manual mode in an instant.
Cost and Value
There's no beating around the bush here. This lens will probably run you over ten thousand dollars, and there's no way to make that sound sexy in the least. But, what you do get, is the most powerful lens on the market. Other manufacturers have comparable heavyweights and this is the big leagues.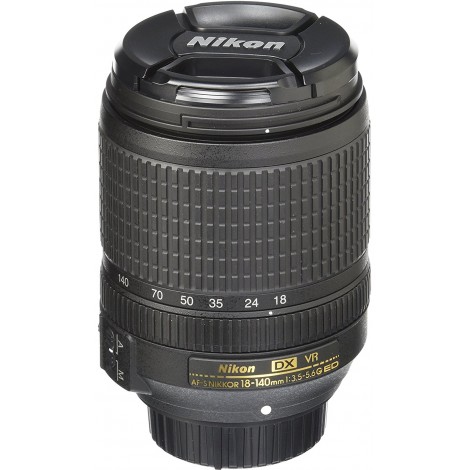 One of the most solid all-around lenses you can possibly find at the shops today, this 18-140mm lens can take you from up close, to semi far away with easy. It's a big zoom lens, that can handle plenty of situations in your general photography needs. You won't be getting anything far, and what you're getting up close won't be as sharp as some of the more specialized lenses on this list, but if you're looking to upgrade your situation from what came in the box, this is a great place to start.
Wide-Angle Capable
A versatile lens that can go from a telephoto 140mm all the way to a wide-angle lens at 14mm, there aren't many obstacles in your path if this is your go-to lens in your kit. This lens isn't going to blow anyone away with its sharpness, but the range you by having a wide-angle end of the zoom is phenomenal.
Vibration Reduction
Nikon's "VR" stabilization (or Vibration Reduction) takes image stabilization to a whole new level. Like other vibration reduction notes on this entire list, this 18-140mm lens comes packed with the capability to smooth out any problematic stability issue you might have. Be it handheld, or the surface you're shooting on, the VR system from Nikon has you covered.
Cost and Value
What does a lens that can bring you nearly anything you need cost exactly? Well, this mid-range do-it-all piece of glass will only cost you roughly $500, and it might just be the only lens you'll ever need to buy. Considering you probably paid something close for the body you'll throw it on, it makes sense that the value here is flawless for the price.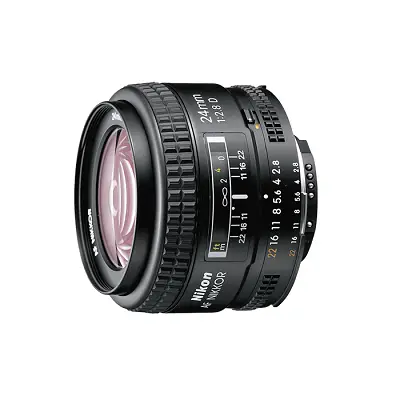 A wicked tool to have in your arsenal, the 24mm fixed focus lens from Nikon is key if you're trying to stock up on specific wrenches for your belt. And with the added "edge-to-edge" technology from Nikon, you're looking at a very beautifully crafted, and widely usable lens for a fixed-zoom -- and that fixed zoom being rather short.
Close Range Correction
With the 24mm f/2.8 Nikon boasts a newly designed correction system that will allow for high-performance in sharpness with both near and far focusing during shoots. Dubbed the Close Range Correction, you will both ends of this lens with as much clarity as the manufacturer and designer can provide.
An Elaborate Simplicity
Sometimes the bare necessities of life and of love, and of course photography are the best things about it. The 22mm from Nikon's Nikkor brand will bring a stunning simplicity to your stills.
Cost and Value
An insanely tightly packed lens, filled to the brim with enough of Nikon's newest tech to provide photographers with a wide range of possibilities, and with a sub-five hundred dollar price tag, this little wide-angle twenty-four might be the best bang for your buck on the market right now. Especially if your specific requirements don't include covering a lot of distance.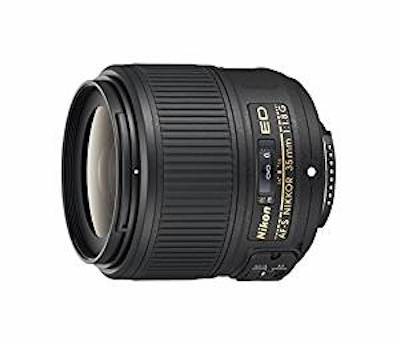 Much like our number two item on this list -- and my personal go-to lens, the 50mm f/1.8 -- this 35mm f/1.8 has the ability to completely pluck a subject from a scene. The astounding sharpness and background blur that accompanies a low aperture like f-stop 1.8 are nearly unrivaled in all of the digital photography today. This specific model even fits on multiple
Rear Focus System
A newer part of photography technology, digitally anyways, is the "rear focus system" and not too many lenses on the market currently have it. The mechanism works to minimize the physical change of length of your lens during focusing, using only the rear lens group to find the focus, without changing the dimensions of the lens at all. Nikon's lenses that have this technology feature an "RF" designation on the side.
Lightning Speed
Much like Barry Allen's superhero alter-ego, the 35mm prime lens from Nikon is built on the back of its extremely fast f/1.8 lens. It's ridiculously quick. And with that speed, and low-light performance, the 35mm f/1.8 joins a small line-up of Nikon lenses that try their best to get out of your way, while you take photographs.
Cost and Value
At roughly five hundred dollars, the newest versions of this lens has the bells and whistles, while the previous models (which are nearly identical, minus a bell or a whistle here and there) are running for around two hundred dollars. The expensive new stuff lacks the punch at 35mm to beat out the 50mm counterpart that is way higher on this list. While the cheaper old models are enough of a game-changer to your get-up, to break onto this list.

Subscribe to our Newsletter