Best Hunting Cameras Reviewed and Rated
A hunting camera is important for monitoring animal patterns through the seasons. With the right information, a hunter can set traps or even scout successfully without any surprises. The specifications of hunting cameras have grown so much over the years that they can also double as security cameras. Hunters that live in remote areas with acres of land have found that hunting cameras serve dual purposes, giving them piece of mind when they're away from home and offering hunting routines when they are ready to go out. Whether you choose a high tech hunting camera or a low-tech one, there is always a use for it beyond the basic routine.
Our Top 3 Picks
Best Brands
Moultrie, Bushnell, Stealth Cam and Browning have cornered the hunting camera market. The best hunting camera will often be a mix of their models, but there are a lot of lesser known companies that have managed to break the list. Some of the best cameras on the list are from companies that decided to do something innovative with the regular hunting camera specifications.
Maintenance and Cleaning Tips
Hunting cameras differ from regular digital cameras in that they're meant to be sturdy. They are left outside in place for months at a time. If there is a renewable power source, then they stay there permanently. With the sturdy casing that comes with each of these hunting cameras, there really is no real upkeep advice other than wiping off the case from time to time to avoid build up. And even then, that isn't a necessity unless it is affecting shot quality.
10 Best Hunting Cameras
1. Crenova Game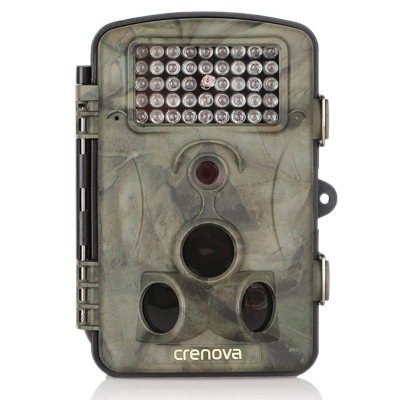 No one in a million years would expect to see Crenova beating out big guns like Bushnell, Moultrie and Browning. Crenova has created the only other 1080p camera on the list, and has filled in the cons that put the TEC.BEAN in 3rd place. Amazingly, they did all of this and made the cost lower.


Expand to see more
Optional Goodies

There are two versions of this camera, one with just the base, and one with an included 16GB SD card. The reason the card is so big is because this is a 1080p camera, and a starter card of 4GB wouldn't have last a good month. With the price savings of getting the bundle with the card, customers will be ready to go immediately after unboxing the item.

Features and Specifications

12MP resolution with 5MP CMOS sensor
1080p HD video with audio
Automatic IR Filter
42pcs LED night vision
120 degree coverage with two PIR sensors
IP54 Water resistant
2 year warranty
4 LCD screen
Price/Value

This low cost 1080p camera is a hard value to pass up for hunting enthusiasts. The option to purchase with a 16GB SD card only sweetens the deal, and shaves some cost off of purchasing it separately.

Decision Time

Crenova has been a pleasant surprise as of late, providing a hunting camera that could very well set the standard. No matter which version of this camera you buy, you'll be getting a powerful device that will take awe-inspiring photos.
Powerful motion sensors never miss any action
Lots of settings to customize
Great power management
Video length up to 10 minutes
Hyper Night Vision
LCD screen is not as crisp as the TEC.BEAN model
2. Moultrie A-20 Mini Game Camera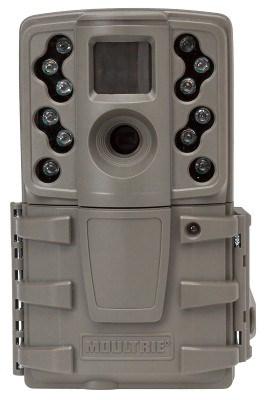 Moultrie makes another appearance on the list with one of their best flagship models, the A-20 mini. There are a lot of great things about this small camera that place it firmly in the #2 spot, but the best of them all is balance. The A-20 mini is the most balanced hunting camera on this entire list.


Expand to see more
It does everything well

There are no weaknesses to this camera, even the video which is standard definition. The 480p video should look horrible but is instead crisp and detailed. Somehow they found a quality in their standard definition videos that makes it look more like up-scaled 720p videos.

Features and Specifications

12MP resolution with SD video
Flash range of 50 ft.
Trigger speed is less than a second
LCD Screen for viewing settings
Moultrie Mobile Compatible
Single and Multi-shot modes
Discreet flash illumination
Price/Value

For pure value this is the best on the list by far. It's the lowest priced, yet there is nothing that the A-20 is below average in. As the most balanced camera on the list, buyers that want to fill all holes will be satisfied with this purchase.

Decision Time

Buyers have had no regrets when purchasing this model, and any feature that was missing could be added with an optional accessory. The Moultrie A-20 is the best value on the top ten list if you're willing to upgrade certain features at a later date.
Small and compact
32 LEDs for great day/night photos
2 resolution settings
LCD screen is beginner friendly
850 nm nighttime infrared flash
Video is surprisingly good
Trigger speed is slow
Accessories can add extra bulk
3. TEC.BEAN 12MP 1080P HD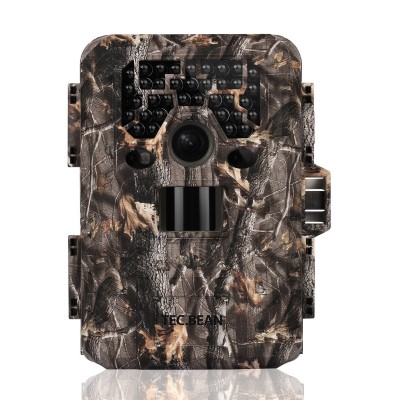 Making it into the top 3 is this TEC.BEAN model, that does everything a hunter would want and then some. About the only thing that is missing from it is wireless, since they managed to put everything else into this camera.


Expand to see more
Finally 1080p

This is one of the few full HD hunting cameras on the market, with an extraordinary 1920x1080p HD resolution. Any hunter that has a full HD set or computer knows what a difference it can make to have this model over a camera that only does 720p.

Features and Specifications

12MP resolution with video recording up to 90 seconds
Up to 9 pictures per trigger
75 ft. night time range
5 full capture modes with an optional motion freeze
2 inch color LCD viewer
Password protected camera
Price/Value

The first media rich hunting camera on the list is actually a pretty good price, and not that expensive at all. Customers that want a lot of power behind their shots will be more than happy with this model.

Decision Time

This is the first 1080p hunting camera on the list, and may very well be the best. Hunters that are media enthusiasts will flock to this model over the others for its raw power.
Powerful processing power with the hardware
LCD viewer is rich and detailed
Case is above average
36pcs No glow IR LEDs
Waterproof IP66
Best motion detection on the list
Slow trigger speed (0.6 seconds)
Average power management
4. Browning Strike Force Sub Micro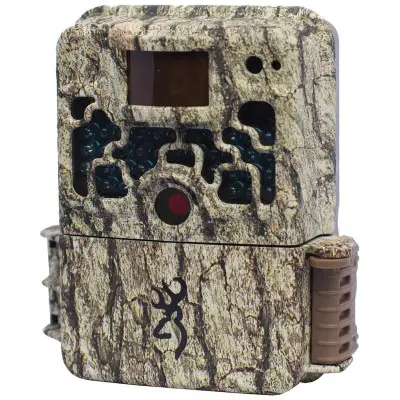 This is the first Browning hunting camera on the list, and amazingly it lands at the #4 spot. From the bottom to the top, the Strike Force Sub Micro is a reliable hunting camera that is meant to last years out in the wilderness on its own. Underneath the hardened case is a really good camera that may go unappreciated for its great night time photos.


Expand to see more
Protective Casing

Small and durable, the casing of the Strike Force Sub Micro can withstand adverse weather, drops and even some extreme temperatures. The case is rock solid and blends in well when used out on hunting grounds.

Features and Specifications

100 ft. flash range
10MP resolution with 720p videos with sound
Videos can last up to 2 minutes
Browning Buck Watch software included
67 second trigger speed
Zero Blur Night IR
Requires 6AA batteries
Price/Value

This is a low priced camera that is worth the investment. It would take a truck falling on the casing to break it open, and the camera inside would probably still be intact.

Decision Time

The Browning Strike Force Sub Micro is a great buy if you aren't too concerned about video. Its weather resistant housing is impressive and the underrated camera will really make it worth the purchase.
Takes better photos than expected
Photos at night come out crisp
Flash range is one of the most spectacular on the list
Case is like a tank
Great power management
Videos are below average
No invisible flash
5. Bushnell Trophy Cam HD Essential E2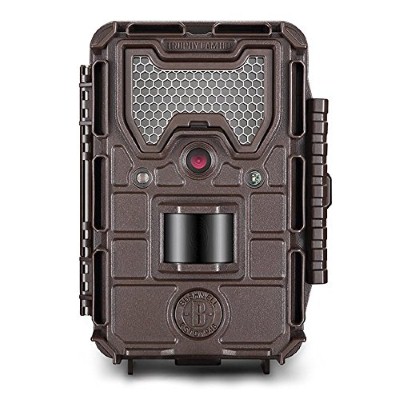 Bushnell strikes again, but this time with a more affordable hunting camera sans the wireless connectivity. Sometimes simple beats out advanced, and more customers have been satisfied with this model than any other.


Expand to see more
Fast Trigger Speed

Fast trigger speeds means better photos and videos. The latter is even more important, since missing the first second could make a huge difference in how special the video is to you. With a 0.3 second trigger speed, Bushnell continues its excellence in providing powerful cameras that dominate.

Features and Specifications

Available modes are 3,8 or 12MP
Low, Medium or High PIR
Trigger interval is programmable up to 60 minutes
720p video with audio up to 60 seconds
Field Scan 2x can be set between 1 minute and 60 minutes
Price/Value

When comparing it to the wireless Bushnell model, the Trophy Cam HD Essential E2 stands on its own quite well. The only thing missing is wireless functionality, with every other major feature seeming identical. This is a low priced Bushnell model that really glides by the competition when matching power specs.

Decision Time

Buyers that aren't interested in wireless functionality will find that this is the best Bushnell model to purchase. It's fast, low priced and gets the job done day or night.
Hyper Night Vision takes great images at night
Battery life lasts up to a full year
All photos can be data stamped
32 Low-Glow LEDs are almost undetectable
No ability to add wireless through accessories
Night LEDs are not totally invisible
6. Bushnell Trophy Cam HD Aggressor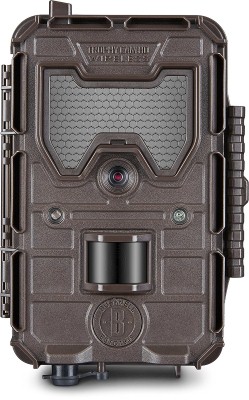 As the first high priced hunting camera on the list, the Bushnell Trophy Cam HD Aggressor is the choice of millions worldwide. This is the brand that changed multiple industries and continues to redefine hunting cameras.


Expand to see more
Wireless Connectivity without a Hassle

Straight out of the box the HD Aggressor is 3g capable. With wireless functionality already built in, the need to buy bulky or expensive wireless adapters is a thing of the past. The revolutionary wireless feature is only available in the US, so be wary if you're an international user.

Features and Specifications

14MP with 720p video
48 No-Glow Black LEDs
60 ft. invisible flash range
Autosenses day and night cycles
3 second trigger speed
Free iOS or Android app
Case has a built on metal buckle
Price/Value

The wireless functionality out of the box is the seller, high price and all. Convenience wins in this instance for Bushnell as they are still the best choice for an easy to use wireless hunting camera.

Decision Time

With a high price tag it may turn off some viewers, but those that can't live without wireless functionality will be satisfied with this option. Every other brand is still playing catch up with the wireless feature, and Bushnell is king.
Wireless plans are offered by Bushnell
Apps are very well done on both platforms
You can check photos and videos from any wireless device
Camera settings can be managed from any wireless device
Photos and videos are incredible during day or night
Many customizable options
Video is not 1080p
Wireless option doesn't cover international users
7. Stealth Cam P18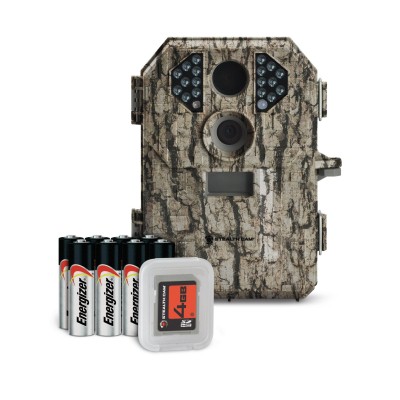 Baffling is the word customers would use when deciding between the 7MP Stealth Cam P18 and the 14MP M-888 Mini which are the same price. Don't let the P18 fool you, as many customers around the world swear by it to this day.


Expand to see more
Starter Package

Stealth Cam packaged all you would need to get a camera out in the field or in your home. No looking for a spare SD card and no looking for batteries. This all in one package is a real joy to break in for a beginning user or someone that just wants a backup hunting camera.

Features and Specifications

4GB SD card included
8AA batteries included
7MP with 15 second video recording
50 ft. flash range
Up to 6 images per trigger
EZ dial programming
Price/Value

A low price makes this a great buy even with the nonexistent video qualities. With everything included in the starter package, it is ready to go for a full year out of the box. That by itself is worth the purchase.

Decision Time

Starter packages are great when you don't feel like dealing with extra options or components. Purchasing a couple of the P18's at once will give you a great coverage area for a low price.
Camera takes surprisingly good photos
External 12V power port offers unlimited power
EZ Dial Programming simplifies customization options
Digital 3D camo housing
Low battery indicator
Below average video
Only 15 seconds of video recording
8. Moultrie M-888 Mini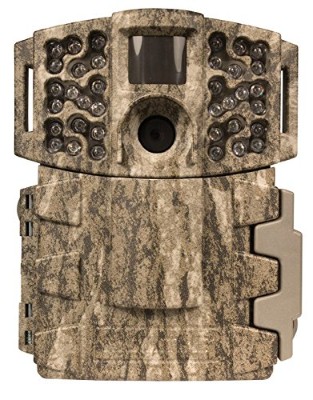 Usually Moultrie is known for low priced economical cameras that are tough, but don't blow away the customers with specifications. The M-888 Mini turns that rumor on its head, since this model packs a lot of heat. The black sheep of the Moultrie family is one of their better models with some unique flagship features.


Expand to see more
14 Megapixel Quality

This is probably the strongest Moultrie camera available, with a blazingly powerful 14MP resolution. The highlight isn't just about how powerful it is, but should be focused on the power saving features. Even when using the full 14MP resolution, the M-888 mini uses less power than comparable models with lower resolution cameras.

Features and Specifications

100 ft. IR flash range
7 second trigger speed
Moultrie Mobile capable
2 year warranty
Infrared flash illumination
Requires 8AA batteries
Price/Value

The really interesting part about the M-888 Mini is that by itself it ranks as #8 on the list, but if they included the wireless accessory and bumped up the video to 1080p it would run away with the #1 spot. In its current state the price is one of the lowest on the list, so the base unit is worth it as is.

Decision Time

Buyers that are willing to build on this model with Moultrie accessories will be really happy at the outcome. And even for customers that want to buy the unit only, they will end up with years of great pictures.
Moultrie Mobile Field Modem MV1 makes it wireless
Hybrid option allows passive and time-lapse automation
Best power management of any camera on the list
100 ft. flash range with Illumi-Night sensor
40 degree field of view
720p video
Wireless function requires separate purchase
9. Primos 12MP Proof Cam 03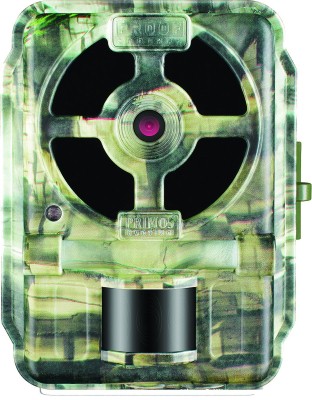 Primos is a really good brand that surprises a lot of customers with great hardware. Inside each Primos camera is top notch materials made to make any hunting experience painless. This particular model is a bit of a sneaky favorite because of price and camera quality.


Expand to see more
Incredible Pictures

There is no escaping the fantastic quality of this model, and for it to be #9 speaks a lot about the camera quality. Besides sporting 12MP it also uses no glow flash at night for capturing photos. Even when compared to the top 3 cameras on this list, it's debatable if they beat out this Primos model.

Features and Specifications

720p with audio up to 60 seconds
No Glow infrared
1-5 multi-shot
Python lock compatible
Time lapse up to 60 minutes
Price/Value

Of course the first thing that comes to mind is how unbeatable the camera quality is coupled with the price. But beyond a beastly camera, everything else is average. Even at its current low price, this is a hard deal to pass up if you don't want to spend double for a hunting camera with similar photo qualities.

Decision Time

If Primos made the case more appealing and added in better power saving features, well then this would have shot up to the top 3 spots. Even with some slight cons in other areas, there is no denying the quality of the camera in this unit.
Possibly the best pure camera on the list
Only needs 8AA batteries
Lightweight at 10.1 ounces
Camera takes great night pictures without alerting prey
720p quality is above standard
Case is below standard
Battery life is subpar
10. XIKEZAN Waterproof Trail Camera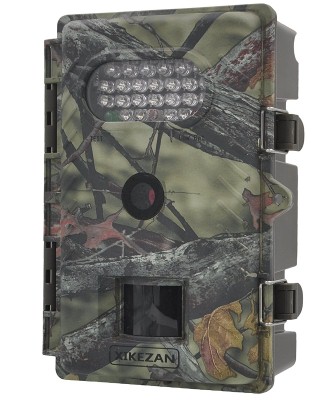 Xikezan and its camo colored camera is a surprising addition to any list. A lot of customers have spoken out about the quality of the product, and it is slowly turning into something special. What makes it such a good buy isn't just based on durability and price, but a lot of untapped power underneath the hood.


Expand to see more
Trusting Xikezan as a Company

The warranty needs to be highlighted for the company since they are offering a 1 year manufacturer warranty. Xikezan is not a known brand by many, and yet over the course of their companies time has done a fantastic job with customer service. So if there is any reason you have a problem with the product, they have a good track record of being very customer friendly.

Features and Specifications

Trigger speed of 0.8 seconds
Programmable trigger interval
5 picture multi-shot feature
8 MP camera
720 HD video with sound
50 ft. motion detection
Uses 4 or 12 AA batteries
Price/Value

This is one of the lowest priced cameras on the list. Usually Moultrie would fill the low cost niche, but this Xikezan offers some serious value for both hunting and home security. Factor that in with the warranty and this turns out to be a surprisingly good deal.

Decision Time

There is nothing to be afraid of for new customers purchasing a Xikezan hunting camera. The company has proven they have what it takes to compete, creating a great camera with a lot of advanced features.
Full charge can take up to 12,000 images
Takes great night pictures
5 pictures per multi-shot
12 AA batteries can last up to 1 year
Supports Micro SD cards up to 32GB
Waterproof
720p Video
Flash range is one of the shortest on the list
How to Make the Best Decision When Choosing a Hunting Camera
Knowing where you're going to be putting your camera is how you decide on which one to choose from when looking for the best hunting cameras. The first thing to figure out is if you're going to be putting the camera in a remote location that you rarely visit. Wireless options exist so that you don't have to visit this remote location just to check on the contents of the camera. Make sure to make use of a Moultrie wireless accessory or a Bushnell model with wireless built in.
If wireless doesn't matter, then the next step is figuring out if you care about 1080p video. Up to a certain point, all of the cameras on the list take great photos during day or not. The difference with the camera then comes down to its video capabilities. When you figure out where you stand on the video qualities of your hunting camera, then you'll have a better overall idea of what the best purchase is.
FAQs
Are Viewers An Important Feature?
Only for convenience, since portable viewers can be bought for very cheap. Having a viewer on the camera definitely keeps you from having to lug around extra equipment-but it isn't a game changer.
Is There Really A Difference Between 1080p and 720p?
Yes, and the difference is pretty important when you're viewing it on a full 1080p screen or computer monitor. You're not going to notice the difference on a viewer, but when you view it on a compatible device you'll see the extra details.
Can You Use Any SD Card With The Camera?
Cameras have certain class restrictions with SD cards. Be wary of cheap SD cards that may look like a bargain, but won't be compatible with your camera. Pay close attention to the class of card a hunting camera takes, as each model has a different requirement.
If the Flash sn't Invisible or No Glow, is it a Waste of Money?
Absolutely not. There are cameras that have semi-invisible flash that won't alert prey when they snap. The only time a non-invisible flash may be noticeable is to the human eye.
Should I Use The Camera Without The Case?
While it may offer better flexibility with certain mounting situations, there is a reason cases are protecting the camera. It doesn't just protect it from weather conditions, but from theft, water, and even animals. Your hunting camera won't last a week without the case!