Best Macro Lenses Reviewed & Rated for Quality
In a Hurry? Editors choice: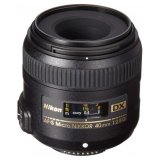 Test Winner: Nikon AF-S

All photographers worth their salt have a pretty fully loaded gear loadout. Most camera and stills capturing enthusiasts will have a solid zoom lens, a wide-angle lens, a handful of variable prime lenses, and a macro lens. A macro lens is a sort of like the complete opposite of the zoom lenses, they are pieces of glass (lenses) that are used to get pin-sharp focus on subjects that are up close. The accuracy and focus of the world's best macro lenses can capture and display details that the natural human eye would never be able to see, Here, we'll go over the ten best macro lenses currently on the market, for a wide range of camera systems.
Standout Picks
Criteria Used for Evaluation
Use
When you jump out of the comfortable abode that is your kitted camera body and lens, and leap into the unknown fray of the expansive and often confusing lens industry, it's always best to have some sort of idea pertaining to what you want to use said unnamed lens for, before hitting the shops. Use is probably the most important factor in deciding on a lens there is. Cost, quality, brand, heck, even mount-type come well after a choice of use. This is a reality because while there are many lenses with vague capabilities, wide reaches, and a deep pool of skills, specialty lenses are better for special jobs, and only really perform their best doing that job.
So, we've narrowed down the use of these lenses, by making a list that only includes products capable of capturing amazing macro photography stills. Macro photography is the type of still image capture that takes a normal-sized object, magnifies it greatly, and is able to record all of its tiniest details in the image. It's widely used in flora photography, for capturing insects, and in product photography (if said product is small).
Deciding to hunt for the best Macro Lenses truly assisted in the narrowing of our search, and although a few of our choices are lenses that are great at other things (or downright include more than one lens), it was easy to ensure that our specifically designated USE of the lens was the main draw towards the chosen products.
Now, you do not necessarily HAVE to allow use-cases to dictate what your vetting, but if you're seeking a specific use, searching beyond that is just going to provide you with an ample headache, and a whole lot of products that cannot accomplish the desired result.
Value
Value is something that is pretty apparent no matter which way you shake the dice around the cup. But, it's not always all that straightforward. In this industry. Things go from zero to a hundred pretty quick around these parts, but that doesn't excuse any laziness when it comes to the quality of lenses we're all willing to pay good money for.
Judging value in technology is often as easy as looking at the price tag. Usually, you get pretty much exactly what you pay for when it comes to expensive tech. But that doesn't mean there isn't a good deal to be had.
You, like we did, should remain open to all ends of the price spectrum, but don't reach outside of your means. Searching for the perfect lens to add to collection or loadout might be a whole lot simpler of a process if you consider coming to terms with a price range out the gate. It will help you to avoid struggling through the wading ocean of lenses.
Consider the make of the lens. Take into consideration the pedigree and trust you're buying into with the company and brand you're investing in. But most importantly, consider the value that is getting a lens that can do the thing you need it to do in order to get paid.
Above all, know that there are some pretty rad lenses near the "how is this so affordable" range of dollars, and there are a few really stunning options that make your stomach a little queasy thinking about buying them.
Features
Being that a lot of these products are in the few hundred dollars or more range, one would rightfully expect that they do far more than take photographs of tiny things, up close. And you're not totally off-base with that assumption. But, that doesn't mean that the featured macro modes shouldn't be the first thing on your priority list.
So, that being said, let's take macro out of the equation. Let's assume that all of the lenses we've listed have great macro capabilities (we would be assuming correctly), what do you look at next? Like we mentioned earlier, the camera lens world is a long and lengthy discovery of a seemingly endless hallway of doors.
Fixed length or zoom is a great second stop on this train, as it will tell you a lot regarding what else (besides macro) you can use it for. Prime lenses are really strong choices for all those looking to take their photography game to the next level. Primes are astounding pieces of gear if one needs to shoot portraits, or strictly fixed landscape photography.
A zoom lens is agreat multi-purpose lens that can get you all the way around the world with ease. It's a safe bet to always have a great tool in your arsenal that can tackle almost any situation. There are some drawbacks to a zoom lens, as they are not as strong as primes in for quality and clarity.
Other strong features include a dedicated Macro mode, rather than the bottom end of the zoom length where most of the macro focus in macro lenses comes from.
In general, most macro lenses aren't the type of camera gear that come strapped with features. They usually aim to do the right thing, and the right thing very well, while also coming together to take great standard photography.
Compatibility
A huge factor in the consideration of all possible lenses that this market has to offer is the ease of use. Whether or not you have the ability to use said lens with the camera body and rest of the set-up you have, is a major factor in one's search for the perfect lens.
Compatibility in the case of camera lenses has a lot to do with what camera body you own and operate. Even sticking with the brand of your camera doesn't mean that your lens will be compatible. Plenty of camera brands have multiple types of mounts, and ensuring that the lenses you're shopping for are ones with the mount to fit on your camera will seriously brighten your ability to use said camera.
Plenty of the items on our list are for specific camera brands. Other options here, like the Tamron, are available to purchase with multiple different mount types. Off-brand lens companies like Tamron often make their best buck banking on all markets instead of something specific.
Keep your current gear and set-up in mind while shopping and you'll be flowing with options that are actually compatible with your gear.
10 Best Macro Lenses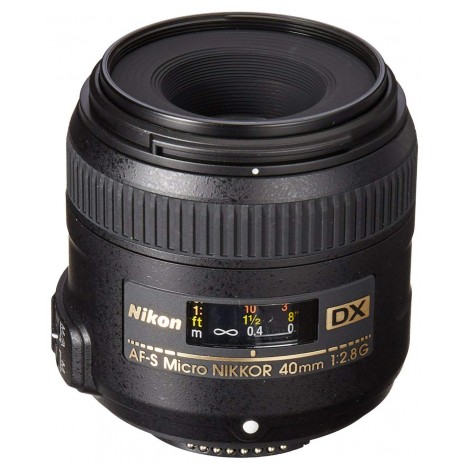 Nikon, and their partnered lens company Nikkor have been developing imaging technology since the turn of the 20th century, and have yet to slow down on their production of high-quality gear. Which helps make their AF-S DX Micro Nikkor 40mm Prime lens an absolute powerhouse on the dance floor, and continues the gold-flaked legacy that Nikon and Nikkor have been cementing for over a century.
Pedigree
You get a lot when you shop one of the "big boy" brands in the camera gear markets, and Nikon / Nikkor are definitely part of that group. You get decades of calibration advancements, mechanical and technological manufacturing strides, and a seal of approval that most smaller companies don't have to stand on. They're the recliners in a room filled with lazily thrown together three-legged IKEA stools.
Silent Wave Motor
Thanks to a relatively vibration free shutter and focus motor, using something like the Nikon AF-S DX Micro Nikkor 40mm Prime Lens for close-ups and macro photography won't force you to battle against shutter vibration and unwanted movement in your photographs. The Close-Range Correction System (CRC) sees each element in the lens move independently from one another allowing for sharper focuses at close range.
Cost and Value
Jumping into the deep end of Nikkors gold branded lenses isn't usually a cheap game to buy into, but luckily for you, luckily for us, and luckily for the entire photographic world as a whole, Nikon has a pretty small tag on their amazing entry into the prime lens with macro modes market. The AF-S DX Micro Nikkor 40mm is a brilliant piece of glass, and almost a must for any Nikon user.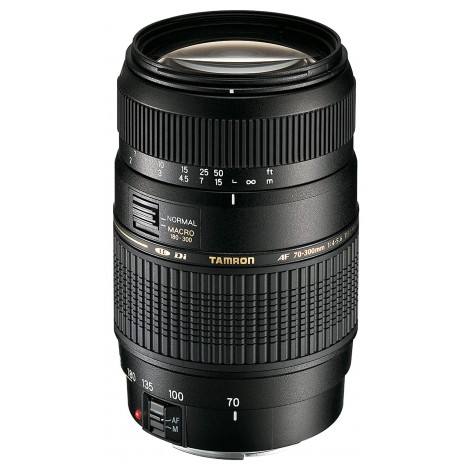 There is a lot of stigma around the world of photography when it comes to third-party glass for their expensive camera systems, but one brand that has done a pretty stellar job of breaking through that mold is Tamron. The beautiful thing about adopting some Tamron glass into your family is that you get a whole lot of great manufacturing, with quite a bit of versatility.
No Matter What
Probably the most attractive thing about heading to the offshore brands for your camera lens needs is that companies like Tamron are used to working for the business of all types of camera owners. This means that lenses like the Tamron Auto Focus 70-300mm Macro Zoom Lens come in versions that fit Canon mounts, Nikon, Sony, Pentax and all the things in between.
Not Just A Macro
The Tamron Auto Focus 70-300mm f/4.0 LD Macro Zoom is far more than just a macro lens. While plenty of great macros have a fairly decent ability to take regular stills, there's a lot more fight and bite in this Tamron glass than almost all others. It's a fantastic macro lens, but it is also an extremely capable 70-300mm zoom lens.
Cost and Value
Part of the discussion as to whether or not one should get third-party glass is the talk about value. There isn't a single piece of glass not made directly by the camera manufacturers that can outperform the company made lens. But if you do the math, a lens made with a fairly good portion of the same love that the camera body brands put into the design, at a tenth (or less) of the price, is a mountain of value.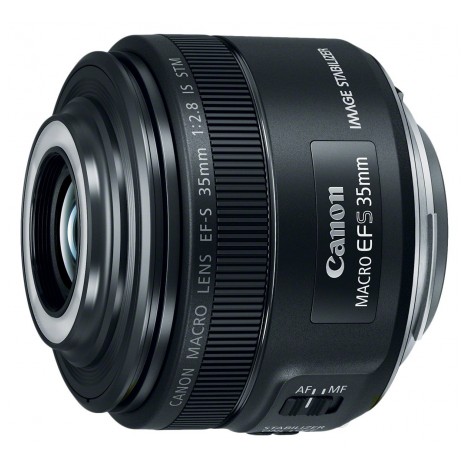 Canon has an illustrious history in designing and manufacturing brilliant pieces of camera glass for all sorts of jobs, in all sorts of environments. Though they have (as most camera manufacturers have) seen their ups and downs, Canon is once again sharing the space atop the podium, making some of the world's best consumer to professional level cameras and gear. This, their EF-S 35mm Prime lens with Macro IS STM capabilities is one of the fastest and most powerful macro lenses on the market, which is great luck if you're a Canon shooter.
Solid Prime
One of the most delightful things about the Canon EF-S 35mm f/2.8 Macro Lens is that it's a rabidly fun lens to shoot with as a regular prime lens. The 35mm, on a crop-sensor camera body is fairly close to 50mm aftermath, making it nearly the exact representation of what the natural eye can see. On a full-frame lens, you get a lot more of your surroundings with this solid 35mm.
Macro Lighting
Being that the camera is often rather close to the desired subject, lighting is often a really large hangup and issue when it comes to macro photography. Luckily, for Canon users, the Canon EF-S 35mm f/2.8 Macro IS STM has a built-in from macro light. It has Multiple settings, for each side of the lens, or both, providing near-perfect lighting in tight shooting distances.
Cost and Value
Though a piece of glass like the Canon EF-S 35mm Macro comes with a bit of premium price tag due to the brand name on the side, but being that it is a small, 35mm prime, the overhead to get this beautiful masterpiece of a macro lens isn't very tall. For that, you get one of the best Canon macro lenses ever made.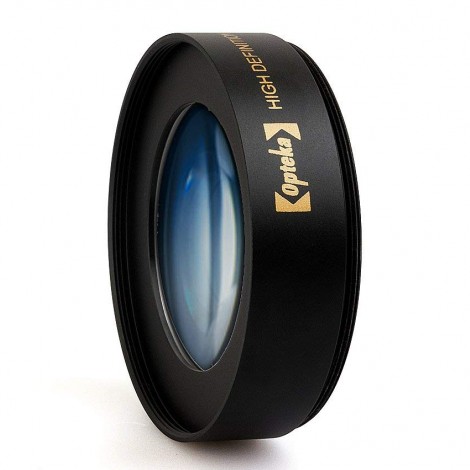 Another extremely solid option for those looking to get into the macro photography game without spending a handful or more on a new lens is something similar to the Opteka Achromatic diopter. These are cheap alternatives to a new piece of glass. They're well made, and do a hot trick to get you close to the subject one needs to capture.
Additional Gear
By far the hottest selling point to the Opteka Achromatic 10x Diopter is that it's simply just an addition to the gear you're already carrying around, rather than being a whole new piece to your kit. All you have to do is find the right Diopter to fit on the end of your lens, and you can turn almost any piece of glass into a macro master with a simple screw-on piece of glass and plastic.
Compact Addition
Camera gear can get large, and can get pretty heavy. Most camera enthusiasts have to haul around large gear bags just to keep all of their necessities at hand. After a while, it all adds up to be a whole lot of weight. The Opteka Achromatic is one of those tiny additions to your gear loadout that helps a whole lot, and barely adds a single bit of weight to your bag.
Cost and Value
At somewhere around the same price as a meal for two at any local fast-food joint, the Opteka Achromatic 10x Diopter Close-Up Macro Lens is one of the smartest things any photographer can purchase to throw into their kit. It adds a whole new level to your game, barely costs a dime, and doesn't weigh more than a powerbar.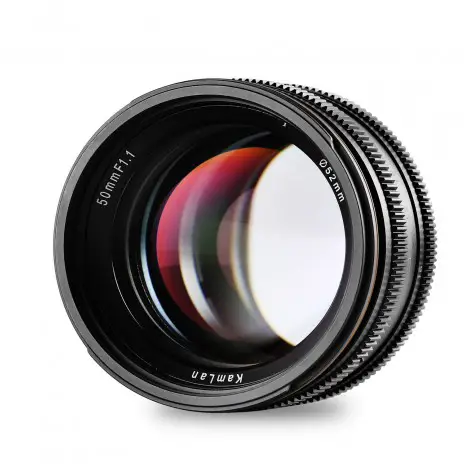 Heading into this guide, you probably didn't think we'd be pulling products from companies you've never heard of before, and we probably did too. But we just couldn't help but gasp a little when we saw the Kamlan Sony-Mount 50mm Prime Lens while poking, and what it can do, while we shopped around a bit.
Crazy Large Aperture
There aren't a whole lot of image capturing lens manufacturers out there with the product capabilities to drop to an astoundingly large aperture like f/1.1, but this unknown company backed by Sainsonic has developed this powerhouse for mirrorless mounts. All of this for less than a few hundred dollars? There aren't many lenses out there with less than 1.4 on the aperture speed
Manual Focus and Aperture
A lot of camera enthusiasts and filmmakers will always opt for manual focusing, and manual aperture control rings. These assist in the direct manipulation and control over the camera and how it is operating. The Kamlan 50mm f/1.1 has both, making it one of the easiest and most hands-on lenses to adjust. The rings are smooth turns, with no clicks, making them absolutely ideal for filmmakers.
Cost and Value
Because you've never heard of this company, you'd be accurate in expecting to pay far less than premium price for a half-decent lens. But what you wouldn't expect is to pay budget price for a pretty fantastic lens, with an astoundingly large aperture system, and very true and smooth sharpness. It's a ton of value, for very little dough.

6

. Nikon10-20mm f/4.5-5.6G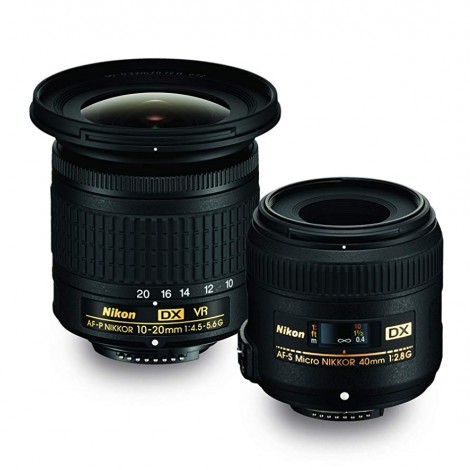 Something that most camera manufacturers don't provide the consumer-base are glass kits. Often, camera companies will bundle a body with a particular lens, maybe some gear like a carrying bag or caps, but never just the glass. Luckily, Nikon is smart enough to make a few changes to the game themselves. Like this, the fantastic two-pack. A lens for the big and wide, and a lens for the small and close. It's a brilliant set.
The Ultra Wide
Half of this extensively wonderful pairing is the Nikkor 10-20mm f/4.5 lens with an ultra-wide viewing angle. This 50% of the two-pack is the perfect lense for those beginner Nikon users looking to take some absolutely stunning landscape photography.
The Mega Close
Now, the reason why this bundle is even on our list, is the Af-S DX Micro Nikkor 40mm f/2.8. It's an uber piece of kit, and the Nikkor designed glass is far more than enough competition. It brings a lifesize 1:1 macro ratio, for the finest details one could possibly buy with a few hundred bucks.
Cost and Value
Nikon doesn't just want to supply you with one of the best macro close-up lenses on the market, they're in this to bring you a wonderful landscape option on top of that. Two world-class Nikkor pieces of glass for less than the average price of a single premium lens. It's a shockingly great deal, something you don't see very often in this market. Get a real solid addition to your kit.

7

. Canon EF 100mm f/2.8L IS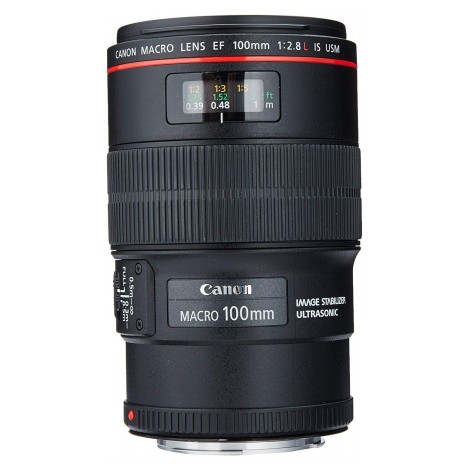 There will always be a never-ending burning fire in the argument regarding which prime is the best for portraits. A lot of extremely talented folk would claim that their 100mm Prime is their favorite. So how do you manage to make an extremely well-rounded portrait prime lens even better? Well, Canon thinks that adding a macro mode to their 100mm Prime is the solution, surprise, we're not here to argue with them.
Closest Focal Length
A lot of macro lenses will often fight with the use. It's not an easy business, taking photographs of subjects at extremely close ranges. But, the Canon EF 100mm f/2.8 IS USM Macro Lens can do a brilliant job, having its closest comfortable focusing distance be less than a foot away. The powerful clarity mixed with its nearly side-by-side subject and lens distance is truly magnificent.
Portrait Prowess
Stepping away from a subject, in those times where you're not looking to take macro photography, it's almost essential that one finds a macro lens with some juice at normal focal lengths. This, the 100mm Prime from Canon is one of the best primes on the red ring market (what people call the modern canon lenses, because of their red ring). Take stunning portrait photos, and very decent (though strained) landscape or street photography.
Cost and Value
We've dipped a little bit into the semi-premium line of Canon lenses with this pick, meaning that the price is going to be a bit jarring if you've come to expect the average cost we've put forth up until this point. Canon doesn't shy away from making astounding lenses, and that's reflected in it's robustly ravenous fanbase. These pieces of glass are top tier, and are worth every penny.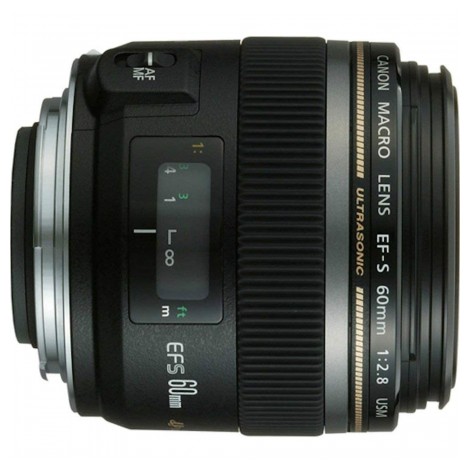 There aren't a lot of really quite lenses out there in the world -- not until Sony became one of the premium brands at the top of the mountain with their leaf shutter systems -- but that didn't stop folks like Canon from developing some internal technology that smooths the engine noises of auto-focusing systems, making for a nearly silent mechanical lens in the EF-S 60mm USM Fixed Lens.
USM
The on-board Ultrasonic Monitor (or USM) used for autofocusing in the Canon EF-S 60mm f/2.8 Prime Lens is an exceptionally quiet system for taking any sort of photograph. This is particularly handy for macro photographers, as sometimes your subject is a living thing, and you might only get a single chance to snap that shutter. It would be an absolute shame if your window disappeared because of a noisy autofocus motor.
Sharp as a Tack
It's difficult to choose any other topic besides sharpness when your calibrating what the most important parts of a macro lens are. Sharpness is key. With the prolific 1:1 magnification, and the ultra-sharp f/2.8 aperture ring, this Canon EF-S lens might be difficult to beat for those looking to get the best out of their macro photos.
Cost and Value
Though it isn't the most expensive version of Canon's latest 60mm Prime glass, the EF-S 60mm f/2.8 Macro USM Lens is a bit steeper in cost than some of the other budget options we've listed here. However, the nearly silent autofocusing motor and the sharpness of the final product should help make this lens a contender on anyone's shopping list.

9

. AMIR 0.4X Wide Angle Lens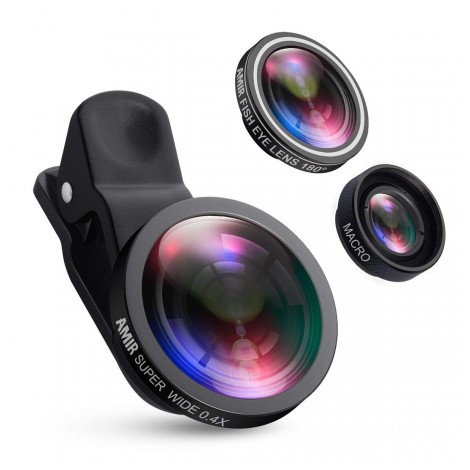 Another option for those looking to take their mobile photography game to the next level, the Amir Lens Set for smartphones is definitely one to look at. The Universal clip-on mobile phone lens has a few more than just a macro trick up its sleeve, making it a little bit more than just the close-up giants we're on the hunt for here. Made with premium quality glass, and professional coatings for anti-glare.
Enhanced Macro
Not a lot of macro options, especially for that camera in which you keep in your pocket, can compete with the level of gain and scale that the AMIR for Smartphones Lens set. At a 10x Enhancement Macro, this little pocketable piece of glass allows one to shoot great details within just over an inch distance from your camera lens.
More Than Macro
Probably a very important aspect of these relatively cheap lens sets for mobile devices is the ability to use the same package for more than just one thing. Included in this lens set is a 180-degree fisheye lens, as well as a nearly .5x wide angle lens. Both of these are fabulous additions to your phone, allowing photographers to get a lot more out of their pocket-bound camera.
Cost and Value
You could buy a hefty meal at a drive-thru, or get one of the best and convenient sets of lenses for your smartphone. The value is obvious in the premium quality glass and coatings, as well as adding a whole lot of extra capabilities to the camera you've always got on you. It's important to avoid neglecting capture practice, even if you're just using your smartphone.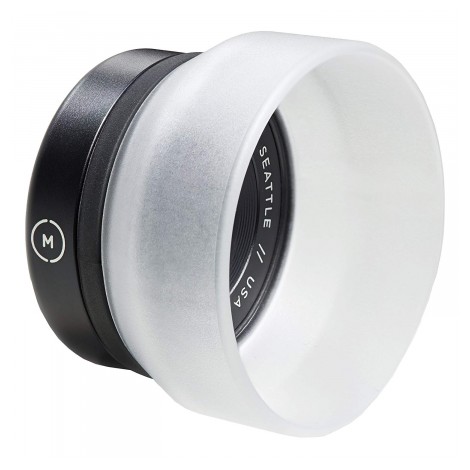 If you haven't realized the potential of 21st Century photography, then perhaps you're one of the few people in this day and age without a smartphone in your pocket. There's a buzz around stills and video these days. One that I always try to perpetuate. It doesn't matter what camera you use, as long as you capture. The best camera to have, is whichever one you have on you. That's why amazing companies like Moment have hit a stride.
Quality Glass
Creating cases and attachable lenses with proprietary designs, Moment is the biggest, the best, and one of the only premium companies manufacturing lenses for mobile devices. Their attention to detail and drive for cinema-quality glass helps their mobile lenses stand out among those created for professional DSLRs.
Diffused Macro
With their detachable Macro Hood, the Moment Macro Lens for iPhones, Pixels, and Galaxy phones is one of the greatest additions to anyone's gear bag. The diffuser hood allows an even level of soft light to come in and highlight your target subject without causing shadows all while keeping your subject at the optimal operating distance from the lens as the hood is 1 inch deep.
Cost and Value
Even though the price on the astounding Moment Macro Lens is pretty small, which is a fabulous thing on its own, in order to use the Moment Lens system, you have to also buy a case for your phone. In total, the package comes in at slightly below the budget DSLR and Mirrorless options we've put on our list, making the Moment set-up an amazing quality option for something most people carry around with them daily regardless.

Subscribe to our Newsletter