Best Camera Bags Reviewed & Rated for Quality
last updated
Feb 23, 2019
If you've read our Nikon Lens guide or any of our camera guides, you'll know how expensive photography gear can be. If you're more than just a hobbyist photographer, you've spent more money on camera gear than on any other aspect of your life. With such fine-tuned technology and materials, camera manufacturing is an insanely in-depth process. Often, it's a game of nanometers.
When it comes to protecting those items, you have to consider what kind of bag you need to carry all of your gear from one place to another. The bag could be the most important camera-focused purchase you make.
There are a lot of things that make a quality camera bag. Here's our attempt to bring the best together. Whether or not you're in for the look, or the use, or attempting to find something in-between. Here's a list of the ten best.
In a Hurry? The test winner after 15 hrs of research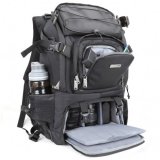 Evecase
Why is it better?
A lot of space to hold a lot of equipment
Rain cover for protection from the elements
Convertible to a normal bag
Made of premium materials
Below premium price
In a
Hurry? Editors choice: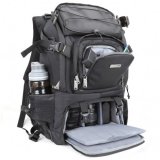 Test Winner: Evecase

3
Researched Sources
10k
Reviews Considered
15
Hours Researching
10
Products Evaluated
Durability
Size
Protection
Value
By Default
In Depth Review Top 10
Evecase
USA Gear
AmazonBasics Large
CADeN DSLR Sling
Qipi Sling
Neewer Camera Backpack Case
CADeN Lightweight Vintage
Canon 9320A023 100ES
Altura
AmazonBasics Compact
Table of contents
Criteria Used for Evaluation
Frequently Asked Questions
Sources
Top 10 Picks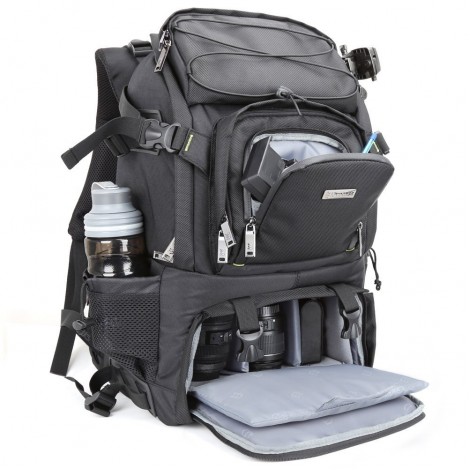 A lot of space to hold a lot of equipment
Rain cover for protection from the elements
Convertible to a normal bag
Made of premium materials
Below premium price
Some stitching issues reported
Many reviews mentioned weight even when empty
Introducing that "best of both worlds" scenario that many will tell you doesn't truly exist in the world of camera carrying luggage. The Evecase puts nearly everything else on the market to shame and does so at every turn. It's formidable as a normal piece of luggage or carry-on and is one of the most versatile camera bags in terms of holding all sorts of pieces of gear.
Read more
A Pocket For Everything
You've got a half-dozen lenses, and a few extra camera bodies, but you also have a point-and-shoot digital, a fancy Fujifilm polaroid shooter, a water bottle, tripod, and so many more things. Even the smallest of accessories (like SD cards) have dedicated pockets. There's even a 16-inch laptop sleep behind the back, for your mobile editing studio. This, plus the ability to remove all of the camera-shaped specific gear compartments, makes the Evecase XL a very astounding backpack on its own merits.
Rain Cover
What's the worst thing that can happen if you're carrying around thousands of dollars worth of camera gear, strapped to your back? Well, slightly misjudging the curb location and doing a full tumble in front of strangers would be the worst. The second worst, however, would be for all of that expensive gear to become wet. The Evecase Extra Large comes with a form-fitting waterproof rain cover that keeps the liquids and moisture out. It won't help you with those pesky curbs though, sorry about that.
Cost and Value
Under a hundred dollars for a backpack that would fit in on any form of public transportation, and has the capabilities to house all of your gear is a formidable value. Evecase is made with extremely high-quality materials and comfortable shoulder straps. This bag is versatile, and luxurious, for a fraction of some of the other bags.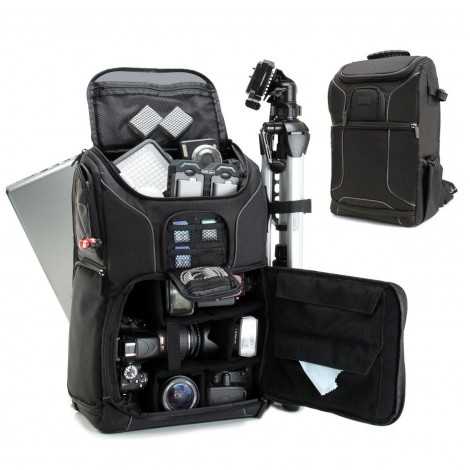 Interior & accent colors make for a fun looking bag
Compact in size
Pockets for everything despite its small size
Adaptable organizers for added customization
Easily accessible opening
On the small size
Reported strap problems
One of the most "camera bag" looking of the bunch, the USA Gera Digital SLR Backpack does more than most with as little as possible. It's sleek and fairly small for the amount of gear you can fit inside of it. USA Gear has made an extraordinary bag with this, and it is rightfully near the top of our list. The slick black, and "normal backpack" sized gear bag also comes in a handful of unique interior colors.
Read more
Customizable Pockets
Velcro dividers are the real name of the game when it comes to keeping your camera electronics and components safe. Some bags will have fixed built-in camera gear slots, while the best of them will have velcro adhesion to the sides or to each other. This means that no matter the gear, no matter the shape, you'll be able to house them in here with good certainty that they will be protected.
Access
We're going to bring this up a bunch in this list, I can smell it. Smell? I can sense it. That sounds better. One of the marks of a true quality camera bag -- whether it be in backpack form, sling, or others -- is the ability to access your camera from an easy-to-reach pocket or pouch that has a single zippered cover. The USA Gear Camera Bag has an awesome access pocket on the side of the bag that is easily reached by slipping a single shoulder strap off.
Cost and Value
The USA Gear Camera Backpack boasts fortified straps and stitching, and the "perfect amount of space" for all of your gear. For the well-constructed backpack to come in around the fifty dollar mark is pretty great. This bag is on the extremely cheap end of the extreme quality scale. You'd be hard pressed to find a bag as feature packed as the USA Gear Camera Backpack at anywhere near the price of this one.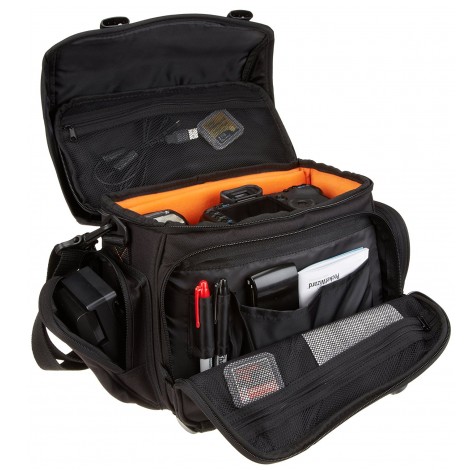 Bargain price for the budget shoppers
Can fit a lot of equipment
Simple design
Not that kind of "basic"
Well-constructed
Only fits one set-up
Apparently squeaks
Amazon themselves have burnt things down to the basics. And as basic is as basic does, the AmazingBasics Large DSLR Gadget Bag is the first actual camera bag on this list. Pairing it's a critical form of carrying all sorts of camera equipment, with a price tag south of thirty bucks and you've got yourself here a bag that you'll love to use, but feel like you stole.
Read more
Basically Perfect
That word. Basic. It might put a sour taste on your tongue, and through the malevolence of manufacturers in the past, we can't really blame you for that. However, with AmazonBasic products truly attempt to give you the best version of the most basic of products. In this particular case, that foul word means true basic needs met, no matter what.
Room Service
No, this bag isn't going to show up at your hotel room door and offer you a continental breakfast with strawberry roses. But it will hold one DSLR camera body, and up to three different lenses. Along with plenty of accessories like memory cards, slots for cables, a tablet, and pockets for general things. There is room to spare in this "basic" bag. If you're a single set-up kind of photographer, look no further than the AmazonBasics Large DSLR Camera Bag.
Cost and Value
This is the section of the review that the Basic fear plays in, but it's for your benefit. This bag won't run you more than thirty dollars and does the absolute best it can at the one thing it's trying to do. This is the best bag at this price nearly anywhere. And it's Amazon themselves that are swooping in from nowhere to bring you the best cost versus value that you can find.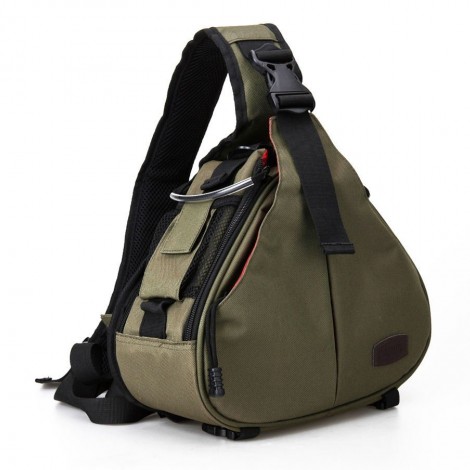 Waterproof material for added protection
Comfortably lightweight
Adaptable space for customization
Sling design makes for an accessible camera
Extreme protection
Fits one camera
Thin shoulder strap
The first sling bag on our list, the CADeN DSLR Camera Sling Bag persists through trials of toughness with an elegant design, a more than worthy single camera set-up carrying capacity, and easily accessible camera doors that make it very quick and simple to get at your gear while you're on location or moving about. This, in particular, is why so many photographers prefer to have sling bags for their main camera.
Read more
Protection
The CADeN DSLR Camera Sling Bag has some of the best crash and drop protection on the market. With 28mm thick crashproof EVA foam that lines the camera pouches of this sling bag that consists of seven layers of protective padding, not even full drops at reasonable heights will do much damage to the contents of your bag.
Waterproof & Rain Jacket
The outer lining of this sling bag is has a waterproof coating on it that will act as a barrier between your expensive electronics and the precipitation of the outside world. Should that moisture get to be too much, the CADeN bag comes with a rain cover that will keep even torrential downpours from becoming new friends with your thousand dollar camera body.
Cost and Value
With adaptable inside organizers, an ease-of-access hatch on both sides, a waterproof outer shell and equipable rain proofing, the CADeN DSLR Camera Sling Bag is a hyper beast. The only clear downfall is its size, being that it can only fit a single body and one to three lenses (depending on the size of said lenses).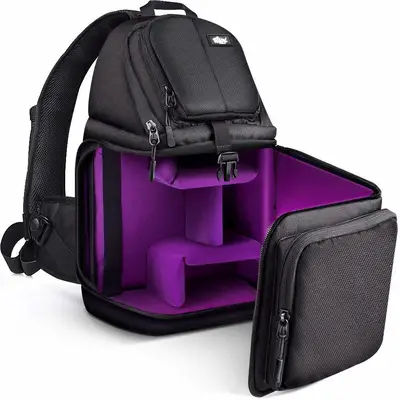 Hidden rain cover to protect your gear
Adaptable camera pocket
Accessory pockets galore to fit all extra small pieces
Theft-proof pocket for added protection
Sling-bag access
On the small side
Small amount of reviews state manufacturers defects
We're looking at the Qipi Camera Bag in the Sling Bag style which in all express descriptions, can be boiled down into an extremely functional, protective, adaptable camera bag with the sling strap. This bag wants to be an everyday bag so badly, that you might land on this for your camera gear just because of all the whistles that make bell noises here.
Read more
Everything At Your Fingertips
The biggest bonus of the sling bag style camera bag is that it's just a spin of your bag around and under your arms in order to gain instant access to your entire bag's contents without ever having to take the bag itself off. Which is why Qipi also equipped their camera portion of the sling bag with a quick access opening, that is basically just the normal opening of the bag, with an extra side, in order to access the side of the bag where your camera sits.
Adaptable
Every one of the walls within the camera portion of the sling bag is attached via velcro and is completely modular to fit the needs you will have depending on the size of your camera body and lens, or every other additional lens or accessory you might need to bring with you. There is a cell phone pocket on the breast of the strap, an accessories pouch, and pocket on the top of the bag, and a hidden theft-proof pocket on the inside of the back of the bag.
Cost and Value
Qipi has a very versatile bag with their sling-style here, but it's not tremendously large. It'll do the job, for one set-up, and be an absolute dream to carry around your everyday things while out on the job or hiking for these perfect shots. But there isn't a ton of frill with the Qipi sling.
6

. Neewer Camera Backpack Case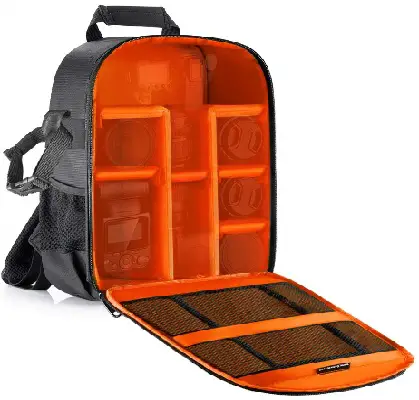 Waterproof
Shockproof
Detachable padded dividers
Multiuse
Durable
Reviewers noted the zipper was not as sturdy as they would like
Cameras are expensive, and their respective accessories are too. Therefore, it only makes sense to purchase a well-equipped camera case that will hold all your accessorize and cameras in one simple space, while being compact and easy to carry. Neewer took this into consideration and created the ultimate camera carrying backpack case. Not only does it hold all your accessories for your camera, but its compact look and feel are excellent for easy transportation. Additionally, the bag is waterproof and shockproof.
Read more
Holds Everything
This camera was constructed with convenience in mind, so much so that it will hold everything your camera needs to take exceptional images every time. The Neewer camera backpack case can hold a DSLR camera with a standard zoom lens attached, multiple GoPro cameras, professional quality shoe-mount flash units, one or more radio triggers, mirrorless cameras, and their lens. Additionally, it can hold multiple batteries and chargers for every device you carry with you.
Padded Customizable Dividers
In order to make life easier this camera case comes with a padded customizable divider. The 6 provided dividers come with added cushioning for additional protection. They can also be rearranged depending on your liking, and your personal needs.
Cost and Value
This bag not only provides multiuse but its perfect for carrying everything you need in one single place. Keeping that in mind; this bag is very affordable so much so that it might be a good idea to purchase more than one. Maybe have one for everyday use and another as a permanent place to store your camera.
7

. CADeN Lightweight Vintage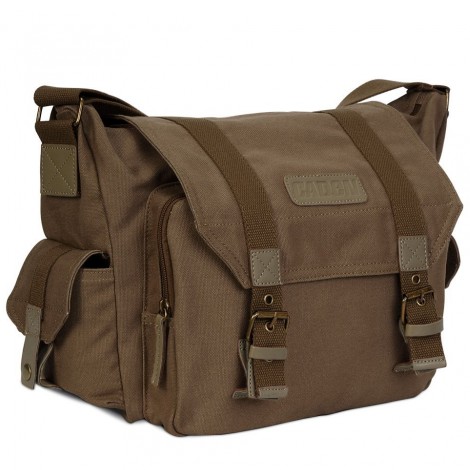 Vintage aesthetic
Made of waterproof material
Everyday bag
Adjustable storage compartments for a customized feed
Padded for extra comfort
One particular review states zipper issues
On the small side (one set-up)
The second CADeN bag on this list knocks the pedestrian look out of the park. Sometimes, camera aficionados don't want to look like they're walking around hauling about thousands of dollars worth of camera equipment. The Vintage CADeN Camera Bag sells the New York bicycle messenger delivery worker without losing much or any of the essential fundamentals of an actual camera bag.
Read more
Brains and Brawn
Most camera bags boast a flexible, hard-working interior organizational system that can form and fit to any of your camera needs. So does the CADeN Vintage Camera Bag. However, you can completely remove the camera parts insert bag and all of a sudden, the CADeN Vintage is just a really awesome looking (and rather large) side bag for normal use. Same bag, no matter the day.
Retro Futurism
It's right there in the name of the product. The CADeN Vintage bag wants to tell you an old tale. It's entire aesthetic is based on the idea that you want something that looks like it's from a different generation. But it's not stuck in that precise time frame. The Vintage bag from CADeN is packed with features (get it? Packed? Because it's a bag … that you pack? Forget it. It's not that funny if I have to explain it). The best of these features is that it's waterproof!
Cost and Value
Probably the best looking camera bag known to the history of cameras, bags, and lists designed to review and list camera bags. It's got adjustable tripod straps, a removable internal storage system for camera gear, it has side pockets, it's waterproof, and it looks so darn smooth. This camera bag is shy of forty dollars, and looks like a Clint Eastwood movie trailer.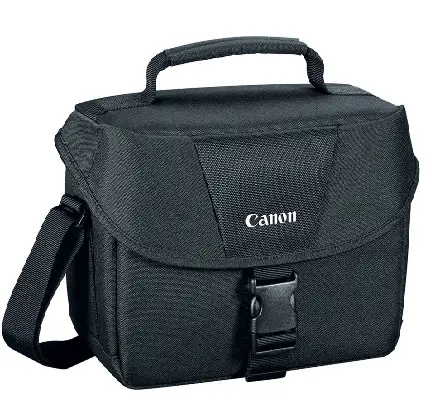 Lightweight
Sturdy and durable
Padded dividers
Plenty of space
Doesn't have any zipper pockets
Might need more storage if you have a larger camera or an abundant amount of accessories
If you are looking for a more compact option, this would be the perfect one for you. Cannon is known for making excellent cameras, and they did not disappoint with this carrying case. This Canon 9320A023 100ES camera carrying bag measures at 10 x 7 x 4 1/2 inches offering sufficient space for you to carry one SLR camera, 1 to 3 lens, and all of your camera's necessities without having to carry a bulky backpack or sling.
Read more
Made to Last
When purchasing a camera carrying case you want something that is not only durable but was made to last. Constructed out of water-resistant, rugged nylon this case offers exterior and interior security for your camera and the accessories you need. Even if you are caught in a rainstorm your camera will remain dry the entire time this will extend the longevity of your camera as well.
Lightweight
Whether you carry only your SLR camera, or you carry all the accessories with it, this case will remain lightweight. This is mainly due to its ability to distribute the weight throughout the case. Allowing even distribution is great for those that have back problems or don't want to carry a heavy case for an extended period of time.
Cost and Value
This bag is valued at an affordable price tag. It comes with just the right amount of space for you to carry what you need without the bulk, becoming a top favorite for us. Additionally, there is the idea that this bag was constructed with the consumer in mind.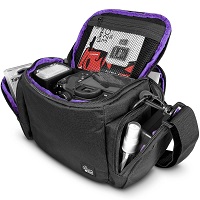 Reinforced stitching makes it extra durable
Adaptable storage compartments
Large size can fit a lot of equipment
Retro colorways
The budget-friendly price tag makes it affordable for every one
Cheap (but removable) shoulder strap
Fits one set-up
Here we've got your budget bag that beats out the size of most budget bags on the market. Altura isn't renowned for its quality of make materials. This is the retro plucked camera luggage bag that feels inspired by that kid that was saved by the bell, or something. But Altura has stepped up the game in regards to how much of a bag they can provide for as little dough as feasibly possible.
Read more
Reinforced
Budget items have to look for the most applicable corners to cut. That's just how manufacturing cheaper product works. But Altura ensured to avoid cutting the Quality Material corner and even took it a step further by reinforcing the stitching on all of the handles, and a removable shoulder strap.
So Much Room!
You would never expect to find enough room in a sub-twenty dollar bag for one entire set-up and possibly even an extra lens (depending on the size of a said lens) and enough accessories to keep you shooting all day long. It's surprisingly compact for a bag with adjustable storage room that has a shoulder strap, and plenty of side pockets.
Cost and Value
What more than a budget tag do you need? Well, how about the fact that this is a budget bag without the grossest corners being cut. This is a surprisingly quality bag for the size and price. It's a bit more expensive than the AmazonBasics Compact Bag but it's also four times the size.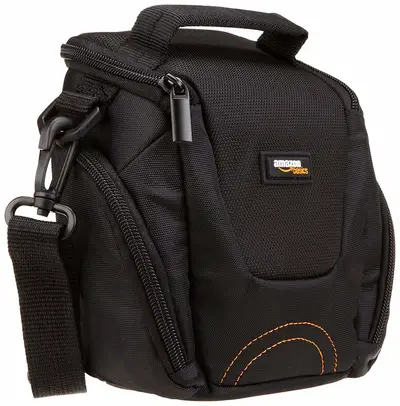 Not bulky at all
Made of high-quality materials
Perfect for traveling
Fits one (small) camera
Not a ton of room for accessories
The AmazonBasics trend continues with this compact and completely reliable solution for those that need to carry a single camera with a minimal amount of accessories around. The premium construction and astoundingly low price make all AmazonBasic products worthy of your consideration. Even if you don't land on the compact case, it's a wonderfully made and inexpensive solution.
Read more
Space
The AmazonBasics Compact Camera Case is like the title states, more of a case than a bag. But we couldn't help put this jampacked piece of gear luggage on the list. There is the perfect amount of space for a single camera body and lens (though the said lens has to be small-ish to fit), alongside pockets for cables, phones, and extra memory cards or batteries.
Compact
It's right there in the title folks. Oh … need more than that? Okay. The AmazonBasics Compact Camera Case is a perfect carrying bag for those that are looking to leave the bulky luggage behind or want to attach another camera carrying case to your big bag for the benefit of fitting another body in your kit. Both options are extremely viable because the Compact Case from Amazon is extremely small and featherlight.
Cost and Value
A bag that will hold a single camera, without much glass, that only costs you a ten'er? That's some pretty solid value. If you've got a cheap secondary or third camera, the Compact Case here is the fit you need to bring it along on your shoot. If you're a fun tourist in another country, and have a nicely kept point-and-shoot, this is your solution. The price can't be beat, and AmazonBasics as a brand ensure to bring you quality even at low costs.
Criteria Used for Evaluation

Durability
This aspect usually directly relates to the price that you'll pay for the luggage you buy. Some of the items on our list subvert expectations in price versus quality of build materials, but the general statement of "you get what you pay for" is true in this case as well.
The thickness and strength of all your straps and the quality of metal materials like zippers and locks will greatly affect the judgment of build quality.
These products aren't niched things that you put on your shelf and have sit still for an undetermined amount of time. Your camera bag needs to stay together and withstand the rugged use and environments that photographers often find themselves in.
A lot of important aspects go into the judgment of a camera bag product, and considering the quality of the build is essential in keeping your gear safe, this is a high one.

Size
Rarely do photographers arrive on location or set with the intention of only using a single camera or lens to get the job done, which is why there needs to be a size consideration when shopping for the perfect bag to fit your needs.
The variety of storage options is also crucial, as some bags do not have adaptive pockets or storage systems that could handcuff your ability to fit your gear within it.
In the same vein as storage options, the comfort and wear of a bag are extremely important to your choices. Can you adapt your bag from a backpack to a sling? Does it have a rolling luggage handle sleeve? The variable handling of the bag itself can play a big part in whether or not the bag works for you.
But the biggest question of size is whether or not the bag will hold your gear. We listed bags in this article that can only hold a single camera setup. That's important. Because sometimes photographers have just one. But more often, they need an additional bag for a solitary set-up to carry around in addition to their normal stash of gear. If you photograph for a living, chances are you're going to stick with looking at our options that will hold two or more camera bodies and a handful of lenses. Or have enough side storage that you'll never run out of batteries of memory cards.
Storage Specs
Another quality to keep in mind when seeking the perfect carrying case for you and your camera is the case's storage. If you are a camera aficionado or a photographer, then you know in order to take great images you need more then just a great camera. You will need lenses that create the clear images you need and additional accessories that make the camera function to its maximum potential.
Therefore, you want to have a carrying case that comes with numerous different compartments. The compartments will help not only store everything you need, but they will help protect those expensive accessories while you walk, hike or even run to catch the perfect lighting at your desired setting. Essentially, you want a case that creates a shield between your body, the camera, and the outdoor elements.

Protection
You take a risk when introducing expensive pieces of technology and manufacturing to the outside world that you might run into the horrific event of breaking or damaging your gear. Plenty of photographers will tell you that "you will break your gear" as it is just part of the game when trying to get the perfect shot and freeze time in a still. But that doesn't mean that traveling or getting to said photo should also pose the same risk.
It's hard to protect your camera from a slip or a drop when you're holding it for shooting. But you can do a lot to protect it while you're NOT using it.
Padding is an important part of the protection scale of these bags. Some of the better bags have over half a dozen layers of EVA protective foam within the walls of the bag. Often, manufacturers will put some extra budget and time into ensuring that all of your stitching and straps are reliable and strong.
Waterproofing is also ideal. Or completely necessary if you live on earth, at all. Chances are your camera will be exposed to water or moisture at some point in your shooting life, but that shouldn't also be the case for your carrying solution. At the very least, you should stick to bags that are water resistant. But if you can go for a bag that is completely waterproof, or at the very least comes with a fitted rain cover or jacket.
Keep the hard grounds, and wetness of the world away from your expensive purchases.

Value
Part of the struggle with putting this list together is that we didn't want to offer budget bags. It's imperative that the products we suggest come with some justification as to why you might put your money making or money spent on these luggage options. However, in crept a few options that are surprisingly great for the price that they are listed at.
The more money you've sunk into your gear, the more you should be willing to pay to protect it all and take it with you. The value of the bag itself boils down to comfort, space, access, and size. If you find yourself on a shoestring budget, willing to prop up your expensive gear with a few strongly worded product descriptions, we've plucked some gems from the ocean of budget bags.
On the opposite side of things, we've found a few bags that are premium, and all of the aspects that make a great camera bag will be amplified in quality. Spend as much as you can, and keep from finding the randomly branded camera bags that don't have a decent pedigree behind them.
Expert Interviews & Opinions
Most Important Criteria
(According to our experts opinion)
Experts Opinion
Editors Opinion
Users Opinion
By Default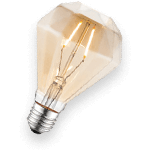 If you're serious, protect your gear!
it's imperative to your study of still photography that you keep your equipment intact. There are so many options out there that we wouldn't judge you if you're having a hard time picking something out of the litter that you want to take home with you. Get quality protection and easily usable luggage for your camera gear. What those things mean truly depend on what you need them for, how much gear you have, and how long you'll be traveling with it.
Frequently Asked Questions
q:
What kind of strap should I get?
a:
That's a great question. Camera bags have all sorts of types, and a lot of them have really great use cases. If you're looking for something that will be more comfortable to carry for long periods of time, definitely go with the backpack straps. If you have a gig that you need to provide yourself with quick and easy access to your main camera, then a sling bag strap would best fit your needs. If you're looking for an addition to your existing luggage, perhaps a general shoulder strap would be your top choice. There are plenty of options, and you can definitely find the right fit for your needs out there.
q:
Can't I just use my random bag?
a:
Sure!! If you want to brutally damage all of your lovely and fairly expensive hardware that could or could not be paying your bills. There's nothing to it. If you want to chuck your Canon Rebel into your school-purpose backpack, do so, but at your own peril. Camera bags are designed to fit cameras and the accessories that come with it. They are also designed to protect all of that from drops, and atmospherically delivered troubles.
q:
How many cameras will fit?
a:
Each bag is different in regards to how many cameras or lenses it will fit. Most of the manufacturers are kind enough to specify — in a vague and general sense, as camera bodies and lenses can vary in size quite a bit — exactly how much internal storage it has. Some bags will have adaptable internal storage that will dissolve your worry about your specific body or lens set fitting.
q:
Will it really protect my gear?
a:
Well, it's supposed to. If you're looking to protect your camera and all of the gear you use with it, your best bet is to purchase a bag that was specifically designed to do just that: protect your gear. Most bags have layers of padding throughout all of its walls and edges, with strengthened connections, stitching, and zippers. All of these things combine to give you the best odds of safely traveling with your camera equipment.
q:
How do I know how many compartments I need for my camera?
a:
This will depend on you and the amount, of accessories you use for your camera. You want to get a carrying case that has enough space for everything you need. If you use multiple different accessories, seek a carrying case with an abundant amount of carrying pockets.