Best Laptop Speakers Reviewed & Rated for Quality
In a Hurry? Editors choice: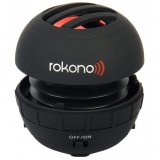 Test Winner: Rokono BASS+ Mini

Laptops are convenient for many things. They are great because they are so portable that you can use them everywhere. There are some negative points that come along with slim design, though. The size of a laptop makes them a not so ideal choice for blasting music or other sound out of their speakers. Almost without fail, laptops are regarded as not having the best of sound systems. This can make even your favorite music come out sounding a little dull. Laptop speakers might be a good choice for those who want to play their music out loud and with a little fidelity. The speakers on this list form a wide range of styles, from wireless, to full speaker sets. There are many kinds of laptop speakers, so find one you like. These are ten of the best laptop speakers that you can currently find around.
Standout Picks
Criteria Used for Evaluation
Top 10 Picks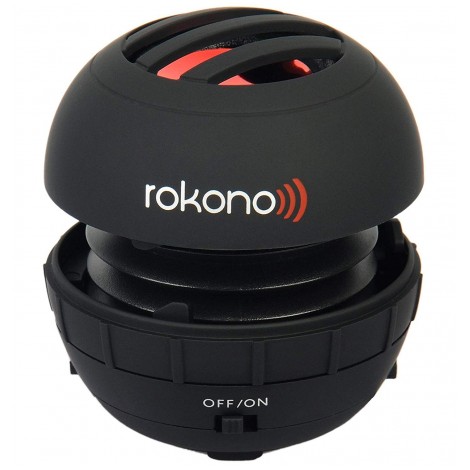 The Rokono is an incredibly effective portable speaker that works very well for its size and price. This is a good choice for laptops, but also for phones and tablets.
Mini Speaker
The Rokono is a great little speaker that is small enough to fit in your pocket. This is a great choice for anyone who wants to buy a speaker that they can bring with them everywhere. It will really embellish just how portable your laptop is. It comes with a waterproof travel bag too, which makes it the perfect device for taking with you on the road.
Other Features
The Rokono has lots of things going for it that will make it the right choice for you. It is a speaker that emphasizes the bass, which makes it a good choice if you enjoy putting music on for guests or friends. It also comes with a USB charging cable, so you don't have to worry about the battery dying. A charged battery should last for around ten hours of high-quality audio.
Cost and Value
The Rokono has another big selling point, and that is the very low price. This speaker is designed with portability and versatility in mind. It is best used with loud, bassy music. This is a great choice for just about anybody. It is also just so conveniently sized that it is hard not to recommend this to just about anybody, including people who might just want a speaker for their phone, too.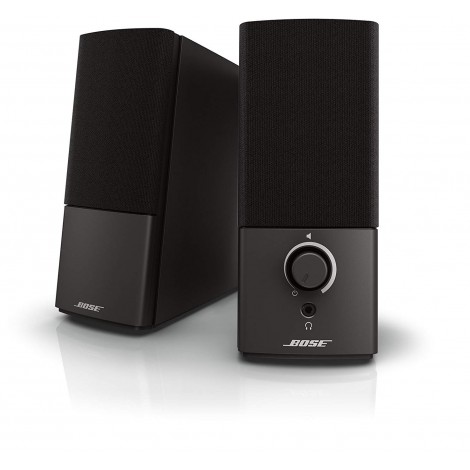 These speakers work like a miniature version of a full surround sound system. The Bose speakers are the perfect compliment to a laptop that spends lots of time at a desk.
Miniaturized Sound System
The Bose speakers come in a set of two speakers that look like a smaller version of something that you would buy for your TV. Two speakers are great because you can get stereo quality sound from them. Don't let their size fool you, these speakers will do a great job at giving you very clear and precise audio, whether it be music or dialog in a movie or video.
Other Features
The Bose speakers are great for many other reasons too. These speakers are perfect for anyone who just wants a simple speaker set. They come with their own audio jack, which makes it easy to plug your headphones into the speaker so that you can listen through your headphones without needing to switch out the plug.
Cost and Value
The Bose speakers are a great choice for anyone who is looking for a simple sound system, but an effective one. These are a little less portable, but they are great for turning your laptop computer station into more of a desktop station. They are plugged into the headphone jack, which makes them a very convenient choice, too.

3

. TaoTronics Wired Sound Bar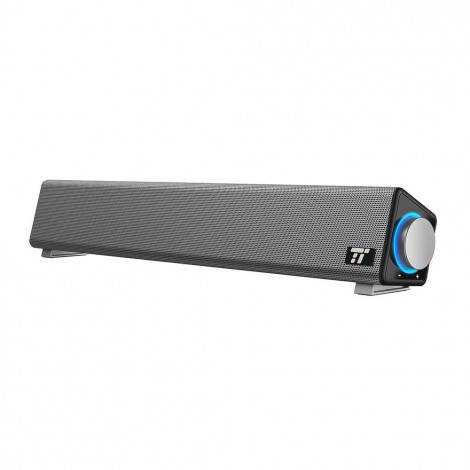 For another less portable laptop speaker, but designed with a different style, give the TaoTronics a try. It is sure to impress with its deep audio experience.
Sound Bar Design
The TaoTronics is designed with a sound bar design, which means that it is a single speaker, but one that has been designed to be flat and wide. This has many advantages. It is less cumbersome to carry around, as a single speaker means there are fewer cords. The TaoTronics is also great for giving you audio that comes out from all sides of the soundbar, giving you a wider audio experience.
Other Features
These sound bars are great for other reasons too. It is easy to hook up because it is as simple as plugging in the headphone jack. This makes it very easy to use the sound bar in a variety of locations. It can also do a good job as your TV's subwoofer. It is also easy to tuck away just about anywhere so you won't have to sacrifice any space on your desk.
Cost and Value
The Bose speakers are a bit more of an old-school design. The TwoTronics bar is great if you want something a little more modern. It gives you a larger range of where the sound can come from, but it also has a unique design that makes it easy to put it just about anywhere. Coupled with its convenient design, and this is the perfect choice for a home speaker for your laptop.

4

. DOSS Touch Portable BlueTooth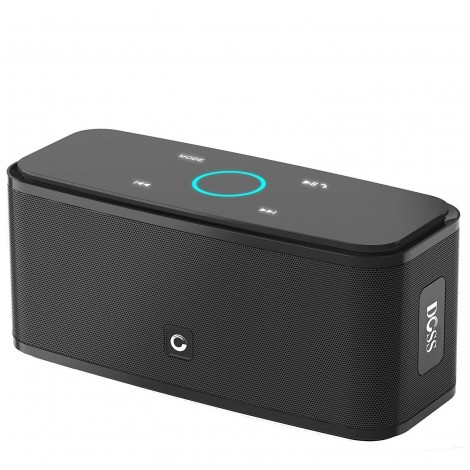 This is another wireless speaker that you can use with your laptop, which makes it a good choice for if you want to bring the sound with you.
Larger Portable Speaker
This is a larger portable speaker, and it also has a wider base. This is a good choice for a more serious quality of sound. It would do a good job being moved around your home while playing music off the laptop. It also has quite a high sound quality and is more in line with the wired speakers on this list. There won't be any complaints when listening to this speaker.
Other Features
The big bonus feature on this speaker is that can run off of BlueTooth. This means that this speaker can run without being attached to the internet. You don't have to worry if you are close to your router. It also has a very intuitive design and can be turned on with a single button press. Along with great sound, this laptop is portable, and designed for ease of use,
Cost and Value
This speaker is a great choice for anyone who wants the best of both worlds. It is a more full-bodied speaker than many of the other wireless speakers on this list, but it is still quite portable. It doesn't cost that much either when you think about the quality of the sound. This speaker is great for anyone who likes bringing their music around with them around the house.

5

. GOgroove USB Mini Soundbar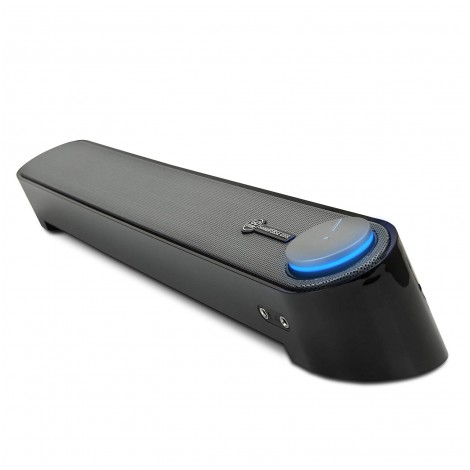 This is like the TaoTronics soundbar, but it is designed to be specifically used with smaller laptops. It is easy to set up, and will immediately help out your laptop's sound quality.
Mini Sound Bar
There are a few advantages to getting a smaller sized sound bar. It does a great job of saving you space around your desk. This sound bar is perfect for anyone who uses a laptop because it is around the same width as most laptops. Don't worry about the sound quality, though, this soundbar packs a really great punch when it comes to audio.
Other Features
This soundbar is also a great choice for many other reasons. It has been designed to be easy to set up. All you need to do is attach the laptop to the speakers through a USB. You will need to attach it to the headphone jack too, but it has jacks of its own on the soundbar that you can use for attaching your utilities. It also comes with a volume knob for extra convenience.
Cost and Value
Another great thing about GOgroove is that it doesn't cost very much. This speaker bar will give you all the high quality you would expect from a more traditional speaker set up, but it does it in the most convenient and economic way possible. The audio experience is even better, due to the 3D feeling sound that comes from the wide speaker.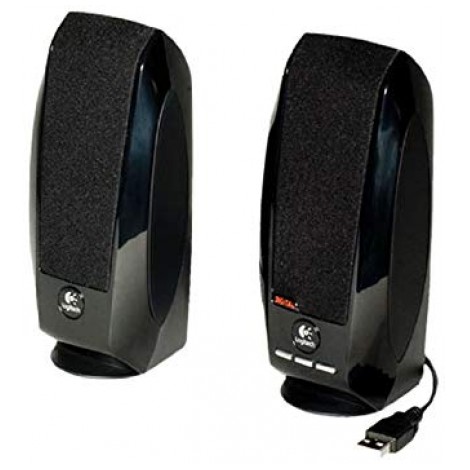 This is a more traditionally styled set of speakers, seeing as they use the two speaker style, but they have some more modern stylings, as well.
Modern 2-Speaker Style
Sound bars have slowly been replacing speaker systems lately, but this is still a good choice for anyone who wants to be able to have some convenient speakers for their laptop. These speakers are a mix of wireless and wired speakers. You plug the speakers into the laptop with a USB cable, but the other speaker will connect to the first one wirelessly.
Other Features
These speakers have some other useful features that should get you excited. They are very portable, and easy to manage, because of the lack of any extra wires. They are designed to be very simple, and only have a volume knob for changing the volume, and an indicator for the amount of power they have left before needing to be recharged.
Cost and Value
Something great about these speakers is that they are very cheap. They are designed for people who want a simple set of speakers that they can use very quickly. These are the cheapest speakers that you will find on this list. This is a set of two speakers, but they are so small that it would be a breeze to use them for transport, too.

7

. Ultimate Ears Boom 2 Wireless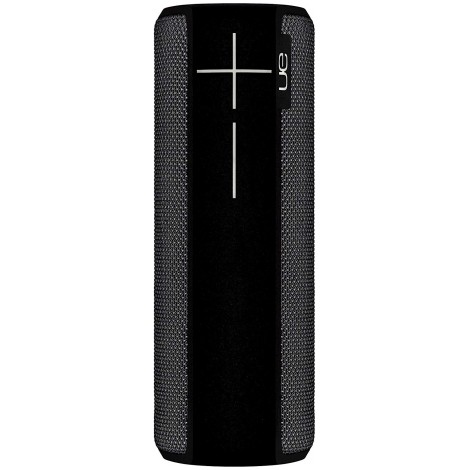 This is a BlueTooth speaker that will make adding some extra sound quality to your laptop about as easy as you could hope for.
Wireless Speaker
This is a wireless speaker that uses BlueTooth, which makes it a good choice if you want to be able to connect your speaker to your laptop as simple as possible. The BlueTooth makes it as easy as a few button presses to switch it from working with your phone to your laptop and vice versa. This makes the Boom 2 a good choice for anyone looking for any kind of portable speaker.
Other Features
there are lots of other good reasons to look out for the Boom 2. It is designed to be incredibly durable, so you don't have to worry about when you bring it with you out in the world with your laptop. It is also designed to have a long battery life of around fifteen hours. This speaker can also be connected with other Boom 2s, which makes it easy to scale up if you want a more invigorating aural experience.
Cost and Value
The Boom 2 costs a bit more than the other mobile speakers on this list. It is more of a higher end item. It will give you great sound, and much better sound than you would expect out of a portable speaker. Boom 2 is a good choice for anyone who wants a portable speaker that they plan on traveling with. It is great for use with your phone, too.

8

. SUPVIN Mini Clip-On USB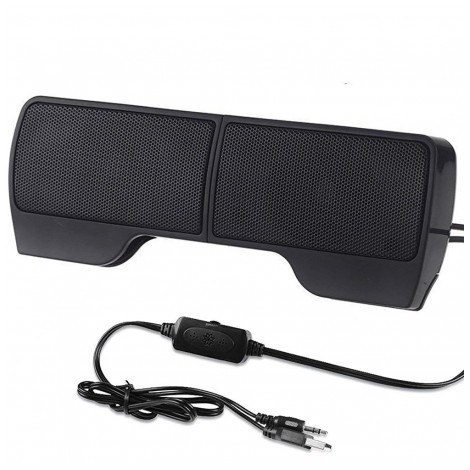 This is a great choice for using with your laptop if you want a quick and easy fix to your dulled audio problems.
Clip-On Speaker
The SUPVIN is designed to be as easy as possible to bring into your laptop's life, as possible. It is as easy as clipping onto the top of your laptop, and then you have a quality speaker at your disposal. This is great for anyone who has issues finding space for their electronics, as the SUPVIN takes up no space at all when it is used.
Other Features
There are some other clever features involved with the SUPVIN's design. It is actually two speakers that can be broken apart or put back together. That makes this a great choice to bring along as a portable set of stereo surround sound speakers. They are also very light and can be used by simply plugging into your USB port.
Cost and Value
These are some of the best speakers you can get if you like using your laptop for gaming while you are on the go, or on a trip. The speakers are very low profile, but can be used to turn your laptop into a more complete rig, like the one you would have at home. These are great for anyone who is low on space. They are also incredibly cheap.

9

. Cyber Sound System with Subwoofer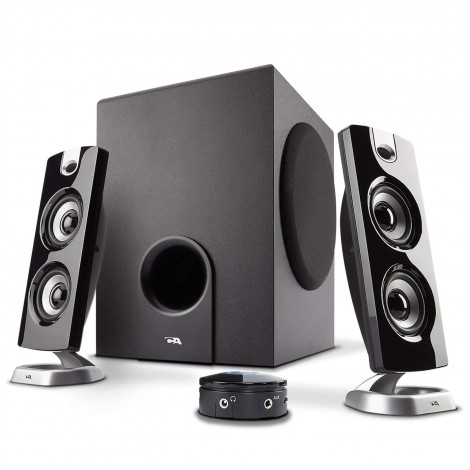 This is the most complete choice you can make if you often are using your laptop at home. It comes with a full set up, including a full-sized subwoofer.
Full Set Up
If you mostly use your laptop at a single desk in your house, or just want your desk set up to be more complete, then the Cyber Acoustics set is a good choice for you. It is a full set of speakers. They are quite large, although not towering speakers you would find with a TV, and come with everything that you need. This includes a sizable subwoofer that has great bass.
Other Features
This is a good system if you want good sound. It will do about as good a job as you could hope for when used with your laptops. Gone will be the days of trying to imagine what the music is supposed to sound like. The other great thing about these speakers is that comes with a little control hub that has ports for all the audio jacks, as well as an easy to use the volume control.
Cost and Value
For such a nice set of speaker, these costs very little. They can't be taken around anywhere, but this set is perfect for anyone who leaves their laptop in the same place most of the time. The price makes it an absolute must buy for anyone who has found their internal system on their laptop lacking. On top of that, it is easy to plug it in and take it out when you do want to move your laptop around.

10

. Altec Lansing 2-Piece System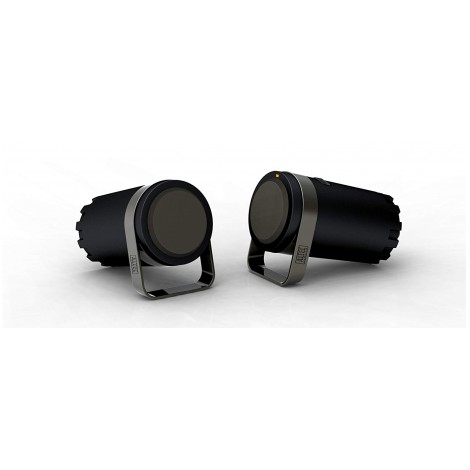 If you want a low profile choice for speakers to connect to your laptop at home, then the Altec is a great choice for you.
Small Profile Set
This set of speakers is great because it doesn't take up too much space on your desktop, and can easily be moved around if you need some more room. These speakers are designed to be as effective as possible at a smaller size. They both bring a good deal of noise but are easy to reposition and move around at the same time.
Other Features
These speakers are very easy to set up and use, too. They are plugged into a USB port for their power, and then need to be plugged into the headphone port for the audio. They do a great job at being easy to set up. they also come with their own volume control, which makes them easy to adjust too. This includes their own power switch.
Cost and Value
These speakers don't cost all that much at all. These speakers will do a great job at being the speakers that you need if you want a good balance between sound quality and portability. Put them on your desk, and then move them around as you please when you need to. These speakers are perfect for anyone who moves around their home with their laptop a lot.

Subscribe to our Newsletter