Best Dog Jackets Reviewed & Rated for Quality
In a Hurry? Editors choice: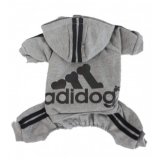 Test Winner: Scheppend

It's truly one of the most beautiful things, the relationships humans can have with domesticated animals. It's something that -- while we might try and sit here and explain in grand detail -- only someone who has ever had a pet can truly understand. The bond is extremely unbreakable and extends far beyond (most of the time) far beyond that of just "owner" and "pet". This relationship of sheer adoration can often result in the desire -- and in the rare cases of breeds versus weather -- to purchase clothes for your furry friend. Some breeds of dogs, aren't genetically designed to withstand the cold weather or the rain. But as breeding and shipping continue to improve, many breeds live in climates that are rough on them. Regardless of why you're seeking the value of pet wearables, we've put together the ten best on the market right now.
Standout Picks
Criteria Used for Evaluation
Style
Even if you're not one of those pet owners that values canine fashion over any sort of actual use-case, there's no avoiding the fact that how your dog's digs checks out, is always ends up being an important factor to consider. So important, in fact, that we would place it second on the list, right behind actual weather resistance.
There are many things to consider under the umbrella of style, but the most important one to remember is that style -- or should we say good style -- is one of those things that's completely subjective. So, at the end of the day, and regardless of what we write here, if you don't like the style, then the style isn't good enough.
When it comes to the aesthetics of your pup's potential parka, there are some things that can actually make a huge difference in the use of the sweater or coat. These simple things include the visibility of your pet and the materials. The former is something that should be considered, regardless of why a sweater is on your "to buy" list, because pets are often unseen, especially once the weather takes a nastier turn. It would be wise to vet products that include reflective strips, neon colors, or loud patterns. We've included these things, in basic principle matters, because they also directly affect the visual style of the garment.
Otherwise, finding a sweater that looks great on your canine is something that will take some trial and error. Hopefully, as we use style to critique these sweaters, we can lend a hand in that difficult decision.
Weather Resistance
There's ultimately no avoiding it; most pet clothing was invented in order to supply an animal with the protection against the elements that it has not been biologically made to contend with. So in steps the synthetic skins (we call them jackets), and all of a sudden your fluffy little friend can take long walks in the rain without problem, or fur matting, they can withstand some colder air, or they can do all of the above. It's pretty important. Which is why we've made this our key criteria in determining the quality dog sweaters and jackets.
When it comes to protection, there are three major types of jackets you'll find, no matter where you look.
The first is for warmth. These sweaters or jackets will most likely be made out of a soft, but otherwise definitely NOT waterproof materials that are designed to keep your puppers warm. It basically acts as a second set of fir.
Another option are the pieces of pet clothing that act as a water barrier. These are essentially the same types of materials used to make human raincoats, but made small for your little floof. These are great choices if your dog has a very short coat (because rain can be be cold on the skin), or if your pup has a really long coat, and drying them off is a huge hassle.
The last version of these makes are the dual threats, the complicated muckity muck, manufacturers wonders that are both waterproof and warm. These are great blanket coats that will provide great comfort and resistance to the weather.
If you're seeking a specific coverage or application for your pooch, be sure to vet options accordingly.
Value
When it comes to the assessment of value in garments and clothing, it's important to understand what it is you're looking at. The factors we listed above are great places to start. Boiling down from there, you should be looking keenly at the materials used for manufacturing, and design.
These materials should include pure fibers, or synthetics designed for flexibility, weather or waterproofing, and of course, materials originated to provide the wearer of warmth. The synthetic fabrics, or acrylics are also really great options, mainly because these fabrics will give your pup the freedom and stretch to move around a whole bunch, all while maintaining the shape and structure of the original garment, because synthetics and acrylics don't deform over time.
Match all of those factors with the general average price range of the market as a whole, and you will quickly reveal the overall value of product you're vetting.
Top 10 Picks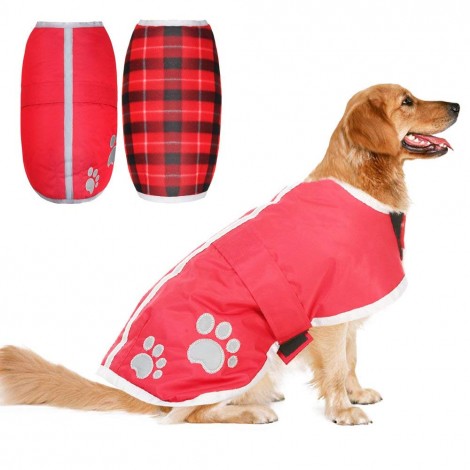 Normally, we like to kick off these types of lists with a product that goes above and beyond. That gold medal is usually reserved for those premium options. However, as this has a whole lot to do with the comfort and wellness of your sweet pet, we thought it best to rank one of the most affordable, and useful options as our number one pick. It's no surprise then, that we plucked the Pupteck Reversible Dog Winter Waterproof Reflective Jacket.
Reversible.
It's kind of shocking when you sit back and look at the whole market and realize that there isn't a whole lot of reversible dog jackets. Who knows why. But, we're sure glad that Puptek is bucking that trend with this fabulous, and budget-friendly piece. One side of the jacket is a reflective, and waterproof coat, while the other is a warm fleece sweater. No matter the need, or the optional weather systems, you've got your pup covered from all sides with this product.
Raincoat
Though there are two side of this jacket tale, the one that will always make more of an impact, and that's the raincoat side. It does two things, flawlessly well, and those are complete waterproofing coat, and visibility. Thanks to a polyester waterproof shell, no rain will get to your pups fir. And thanks to some perfectly placed strips of reflective paint, and decals, your dog won't disappear in the dark.
Cost and Value
At less money than it costs to get a large meal at a fast food organization, you can protect your dog from the discomfort of the cold, and the moisture of the rain. It's a fraction of what a lot of extremely high-quality dog jackets will cost you, and we're just stumped at the value factor. It's crazy how easy this gold medal pick is.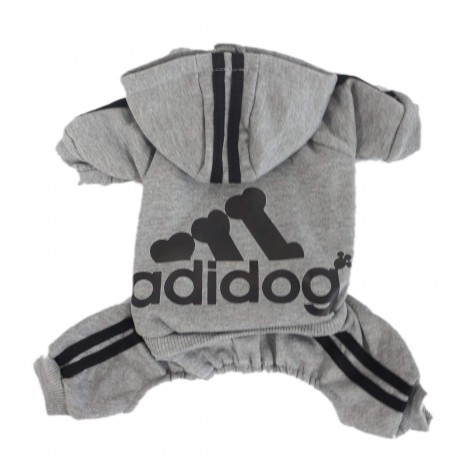 Remember that time, just a few minutes ago, when we wrote about those types of people that buy their dog clothes just for the novelty of that fact? Of course you do, unless you didn't, then …well … I guess I'll just repeat myself. These folks exist, and there's nothing wrong with wanting your canine to be fly. While vetting options for this list, nothing exemplified that ideology more than Scheppend's Adidog collection.
The Warmth
It may very well be a piece of dog clothing that is made to resemble that of a tracksuit (sweatshirt and sweatpants, for those that don't know what a tracksuit is) but it also does a great job of actually providing warmth to your pup. Something a lot of dogs could use a whole lot more of.
The Style
There's no escaping that the hypebeasts of the world are really into tracksuits these days. Truly, the combination of sweats and sweaters has been around for a rather long time. Adidas -- the brand in question being parodied or paid homage to -- is a very powerful, and popular brand, even still in 2019. So there's no better tracksuit combo to mimic. Best of all, it's called the Adidog set.
Cost and Value
Again, another budget-friendly option for those dog lovers to dress their dogs like those shoe collectors you see waiting along the sidewalks early in the mornings on the weekend. Thanks to it's comfortable sweater material, easy snap button fasteners, and an outstanding triumph in size offerings, the Adidogs is a stellar choice.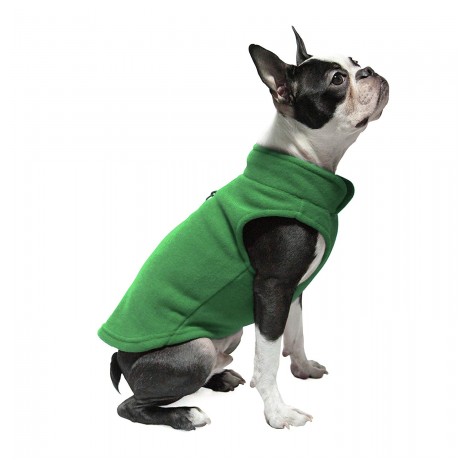 If you're like others, and the fashionable investment isn't something to be highly considered -- not that we're saying this sweater isn't stylish -- then there's almost no better warming jacket then Gooby's amazing Fleece Vest Pullover Jacket. This product does so many things right, that if the Pupteck product (the one in the gold medal spot) didn't have a waterproof side, this one right here might have won our top spot.
Fleece Pullover
Not only is this Gooby Fleece Pullover Vest easy to adorn your pup with -- thanks to its lack of snaps or straps -- but it's also designed specifically to keep your canine extremely warm. It's made with 100% polyester that adds a resilience to moisture, furthering your dog's comfort. The make of the fleece also aids in keeping warm air in, and next to the fur or skin of your pet, making it a strong choice for your cold puppers.
Leash Hook
Some pet clothes manufacturers actually consider the everyday use of their products when developing them. It's surprising how few of them even have just a basic hole in it for your leash to reach your harness or collar. The Gooby Pullover Fleece Sweater goes the extra mile, and actually acts as a harness on it's own with the addition of a fantastic, and sturdy leash ring on the center of the sweaters back.
Cost and Value
Perhaps continuously calling all of these products "budget friendly" does a disservice to you, the consumer. Mostly because a lot of these products are roughly the same price. The options thus far are just quality products at extremely affordable prices, and when you match that with everything that makes the Gooby Fleece Sweater exceptional, you've got value beyond the price tag.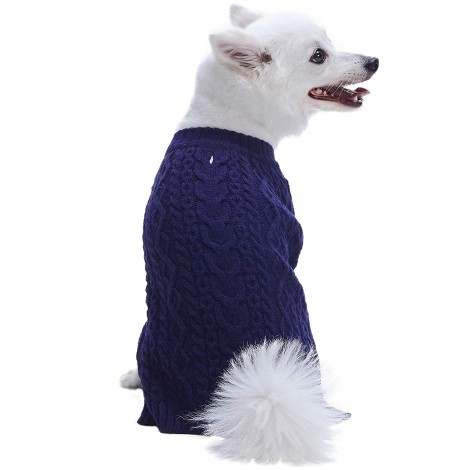 If you're the type of dog owner that really wants to try that organic kale ramen place downtown, but you have to also bring your dog, then there's no need to look elsewhere, because we've got the sweater for your pup that will match your own. Because, of course, you want your dog's warming sweater to match your own, right?
Style & Color
I mean … just look at it. It's the stylish sweater you wear to an office party, or possibly even a New Year's Eve event, and it's for a dog! How do you get better than that? Well, you can find one like the Blueberry Wool Blend Cable Knit Dog Sweater, which comes in an astounding array of 20 different colors. So you've got style and color options.
Warmth and Soft
Blueberry Pet wasn't taking any chances with the quality and make of their Classic Cable Knit Dog Sweater. The blend of 20% Wool and 80% Acrylic do a whole lot to not only make the Cable Knit Dog Sweater warm but also extremely soft in comparison to a lot of others on the market.
Cost and Value
It may look like it's twice the price of our average tag (because it is) but that's still, at the end of the day, a very cheap investment when all things are considered. Beyond all of that, it's an astoundingly nice, and comfortable sweater for your pooch. It's kind of the clean and (almost) nerdy version of the Adidogs sweater tracksuit.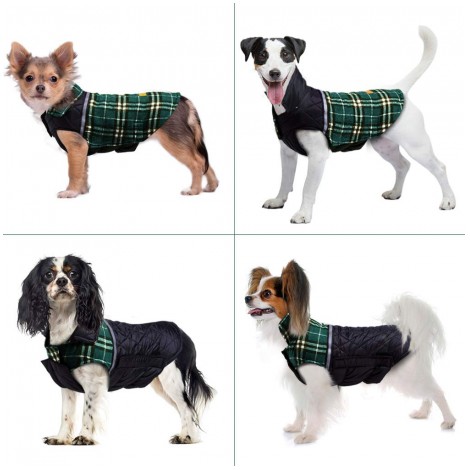 FairyMe is another one of those companies that have way too much time on their hands, and not enough outlets to expose that energy, so they throw their efforts into pretty much anything you could possibly think of, and most of it comes out pretty great. Including, but not limited to, their line of double-sided dog sweaters. These jackets are great!
Patterns
FairyMe takes the idea of having the popular "British style" plaid pattern on a dog jacket and mixes it up a bit. The reversible coat has a plaid collar and shoulders, with a black diamond stitched puff on the body, on one side, while the opposite side is flipped. The reversed is a black diamond puff shoulder and collar, with a plaid patterned body. It's fly, regardless of which side you strap on to your pup.
Chest Widening
A lot of jacket on this list (and in the entire market) have to design their garments to fit certain measurements. As most of these products go around a dogs neck (at the collar), they're forced to include the neck girth as one of those measurements. FairyMe, however, has found a way around that, by adding a neck girth and chest widening strap that allows for up to 4 inches of adjustment around the neck and chest of your dog, ensuring a snug fit regardless of the neck.
Cost and Value
Alright. We're at number 7 now and we can officially stop calling the under twenty-dollar jackets "budget" -- though they are budget friendly -- so we're just going to mention that the FairyMe REversible 2019 Waterproof Dog Jacket is affordable, at its average price, and chalk full of value.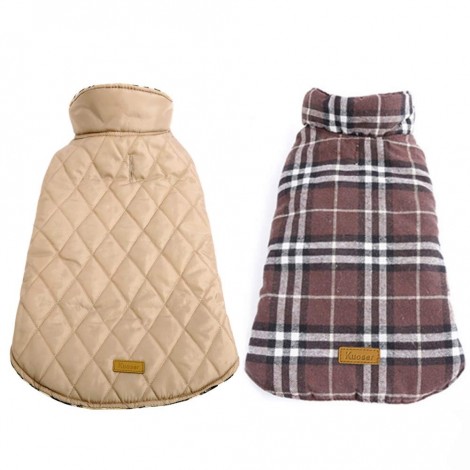 Kuoser is a grand pet clothing brand, and here they are with another amazing product. This time, they're swingin' for the fences in an attempt to keep your pooch as absolutely warm as they can, and with a bit of chic style. It's the black puffy jacket of the dog world, and there's a really good reason why everyone is wearing them.
"British Style"
Maybe we don't know exactly what a "British style" of plaid means precisely, but it sure looks extremely great. Especially when it's on your lovely dog. There are two sides to the amazing Kuoser Cozy Waterproof jacket. One that's the "british style" plaid, in multiple color options. The other, well it's a diamond stitched puffy coat style of jacket, that brings a whole lot of amazing fashion to your pup's resume.
Proofing In the Pudding
Now, we go back to the essential demands of a large coat for a dog, and there's no quality shy here with the Kuoser Cozy Laid Dog Vest because not only is the deliciously fashionable puffy vest waterproof, but it's also windproof. This one-two-punch is essentially the absolute golden aura that spreads all over this product. It's the perfect coat.
Cost and Value
Okay. By now -- hitting number 6 on our list -- we've realized that fabulous pet coats or vests definitely make a small impact on your wallet, especially in the standard great range. There's some crazy and weird extravagant things, but there's a very digestible range of prices here, and the Kuoser Puffy Vest is so great.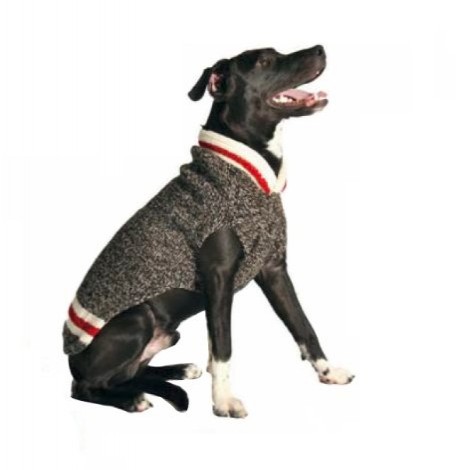 As many people who have had a boyfriend know, there aren't many things better than lounging around in one of your significant other's sweatshirts, curling up to the sounds of a crackling fire, and just relaxing inside something warm. Well, dog's want to do that too, but none of them have dog boyfriends, and those that do, probably don't have sweaters to lend their partners.
That Aesthetic
Sometimes -- actually, most of the time -- pet clothing gets an additional bonus to appeal if it, in some way if they closely resemble human clothing. Especially if it's something that is advertised as such. The Chilly Dog Boyfriend Sweater is the perfect example of such a thing and could outplay any other human-styled pet attire on the market. It's got that academic campus appeal.
100% Wool
There are a lot of materials used to create clothing these days, and only some of them hold or provide heat for the wearer. Hardly any material used in the 21st Century can rival the warmth and comfort of wool, and the Chilly Dog Boyfriend Sweater is made out of 100% Wool. It's warm and comfortable, and you won't have a chilly dog in the house.
Cost and Value
The tiny bit larger price tag for the Chilly Dog Boyfriend Sweater comes from the purity of the materials made, and the fact that they are hand knit. Luckily for dogs and dog owners across the world, there is a very decent size range so there is most likely a great fit for your pup. And, with the quality and style of this sweater, there's a lot to love for that "premium" (it's still not expensive) price tag.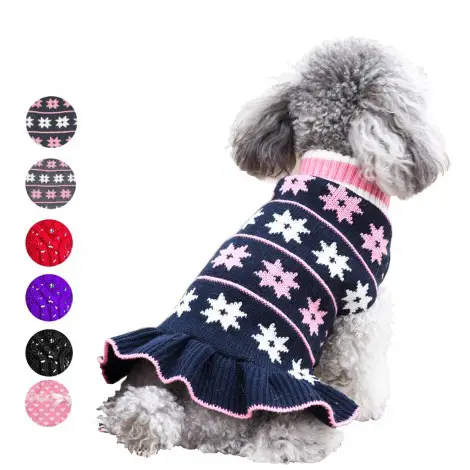 There is a whole ton of value in purchasing a product that not only provides your dog with some added warmth but assists in making your dog just the most adorable thing at the public park. The Azuza company makes a whole lot of pullover knit sweaters for dogs, and almost none beat the amazingly adorable skirted Snowflake Pullover.
Unique-Ish
Azuza offers a dozen or so colorways in their canine-centric knit sweater pullover line-up, and some of them (like the Snowflake variant) have an adorable flipped up skirt bottom that just adds a whole lot of extra cuteness to your puppy pal. While others offer different patterns and some without the skirt, we definitely believe that the Snowflake one is the absolute cake topper.
The Stretch
Perhaps its a natural effect of creating a product for a clientele that cannot actually directly communicate with the producers, but some dog jacket companies forget all-together than dogs are mostly mobile creatures. They like to run, jump, play, and generally do dog stuff. So it's key that companies like Azuza make their knit sweaters out of acrylic materials that have stretch and bounce so that they (the dogs) can remain mobile, and the garment holds its shape.
Cost and Value
Not only do you get a really adorable sweater to add to your collection, and dress your pup in, you've got all of that with multiple different pattern options, a really fair and average price, a stretchy fabric, and a die-hard customer service team that wants to ensure you get the product you want that will make good on their promise of quality.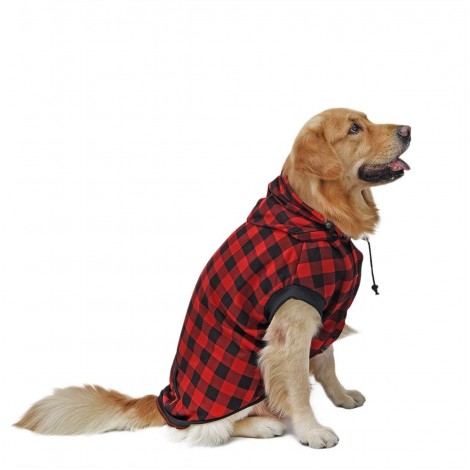 Nothing screams "I'm going hunting with daddy" like this plaid puppy pullover. The quintessential hipster wear is now gracing the backs of their best friends too. Built for slightly larger dogs, the plaid shirt/hoodie hybrid is the great match for any dogs who might like to adventure outside. After all, don't we all want our dogs to have the same reliable outdoor shirt that we do?
Reinforced
We've all been there: one too many Milk Bone treats and all of a sudden you're popping the stitching on your favorite jacket. It's nothing to be ashamed of, but it certainly is annoying for the human that has to fix it! Puppy parents, it's time to say goodbye to the quick fix needle and thread. These seams are reinforced, making the whole shirt able to hold up to even the roughest of rough plays.
There's a Hood
This is less of a positive for the puppy and more of a positive for their human companion. Hoodies on animals are really, really cute. While they might not be the most practical in terms of keeping the rain out of their eyes, the hoods give them a humanesque quality that's too hilarious (and adorable) to ignore. We especially love the fact that it's got short sleeves, too. It's like every bro's favorite shirt, but sized down for your dog!
Cost and Value
An average price, but an above average product. This coat is incredibly warm and absolutely adorable. When it comes to puppy sweaters, that's really all that matters. Right? There are a few other things to consider, but this sweater covers those bases too. Reinforced stitching and easy cleanability mean that this jacket, despite some reported shortcomings in the fit of the jacket, will definitely be a hit.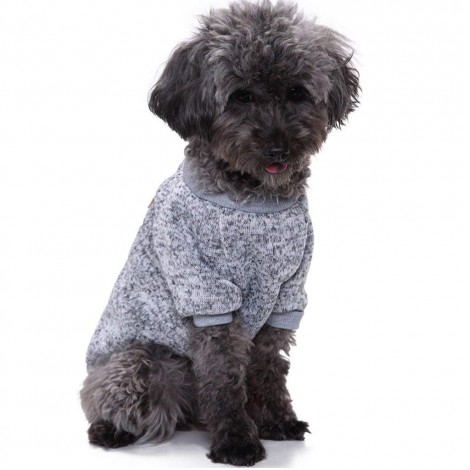 At the end of our list is this stylish dog sweater. Not only does this little guy seem to have a smile on his face, but he also looks incredibly warm and cozy! This sweater is similar to many of the ones we've seen on this list, but it also looks like it would fit in well in any H&M or Forever 21. If your dog is the coolest pup on the block, this is a soft sweater that they can't live without!
Perfectly Petite
Small dogs have a little bit of a hard time when it comes to staying warm. Many of them don't have the same sort of undercoat that big dogs have in order to stay warm. The ones that do have longer hair tend to be of a lighter variety, and still find the winter weather to send a chill up their spine. This sweater was built specifically for small dogs. While it might be disappointing for those that have big dogs, it's only fair to include at least one sweater built for these dogs' tiny bodies.
Matchy Matchy
We've all seen that phenomenon where the owner starts to look like their dog and vice versa, right? Now the similarities can get even more intense, as this sweater looks remarkably like some human sweaters we've seen. Many folks have picked up crewnecks with a similar pattern to this knitwear sweater popular fashion places. Now your dog can match you as well; and in a wide variety of colors too!
Cost and Value
This costs roughly the same as a fast food meal (including a french fry to onion ring upgrade) and we couldn't be more excited. While the price might change depending on the size of the sweater we're purchasing, this little guy's sweater is well worth its cost. Warm, durable, and fashionable, this is a dog sweater that will bring quite a bit of comfort to your precious little one. That being said, it's not waterproof; some owners might find it not worth the cost.

Subscribe to our Newsletter