Best Laptop Stands Reviewed & Rated for Quality
In a Hurry? Editors choice: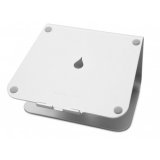 Test Winner: Rain Design mStand

Laptop stands allow you to adjust your laptop, ensuring that you are at ease as you work on your laptop. According to most doctors and scientists, it is healthier for you if the screen of your computer is level with your eyes, which is impractical if you have a low
computer desk
, low chair, and a long torso.
Unfortunately, if your screen is not level with your eyes, then you may end up slouching, which is terrible for your posture. Slumping over too often can end up hurting the muscles and joints in your neck, back, and shoulders. Therefore, your body will thank you if you get yourself a good laptop stand. There is also a wide range of prices for you to make sure you can find a product on the market that is within your price range.
Standout Picks
Criteria Used for Evaluation
Comfort
The whole point of a laptop stand is to keep you and your body at ease. The more comfortable a stand is going to make you feel, the better it is. The best laptop stands are going to make you feel so comfortable that you will not know how you could have possibly survived without it. In order to ensure maximum comfort, laptop stands are going to have to be somewhat adjustable. After all, everyone has a different body and different preferences for how to sit, stand, or lie down while working.
Additionally, every time you shift as you work, you need your computer and laptop stand to be able to shift a little bit with you. You should be able to adjust both the height and the angle of your laptop in order to ensure maximum comfort. It is possible that you already know what height is going to be good for you, which means that you can choose a stand that comes to a fixed height. However, the chances are pretty high that you are probably going to want to adjust the height, especially if you work in many different places with many different types of office chairs and desks. If you like the screen higher up and your keyboard lower down, then you are going to need a laptop stand that allows you to have enough room for a keyboard on your desk. If you like being able to work both standing up and sitting down, then you are going to need a stand that has a very wide height range. Whatever your height and angle requirements, you should be able to find a high-quality laptop stand that makes you feel comfortable.
Portability
One of the main reasons people choose a laptop over a desktop monitor is that a desktop monitor is going to have to stay in one place. You cannot carry it around with you all that easily. However, laptops are supposed to portable. If your laptop stand cannot travel with your actual laptop, then you will only be comfortable while working some of the time, but there should never be a moment when you feel discomfort. Therefore, your laptop stands must be just as portable as your laptop is. The best laptop stands are going to made from lighter materials, making them easy to carry around.
After all, if you have to carry around a super heavy stand, it can hurt your back, which definitely ruins the point of using a laptop stand for the sake of improving your posture. The best laptop stands will also be collapsible, foldable, or simply small in order to ensure that they can fit in any computer bag or storage space. Even if you have a big laptop and a big stand to support that laptop, you should be able to transport both of them with relative ease. Although the lightest materials are slightly more expensive than other materials, a good laptop stand will be engineered well enough to minimize the cost and maximize the portability.
Durability
If your laptop stand breaks, then you are going to have to replace it. In order to make sure that you get what you paid for, you need a laptop stand that is not going to break on you the second you get it. You definitely want to be able to get plenty of use out of your stand before you finally need to get a replacement. You also do not want your stand to break while you are using it because it can actually put your computer at risk of breaking too. The best laptop stands are going to made out of sturdy and durable materials. They will also have designs that will minimize the chance of breaking. Additionally, many laptop stands come with some sort of warranty, which shows that you can probably trust that the manufacturers did a good job of ensuring that your stand is not going to break on you.
Size
The best laptop stands are going to be able to support a variety of different laptop sizes. Some of them can even support smaller tablets. However, if you know that you have an especially big or small laptop, then there are highly regarded laptop stands that are specifically designed for your needs. Especially if you have a heavier laptop, you may want to find a stand that was engineered to take a lot of weight without breaking. Size all matters when it comes to taking up space on your desk. If you need to have certain items on your desk, then you definitely want the size of your laptop stand to be on the smaller side. Otherwise, you may have difficulty keeping your desk organized.
Value
If you are going to pay a lot of money for a laptop stand, then you want to make sure it was worth your money. While some of the best stands might be a little bit pricey, they are going to be a product that you can trust. They will last a long time, they will do what they were designed to do, and they may come with lots of great features that you benefit from. As long as your laptop stand is highly regarded, you can rest assured that it is going to be worth your money.
10 Best Laptop Stands


The Rain Design mStand and mStand360 are portable, durable, and stylish. They hold many different types of laptops and can even support plenty of other objects if you need it to.
Cooling
One advantage of the design of the Rain Design mStand laptop stand is that it is made from an aluminum material that will help to prevent your computer from overheating.
Adjustability
You can adjust both the tilt and the height of this laptop stand to ensure that you are as comfortable as you can be while you work. Whether you are on your bed or at a desk, this laptop stand is going to work well for you.
Cost and Value
It is not the cheapest option on the market, but the price is reasonable. It is made from heavy duty durable material, so it will last a long time. You can also rely on it to ensure your comfort.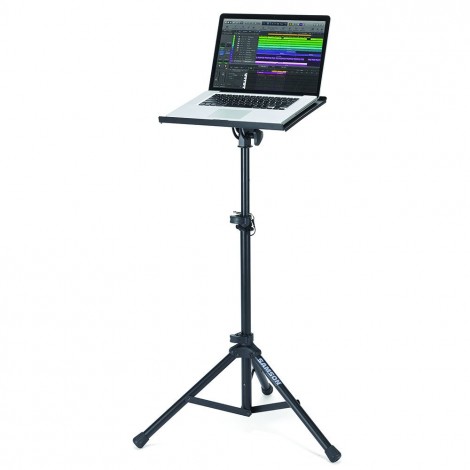 The Samson LTS50 is a laptop stand with 15 x 11 silicon surface laptop tray designed to support your laptop and hold it securely in the right place for you.
Tripod Base
The sturdy heavy duty three-legged base is designed to go on your floor and hold your laptop steady. The roadworthy steel construction means that this base is going to very durable.
Adjustable
This laptop stand was designed to help you alternate between standing and sitting as you work. After all, sitting for too long can be detrimental to your health. Therefore, is very easy to significantly alter the height.
Cost and Value
You can buy this laptop stand for quite cheap.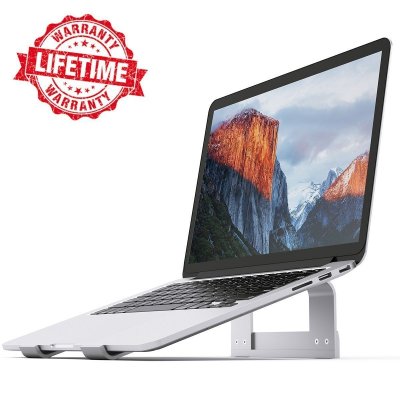 A simple little number but really just what you need if you're looking to get your laptop off the table and give your typing fingers and hands a break. We like the non-slip protective pads and the turned up ends that keep your laptop in place. And the lifetime guarantee isn't so bad either.
Perfect Visual Angle
According to the smarty-pants people who give you your stand-up desk and your ergonomic chair 16 degrees is the perfect angle for you to be eyeing your laptop. We'll take iQunix's word for it and say that it's important to them to point out that 16 degrees is the scientifically perfect angle for comfortable typing and watching and this stand hits the mark.
Lifetime Warranty
This is compatible with all laptops up to 17 inches and if for some reason it doesn't work, just send it right back and they promise they'll take it back right away. And don't worry about if you have an off-brand laptop, iQunix says this will work with almost everything from MacBooks, to iPads, to Dell's whatever your computing with, this should work well with it.
Cost and Value
Cheap is the word with this little baby, and yet it looks solid and well-made. So for the money, it's a real steal, which is why it made our best value pick. So if you don't have too much money but are stuck working at the kitchen table (like freelance writers often do), then this would be a nice little stand to help get ease your workday, and your carpal tunnel from all you feverish tapping.

4

. Wahoo KICKR Adjustable Height Desk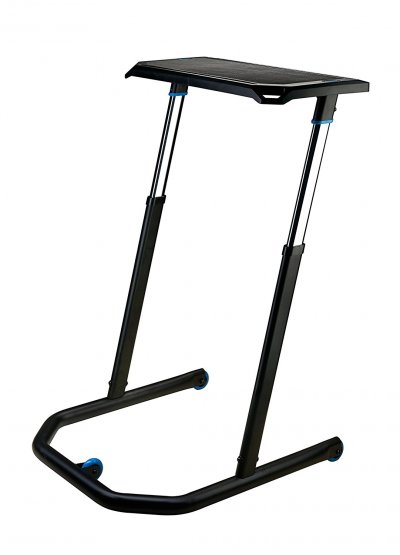 While this is not technically a laptop desk, we included it because it allows you to work pretty much anywhere including while doing some cycling on your indoor trainer. The height is adjustable, and while it's not much more than a flat plate on lets, it's designed to let you slide it under a table or under a stationary bike or whatever you need to keep you working.
Easily Adjustable and Movable
With the push of a button, the desk moves up and down really easily. So for the vertically challenged, or the head in the clouds NBA star this desk should rise or fall as you need. Plus it comes with wheels which allow you to move it around as necessary.
Cord Holes
This is another nice add-on that we like. Holes in the desk assembly allow you to keep your cables fairly organized into one place. It's a nice way to keep your tech from getting tangled in your bike wheels if you happen to be pedaling while typing.
Cost and Value
It isn't cheap, but it is a really nice high-quality product. If you just have to get that work out in, or if you just have to stand while you work this is a nice way to get it all done. The table is nicely designed and it has a deep oval stand that allows you to slide it past much bigger things, specifically an exercise bike.



The Roost Laptop Stand is an adjustable and portable laptop stand has a universal construction, which means that it works well with many different types of computers of any brand, style, and size.
Adjustability
This laptop stand is great for preventing strain on the neck of taller individuals. You can lift your laptop a full twelve inches, so you will no longer have to hurt your neck, back, and shoulders by looking down or leaning forward too much as you work at your computer.
Portability
It has a collapsible design, which means it can fit anywhere. Additionally, the design is extremely lightweight, which means that you are not going to have any trouble carrying this laptop stand around.
Cost and Value
It is not cheapest stand out there, but you can expect this laptop stand to be especially easy to use, sturdy, durable, and reliable.

6

. Cooler Master NotePal U13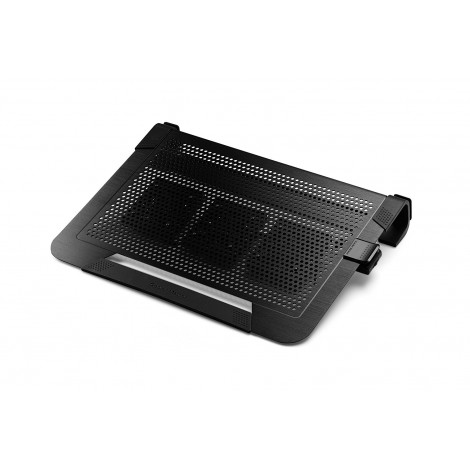 As the name suggests, this laptop stand is ideal for preventing your computer from getting too hot, making it perfect for you if you use the laptop for activities that require a lot of performance.
Three Moveable Fans
The three moveable fans that spin very quickly to get rid of all the heat coming from your laptop. You can be assured that these powerful fans are going to keep your laptop cool.
Portability
The aluminum design is thin and light, so you can very easily pack up this laptop case and carry it. It can easily go wherever you and your laptop goes.
Cost and Value
This heavy-duty case is going to cost you quite a bit, which means you only need this laptop stand if you have a serious problem with overheating with your laptop.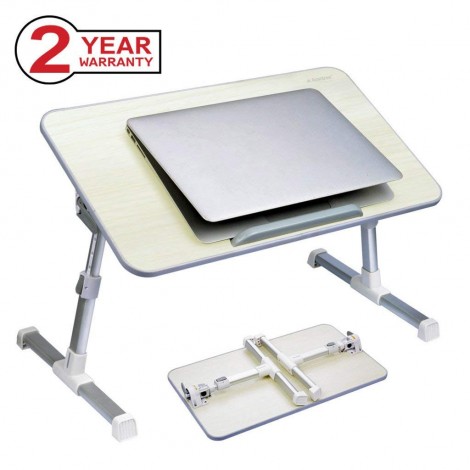 This ergonomic laptop stand is designed to ensure that you are comfortably and healthily seated while you work. It has a maximum height of 12.6 inches and a minimum height of 9.4 inches.
Adjustable
You can do quite a lot to adjust this laptop stand. You can extend the height, and you can tilt the tray. With the auto-lock design, you will be able to ensure that it does not wobble around.
Foldable
You can fold up the Avantree Laptop Stand quite easily, which means that it is ideal for travel. Its lightweight build also helps with making it as portable as possible.
Cost and Value
This laptop stand is going to cost you a pretty reasonable price. The quality is good, and it will definitely work well, so you should be very satisfied with what you get.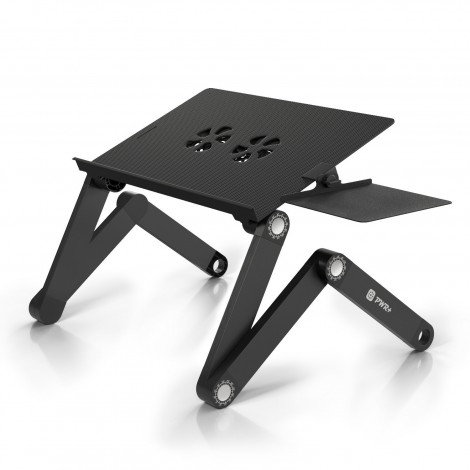 This black laptop stand will hold laptops that are up to seventeen inches in size. It is sturdy, light, strong, easily adjustable, and versatile. It is something that you can rely on to hold up your laptop.
Zero Assembling
A great advantage of this laptop stand is that does not require you to assemble anything. The second you get it, you can start using it without spending any time trying to figure out how to put it together.
Multipurpose
It is easy to use this relatively large laptop stand for almost anything. Of course, it will support your laptop. However, it can support almost anything else if it is not unrealistically big.
Cost and Value
You can get the PWR+ Laptop Stand for a very reasonable price. It comes with a good warranty, so you know that you will be getting yourself a product that you can trust.

9

. JUBOR Adjustable Laptop Stand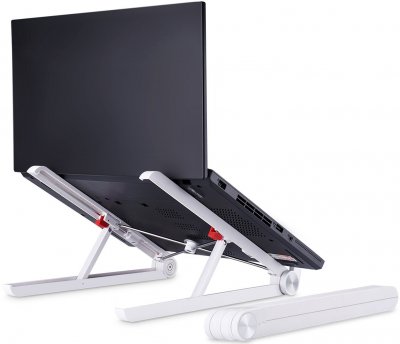 This is a cool adjustable laptop stand that has a nifty brushed steel look and is also completely adjustable for your writing, browsing ease. It's made of a nice iron strengthened nylon and stainless steel which adds to the cool factor, but also makes it sturdy. All in all a great little laptop stand.
Compact and Foldable
This is a pretty cool element because some of the stands we've reviewed are just that and you have to carry a fairly bulky (though lightweight) stand with you if you're working remotely. This folds up in much the same way as your laptop so you're left with a flat plate instead of a more bulky stand.
Ergonomic Design
This has an adjustable height to allow you to set the exact angle at which you want to work. We like this because people are different and having an adjustable function makes gives users just a bit more flexibility. And flexibility is always good.
Cost and Value
This comes at a great price, and so it comes late on our list we like to think of it as a hidden gem. It looks cool, it works well, it's foldable and lightweight, and for that reason, it's a great choice for the worker who wants to get their laptop off the ground.

10

. Griffin Elevator Desktop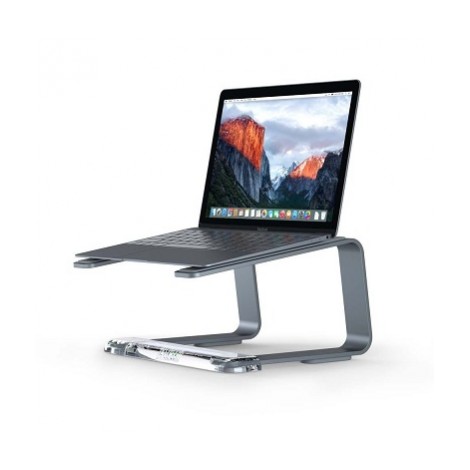 The universal construction of this elevator laptop stands means that it works for laptops, PCs, and Macs. It holds your laptop 5.5 inches higher than it would normally stand.
Air Circulation
With 360 degrees of air circulation, this laptop stand is going to keep your laptop nice and cool, so you are never going to have to worry about your computer overheating.
Portable
The small and space saving design of this laptop stand makes it very easy for travel. Additionally, it disassembles and reassembles easily, which definitely is an advantage. After all, since most people use laptops for their portability, you also want the stand that you use with it to be just as portable.
Cost and Value
The gold Griffin Elevator Desktop Stand will cost you a very, very reasonable amount.

Subscribe to our Newsletter