Best Ice Fishing Boots Reviewed for Comfort & Grip
In a Hurry? Editors choice: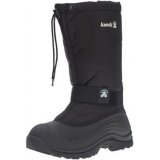 Test Winner: Kamik Greenbay

Fishing
is one of the most popular sports in the world. Whether it's spring, summer, or
winter
, a true fisherman, is always ready to fish. In light of this, he must always be prepared for whatever fish, or Mother Nature, has in store, especially in the colder months. When the temperature begins to drop and the ice begins to form, it's important to have the right gear, if you plan to
fish comfortably
. The best way to conquer the cold weather when fishing can only be done with the best ice fishing boots. In today's article, we are going to reveal the top 10 ice fishing boots to maximize your fishing time and minimize your researching time.
Standout Picks
Criteria Used for Evaluation
Style
There are a number of different types and styles of ice fishing boots on the market, and what you decide on is a matter of personal choice, but you should always take into consideration your destination and try to prepare for the worst weather and then some when choosing your boots. Some are designed like wellington boots and can offer higher leg protection - this can be especially useful for protection from the biting winter winds. They can be practical if you intend to wade in shallower waters and will protect your feet from the water.
Another variation on designs is the build and weight of the boots, some are similar to everyday work boots in the way they are snug around the ankles, the height of the boots can be designed to take into account most changes you are likely to encounter underfoot. The soles of the boots also vary in depth and tread and choosing the right design can make the difference between standing or slipping on your trip. The weight of the boot needs to be right for you as well, too light and they may not be substantial - too heavy and they may be restrictive and cumbersome.
Materials
When you're looking for your ideal ice fishing boot, it's probably best to recommend you don't buy the best 'bargain' on the high street - they are likely to end up costing you more than money in the long run. The lower market boots are often made using lower grade substitute materials that will not be able to keep your feet warm and dry, let alone offer you support and grip.
On the upside, of course, are the quality boots made with substantial materials that will offer all the protection you need. Rubber is commonly used as an exterior for ice fishing boots, this tough flexible material is an excellent water-repellent provider and can be manipulated into many thicknesses for different uses.
Nylon compounds are another material commonly used in the production of ice fishing boots, the synthetic nature of it means it doesn't weigh as much as rubber and when blended with other additions - can be water-repellent and can be more comfortable to wear. For a traditional material - leather is used in the manufacture of the boots; it has natural strength and can benefit from being complemented with treatments and synthetics to improve the water-repellent element and insulating properties.
Features
When you're planning the ice fishing trip - you want to know your boots can be tough enough to last and still be comfortable enough not to hinder your day. Choosing the right amount of insulation is an imperative part of the boot choice, you need to know your feet will be kept warm in the coldest of expected temperatures. A great benefit of contemporary insulation; is its ability to allow the movement of air within the boot, and releasing any sweat from within that can quickly result in lowering temperatures to dangerous levels.
3M is a mass producer of Thinsulate insulation, this commonly used material is often lined to the inside of the boot to enhance its properties. Different grades of Thinsulate offer different levels of insulation from low through to high; this is an important specification to check when you are looking for your ideal boot - and make sure you get a grade that is suitable for the conditions you will be in. One point to be aware of is that the heavier the grade, the heavier the Thinsulate will make the boot, however, this is not necessarily a negative weight - it can offer more overall support for the foot.
Waterproofing is also a very important aspect of your consideration, it's no good spending lots of your hard earned dollars on a great pair of boots of the waterproofing isn't up to scratch. When you're out in freezing conditions the last thing you want is leaking boots, not only will this be uncomfortable and cut your trip short; but it can have health implications for your feet. Many types of fully water-repellent boots will have a rubber-based connection between the sole and the upper, this is more effective at reducing the possibility of water leaking into the boots. The remainder of the boot material should be specifically coated to protect against water and potentially freezing feet.
The soles and the traction your boots offer will also be something you need to think about, the better quality the sole, the better the tread and therefore the better the traction. This aspect is a justified reason for doing your research before you buy your boots, you will need to be able to trek on any surface condition in safety. You need to be sure of your footwear and this can give you greater confidence and increase your enjoyment of your ice fishing trip.
10 Best Ice Fishing Boots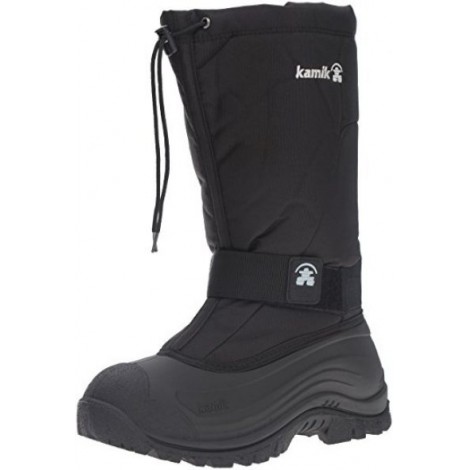 Any fisherman that takes pride in ice fishing understands the importance of quality boots. Once your feet get cold, it's all downhill. One of the most notable brands in the fishing boot industry, Kamik, created the Green Bay series to provide fishermen with precisely what they need: a thermal-protected boot that can handle temperatures up to -40 degrees Fahrenheit.
8mm Thermal Guard Liner
These ice fishing boots are built with an impressive 8mm Thermal Guard Liner, creating a noticeable barrier around a fisherman's feet.
Durable Waterproof Nylon Materials
In efforts to make these ice fishing boots a viable option, the company designed these boots from durable waterproof nylon materials, which includes a removable liner for the ultimate comfortability.
Cost and Value
When it comes to the cost and value, it's clear why these boots are considered a top-rated ice-fishing boot. These high-tech ice fishing boots are paired with a cost-friendly price tag, giving them the competitive edge to lead the market.

2

. Original MuckBoots Arctic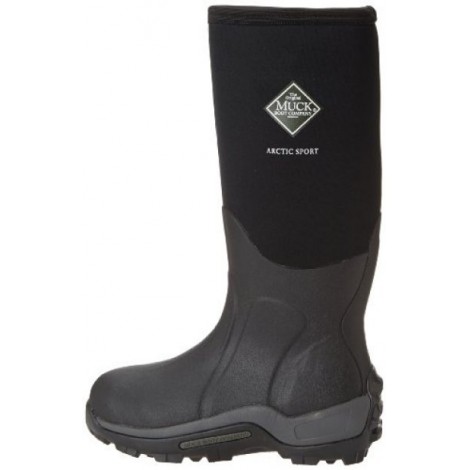 In the ice fishing boot industry, The Original Muck Boot Company is one of the most prestigious and notable brands. The Arctic Sport Boot has risen to the top of the market due to its quality of build and ability to withstand artic-like temperatures. These are waterproof and insulated shoes designed to empower fishermen even if the harshest of cold temperatures.
Rubber and Fabric Materials
What makes these ice fishing boots stand aside from the competition is the rubber and fabric materials used in building the boot. This combination empowers fisherman to withstand harsh temperatures, maneuver freely, and be comfortable.
100% Waterproof
These 17" ice fishing boots are 100% waterproof, which is a major selling point of these boots. These boots will keep any fisherman warm and protected from frigid cold water and snow.
Cost and Value
These ice fishing boots are considerably more expensive than other ice fishing boots on the market. The higher cost can be directly attributed to the high-quality material build and the ability to keep fishermen's feet warm.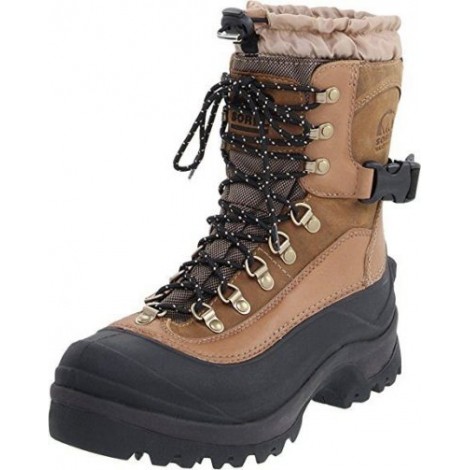 For the active ice fishermen who find the thrill and excitement of fishing in frigid weather, it's important to find comfort and warmth with a trusted shoe ware brand. Sorel created the Conquest Boot to become an ice fisherman's best friend to handle the harsh temperatures and rough terrain. Through a 400g Thinsulate ultra insulation and leather build, Sorel accomplishes this, and more.
Seam-Sealed with Waterproof Leather
These ice fishing boots are designed with waterproof materials and are seam-sealed. This enables fishermen to navigate in the cold temperatures without fear of getting their feet cold, or wet. Partner this with quality leather and you have a great ice fishing boot!
400-grams of Thinsulate Ultra Insulation
One of the biggest features is the 400-grams of Thinsulate Ultra Insulation. This feature helps keep provide fishermen with the support they need to stay mobile and in control of their movement.
Cost and Value
These boots come at a cost that's quite competitive with the market. In comparison with other ice fishing boots on this list, these boots are relatively cost-effective. However, if you are planning on ordering a special size, you may need to pay extra. When you consider the quality and value of these boots, the cost is just right.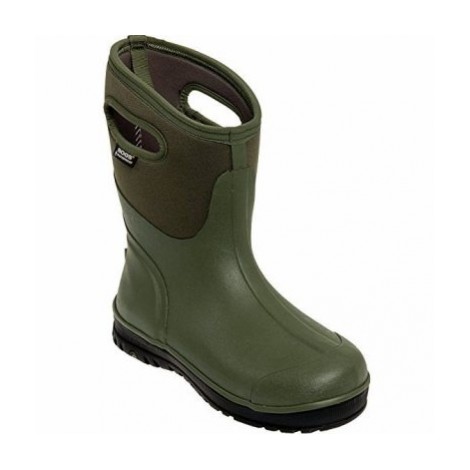 If there is one company that understands the importance of a boot to handle extreme temperatures and climates, it's Bog. The Ultra Mid Winter Snow Boot is 100% waterproof and currently rated to handle temperatures as low as -35 degrees Fahrenheit. With stretchable material and rubber build, these ice fishing boots are great for the active ice fisherman seeking comfort and confidence.
100% Waterproof for Snow and Rain
The purpose of an ice fishing boot is to protect a fisherman from snow and rain. These boots are 100% waterproof and act as a natural barrier between a foot and cold weather. The bottom of the boots has a waterproof shell bottom, preventing any seepage.
Dedicated Durable Rubber
These ice fishing boots are built from dedicated and durable rubber. Due to this, these ice fishing boots can last in temperatures as low as -35 degree Fahrenheit. Additionally, the materials used to create a flexible yet snug boot for fishermen, giving them the comfort and power when fishing.
Cost and Value
When considering the cost, it's safe to say that they are comparable to many other products on our list. Moreover, in light of the quality and value of these ice fishing boots, it's clear that these boots are worth each penny. You can't beat 100% waterproof features or a flexible, secure ice fishing boot.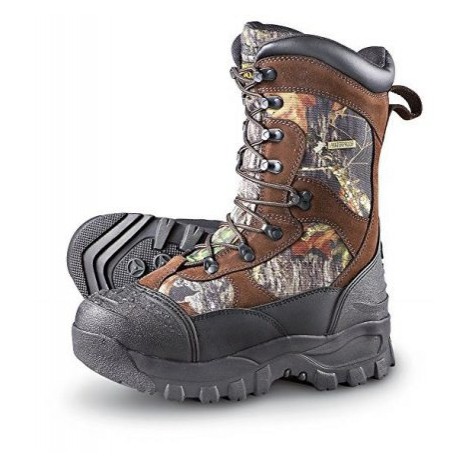 Inclimate weather means nothing to Guide Gear Men's Monolithic Waterproof Insulated Hunting Boots. These powerful and high-tech ice fishing boots were crafted to keep hunters and fishermen in the game, longer. With one of the strongest and thickest insulation in the industry, Guide Gear's ice fishing boots made it to the top of our list.
2,400-Gram Thinsulate Ultra Insulation
Out of the many different ice fishing boots on the market, these boots may have the best insulation of any other boot. With a 2,400-gram Thinsulate Ultra insulation, a fisherman's foot is heavily guarded against any cold weather Mother Nature has in store.
Waterproof Suede Leather Boots
One of the most unique and notable features of these best ice fishing boots is the materials used to build the boot. These are waterproof, thanks to high-quality suede and leather materials. Partner this with a comfortable and sturdy EVA insole, and a true ice fisherman can cast for hours.
Cost and Value
Out of the many different ice fishing boots on the market, these boots are clearly priced at the most cost-friendly and preferable price. Not only are they one of the most affordable shoes, but they are also one of the best built and designed ice fishing boots. Considering the massive protective Thinsulate ultra insulation, this is one of the best ice fishing boots of 2018.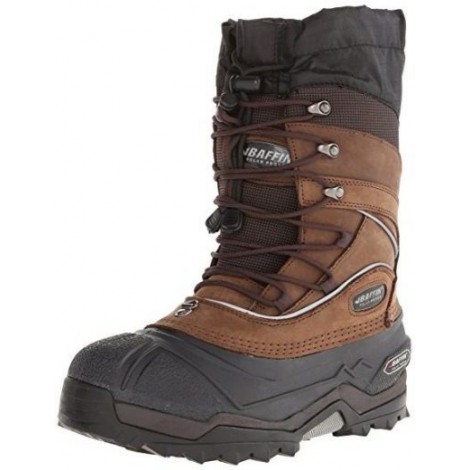 When it comes to the best ice fishing boots, Baffin Men's Snow Monster Insulated All-Weather Boots are most certainly one of the best on the market. These ice fishing boots are built to last in temperatures as extreme as -94 degrees Fahrenheit. With impeccable grips for ice, these boots are great for any ice fisherman.
Handle Temperatures as Low as -94 Degrees Fahrenheit
One of the most profound features of these ice fishing boats is the capacity to handle temperatures as low as -94 degrees Fahrenheit. Out of every ice fishing boot on our list, this is, without question, the most impressive.
Waterproof Seam-Sealed Upper
The Baffin Men's Snow Monster ice fishing boots come with a unique waterproof seam-sealed upper to ensure no water, snow, or cold weather can sneak into the boot. Partner this with their advanced thermoset polymers and any fisherman will be warm for the entire fishing journey.
Cost and Value
It's fair to say that this pair of ice fishing boots are slightly more costly than other products on the market. This can be directly attributed to the high-quality build and materials used. It's not too often that you find ice fishing boots that can handle up to -94 degrees Fahrenheit.

7

. LaCrosse Hunt Pac Extreme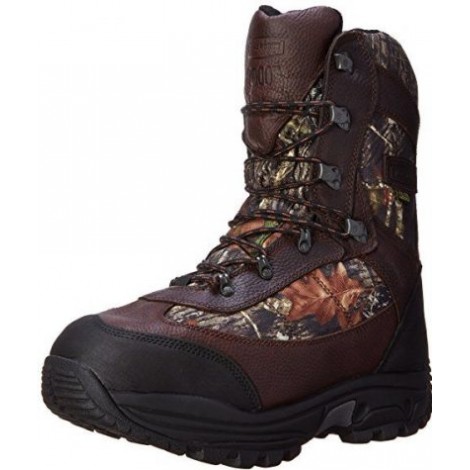 If you ask a fisherman what's an important feature in an ice fishing boot, they'll most likely talk about traction and insulation. LaCrosse is known to provide consumers with great traction technology alongside thick insulation to maximize anyone's time in the cold weather. The Hunt Pac Extreme 10" Boot 2000gm Leather is a great compliment to any fisherman's gear collection.
2000-Grams of Thinsulate Insulation
The most notable feature of these ice fishing boots can be found in its name, 2000-grams of Thinsulate insulation. Only the best ice fishing boots come with this technology. This helps keep anyone where these boots warm, secured and protected from the cold conditions outside.
Traction to Ice
These ice fishing boots come with a lug pattern on the outsole to help fishermen in the most extreme temperatures, snow, rain, sleet, and ice. You can be sure you won't slip with these ice fishing boots.
Cost and Value
When you consider the value of these LaCrosse ice fishing boots, it makes sense when you look at the price. On average, these boots are on target with what many of the competitors are charging. When you consider the 100% waterproof features, EVA footbeds, reinforced heels, and the ability to walk on ice, you won't second guess the price.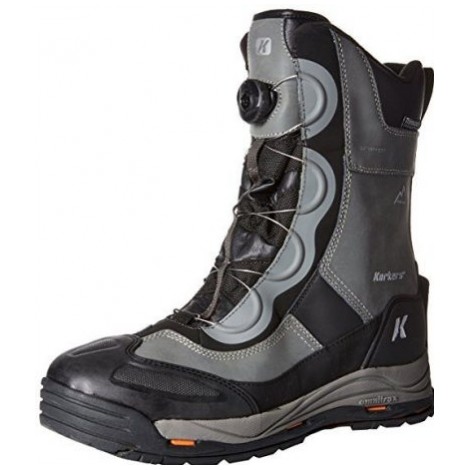 When it comes to affordable ice fishing boots that come with impressive features and high-quality builds, Korkers rises to the occasion. Korkers Footwear IceJack BOA Snow Boots have quickly become a favorite among avid ice fishermen due to their leather and synthetic exterior materials and unique outsole traction with interchangeable features.
100% Waterproof
As a trend with many of our top ice fishing boots, Korkers rises to offer boots that are rated as waterproof. This is directly attributed to the unique insulation, in which many previous fishermen have touted.
Outsole Traction and Interchangeability
One of the most unique features is the outsole traction and interchangeability features. For starters, these ice fishing boots come with an outsole with superb traction. Additionally, with gradual wear and tear, consumers have the option to remove the outsole and attach a new one with a simple click-and-attach feature.
Cost and Value
Originally, when these boots entered the market, they were incredibly inexpensive. Today, the price of the ice fishing boots has exponentially risen, making them one of the most expensive on our list. While these boots to boast great value, one might want to consider alternatives higher on our list.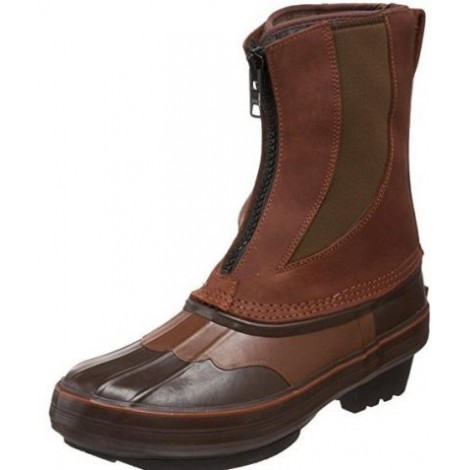 If you are looking for an ice fishing boot that offers both aesthetic appeal and great features, the Kenetrek Bobcat Cowboy Zip Insulated Pac Boot is worth your consideration. These impressive ice fishing boots come with a unique removable 6mm thick three-part liner and an oversized zipper. Partner this with a great and supportive midsole and you have a great ice fishing boot!
400 Thinsulate Ultra Insulation with Wool Integration
In efforts to help fishermen find comfort in the cold weather, the Kenetrek brand infuses 400 Thinsulate ultra insulation with wool integration. To be precise, there is 3mm of wool felt to help avoid and reduce any risks of cold or wet weather seeping into the boot.
6mm Thick Three-Part Liner
A unique feature is the removable 6mm thick three-part liner. The standard boot will keep any active fisherman comfortable, dry, and warm. If you are seeking more comfort, Kenetrek provides the option to remove the liner to insert a more suitable liner.
Cost and Value
When you consider the costs, it's relatively similar to many of the ice fishing boots on our list. As far as value, some fishermen may argue that these boots from Kenetrek do not match the cost to purchase.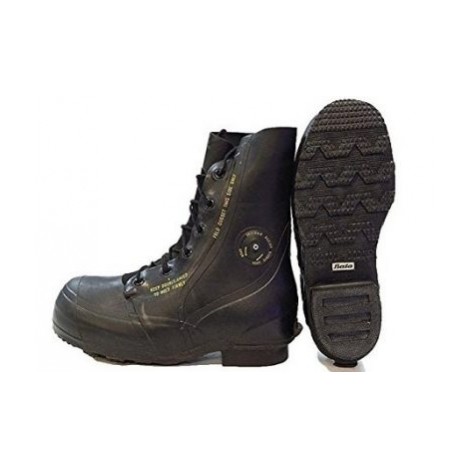 If a fisherman is looking for a high-quality ice fishing boot, there is no better place than the original "Mickey Mouse" Extreme Cold Weather Boots. These boots are the original boot that was utilized by the United States Military, which portrays its quality and durability. With military-grade features, these shoes will keep any fisherman happy and warm.
Waterproof Rubber with Fused Gusset Tongue
The most notable feature of these best ice fishing boots is the waterproof rubber and fused gusset tongue. This helps to secure any fisherman that their feet will be warm, snug and protected from any water seeping in.
High-Quality Wool Insulation
To help keep consumers warm, these boots feature a high-quality wool layer insulation. This thick layer of wool helps to keep your feet warm, while at the same time, flexible and in control of movements.
Cost and Value
Many consumers who first get a glance at the cost of these military-grade boots are shocked at how cost-friendly they are. Out of many of the best ice fishing boots, these are the cheapest. When you consider the incredible features and build of these boots, who wouldn't want to snag this deal?

Subscribe to our Newsletter