Best Fishing Waders Reviewed
In a Hurry? Editors choice: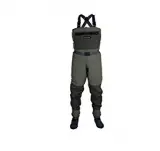 Test Winner: Compass 360 Deadfall

Maybe you're a
fly fisherman
, maybe you're a plumber, maybe you're a
beach catcher.
No matter what you do near the water, if you find yourself in a situation where it's best that you get out in the water but don't really want to get wet, then you need a set of fishing waders. Fact is these tools aren't just for fishing anymore and as the world gets more and more wet than having a pair of waders is something you really need to think about. Think of them as a really dry set of overalls. Not only will they keep you dry but there's plenty of pockets and places for you to put things that you might need once you get out in the water. Also, you just might find yourself using them in snow and ice as well.
Standout Picks
Criteria Used for Evaluation
Materials
There are several different types of material from which fishing waders are typically made. Each type of material has its attributes. Each also has its benefits and drawbacks. Traditionally fishing waders were created out of thick waterproof canvas.
As stated before, each material has its strengths and weaknesses:
Rubber:
Rubber waders are often cheaper, easier to fix and seal out water. However, they also keep moisture in, are hot and heavy and can also be super rigid. Since rubber waders do nothing for moisture management inside the waders, they often develop a particular smell that, if not washed thoroughly after every use, can linger and grow.
Canvas:
These waders are more durable than rubber. Canvas can be patched, and they last a little longer. While rubber is also easy to patch it is susceptible to punctures and tears if you are faced with underwater debris or rocks.
Breathable Materials:
There are also materials such as GORE-TEX that is classified as a breathable wader. Having fishing waders that are made from breathable material sounds a bit counterproductive. After all the whole point of a wader is to be waterproof. However, what they mean by breathable is the capability to moisture wick. Many other wading materials do not do much for managing the sweat that is produced while being worn. Perspiration leads to uncomfortable irritation, rashes, and sometimes foul-smelling waders. Breathable waders are unparalleled regarding comfort and being lightweight.
Neoprene:
This is the material from which a lot of wetsuits are made. There are varying levels of thickness that offer different levels of insulation and durability. Neoprene is probably the most popular material used for waders today. They are a bit lighter than canvas and rubber, are easier to take care of, and often come with patches that can be placed on the waders should a rip or puncture occur. Neoprene is an excellent material for colder water but does not do anything for wicking away sweat.
Fit
Perhaps one of the most critical aspects of a pair of fishing waders is the fit. If a pair of waders is the wrong fit, functionality, as well as comfort, is sacrificed. Again, look at when you will be wearing them. The outdoorsman who uses waders during the colder seasons might wear a pair of waders that are one size larger than they would wear in warmer months. The larger size makes room for a base layer. This room is especially important if you have a material that is not well insulated. Cold weather and water can be a lethal combination so pay particularly close attention to these details.
There are different styles of waders available on the market. This list is comprised mainly of chest-high waders. There are also knee-high, over the knee, and hip-high waders. The type you choose is again based on your activity. If you are mostly buying waders for fishing as your primary activity, chest-high waders are an excellent choice. However, if you plan on going camping or hiking and plan on doing some fishing while you are out, the less bulky options might be better suited for you. While chest-high waders offer the most protection, they can be hard to pack.
Another thing to consider is boot fit waders or bootless waders. Waders that have the boots included are the better option when it comes to overall insulation, protection, and durability. But they can also be bulky and harder to pack. Bootless waders are more convenient when it comes to the hiker or camper, but then you have to buy wading boots as well as waders.
To find the best fit for you always check the manufacturers sizing chart. The sizing of one company may differ significantly than that of another. Measure your inseam without shoes on. Also, take measurements while wearing the clothes you would be wearing while using the waders. Wearing clothes will take into account any base layer you may have on during colder trips.
Without proper fitting gear, you will have to endure annoyances such as rashes, leaks, or even abrasions. Be if no other advice is taken be sure to follow through on steps to get appropriately sized waders.
Features
Somethings what may seem like an afterthought can be of great importance when it comes to a product's features and accessories. For fishing waders, think about where you are going to be. Usually, it is in the middle of a stream or pond. You don't want to have to keep wading back and forth to shore if you need something.
Many waders feature pockets. Some feature a pocket on the inside of the wader for things you want to keep dry such as your phone or other gear that could be damaged by water. Pockets are convenient when you find yourself in the middle of any activity that involves both of your hands but needs access to tools and gear. Another feature a wader might have are D rings so you can clip accessories onto the wader for easy access.
Another consideration to make regarding the features of fishing waders are the buckles on the straps as well as how the straps run. Specific buckles are easier to work with than others and can offer a lot by way of safety. And speaking of safety, it is vital if you are going into deeper waters to find a pair of waders that offer a cinching top. The top keeps water from spilling over the top. Should the unthinkable happen, and you were to fall over the waders will fill with water quickly and make it hard if not impossible to stand back up and maneuver back to safety.
As you can see, accessories and features of fishing waders are not mere selling points. Many of them have very practical purposes and can make your day on the water safer and more enjoyable.
10 Best Fishing Waders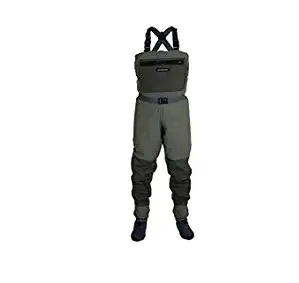 It could be said that good things are meant for those who wade. You can be confident in your purchase whether the waders are a first pair or a backup for older waders. The breathable stocking foot design and durable fabric keep you well-protected and dry.
Construction
This breathable wader is tried and true. A durable and tough four-ply nylon upper and flour-ply double reinforced skin and knees make it one of the classic functioning waders on the market. Seams are double-taped.
Customizable Size
These waders come in stout sizes. The waders feature attached gravel guards made of four-ply nylon. Chloroprene booties are four mm thick and double taped. The elastic suspenders have quick-release buckles and are fully adjustable. The adjustable web wading belt also has a quick release buckle.
Cost and Value
The Compass 360 Deadfall offers classic performance. The double chest pocket design wader is available at a terrific price. The big pocket is useful for storing keys, cameras, cell phones, or whatever should not get wet. The waders have many features found that are more expensive. A pleased customer felt he could do no better for the price.

2

. Frogg Toggs Hellbender



This is a great looking pair of waders and there's a huge front pocket that should hold just about anything you need. One thing to keep in mind is that these are stocking foot waders so you're going to have to get a pair of wading boots to go along with them, and some gravel guards, but still we love these Frogg Toggs.
Double Reinforced Knees
You never really know how important reinforced knees are until you find that first little cut in your old set of waders. And one little cut means water, and water, especially when it's cold that is going to put an end to your fishing day awfully quickly when water begins pooling in your boots.
Horizontal Zippered Storage.
The front pockets on these waders have a pair of horizontal zippers that are going to allow you to easily get to things when you need them. The point is that the more pockets you have the easier it is to compartmentalize your 'stuff' so you can put your fishing tackle in one pocket, your wallet and phone in the other. It's just that much more convenient.
Cost and Value
We love the price of these waders. They really are quite affordable and despite the stockingfoot feature, they're a reasonable way to get you out on the water quickly and without too much damage to your pocketbook.

3

. Redington Crosswater Wader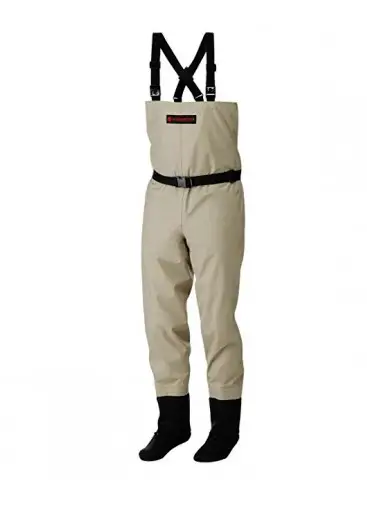 Equipped with high-density booties made of neoprene, the Redington Crosswater Wader also has opposing buckles that make waist height adjustments easy. The fit of these durable waders is comfortable and secure.
Comfort
It is surprisingly comfortable in any season. You will enjoy wearing them if you fish occasionally or head out frequently on fishing excursions. They will keep you comfortable and dry. Being sweaty and hot or cold and being wet can ruin a fishing trip.
Fabric and Construction
The waders are made of 100 percent polyester. The three-layer DWR coated fabric is waterproof and breathable. DWR stands for Durable Water Repellent. It is applied with a fluoropolymer based treatment. The technique is used in making jackets and hiking boots waterproof. The style is not quite that of more expensive Redington waders, but they are comfortable and do not limit flexibility.
Cost and Value
It is standard in the industry for seams to be stitched, taped, and glued. The price is what makes this wader special. You get a durable combination of seams and fabric for a low price. The waders will withstand the challenges of fishing. You cannot expect more from waders at this price.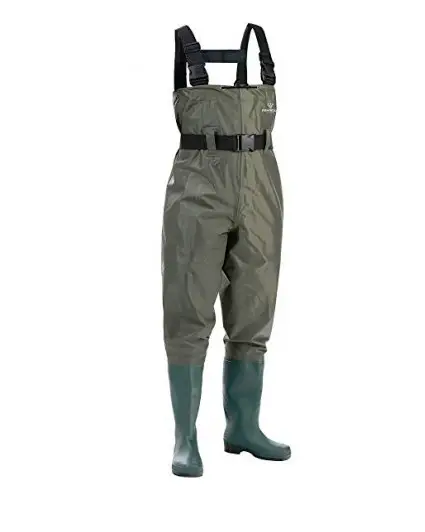 FISHINGSIR Waterproof Insulated Fishing Waders are KeepDry boot foot cleated chest waders made of rugged 100 percent nylon-reinforced PVC uppers with waterproof boot attachments. Use them for messy or farming work. Take them along when they hunt or fish.
Detailed Construction
All of the seams are taped. The waders feature durable quick-release buckles and H-back web suspenders. They are designed to keep you warm and dry. A reinforced double layer of protection at the knees aids in keeping you warm and makes the waders usable for a long time.
Comfortable
Its knitting density performance is approximately two and a half times higher than common nylon. The soft-touch feel of the waders helps in maximizing time spent in the water. There are two front D-rings for attaching accessories.
Cost and Value
There is one-year quality assurance. Value ratings come from customers who purchase the product. A happy customer wrote about being pleasantly surprised by the inexpensive product's good quality.

5

. Hodgman Caster Neoprene Cleated Bootfoot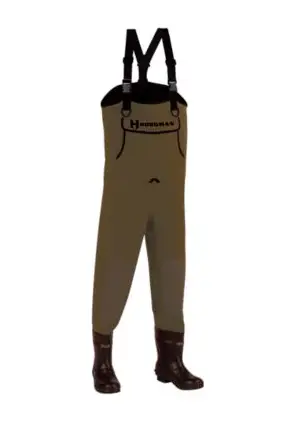 Hodgman makes a few appearances on this list for good reason. They are one of the leading manufacturers of fishing waders. Their products come in many different styles and you can choose which type of material is best suited for you. These waders are made out of neoprene which is the same materials used in dry suits for cold water scuba diving and by first responders in search and rescue operations. These waders have built-in boots for extra insulation and function.
Accessorize
These Hodgman waders have a few features that stand out from the rest. They include a fleece-lined pocket as well as D- rings. The D- rings make it possible for you to connect equipment such as nets or anything else you might want to take with you into the water. They also feature a top entry pocket. This helps prevent water from seeping into the pockets.
Cleated Boots
Some boots that are incorporated into fishing waders have flat, felt-lined tread. While these types of boots have benefited all their own they can leave a lot to be desired when it comes to traction in muddy river bottoms. Cleated boots will help you keep traction and improve mobility if you plan on taking them into water that may have a stronger current on loose mud.
Cost and Value
The Hodgman Caster Neoprene waders come at a mediocre, if not slightly higher, price range. Neoprene is a modern material compared to canvas or rubber. The features and cleated boots are well worth the price

6

. Orvis Men's Ultralight



This is a great pair of waders, but buyer beware these are waders only. These aren't even stockingfoot waders so you're going to have to shell out some more cash for boots before you can safely get out into the water to do some fishing. Despite that, Orvis makes a great pair of waders and we really like their work.
Internal Pockets
Not quite as many pockets as some of the other entries on our list but we do like the inclusion of the inner pockets that allow easy storage of things that you're not necessarily going to need when you're out on the water. The large external pocket is also nice as it will allow you easy access to the things you do need.
Adjustable Suspenders
There are some cases where your pair of waders don't quite fit right and you're going to appreciate these Orvis suspenders that come with easily adjustable suspenders that are going to let you get the perfect fit for your perfect day of fishing.
Cost and Value
Pretty pricey for what you're getting but then again this is Orvis and you're paying for the name as well as the product. That's not necessarily a bad thing because Orvis makes a great product, but keep in mind the price is a reflection of the name.

7

. LONECONE Kids and Toddlers Adjustable Neoprene Chest Waders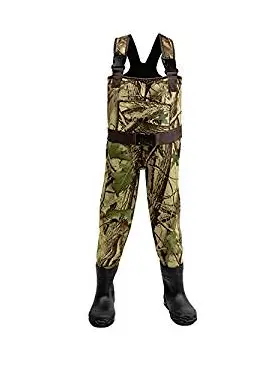 These waders are ideal for any member of the family. Take them clamming, riding ATVs, fishing or hunting. There is an exterior chest pocket. The chest pocket is useful for storing fishing accessories, found treasures, snacks, and toys.
Design
The waders are made of durable neoprene fabric. They are meant to be long-lasting and warm. The seams are fully taped and the waders feature neoprene insulation. Good mesh vents make them very breathable.
Kid Friendly
Lone Cone Chest Waders were designed for kids. The waders are fully adjustable for waist width and shoulder heights. They are easy to adjust for a proper fit every time you wear them. Kids don't grow out of them quickly.
Cost and Value
Lone Cone Adjustable Chest Waders are waterproof and durable. They provide protection in cold water. The waters are well-ventilated and breathable. They have a high-quality structure design.

8

. Adamsbuilt Truckee River Wader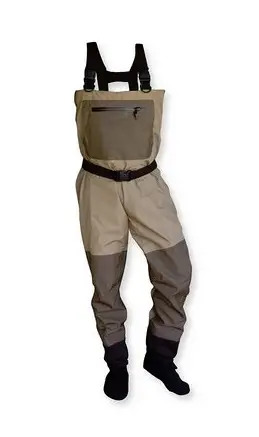 When choosing the Adamsbuilt Truckee River Wader, customers are making a conscious choice to pick a product that is built for punishment. This pair of waders will last for years of heavy fishing and not give in to bad wear and tear.
Premium Materials
Just like Orvis, Adamsbuilt prides itself on using high-grade materials for its waders. That means going out of their way to implement premium microfiber fabric without compromising the overall weight of the waders.
Satisfaction
Adamsbuilt has introduced another of the expensive waders on the list, so customers should factor in the cost vs. value. You're getting a product that is built tough, so it won't need to be replaced anytime soon.
Cost and Value
This is a serious wader for the serious customer that wants the best protection without being restricted by his equipment. Over the years you can bet on an Adamsbuilt wader outlasting even your best pair of jeans.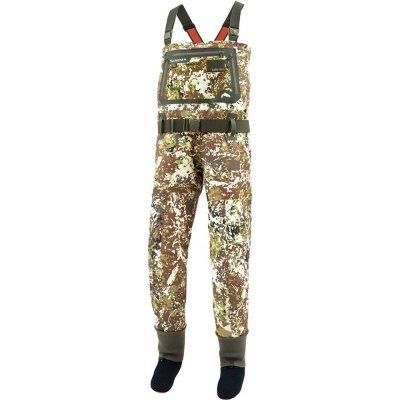 One of the first sets on our list that come with a really nice camo design. They also come with a belt and adjustable suspenders so we like the accessories that come with these waders. Keep in mind that these are stockingfoot waders so you're going to have get a pair of wading boots to go along with them.
Gore-Tex Construction
The shell of these waders is good old Gore-Tex and that means quality. That means reliability and breathability and ultimately a pair of waders you can count on. This pair can stand up to tough weather and tough terrain and keep on trucking.
3 Chest Pockets
Plenty of room for stuff, and plenty of hand-warming room and plenty of room in general sets the Simms apart from some of its competitors.
Cost and Value
Simms is a pretty pricey pair of waders but we'll put it just a bit above the mid-range. Still, Simms makes a great product and there's a lot going for these waders and we wouldn't put them on the list here if we didn't think they were worth the money.

10

. Allen 118-Brule Wader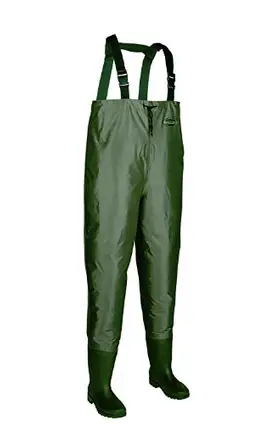 Rugged and strong, the Allen Company spared no expense when designing this wader. It is very much a traditional model, right down to the boots and color.
Light And Waterproof Nylon
The nylon construction is a good match for the rest of the model and is surprisingly durable. Rips will be a thing of the past with their nylon mashup, which also doesn't add any significant weight.
Simple Yet Pleasing
Sometimes keeping things simple is the best way to go with a product. This wader gives you everything you need to be satisfied and has very few shortcomings. These are available in a wide size range, making it easier to find the perfect fit.
Cost and Value
Allen Company has priced this at around the low-mid tier, which is just about right for what is being offered. Buyers will love the simplicity of these waders while also praising its durability.

Subscribe to our Newsletter