Best Fishing Waders Reviewed
Walking in water has dangers beyond the known inhabitants, so a wader is necessary to keep those dangers away from your body. There is also a convenience factor with not having heavy clothes drag you down while you're in the water. A good wader will allow you to move as freely as possible in the water while offering adequate protection to key parts of your body.
Best Brands
The big brands are easy to point out like Orvis and Redington. In this industry it is more about nylon vs. rubber, so brands get pushed to the backside as companies duke it out over which materials are the best. Even today the fight still rages on, and is such a big deal that some companies release waders in both nylon and rubber models. Seasons and conditions that waders are used in will keep the fight going, as there is still isn't a 'wader for all jobs'.
Maintenance and Cleaning Tips
Cleaning waders is very important since they will be in contact with all types of bacteria in the water. Letting a dirty wader sit without cleaning it can introduce to your body some really bad health hazards. Just simply hosing them off after trips is good enough for the short term, but when they get really dirty soap water is the best clean. Then hose them off, but keep them away from a dryer- this will ruin it. Let them air dry or simply use a hair dryer.
Our Top 3 Picks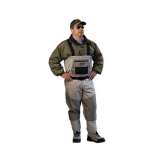 Caddis Fishing Wader

Our rating
Quad pocket
Price:

See Here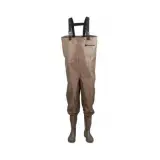 Hodgman Fishing Wader

Our rating
Nylon shell fabric
Price:

See Here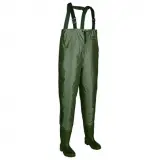 Allen Brule Wader

Our rating
Drawstring top
Price:

See Here


10 Best Fishing Waders
1. Caddis CA12901W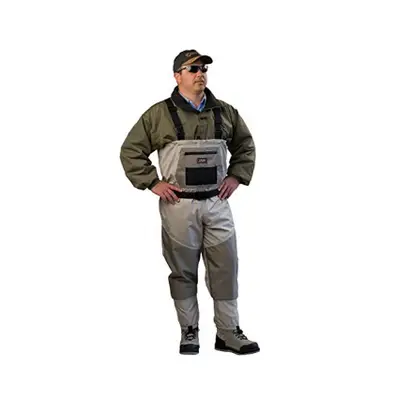 Caddis Wading Systems has all the answers when it comes to waders, and that is why it grabbed the #1 spot. Supreme in every way, the only thing this product is missing is comparable boots.


Expand to see more
Size Is Everything

The company realized that it isn't just about tall, and has made sizes appropriate for any type of wearer. Starting with their medium sizes they also include a stout option, making them the only company on the list to do that.

Features and Specifications

Stockingfoot deluxe breathables
Attached gravel guards
Quad pocket
Seams are taped, glued and stitched


Price/Value

Sitting at a high price, buyers should have no trouble purchasing this wader since it is the most recommended one. There is no doubt on the value you're getting, and it will provide great protection when you're wading in water.

Decision Time

The best on the list by a good margin, Caddis Wading Systems really made a lot of people happy with this creation. Give it a try and join the many satisfied customers that have called this the best in the industry.
No size is unaccounted for
Four pockets with great protection
Stocking foot is the best of its kind
Protection is abundant without limited movement
2. Hodgman 1337569-P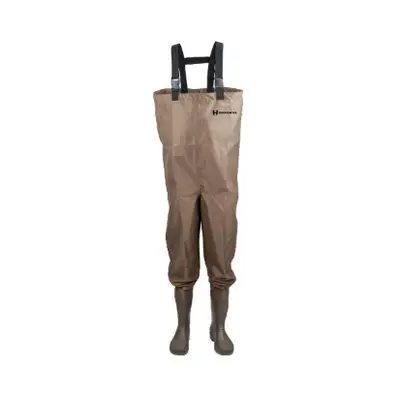 Light strong, Hodgman introduced this wader to the public and got a thrilling response. By combining a great boot with one of a kind waders, they set the bar for what customers want when they are in harsh water.


Expand to see more
Flexible Boots With Some Weight
An important part of any wader is the
boots
, with a large amount of time spent reinforcing them so that they won't cause any slips. The boots with this model are strong and flexible, and don't feel like cheap plastic knockoffs.
Feature and Specifications
35% lighter than leading rubber waders
PVC boot is 25% more durable than rubber boots
Nylon shell fabric
Available in sizes 7-13
Price/Value
Count this as another to add to the low-mid tier price range, which is amazing since this is #2 on the list. You'll definitely get the value you deserve with an incredibly tough nylon material that will last for years.
Decision Time
Rubber doesn't always have to be the top choice when you need a wader. Consider the tough nylon of this Hodgman as a safe alternative to rubber.
Lightest wader on the list
Nylon shell can take a lot of damage
PVC boot has good flexibility without losing durability
One of the highest rated waders in the industry
Some size fittings will take trial and error
3. Allen 118-Brule Wader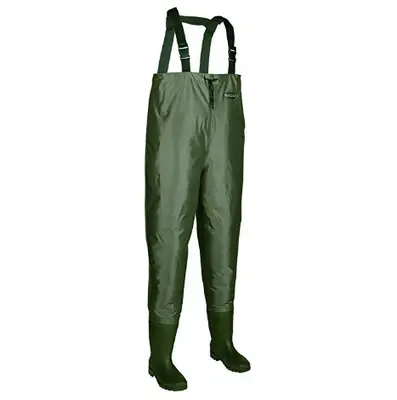 Rugged and strong, the Allen Company spared no expense when designing this wader. It is very much a traditional model, right down to the boots and color.


Expand to see more
Light And Waterproof Nylon

The nylon construction is a good match for the rest of the model, and is surprisingly durable. Rips will be a thing of the past with their nylon mashup, which also doesn't add any significant weight.

Features and Specifications

Available from sizes 7-13
Adjustable web suspenders
2 ply upper and cleated soles
Drawstring top


Price/Value

Allen Company has priced this at around the low-mid tier, which is just about right for what is being offered. Buyers will love the simplicity of the wader while also praising its durability.

Decision Time

Sometimes keeping things simple is the best way to go with a product. This wader gives you everything you need to be satisfied and has very few shortcomings.
Their nylon material is very strong
Keeps you dry even when things get tough
Can withstand a considerable amount of punishment
So light that you will forget it is on
The drawstring top is a hit or miss depending on the person
4. Redington
With a mixture of classic features and new age design Redington has done a great job of delivering a quality wader. There are so many features built into this model that it is hard to pinpoint what makes it such a fantastic buying choice.


Expand to see more
The Tool Pocket Edges Everything Out

The tool pocket can be considered an underappreciated feature, yet the custom pocket will get the most use- even more than the zipper pocket. It's convenient and makes reaching for things in a pinch less of a hassle.

Features and Specifications

100% Nylon with 4 layers
Forcep dock and Hypalon retractor dock
Opposing buckles
Hand warmer pockets with brushed micro-fleece


Price/Value

This is another high priced wader, with the biggest XXL size being the priciest. Due to all the custom touches, buyers will still get a good deal.

Decision Time

Redington really added a lot of custom work to make this different than the other waders on the list. It needs a little breaking in, but will end up being one of your finest waders yet.
Lots of pockets to store things
Wader can be converted to waist high
Several Redington custom touches
Good insulation in colder environments
Reinforced areas are not forgiving to movement
5. Allen 128-Rock

Allen has created one of the more interesting waders on the list, taking notes from a different industry. Customers have already shown their appreciation for the innovation as this turns out to be one of the best in the industry.


Expand to see more
The Stocking Foot

There is a bit of confusion when some people look at the Rock Creek model since it doesn't come with boots. Instead they opted for a waterproof stocking foot, which depending on the environment, can be used with or without boots. It's not just comfortable, but ingenious in its design.

Features and Specifications

High back design
Sliding neoprene gravel guards
D-ring in front and back with web suspenders
Nylon knit jersey


Price/Value

Surprisingly this is only mid-priced, so pretty average when you compare it to the others on the list. Yet the value is right up there with the #1 wader, so it works out beautifully.

Decision Time

This is one wader that you should try at least once, with its innovation really paying off to the consumer. You can count on this being the best purchase of the year for anyone needing a quality wader.
Good selection of sizes
The most comfortable wader on the list
Stocking foot waders are genius
Good insulation with a balance of breathability
Stocking foot is not good for all situations
6. Webetop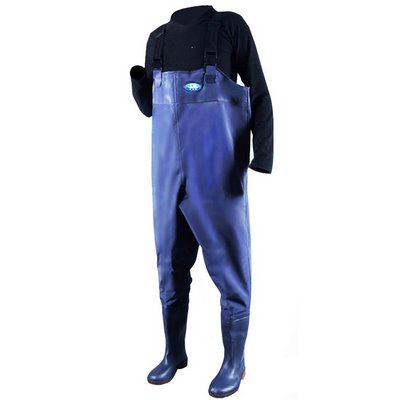 Webetop sneaks onto the list with one of the lower costing waders available, and that's in the entire industry. The quality is still there for customers that want good equipment, and it has been a surprising choice for
hardcore fishermen
.
Expand to see more
Good Size Choices

There is no guesswork when it comes to the sizing of their wader, with the company using an easy to access sizing list from 6-11. There are point to point dimensions of each size, and they generally don't run long on the bottoms.

Features and Specifications

PVC+0.55mm knitted fabric
Meets A9 standard
Two layered high temperature welding
Antiskid shoe bottoms


Price/Value

The price is low, but the components made to build it are good. Buyers will be very satisfied with the value of this wader if they plan on buying more than one type.

Decision Time

The company managed to make it far on the list thanks to some really thorough research on sizing. You will get more than your money's worth with this purchase, even if you don't bulk buy.
Suspenders are made to stay out of your way
Waterproof with some really superior layer protection
Great sizing choices provides comfortable wear for all
PVC material is tough but light
7. Adamsbuilt HO2TRL-P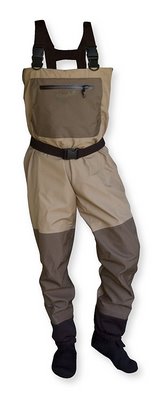 When choosing the Adamsbuilt Truckee River Wader, customers are making a conscious choice to pick a product that is built for punishment. This wader will last for years of heavy fishing and not give in to bad wear and tear.


Expand to see more
Premium Materials

Just like Orvis, Adamsbuilt prides itself on using high grade materials for its waders. That means going out of their way to implement premium microfiber fabric without compromising the overall weight of the wader.

Features and Specifications

Adjustable suspenders and quick release belt
Reinforced knees and seats
Attached gravel guards
Inside flip-out accessory pocket


Price/Value

Adamsbuilt has introduced another of the expensive waders on the list, so customers should factor in the cost vs. value. You're getting a product that is built tough, so it won't need to be replaced anytime soon.

Decision Time

This is a serious wader for the serious customer that wants the best protection without being restricted by his equipment. Over the years you can bet on an Adamsbuilt wader outlasting even your best pair of jeans.
Tough, strong and can take punishment
Reinforced with four layers
Hand warmer pocket is lined
Great breathability
Medium size may be a bit long
8. Orvis Encounter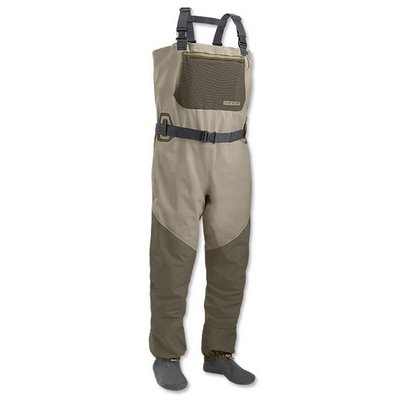 Orvis is one of the more recognizable names on the list, and is known for making high quality waders. The Encounter is considered their premiere model, with several years of research put into the final design.


Expand to see more
More Than Comfort
Comfort can come in many forms, but for the Encounter it is more about
breathability
. Users will not have to worry about being drenched in sweat the moment they put on these waders. Spending long amounts of time in a wader has never been more comfortable.
Features and Specifications
4 Layer nylon fabric
Front pocket warmer with mesh
Zippered storage pocket
Three integrated belt loops
Price/Value
The price puts it as one of the most expensive on the list, eclipsing even the top wader. Due to the name and high end quality, it's hard to argue with the yearly value of owning an Orvis.
Decision Time
Brands get popular by pleasing their customer base, and that is something that Orvis has done repeatedly. The Encounter is an excellent choice for a wader if you have the money for it.
Available in small, medium, large, XL and XXL
Pocket is waterproof
Neoprene boots provide a comfortable fit
Durable and tough
9. Allen 128-Advantage

When doing nylon, Allen shows how it is done right, and in style. Buyers that spend a lot of time in the rougher parts of water will enjoy the
protection
they get from this wader.
Expand to see more
Protecting Vital Body Parts

Wearing waders is like having armor on, so restricted movement in some areas will be a pain if they aren't set up properly. Allen Cattail handled this by putting in reinforced knee pads so that it is not only comfortable to bend, but safe to kneel.

Features and Specifications

Nylon knit and laminated to 3.5 mil neoprene
Adjustable web suspenders
Reinforced kneepads
Semi-hard toe cap and steel arch support


Price/Value

At such a high price, the durability will become a question over the course of their use. If you aren't ultra-tough on your waders, then the price fits the value for this model.

Decision Time

Allen Cattail makes some really good waders, and they always get high marks. This one is no different, and will give you the protection you need whenever you put it on.
Reinforced in key areas to protect
1000 grams of thinsulate insulation in boots
Hand warmer pockets
High back design helps with support
Not as tough as the other waders on the list
10. Frogg Toggs 2715243-10-P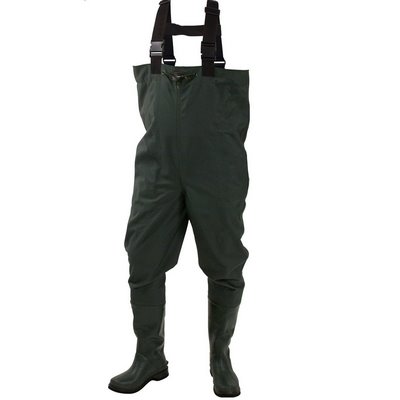 When Frogg Toggs designed this model they made a rubber wader that was slightly less stiff than normal rubber waders. The design is key, and the features make this model worthy of a buy.


Expand to see more
Safe And Sound
If a company is going to include a pocket on a wader it needs to be secure, and that is why that is the best feature of this model. You can pack a
knife
or other accessory in the pocket and not worry about it slipping away when you need it most.
Features and Specifications
Inside security pocket
2 ply 300 denier rubber
Adjustable chest draw cord
All seams are stitched
Price/Value
Depending on what size you choose, the price will be mid-high. Their value works out over time since they are so durable, and if you get the correct size.
Decision Time
This is a good choice if you need a rubber wader with good sizes. Buyers that struggle with buying waders because of the shoe comfort will get a good deal here.
Waterproof
Can be worn by women
Shoes may be the best part
Great quality inside and out
A bit uncomfortable at the knees
How To Make The Best Decision When Choosing A Wader
Never settle for one wader, and always have one of each. That means one rubber wader and one nylon/or neoprene wader. They each serve their purposes, and you don't want to be caught in an uncomfortable position. At the very least you will have a backup if something happens to your main wader, with the prices now low enough that it is justified to own several of them.
FAQs
         Nylon Vs. Rubber, Which Is Better?
Neither, since it also doesn't factor in Neoprene. Between these three you will find out which one fits you best, gives you the most breathability and offers the most protection. Rubber is the oldest material, while Neoprene and Nylon are constantly innovating. Remember, owning more than one type is highly recommended.
How Important Is A Good Fit?
Just like a tailor made suit a wader should fit you and be comfortable on movement. This is important since you will be doing a lot of movement in it. Bad fitting waders can cause bruises and even rashes.
Are Boots Important With Waders That Use Stocking Boots?
Some of the waders on the list don't come with boots, instead opting for reinforced stockings. That doesn't mean boots weren't meant to be worn with them, but it is optional. If you find that an area you will be using them in may cause discomfort without boots, then by all means put some on.
Will Extra Pockets Make A Difference?
You may not notice at first, yet repeated use of a wader will show you the importance of having multiple pockets. Waders with multiple pockets are wonderful, allowing you full access to an unlimited supply of accessories.