Best Fishing Waders Reviewed
Walking in water has dangers beyond the known inhabitants, so a wader is necessary to keep those dangers away from your body. There is also a convenience factor with not having heavy clothes drag you down while you're in the water. A good wader will allow you to move as freely as possible in the water while offering adequate protection to key parts of your body.
Featured Recommendations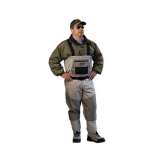 Caddis Fishing Wader

Our rating
Quad pocket
Price:

See Here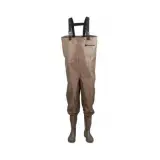 Hodgman Fishing Wader

Our rating
Nylon shell fabric
Price:

See Here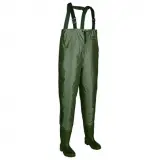 Allen Brule Wader

Our rating
Drawstring top
Price:

See Here

Best Brands
The big brands are easy to point out like Orvis and Redington. In this industry it is more about nylon vs. rubber, so brands get pushed to the backside as companies duke it out over which materials are the best. Even today the fight still rages on and is such a big deal that some companies release waders in both nylon and rubber models. Seasons and conditions that waders are used in will keep the fight going, as there is still isn't a 'wader for all jobs'.
Maintenance and Cleaning Tips
Cleaning waders is very important since they will be in contact with all types of bacteria in the water. Letting a dirty wader sit without cleaning it can introduce to your body some really bad health hazards. Just simply hosing them off after a fishing trip is good enough for the short term, but when they get really dirty soap water is the best clean. Then hose them off, but keep them away from a dryer- this will ruin it. Let them air dry or simply use a hairdryer.
15 Best Fishing Waders
1. Caddis Two Toned Taupe Deluxe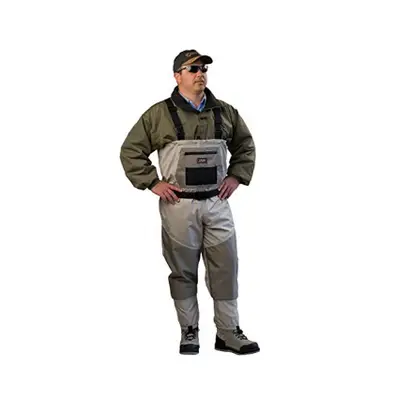 Caddis Wading Systems has all the answers when it comes to waders, and that is why it grabbed the #1 spot. Supreme in every way, the only thing this product is missing is comparable boots. Caddis is one of the leading brands in outdoor equipment and this product is a good representation of their high-quality design and manufacturing.


Expand to see more
Size Is Everything

The company realized that it isn't just about tall, and has made sizes appropriate for any type of wearer. Starting with their medium sizes they also include a stout option, making them the only company on the list to do that. These wide varieties of size options make it possible for you to find the wader that fits you perfectly.

Features and Specifications

Stockingfoot deluxe breathables
Attached gravel guards
Quad pocket
Seams are taped, glued and stitched


Price/Value

Sitting at a high price, buyers should have no trouble purchasing this wader since it is the most recommended one. There is no doubt on the value you're getting, and it will provide great protection when you're wading in water.

Decision Time

The best on the list by a good margin, Caddis Wading Systems really made a lot of people happy with this creation. Give it a try and join the many satisfied customers that have called this the best in the industry.
No size is unaccounted for
Four pockets with great protection
Stocking foot is the best of its kind
Protection is abundant without limited movement
2. Hodgman Nylon and PVC Cleated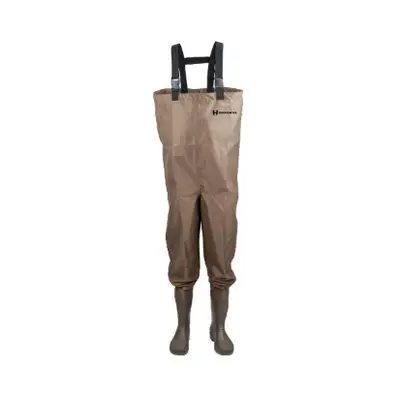 Light strong, Hodgman introduced this wader to the public and got a thrilling response. These waders are lighter than a lot of others that are currently on the market. They also have an internal pocket for added convenience and extra storage. By combining a great boot with one of a kind waders, they set the bar for what customers want when they are in the harsh water.


Expand to see more
Flexible Boots With Some Weight
An important part of any wader is the
boots
, with a large amount of time spent reinforcing them so that they won't cause any slips. The boots with this model are strong and flexible and don't feel like cheap plastic knockoffs.
Feature and Specifications
35% lighter than leading rubber waders
PVC boot is 25% more durable than rubber boots
Nylon shell fabric
Available in sizes 7-13
Price/Value
Count this as another to add to the low-mid tier price range, which is amazing since this is #2 on the list. You'll definitely get the value you deserve with an incredibly tough nylon material that will last for years.
Decision Time
Rubber doesn't always have to be the top choice when you need a wader. Consider the tough nylon of this Hodgman as a safe alternative to rubber. Nylon is lighter than rubber and has water repelling and durability that is comparable.
Lightest wader on the list
Nylon shell can take a lot of damage
PVC boot has good flexibility without losing durability
One of the highest rated waders in the industry
Some size fittings will take trial and error
3. Allen 118-Brule Wader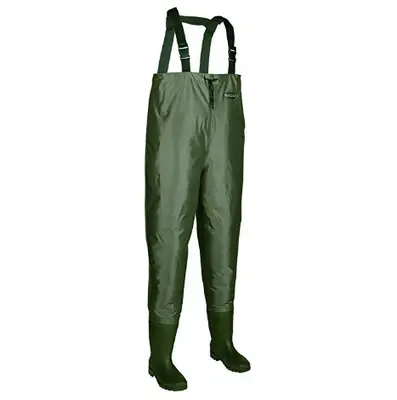 Rugged and strong, the Allen Company spared no expense when designing this wader. It is very much a traditional model, right down to the boots and color.


Expand to see more
Light And Waterproof Nylon

The nylon construction is a good match for the rest of the model, and is surprisingly durable. Rips will be a thing of the past with their nylon mashup, which also doesn't add any significant weight.

Features and Specifications

Available from sizes 7-13
Adjustable web suspenders
2 ply upper and cleated soles
Drawstring top


Price/Value

Allen Company has priced this at around the low-mid tier, which is just about right for what is being offered. Buyers will love the simplicity of the wader while also praising its durability.

Decision Time

Sometimes keeping things simple is the best way to go with a product. This wader gives you everything you need to be satisfied and has very few shortcomings.
Their nylon material is very strong
Keeps you dry even when things get tough
Can withstand a considerable amount of punishment
So light that you will forget it is on
The drawstring top is a hit or miss depending on the person
4. Redington
With a mixture of classic features and new age design Redington has done a great job of delivering a quality wader. There are so many features built into this model that it is hard to pinpoint what makes it such a fantastic buying choice.


Expand to see more
The Tool Pocket Edges Everything Out

The tool pocket can be considered an underappreciated feature, yet the custom pocket will get the most use- even more than the zipper pocket. It's convenient and makes reaching for things in a pinch less of a hassle.

Features and Specifications

100% Nylon with 4 layers
Forcep dock and Hypalon retractor dock
Opposing buckles
Hand warmer pockets with brushed micro-fleece


Price/Value

This is another high priced wader, with the biggest XXL size being the priciest. Due to all the custom touches, buyers will still get a good deal.

Decision Time

Redington really added a lot of custom work to make this different than the other waders on the list. It needs a little breaking in, but will end up being one of your finest waders yet.
Lots of pockets to store things
Wader can be converted to waist high
Several Redington custom touches
Good insulation in colder environments
Reinforced areas are not forgiving to movement
5. Allen 128-Rock

Allen has created one of the more interesting waders on the list, taking notes from a different industry. Customers have already shown their appreciation for the innovation as this turns out to be one of the best in the industry.


Expand to see more
The Stocking Foot

There is a bit of confusion when some people look at the Rock Creek model since it doesn't come with boots. Instead, they opted for a waterproof stocking foot, which depending on the environment, can be used with or without boots. It's not just comfortable, but ingenious in its design.

Features and Specifications

High back design
Sliding neoprene gravel guards
D-ring in front and back with web suspenders
Nylon knit jersey


Price/Value

Surprisingly this is only mid-priced, so pretty average when you compare it to the others on the list. Yet the value is right up there with the #1 wader, so it works out beautifully.

Decision Time

This is one wader that you should try at least once, with its innovation really paying off to the consumer. You can count on this being the best purchase of the year for anyone needing a quality wader.
Good selection of sizes
The most comfortable wader on the list
Stocking foot waders are genius
Good insulation with a balance of breathability
Stocking foot is not good for all situations
6. Webetop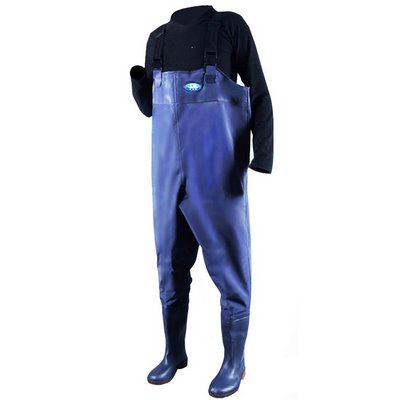 Webetop sneaks onto the list with one of the lower costing waders available, and that's in the entire industry. The quality is still there for customers that want good equipment, and it has been a surprising choice for
hardcore fishermen
.
Expand to see more
Good Size Choices

There is no guesswork when it comes to the sizing of their wader, with the company using an easy to access sizing list from 6-11. There is a point to point dimensions of each size, and they generally don't run long on the bottoms.

Features and Specifications

PVC+0.55mm knitted fabric
Meets A9 standard
Two layered high-temperature welding
Antiskid shoe bottoms


Price/Value

The price is low, but the components made to build it are good. Buyers will be very satisfied with the value of this wader if they plan on buying more than one type.

Decision Time

The company managed to make it far on the list thanks to some really thorough research on sizing. You will get more than your money's worth with this purchase, even if you don't bulk buy.
Suspenders are made to stay out of your way
Waterproof with some really superior layer protection
Great sizing choices provides comfortable wear for all
PVC material is tough but light
7. Adamsbuilt Truckee River Wader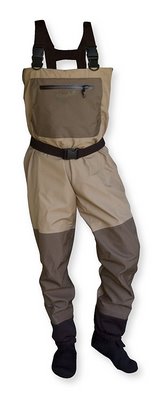 When choosing the Adamsbuilt Truckee River Wader, customers are making a conscious choice to pick a product that is built for punishment. This wader will last for years of heavy fishing and not give in to bad wear and tear.


Expand to see more
Premium Materials

Just like Orvis, Adamsbuilt prides itself on using high-grade materials for its waders. That means going out of their way to implement premium microfiber fabric without compromising the overall weight of the wader.

Features and Specifications

Adjustable suspenders and quick release belt
Reinforced knees and seats
Attached gravel guards
Inside flip-out accessory pocket


Price/Value

Adamsbuilt has introduced another of the expensive waders on the list, so customers should factor in the cost vs. value. You're getting a product that is built tough, so it won't need to be replaced anytime soon.

Decision Time

This is a serious wader for the serious customer that wants the best protection without being restricted by his equipment. Over the years you can bet on an Adamsbuilt wader outlasting even your best pair of jeans.
Tough, strong and can take punishment
Reinforced with four layers
Hand warmer pocket is lined
Great breathability
Medium size may be a bit long
8. Orvis Encounter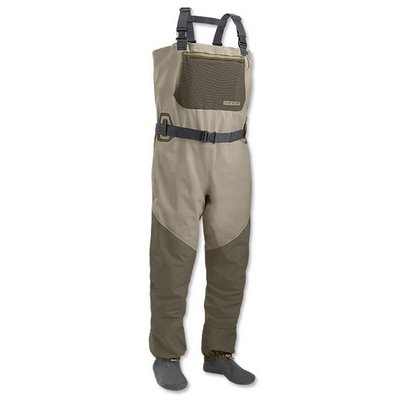 Orvis is one of the more recognizable names on the list, and is known for making high-quality waders. The Encounter is considered their premiere model, with several years of research put into the final design.


Expand to see more
More Than Comfort
Comfort can come in many forms, but for the Encounter it is more about
breathability
. Users will not have to worry about being drenched in sweat the moment they put on these waders. Spending long amounts of time in a wader has never been more comfortable.
Features and Specifications
4 Layer nylon fabric
Front pocket warmer with mesh
Zippered storage pocket
Three integrated belt loops
Price/Value
The price puts it as one of the most expensive on the list, eclipsing even the top wader. Due to the name and high-end quality, it's hard to argue with the yearly value of owning an Orvis.
Decision Time
Brands get popular by pleasing their customer base, and that is something that Orvis has done repeatedly. The Encounter is an excellent choice for a wader if you have the money for it.
Available in small, medium, large, XL and XXL
Pocket is waterproof
Neoprene boots provide a comfortable fit
Durable and tough
9. Allen 128-Advantage

When doing nylon, Allen shows how it is done right, and in style. Buyers that spend a lot of time in the rougher parts of water will enjoy the
protection
they get from this wader.
Expand to see more
Protecting Vital Body Parts

Wearing waders is like having armor on, so restricted movement in some areas will be a pain if they aren't set up properly. Allen Cattail handled this by putting in reinforced knee pads so that it is not only comfortable to bend, but safe to kneel.

Features and Specifications

Nylon knit and laminated to 3.5 mil neoprene
Adjustable web suspenders
Reinforced kneepads
Semi-hard toe cap and steel arch support


Price/Value

At such a high price, the durability will become a question over the course of their use. If you aren't ultra-tough on your waders, then the price fits the value for this model.

Decision Time

Allen Cattail makes some really good waders, and they always get high marks. This one is no different, and will give you the protection you need whenever you put it on.
Reinforced in key areas to protect
1000 grams of thinsulate insulation in boots
Hand warmer pockets
High back design helps with support
Not as tough as the other waders on the list
10. Frogg Toggs Cascades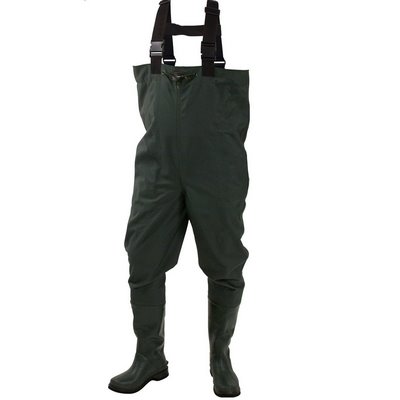 When Frogg Toggs designed this model they made a rubber wader that was slightly less stiff than normal rubber waders. The design is key, and the features make this model worthy of a buy.


Expand to see more
Safe And Sound
If a company is going to include a pocket on a wader it needs to be secure, and that is why that is the best feature of this model. You can pack a
fishing knife
or another accessory in the pocket and not worry about it slipping away when you need it most.
Features and Specifications
Inside security pocket
2 ply 300 denier rubber
Adjustable chest draw cord
All seams are stitched
Price/Value
Depending on what size you choose, the price will be mid-high. Their value works out over time since they are so durable, and if you get the correct size.
Decision Time
This is a good choice if you need a rubber wader with good sizes. Buyers that struggle with buying waders because of the shoe comfort will get a good deal here.
Waterproof
Can be worn by women
Shoes may be the best part
Great quality inside and out
A bit uncomfortable at the knees
11. Hodgman Caster Neoprene Cleated Bootfoot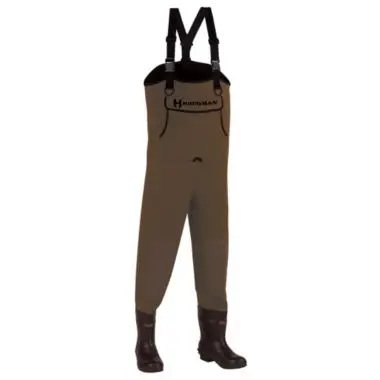 Hodgman makes a few appearances on this list for good reason. They are one of the leading manufacturers of fishing waders. Their products come in many different styles and you can choose which type of material is best suited for you. These waders are made out of neoprene which is the same materials used in dry suits for cold water scuba diving and by first responders in search and rescue operations. These waders have built-in boots for extra insulation and function.
Expand to see more
Accessorize

These Hodgman waders have a few features that stand out from the rest. They include a fleece lined pocket as well as D- rings. The D- rings make it possible for you to connect equipment such as nets or anything else you might want to take with you into the water. They also feature a top entry pocket. This helps prevent water from seeping into the pockets.

Cleated Boots

Some boots that are incorporated into fishing waders have flat, felt lined tread. While these types of boots have benefits all their own they can leave a lot to be desired when it comes to traction in muddy river bottoms. Cleated boots will help you keep traction and improve mobility if you plan on taking them into water that may have a stronger current on loose mud.

Cost and Value

The Hodgman Caster Neoprene waders come at a mediocre, if not slightly higher, price range. Neoprene is a modern material compared to canvas or rubber. The features and cleated boots are well worth the price


Top-entry pocket
Fleece Lined Pocket
Rear D-ring and Two D Rings on front
Y-back suspender straps
Recomended to order one size up.
12. Oakiwear Toddler & Children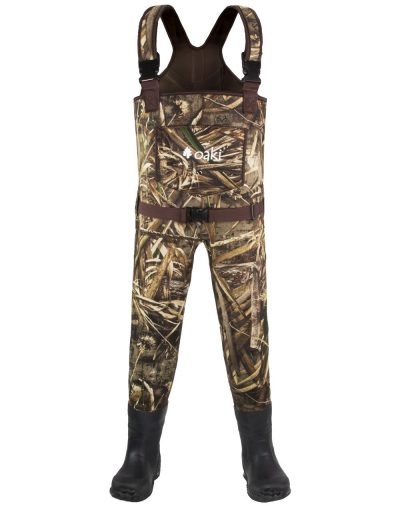 When it comes to doing things that you love to do you often want to pass that activity on to the next generation of outdoorsmen. I personally believe that passing on a legacy of love for the outdoors is something that we need to prioritize. That is why kids waders are included on this list. The market is rather limited for junior fisherman apparel. These kids Fishing waders from Oakiwear are some of the best available.
Expand to see more
Just Like Adults

Oakiwear Toddler & Children waders offer a lot of the same features that adults would. They are made from well insulated and warm neoprene, taped seams, adjustable belts, and a chest pocket. You junior outdoorsman will love wading through the water with you. They are available in camo as shown or pink camo for the junior outdoorslady. They also have built-in boots so you don't have to worry about them losing a shoe as kids typically do.

Adjustable Belts

Kids grow fast. There's just no getting around it. As a parent, one of the most frustrating things is buying clothes kids only wear once only to have them outgrow it in two months. These waders feature adjustable opposing shoulder belts so they grow with your kid. They also have an adjustable waist belt and are designed specifically to be easy to get in and out of. They are also easy to clean and maintain.

Cost and Value

I don't know what it is about the prices of kids clothes. You would think that since it takes less material to make them they would cost less. This typically is not the case. Kids clothes often cost as much or more than adult clothes. These fishing waders are no exception to this rule. They cost about as much as an average priced adult pair would. However, having a great time with the next generation doing something you like to do is priceless. For this, the cost is worth it.


fully-adjustable arm straps

Built-in rubber boot

Warm, insulating neoprene

Available in classic camo or pink camo
13. TideWe Bootfoot Chest Wader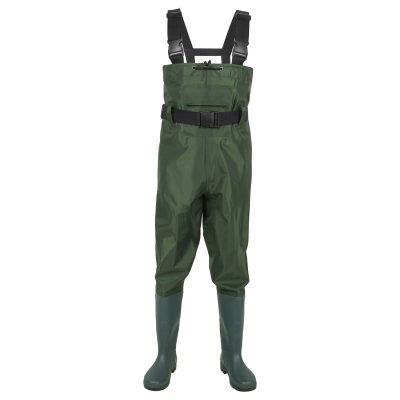 If you are looking to do some light fishing in steady waters without emptying your wallet, these booted waders are a great option. Made from nylon and PVC, they are super lightweight and perfect for packing up to take with you on your camping, hiking, or fishing trip. While not the most durable they are great for the casual fly fisherman.
Expand to see more
Comfortable Belts

The H-back design of the suspenders offer a few benefits in these waders. Not only are they comfortable but they may be a little easier to get on and off. These waders also offer a cinching drawstring at the top to ensure that you stay dry and safe while in the water. The waist belt is good for keeping the waders fixed or if you want to unstrap the shoulder belts.

Taped Seams

One of the good things about these waders is that they have incorporated features that are typically found in more expensive items. Along with things like H-back belts and cinching drawstring they have taped seams to keep the water out and help keep heat in.

Cost and Value

These waders almost gained the best value spot in the top three. They are affordable and great for casual wear. However, nylon and PVC does almost nothing for moisture wicking. This may make condensation and sweat build up inside the waders. Also, they may lack what is needed by way of durability. If you are doing light activities and don't intend to try to push it these are a great option.
Nylon-reinforced
taped seams
dry and warm
H-back web suspenders
14. Ouzong Cleated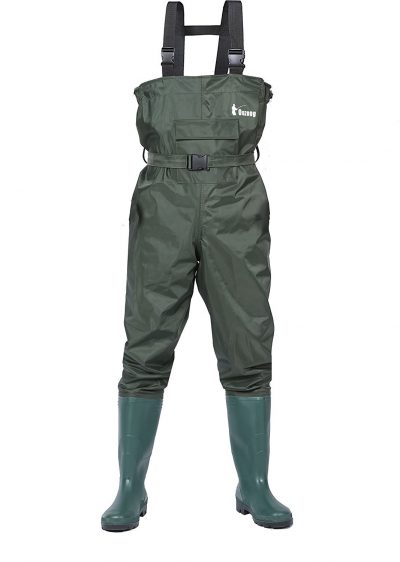 Another nylon/PVC hybrid, these waders are a good option for an affordable pair of fishing waders. Featuring a top access pocket and comfortable H-back suspenders these waders are good for hunting, fishing, or any activity that brings you to the water. Cleated boots are built into the waders so no need to buy separate wading boots.
Expand to see more
Felt Cleated Boots

The boots on these Ouzong waders try to combine the benefits of felt treads and rubber treads. Rubber treads are good for keeping traction in the mud while felt will keep you upright on flatter surfaces. They are stitched into the legs of the waders and the seams are taped to ensure a tough long lasting bond.

Light and Mobile

These waders are an astounding 35% lighter than traditional rubber waders. This makes them ideal for taking along with you on a camping or hiking trip. They also have quick release buckles that add safety and convenience to your experience.

Cost and Value

These waders could probably be considered a budget item. They are very affordable but are very functional. It is reported that the sizes run kind of small so be sure to check out the manufacturers sizing chart and do your best to take your own body measurements.
35% lighter weight
One-piece felt cleated sole
Quick release buckles
Affordable
15. Frogg Toggs Amphib Camo Bootfoot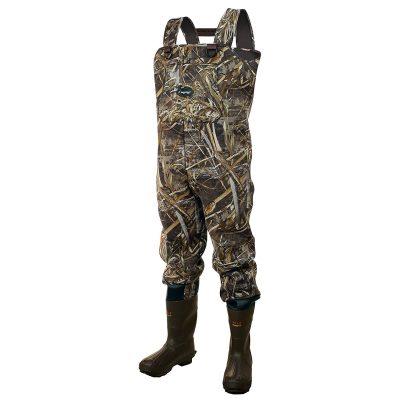 These fishing waders look as awesome as they perform. Available in Realtree or Mossy Oak camo they offer as much by way of aesthetics as they do functionality. Boots, hand warmer pocket, h-back suspenders, and 3.5 mm construction are a few features included in these waders.
Expand to see more
Quality Construction

The Amphib Camo waders are made of 3.5 mm neoprene which means they are warm enough for colder water. The seams are triple finished to ensure maximum durability, insulation, and waterproofing. They also have reinforced knee pads and a quick-drying hand warming pocket. These waders are perfect for duck season or fishing season.

Thinsulate Boots

Cold feet can make any outdoors experience unbearable. That is often one of the problems hunters face during colder months that will cut the whole trip short. The Frogg Toggs company knows this and created a boot that is lined with 600 grams of Thinsulate material. This combined with a felt midsole and cleated outer sole make these waders have some of the best-incorporated wading boots on the list.

Cost and Value

These waders are set at a slightly higher than medium price range. They are around a typical price you would pay for high-quality waders that have a lot of thought put into their construction. All in all, you will not be upset spending a little more on these waders.
Reinforced knee pads

Adjustable neoprene suspenders

H-back adjustable suspenders

600 gram Thinsulate Ultra Insulation
How To Make The Best Decision When Choosing A Wader
Never settle for one wader, and always have one of each. That means one rubber wader and one nylon/or neoprene wader. They each serve their purposes, and you don't want to be caught in an uncomfortable position. At the very least you will have a backup if something happens to your main wader, with the prices now low enough that it is justified to own several of them.
Criteria Used to Evaluate the Best Fishing Waders
Construction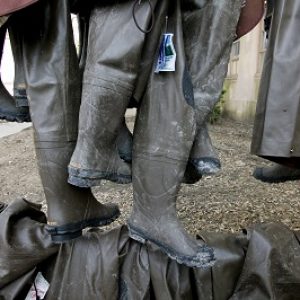 There are several different types of material that fishing waders are typically made from. Each type of material has its own attributes. Each also has its benefits and drawbacks. Traditionally fishing waders were created out of a thick waterproof canvas. Modern times and technology brought about the use of rubber and then later, neoprene, and  GORE-TEX. Modern fishing waders also often have other elements included in the design such as PVC.
As stated before, each material has its own strengths and weaknesses:
Rubber: Rubber waders are often cheaper, easier to fix, and seal out water. However, they also keep moisture in, are hot and heavy and can also be super rigid. Since rubber waders do nothing for moisture management inside the wader they often develop a certain smell that, if not washed thoroughly after every use, can linger and grow.
Canvas: These waders are a bit tougher than rubber. You can patch canvas and they last a little longer. But they are also heavy and rigid. Canvas is the preferred option for professionals when it comes to fishing in areas that have a lot of debris and rocks. While rubber is also easy to patch it is susceptible to punctures and tears if you are faced with underwater debris or rocks.
Breathable Materials: There are also materials such as GORE-TEX that is classified as a breathable wader. Having fishing waders that are made from breathable material sounds a bit counterproductive. After all the whole point of a wader is to be waterproof. However, what they mean by breathable is the capability to wick away moisture. Many other wading materials do not do much for managing the sweat that is produced while being worn. This leads to uncomfortable irritation, rashes, and sometimes foul-smelling waders. Breathable waders are unparalleled in terms of comfort and being lightweight. However, they cost more and usually do not do well in colder climates unless you wear additional layers of clothes under them.
Neoprene: This is material that a lot of wetsuits are made from. There are varying levels of thickness that offer different levels of insulation and durability. Neoprene is probably the most popular material used for waders today. They are a bit lighter than canvas and rubber, are easier to take care of, and often come with patches that can be placed on the wader should a rip or puncture occur. Neoprene is a great material for colder water but does not do anything for wicking away sweat.
When selecting the right fishing waders, think about where, when and how often you will be using them. Keep in mind the qualities and drawbacks of each material so you can decide which material is best suited for you.
Fit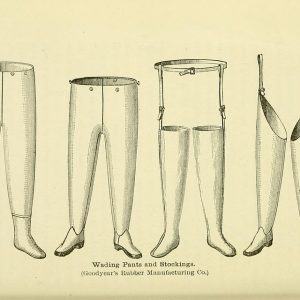 Perhaps one of the most important aspects of a pair of fishing waders is the fit. If a pair of waders is the wrong fit, functionality, as well as comfort, is sacrificed. Again, look at when you will be wearing them. The outdoorsman who uses waders during the colder seasons might wear a pair of waders that are one size larger than they would wear in warmer months. This is to make room for a base layer. This is especially important if you have a material that is not well insulated. Cold weather and water can be a lethal combination so pay particularly close attention to these details.
There are different styles of waders available on the market. This list is comprised mainly of chest high waders. There are also knee high, over the knee, and hip high waders. The type you choose is again based on your activity. If you are mostly buying waders for fishing as your main activity, chest high waders are a great choice. However, if you plan on going camping or hiking and just plan on doing some fishing while you are out, the less bulky options might be better suited for you. While chest high waders offer the most protection, they can be hard to pack.
Another thing to consider is boot fit waders or bootless waders. Waders that have the boots included are the better option when it comes to overall insulation, protection, and durability. But they can also be bulky and harder to pack. Bootless waders are more convenient when it comes to the hiker or camper but then you have to buy wading boots as well as waders.
To find the best fit for you always check the manufacturers sizing chart. The sizing of one company may differ greatly than that of another. Measure your inseam without shoes on. Also, take measurements while wearing the clothes you would be wearing while using the waders. This will take into account any type of baselayer you may have on during colder trips.
Without proper fitting gear, you will have to endure annoyances such as rashes, leaks, or even abrasions. Be if no other advice is taken be sure to follow through on steps to get appropriately sized waders.
Features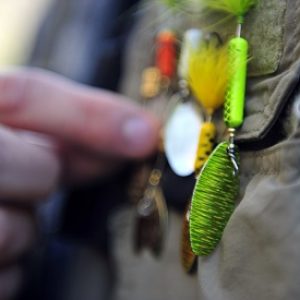 Somethings that may seem like an afterthought can actually be of great importance when it comes to a product's features and accessories. For fishing waders, think about where you are going to be. Usually, it is in the middle of a stream or pond. You don't want to have to keep wading back and forth to shore if you need something.
Many waders feature pockets. Some feature a pocket on the inside of the wader for things you want to keep dry such as your phone or other gear that could be damaged by water. Pockets are very handy when you find yourself in the middle of any activity that involves both of your hands but need access to tools and gear. Another feature a wader might have are D rings so you can clip accessories onto the wader for easy access.
Another consideration to make regarding the features of fishing waders are the buckles on the straps as well as how the straps run. Certain buckles are easier to work with than others and can offer a lot by way of safety. And speaking of safety, it is important if you are going into deeper waters to find a pair of waders that offer a cinching top. This keeps water from spilling over the top. Should the unthinkable happen and you were to fall over the waders will fill with water quickly and make it hard if not impossible to stand back up and maneuver back to safety.
As you can see, accessories and features of fishing waders are not mere selling points. Many of them have very practical purposes and can make your day on the water safer and more enjoyable.
FAQ
Frequently Asked Question
Q: What is the Best Wader Material?
A: There are several different types of material that are commonly used to make waders. This list is a good representation of waders that are made from rubber and nylon but materials such as canvas, GORE-TEX, and neoprene are also commonly used. Each has specific attributes to keep in mind when selecting the best Wader for you.
Q: How Important Is A Good Fit?
A: Just like a tailor-made suit a wader should fit you and be comfortable with movement. This is important since you will be doing a lot of movement in it. Bad fitting waders can cause bruises and even rashes. Also, you want to make sure the wader is not to heavy for you. It is important to be able to move easily in the water.  Be sure to pay attention to the manufacturers sizing charts and how heavy the waders might be.
Q: Are Boots Important With Waders That Use Stocking Boots?
A: Some of the waders on the list don't come with boots, instead opting for reinforced stockings. That doesn't mean boots weren't meant to be worn with them, but it is optional. If you find that an area you will be using them in may cause discomfort without boots, then, by all means, put some on. It seems the with boots or without boots debate is an ongoing argument. Each has good qualities. But getting built in waders will save you from having to buy boots separately. Booted waders also offer more by way of insulation and protection. If you are looking to buy wading boots you will come across different types of material on the tread. The most common types are felt and cleated rubber. Felt is good for gaining traction on slippery surfaces such as boat docks and ramps and the cleats are superior when getting traction on muddy surfaces.
Q: Will Extra Pockets Make A Difference?
A: You may not notice at first, yet the repeated use of a wader will show you the importance of having multiple pockets. Waders with multiple pockets are wonderful, allowing you full access to an unlimited supply of accessories. It all depends on your style and needs. It is always helpful however to have more areas of storage than less. Some waders feature an extra "dry" pocket to keep your phone or device in. However, if you are not looking for any distractions and just want to ignore calls and emails for awhile this pocket might not be the first on your list of priorities. Storage areas or D rings will allow you to keep your equipment handy and keep you from having to go back and forth to the shore to get equipment.
Q: How Do You Clean And Maintain Waders?
A: As with any outdoor expedition, the trip is not over when you get home. The sooner you unpack and clean everything the longer your equipment will last and the more use you will get from it. When you get home it is recommended that you hang up your waders as soon as possible so they can dry. Make sure both the insides and outsides of your waders are dry by hanging them somewhere inside. Open all of the pockets and turn everything inside out including the waders themselves when the outside appears dry.
Every now and then it is important to actually wash the things. Most are machine washable but be sure to check the manufacturer's recommendations. Over time if the waders are not washed they may begin to break down and become useless. If you are machine washing use detergent without fabric softener or dyes. For waders that are not machine washable, they can be cleaned in a tub or by using a spray cleaner. Some waders have a water-resistant coating on the outside that will also deteriorate over time. This DWR coating can be reapplied.
Rips, tears, and wholes are almost unavoidable. A lot of manufacturers offer patches or other ways to keep your gear functioning at its best.
Sources