Best Snow Boots Reviewed and Rated
It's going to be that time of year again much sooner than you know it. Snow is already getting ready to fall in most places and your hunting is about to become a lot colder and lot more difficult if you don't have the right snow boots to keep yourself cool, dry, and as mobile as possible while out in the wilderness. Below is a list of the best snow boots you can find to ensure you're hunt in the winter months is successful.
Our Top 3 Picks
10 Best Snow Boots
1. Timberland White Ledge Men's Waterproof Box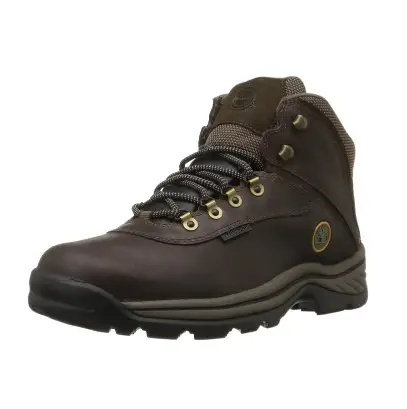 Timberland is all about bringing style and function together when it comes to clothes for the great outdoors and these boots are right in line with that design. They're a combination of familiar material but stop at the ankle. Depending on what you need them for, they may be the boot for you, but their design is certainly unique on this list.


Expand to see more
Ankle Length

The biggest thing here is that this boot stops at the ankle. While many of these boots went up the calf and even claimed to be knee-highs, this boot is there to protect the foot and the foot only. That isn't a good or bad thing in design, but it's something you'll want to keep in mind while shopping.

Comfort Focused

This design is very focused on making sure your foot is comfortable while wearing them. There's a padded collar and a removable EVA dual density footbed on the inner portion of the boot. There's also a pretty well rated support system within the sole to keep you comfortable and moving while using them.

Features/Specifications

These are the shortest boots thus far measuring just under 5in from arch to shaft, but, as we mentioned, they are designed to be ankle boots. They've got a rubber sole and a full-grain leather shell for waterproofing. That leather shell is also designed to be pretty good looking with an oiled finish. The multi directional lugs provide good traction underfoot as well and the tongue is designed to relieve lace pressure while in use.
Excellent for general hiking
Good traction capabilities
Tight laces without discomfort
Intuitively size  
No break in required
Designed for hiking more than anything else
Not designed for high intensity cold
Projects only foot and ankle from cold and wet
2. Columbia Men's Bugaboot Plus III
The brand name alone should say a lot about the design and intent for these boots. Columbia is a proven cold weather apparel maker. These boots are the real deal for winter weather from design to construction to proven effectiveness. If you need something for cold weather, these are going to be the ones to spring for.


Expand to see more
Serious Insulation

The insulation design on these boots doesn't mess around at all. They're equipped with a 200g insulation Omni Heat Reflective material that locks in heat and keeps it trapped to keep you warm. This is some serious heat technology that works better than traditional fur linings as it keeps your natural body heat locked in.

Outer Material

The outside of the boot compliments the insulation material with some serious design to withstand the elements. The outer wrapping is some heavy duty rubber mixed with leather and textile along the shaft for total and complete coverage.

Features/Specifications

This boot measures 7in in height from arch to shaft and all 7in of that is designed for total and complete coverage.The material design combines the waterproof capabilities of rubber with the comfort and outer protection of leather with the total comfort of textile. They weigh about 3lbs so a little on the heavier side for those looking for something a little bit lighter.
Superior insulation technology
Incredibly comfortable wear
Proven and longstanding cold weather brand
Sizing allows for fit with wool and thicker socks
More designed for cold weather than for wear of use
Inner sole has been known to come loose
3. Men's Northside Everest Winter Boot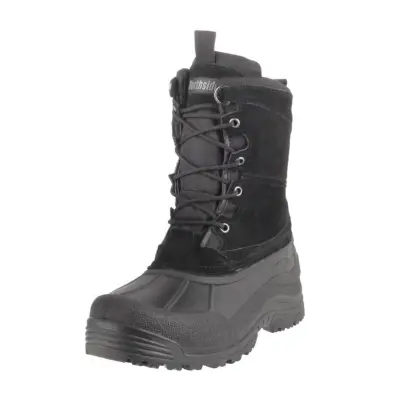 This product comes from a company that specializing in making boots for the entire family, so if anyone in your family needs a boot, this might be the brand to turn to you for warm and durable boots for any size and age. This boot is designed for active use so it stands up pretty well to some rugged terrain but is a little less focused on the cold, wet weather


Expand to see more
Aggressive Tread

The tread on these boots is self-described as "aggressive." And I'm not one to argue, the boot and the company are all about hiking apparel that can take on the rough and tumble of the terrain. Just looking at it you can see the intricacies of the tread and can get an idea for how incredibly effective they're going to be out in some tough ground.

Family Oriented

These boot sand this brand are all about family. This means there's a boot for everyone and they're focused on making something durable to stand up to families in motion and some pretty rambunction use while out in the wilderness. Durability is a big factor here when it comes to the design and construction of these boots.

Features/Specifications

They feature a a sole made of rubber blended with a leather wrapping along the shaft. The shaft itself measures 8.5in from arch to the top. The weight on these is pretty hefty at 4lbs so while the brand is family focused, these boots are, as the name suggests, for an adult male.
Excellent for family needs
Intuitive sizing for no confusion
Removable insert can come loose while in use
4. Baffin Men's Wolf Snow Boot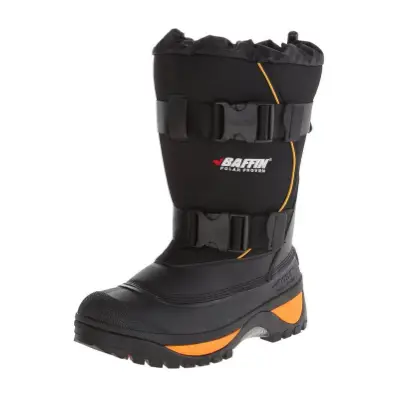 Okay, now we're getting into some very heavy duty, no play boots. This boot is technically designed to keep the cold and the weather out while being used again and again (and when a logo has a maple leaf on it, you know it means cold weather business). Just looking at these boots shows you how well they'll keep the snow and cold out.


Expand to see more
Everyday Winter Wear
These boots are designed, first and foremost, to be used in any everyday condition while out in the winter. They're made from some very sturdy blends of material. The strapping is intuitive and easy to use for anyone and sole itself is more focused on snow and cold than on tread in some
rough ground conditions
.
Warmer Than Ever
This new design is a lot more technical than the last iterations of the Baffin boot. It blends a hefty and impressive amount of waterproof and insulation material to create the perfect environment while trekking through the snow and cold. In fact, the inner lining features a seven layer insulation system for maximum effect.
Features/Specifications
There's a lot of material that went into the creation of this boot. The outer sole is made of lightweight recycled rubber and features a flexible midsole for arch support and comfort. There is rubber compound featured at the arch as well for durability. The molding technology on the outside combines with foam insulation to create a streamlined design for both inner comfort and outer durability. They're long at 11in from arch to the top of the shaft which covers a lot of leg space during a hunt.
Incredibly warm design
Meant to be used in any situation
Buckle straps are easier and less faulty than laces
Proven brand against cold weather
They run narrow which can be uncomfortable
Sizing can run a little small
5. Kamik Men's Nationplus Boot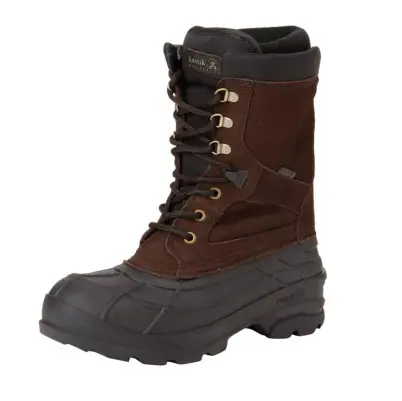 This is a boot breed for tackling cold, wet weather. There's a lot of specifications and features that go into making this boot incredibly durable and incredibly effective from the insulation design to the materials used on the outer shell, this is going to be one serious boot for those that are hunting in some very, very cold places.


Expand to see more
Proven Against Cold

These boots are rated for effectiveness at 40 degrees below zero. While most hunters probably won't be seeing temperatures like that, those of you in the wilds of Montana or in northern Canada are going to want to spring for these incredibly durable and well tested boots.

Excellent Combination of Materials

This boot is lined with 200B Thinsulate insulation material and moisture wicking lining on top of that to make the inside of it 100% waterproof and incredibly warm while out in the elements. The outer shell of the boot features a highly effective rubber material at the sole while the shaft is wrapped in thick leather. The rings on the laces are also rust proof for best use.

Features/Specifications

These boots measure 10in from arch to shaft which gives some excellent coverage from foot to mid calf. The platform gives you almost an inch in height over the wet ground and the combination of rubber, leather, and Thinsulate work together to create a waterproof, incredibly warm boot.
Proven against intensely cold temperatures
Very sturdy build and mix of materials
Intuitive sizing to avoid hassle
Bottom tread is excellent against slippery surfaces
The shape of the boot can make them slightly uncomfortable to wear
May require knee-high socks to avoid discomfort
6. Sorel Men's Bear Extreme Snow Boot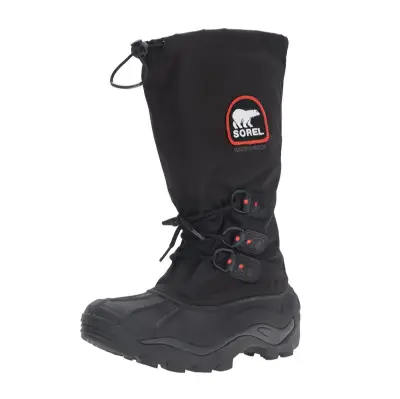 This boot just looks warm. It's tall, covering a majority of the of the leg and features a rubber sole and warm inner lining that gives you the most protection you could ask for. This boot isn't messing around when it comes to keeping the elements off you and it has the trust of a solid brand name backing it.

Expand to see more
Shaft Height
This boot goes over a foot up from arch to shaft which means it'll be covering the majority of your leg and the part that is most likely to be affected by weather and wet components on the ground. They also will keep you safe from the higher levels of snowfall that can happen in the winter.
Lace Closure
These boots feature a barrel lock closure for the laces. They also don't form any inner seam on the boots, completely on the outside, which keeps them from being a liability in the snow. They lock in and hold tight to keep the rest of the boot tightly closed and safe from the elements.
Features/Specifications
They measure 13.5 inches from arch to shaft, covering all of the lower leg. They feature a polyurethane coated shaft, combined with the rubber sole for maximum waterproofing against snow and rain and even creeks. The heel puts you at 1.25 inches above the ground for some added protection against snow and rain resideue.
Price/Value
These are pricey, we're not going to lie. But look at what you get for all your money. You'll see it in action every time you use them so it won't be so much a loss as an excellent investment in your
hunting gear
. That being said, don't purchase them lightly.
Decision Time
These are designed to take on snow of varying heights, so if you're going to be out in deep snowfalls, these are your best bet with their 13 inch height. Their price also makes them a long term investment so keep that in mind while researching and deciding on them.
Height allows for maximum coverage
Excellent lace design
Highly waterproof materials
Can be somewhat hard to put on
Can run small
7. KingsShow Men's Waterproof Leather Duck Boots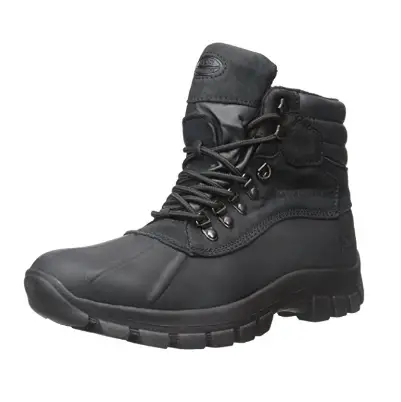 This boot focuses on a couple different components when it comes to construction: waterproof rubbering, duck boot toe, and excellent lace construction. These are the boots that want to be waterproof and live up to that expectation. A blend of waterproof leather and rubber keeps them dry and warm.

Expand to see more
Total Waterproofing

The waterproof technology here starts at the rubber sole and toe and doesn't doesn't until it reaches to the top of the shaft. It blends rubber and leather to ensure the waterproof material is there protecting every part of your foot that the boot covers.

Lace Up Construction

The lacing can be a crucial downfall of any waterproof boot. It can be the place where water seeps in and makes you and your hunting trip miserable. The lace up construction on these boots is designed to ensure that doesn't happen.

Features/Specifications

They measure 5.25 inches from arch to shaft, covering a good portion of the leg past the ankle and it's all lined with waterproof rubber and leather They weight about 3 lbs so they won't be too heavy to move around in and feature the duck toe on the boot for maximum waterproofing and protection.

Price/Value

The price on these is extremely good for everything you get with them. There's a lot going on in these boots but they're priced low. So the price to value ratio is certainly in your favor when it comes to these boots.

Decision Time

If you need something completely and totally devoted to keeping your feet dry from snow or rain, then these are the boots for you. They've got high levels of protection from the bottom to the top which makes them an excellent buy for anyone whose focus is on the waterproof features of the boot.
Solid blend of materials for warmth
Proven brand name
Highly waterproof
Inner seams can come loose during high intensity use
Can discolor socks
8. Totes Men's Arnold Snow Boot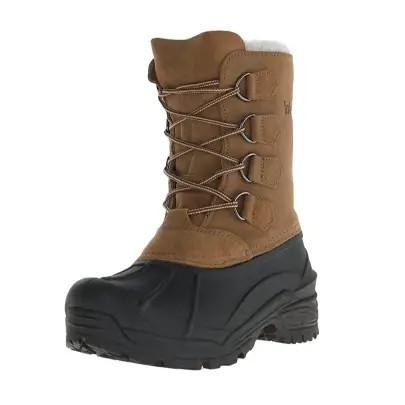 Now we're really talking when it comes to snow boots. This is a heavy duty boot that will get the job done while keeping you
dry and warm
in the snow and rain of the wilderness. They're imported, feature an excellent design, and are lined with some of the warmest material you could find.
Expand to see more
Sherpa Lining

The inner portion of the boot is insulated with sherpa lining. This is an incredibly soft and incredibly effective insulation material that you often find in similar boots and moccasins. It's an excellent guarantee of warmth.

Excellent Design

Along the outside of this knee-high boot is a durable rubber shell and weather-resistant material that keeps out the cold and wet for as long as you need. The D-ring design on the laces also gets the boot nice and tight so you're not slipping and sliding while wearing them.

Features/Specifications

These are labeled as knee-high boots and measure 9in from the arch to the top of the shaft. They weigh about 2.3lbs so keep that in mind while using them. They're an imported item and have some excellent craftsmanship to bring together all the materials to keep the wet weather out while you're hunting.
Incredibly warm interior
Shaft height allows for total coverage
Rubber shell and weather resistant material work together incredibly well
Proven waterproof capabilities
They tend to run a little small
They can be a bit heavy to move around in
9. DP Men's 0613W Waterproof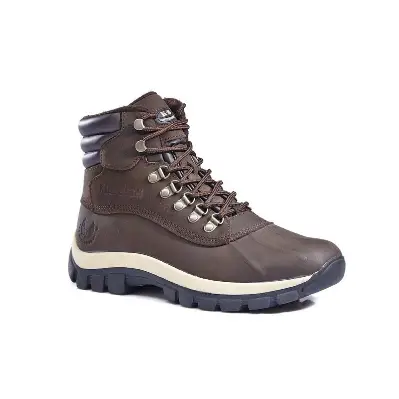 These are a comfortable, insulated, waterproof boot that's got quite the rugged look and the rugged abilities on them. They're waterproof, oil resistant, and slip resistant so they've got a lot to offer for the nice price.


Expand to see more
Rugged Design

These boots are designed to be used in the great outdoors. The sole is thick and the ridges are designed for finding traction wherever you are and giving you the ability to move freely. The heel measures about an inch of lift off the ground for the best mobility through the sloppy, wet ground just after a snow or rain storm.

Comfort and Function

These rubber boots fight hard against the weather and work to keep you insulated in warmth with the faux fur and heat coat of the interior. Meanwhile the rubber sole tackles the harshness of the weather and conditions around you. So it's a perfect blend of comfort and warmth with getting the job done while you're huffing it through the woods.

Features and Specifications

The boot features a rubber exterior with a faux fur and heat reflective material on the inner portion. It measures 12in in shaft length from the arch up and the heel stands at 1.5in while the remained of the platform is .75in.
Excellent insulation material
Highly waterproof thanks to rubber and oil resistant tech
Excellent and sharp look for use out in the wilderness
Designed best as snow boots and won't work well as primary hiking boots
10. LABO Men's Winter Snow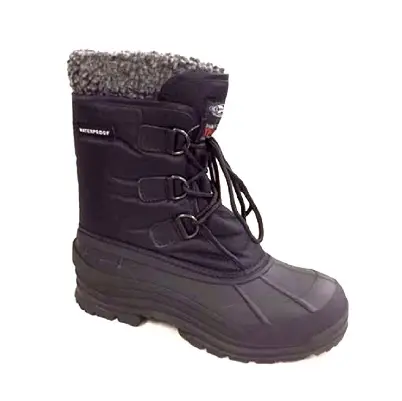 These are the snow boots to spring for if you want to avoid breaking the bank or a budget but still staying as dry and warm as possible while out in the snow. They've got some serious and warm insulation and proven waterproof capabilities comparable to boots much higher in price.


Expand to see more
Insulation

These boots have a cotton blend insulation that will keep you incredibly warm and protected from the elements while trudging through the snow. These boot strap heat in and hold onto it to keep you completely comfortable while the snow falls down.

Waterproof

It's not enough to just trap in heat, of course. And these boots are 100% waterproof to deep snow, creeks, and treks through ice. They'll keep the moisture and cold out to prevent discomfort or injury while hunting.

Features and Specifications

The heel height on these boots is a little just under 2in to give you some sizable height to be above layers of moisture and snow on the ground. The outer fabric is a mixture of faux-leather and rubber to repel water. The inside is padded, fleece lining for maximum warmth and comfort.
These boots have a very economic price
Extremely thick to keep out water
Black color works with all hunting gear
We hope that our best snow boots guide helped you find the best pair of boots for this winter!