Best Snake Proof Boots Reviewed and Tested
"There's a snake… in my boot." Words you only ever want to hear when you're watching "Toy Story" with your kids. We all know the drill, snakes are more scared of you than you of them, keep your distance, don't be dumb and you'll be fine. But for those folks who hunt the critters, deal with them professionally, or are just unlucky enough to not be able to stay out of their way, it behooves you to be prepared for the worst. I'm not sure anyone would ever choose to wear snake boots for their sleek fashionable looks. Snake boots are built tough, durable and outdoor-ready boots. Some of them look like they just popped out of Mad Max, high on the leg, big and a bit bulky but hey, when it comes to snakes we're not particularly concerned with looks. In order to find tougher boots, you'd have to look to the ones offered for the construction industry. But the most important function of them is to keep you safe from the slithery predators beneath your feet.
Best Brands
There are some familiar names on the list, but it really comes down to fit and toughness. Even if a big brand name is attached to it, the toughness test is one that can't be ignored. Snake proof boots aren't exactly rocket science, and if they can't protect you from snakes, then they lose points pretty quick.
Maintenance and Cleaning Tips
Because of the materials used, keeping regular cleaning products away from them. Using a soft brush with mild soap and water is the best way to clean your boots. The amount of stress that the boots will go through while you wear them is nothing compared to ruining the material with an unapproved cleaner. Don't worry about the boot itself since snake proof boots are made to be punished.
Featured Recommendations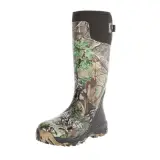 LaCrosse Alphaburly

Our rating
Neoprene
Price:

See Here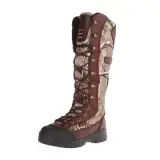 LaCrosse Venom

Our rating
Best Protection
Price:

See Here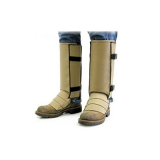 Crackshot R-2052

Our rating
Polycarbonate
Price:

See Here

15 Best Snake Proof Boots
1. LaCrosse Alphaburly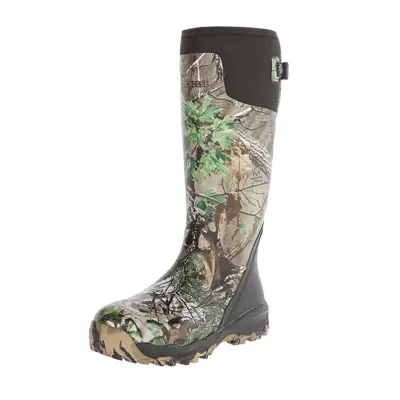 On the top spot on the list is the Alphaburly Pro, a Lacrosse product that lives up to its name. Snakes won't stand a chance against the solid construction of this snake proof boot.
Expand to see more
Neoprene And Rubber Materials
This is the best use of these two materials in one boot in a head to head matchup with the other options. It is the perfect amount of flexibility and protection so that you're not slowed down while wearing them.
Features and Specifications
18 inches in height
Waterproof and scent-free
Price/Value
Lower sizes are average price while the larger sizes take a slight bump into high priced territory. Overall the price compared to the other boots on the list is quite low.
Decision Time
The best on the list turned out to not be a leather clad snake proof boot, which shows some shift in the industry. Whether you're looking for longevity or
protection
, the Alphaburly Pro's will have you covered on both ends.
Neoprene is the core of the boot and maximizes flexibility
Both the toe and heel have multilayer rubber support
Boots are large in the toe area
2. LaCrosse Venom Scent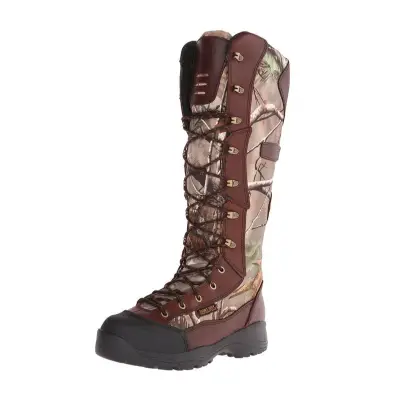 Lacrosse took a lot of the ideas from the rest of the industry and fused them into this boot. The Venom Scent APG HD is a solid choice for buyers, and comes in at a comfortable price point.
Expand to see more
The Best Protection
Using both leather and fabric, Lacrosse provides the
best protection
on the list. Their 360 snake guard will protect you against bites better than any other choice.
Features and Specifications
l8 inches with 2 inch heel
1,000 denier nylon uppers
Price/Value
Customers will be looking at a price that goes from average to high based on size. Even at the largest size, it is still lower priced than a lot of the other options.
Decision Time
Getting the right fit is critical when purchasing a pair of snake proof boots. As long as customers pay attention to the sizing charts provided, this could be the best protection against snakes that you can wear.
Nice amount of comfort features built into the interior
Waterproof
Calf section of boot runs small
3. Crackshot R-2052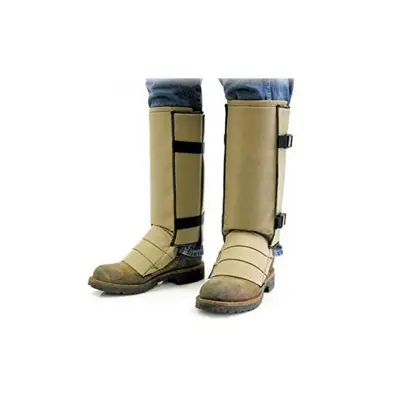 Another non-leather option makes its way onto the list, this time with the R-2052. Using nylon in place of leather works well and adds an advanced degree of comfort.
Expand to see more
Polycarbonate Inserts Do Wonders For Comfort
And surprisingly they also help a little bit with protection, although you'd need a really deep bite. The comfort level is pretty high and will help users that
wear them for hours a day
.
Features and Specifications
Khaki Tan-Nylon color
19 inches of coverage
Price/Value
As another one of the low cost boots on the list, there will be a lot of interest since it is in the #2 spot. When you value comfort a bit more than protection, then this turns into the perfect buy.
Decision Time
If these boots aren't the most comfortable on the list then they are very close. Wearing these for hours won't wear out your legs or suffer from breathability issues.
Provides a high amount of coverage
Nylon is more comfortable than other materials
Buckles takes some time getting used to
4. Foreverlast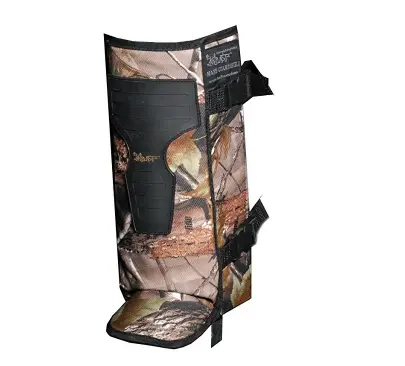 When boots become too cumbersome to protect from snake bites, these shields should do the trick. They don't have all of the extra bulk of the boots on the list, and can be put on quicker.
Expand to see more
Less Of A Hassle
Putting on the guards and taking them off can be done in less time than it takes to put on a single boot. You simply strap them on and adjust, then head out on your trip without worrying about special sizing.
Features and Specifications
Cordura-like upper
Weighs 1.6 pounds
Price/Value
This is the lowest priced option on the list, but also the one that provides the least amount of protection. Buyers that just want to enhance their
current accessories
will get the most value out of this.
Decision Time
Sometimes less is more, and in this case it really works out for the best. A guard can be a
real lifesaver
if you have the correct outfit to enhance it.
Camo design
Fits very well
For some these are too stiff
5. MuckBoots Pursuit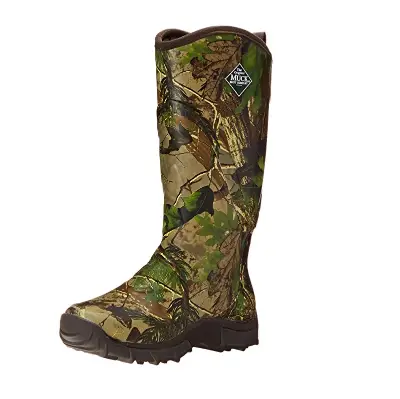 Leather is usually the go to when you need a superior snake proof boot, but it isn't the only option. The Muck boot offers an interesting alternative for buyers that need better water protection with these types of boots.
Expand to see more
100% Rubber

The rubber is thick enough that it stops bites just as reliably as leather, with the added benefit that it's better for water use. To make up for what is usually an uncomfortable wear, they padded the inside with a lot of comfort extras.

Features and Specifications

4mm CR flex foam
Anti-friction sock lining

Price/Value

Despite the rubber materials the price remains high for this pair in all sizes. There is a bit more give in the fitting so this may hold some serious value to customers having issues finding a comfortable fit.

Decision Time

The rubber vs. leather argument is still hot in modern day snake proof boots. But there is no doubt that this is one of the better choices on the list, regardless of materials.
Extremely comfortable to wear
Can withstand water better than leather
Slightly less tough than leather
6. Chippewa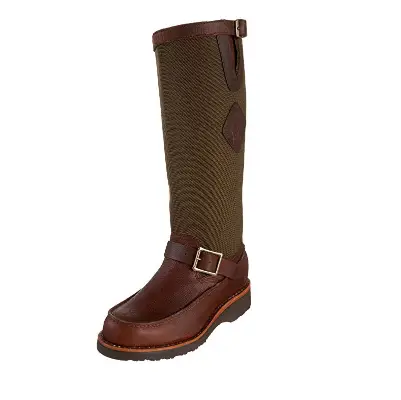 Traditional aesthetics is what fueled the features on this snake proof boot. With a sleek design and powerful protection, buyers can consider this one of the best in the industry.
Expand to see more
A Difference When Using Textile
A combination of leather and textile make up the majority of the boot, with no fancy images or
camo
. It's an all business solution that looks and feels like a boot meant to protect you.
Features and Specifications
Back zipper with Velcro flap cover
Vipercloth shaft
Price/Value
This is one of the more expensive options on the list, so buyers will have to pay a little more. Since this has one of the
best protections
against bites, the value is well worth it.
Decision Time
Traditional snake proof boots could take some serious beatings, and that is exactly what makes this pair so special. They will hold up well over the years and end up being a top accessory in your arsenal.
Sturdy and very hard for predators to bite through
Moccasin toe profile
7. Rocky Prolight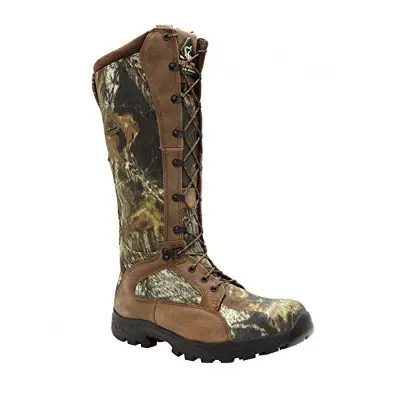 With an eye for variety Rocky nabbed a lot of potential customers that wanted to mix and match their styles. This is one of the most diverse boots on the list and will find its way into the homes of many buyers.
Expand to see more
Up To Ten Colors
With a play on neutral and dark colors the company nailed it, even with the
camouflage
color. There is something in here for everyone, no matter their style preference.
Features and Specifications
Full grain leather with nylon
16 inch height
Price/Value
Depending on the size, buyers will spend between an average and high price when making the purchase. In the small to medium sizes, this is a very competitive priced pair of boots.
Decision Time
Having the right style options available at your disposal with boots can be an important buying decision. Purchasing this pair from Rocky will put the power of design in the hands of the buyer.
Goes over uneven surfaces without a problem
Company took great care making the color variety
Not as comfortable as other boots
8. Danner Pronghorn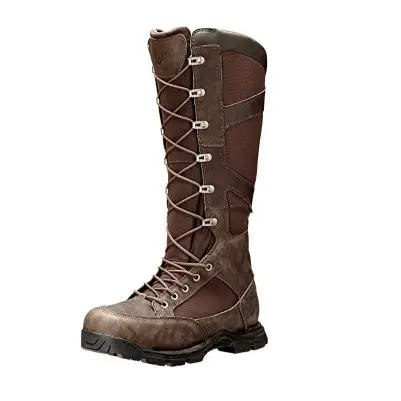 When Danner came out with this model of boots it had some unique features. Now the industry has caught up, but this product is still a standout for what it does.
Expand to see more
Simplifying The Preparation

Adding a zipper to the side not only saves time, but gets over some fitting hurdles that may bother people with certain feet types. The zipper mechanism is tough and won't give out to the usual wear and tear.

Features and Specifications

Leather with a rubber sole
Waterproof and breathable

Price/Value

This is one of the most expensive snake proof boots on the list, yet one of the best. Consumers with foot issues will find this the most valuable option due to fitting.

Decision Time

What makes this product a winner is the ease at which you can put it on. You'll save a lot of time and frustration with this side zippered system from Danner.
Zip speed lace fastening system is quick and secure
Works great on tough terrain
9. LaCrosse Adder

It's all about the materials with this snake proof boot. An imported masterpiece from Lacrosse, buyers will get a good amount of protection out of this mashup of materials.
Expand to see more
High Quality Leather

The leather used in this boot will stand up against wear and tear quite well. And the real winner is how tough it is against medium sized snakes.

Features and Specifications

Full grain leather
2 inch heel

Price/Value

Like a lot of the other items on the list, this one is high priced. It's a small amount to pay for the protection offered and a good fit.

Decision Time

A large amount of customers have complimented the fitting of this boot, so you can look forward to comfort. Buyers will get tough leather that will hold its form for years.
Large boot with tough materials
Abrasion resistant toe cap
10. Wood N' Stream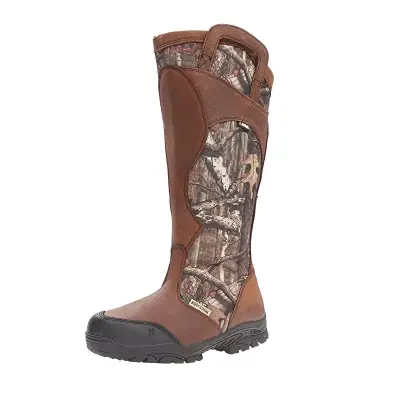 Right out of the gate Wood N' Stream provides a good outline of what a snake proof boot should be. Combining strength with style, this is a really good looking choice for consumers.
Expand to see more
Good Size Variety

You won't have any troubles finding the right fit with available sizes from 8-14. A lot of customers have admitted that this is one of the better fitting snake proof boots out there.

Features and Specifications

Removable dual-density polyurethane
Waterproof

Price/Value

The price is high for all sizes, with the good news being that there is little chance you will get the size wrong. And even with only one color to choose from, it's still a great value.

Decision Time

This is a really good showing from Wood N' Stream, as they provide a boot with really good protection. The company has been in business for over 60 years and continues to go strong with superior products.

Great fit for a variety of small and large feet
Solid high end construction
11. LaCrosse Grange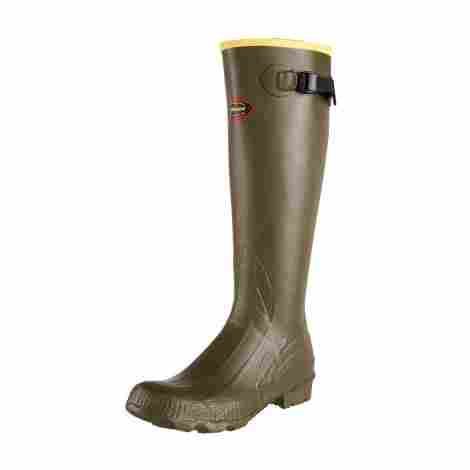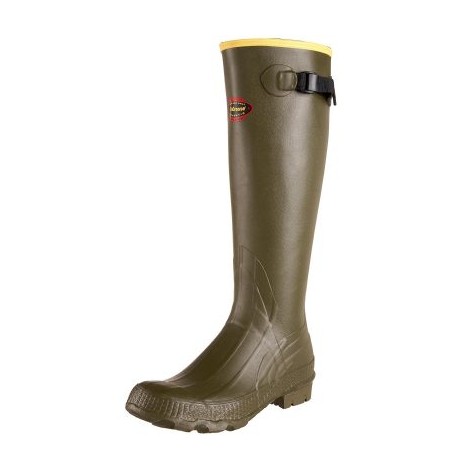 This boot has thick layers of rubber that will help make sure that no snake's fangs will penetrate the boot. In addition to protection against snakes, you can enjoy all of the other features found in this boot. The boots are perfect to wear outdoors all day long and will help your feet feel comfortable thanks to the support found around the ankle as well as the arches of your feet.
Expand to see more
Fully Rubber

This brand of boot is made completely out of rubber. The rubber will help make sure that you do not get bit by snakes but it also fully waterproofs the boots so that you can stay dry in wet conditions.

Ankle Fit

The ankle of the boot is designed to fit around your ankles and fully support them. This will help you feel better after wearing the boots and can also help prevent injury if you happen to slip while walking.

Cost and Value

You will see these boots sold at a price that is well below the average for snake proof boots. The lower price turns these boots into a bargain purchase because you can have outdoor protection without having to spend much.
The boots are made completely from rubber and are fully waterproof so that you can stay dry.
ZXT rubber material has been treated to reduce scent and odors on the boots for a better smell.
The rubber has been designed to resist tearing and abrasions by adding additional tensile strength to the boots.
You will get additional support in your ankles because the ankles are fitted on the boots.
The soles of the boot have been designed to provide additional traction and resist slipping in wet areas.
Users have reported that the boots are not long lasting and leak easily after only a few uses.
Other users have reported that the boots have a strong plastic smell when they are brand new.
12. Muck Boot FieldBlazer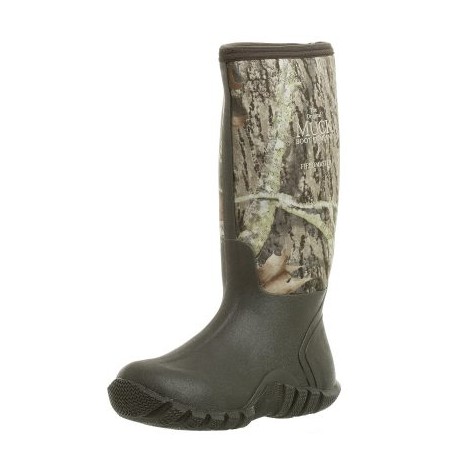 The FieldBlazers by Muck Boot are another excellent choice for people who are spending time outdoors where there could be snakes. The boots are high enough to reach your knees so that you don't have to worry about a nasty snake bike while you are outdoors. In addition to protection from snakes, you can enjoy other benefits such as protection against the freezing cold and protection against the water.
Expand to see more
Breathable Liner

Most rubber boots do not breath which can cause your legs, ankles, and feet to feel hot and sweaty. These boots offer a breathable liner that helps to address the problem by pulling moisture from your skin while you wear the boots.

Slip Resistant

The outsole of the boots is designed to resist slipping which makes these boots great to wear in wet and muddy conditions as well as cold and icy areas. You can walk with more certainty and are less like to fall thanks to these boots.

Cost and Value

You will see these boots sold at a price that is slightly lower than the average price for snake proof boots which makes them into an excellent value for the cost since you won't have to pay a lot for protection.
There is full support in your Achilles area so that you are less likely to get injured.
The boots offer you complete protection against water so that you can stay dry in wet conditions.
There is a breathable liner in the boots which helps keep you from getting hot and sweaty.
The shank area of the boot is reinforced so that your foot arches are fully supported.
It has non-slip outsoles on the bottom of the boots so that you can grip the ground.
Some reviewers have reported that they develop blisters on their feet and heels from these boots.
Other users report that they feel extremely hot while they are wearing these boots in warm climates.
13. Irish Setter 2875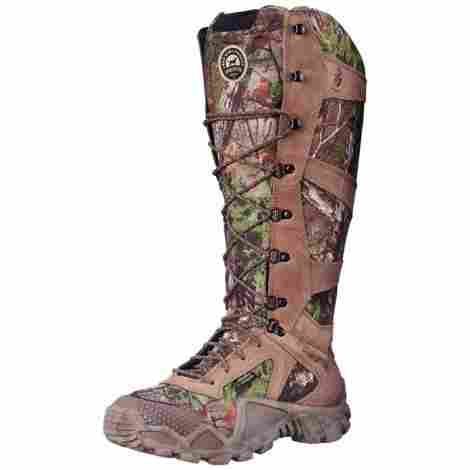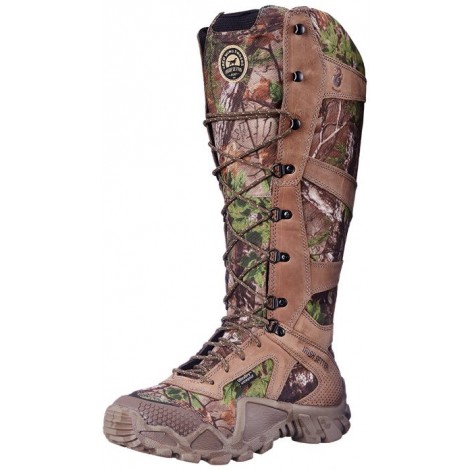 This is a premium pair of snake proof boots that feature the best protection against the deadliest of snakes. The boots are constructed from the ground up to prevent penetration of snake fangs and other sharp objects which makes them into the perfect choice to wear when you are in hazardous conditions. They are designed to stay lightweight and breathable so that you have added comfort when you have these boots on.
Expand to see more
Waterproof Leather

Most boots are made from rubber which is heavy and doesn't breathe. These boots are made from waterproof leather materials so that they are more comfortable and lightweight while still providing you with protection against water and moisture.

SnakeGuard Construction

The boots feature a construction that is engineered to block snake fangs and other sharp objects from penetrating the sides of the boots. This will provide you with the ultimate protection against snakes as well thorns and other sharp objects.

Cost and Value

You will see these boots sold at a price that is higher than the average price for snake proof boots. The higher price comes from the higher quality construction and materials that are used to make these boots.
These boots are made from a blend of leather and synthetic materials for extra durability and protection.
The soles are made from rubber so that your feet stay dry in wet and muddy conditions.
They have a special construction that prevents snake fangs and other objects from penetrating the boots.
You can expect that these boots will smell fresh thanks to the ScentBan technology that kills bacteria.
These boots resist abrasion so that they do not wear out from regular uses or outdoor walking.
Many users have reported that the size of the boots is not accurate making it hard to wear.
Other users have mentioned that the boots only resist water and are not as waterproof as advertised.
14. Bogs Bowman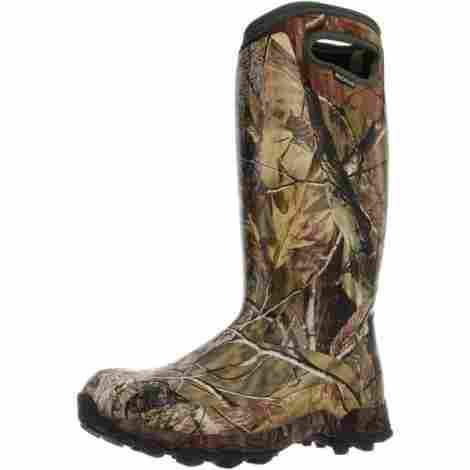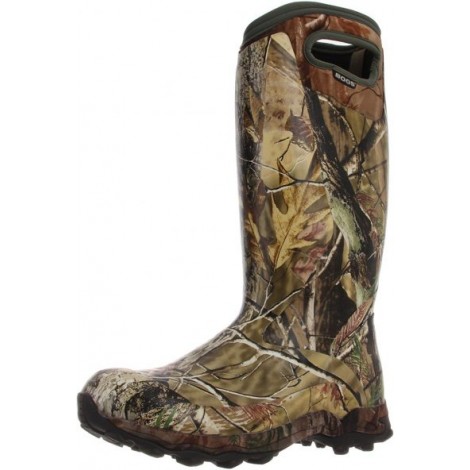 This pair of high profile waterproof hunting boots will help you stay dry and protect you against snake bites while you are spending time in the wilderness. They offer lots of features that you would expect to see in a premium outdoor boot including waterproofing, moisture wicking, and protection against odors. These features and much more turn them into an excellent hunting boot that you can wear hours at a time.
Expand to see more
Scent Protection

The boots feature a Scent Combat technology that kills off odor-causing bacteria. This will help reduce the number of bacteria in the boots so that they continue to smell fresh even after wearing them all day long in hot weather.

Moisture Wicking

There is an interior lining in the boots that wicks away moisture. This helps improves the overall comfort of the boots because your legs, ankles, and your feet will feel drier and less hot since moisture is getting pulled away from them.

Cost and Value

This is a brand of premium outdoor hunting boots so you will see these boots sold at a price that is higher than the average price. You will get a lot of value in the boots since they have everything you need to enjoy the outdoors.
The boots have a high profile and will reach to about your knees to protect against snakes.
They are fully waterproof so that you can stay dry while walking in wet and muddy conditions.
There is a moisture wicking lining on the inside of the boots that help you stay comfortable.
The interior lining of the boots is anti-bacterial which helps keep the boots smelling fresh after wearing them.
There is a rubber sole on the bottom of the boots that help you grip the slippery ground.
Some reviewers have reported that the boots start leaking because of a breakdown in the rubber soles.
Other reviewers have experienced blisters on the back of their heels and feet when wearing thick socks.
15. Muck Boot Elite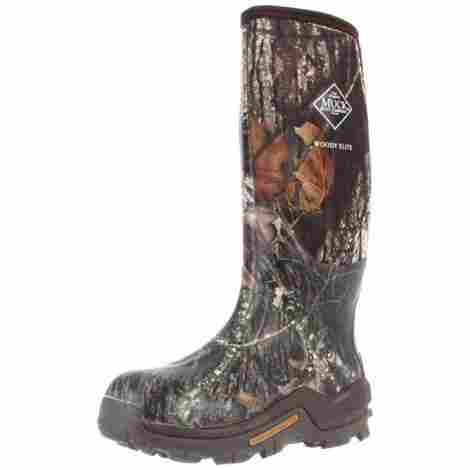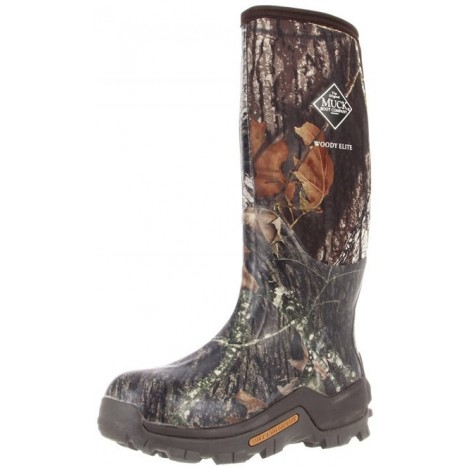 People who spend a lot of their time walking will need additional comfort and support in their snake proof boots. These boots offer features that will help cushion and support your feel so that you do not feel pain and discomfort in your feet after wearing them for a full day. They have other features that you would expect to find in a snake-proof boot including a high profile.
Expand to see more
Flex-Foam Bootie

There is a cushioned bootie on the inside of the boot that is made from FR flex-foam. This boot cushions and helps to support your feet and ankles so that you can wear the boot for long hours at a time.

Molded Outsoles

The outsoles on this boot are designed to provide you with the maximum amount of traction that you need in a snake proof boot. They will help you grip in even the slickest conditions so that you can walk with confidence.

Cost and Value

These boots are sold at a price that is higher than the average price for snake proof boots. You can expect superior comfort and protection from snakes and other conditions thanks to the high quality make and construction of the boots.
There is a scent-masking feature that hides your scent from wild animals making it easier to hunt.
The footbed of the boots has an anti-microbial technology that kills bacteria and reduces foot odor.
The bootie in the boot helps to insulate your feet and also provides you with moisture wicking.
These boots are fully waterproof and will help you stay dry in wet or snowy conditions.
The soles on the boot are made from rubber and are molded to provide you with maximum traction.
Some reviewers have reported that the outer shell of the boots is too soft to remain durable.
Other users have reported that the boots started coming apart due to the weak glue used to construct them.
Criteria For Evaluation
A large list of the best snake proof boots in the world was gathered to find which one customers would get the most value from. There were more choices than normal to choose from, so the top ten list is a good representation of the variety available in today's market.
Price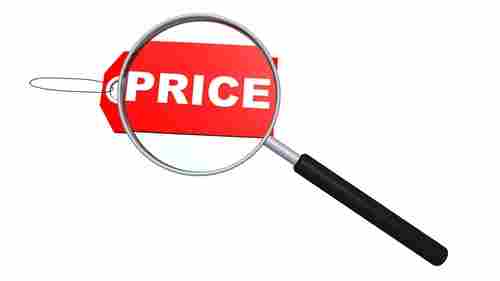 Price was our first criteria, and with this list that meant the standout was snake guard shields. They were a wonderful alternative on the list that not only cut down on weight but also showed a huge cut in their price. Snake guard shields worked great on their own or when compared with a pair of boots. Foreverlast ended up being the only company to satisfy the price requirement while still being competitive with the snake proof boots on the list. Their placement at #4 makes them a unique competitor that satisfies several protection requirements while still remaining low cost.
Design
Design was next, and it was a criterion that looked beyond the default camo design that most companies attached to their models. With a bulk of the list concentrating on simplicity, some snake proof boots that made the top ten went for a more natural look without losing their basic camouflage. Danner Pronghorn was a brand that met the design criteria head-on with a snake proof boot that looked like a regular leather boot. Chippewa was also a standout, earning points with what looked like a high-end dress boot.
Material
The next two criteria were based on materials, with a little bit of a twist. Putting the leather products against the rubber ones would put some boots at a disadvantage (despite their massive pros). So to keep things fair, we separated the two into their own criteria. Leather snake proof boots were rated first on their toughness, break-in time and overall quality. This was an easy criterion to measure when pairing the boots side by side. It also led to a lot of low quality leather boots being left off of the top ten completely. With the leather component of a snake proof boot at its best, customers are guaranteed top grade protection. Rubber materials had average protection but offered an extra layer of security when in the water. We still prioritized protection, so if the material was too weak it was not left on the list. In the end, our grade for the rubberized materials was based on their water ability, toughness, and break in time. Rubber snake proof boots have a low break-in time so are favored as backups, or when a specific size isn't available for a model. Despite their average toughness, all of the rubber boots on the list were rated high enough to withstand a snake bite.
Comfort
Comfort was the hardest of all criteria to judge. This wasn't just about size but had to do with a snake proof boots effectiveness when worn for hours. Wearing any snake proof boot for long hours will cause discomfort, yet some are better at adapting than others. With proprietary insoles on some models, they were able to meet or even exceed some of the comfort features offered in regular boots. Only a few companies were capable of porting over their comfort technologies from shoes and applying them to snake proof boots. Like a pair of Timberland boots, snake proof boots can be judged fiercely for not having a good warranty attached to them. Any outdoor apparel that comes with a bad warranty won't last long with customers if they get the run around with replacements.
Warranty

With the warranty criteria, we cleared out a lot of products- even the ones that were ranking high on the list. We didn't expect them to have as good a warranty as Timberland boots, but we did expect them to treat the products to a standard outdoor apparel warranty. The remaining snake proof boots on the list meet or exceed the listed warranty requirements.
Size and Water Resistance
With the last two criteria, we looked at vastly different areas of interest; Available sizes, and water capability for leather materials. Rubber materials were already built for water sessions, so there was no reason to include them with this criteria. Starting with sizes, only a few snake proof boots on the list had wide width available. On the upside, they all had excellent sizing charts for users to find the right boot. Even with most of the products having a different kind of 'break-in', all of the snake proof boots made navigating sizes easy. It still would have been preferable to have more choices with a wide width, so in that case, more users will look at snake guard shields as an alternative if a listed brand lacks wide width. When submerged underwater, the leather material for all of the snake proof boots on the list performed well. They held up as expected, and a few even surpassed their rubber competitors. Our point system favored the products that could handle extended periods in the water with minimal wear and tear. Buyers that want maximum protection and some great water options should have no problem buying the leather options on the top ten list.
How to Test Snake Proof Boots
Whether you live in an area infested with snakes or one pops up once in a while, it's good to protect yourself from a snake bite. A good pair of snake proof boots could be the difference between life and death. However, when it comes to these boots, the question that many people ask is whether they actually work. This is a question informed by fear of the risk of ending up with a product that will not only waste your money buy one that will also leave you vulnerable. The best way to know whether a pair of snake proof boots work is to test them. Below we propose some methods you can use.
Why test snake proof boots
Snake proof boots, like everything else you spend your money on, should be selected with extreme care. You want to ensure that you don't only get the best value for your money but also that the pair you buy will last you longer. It's also important to actually ensure that the boots you have work. Can you imagine what it would be like to walk into an area where you know a particular snake could be only to realize that the shoes you thought you would use as your defense are actually a fraud?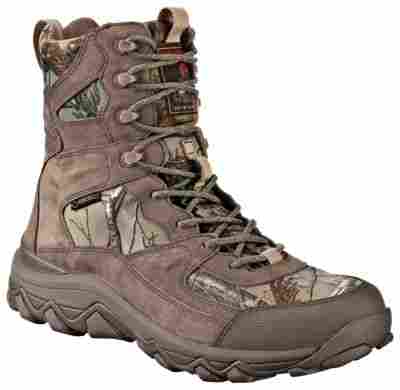 Another question could also relate to who may want to test boots. Anyone who spends time in the wild such as campers, hunters, and farmers would need to know whether the boots they have will do the job. Then, of course, we have those who work with snakes on a daily basis and those who have to remove them from homes and other public places. Manufacturers also need to test their products with the aim of always improving the product.
Pay attention to the design
Anyone testing snake proof boots would do themselves a favor is they start by looking at the design first. But why is the design so important? The main reason is that the venomous bites that kill thousands of people across the world are on the leg, particularly from the shin right all the way to the knee. It is rare for the bite to be on the foot itself. So, if you are looking for a pair, you will need to ensure that it covers the areas that are mostly bitten by the snake.
However, hunters or anyone else dealing with snakes should never make the mistake of believing that a snake could never strike above the knees. There are many venomous snakes that are known to be able to strike much higher. What this means is that if you are testing snake boots, you should at least have an idea of the kind of snakes which are most common in the place where you live.
Set the snakes on them
Those who have access to snakes can actually use the snakes themselves to test the boots. It's important to know the original condition of the boot before you start testing. By this, we mean that it should not have any perforations. The best method would be to fill the boot with water (you can line up the inner part of the boot with watertight plastic) and then let different types of snakes have a go at them. If the boot withstands the strikes, then you know that it works. If there are any perforations which could start letting the water out, then maybe you have the wrong pair when it comes to protecting yourself from snake bites.
It is, of course, important that you test the boot after it has been bitten by each snake so that you have an idea which one the boot failed to stand against.
Check the material
The best material for snake proof boots is leather. It has been proved that very few snakes, despite their sharp fangs, are able to penetrate the leather. When testing the boots, ensure that the leather is thick enough.
Apart from leather, there is a combination of other materials that you can look out for when testing snake proof boots. These include nylon, leather, denim, synthetic weaves, and Kevlar. The manufacturing process interlaces all these materials to create a layer that a snake bite would find difficult to penetrate.
Let others test them for you
Nowadays there is so much information you may never have to do anything for yourself. Many people are dedicated to testing stuff and post reviews on internet sites such as YouTube or personal blogs. Also, large retailers now also give verified users an opportunity to review the products they have bought and used.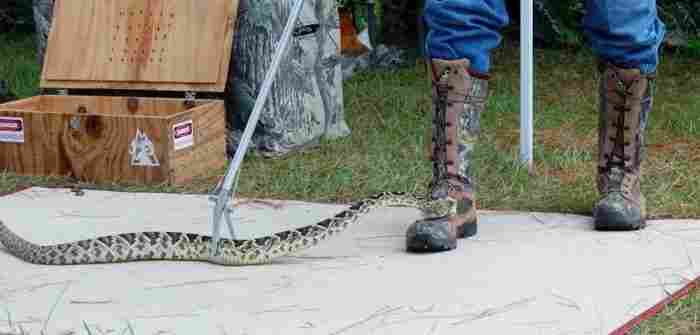 While this information should be approached with care since some of it is not verified, it can still be used as a preliminary starting point for testing products such as snake boots. It also gives you an idea of what is actually working right now, as actual hunters are testing the boots in practical situations
Fit the shoes
Since you are the person that will use the shoes, once you are happy that the shoe will be able to do the job for which you want it, you need to ensure that it fits comfortably. Remember that snake boots, like all other hunting shoes, take extra thick socks. It is advisable to fit the snake proof boots wearing the socks that you will mostly use the shoes with. This is something that some boot companies are factoring in and making the size slightly bigger than the normal.
While it is clear that there are no specific scientific methods for testing your snake proof boots at home, it is also clear that you can still do some basic tests that will tell you whether the boots you are looking at will be helpful when you need them. Our advice is that you should never cut corners, you would rather spend more money on a good pair than to spend it on a huge hospital bill.
FAQ
Frequently Asked Questions
Why Should You Wear Snake Proof Boots?
Preventing deadly bites is the #1 reason to wear snake proof boots. It only takes a split second for a venomous snake to take away your life, so having adequate protection is important. Many deaths and injuries can be prevented by wearing snake proof boots. Their usefulness doesn't end by protecting against snake bites, and they also serve as great outdoor hiking options. Rough terrain, water, and even sharp rocks won't be able to bother normal movement as long as you have a good pair of snake proof boots on. Even if the snake that bites isn't venomous, it's nice to have peace of mind with proper foot and calf protection.
Will The Boots Protect Me From A Snake Bite?
Unless it is an incredibly large snake, chances are you'll be in the clear. Even in the case of a tough snake, the most you will have to worry about is a bruise.
How Long Will The Boots Last?
This is more a question about how rough you are on your accessories rather than the toughness of the boot. The good news is that all of the companies on the list have generous warranties that cover in case of wear and tear.
Should I Pay Attention To The Prices?
If some boots are out of your range, then yes. But since this is about life-saving protection, consider it a necessary expense if snakes are known to be in the area you hunt in. And even in situations where you're not hunting, this is a minor expense for protection.
Can A Snake Still Bite Into Them?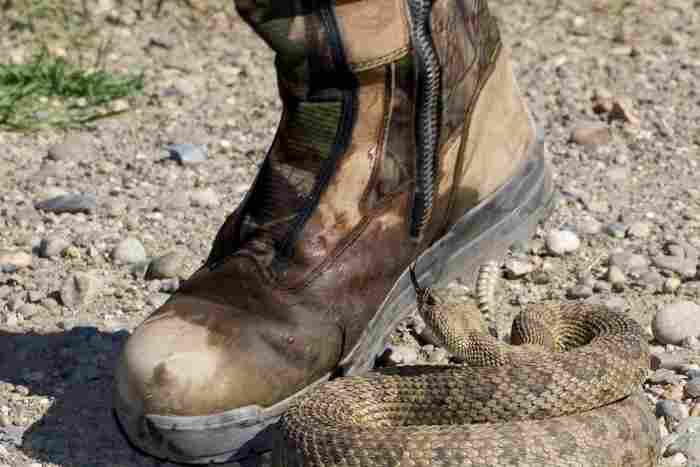 Usually no, but every armor has its weak points. There are very few recorded cases of snakes biting through snake proof boots. Reptiles aren't super geniuses, so they won't automatically know where a possible weak point is in the boot. More often than not they will hit a protected area that does no harm, and then you can simply deal with them in a better attacking position. Even bigger rattlesnakes will have a hard time piercing snake proof boots, so if the material is top notch then there is no danger to worry about. On the off chance a snake does penetrate the boot, it gives the user a better chance of survival since they will be instantly aware of the bite.
What Are The Chances Of Venom Seeping Through The Material?
It's a possibility even if the actual bite doesn't fully go through. The good news is that snake venom is harmless to human skin. When it makes contact, most people won't even notice it there. Now if that same venom happens to seep into your boot and lands on an open wound, it would have the same effects of the snake biting you directly. Snake venom is also one of the main ingredients of several high profile beauty creams that fight anti-aging. So in a weird twist, the poison has been stylized as the next big thing in beauty and health.
Will Regular Boots Protect Like Snake Proof Boots?
No, there are major differences in protection when comparing the two boots. A lot of people have made comparisons between the materials used for snake proof boots and other mainstream hunting boots. While you gain lightness and flexibility with other boots, you lose a lot of protection. The leather on a regular boot won't have the same stopping power as the materials on snake proof boots. Buyers should be aware of the extra protection provided with snake proof boots so that they don't replace them with lesser options.
Are There Any Advantages To Snake Guard Shields?
There are plenty of advantages, starting with price. Snake guard shields wrap around to protect your shins and calves from snake bites. Since they aren't a full boot, they cost significantly less than regular snake proof boots. They also offer more flexibility for wearers with foot problems. If you have a prescribe shoe/boot that you have to wear but need some protection from snakes, then snake guard shields are the perfect combo to go with your footwear. They fit all sizes and can be as loose or tight as needed for the current trip.
Leather Or Rubber?
Leather has always been the top choice for snake proof boots, not only for style but also due to their tough exterior. Snakes will find it hard to break through the defenses of a well-made leather boot. The only downside is needing to mask the scent a couple of times before the smell of the material completely vanishes. Rubber boots offer slightly less protection but give you more flexibility and comfort while walking. They are the superior choice for hikes that involve a lot of water, and if made by the right company they are tough enough to withstand snake bites. Having a pair of each material is preferable to get the best of both worlds.
Does A Mixture Of Materials Make For A Better Boot?
Rubber material as an alternative option to leather is the argument customer's use in favor of mixed materials. With an unlimited amount of mixtures to play around with, companies have been creative at finding tough materials and mixing them with comfort ones. Not all of these mixes work to ward off snake bites, so buyers should be aware if a snake proof boot has a bad mix of materials. It's still nice to have options, but only if they reinforce the weak portions of the boot.
How Many Companies Offer Wide Width?
The number of big and small companies that have wide width options is small-surprisingly small. Wide width and extra wide width sizes are not always available as a size. The break-in period of leather can drag on a bit, so customers that opted to try a regular size will be uncomfortable for quite some time. Because of the hardiness of the boots, stretching them into shape for wide width feet is one of the most uncomfortable things in the world. Consumers would be better off purchasing the correct size from a manufacturer that provides more robust wide width options.
Does Price Matter When Buying Snake Proof Boots?
With other products, the price can be ignored (to a certain extent) when comparing their values. Snake proof boots are a little different, and it is rare to see a low-cost model beat out a higher priced model. Protection doesn't come cheap, so the life-saving features of snake proof boots don't translate well to cheap materials. Customers should be wary of generic snake proof boots that offer the same features of branded and more costly models. A good example is the difference in rubber between a cheap and branded company. The former will do fantastic in water, but fail to protect from a snake bite.
Will Damaged Boots Still Offer Protection?
Yes, but their effectiveness will be limited based on the amount of damage and its placement. Damage to a snake proof boot isn't really in danger from snake bites, but from further damage when the boots are submerged in water. Waterlogged boots will degrade at a rapid rate while increasing the weight on your foot. The best way to avoid this is to call in your warranty or patch up the problem area if you're out of the warranty period. Snake proof boots are tough on the outside, but vulnerable to inside damage if their exterior armor is cracked.
How Heavy Are Snake Proof Boots?
Snake proof boots are a little bit heavier than regular boots. The extra protection adds on to the overall weight, with each boot size upwards weighing more than the next. It takes some getting used to, so be prepared to break them in before they're the perfect fit.
How To Make The Best Decision
Don't get distracted by fancy brand names and instead focus on fit, durability, and toughness. If you're the stylish type of hunter then looking at design isn't a bad idea at all. All of the choices on the list will do a great job against snakes, so feel free to choose by design.
Sources
Field & Stream, Snake Proof Boots
Wikipedia, Jungle Boot
Archery Talk, Snakes and Snake Proof Boots