Best Snake Proof Boots Reviewed and Tested
last updated:
Oct 24, 2019
We will not, as we've done before open this guide with a quote from Woody from "Toy Story" about Snakes and boots. We fear that in these days that reference might be a bit dated, though never to us. But we would like to talk about the very real probability that at some point in your wilderness adventuring you're going to run across a snake of the poisonous variety. We've seen them all, from rattlesnakes hiding in the tiniest rock crevices out West, to water moccasins lounging on the water's edge or infesting the nearby golf courses after a Texas thunderstorm. In any case, if you're out and about in snake country then why not spend a bit more scratch and get a pair of snake proof boots that can take a strike and push that critter back on its heels.
In a Hurry? The test winner after 14 hrs of research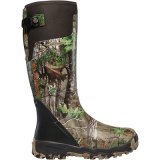 LaCrosse Alphaburly
Why is it better?
Neoprene is the core of the boot and maximizes flexibility
Both the toe and heel have multilayer rubber support
In a
Hurry? Editors choice: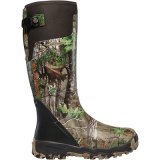 Test Winner: LaCrosse Alphaburly

14
Researched Sources
12400
Reviews Considered
14
Hours Researching
15
Products Evaluated
Materials
Comfort
Style
Weather Resistance
Value
By Default
BEST SNAKE PROOF BOOTS REVIEWED AND TESTED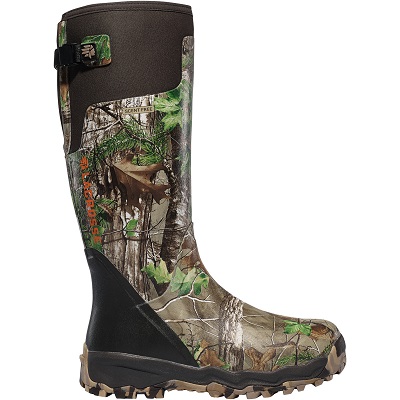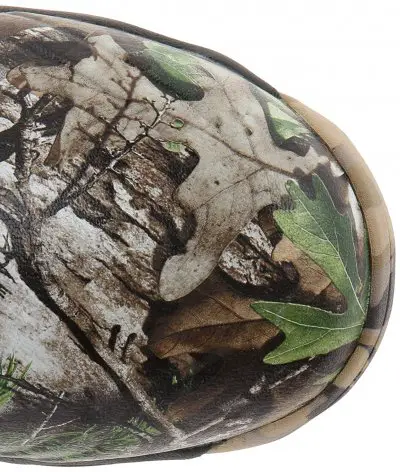 Neoprene is the core of the boot and maximizes flexibility
Both the toe and heel have multilayer rubber support
Boots are large in the toe area
On the top spot on the list is the Alphaburly Pro, a Lacrosse product that lives up to its name. Snakes won't stand a chance against the solid construction of these boots.
Neoprene And Rubber Materials
This is the best use of these two materials in one boot in a head to head matchup with the other options. It is the perfect amount of flexibility and protection so that you're not slowed down while wearing them.
Features and Specifications
This boot measure 18 inches in height to ensure extra protection. They are also waterproof and scent-free to keep from attracting unwanted guest.
Cost and Value
Lower sizes are average price while the larger sizes take a slight bump into the high priced territory. Overall the price compared to the other boots on the list is quite low.
Nice amount of comfort features built into the interior
Waterproof
Calf section of boot runs small
Lacrosse took a lot of the ideas from the rest of the industry and fused them into this boot. The Venom Scent is designed to be a solid selection but also at an affordable option for most.
The Best Protection
Using both leather and fabric, Lacrosse provides the best protection on the list. Their 360 snake guard will protect you against bites better than any other choice.
Features and Specifications
This features 1,000 denier nylon uppers to protect from the harshest environments. It also measures 8 inches with a 2-inch heel to guard high off the ground.
Cost and Value
Customers will be looking at a price that goes from average to high based on size. Even at the largest size, it is still lower priced than a lot of the other options.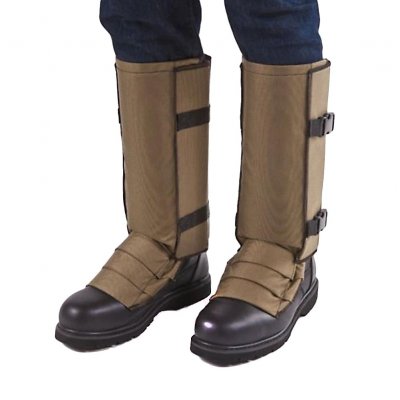 Easily Applied
Comfortable
Cheap
Easy to Wear
Not so much a boot as a way to make your favorite pair of boots impervious to venom-filled fangs no matter how determined. These gaiters attach to any boot and ride almost up to the knee and create a barrier that not even a Cobra is going to be able to get past. We also like that these gaiters come with an insurance policy that guarantees your safety.
Easy to Apply
We do really like the notion that you don't really have to buy a specific pair of snake proof boots rather with these any boot becomes snake proof. Simply wrap these gaiters around your leg and they extend down over the toe of your shoe and then attach firmly to your leg. A few plastic clasps keep the gaiters firmly attached and in place no matter how much work you put them through.
Comfortable
Despite the look of these gaiters they are meant to be comfortable and mean to be secure but to also ride easily and not rub against your leg in a way that might cause a blister or rub any skin raw. They apply easily and sit snugly bot comfortable on your leg and foot.
Cost and Value
The price varies but considering these are taking the place of an entirely new pair of shoes these are incredibly affordable given the kind of protection they provide. They're also made in the U.S. if that's important to you and come with the backing of a 1 million dollar liability guarantee.
These boots are made from a blend of leather and synthetic materials for extra durability and protection
The soles are made from rubber so that your feet stay dry in wet and muddy conditions
They have a special construction that prevents snake fangs and other objects from penetrating the boots
You can expect that these boots will smell fresh thanks to the ScentBan technology that kills bacteria
These boots resist abrasion so that they do not wear out from regular uses or outdoor walking
Many users have reported that the size of the boots is not accurate making it hard to wear
Other users have mentioned that the boots only resist water and are not as waterproof as advertised
This is a premium pair that features the best protection against the deadliest of snakes. The boots are constructed from the ground up to prevent penetration of snake fangs and other sharp objects which makes them into the perfect choice to wear when you are in hazardous conditions. They are designed to stay lightweight and breathable so that you have added comfort when you have these boots on.
Waterproof Leather
Most boots are made from rubber which is heavy and doesn't breathe. These boots are made from waterproof leather materials so that they are more comfortable and lightweight while still providing you with protection against water and moisture.
SnakeGuard Construction
The boots feature a construction that is engineered to block snake fangs and other sharp objects from penetrating the sides of the boots. This will provide you with the ultimate protection against snakes as well as thorns and other sharp objects.
Cost and Value
You will see these boots sold at a price that is higher than the average price. The higher price comes from the higher quality construction and materials that are used to make these boots.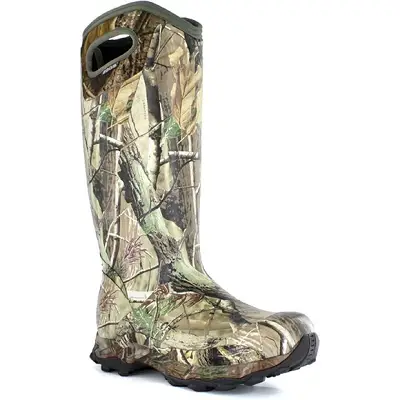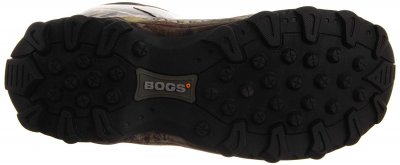 The boots have a high profile and will reach to about your knees to protect against snakes
They are fully waterproof so that you can stay dry while walking in wet and muddy conditions
There is a moisture-wicking lining on the inside of the boots that help you stay comfortable
The interior lining of the boots is anti-bacterial which helps keep the boots smelling fresh after wearing them
There is a rubber sole on the bottom of the boots that help you grip the slippery ground
Some reviewers have reported that the boots start leaking because of a breakdown in the rubber soles
Other reviewers have experienced blisters on the back of their heels and feet when wearing thick socks
This pair of high profile waterproof hunting boots will help you stay dry and protect you against snake bites while you are spending time in the wilderness. They offer lots of features that you would expect to see in a premium outdoor boot including waterproofing, moisture-wicking, and protection against odors. These features and much more turn them into an excellent hunting boot that you can wear hours at a time.
Scent Protection
The boots feature a Scent Combat technology that kills off odor-causing bacteria. This will help reduce the number of bacteria in the boots so that they continue to smell fresh even after wearing them all day long in hot weather.
Moisture Wicking
There is an interior lining in the boots that wicks away moisture. This helps improves the overall comfort of the boots because your legs, ankles, and feet will feel drier and less hot since moisture is getting pulled away from them.
Cost and Value
This is a brand of premium outdoor hunting boots so you will see these boots sold at a price that is higher than the average price. You will get a lot of value in the boots since they have everything you need to enjoy the outdoors.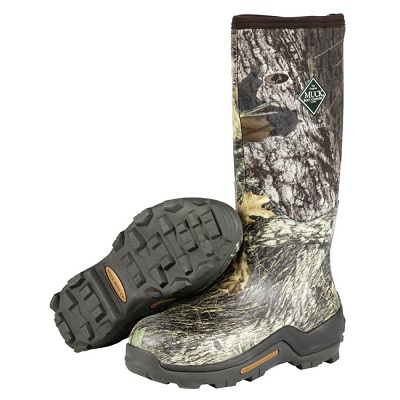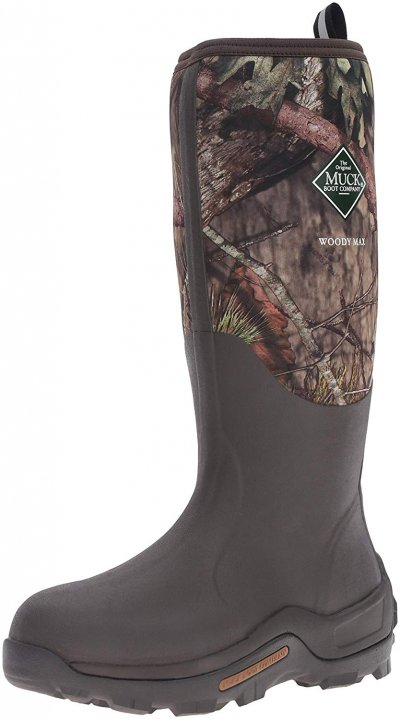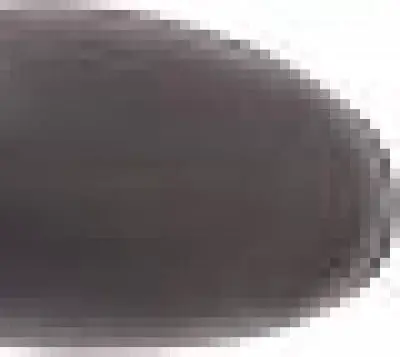 There is a scent-masking feature that hides your scent from wild animals making it easier to hunt
The footbed of the boots has an anti-microbial technology that kills bacteria and reduces foot odor
The bootie in the boot helps to insulate your feet and also provides you with moisture wicking
These boots are fully waterproof and will help you stay dry in wet or snowy conditions
The soles on the boot are made from rubber and are molded to provide you with maximum traction
Some reviewers have reported that the outer shell of the boots is too soft to remain durable
Other users have reported that the boots started coming apart due to the weak glue used to construct them
People who spend a lot of their time walking will need additional comfort and support. These boots offer features that will help cushion and support your feel so that you do not feel pain and discomfort in your feet after wearing them for a full day. They have other features that you would expect to find.
Flex-Foam Bootie
There is a cushioned bootie on the inside of the boot that is made from FR flex-foam. This boot cushions and helps to support your feet and ankles so that you can wear the boot for long hours at a time.
Molded Outsoles
The outsoles on this boot are designed to provide you with the maximum amount of traction that you need. They will help you grip in even the slickest conditions so that you can walk with confidence.
Cost and Value
These boots are sold at a price that is higher than the average price. You can expect superior comfort and protection from snakes and other conditions thanks to the high quality make and construction of the boots.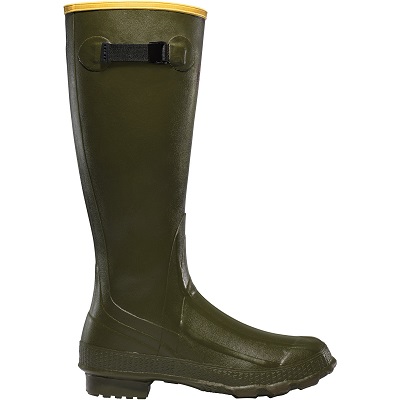 The boots are made completely from rubber and are fully waterproof so that you can stay dry
ZXT rubber material has been treated to reduce scent and odors on the boots for a better smell
The rubber has been designed to resist tearing and abrasions by adding additional tensile strength to the boots
You will get additional support in your ankles because the ankles are fitted on the boots.
The soles of the boot have been designed to provide additional traction and resist slipping in wet areas
Users have reported that the boots are not long-lasting and leak easily after only a few uses
Other users have reported that the boots have a strong plastic smell when they are brand new
This boot has thick layers of rubber that will help make sure that no snake's fangs will penetrate the boot. In addition to protection against snakes, you can enjoy all of the other features found in this boot. The boots are perfect to wear outdoors all day long and will help your feet feel comfortable thanks to the support found around the ankle as well as the arches of your feet.
Fully Rubber
This brand of boots is made completely out of rubber. The rubber will help make sure that you do not get bit by snakes but it also fully waterproofs the boots so that you can stay dry in wet conditions.
Ankle Fit
The ankle of the boot is designed to fit around your ankles and fully support them. This will help you feel better after wearing the boots and can also help prevent injury if you happen to slip while walking.
Cost and Value
You will see these boots sold at a price that is well below the average. The lower price turns these boots into a bargain purchase because you can have outdoor protection without having to spend much.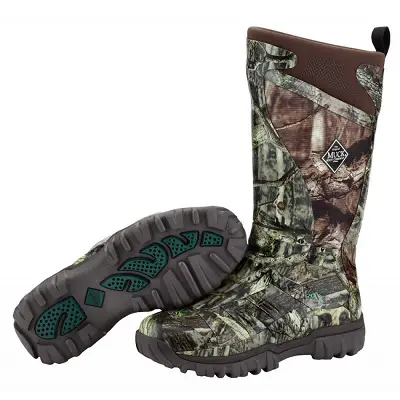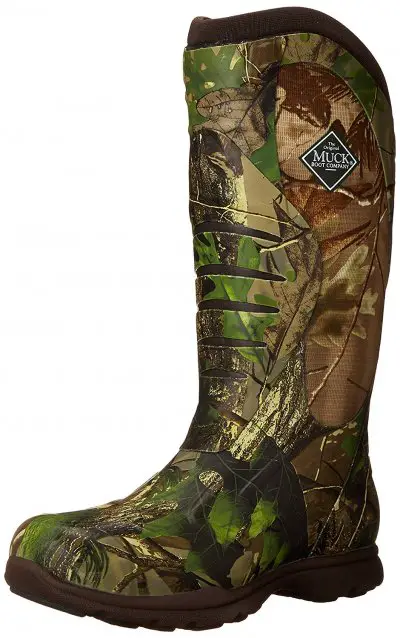 Extremely comfortable to wear
Can withstand water better than leather
Slightly less tough than leather
Leather is usually the go-to when you need superior protection, but it isn't the only option. The Muck boot offers an interesting alternative for buyers that need better water protection with these types of boots.
100% Rubber
The rubber is thick enough that it stops bites just as reliably as leather, with the added benefit that it's better for water use. To make up for what is usually uncomfortable wear, they padded the inside with a lot of comfort extras.
Heat Retention
This model was specially designed to retain heat and keep you warm during the colder seasons. It also offers shock absorption to prevent your legs from getting tired.
Cost and Value
Despite the rubber materials the price remains high for this pair in all sizes. There is a bit more give in the fitting so this may hold some serious value to customers having issues finding a comfortable fit.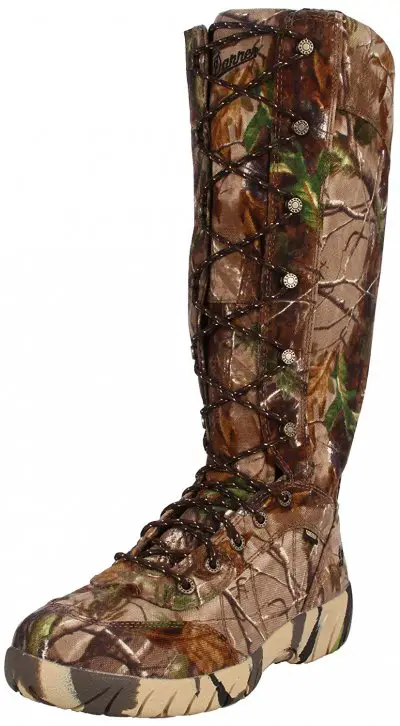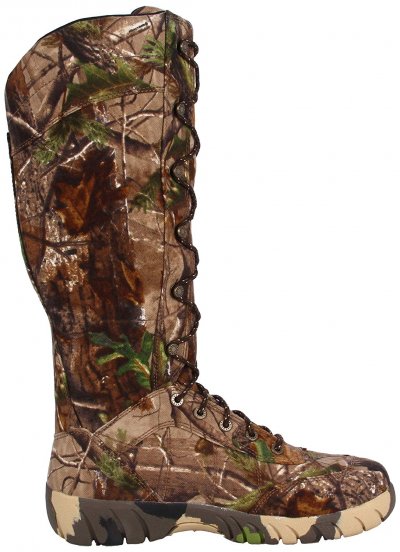 Ride High
Lace-Up
Water-Resistant
Rubber Sole
Can Rub Around the Ankles
Now, this is a boot. A tall, tough, fully articulated boot that is going to rise up almost to your knee. Not only that but it's lightweight and fully resistant to venomous reptiles. It has a strong rubber sole and Gore-Tex lining that'll keep you warm and snug inside this tough boot. The lace-up element can be a bit annoying as this boot is so high it'll take some time but you can rest easy that nothing is going to be able to bite through these.
Waterproof Construction
Not only as these boots snake-proof they're waterproof as well. The rubber sole will keep water from soaking up through the bottom of the boot and the nylon upper and shank are fully water-resistant and with a bit of scotch guarding are going to keep you dry as well as warm.
Lace ups for comfort
While lacing up these boots may be a bit annoying it allows you perfect the fit in a way that will make you most comfortable. These boots ride high so being able to make them comfortable on not only your feet but also your calves is going to make your life a lot easier when you're out in the wild.
Cost and Value
We like the price of these boots and we like the fact that they're tough resilient, water-resistant and ride high up on the leg to give you some real confidence that no snake is going to be able to get past these tough boots.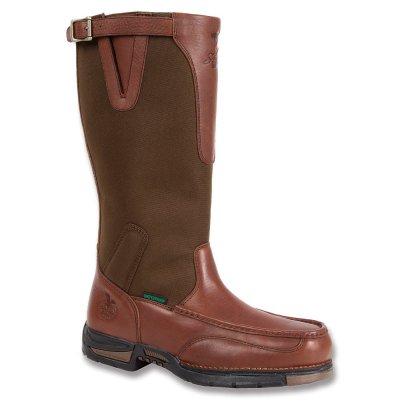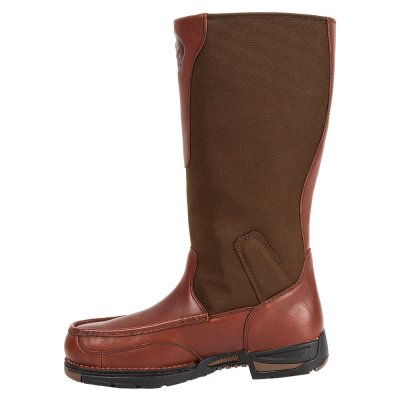 Steel Shank
Water Proof
Synthetic Material Construction
Advanced Heel Support
This is one tough pair of boots and the wonderful thing about them is that clean up nice and in a pinch can do double duty as a passable set of dress shoes. These boots are synthetic construction that guarantees they'll last and also guarantees their water resistance.
Tough Construction
These boots have a tough steel shank, an EVA sole and an advanced footbed that guarantees their ability to stand up to any snake but also their ability to stand up to any kind of weather and come out in good shape.
Ride High
These boots go well up on your thigh to provide that much more protection
Cost and Value
This is an expensive pair of boots, no doubt about it. But for all, you're getting from these boots, water resistance, snake-proof, and their tough construction it's a price we think is well worth it.
Criteria Used for Evaluation

Materials
The criterion based on materials, with a little bit of a twist. Putting the leather products against the rubber ones would put some boots at a disadvantage (despite their massive pros). So to keep things fair, we separated the two into their own criteria. Leather ones were rated first on their toughness, break-in time and overall quality. This was an easy criterion to measure when pairing the boots side by side. It also led to a lot of low quality leather boots being left off of the top ten completely. With the leather component at its best, customers are guaranteed top-grade protection.
Rubber materials had average protection but offered an extra layer of security when in the water. We still prioritized protection, so if the material was too weak it was not left on the list. In the end, our grade for the rubberized materials was based on their water ability, toughness, and break-in time. Rubber constructed boots have a low break-in time so are favored as backups, or when a specific size isn't available for a model. Despite their average toughness, all of the rubber boots on the list were rated high enough to withstand a snake bite.
The best material is leather. It has been proved that very few snakes, despite their sharp fangs, are able to penetrate the leather. When testing the boots, ensure that the leather is thick enough. Apart from leather, there is a combination of other materials that you can look out for when testing boots. These include nylon, leather, denim, synthetic weaves, and Kevlar. The manufacturing process interlaces all these materials to create a layer that a snake bite would find difficult to penetrate.

Comfort
Comfort was the hardest of all criteria to judge. Since you are the person that will use the shoes, once you are happy that the shoe will be able to do the job for which you want it, you need to ensure that it fits comfortably. Remember that snake boots, like all other hunting shoes, take extra thick socks. It is advisable to fit the boots wearing the socks that you will mostly use the shoes with. This is something that some boot companies are factoring in and making the size slightly bigger than the normal.
This wasn't just about size but had to do with the effectiveness when worn for hours. Wearing any snake proof boot for long hours will cause discomfort, yet some are better at adapting than others. With proprietary insoles on some models, they were able to meet or even exceed some of the comfort features offered in regular boots. Only a few companies were capable of porting over their comfort technologies from shoes and applying them to boots. Like a pair of Timberland boots, these can be judged fiercely for not having a good warranty attached to them. Any outdoor apparel that comes with a bad warranty won't last long with customers if they get the run around with replacements.

Style
Anyone testing these boots would do themselves a favor is they start by looking at the design first. But why is the design so important? The main reason is that the venomous bites that kill thousands of people across the world are on the leg, particularly from the shin right all the way to the knee. It is rare for the bite to be on the foot itself. So, if you are looking for a pair, you will need to ensure that it covers the areas that are mostly bitten by the snake.
However, hunters or anyone else dealing with snakes should never make the mistake of believing that a snake could never strike above the knees. There are many venomous snakes that are known to be able to strike much higher. What this means is that if you are testing snake boots, you should at least have an idea of the kind of snakes which are most common in the place where you live.
With a bulk of the list concentrating on simplicity, some made the top ten went for a more natural look without losing their basic camouflage. Danner Pronghorn was a brand that met the design criteria head-on with a design that looked like a regular leather boot. Chippewa was also a standout, earning points with what looked like a high-end dress boot.

Weather Resistance
If you're going out looking for snakes or at least trying to avoid getting bit by one, the last thing you need is the weather to weaken the material and put you in danger. The boot not only needs to protect you from snakes but from the elements and weather as well. They should keep you warm and dry, no matter what's going on around you!
When submerged underwater, the leather material for all of the boots on the list performed well. They held up as expected, and a few even surpassed their rubber competitors. Our point system favored the products that could handle extended periods in the water with minimal wear and tear. Buyers that want maximum protection and some great water options should have no problem buying the leather options on the top ten list.

Value
Price was a criterion that we took seriously because you deserve getting your money's worth! With this list that meant the standout was snake guard shields. They were a wonderful alternative on the list that not only cut down on weight but also showed a huge cut in their price. Snake guard shields worked great on their own or when compared with a pair of boots.
With the warranty criteria, we cleared out a lot of products- even the ones that were ranking high on the list. We didn't expect them to have as good a warranty as Timberland boots, but we did expect them to treat the products to a standard outdoor apparel warranty. The remaining on the list meet or exceed the listed warranty requirements.
Expert Interviews & Opinions
Most Important Criteria
(According to our experts opinion)
Experts Opinion
Editors Opinion
Users Opinion
By Default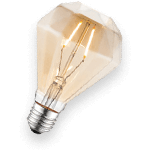 Maintenance and Cleaning Tips
Because of the materials used, keeping regular cleaning products away from them. Using a soft brush with mild soap and water is the best way to clean your boots. The amount of stress that the boots will go through while you wear them is nothing compared to ruining the material with an unapproved cleaner. Don't worry about the boot itself since they are made to be punished.
Let others test them for you
Nowadays there is so much information you may never have to do anything for yourself. Many people are dedicated to testing stuff and post reviews on internet sites such as YouTube or personal blogs. Also, large retailers now also give verified users an opportunity to review the products they have bought and used. While this information should be approached with care since some of it is not verified, it can still be used as a preliminary starting point for testing products.
Frequently Asked Questions
q:

Why Should You Wear Snake Proof Boots?

a:

Preventing deadly bites is the #1 reason to wear these boots. It only takes a split second for a venomous snake to take away your life, so having adequate protection is important. Many deaths and injuries can be prevented by wearing them. Their usefulness doesn't end by protecting against snake bites, and they also serve as great outdoor hiking options. Rough terrain, water, and even sharp rocks won't be able to bother normal movement as long as you have a good pair on. Even if the snake that bites isn't venomous, it's nice to have peace of mind with proper foot and calf protection.
q:

Will The Boots Protect Me From A Snake Bite?

a:

Unless it is an incredibly large snake, chances are you'll be in the clear. Even in the case of a tough snake, the most you will have to worry about is a bruise.
q:

How Long Will The Boots Last?

a:

This is more a question about how rough you are on your accessories rather than the toughness of the boot. The good news is that all of the companies on the list have generous warranties that cover in case of wear and tear.
q:

Should I Pay Attention To The Prices?

a:

If some boots are out of your range, then yes. But since this is about life-saving protection, consider it a necessary expense if snakes are known to be in the area you hunt in. And even in situations where you're not hunting, this is a minor expense for protection.
q:

Can A Snake Still Bite Into Them?

a:

Usually no, but every armor has its weak points. There are very few recorded cases of snakes biting through the boots. Reptiles aren't super-geniuses, so they won't automatically know where a possible weak point is in the boot. More often than not they will hit a protected area that does no harm, and then you can simply deal with them in a better attacking position. Even bigger rattlesnakes will have a hard time piercing them, so if the material is top-notch then there is no danger to worry about. On the off chance, a snake does penetrate the boot, it gives the user a better chance of survival since they will be instantly aware of the bite.
q:

What Are The Chances Of Venom Seeping Through The Material?

a:

It's a possibility even if the actual bite doesn't fully go through. The good news is that snake venom is harmless to human skin. When it makes contact, most people won't even notice it there. Now if that same venom happens to seep into your boot and lands on an open wound, it would have the same effects of the snake biting you directly. Snake venom is also one of the main ingredients of several high profile beauty creams that fight anti-aging. So in a weird twist, the poison has been stylized as the next big thing in beauty and health.
q:

Will Regular Boots Offer the Same Protection?

a:

No, there are major differences in protection when comparing the two boots. A lot of people have made comparisons between the materials used for types of boots. While you gain lightness and flexibility with other boots, you lose a lot of protection. The leather on a regular boot won't have the same stopping power. Buyers should be aware of the extra protection provided so that they don't replace them with lesser options.
q:

Are There Any Advantages To Snake Guard Shields?

a:

There are plenty of advantages, starting with the price. Snake guard shields wrap around to protect your shins and calves from snake bites. Since they aren't a full boot, they cost significantly less than the boots. They also offer more flexibility for wearers with foot problems. If you have a prescribe shoe/boot that you have to wear but need some protection from snakes, then snake guard shields are the perfect combo to go with your footwear. They fit all sizes and can be as loose or tight as needed for the current trip.
q:

Leather Or Rubber?

a:

Leather has always been the top choice, not only for style but also due to its tough exterior. Snakes will find it hard to break through the defenses of a well-made leather boot. The only downside is needing to mask the scent a couple of times before the smell of the material completely vanishes. Rubber boots offer slightly less protection but give you more flexibility and comfort while walking. They are the superior choice for hikes that involve a lot of water, and if made by the right company they are tough enough to withstand snake bites. Having a pair of each material is preferable to get the best of both worlds.
q:

Does A Mixture Of Materials Make For A Better Boot?

a:

Rubber material as an alternative option to leather is the argument customer's use in favor of mixed materials. With an unlimited amount of mixtures to play around with, companies have been creative at finding tough materials and mixing them with comfort ones. Not all of these mixes work to ward off snake bites, so buyers should be aware if a boot has a bad mix of materials. It's still nice to have options, but only if they reinforce the weak portions of the boot.
q:

How Many Companies Offer Wide Width?

a:

The number of big and small companies that have wide width options is small-surprisingly small. Wide width and extra wide width sizes are not always available as a size. The break-in period of leather can drag on a bit, so customers that opted to try a regular size will be uncomfortable for quite some time. Because of the hardiness of the boots, stretching them into shape for wide-width feet is one of the most uncomfortable things in the world. Consumers would be better off purchasing the correct size from a manufacturer that provides more robust wide width options.
q:

Does Price Matter When Buying Snake Proof Boots?

a:

With other products, the price can be ignored (to a certain extent) when comparing their values. This style of boot is a little different, and it is rare to see a low-cost model beat out a higher priced model. Protection doesn't come cheap, so the life-saving features don't translate well to cheap materials. Customers should be wary of generic type boots that offer the same features of branded and more costly models. A good example is a difference in rubber between a cheap and branded company. The former will do fantastic in water, but fail to protect from a snake bite.
q:

Will Damaged Boots Still Offer Protection?

a:

Yes, but their effectiveness will be limited based on the amount of damage and its placement. Damage to a boot isn't really in danger from snake bites, but from further damage when the boots are submerged in water. Waterlogged boots will degrade at a rapid rate while increasing the weight on your foot. The best way to avoid this is to call in your warranty or patch up the problem area if you're out of the warranty period. These boots are tough on the outside, but vulnerable to inside damage if their exterior armor is cracked.
q:

How Heavy Are Snake Proof Boots?

a:

They are a little bit heavier than regular boots. The extra protection adds on to the overall weight, with each boot size upwards weighing more than the next. It takes some getting used to, so be prepared to break them in before they're the perfect fit.
Subscribe to our Newsletter