Best Hunting Rangefinders Reviewed & Rated For Quality
In a Hurry? Editors choice: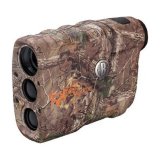 Test Winner: Bushnell 4 x 21mm

Rangefinders are a special piece of innovative equipment that has been evolving alongside camera technology. Highly utilized in hunting, rangefinders are revolutionary devices that can help you measure vast ranges of distance and detect your prey at long distances. Equipped with extremely powerful lenses, the gadgets can also help you increase the accuracy of your every shot. Usually paired with a
rifle scope
or a
bow
, a rangefinder is a must have for every hunter who wants to shoot accurately every time. This is why we rounded up the best hunting rangefinders on the market today. One can excellently argue about whether one or the other accessories for a successful hunt is really necessary or not. For equipment or technology alone does not decide on the
hunting success
, a laser rangefinder is one such device that we no longer want to do without.
Standout Picks
Criteria Used for Evaluation
Accuracy
Optical quality with the hunting rangefinders on the list came down to which brands put the most effort into making their lens top tier. It all starts out with the coating, which can fall into four categories. They all aim to reduce glare and provide crystal clear images, so there is no 'bad' category to choose from. The best category to end up in is fully multi-coated, which gives you the brightest image possible. This is, of course, depending on other factors, but for the best chance of getting an image that looks good at even the highest magnification, fully multi-coated lenses are going to be where you want to start looking.
The remaining categories that you are going to run into are coated, multi-coated and fully-coated. Buyers that find the best category too expensive can always go down to a different coating and get a great experience. To put it into brand terms, it is like deciding between Nikon or Bushnell-either way you're going to win. Customers that have weak eyes will find that going for full multi-coated will be the best decision they ever made with a range finder. In hunting, the sharpness and clarity that it provides will do wonders as you zoom in and out on the field. When we ordered the list based on optical quality, we took into account that fully multi-coated was the best available while the remaining three categories were somewhat equal.
Durability
With all of the available models being small and portable, they can also be a liability if you're rough with them. Ordering the list off of durability was tricky since by default all of the items on the list can be broken easily if you focus on the glass portions. And buttons or knobs on rangefinders aren't exactly brittle and could be considered the last possible thing to fail.
So with the durability criteria, we made it a point to look at the casings that surrounded the lenses, making durability a lot easier to decide on. When your range finder is in your hands, it needs to be sturdy, with the ability to take a considerable drop. Models like the Bushnell Bone Collector are even built to be weather resistant, so their range finder is especially valuable to hunters. Since all ten of the products on the list had sturdy housing, what broke the tie was their overall resistance to the elements when exposed. This pushed a lot of key models to the top of the list, and in the case of Bushnell, made it one of the best values available.
Features
Features came into play when we had to make the decision on how we would group the rangefinders with illumination and the ones without. This was a big decision since it is an optional mechanic, but one that greatly improves the user experience. Often those that don't get rangefinders with illumination will at some point feel they are missing a big part of owning a range finder.
To keep things fair for the people that really don't want the illuminated feature, we used it as a tie-breaker only. When two rangefinders of equal stature were paired up, the one with illumination would get an extra point and move up on the list. And in the case where it was two equal models with the illuminated feature, the one that handled it better would move higher. Other features that helped organize the list was zip mode, light handling, wide-angle view and how smoothly the unit magnified while in motion. Any rangefinders on the list that stuttered when changing magnification was swiftly removed, as that can be a bit jarring to the customer that changes magnification multiple times a day.
Brand
Finding a compatible brand is important not only for customer service reasons but also for buyers that want a small guarantee on their included warranties. Brands that have a history of great customer service went right to the top, which is exactly why Bushnell and Nikon are so highly recommended. Top brands also showed a proven track record of creating a series of models that steadily improved on both small and big features.
When you need to upgrade your range finder and you've been satisfied with X model for many years, getting the upgraded version of the unit is going to be the next step. So brand loyalty was an important criterion for how we ordered the list, as customers always want to back a name they can trust. For the lesser-known brands on the list, their inclusion shows just how great their range finder hardware is compared to the rest of the market.
10 Best Hunting Rangefinders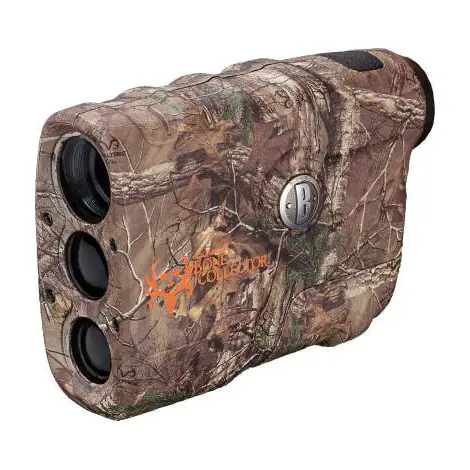 This one is definitely the best hunting rangefinder available on the market today. With many options available, you can be at ease knowing that this rangefinder will support you through all of your hunting needs. Easy operation and attractive in price and style, this product sure will not disappoint.
Accuracy
With an accuracy of one-yard difference, the affordable rangefinder is the perfect entry point for new hunting enthusiasts who haven't worked with rangefinders and also does a great job serving as an advanced rangefinder as well.
Easy Operation
With a single button operation and a magnification of 4x 20mm, the device can track targets from anything from 10 to 600 yards. Furthermore, with its bright, crystal-clear optics, the device is perfect to use in low light.
Cost and Value
If you are looking for an affordable product, this is the route to take. Not to mention, the device looks amazing with its Realtree Xtra camouflage pattern and rugged rainproof housing. Overall, an amazing hunting rangefinder.

2

. Wildgame Innovations Z6X 600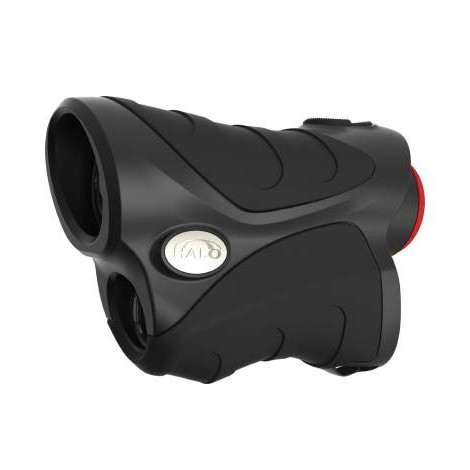 One of the best hunting rangefinders, it has the industry standard 6 times magnification and a number of great features that make it one of the most accurate rangefinders.
Precision
Precise up to 1 yard of distance and with a reflective target up to 600 yards, the compact device also has an amazing scan mode that allows for constant raging that is also smooth.
Easy to use
When you can find a product that is easy to use, it is one of a kind. Say goodbye to battling the hard to use products and focus on an easy and successful hunting trip, using this product!
Cost and Value
While this product is one of a kind and easy to use, it is also affordable and attractive in style. Accounting for slopes, this rangefinder does require some getting used to and is not that easy to use, like other rangefinders.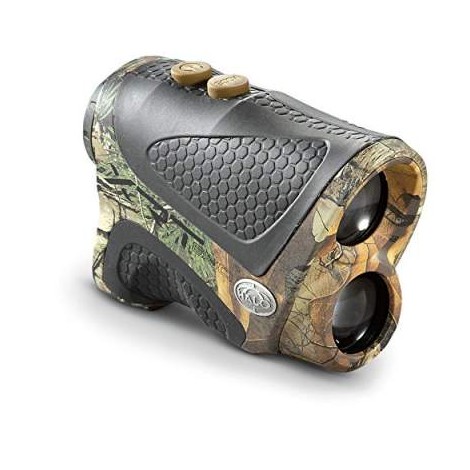 The Halo XRT 650 Yard Laser rangefinder is without a doubt one of the best options. Extremely compact and relatively lightweight, the device has an upper limit of 650 yards accuracy, but its practical limit is pretty close to its upper limit of about 425-450 yards.
Magnification
If you want a product that shows a crisp, clear shot, this is the product for you! It has the industry-standard 6x magnification and is great to use in low light conditions due to its big lens.
Grips
For a product that has everything, also included is a non-slip grip for those cold, wet days of hunting. With the grips, you are less at risk of dropping and breaking this product.
Cost and Value
What's more, while this rangefinder is pretty basic with not a lot of additional features, for its price, the device is more than perfect as it does what it does best.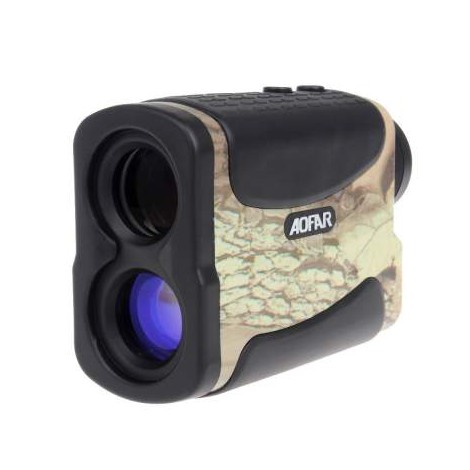 When it comes to great compact camouflage rangefinders perfect for hunting at an affordable price, this device is definitely one of the top choices. This option by AOFAR has great accuracy and is able to measure up to 700 yards with a continuous scan mode.
Pin Seeker
Furthermore, with its built-in PinSeeker technology, you will be able to easily identify your prey at long distances. This product will not disappoint.
Easy to Use
If you are seeking a device that is easy to use, this is the option for you. Simple to use, just point, set the pin and push the button to determine the distance of your prize.
Cost and Value
Easy to use and affordable, this is a great option for beginners and advanced, alike. You will not be disappointed with the lens and clarity, or the price. Don't miss out on an easy to use option, that will get the job done.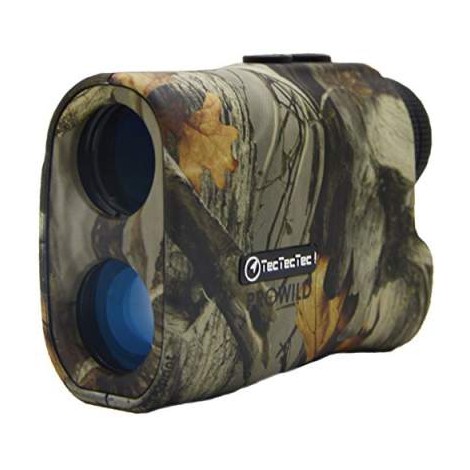 With its great camouflage and compact size, the device has a whole array of amazing functions that will benefit you while hunting. Check out some of the best product features that this rangefinder will offer. You are sure to not be disappointed by the greatness of this product.
Measurements
Have you ever went hunting and missed a trophy shot? Have no fear, this rangefinder is here! With its speed, scan and hunt technology the device is able to provide you with extremely fast measurements with about 1-yard difference accuracy.
Ultra Clear
Furthermore, the lens display is made of ultra-clear multilayered optics coating as is extremely easy to ready. Fitting in the palm of your hand, the device is one of the top choices for a rangefinder.
Cost and Value
With the clarity and speed that this product offers, there is no doubt that this rangefinder will get the job done. For use with the bow and rifle hunters, you are sure to find success on the field.



Designed specifically to aid with hunting, Wosport brings forth a rangefinder that brings everything you would want in a rangefinder without having to spend the big bucks. Having the capacity to measure up to 650 yards with ultra-accurate +/- 1-yard distance, gives this product an edge. Furthermore, it allows you to have crisp, clear visuals every time.
6X Magnification
One of the best features this finder has is how much magnification you are getting without distortion. This is mainly due to its crisp clear 6X magnification that comes from the multilayered optical lens. To ensure you're getting the most out of your rangefinder, this one can measure linear distance, vertical height, horizontal distance as well as angle simultaneously without the need of recalculating time and time again.
Lightweight and Portable
When you go hunting you want to have something that you can carry around; therefore, the lighter the better. This finder allows you to have a quality product with excellent materials that are ultra-lightweight and portable. Measuring at 12.7 x 8.0 x 4.3 cm and weighing is 223g this item comes fully equipped to help you see what you want, without compromising the size and where you will be placing your finder when you travel.
Cost and Value
As previously stated, this finder comes fully equipped with everything you need without breaking the bank. You are getting a quality product with exceptional materials that give you the utmost value for what you are spending. Keep in mind, you are also getting a 12-month warranty to further ensure you are fully protected.

7

. Vortex Optics Ranger 1000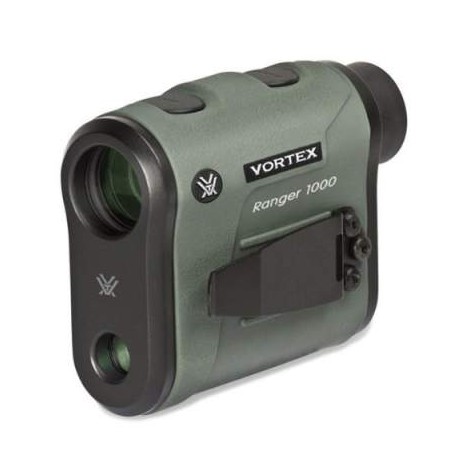 This one is a whole another level of rangefinders. Able to fit in the palm of your hand, the rangefinder is extremely small and lightweight, but don't let its size fool you.
All Conditions
The rangefinder is packed with a number of amazing features. It has a rubber-armored coating, so you should not worry about using it in extreme conditions. Furthermore, with multi-coated lenses that are anti-reflective, you are able to use this device no matter of the light conditions.
Focus
What's more, the rangefinder has a diopter adjustment for precise focus, making it truly one of the best hunting rangefinders. Being able to see your prize has never been easier.
Cost and Value
With all of the benefits that this product has to offer, you are bound to see constant success. Clear pictures, easy to use, and an all-season product, this is one of the best options available on the market.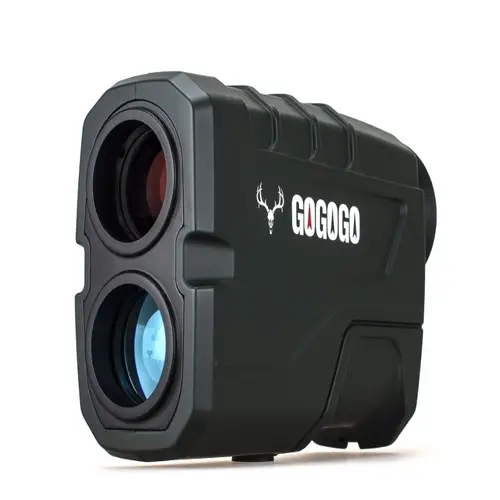 Relatively new on the market the Gogogo Sport Hunting Rangefinder is coming in strong with exceptional features. Being one of the new finders in town could be intimidating but this one makes it easy to work with. Featuring Class 1, 905nm laser type, this finder comes with exceptional laser quality allowing you to see more with little to no distortion. Having this unique feature works great mainly due to the quality of the product you are getting. Furthermore, there is a 6x magnification bringing you as much visibility from afar as possible.
3 Different Modes
Gogogo allows you to have 3 different mode options: scan, golf, and speed. All three perfectly paired to work together to give you the best visuals possible. The best part is having these three modes is the LCD will change as you move, making it extremely easy to adjust to your surroundings. Furthermore, each model is built to be better than the last.
Battery USB Charging
Perfect for carrying with you while hunting outdoors or in your outdoor bag, this rangefinder measures at 106x 72 x 40 mm and weighs 184g. Different from other options on the market, you do not need to change the battery of your finder once it is done, you can charge it. Featuring a built-in rechargeable battery, this one gives you the ability to use a USB for charging.
Cost and Value
Due to having an abundance of features, this rangefinder sits in the mid-price range of the market. What this means is you are getting quality, at an excellent price range. Furthermore, think of it as an investment you are making towards your hunting goals.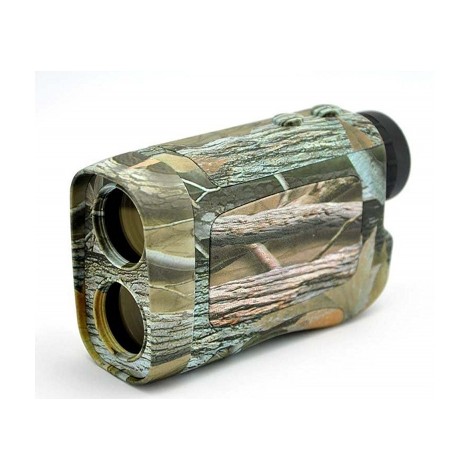 The Visionking Rangefinder 6x25 Laser Rangefinder for hunting is another great affordable choice for any hunting enthusiasts. An entry point device, this rangefinder provides you with only six times magnification and a lens opening of 25 millimeters, thus it is not that great for long-distance measuring.
Distance
This product is able to serve great for distances from 15 to 600 meters. A great addition is that the device is relatively small and can fit in a big pocket of your hunting coat.
Attractive
What's more, the device is in camouflage colors, so you can rest assured that it fits your overall hunting camouflage. The device is relatively easy to use and is pretty good even in light fog conditions.
Cost and Value
If you are searching for a good, solid product, you found it. Being that this product is not only attractive in style and price, but it also offers great features, it is definitely worth the price. Don't miss out on this special!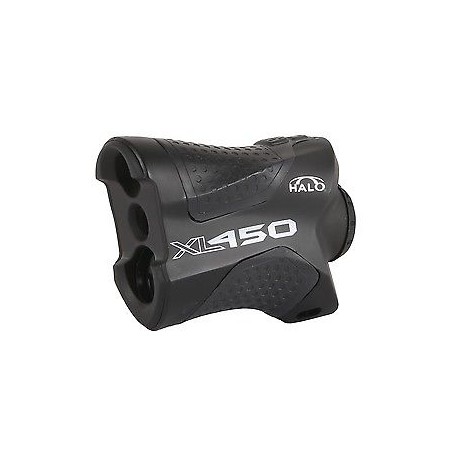 Great for hunting enthusiasts who haven't used this type of technology before, this entry piece range finder has a six times magnification and a special AI technology that manages to account for any slopes to the target.
Distance
With a maximum of 450 yards to the reflective target, the Halo XL450 is a relatively decent piece of equipment. With the ability to reach such lengths, you should have no troubles pointing, and shooting that trophy prize.
Water Resistant
Being as this product is waterproof, it can be carried on your hunting trip in any weather conditions and terrain. What is better than a product that can survive in all the elements thrown at you during your trip?
Cost and Value
What's more, the device has a relatively small size, so you can easily carry it in your pocket. The device does require some getting used to, because depending on the type of hunting, you will need to twist around the focus on the eyepiece in order to achieve perfect clarity, but this is a great device nonetheless.

Subscribe to our Newsletter