Best Rifle Scopes Reviewed & Rated For Quality
In a Hurry? Editors choice: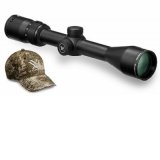 Test Winner: Vortex Optics Diamondback

When it comes to choosing the best rifle scope, there are a multitude of options for you to dig through, and attempt to figure out if it is the right one for you. Within this very comprehensive guide, you will learn about all the different variables that go into a rifle scope, and why each one is important for you. Once you figure out what your needs are, you can fully dial into the few different models which meet your needs. We will also show you ten different rifle scopes available on the market today, what their benefits are, and their cost, so you can compare them and see how much your new rifle might end up costing.
Standout Picks
Criteria Used for Evaluation
Materials
Riflescopes used to be made completely out of steel, which would rust and corrode over time. Lately, most manufacturers have shifted over to aircraft-grade aluminum, which means your rifle will be more durable long-term and will be much lighter. However, aluminum is typically very shiny, so you need to ensure that if your rifle is shiny or if the scope is shiny, that you rough up the surface, as you do not want a gleaming light giving spooking any potential prey.
One of the biggest components you should consider when picking a lens is what kind of weather do you typically hunt in? The more you hunt in the rain, the more you will need a lens which has a coating on it which helps disperse the rain in a way where it doesn't distract your shot. If you hunt in an area where this is a lot of fog in the morning, then you need a lens that can look through the fog, and still find your target.
Within each rifle scope, there are, on average, up to eight different lenses. However, what makes up the lens is just as important, if not more so, than the number of lenses you have. The quality of the glass within the lens, the shape of the lens, and even the quality of the coating which was put on the glass are all vital on how good a lens is.
When it comes to lenses, there is a significant difference between your low grade and higher grade lens. If you compared these two, you can easily tell which one is the more expensive, and which one is cheaper. As stated before, it is perfectly acceptable to spend more on a scope than you do the actual rifle. It may not seem right, but the type of scope you have is much more important than the kind of rifle you have. If you are going to have limited time for research, then you should spend that time on the lens of a scope, compared to any other feature with a scope or a rifle.
Adjustability
With each scope, you have the option of adjusting your shot based both on elevation and wind. However, how you are able to adjust for those factors can be a key trigger on which scope you should purchase. Most adjustments are made by either a knob or a wheel, and there are preferences for both. You need to know what kind of mechanism you want to use when you are making those adjustments, and which one you are most comfortable with. You also need to know if the adjustments can be easily made with gloves on, especially if you hunt in colder weather.
How far you can make adjustments for is also a key factor. If you can make adjustments, but they only go out for 100 yards, and you need a shot which can go 300 to 400 yards, then it's not the right scope for you. You need to ensure that when you make the ¼" adjustments, they will take hold of shots that are longer if that is what you need. If you only need shots that are 100 yards or less, then you should be able to use the adjustment system you are comfortable with.
Lastly, you need to also concern yourself with Magnification. Although a scope says it will go up to 25x, is that really beneficial for you? It truly depends on what kind of game you are hunting. If you are looking for birds, then a 25x might be what you need. If you are shooting deer, a 25x scope would let you see their pulse, which might be just a little too close. Most scopes have magnification between 3x and 10x, but even those will vary a little bit, due to how far out the scope will go. If you have a scope which only goes out 200 yards, and you magnify 10x, it will look different than a scope that has a 400-yard range, and you magnify it by 10x.
You should know what your typical shot will be, and always get a scope which can go a little further than that. If you only need a 4x magnification, you might want to consider going up to a 6x magnification – going up one step is the recommendation.
Features
Each scope comes with two different bells, which house the lens within each scope. The bells for the scope will vary in size, depending upon both the power of your rifle and how much light is let into your scope. The ball is typically between 30mm and 60mm. The size of the bell is important to determine as you are buying a scope, as you do not want a bell that is too big for you to handle, but also not one that is too small which causes you to squint too much. Your shooting eye should determine the size you need.
Another feature among some reticles is that they will show you where you need to hold your shot by using various dots or circles. Not only will it show you the distance you are wanting, but it will also add another 100 yards onto your shot automatically, so you can see where you need to aim in order to hit something at that distance. By having this capability, it allows you to make quick adjustments on the fly for any length of shot (typically up to 600 yards). In order to know the distance you are shooting at, it is highly recommended that you have a laser rangefinder available, to accurately gauge your distance. Once you have the distance dialed in, you can make the necessary adjustments, and you should have a true shot.
Weather Resistance
Another major feature you need is one where the lens does not fog, no matter the weather. There is no doubt there will be times where you will be out hunting in rain or high humidity, and when this happens, you need a lens which will stay clear. Most lenses have an option where they can be charged with either nitrogen or argon gas, which will help the lens stay clean and clear. However, if you get a scope which doesn't have this option, you can always hope a cleaning cloth will take care of this issue. What can also affect this issue is how tight the rings are around the lens – if you notice any kind of give with the rings around the lens, then you might need to look at a different scope.
Value
As you will see within the marketplace, there is a large variety of scopes available to you. You can find some which are $50, and you will see some which are $1,500, with a very wide assortment in between. Knowing that you might spend just as much, if not more, on a scope compared to a rifle, it is not too hard to fathom that you might get a little crazy and spend a little bit more than you should.
The recommendation is this – figure out how much you want to spend on a scope, and then add $50. By looking at scopes that are just above your range, you might find one with a few more bells and whistles on it, which will make your life easier while out hunting. Plus, there are times where you can find those scopes on sale, so you can still get a great scope within your price range.
You shouldn't just buy a scope as an impulse buy – there needs to be a fair amount of research done, and then you watch and wait and see what happens. You might still pay full price for your scope, but at least you take your time and make sure it truly is the right scope for you at the right time.
10 Best Rifle Scopes
1

. Vortex Optics Diamondback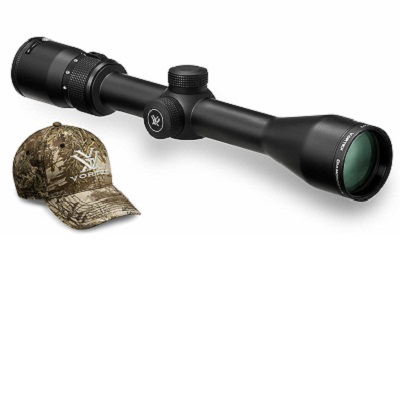 This Vortex scope is made out of high-grade aluminum material and has a magnification that ranges between 4x and 12x, along with a scope which is 40mm.
Easy Correct
The reticle has a custom design which helps you with corrections for both wind and elevation, by holding your adjustments fully. Being able to make such easy corrections has several benefits.
No Fog
The scope has argon gas within it, which prevents the lens and scope from fogging no matter what the weather conditions or environment are where you are hunting. With such a wonderful, added benefit, you can't pass this up.
Cost and Value
At an affordable price, this is one of the better scopes available on the market, today. The no fog feature is an excellent option to have in the elements, which will ensure accuracy, every time.

2

. Aim Sports 4 X 32 Rangefinder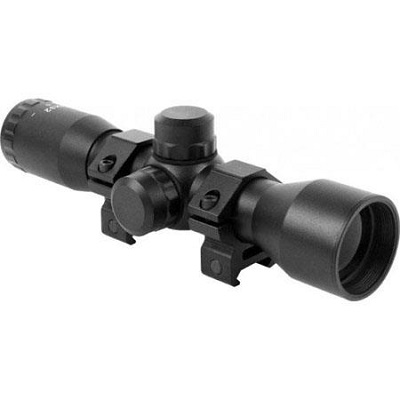 This Aim Sports scope has a magnification of up to 4x, and the tube diameter is 1". The objective of the scope is 32mm, and the length is 7.75". With several other added benefits below, this is a great option for a scope. You will not be disappointed.
Distance
The range of this scope is up to 100 yards, with an eye relief of 3". The objective is 1.25", and the exit pupil is .31".
Easy To Attach
This scope is very easy to attach to any rifle, and gives you the ability to target any acquisition rapidly. With the ease of use, this has become an all-time favorite for several consumers.
Cost and Value
Easy to use, this has become an all-time favorite. Sturdy and solid, this scope is known to hold up and withstand the elements and use. Being affordable is just another great benefit of this product!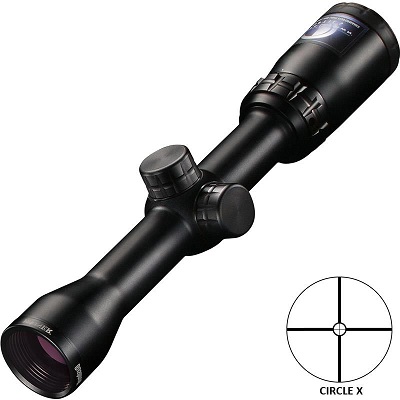 This scope comes with 3.3" of eye relief while offering you HD clarity optics. This scope is 12" long and is made out of the best materials within the market, guaranteeing you have a scope which is both durable and long-lasting.
Easy Adjustments
You can make adjustments for both wind and elevation by using a ¼" adjustments, along with the magnification, which can go anywhere between 3x and 9x. Being easy to use, this scope has become a favorite.
Water Resistant
This product comes with a 40mm lens, along with construction which prevents water from penetrating into the lens, allowing you to continue to have a clear shot with each use.
Cost and Value
Solid and water-resistant, this scope was made to withstand extreme weather conditions. Being that it can stand these conditions, you can be sure that you will maintain accuracy and be satisfied with your purchase.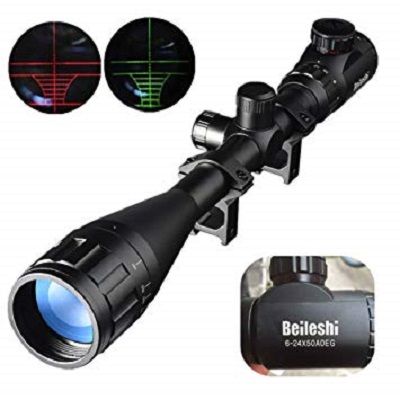 This is a popular scope that is zeroed in on maintaining accuracy and a perfect shot, every time. Many consumers have turned to this scope due to the LED crosshairs and also because of the clarity, even in low light. Affordable is just another benefit that this scope has.
Eye Relief
This scope comes with an eye relief which is adjustable between 3"- 4", and you can rotate the scope to where you can create a crosshair that is more vertical or horizontal. The magnification ranges between 6x and 24x and is easy to adjust using the included power ring. The objective diameter is 50mm, with an eye rifle within a range of 75mm and 81mm, along with an exit pupil of 8mm down to 2mm.
LED Crosshairs
The tube diameter is 1", and the length of the scope is 15.75". This scope comes with LED crosshairs, which can be illuminated between red and green, which will help when you are hunting late at night or early in the morning, or any environment which is low light. You will receive not only your scope but a lens cover, two ring mounts, and a cleaning cloth. Certainly, specs that put it as the best rifle scope in 2018.
Cost and Value
If you are looking for a durable, well-built scope, you have come to the right place. This scope offers so many different features that you will be well satisfied with the options available to make your hunting experience successful.

5

. Feyachi Tactical 8-32x50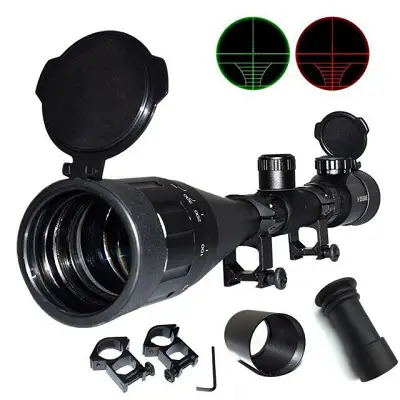 The Feyachi is a new addition to our list and it's a unique and well-rendered product any way that you look at it. The adjustable-range lets you move between 8 to 32 times magnification. The adjustable magnification allows easy transition between medium and long-range targeting. For the purist, the Feyachi also has an etched glass reticle. It also comes with a mil-dot reticle in red and green for great low light shooting. It also comes with a lens cover, sunshade, and a cleaning cloth. It's a great addition to our list and for the medium, to the long-range shooter, it's a solid addition to our list.
Reticle Illumination
This is a really useful addition to the Feyachi, it allows you to adjust the brightness of the mil-dot reticle in either red or green. The value here is to easily allow the shooter to adjust to changing amounts of available ambient light easily, which just increases the precision of the Feyachi's targeting.
Adjustable Magnification
There's a lot going on here and it's all meant to provide a high degree of precision and to give any hunter a pretty large range of magnification to work with. The low end of 8 X magnification means this scope is best used for medium or long-range targeting but the 50 mm objective lens makes up for the high magnification by letting in enough light to keep the image from getting too dark at high magnification.
Cost and Value
The Feyachi comes in the mid-range when it comes to price. But like we said earlier there's a lot going on here and a lot to recommend this product. The adjustable magnification and the large objective lens, as well as the adjustable mil-dot reticle, make this a good choice.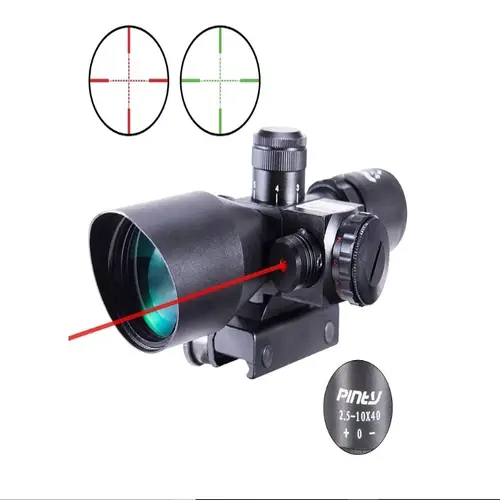 An all well-rounded scope that gets the job done with exceptional magnification that reaches 2.5-10X with 40mm objective. The purpose of having a rifle scope is being able to have crystal clear vision even from a distance, that is exactly what this scope can provide. Featuring a solid alloy aluminum construction this scope brings forth durability and secure attachment right when and where you need it. Furthermore, you have the capability of having a sleek scope that is not only aesthetically pleasing but gets the job done right when and where you need it.
Red and Green reticle
This scope not only comes with a red or green option it comes with both. Having this option makes seeing things in different lighting a breeze. Additionally, the red and green reticle offers 5 different brightness levels for all the different environments and light settings you might encounter. There comes a time when you might want to hunt in the dark or even before the sun breaks that is when having a crystal-clear scope will ensure you can get the best shot possible without having to move closer to your objective.
Kellner Eyepiece
Due to having an incorporated Kellner eyepiece this scope allows you to adjust your vision along the way. Having this feature allows you to eliminate most image abrasions along the way. If your image is looking distorted or out of focus, this can become extremely useful as you can adjust any way you decide to do so until the image becomes clear once again.
Cost and Value
As for the cost and value of this product, you are getting a bargain due to all the features that are offered. Additionally, the scope is a great size which is perfect for those that don't want something too big getting in the way of their rifle. You are getting the best of the very best without having to spend a boatload of money.

7

. Twod Rifle Scope Tactical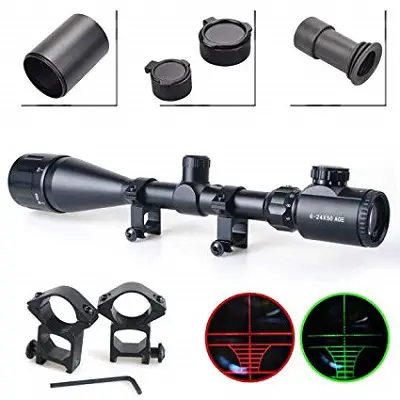 This is a solid useful all-around scope that has a great mid-level magnification that runs between 6-24x times. It also comes with a solid mil-dot adjustable red or green reticle that will make this a great choice for an all-around solid hunting scope with 5 different levels of illumination. It also comes with a great anti-scratch lens system. A great addition to our list.
Add-ons
With this purchase, you will receive the scope, a lens cover, two different scope mounts for the 20mm and 11mm lens, along with the Allen key to allow for each changing, and a cleaning cloth.
Adjustable red/green reticle
The choice of a red or green reticle with adjustable brightness helps make these a quality product and the adjustable brightness will help in low light situations when you need just a bit of help to line up the target.
Cost and Value
With everything that comes with this scope, you are sure getting the best bang for your buck. All the added features are just a great reason to buy this affordable scope, today!

8

. CVLIFE Hunting Rifle Scope 6-24x50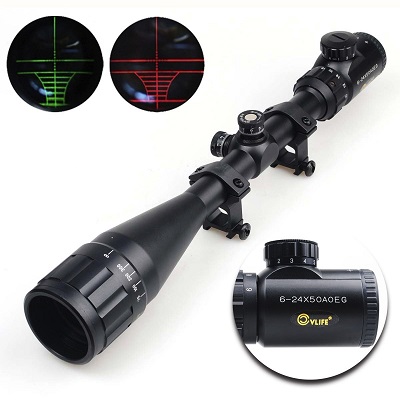 Another CVLife scope and there are a few of them for a reason, these are just great all-around scopes and worth every penny. The Magnification range on this one is 6-24X and it comes with red or green illuminated reticle which helps out sighting in low light or really any range. We try to shake up the products here but CVLife Scopes are hard to beat.
Build
Made of aluminum, the lenses are coated with to ensure they are fog proof, shockproof and waterproof. The exit pupil for this scope ranges between .2" and .67", with an objective diameter which is 1.57". With this purchase, you will receive the scope and two different mounts.
Easy to Mount
Easy to use, this product is also incredibly easy to mount. All you have to do is apply it to the rifle to and tighten it down and you should be good to go!
Cost and Value
With so many different benefits, this is a one of a kind product. With the ability to use this scope for any hunting seasons, you have a great shot at success out on the field while hunting.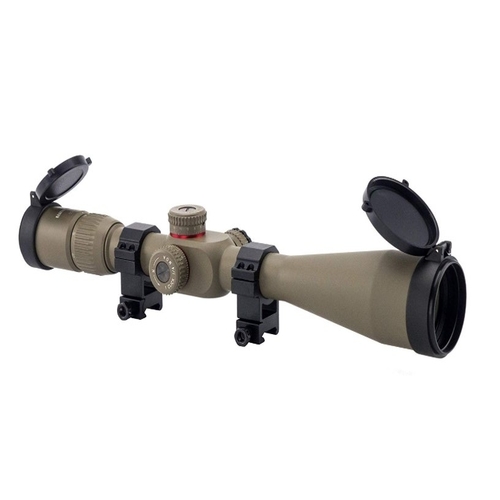 This one-piece scope is constructed to be the only scope you will ever need. Featuring advanced technological elements such as heavy-duty scope rings, spring-loaded flip-up lens cover and detachable sunshade among many others. Intended to get the job done effectively without missing a beat this scope allows you to bring the focus right when and where you need it for the ultimate result.
Scope Adjustment
One of the very first things you will notice and want from the scope is adjustability. Having an adjustable lens allows you to have more control with your visuals. This scope offers an adjustable lens that is operated thanks to a side focus dial. Having this allows you to eliminate any parallax while ensuring you have the best and clear image possible. Keep in mind, you want your scope to offer the crispiest image possible.
First focal plane rangefinder
This scope is the first focal plane rangefinder on the market. It can easily and quickly read ranging information even when it is constantly changing. Having this feature allows you to always have a clear vision of where your target is. It also reduces the blurring effect that happens when you magnify your image to its maximum capacity.
Cost and Value
Due to having advanced features, excellent visuals and technology intertwined into this scope it is on the higher end when it comes to the price point. However, it is worth every penny when you consider how much you are getting and how easy it will be to keep an eye on your objective.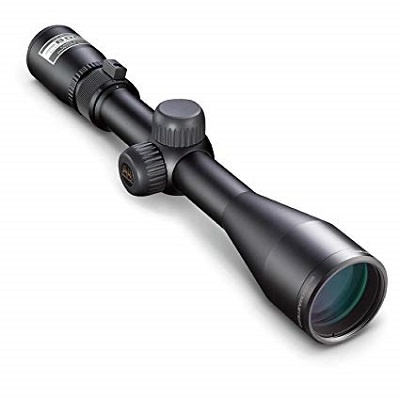 Nikon, known more for their cameras than for their rifle scopes, has made an entry into this marketplace with this Buckmasters II rifle scope. This scope is made so you can account for many different types of variables, including Fog and Shock, and is made out of water-proof material.
Anti-Reflection
This scope comes with anti-reflective lenses, where it can reduce the reflection from light by up to 92%. This allows you to feel confident with your hunting prowess, no matter if it is at dusk or dawn.
Moisture Barriers
This scope comes with O-ring sealing, which is filled with nitrogen, to make sure that no moisture ever enters into the lens area. That being said, you can be sure that no moisture will affect your hunting time!
Cost and Value
The benefits of this product are amazing. With this scope, you are bound to have a successful hunting experience, every single time. Being that it is affordable and easy to use, this scope comes in as one of the all-time favorites of consumers.

Subscribe to our Newsletter