Best Crossbow Scopes Reviewed and Rated
In a Hurry? Editors choice: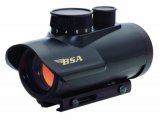 Test Winner: BSA RD30

Accuracy
isn't just about the person behind the arrow and comes down to having the right materials. A crossbow scope is a great way to
enhance your equipment
without adding a lot of bulk. There are many recommended brands that have come out over the years, with a lot of them being featured in top ten lists worldwide.
Standout Picks
Criteria Used for Evaluation
Accessories
We first looked at what was included out of the box like lens caps, microfiber cloths, adjustment screws and more. Next, we revisited prices, but only for the cost of the accessories if they weren't included. To be fair, we included the cost of compatible generic accessories with the branded ones.
The higher the price, the lower the archery scope went on the list. We didn't take away too many points since a lot of the accessories mentioned aren't game-changers for most buyers. But it does make a difference to the overall cost of the item if you don't get everything you need from the start.
Weight
Weight was a criterion that was based on the lightness of the product. With archery, the way the scope sits on it can really impact the shot. Having a scope that is light lessens fatigue when you're using it for hours a day.
Things can get more complicated when it is heavy and the balance is off, leaving you little room to negotiate. A light archery scope doesn't mess with the balance of your current equipment and is the reason we favored it. With these criteria, we dropped a lot of the heavier models, even if they had great specifications in other areas.
Durability
Crossbows will take some bumps here and there but should survive the bulk of your daily encounters. Any attached equipment is expected to have similar durability, so we looked at the scopes with the highest resistance to weather and damage. This was more about the housing of the product and its buttons rather than the reticle, which was covered earlier.
This criterion was interesting for two reasons; some products had strong reticles but weak housing, while others had weak housing but a brilliant reticle. We adjusted the list as needed since even in that situation reticle quality was a higher priority with the points.
Brand
Branding was the next criterion, and this is where companies like Nikon really shined. We looked at branding as a whole, based on warranty, customer service, proprietary features, and industry rankings. There is a reason the top dogs are always mentioned, and it is how familiar names remained at the top.
But this also opened the door for lesser-known names, with some of them offering equally superior customer service and warranty programs. And while the lesser names didn't have proprietary features, they improved greatly on features that were lacking from the bigger brands.
10 Best Crossbow Scopes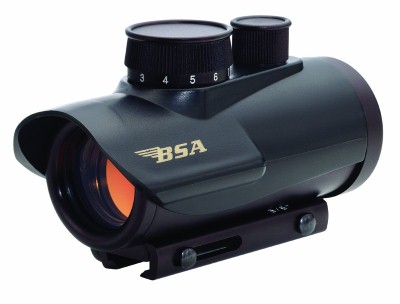 BSA made the #1 spot, and it may very well anger a lot of fans of Nikon products. But millions of users worldwide love their BSA models, and this is considered one of the best the company has ever made.
Minimalism
The smallest on the list, this scope is almost half the size of every scope on the list. And it doesn't add anything to its girth because of the small size. Its users sometimes just want an accessory that will do its intended job, and nothing more.
Unique High-Tech Features
The BSA RD30 comes with a 5 MOA red dot, and a unique 11 position rheostat. It has brightness controls and a battery included to run all of that high tech.
Cost And Value
This is the lowest priced scope on the list, so the value is tremendous. For the price of one of these, you're essentially paying for a decent dinner out by yourself. Buyers that need to purchase multiple scopes will especially find this model beneficial.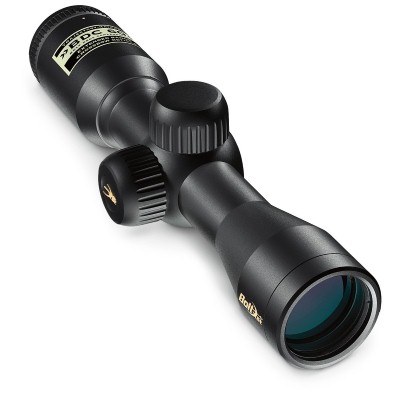 Nikon has been a leader in the optics industry for years and does not hold back with its Bolt XR. The fun thing about this model is that it can be interchanged with the #1 model on the list according to taste. Yes, the #1 and #2 scopes sit on an island all on their own.
Branding
Nikon stands behind all of the equipment they make and has made it a point to honor countless warranties. Besides making leading DSLR cameras and other optical equipment, Nikon has been good at sharing their technology across all of their equipment. That means the industry-leading lens on their cameras is in the same family as the lens on their products.
Tough Construction
This large fully multicoated lens is designed to be fog proof, shockproof and waterproof. It'll stand up to quite a beating when things get rough in the outback.
Cost and Value
Without any illumination, it may be a tough sell for some users. If the price was higher then it wouldn't even be this high on the list. For customers that can live without the illumination, this is a perfect crossbow scope at around the mid-high price range.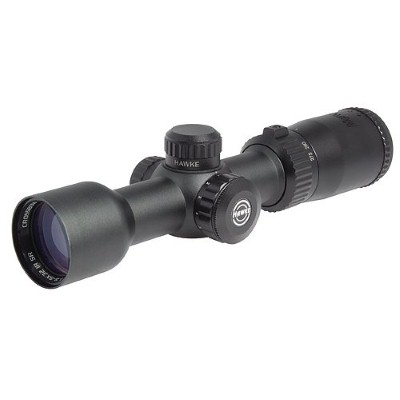 Getting into the top 3 is the Hawke Crossbow, another one of the high-end choices on the list. Very few scopes can compete with this model. There are hordes of users that love the overall feel of it, and despite the advanced features, it's very easy to use.
Made For High-End Crossbows
Hawke made this model specifically for compounds, so there is an added advantage of using it compared to hybrid models. You'll get all of the benefits of a superior scope that is ahead of its time. The tailor-made sizing also makes it a very good fit for models that are picky about their add-ons.
High Quality Optics
With its 1 inch multicoated optics the Hawke will give you the view you need, Plus the green red illuminated colors will help you keep your target in your sights.
Cost and Value
It's one of the highest-priced on the list but is also a clear top 3 victor. Customers that want a specific scope won't have a problem justifying the cost for this model.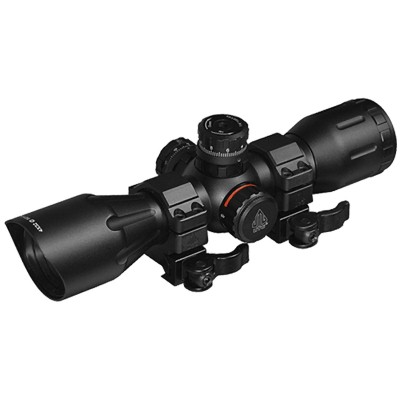 If going by just looks alone, then this UTG model would be the best on the list. But there are many other factors that go into making a great scope, and that is just one. In its current state, there are enough reasons to consider it a top model and a high-end pick at the current low price.
Built For Multiple Weapons
Those scopes can sometimes be used with guns and vice versa. This particular UTG model is able to be used with both without a loss in features. Buyers that own multiple weapons with similar mounts will find this a fascinating little scope that saves them a lot of time and money.
Precision Features
This scope has a flip-open lens cap which is just the start of it's commitment to quality. It has a zero-reset/locking wind and elevation knobs. It also has RGB sidewheel illumination and a 5 step reticle.
Cost and Value
Low in price and bursting with potential, this is about as good as it gets with this price range. Not a lot of scopes on the list will be able to match all of the features it offers without alienating the beginner user. UTG outdid themselves with this scope, and it shows on multiple weapons.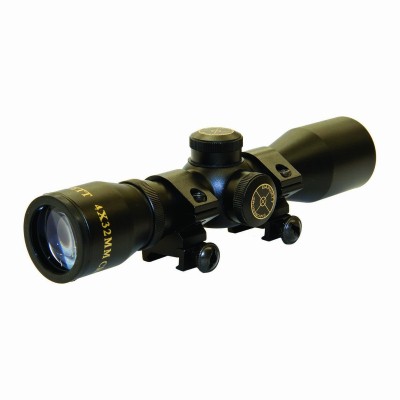 This Barnett Cross model may not win for the best scope on the list but it really comes close. There are a lot of things to play with on this model since the company went all out with adjustments. The users that are perfectionist will have a warm place in their hearts for this scope that puts them in full control.
Great Clarity
The biggest feature with this unit is the 4x magnification from the scope. Everything looks clear and detailed, even in its best setting. On the lowest magnification, you'll find that there are few available scopes that can compete with the richness of color and handling of light.
Works Well Across Multiple Bows
This is a nice scope that is compatible with all kinds of bows. It's a very forgiving scope that is a great starter scope for hunters just considering whether or not they need to start scoping their hunts.
Cost and Value
Like a few other scopes on the list, this one may be a bit troublesome for beginners. That still shouldn't take away from its overall value if the buyer is willing to do some work. The price is low and puts it in a pretty elite category.

6

. Trijicon TR23 AccuPoint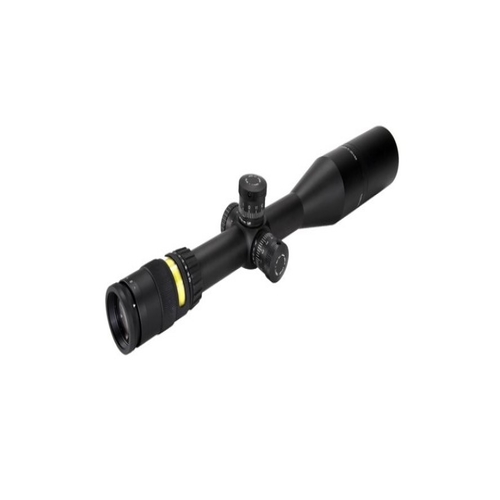 When purchasing a crossbow scope one of the most important aspects you want to keep in mind is the quality of the product. Known for being used in Iraq and multiple other professional settings the brand Trijicon did not come to play with this scope. Which is why anyone would approach the Trijicon TR23 AccuPoint with high expectations and only expect the best. Thankfully, it exceeds expectations and more.
Excellent Low Light
If you go hunting during the evening or early mornings where the sun isn't completely our and you have less visibility, finding a scope that can provide excellent low lighting is the way to go. The Trijicon TR23 AccuPoint is one of the best low light scopes on the market. This is due to the exceptional quality lenses that you are getting. Featuring fiber optic technology these lenses automatically adjust their brightness level and contrast of the reticle aiming point to provide crystal clear quality even in the lowest light conditions. Likewise, there is an incorporated tritium phosphor lamp that illuminates what you are observing even when there is no additional light around.
Second Focal Plane
Though the lenses allow you to get the best out of low lighting, they also work hard at providing crystal clear clarity regardless of your light conditions. This is mainly due to this crossbow scope having a second focal plane reticle. The reticle size remains the same as magnification increases, which means your vision will be the same throughout, giving you better-aiming abilities. Its all about helping have the best vision possible even when you have to magnify your objective.
Cost and Value
Here is where the tricky part comes into play. This product is on the expensive side. There is no doubt its quite the luxury to have as part of your hunting tools as you are getting army grade material. However, the price might deteriorate some from purchasing. The key is knowing that quality comes at a higher price point especially when you want a scope that is crystal clear regardless of the distance your objective might be.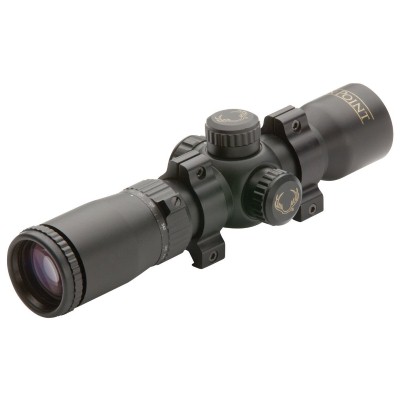 When the Rangemaster Pro 1.5 first came out there was a core group of people that really appreciated the amount of detail put into the scope. Even when the Rangemaster 1.5 wasn't raising the standards, it was defining what the future of those scopes should look like.
Light Handling
How it handles the loss of light transmission is pretty solid, reducing it by a lot. Buyers can thank the multicoated etched glass reticle and superior build quality for this little perk. If you're looking for a comparison with other products on the list in how well the Rangemaster Pro 1.5 handles light, then look in the top 1-4 range.
Full Aluminum Tubing
No flimsy plastic here, this is a full-on aluminum tube that will stand up to a beating, and keep providing any hunter with the sighting they need to get the job done.
Cost and Value
This one is going to be a bit tough for the average buyer. If the Rangemaster Pro 1.5 was a little less expensive then it would have easily vaulted to the top 3 on the list. This is one of the best scopes you can purchase, and its value will be recognized by anyone that wants a high-end scope.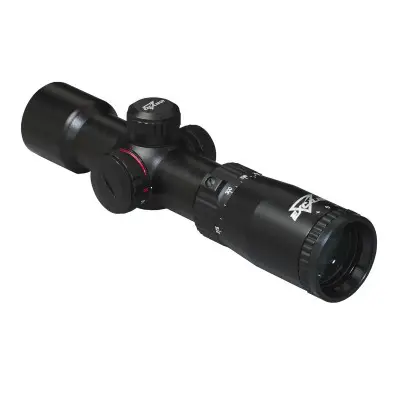 Now, this is where things get a little tricky for the everyday user. The Excalibur Tact-Zone is the result of years of research, combining traditional scope technologies with newer ones. This model represents something special, and a step in an exciting new direction.
Waterproof/Shockproof/Fogproof
Although the Illumination feature is top of the line, this is more important for the longevity of its use. Excalibur has crafted an amazingly durable tube, and it can take some damage from just about any source. With this coming in as one of the highest prices on the list, that's an important fact that shouldn't be ignored.
Lots of Sighting Options
This comes with a Tact-Zone reticle as well as Red/Green illuminated yardage markers. This scope is also adjustable between 275 fps and 410 fps.
Cost and Value
There is a high price tag associated with this model, but it is a high-end product. Those scopes like these tend to do everything a little bit better than other competing products, and the Excalibur is considered to be at the top when it comes to durability.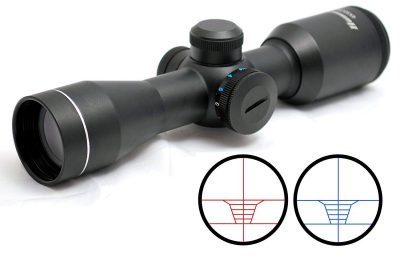 The advanced specifications of the Hammers Compact will leave a lot of buyers surprised. There are some really cool features that are both revolutionary and fined tuned with this model. If your setup is correct, customizing this to fit accuracy will take a short amount of time. Even if it is high up on the top ten list, the Hammers is quite an exceptional model.
A lot of eye relief
Eye relief can make the difference between a good and a bad shot. When you have your equipment set up exactly the way that you want, the last thing you need is a scope messing up the precision. With an incredible 4 inches of eye relief, precision problems will fade away to the past.
Well built lenses
The lenses on the Hammers are fully coated and also scratch-resistant and non-reflective. The lens also comes with fingertip windage and elevation adjustments giving a hunter more options.
Cost and Value
With the entire unit being low priced, buyers will get their money's worth. The only thing it is missing would be some of the extras that similar units come with. Missing those extras are not a deal-breaker and doesn't lower the value.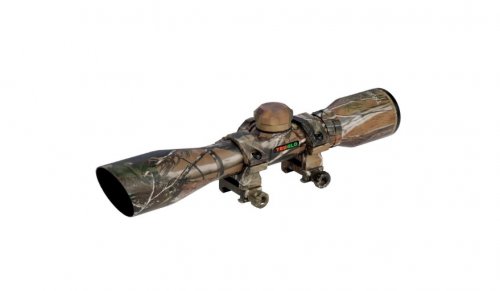 When it comes to purchasing a crossbow scope that gets the job done effortlessly while still being cost-effective you can't go wrong with the TRUGLO 4X32. Featuring quality lenses that work in most light conditions this scope allows you to get the most out of your rifle while not breaking the bank. It's a scope that gives you exactly what you need without missing a beat. Furthermore, you are getting a product that helps you catch your pray effortlessly.
Quality Lenses
As stated above, TRUGLO is all about quality lenses. Featuring fully coated lenses that allow an abundance of lighting to peek through, this scope brings you a unique form of seeing crisp images. Furthermore, the thick coating helps avoid fog, and even moisture from the air to seep through and create a moist film above your lenses. Its all about keeping your view as clear and cohesive as possible. The 4x32 magnifications help to transition from up-close images to faraway with the simple use of a button.
Easy to Use
One of the things that keeps many beginning hunters away from purchasing a scope is not knowing how to use them or even coming across crossbow scopes that are difficult to understand. The TRUGLO 4X32 prides itself in not only being an excellent option but being easy to use. You don't have to worry about complicated instructions, all you need to do is ensure that the scope is placed on properly and you are ready to go. When in need of adjustment simple turn, the buttons and go from there. Its all about your personal preference.
Cost and Value
As mentioned before, this is an affordable scope. It's not the most affordable on our guide but it is priced nicely. The best part about it is you aren't compromising quality due to the price point. You are getting everything you need and more for an unbelievable price. A win-win for all.

Subscribe to our Newsletter