Best Hunting Backpacks Reviewed & Rated for Quality
last updated:
Apr 04, 2019
Whether you're a hunter who enjoys the company of all your gadgets or you are a minimalist, having a good hunting backpack can be the difference between success and failure. Advancements in fabric and other materials have decidedly yielded lighter, more durable backpacks that are capable of carrying heavier loads more safely and comfortably. Even with knowing obvious details about your needs, it can be difficult and time-consuming to wade through information about what each backpack on the market may have to offer and which one better suits your needs. This list of the top 10 hunting backpacks condenses the information that you need and presents it in a straightforward way so you can more easily determine which is the right one for you.
This is the best product on our list that is currently in stock: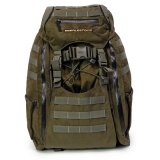 Eberlestock X2
Why is it better?
Good for packing out meat
Large capacity for a small pack
Made from quality materials with durable stitching and construction
Can be cinched tight for a small pack, or fully expanded to maximize space
Comfortable to carry regardless of pack weight
In a
Hurry? Editors choice: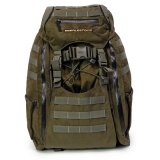 Test Winner: Eberlestock X2

15
Researched Sources
13450
Reviews Considered
14
Hours Researching
18
Products Evaluated
Durability
Size
Style
Water Resistance
Features
By Default
BEST HUNTING BACKPACKS REVIEWED & RATED FOR QUALITY
1

. Alps OutdoorZ Commander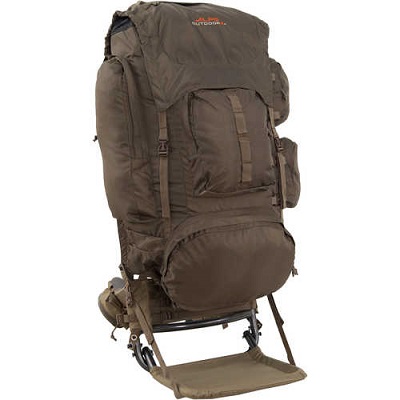 Versatility, with frame plus pack design
Comfortable to carry, despite weight load capability
Quick release for a firearm so you can grab your rifle fast
Large size accommodates necessary gear for long trips
Ability to pack out meat using frame only with the included lashing system
Durable with reinforced patches where there is frequent friction
Water resistant, but not waterproof
Rings that attach the pack to the frame can be noisy
This backpack comes in the form of a frame, with the ability to attach the pack. It has a lot of room for gear and easily accommodates a lengthy hunt. The compartments are spacious, well organized, and easy to access. It is a durable pack, reinforced in all the right places, and its padded shoulder straps and waist belt make it comfortable to carry, even when fully loaded.
Versatility
The fact that the Commander comes in the form of a frame with the ability to attach and detach a pack, makes it one of the most versatile packs on the market. When the pack is easily detached, the frame makes an efficient, durable way to carry meat with less mess.
Size
With 5,250 cubic inches, the Commander can easily accommodate enough gear for the "long hunt." The main compartments of the backpack are spacious, and although it is top-loading, there is direct access to the lower compartment. It has a rifle holder and plenty of pockets for all your accessories, including a hydration pocket and port.
Cost and Value
Considering the versatility, durability, and size of this pack, it is priced very reasonably. It strikes a great balance between quality and affordability and its price is relatively average when compared to other backpacks on this list.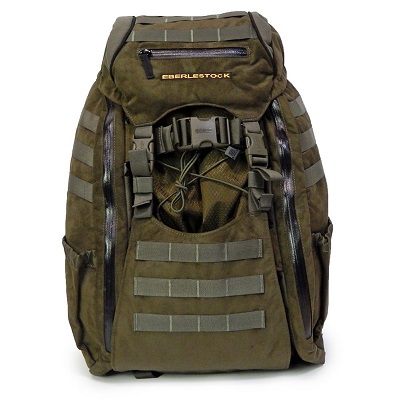 Good for packing out meat
Large capacity for a small pack
Made from quality materials with durable stitching and construction
Can be cinched tight for a small pack, or fully expanded to maximize space
Comfortable to carry regardless of pack weight
Noisy Frame
Not a good fit for people with a larger frame
The X2 is one of the more interesting daypacks on the market. It is well-made and receives many accolades for its durability. The pack is top loading. It features dual hydration compartments and a flexing chassis that can be used as a seat or cradle loads strapped to the pack. It also comes with oversized compression straps for lashing on heavy loads. It can accommodate a side scabbard to carry a shotgun or hunting rifle, or the ARCG ButtBucket to carry a compound bow.
Space Maximizing Design
Although this pack appears small at first glance and is only 1,830 cubic inches, the side wing pockets and other organizational features of this pack can transform it from a daypack into a one or two-night pack. In addition, by purchasing the necessary attachments, the pack can hold a bow or firearm. The design also allows easy access to all your gear.
Comfort
The unique design of this pack makes it comfortable, regardless of whether you have it cinched tight to maneuver with a light load or fully expanded and carrying a heavy load. The weight of the pack is transferred away from the back and shoulders and onto the hips.
Cost and Value
This pack is on the upper end of price for its size. However, it has significant versatility in terms of its use and receives high marks for quality of materials and construction. An important thing to note is that the X2 does not include a side scabbard or ButtBucket.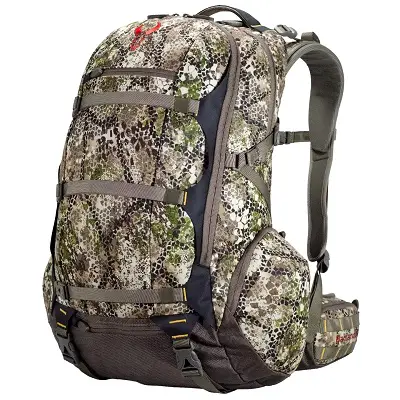 Highest strength to weight ratio of any hunting pack currently on the market
Lifetime warranty; Load transferring frame
Strongest, quietest material used in any hunting pack
Plenty of pockets for efficient organization
When hydration pockets are filled, space between body and backpack may be reduced
When pack is fully loaded, more weight may be put on shoulders
This backpack is one of the toughest backpacks on the list. It is also backed by a lifetime warranty. It is light, weighing only 4 lbs. 2 oz. It is 2,100 cubic inches and functions nicely as a daypack. It has several unique features to maximize comfort and is hydration compatible.
Strong and Durable
The Diablo Dos has the distinction of having the highest strength to weight ratio of any hunting pack on the market. This means that this pack has more versatility than a standard daypack.
Comfort
One of the features that make this pack so comfortable to carry is the Hypervent suspension which allows cool air to flow between the pack and your back. The design of the Diablo Dos also ensures that the weight of the pack will be distributed comfortably.
Cost and Value
Although the Diablo Dos is at the higher end of cost when compared to other packs on this list, it has several features that set it apart. In addition, the lifetime warranty certainly reduces the risk of spending a little more money.
4

. Gonex Tactical Rucksack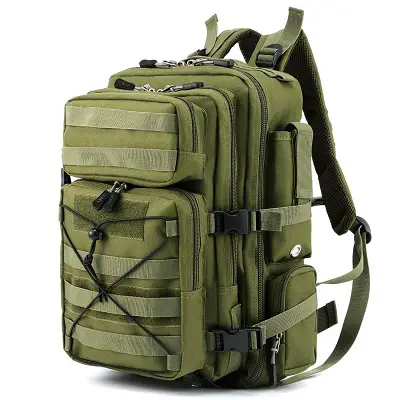 The backpack uses a 900D oxford material that is much thicker than what is typically used on backpacks.
The material is water resistant which will help your gear to stay dry in damp conditions.
This backpack has been engineered to resist tearing and abrasions from use so it remains long lasting.
There is a molle system that you can use to extend the carrying capacity of the backpack.
It uses a military SBS zipper that is high quality and has been designed to be long-lasting.
Some reviewers have reported that the stitching on the shoulder straps rips too easily.
Other users have reported that the backpack is too small for a three-day backpack.
If you are a hunter who is concerned about the durability of your hunting backpack, then you will want to consider this rucksack by Gonex. The backpack is made from a 900D oxford material that is much heavier duty than what is typically used for a hunting backpack. It is also water resistant so that you can put your backpack down on wet grass or snow and it will keep your gear dry.
Durable
The backpack has been built to be long-lasting and durable. It uses thicker material than what is typically used in hunting backpacks and it also uses high-quality zippers and chest straps so that it holds up while you are on the hunt.
Breathable Mesh
The shoulder straps and the back of the backpack have a breathable mesh material. This allows the backpack to wick away moisture from sweating so that you do not get wet in these areas of your body while wearing the backpack.
Cost and Value
You can plan on seeing this backpack sold at an average price for a hunting backpack. This makes it into an excellent value because of the added attention that has been placed on making it durable and long-lasting.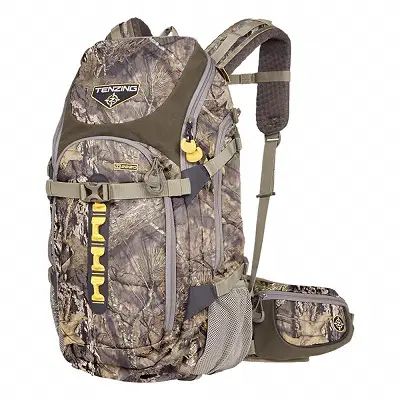 Well-made
Fold-out bow/gun boot
Ample specialized compartments to keep gear organized
Fold-out rain cover
Weight may not be distributed well if "over-packed"
Main pocket space is limited
The TZ 2220 is a well-made daypack, weighing in at 4 pounds, with 2,200 cubic inches. It has all the standard features and includes ample pockets for organization, a fold-out bow or firearm carrying boot, and fold-out rain cover. It is hydration compatible and also comes with compression straps.
Specialized Compartments
This day-pack has ample specialized compartments to keep your gear organized, and more importantly, easily accessible. The front compartment contains several pouches to hold smaller items. There is also a pocket that can easily accommodate longer items. The zippers for each pocket are color coded.
Bow Bucket
It can be difficult to find a smaller pack capable of safely and securely carrying a bow. This pack has that capability and will keep your bow's fragile parts well-protected.
Cost and Value
The TZ 2220 is an averagely priced pack by comparison to other packs on this list. It includes some practical features other models do not have, such as the rain cover, making it a good value for the cost.
6

. Reebow Gear Military Tactical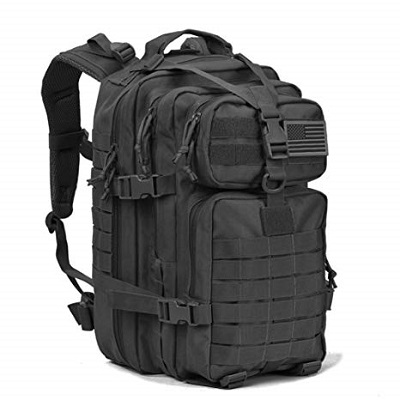 You can purchase this backpack in two different prints of camouflage so that you can blend in with your surroundings.
It has pressure relieving shoulder straps and a waist belt so that you can wear it comfortably.
The backpack is made from a 600D nylon so that you can expect it to be durable.
There is a main compartment and a secondary compartment so that you can best organize your gear.
It has a molle system so that you can carry items on the exterior of the backpack.
The loops on the outside of the bag are too large to hold shotguns shells effectively.
Users have reported that the backpack tears easily and is not as durable as it should be.
This backpack is durable and has been engineered for hunting and other purposes. It has all of the features that a hunter may need such as a molle system, primary and secondary compartments, and a waist belt. You can also purchase it in two different camouflage colors so that you can easily blend in with your surroundings while you are wearing the backpack. This makes it the perfect choice for a hunting backpack.
Ventalated Back
The area that contacts your back is padded and ventilated. This helps keep your back from getting hot and sweaty while you are wearing the backpack on long hikes to your hunting area or even short walks on a hot day.
600D Nylon
The backpack is made from a 600D nylon material. This helps the backpack stay lightweight yet durable even when it has been fully loaded up with your hunting gear. The nylon material also helps to resist water in case of light rain.
Cost and Value
This backpack is sold at a price that is lower than the average price for hunting backpacks. This turns it into a bargain purchase since you get many of the higher-end features found in hunting backpacks without spending a lot.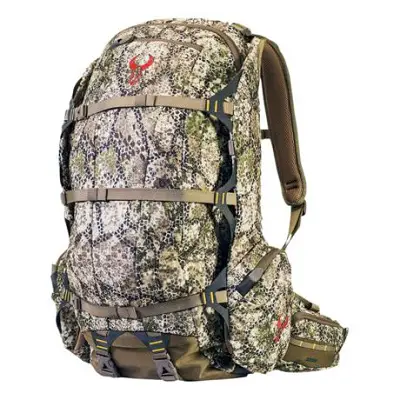 Quiet
Fits individuals of large stature well
Scent suppression
Comfortable to carry
Lifetime warranty
Fit can be awkward on a smaller frame
Does not come with any type of rain cover
This backpack works great as a daypack or even for an overnight trip. It has 2,750 cubic inches of space and can easily accommodate all of your gear, with pockets for bows, rifles, spotting scopes, tripods, and hydration. It also comes with a blaze orange meat shelf and the aluminum frame helps to transfer weight off of your back and onto your hips. It is also one of the more stealthy backpacks on the market and comes with a lifetime warranty.
Stealth
The Badlands 2200 pack is made from whisper-quiet KXO-32 fabric. It also blends into a variety of environments and scent suppression helps the hunter to go undetected.
Lifetime Warranty
This pack comes with a lifetime warranty, making it easy to quell any fears about strength and durability.
Cost and Value
This particular backpack is slightly more expensive than packs of comparable size. However, the "extras" that come with this backpack, including the lifetime warranty, make it well worth the price difference.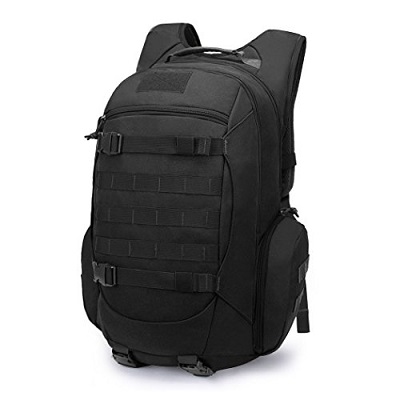 It is made from a water resisting 600D polyester material so that your items stay dry.
There is a compartment that is capable of holding a 2.5L hydration bladder and a water tube.
It has molle webbing on the front of the backpack so that you can attach additional gear.
There are adjustable straps on the bottom of the backpack for tents or sleeping bags.
The chest straps have been engineered to support the backpack even with heavy loads without tearing.
The front kangaroo pocket does not expand which makes it hard to put stuff into it.
The side pockets are too small for you to insert a water bottle into them.
The Mardingtop tactical backpack is another great choice for a hunting backpack. It has been designed to resist water so that light rain or some wet grass won't end up soaking your gear. You can also store plenty of water with you thanks to the hydration compartment. These are just some a few features that turn this backpack into the ideal backpack for hunting near or far in the wilderness.
Hydration Compartment
The backpack includes a hydration pocket which allows you to insert a hydration bladder as large as 2.5 liters. A tube for the bladder can be run through the top of the backpack so that you can have water when needed.
Waist Belt
There is a waist belt on the backpack so that you can secure it to your body when it has been filled to capacity. This helps reduce stress on your back muscles so that you do not get sore.
Cost and Value
You will see this backpack sold a price that is average for a hunting backpack. This turns it into a great value because you get premium features such as a hydration bladder and water resistance at a fair selling price.
9

. Allen Company 19099 Pagosa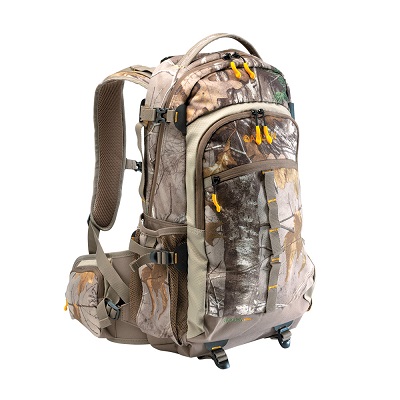 Lightweight
Good organizational design with a lot of pockets
High visibility lining and zipper pulls to help access gear in low light
Price
The new pack has an odor that can be hard to get out
Small pockets on the waist belt are poorly designed
The 19099 Pagosa is an 1800 cubic inch daypack. It offers plenty of pockets to keep your gear organized and accessible. It also comes with features to enhance comfort when carrying that heavy load, such as padded shoulder straps and a waist belt. The fabric used in the construction of this pack is quiet and will help you avoid being detected by your prey.
Comfortable
The padded straps and waist belt help distribute the weight of this pack in a comfortable manner. In addition, all straps are easily adjustable and accessible.
Organization
For the size of this pack, it offers plenty of pockets with easy access to keep your gear organized. In addition, high visibility and easy grip zipper pull make accessibility to gear even easier.
Cost and Value
This backpack yields fair quality for the price. It is one of the more affordable packs on the market and there is value in some of the features it possesses. However, the durability of construction can be an issue with this pack, particularly when compared to other packs on this list.
10

. Fieldline Country Pro Treeline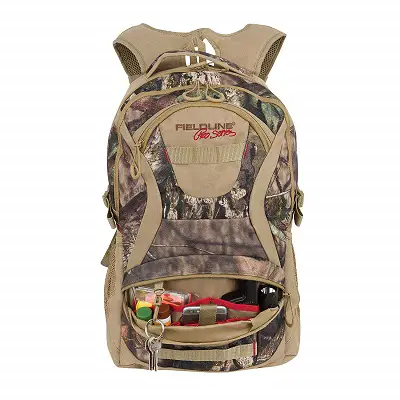 Price
Lightweight
Great for the beginner or young hunter
Ample space
Noisy
Back is not breathable
The Country Pro Treeline is a great entry-level daypack. It is lightweight and manageable, which make it a good choice for the young hunter. It is also a good choice for the limited budget. It is hydration ready and has plenty of space and compartments to organize your gear.
Weight
This is one of the lightest backpacks on the list, weighing a mere 1.7 pounds. This makes it a great choice for the beginner or young hunter.
Price
The Country Pro Treeline is priced substantially less than the other packs on this list. It is hard to ignore that fact and it reinforces that it's an appropriate fit for the novice or young hunter.
Cost and Value
When compared to other packs on the list, hands down, the price of this pack cannot be beaten. However, if you are looking for a pack to accommodate more than the most basic of gear or something more rugged, this may not be the right pack for you.
Criteria Used for Evaluation


Durability
The durability of the backpack can make the difference between a hunting trip that is enjoyable and one that is less than enjoyable. The last thing you want to experience is having your gear fall out of your backpack because it burst at the seams or have the backpack fall off of your back because a chest strap broke.
Your backpack should be strong enough to last you for years at a time so that you do not need to worry about replacing it each time that you go on a hunting trip. This will help save you money in the long run because you will spend less money on a high-quality backpack than what you will end up spending on inexpensive backpacks that keep needing to be replaced. When you are considering the durability of the backpack, you should consider the thickness of the material, the quality of the stitching, carrying straps or handles, and the zippers. All of these parts will make the difference between a long lasting backpack and a backpack that you have to replace after only a few trips.


Size
The size and capacity of the backpack will be an important part of your choice in a hunting backpack because it is recommended that you pick the right size backpack for your hunting trip. You should use a larger backpack for longer hunts, but on a shorter hunt, you will want to use a smaller backpack.
The size of the backpack will determine how much gear you are able to bring along with you while you are hunting. If the backpack is too small, then you will not be able to bring enough gear, while a backpack that is too large may encourage you to bring items that you do not need. For these reasons, you will want to have a backpack that has enough capacity for your needs.
Backpacks have interior and exterior capacity. Most of the time, we consider the interior capacity of the backpack. This would include things such as main and secondary pockets as well as pockets on the outside of the backpack. Sometimes these pockets are expandable while other times they have a fixed width and cannot be expanded.
After you have taken a look at the backpack's interior capacity, you will also want to check out the backpack's exterior capacity. This includes any items found on the outside of the backpack that allow you to attach additional gear to the backpack. Some of the more common features include molle webbing, carabiner loops, or tent straps. Molle webbing is a feature that allows you to hook exterior pockets, water bottles, or other gear to the outside of the backpacks.


Style
You can purchase backpacks with either an internal frame or an external frame. There are a lot of similarities between an internal framed backpack and a backpack that has an external frame, but there are a few areas where an internal framed backpack may perform better than one with an external frame and vice versa.
Depending on what you are hunting and how long you are going to be hunting, you may want to choose a backpack with an external frame rather than an internal frame backpack. Generally speaking, a backpack that has an external frame is generally better suited for hunting trips where you are going to carry a lot of gear while a backpack with an internal frame is better for long hunting trips.


Water Resistance
Since hunting inherently happens outdoors, you will want to make sure that your backpack is able to protect your gear from moisture. Moisture can come from things such as rain, moisture from grass or brush, or snow. If you are planning on hunting in areas that are subject to a lot of moisture, then you may want to look for a backpack that is fully waterproof as a way to protect your hunting gear.
Otherwise, you should at least look for a hunting backpack that can resist moisture so that it doesn't penetrate through the backpack and get your clothing or other items wet. You will have a much better time hunting if your gear stays dry and useful as opposed to ending up soaked and waterlogged.


Features
Backpacks have different features and those features can make a large difference in how useful the backpack will be when you are hunting. When you are shopping for a hunting backpack, you should take the time to make sure that it has the proper set of features so that you can use it to its fullest potential.
Having a backpack with the right extra features is a great way to make sure that you enjoy your hunting backpack completely while you are out hunting. Some features tend to be more popular than others but some of the most sought-after features include a water bladder pocket, expandable pockets, molle webbing, sleeping bag straps, and water bottle pockets.
Expert Interviews & Opinions
Most Important Criteria
(According to our experts opinion)
Experts Opinion
Editors Opinion
Users Opinion
By Default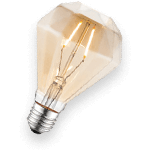 Stay Organized
The ability to organize and easily access your gear can prevent not only damaged gear (some of which can be very expensive) but frustration as well. Some may prefer to buy one pack that meets all of their needs out of the chute and some may prefer to customize through add-ons. Stealth can be a priority when hunting certain types of game and the need for a strong, durable pack could mean the difference between packing out your meat or leaving it behind.
What To Look For
Checking all of these areas over will help make sure that your backpack for hunting is up for the challenge. You should always try and make sure that the backpack has a strong shell, good carrying straps or handles, high-quality stitching, and good zippers. This will help prevent problems such as the backpack breaking open or having a chest strap detach from the backpack. If your backpack has been well made, then you will be much happier with it in the long run.
Frequently Asked Questions
q:

How should a hunting backpack fit?

a:

Your hunting backpack should be appropriate for your body. That means that a larger individual can purchase a larger backpack while a smaller individual might be happier with a smaller backpack. If you are a smaller person, then you may have trouble lifting and balancing while you are wearing a large and heavy backpack. On the other hand, a large person may have trouble fitting into a small backpack so it is best to try them out first.
q:

What can I do to reduce sweat on my back while wearing my backpack?

a:

You should start by looking for a backpack that has mesh ventilation in the area that touches your back. This will help the backpack breath while you are wearing it because air can pass through the mesh. Some backpacks even have air pockets that shoot air against your back while you are wearing the backpack. When all else fails, you can switch to a backpack that has an external frame since that will put space between your back and the backpack.
q:

How do I keep my shoulders from hurting while I wear my backpack?

a:

You should start by making sure that the shoulder straps have been adjusted properly and by making sure that you have not placed too much gear in the backpack. More gear will mean more weight and that will, in turn, put more pressure on your shoulders. Another way to reduce shoulder pain is to look for wide and padded shoulder straps. Such straps will help spread out the weight across your body and the cushion will help reduce shock to your shoulders from the backpack.
q:

What is the difference between top loading backpacks and front loading ones?

a:

Top loading backpacks have the opening at the top of the backpack. It allows you to organize your gear closely against your body which means that the weight is closer to your center of gravity. The front-loading backpacks open at the front of the backpack and allow you to access your gear more easily than what a top loading backpack might. The front-loading style is more common on backpacks that have an external frame while the top loading is more typical of a backpack with an internal frame.
q:

Why do some backpacks have a waist belt?

a:

The purpose of the waist belt is to keep the backpack from swinging around on your body while you are wearing it. A backpack that is loaded fully and is heavy can start to swing to the left or the right which can cause you to lose balance and fall over. The waist belt helps to hold the backpack in place so that you are more likely to keep your balance and your back muscles won't have to work as hard.
q:

Does your waist size matter when getting fitted for a backpack?

a:

Most manufacturers design adjustable straps for most people's waist sizes. If you have a waist size of under 26 inches or above 50 inches, then you can get a custom hip belt if needed. Most people fall within this range, though, and can adjust them to the appropriate size.
Subscribe to our Newsletter