Best Compound Bows Reviewed
Every year more and more people are taking up the compound bow and heading to their favorite hunting spot. Like anything else as the demand increases so do the players making money in the industry. We have a tremendous list of bows to be reviewed. We will look at the bows and their designs as well as some of the customer reviews. From here we will offer you up our take on these models.
Our Top 3 Picks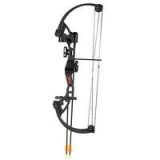 The Bear Archery Brave Bow Compound Set

Our rating
Best name in archery
Price: See Here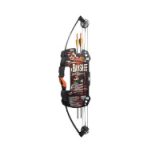 1075 Banshee Intermediate Compound Bow

Our rating
Ambidextrous grip
Price: See Here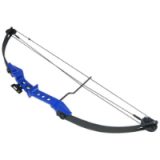 Black/Blue Archery Hunting Compound Bow

Our rating
Lightweight
Price: See Here
These will be objective reviews that focus on the bow and how it will perform in the field. There will be no prize awarded to the best bow. However, you may patronize the bow with the best review if you so desire it.
In particular, we are going to look at compound bows for beginners. Some of these will be standalone bows and some will be combination packs that include various types of accessories. What I am looking for a is a swath of resources for someone new who is looking for a great weapon to take to the field.
We will also review several youths bows in this buying guide. The youth bows will primarily be combos due in large part to the fact that most are sold that way. Don't expect the same quality in accessories on a youth bow as you would on some adults bow combo.
Another layer to these reviews will be customer reviews. I like to look at how the owners of these bows enjoys them or not! They often have the most insight as they are not writing text to sell a bow.
Best Compound Bows Reviews
1. Bear Archery Brave Bow Set
When I see Bear archery I cannot help but get excited even if we are talking about your bow. There are certain brands out there that just do what they do better than most.
Expand to see more
Bear is that company and the Brave bow set is no exception.

Not only was this bow designed with young inexperienced shooters in mind. It was also developed with safety in mind. The arrows are made of safety glass and the whisker biscuit arrow rest is completely enclosed to protect the shooter and those around them. This move towards safety is something you don't often see in kids bows which is kind of funny when you think about it.

This bow offers a 15 - 25lb draw weight and is suggested for children 8 years or older. The 13 to 19-inch adjustable draw length is perfect for youth as well. This bow is made by one of the best bow producers in the land. They will not skimp on even a youth bow. Of that I am sure.

The brave bow set has a tremendous 83 reviews! It is really talked up by those that buy it. What makes it tricky though is those who buy a bow like this rarely shoot it themselves. Now knowing what we know about it and the age group its intended for we must assume it won't be the best shooting compound bow on the market. It is a Bear though.

Best name in archery
Adjustable draw length and weight
Safety features
Light on the draw weight for killing big game
2. 1075 Banshee Intermediate Compound Bow
The Banshee is a kid bow. This is not a sarcastic or obnoxious remark about draw length or quality of the bow.
Expand to see more
This is literally an intermediate bow designed for children in their early days of shooting a bow. We will still review this item objectively but keep in mind the price

Those who have reviewed the bow seemed to be very impressed with it. There were two 5 star reviews that were very personal. I am assuming these were done by kids as the both expounded on the feel of the bow and how it will help their accuracy out.

A good kid bow should not be frowned upon in a review like this. The most powerful weapon we have in conservation is the coming generation. If they can be engaged and develop a relationship with the weapons and the animals, we love it will carry the effort for another generation.

The draw weight on the banshee is 25lbs. It offers a soft touch, ambidextrous grip. It comes with finger rollers and two arrows for target practice. For a someone starting out the banshee has some great features. This is a great starter compound bow for kids.
Ambidextrous grip
Kids reviewed the bow and loved it
This is a starter bow that would not be the best for an actual hunting game
3. Black/Blue Archery Hunting Compound Bow
This weapon's flat black design and sleep arms that almost look interchangeable make for a unique compound design.
Expand to see more
Though it doesn't share the camo finish that many modern bows offer today this weapon will offer a power natural camo when the hunter is situated in the shadows or hidden inside a ground blind.

This bow offers a 19 - 29lbs adjustable draw weight that will send arrows 130 feet per second. This draw weight is a little on the low side so accuracy with your shot will be critical if you plan on hunting with the Black/Blue. If you hit a shoulder at 19lbs draw you could wind up just wounding the animal. With the right shot it's still more than capable of dropping game.

With an adjustable draw length between 24 and 29 inches this bow can be quickly modified by both draw weight and draw length. It also weighs in at an impressive 2.2lbs this. Making this a nice comfortable carry for a long day on the hunting trails

This bow comes with two accessories that I wish they wouldn't even have included. The arm guard offered looks like something my son received with his starter bow when he was 4-year-old. The quiver is also of abysmal quality. I will be honest when I saw the very low quality of these two accessories it made me questions the quality of the bow itself. It also comes with two aluminum arrows that you can shoot right away

Customer reviews were very simplistic though both gave the bow 5 stars. This is a bow that you purchase simply for the bow itself. I wouldn't put any stock in the survivability of the accessories. In fact, I think the accessories do this package more harm than good.
Adjustable Draw lengths and Draw weight
Lightweight
Cheap armguard won't last long
Quiver is little more than a couple of sew together flaps of material
4. Leader Accessories Compound Bow
From the looks of it this Leader Accessories bow looks like a run of the mill compound. There are very little features that stand out in terms of design.
Expand to see more
This bow does offer a green camo design. The cheap aluminum arrows are pastel and designed for easy location if your shots go awry.

With a draw weight of 30lbs - 55lbs this compound bow has the stopping power needed to get the job done. A draw length of 19-29 inches this bow claims a max speed of 296 fps. In its ability to close the deal I can appreciate the simplistic design of the bow.

This bow is part of a kit and features am optics sight, drop away arrow rest and peep sight. Two aluminum arrows come with the kit as well so shooting can happen immediately. I really like the fact that draw weight and length can be simply adjusted by using an internal Allen wrench.

Judging by customer reviews this is a bow that surprises hunters. It is a compound kit with several run of the mill accessories but people enjoy many things about this bow. The weight and accuracy of this bow really makes it shine, along with the simplicity.

This kit will provide you with everything you need to get started hunting except for the broad heads. When I say everything I mean bow and hardware. In that it's an effective starter kit and one recommended by many.
Adjustable draw weight
Multiple accessories
Internal wrench for easy adjustments
Cheap arrows that need to be replaced
5. SAS Sergeant Compound Bow Package
The SAS Sergeant is another package deal. I am astounded at the quantity of these full package bows.
Expand to see more
We are looking at another solid starter bow for someone just getting into hunting. One of the better things about this package is that it also comes with a usable quiver among other gadgets to get you started.

The SAS Sergeant offers a few different options in finish. There is both a a silver and a black option as well as a more expensive camo finish. The bow itself has an expected simple design. It is listed as a 55lb draw weight and a 29-inch draw length.

This is a sturdy and reliable bow. It offers reliable accuracy as well. It's not mentioned in the description but the draw weight is easily adjusted. The included package offers up a three-pin sight, arrow rest, quiver, arm guard and finger tab.

With over 40 reviews the true nature of this bow resonates. It's a solid starter bow that will provide you with all you need to get started. There were very few complaints about the bow itself and its accuracy.

Silver and black finish options
Powerful 55lb draw weight
Well reviewed
 Accessories are of very bad quality
6. ATROPOS-110 Archery Youth Compound Bow
In this list, there are some tremendous bows for beginners both for youth and for adult hunters.
Expand to see more
The ATROPOS is a powerful bow and though it may not be my first choice for my sons, this weapon is still a great beginner option. The most unique feature about this bow is that it is designed to replicate the adult versions of ATROPOS bows. This is a big deal for kids. They want a bow that looks like mommy's or daddy's.

This far into our review list I think a set of specs on this bow would help you make your decisions: IBO Rate: 80-100 fps, Age: 10+, Bow Weight:1.6 lbs., Draw weight: 15-20lbs, Draw length: 15"-20", Brace height: 6", Axle to Axle: 26" Let off: 60%

There is an extensive list of accessories that come along with this bow. These include the following.1 x compound bow, 1 x sight, 1 x arrow rest, 1 x arm guard, 1 x finger tab, 4 x 25" aluminum arrow. The arrows are of poor quality according to reviews and should be subbed for something better for your young shooter.

This bow had just one positive review but that doesn't leave it out of contention. You are still getting a great bow, at the higher end of the price point, with important accessories for the young archer in your life.
Designed to look like Daddy's bow
Good set of accessories for a beginner
Sturdy design
The arrows must be replaced as they are no good
7. Crossman Elkhorn Jr. Compound Bow
This bow is by far the most affordable kids' bow on the market. I had a hard time believing this weapon was priced correctly after looking it over and hearing all the great remarks about it. If you are in the market for a youth compound combo this is the one.
Expand to see more
It's flat black and nothing fancy which is exactly what you want for kids. They should be focusing on developmental skills and techniques rather than the fiery camo finish on their bow. This bow is made for right hand shooters. This is harped on in the reviews quite a bit, so be sure this is taken into consideration.

The accessories are low grade and actually pretty cheap. For this price though I don't see how you could expect anything else. I was very impressed with the basic design of such a cheap bow and the fact that is was revered.

Though there is nothing to write about the bow itself I think we should take some time to really quantify how well this weapon was received by the owners. The fact that this bow is accessible and usable right out of the box is the most talked point about this product. Beyond that, the idea that the kids love it and have great accuracy with this bow. One man mentioned that its powerful enough to 'pierce siding' so be careful where you are shooting!

Super low cost, under $30!
Outstanding reviews
Respectable brand
 Accessories are of the cheapest quality
8. Diamond Archery Infinite Edge Pro Bow Package
This bow is a very different animal from those on the list. It is a capable of becoming a very real powerhouse weapon.
Expand to see more
The extended draw length allows you to achieve a draw weight of over 60lbs. That is throwing some serious heat onto an arrow and at a prey animal.

This bow comes well equipped and has the look of a pro style compound bow. This is one of the most expensive bows on this list and based on what you get for your money I have to say that I am a little nervous about this price based on reviews. Though it's not a perfect bow or an indestructible one the accessories are of higher quality than other combo packs.

On that note, let's take a look at some of the various accessories that come along with this bow. There are many perks that are included with this bow starting with a 3-Pin tundra sight, hostage XL arrow rest, DeadLock lite octane quiver, tube peep sight, BCY string loop, comfort wrist sling, and ending with a 5" ultra-lite octane stabilizer.

One of the best things about this bow is that people buy it and review it in mass. This bow has received decent reviews. There were however two very critical mentions in several bows. One being that the cams are shoddy and bend easily. One was bent when the bow launched an arrow at a 65lb draw weight and another example was one that got shipped bent and the owner popped the bow string on his first draw!
Various quality attachments
Packs tremendous draw power
Cams become bent and damage more easy than other bows
Serious cost
9. Genesis Original Bow
When we talk about starter bows there are very interesting combos and kids bows that are tremendous options for those in your household.
Expand to see more
When it comes to the Genesis you are talk about THE starter bow. Now any company can create a starter bow but the Genesis is the starter bow for the National Archery in Schools Program. (NASP)

Because it is such a widely used and manufactured bow it comes in 12 color options. The designs range from all your major colors, pink, blue, yellow, green and more. There also some camo options and even the notorious pink camo option. Another big feature of this bow is that it comes both left and right hand option to meet the needs of those using it at schools.

Though this is a starter bow it features a machined 6061-T6 aluminum riser, aluminum cam and idler wheel, sturdy composite limbs and high-strength bowstrings – all made in the USA. These features offer you a sturdy lightweight bow at a great price. In fact, this is the least expensive bow in the list!

Because this bow is so widely used it has over 250 reviews! Most all of them resonate in much of the same way. They all talk about how well the bow shoots right out of the box. Owners of this bow also gush about how much fun they have. This comes from adults as well as kids!

Highly reputable company
Various designs available
Great for all ages and ambidextrous
10. Apollo Tactical USA, Tactical Compound Bow Package
There is little doubt that it gets much better than this combo package for beginners. In fact, a combo like this would even shoot your seasoned bow hunter.
Expand to see more
The accessories, arrows and the quality of the bow are over the top. So much so, that the customers don't even mind the high price tag on this compound bow.

The design on the bow itself is powerful. The shadow black camo design is so innovative it has been copied by companies outside of the US. There are tips on how to identify a fake. All the standard parts of the bow are finished with the shadow black camo. The risers, the cams in particular should be covered with the signature camo design.

This bow comes stocked with the following installed accessories: Stabilizer with Dampening, UV Lighted Site with 5 adjustable fiber optic pins, 6 Vibration Dampeners, D-Loop, Peep Site w/tube, Full Capture Arrow Rest, Carbon Fiber Cable Stop and Cable Guide, Hand Braided Bow Sling.

Outside of the pre-installed accessories you are also given a generous amount of arrows and arrowheads among other things. Ruggedized Flight Case, Detachable 6 Arrow Quiver, 2 Limb Dampeners, Bow Stand, 6 Aluminum Arrows, 6 Carbon Mix Arrows, 12 Field/Target Tips, 6 Hunting Broad heads, String/Cable Wax, Hex Key Tool Set, Spare D-Loop, Spare Waxed String/Cable Serving material, Set of 3 Apollo Tactical Archery Bags.

This bow is the ultimate compound bow package. It's also beloved by all its reviewers. People are both in love with the bow and gushing about all the quality accessories that go along with it.
Unique shadow black camo design
Massive accessories with 12 arrows and broad heads
Untouchable customer reviews
I hope you aren't overwhelmed by the sets and the accessories as well as the pros and cons of each bow. I will say that there is a lot to be gained by reading this guider over again with a pen and pad in hand.
This selection of bows is a snapshot of what's available on the market today. We have seen some of the best options available on the market in my opinion. We have also taken a close look at some bows that could use improvement.
From here I hope you take this information and break out three legitimate options for your next purchase. Whether you are in the market for a beginners' bow and thinking about taking on a new adventure as a bow hunter or if you are a seasoned bowhunter looking to bring on your kids or grandkids this is the list for the job.
Subscribe to our Newsletter