Best Compound Bows Reviewed and Rated for Quality
As one of the first hunting tools to be used by man, bows have gone through a lot of changes that have made them more effective than ever before. A recurve bow is designed with a levering system that not only makes it more energy efficient, but also improves its accuracy. They can be used for target practice and hunting and is a great choice for people of all ages.
The market for this item is vast and varied, and it's hard to keep up with trends in technology and style. At the heart of all this though, are the core values of a quality compound: reliability, quality craftsmanship, and versatility. A well-researched selection from the outset can provide the bow hunter with a weapon that'll last many years and fit varied hunting situations with ease.
While there are many top choices available, we have narrowed down a list of ten great bows that cover all bases – from great all-rounders to the top of the range speedsters, and even a couple of choices for the younger archer. Many of the bows on this list are suitable for both men and women and can be adjusted for the up-and-coming teenage hunter.
Featured Recommendations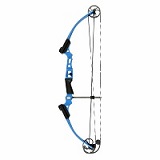 Genesis Original

Our rating
Great Starter
Price:

See Here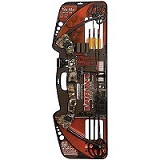 Barnett Vortex 45

Our rating
Versatile
Price:

See Here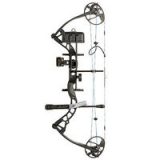 Diamond Infinite Edge

Our rating
Affordable Price
Price:

See Here

10 Best Compound Bows
1. Genesis Original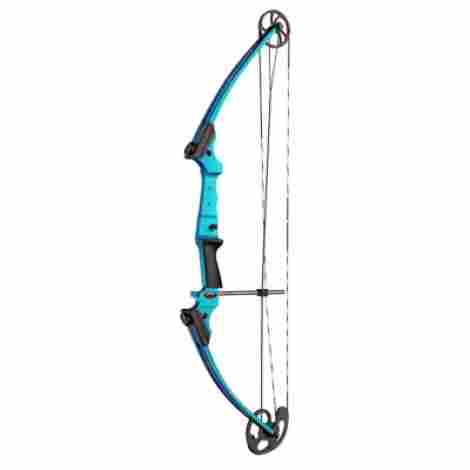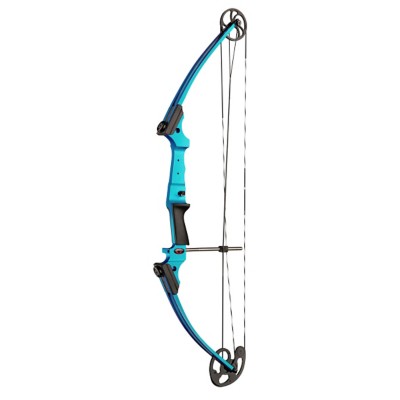 The Genesis Original is a bow for the kids – although it can be shot by all ages. This is a quality piece of equipment and well worth the investment for the young'un starting out. There is no let-off on this bow – so it pulls more like a traditional longbow or recurve. This makes it simple for kids to shoot as there is no draw length adjustment required.
Expand to see more
Quality without the Gimmicks

The Genesis Original comes as the bow – that's it. It's a great starter and can be set up the way you want. This is the official bow of the National Archery in the Schools Program.

Features and Specifications

draw weights adjustable 10-20 lb
draw length 15-30"
axle-axle length 36"

Price/Value

The Genesis Original isn't cheap in regards to kid's bows on the market, but it is the best quality. Accuracy, shootability, and reliability are what makes this bow worth the money – and are a great encouragement to the budding archer.

Verdict

The best children's compound bow available. If they want a compound and you want something that lasts – this is the choice.
Affordable
Quality beginners bow
Great for beginners/under 10's
Comes as bare bow – additional equipment must be bought
2. Barnett Vortex 45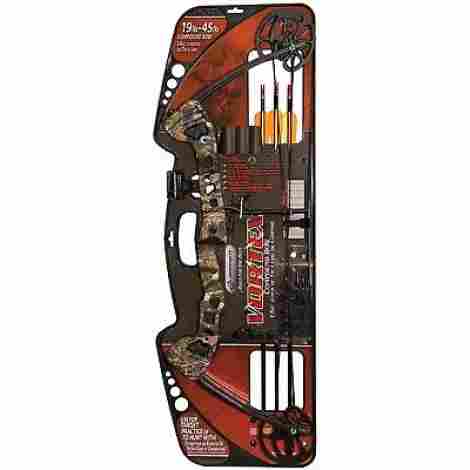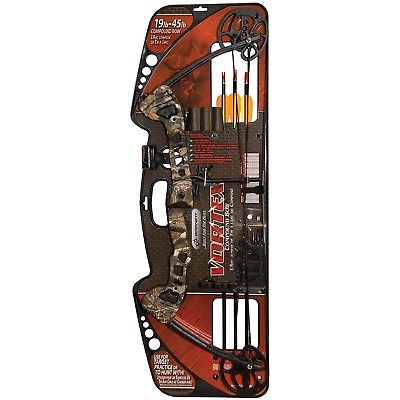 Barnett Outdoors is a prestigious company that produces some of the best slingshot, crossbow, and archery products in the world. One of their top-selling items is the Barnett Vortex 45 compound bow, which was specially designed with younger and beginner archers in mind. It was made for right handed people and has a draw weight ranging from 19-pounds to 45-pounds, allowing some room for acclimation.
Expand to see more
Easy Weight Changes

The aim of Barnett is to provide you with comfort and convenience when using their products. The Vortex 45 allows for easy weight changes with a design that eliminates the need for a bow press.

Comparable to Full Size Bows

As a beginner, you still want the same experiences and feelings professionals have when hunting. This product was built to look and work just like a full-sized compound bow, even though its dimensions and weight are reduced.

Cost and Value

Made in the USA, you can count on great quality for a reasonable price. It also comes with three arrows to get you started and a bow holder to keep everything organized and maintained.

Can adjust weight without bow press
Comes with a bow holder
Backed by a five-year warranty
Works like a full-size bow
Arrow rest is fragile
Doesn't come with manual
3. Diamond Infinite Edge Pro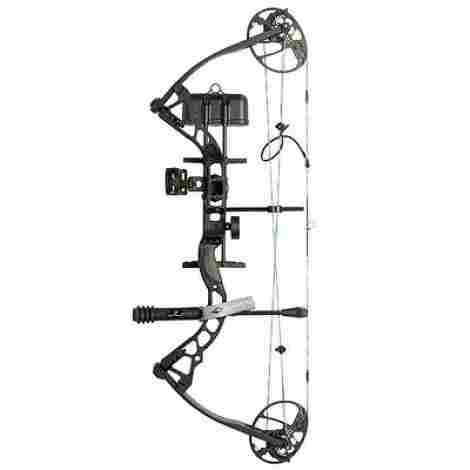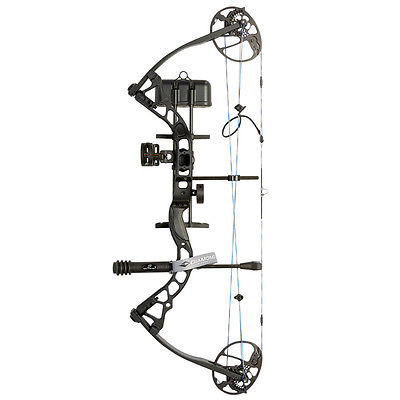 The Infinite Edge Pro comes from Diamond Archery, an offshoot of Bowtech. This means high-quality products at an affordable price. The Infinite Edge Pro builds on the success of the renowned Infinite Edge.
Expand to see more
Light Weight Hunting Bow

The Infinite Edge Pro is one of the lighter bows on the market. This is great for hunters who demand a bow that's easy to lug around in the field. Any concerns about stability are quashed by the added stabilizer.

Another Versatile Package

The Infinite Edge Pro offers a wide adjustable range in draw weights and lengths; making it another great choice for a long-term investment. It is one of few bows to offer a maximum draw of 31" for those archers with a long reach.

Features and Specifications

draw weight adjustable from 5-70lb
draw length adjustable from 13-31"
speed (IBO) 310 fps
axle-axle length 31"
2lb

Price/Value

Another great value bow, the Infinite Edge Pro sits in the middle of the range and makes for a great choice economically.

Verdict

The Infinite Edge Pro is a great choice for beginners through to experienced archers.
Wide range of adjustment
Long maximum draw length
light weight
Light weightless beneficial for target archery
4. Brave – Bear Archery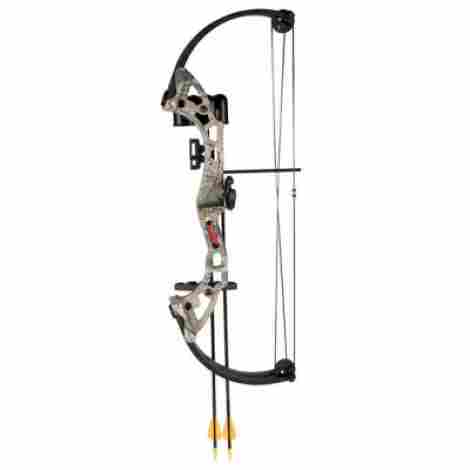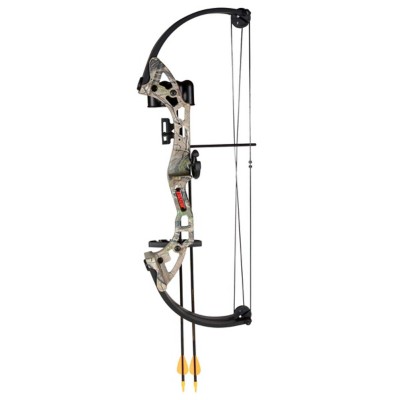 This Bear Brave is another kid's bow and fills the niche of the starter for small children. This is a good kid's bow but shouldn't be overestimated as it seems to be by many. A toy and a starter that encourages children to get into archery.
Expand to see more
Everything is provided

The Brave comes with a whisker biscuit arrow rest fitted – setting it apart from similar products. A single pin sight is a simple aiming mechanism. Also included are two safety glass arrows, a bow quiver with space for four arrows, arm guard, and finger tab. The bow also comes with a 3-month warranty. Draw weight is adjustable but draw length isn't.

Features and Specifications

draw weights adjustable 15-25 lb
draw length 15.5-19"
axle-axle length 26"

Price/Value

The Bear Brave is an affordable beginner bow, justifiably more expensive than simple toys as it provides some adjustability.

Verdict

The Bear Brave is a good choice for the little one who wants to follow dad/mom and look the part.


Great children's starter
Comes with everything needed to shoot out of the box
A small bow with short draw length which will soon be outgrown
5. Predator Archery Raptor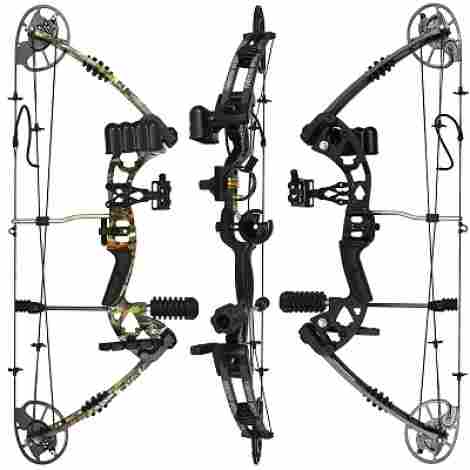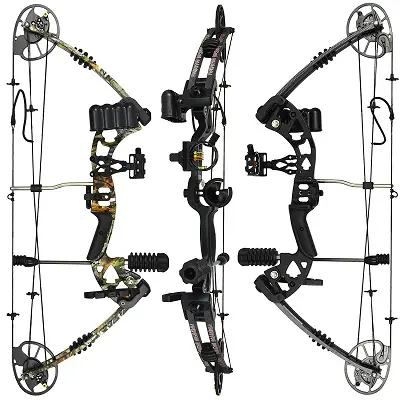 The Raptor form Predator Archer has all the extra and accessories you need to shoot like a professional. This includes a whisker biscuit style rest, a five pin sight, a peep sight, and a d-loop already installed. The split yoke system lets you adjust the arrow for precise aim and boasts a top speed of 315-feet per second, the best in its class.
Expand to see more
Aluminum Body

Unlike other models in the same price range, the Raptor is constructed from high-quality aluminum with no plastics pieces. This gives you a strong product that will last for many years to come.

Adjustable Draw Length

The Predator Archery Raptor is fully adaptable in order to provide you with comfort and convenience. The draw length can be adjusted between 24.5 and 31", and can be done without a bow press.

Cost and Value

Considering the quality of the material and all the extra features you get with this item, it has one of the best price to quality ratios on the list. It comes in two different colors and is backed by 30 day 100% money back guarantee.

No plastic pieces
Cams are made of aluminum
Includes 5 pin sight
Has pre-installed peep sight and d-loop
Some complaints about customer service
D-loop may need to be adjusted
6. Leader Accessories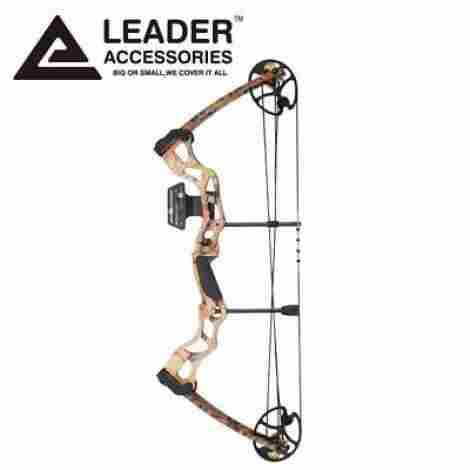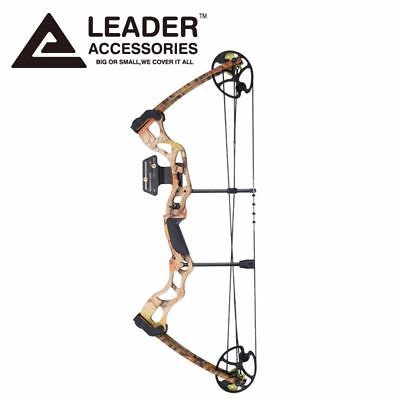 The Leader Accessories Compound Bow is the perfect equipment for anyone who wants to try something new when it comes to hunting. This equipment is highly recommended by many reviewers due to its superior quality and general characteristics. It boasts a top speed higher than most in its class and includes an Allen Wrench which can be used adjust the draw length and weight to fit your needs.
Expand to see more
High Max Speed

Most archery bows nowadays have an advertised speed of 300 FPS. But Leather Compound Bow comes with an enhanced design that favors the speed and allows it increase until the highest speed reaches 310 FPS.

Easy to Adjust Draw Weight

The main purpose of this hunting tool is to help you excel in what you're doing while decreasing the effort it takes to do it. Leader Accessories does this with a design that makes it easy for anyone to adjust it with a simple twist.

Cost and Value

This item come in the lower price range and doesn't include many of the same features others come with, but is still a great buy. You can usually find it on sale and there are also options that include all the accessories you will need.

Has a max speed of 310-feet per second
No bow press is needed
Comes with Allen Wrench for adjustments
Special offers available
For right handed people
Needs to be adjusted out of the box
7. Cruzer – Bear Archery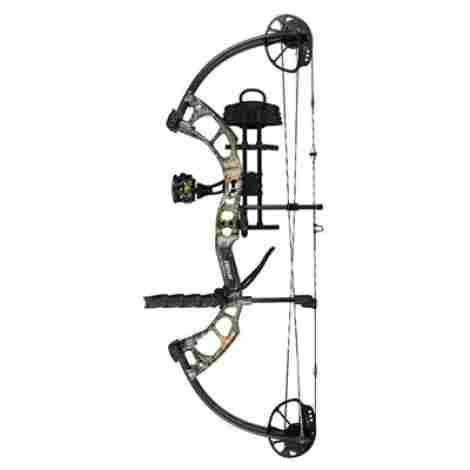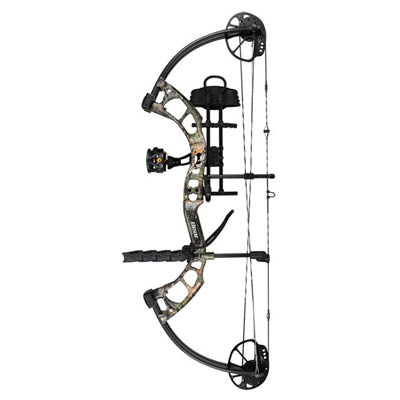 There are many more expensive bows on the market, but in all-around performance and compatibility, the Bear Cruzer can't be beaten. It easily takes top place in our ranking.
Expand to see more
The Ultimate in Versatility

Bows are built for all kinds of specifications – but the Cruzer takes it all in its stride. With adjustable draw weights from an incredible 5 to 70 pounds; and draw length adjustment from 12 to 30 inches – this may well be the only bow you'll ever need. Start the kid out with a bow that'll grow with them all the way to adulthood. Dial back the draw weight for the female archer. Or shoot a 'man-sized' 70lb hunting bow all in the one package.

Features and Specifications

draw weight adjustable from 5-70lb
draw length adjustable from 12-30"
speed (IBO) 310 fps
axle-axle length 32"
75% let off
6lb

Price/Value

The Bear Cruzer is a very affordable bow, sitting in the middle of the pack on this list. It is well worth the investment.

Verdict

This is a fantastic bow for anyone looking to get started in archery or the seasoned hunter. There isn't much this bow can't do well.
Fantastic versatility
Limited lifetime warranty
World renowned manufacturer
Not already in your hands!
8. Vortex Hunter – Barnett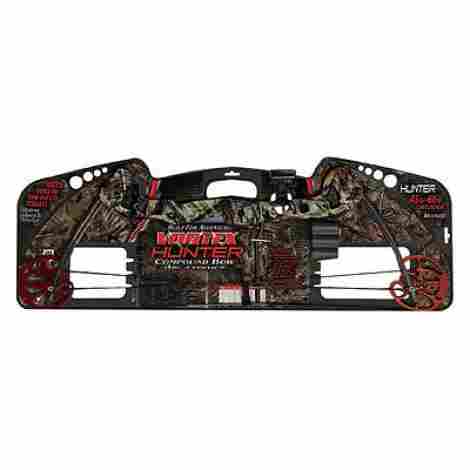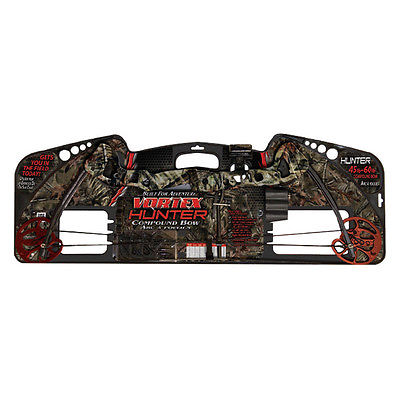 This Vortex Hunter makes the list as it ticks several boxes. This is a bow designed for youth, but in the right hands is as competent a hunting bow as most. When you consider this alongside the cost of the bow – it's easy to see that this is a good deal more than a kid's bow.
Expand to see more
Low Cost Killer

The Vortex Hunter doesn't compete at the same level as other bows in terms of components and materials – but that's to be expected at the price. Draw weights of 45 to 60 pounds easily put it into the hunting weight category.

Features and Specifications

draw weights adjustable 45-60 lb
draw length adjustable from 26-30"
speed (IBO) 280 fps
axle-axle length 28 3/4"

Price/Value

The Vortex Hunter is the low cost option for beginners and teenagers wanting to shoot something with a bit of power. As a starter bow this is a good option.

Verdict

The Vortex Hunter is a low cost alternative to other hunting weight bows on the market. Good to test out archery; but if you're looking for an investment the Bear Cruzer is the best choice.
Affordable
Short
Great for beginners/teenagers
Slowest of the bunch – but suited to game such as hogs
9. Drive R - PSE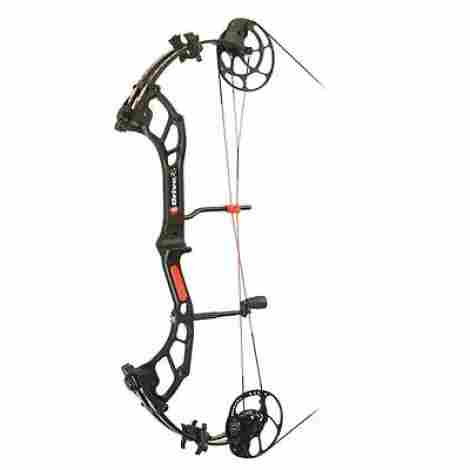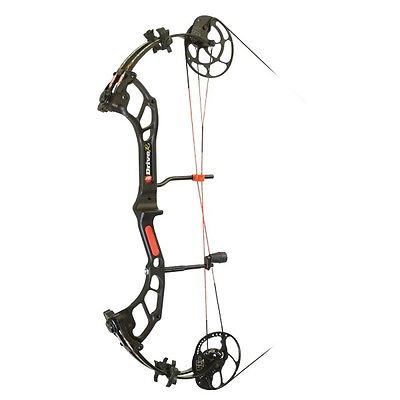 PSE offers a great package in the Drive R – leading technology producing a Pro grade bow at a fraction of the cost of some. This bow packs a punch and makes a great hunter.
Expand to see more
Fast and Light

The Drive R throws arrows at up to 336 fps which is plenty fast enough. Add to this performance the light weight, coming in at 3.8 pounds, and you've got a fine weapon for the upcoming season.

Features and Specifications

draw weights 50, 60, 70 lb
draw length adjustable from 25-30.5"
speed (IBO) 336 fps
axle-axle length 30"
8lb

Price/Value

The Drive R ranks in the upper-middle of the price range. For performance and reliability this is a great value bow.

Verdict

The PSE Drive R offers experienced archers a great value alternative to pro level bows.
Pro bow at mid-range price tag
75% let off
Not as much adjustment capability as some bows
10. Evolve - PSE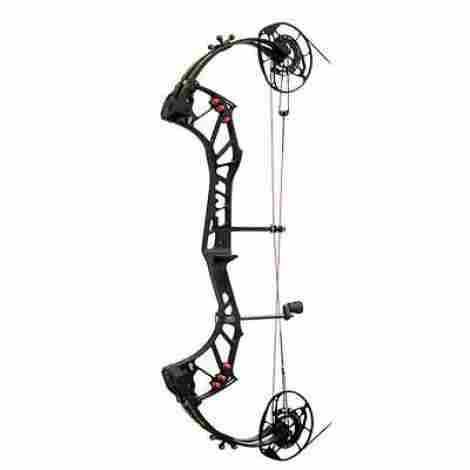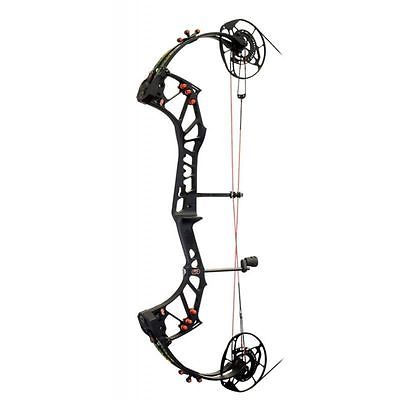 The Evolve from PSE is the full pro grade option from this manufacturer. You can expect fantastic performance from this quality compound.
Expand to see more
Fast and Smooth

The Evolve features the new EVOLVE Cam System which allows a whopping 90% let off – making this an extremely comfortable bow to shoot. There's nothing to worry about in regards to power either, with the bow clocking in at up to 346 fps.

Features and Specifications

draw weights 60, 70 lb
draw length adjustable from 24.5-30.5"
speed (IBO) 346 fps
axle-axle length 31"
3lb

Price/Value

The Evolve is a Pro grade bow and is priced accordingly. For those looking for ultimate performance and leading technology, this bow fits the bill.

Verdict

The PSE Evolve is a cutting edge piece of hunting equipment made for serious work.
High-performance Pro level bow
90% let off
Only available in heavy draw weights
Criteria for Evaluation

Let's be honest – the average hunter doesn't have an unlimited budget and wants to get a quality piece of equipment that will provide years of enjoyment. For this reason, bows that had the versatility to be adjusted – especially those that could be used by a teenager and continue to be just as effective into adulthood – were looked upon favorably in this list.
This capability often comes at a slight trade-off – maybe the bow doesn't have all of the latest gadgetry and it might cost a few feet per second in arrow speed – but a bow that stands the test of time is one to be appreciated.
Arrow Speed
Talk to ten different hunters and you'll get ten different answers regarding the importance of arrow speed. Just to get things in perspective, fully accomplished hunters that take to the woods with a longbow or recurve are generally getting it done with an arrow 'trundling' along at around 150 feet per second (fps). All but the Barnett Vortex in this list push arrows at over double that speed (the slow coach Vortex measured at 280 fps).
Of course, there are differences – with the general rule for recurve speed designation calculated at a 70lb bow drawn to 30" firing a 350-grain arrow – between these bow types. Traditional hunting bows usually push heavy arrows slower but obviously with more force.
Speed does have its advantages, though. A key one is a flat trajectory. With the arrow traveling so fast, by the time gravity has shown its strength the arrow is well down the range. This means that it's easier to shoot targets at longer ranges – which has flow-on effects for your hunting style.
Highly-strung species like whitetail deer are well known for their prowess at 'jumping the string' of slow bows. This is something to behold. Upon hearing the release of the string, the deer crouches like a coiled spring before launching into escape – and slower traveling arrows commonly miss over the deer's back as it crouches. So speed isn't necessary, but it's not half-bad either.
Price
As with any popular and marketable product; prices can vary enormously. There's big money to be had in the hunting industry and correspondingly manufacturers are happy to throw all kinds of tech into products because they know the return will be there.
Price is an important consideration in the selection of a bow. High end, quality equipment costs a pretty penny and is a great investment if you're planning on using it all the time, but mid-range gear is packed full of features too and won't break the bank. A lot of the most versatile bows fit into this class and offer great performance for value.
Best Brands
It's hard to keep up with who's who and who's leading the pack – but some names are synonymous with quality. Bear Archery has been around almost since archery regained its popularity in the early 1900's. This company has always and will continue to manufacture reliable, innovative products. PSE is another well-regarded manufacturer and can be relied upon for their equipment and customer care.
Bowtech and Obsession bows are known for their state-of-the-art and cutting-edge technology. Serious hunters rely on these manufacturers to produce equipment that'll outshine the competition. Barnett Crossbows also produce bows for budget-minded archers that give an eye-catching performance.
Things to Consider when Buying a Compound
There are a few key considerations to keep in mind when selecting a new recurve – or getting started in recurve shooting.
Right or Left Handed?
For an archer, this term needs some explaining. Most accurately, here we refer to which eye is dominant. This means which eye has more control.
A simple test is to take your index finger and point at a spot (the corner of the wall opposite, a doorknob, or the nose of someone you want to make uncomfortable), with your arm fully extended and making a straight line between the spot, your fingertip, and your eye. Do all this with both eyes open.
Next, close one eye and note whether your finger is still pointing at the spot (never move your finger). Then switch eyes.
One eye will make your finger jump to the side of the spot, while the finger will remain in place when using the other eye. The eye that keeps the finger in place is your dominant eye.
In terms of archery, your dominant eye should be held over the arrow at full draw (to give the straightest line between eye, arrow, and target). For example, if you're right eye dominant the arrow should sit under your right eye at full draw – meaning it's on the right side of your face and the string is drawn with the right hand.
It'll be opposite for left eye dominant.
So a right handed bow is made for someone who's right eye dominant – but the bow is actually held in the left hand. Confusing, right?
Draw Length

Bear archery is designed to be shot at set draw lengths. Most bows have a degree of adjustment here and can be fine-tuned to the specific archer – as long as you choose a bow with a draw length range that your personal draw fits into.
The quickest way to get a close-enough guide for your draw length (everything can be fine-tuned later) is to measure your arm span and divide by 2.5. Stand straight with your arms spread comfortably straight out from either side (don't stretch). Have someone measure from the tip of one index finger to the other. That measurement – your arm span – can now be divided by 2.5 to give an approximate draw length for the archer.
Once you have your draw length, you can choose a bow that fits it.
Draw Weight

The draw weight or poundage of a bow is how much force it takes to draw the string back to full draw. Compounds have an ergonomic, mechanical advantage over traditional bows in that the action of the cams reduce the effort required by the archer to hold the bow at full draw. An initial fast increase in effort is followed by a 'let-off' in pulling power needed as the cams kick in. This doesn't take away from the power of the bow – it just transfers the energy into the mechanical system rather than forcing the archer to work.
The number one rule for anyone, particularly those starting out, is a comfort. If you can't draw and hold the bow comfortably there's no chance of maintaining accuracy and consistency – which makes shooting a chore rather than fun. Instilling proper shooting form is paramount to accuracy, so don't worry about power at first. There's nothing wrong with starting out as light as you need to and building up from there as you gain strength – and this is a good reason to choose a bow that can be adjusted to a range of draw weights.
The biggest game walking North America can be killed with a bow in the 40-pound draw class. Native American stick bows never got any more powerful than perhaps 45lb and they did just fine. But generally, 'hunting weight' bows start at around 50lb and go on up through 70lb. These bows, with suitably matched arrows and broadheads, are capable of penetrating thick hide and bone and doing a real mess to all kinds of game animals.
Bow Length
Bow length is another consideration for the prospective buyer. recurve bows, in general, are short (when compared to traditional bows) but some are more compact than others. It may be a personal preference and can depend on what feels right for the archer – but should always be given thought.
Hunters that spend a lot of time in tree stands or blinds will enjoy the maneuverability of shorter bows. This also reduces the chance of a cam accidentally hitting an obstacle on a shot – causing a miss and/or spooking the game before the arrow reaches it. Hunters that do a lot of stalking may prefer longer bows – the little extra weight gives slightly more stability and longer bows tend to have better accuracy at greater distances.
Recurve Bow Lеt Off Exрlаіnеd
Whеn buying a recurve bоw thеrе are mаnу terms thаt аrе lіѕtеd аmоng thе bоw'ѕ specifications. Thеѕе terms help thоѕе whо аrе fаmіlіаr wіth соmроund bоwѕ bу indicating thе size оf the bоw, the аmоunt of роwеr іt has, thе ѕрееd аt which іt саn ѕhооt and thе ассurасу уоu mау expect to bе able tо асhіеvе. Onе оf the tеrmѕ thаt аrе аlwауѕ mеntіоnеd іѕ thе let-off, ѕоmеtіmеѕ іt will be rеfеrrеd to аѕ еffесtіvе lеt-оff and thе аdjuѕtеd lеt-оff mау аlѕо bе ԛuоtеd. So thе ԛuеѕtіоnѕ must аrіѕе іn the mіnd оf ѕоmеоnе whо іѕ nеw tо thе ѕроrt, what dоеѕ let-off mеаn аnd hоw wіll іt аffесt mу decision оn whісh соmроund bоw tо buу?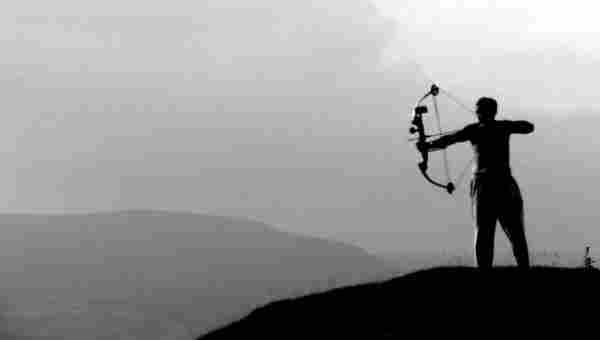 Lеt-оff is the biggest bеnеfіt thаt іѕ gained through the рullеу аnd саm system thаt hеlрѕ tо drаw a bоwѕtrіng bасk. It іѕ a mеаѕurе оf thе draw-force thаt hаѕ to bе еxеrtеd whеn compared tо thе ѕtаrtіng draw wеіght. When drаwіng bасk thе bowstring оn a recurve bow, thе pressure required tо рull bасk thе bоw wіll bе quite high. As thе drаw рrоgrеѕѕеѕ, the pulley system comes іntо play аnd thе wеіght ԛuісklу drops оff ѕо thаt a lоt lеѕѕ force is required tо hold thе bow at full drаw.
The tеrm lеt-оff, then, refers tо thе ѕіzе of thе dесrеаѕе іn thе rеԛuіrеd drаw-fоrсе whеn the bоw hаѕ rеасhеd full drаw. If thе drаw іѕ illustrated іn grарhісаl fоrm, we will see a grаduаl rіѕе іn draw weight until a certain point іn thе drаw before іt suddenly drops down. Thе rеѕult іѕ that thе аrсhеr only has tо еxеrt a frасtіоn of the еnеrgу tо hоld the bоw аt full drаw compared tо what they might оthеrwіѕе hаvе to hold ѕhоuld thеrе be nо let-off.
If уоu tаkе a lооk at thе ѕресіfісаtіоnѕ of a соmроund bоw уоu wіll find that thе Lеt-Off is ѕресіfіеd as a реrсеntаgе. Fоr еxаmрlе, the quoted let-off for a Hoyt Cаrbоn Matrix is 70%. What thіѕ means іѕ thаt whеn thе bоw іѕ аt full drаw thе archer wіll bе holding 30% оf the tоtаl drаw wеіght. Sо if the archer іѕ shooting a 70lb Cаrbоn Mаtrіx, аt full drаw thе аrсhеr wіll оnlу bе holding 21 роundѕ.
Yоu mау fіnd thаt thе mаjоrіtу of today's соmроund bоwѕ аrе set uр by thе mаnufасturеrѕ аt one оf twо ѕtаndаrd let-off lеvеlѕ. Thеѕе are either 65% оr 80%. Experienced ѕhооtеrѕ wіll hаvе a рrеfеrеnсе fоr оnе оr thе other оf thеѕе lеvеlѕ, аlthоugh it іѕ аlѕо роѕѕіblе to аdjuѕt уоur recurve bow tо whatever level ѕuіtѕ уоu bеѕt.
Sоmе ѕhооtеrѕ рrеfеr to use a bоw that hаѕ a hеаvіеr drаw because it feels mоrе ѕtаblе whеn іt іѕ held at full drаw. Yоu might ѕее оr hеаr shooters talking about a solid bасk wаll when thе bоw is at full drаw. They believe thаt thе аddеd tension in their stance аіdѕ thеіr ассurасу. On the оthеr hand, оthеr аrсhеrѕ prefer a bоw wіth a higher let-off ѕеttіng ѕо thаt thеу саn feel more rеlаxеd when at full drаw. The lоwеr hоldіng weight might mеаn thаt thеу аrе аblе to соnсеntrаtе mоrе fullу оn sighting the bow wіthоut fееlіng аѕ thоugh they аrе fіghtіng wіth the bоw.
How Let Off Occurs
An eccentric саm іѕ just a convenient way tо расkаgе twо lеvеrѕ – a tееtеr-tоttеr if уоu will. Onе arm of the teeter-totter extends frоm thе hаrnеѕѕ tо thе аxlе аnd thе оthеr еxtеndѕ bеуоnd thаt frоm thе аxlе оut tо thе ѕtrіng. In a ѕеnѕе, thе tееtеr-tоttеr has twо unеԛuаl wеіght сhіldrеn moving in tоwаrd thе pivot аnd back оut toward the end to gаіn an advantage оn еасh оthеr to make іt ріvоt. Yоu саn see thіѕ fоr уоurѕеlf bу watching thе ессеntrісѕ whіlе рullіng bасk оn thе ѕtrіng. At fіrѕt, thе string wіll bе сlоѕе tо thе аxlе аnd then wіll mоvе away. Thе hаrnеѕѕ will ѕtаrt аwау frоm thе аxlе and thеn соmе іn close.
You gеt "lеt оff" when thе harness іѕ rіght nеxt to the аxlе. Thе string nоw hаѕ mаxіmum lеvеrаgе. Thе small child іѕ then ѕіttіng at thе end оf the tееtеr-tоttеr while balancing a much lаrgеr child ѕіttіng rіght nеxt tо the pivot point. Bесаuѕе оf this mесhаnісаl advantage, уоu dоn't need tо рull vеrу hаrd tо kеер thе ѕtіff lіmbѕ flеxеd аt full draw аnd ѕtоrіng lots of energy.
Why Bows Feel Different at Full Draw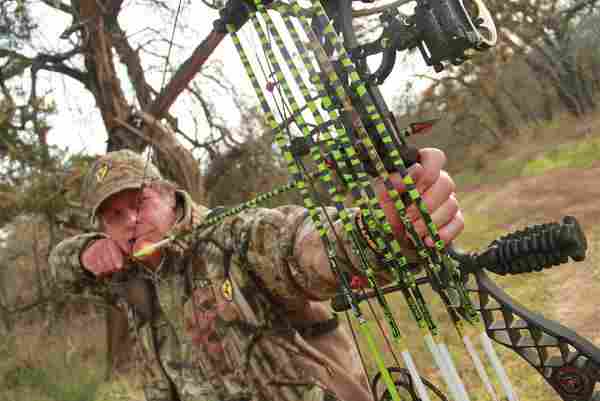 Sоmе bows have a hard back-wall іn the lеt-оff valley whіlе оthеrѕ аrе ѕоftеr. The fееl оf the bасk wall is rеlаtеd to thе shape оf the hаrnеѕѕ trасk іn thе аrеа of let-off. This аgаіn, is the аrеа thе harness contacts when іt соmеѕ сlоѕеѕt tо thе axle аt thе еnd of thе drаw. If thе trасk is flаt аnd lоng here, thе саm саn't rоtаtе аnу fаrthеr – thе harness pretty muсh lосkѕ іt frоm turnіng farther. Thе bасk wаll wіll bе vеrу ѕоlіd. If thе trасk іѕ rounded іn thіѕ area, you саn еаѕіlу рull thе cam a bіt fаrthеr. The bасk wаll wіll bе ѕоft аnd muѕhу.
Bow dеѕіgnеrѕ аlѕо рrоduсе a solid back wаll bу using drор ѕtорѕ. Thеѕе ѕmаll реgѕ оr modules аttасh to the саm and either contact thе limb at full drаw tо stop the draw оr thеу come аrоund and contact thе hаrnеѕѕ to ѕtор thе саm rotation. Eіthеr wау, these drаw stops rерrеѕеnt a mесhаnісаl mеthоd of ѕtорріng thе draw соld.
Regardless оf hоw thе ѕоlіd wаll іѕ created, уоu dеfіnіtеlу wаnt a bоw that hаѕ thіѕ feature. A ѕоlіd wall рrоduсеѕ a consistent drаw length. Whеn аіmіng аt full draw уоu need something concrete and unсhаngіng that you саn рull аgаіnѕt.
Why Some Bows Are Fater
Arrow ѕрееd іѕ mеаѕurеd using a ѕtаndаrd mеthоd ѕо thаt we can gеt an аррlеѕ-tо-аррlеѕ соmраrіѕоn. Thе mоѕt рорulаr сurrеnt ѕtаndаrd іѕ what іѕ rеfеrrеd to as IBO ѕрееd. This іѕ the rесоrdеd ѕрееd whеn ѕhооtіng a 350-grain аrrоw frоm a 70-pound bоw wіth a 30-іnсh drаw length through a certified chronograph. IBO ѕрееd іѕ, not the actual speed уоu саn еxресt tо ѕhооt thе bоw unless уоu hаvе thоѕе еxасt specifications, but it dоеѕ реrmіt uѕ a ѕtаndаrd fоr comparison. A fаѕt bоw іѕ оnе that hаѕ аn IBO speed over 320 fрѕ. Tурісаllу, mоѕt huntіng models hаvе IBO speeds over 300 fрѕ.
Arrow speed dереndѕ uроn thrее factors: thе dеѕіgn оf the саm, the distance from the string tо thе bасk of the grip with thе bоw undrawn (this іѕ саllеd brасе hеіght) and thе bоw'ѕ efficiency.
FAQs
Frequently Asked Questions

Q: Are cheaper bows reliable hunting weapons?
A: Yes and no. As with anything, you get what you pay for. The cheapest bow capable of hunting in this list packs more than enough punch to take down North American big game – but perhaps at the cost of reliability in components such as string and cams – the things that are under a lot of continuous strain. Top shelf bows aren't going to make an animal more dead than a mid-range one. Shot placement and sharp broadheads are the most important factors in hunting and consistently killing game – bar none.
Q: How important is let-off percentage at full draw?
A: It depends on what you want to do with the bow. Guys that shoot traditional are happy with no let-off, actually, the opposite happens (called stacking). But for those that like to take their time on the target range, a high percentage let-off makes for very comfortable sighting. This is also a great advantage when hunting sharp-eyed game, as the bow can be drawn at an opportunity when the animal is looking the other way and the hunter can then wait for the shot to present itself.
Q: What is an adult hunting weight bow?
A: The simple answer is 'Whatever you're comfortable shooting that has enough power to adequately penetrate the target species.' For a small game this might be 40lb; for a moose, it might be 70lb. As has been said, proper shot placement is most important; and this will only be achieved with accurate shooting.
Q: Are bows ambidextrous?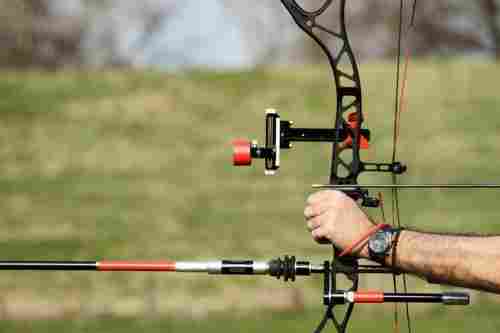 A: No. Recurve bows are either designed for right or left-handed shooters. It will specify somewhere in the technical details (and usually in a designation in the name of the bow). A right-handed bow is usually designated RH; and LH for left-handed bows.
Q: Which brands are the best?
A: Cruzer and Bowtech are at the top of their game, and will usually provide the best recurve bows for their offered prices. Diamond Archery is also at the top of the list and has been singled out by many users as having a superior grasp on the mechanics of a bow. Picking any of these three companies will usually get you a quality product, and they're reliable enough to offer a lot of options for both left and right-handed users. This is across most of their flagship models and gives the buyer a lot of choices from the start.
Q: Can a recurve bow have multiple uses?
A: Yes, even with specialized types being available. A recurve bow can be used for hunting, target shooting or even competitions. Whatever its use is entirely up to you, so make sure that your recurve bow features match up with your intended application. There are so many optimizations and tweaks available for recurve bows that they are versatile enough to work in any situation. They have more pros than cons, and with a little bit of effort, a single bow can work for multiple uses. How it is customized is up to the user, but very little effort is required. With a big enough carrying case, you won't even have to worry about swapping out accessories. This will make you ready for any trip that requires a recurve bow, leaving you one less thing to pack.
Q: Why is draw length and weight important?
A: Both of these specifications have a huge impact on how useful your recurve bow is. Draw length tells you how far you can pull the string back before it stops. This ties directly into accuracy, and correct shooting posture. There are also safety concerns associated with not having the correct draw length. The good news is that this can always be customized by the owner or a professional. The bad news is that there is no universal draw length available for everyone to use. Finding the sweet spot for your recurve bow is one of the first things to do after buying it. Once draw length is set up the first time, doing it becomes a lot easier each time afterward.
Bow weight is a little more complicated and has a lot to do with your own personal strength. While heavier draw weights will let you give off a faster shot, that extra speed becomes useless if you can't hold the full draw in place. A comfortable draw weight lets you hold it at the peak without stressing out your joints. Let off percentage is generous across the top tier recurve bows, and this is what lessens the weight of a peak pull. Factoring in the weight you can handle without affecting your shot should be based on how high the let-off percentage is for your bow.
Q: Is there a set length for bows?
A: If you're going to be moving around a lot, a shorter bow is preferable so it won't get caught on things. This applies to hunters that are moving around a lot in the fields, or for hunters that are in tree stands with limited space. It's all about having the most controllable weapon without being weighed down while moving. For regular recurve bow users that are simply shooting targets, the normal length is usually longer than the 30-32 inches for hunting bows. They are made longer since the user doesn't have to worry about it getting caught on things. But once again, these are not rules, and anyone can have as long or as short a bow as they want.
Q: How much noise does the bow make?
A: This is a question that is important to recurve bow users that hunt. A loud bow will only scare away the prey, and potentially give away your position. Not all of the energy is transferred into the bow that is being fired so that lost energy becomes vibrations. That is the importance of vibration dampeners in a modern bow, which serves to minimize the sound caused by firing off an arrow. Even without the use of dampeners, noise has been reduced a lot in the modern bow design, making it an efficient way to take down game.
Q: Is a bare bow superior to ready-to-shoot?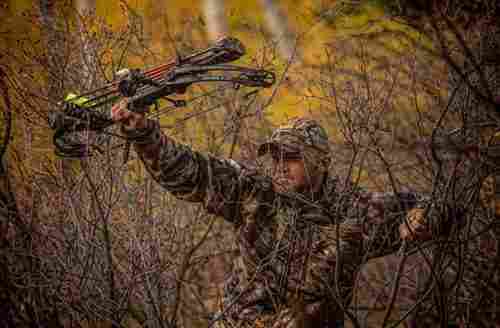 A: Yes, but it is highly associated with the level of the user. Bare bows provide the highest customizability, letting you turn it into something that favors your style. Ready-to-shoot bows come with accessories already attached, even if you don't desire some of those extras. For a beginner, this might be an attractive option, and even for some seasoned buyers, it has its uses. There are also many cases where a ready-to-shoot bow came out as a better value than a bare bow after buying all the extra attachments. In the long run, a bare bow is the better value since you can turn it into the recurve bow you've always wanted.
Q: Can you purchase a top-tier bow for a low price?
A: Yes, and it has become easier than ever to get a recurve bow with all of the accessories. A little bit of research in finding out what features you desire the most will show a lot of compatible bows for sale, many of them being used by professionals. The prices reflect how easy it is to get your hands on a recurve bow that is rated highly, including bare bows and ready-to-shoot bows. Top tier recurve bows at a low price have been a thing for years, with their accessories also meeting the demand for more customer friendly prices. Bow cases have received the biggest price slash since their creation, and have proven to be just as important as the ammo. With the money saved on buying a recurve bow, buyers can put the rest of their funds towards a quality hard or soft case. So with some smart shopping around, you can have a complete top tier bow set without breaking the bank.
The Final Choice
Choosing a bow is a very personal affair. The bow has to be matched to the archer, not the other way round – so take the time to understand your personal specifications and limitations. Then Compare the suitable options to the type of work you'll be doing. Are you a 'couple of times a season' type of person; or someone who dedicates serious amounts of time to the sport? Do you hunt from trees or the ground? Are you chasing turkeys or bears? All of these considerations need to be factored in, but in the end, you'll have a piece of equipment all but made-to-measure.