Best Compound Bows Reviewed and Rated for Quality
In a Hurry? Editors choice: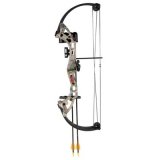 Test Winner: Brave Compound Bow

As one of the first hunting tools to be used by man, bows have gone through a lot of changes that have made them more effective than ever before. A
recurve
is designed with a leveling system that not only makes it more energy efficient but also improves its accuracy. They can be used for
target practice
and hunting and is a great choice for
people of all ages
. The market for this item is vast and varied, and it's hard to keep up with trends in technology and style. At the heart of all this though, are the core values of a quality compound: reliability, quality craftsmanship, and versatility. A well-researched selection from the outset can provide the hunter with a weapon that'll last many years and fit varied hunting situations with ease.
Standout Picks
Criteria Used for Evaluation
Speed
Talk to ten different hunters and you'll get ten different answers regarding the importance of arrow speed. Just to get things in perspective, fully accomplished hunters that take to the woods with a longbow or recurve are generally getting it done with an arrow 'trundling' along at around 150 feet per second (fps). All but the Barnett Vortex in this list push arrows at over double that speed (the slow coach Vortex measured at 280 fps).
Of course, there are differences – with the general rule for recurve speed designation calculated at a 70lb bow drawn to 30" firing a 350-grain arrow – between these types. Traditional options usually push heavy arrows slower but obviously with more force.
Speed does have its advantages, though. A key one is a flat trajectory. With the arrow traveling so fast, by the time gravity has shown its strength the arrow is well down the range. This means that it's easier to shoot targets at longer ranges – which has flow-on effects for your hunting style.
Highly-strung species like whitetail deer are well known for their prowess at 'jumping the string' of slow bows. This is something to behold. Upon hearing the release of the string, the deer crouches like a coiled spring before launching into an escape – and slower traveling arrows commonly miss over the deer's back as it crouches. So speed isn't necessary, but it's not half-bad either.
Value
As with any popular and marketable product; prices can vary enormously. There's big money to be had in the hunting industry and correspondingly manufacturers are happy to throw all kinds of tech into products because they know the return will be there.
Price is an important consideration in the selection. High end, quality equipment costs a pretty penny and is a great investment if you're planning on using it all the time, but mid-range gear is packed full of features too and won't break the bank. A lot of the most versatile options fit into this class and offer great performance for value.
Brand
It's hard to keep up with who's who and who's leading the pack – but some names are synonymous with quality. PSE is a well-regarded manufacturer and can be relied upon for their equipment and customer care.
Bowtech and Obsession options are known for their state-of-the-art and cutting-edge technology. Serious hunters rely on these manufacturers to produce equipment that'll outshine the competition. Barnett Crossbows also produce weapons for budget-minded archers that give an eye-catching performance.
Accuracy
When you think of shooting an arrow with your bow, you might think that speed is the end all be all. But in reality, there's a more important factor at play: achieving accuracy. Yes, speed is important, but how accurate your shot is with your hunting bow outweighs that.
Shooting as fast as we can is awesome, and we get that. But accuracy is key. One factor that can determine accuracy is brace height. Brace height, along with being a consistent shooter and having a well-tuned bow, will help a lot with accurate shots.
The brace height is the measurement from where you grip the bow to the string where you place your arrow. If the brace height is too tall, the shot will be really slow. If it is too short, the shot will be fast but could go wild. You want the brace height to be on the taller side so that it is easier to shoot the bow.
Most archers will find that a brace height of 7-inches is optimal for them. Speed bows often have a 6-inch brace height while bows for competition often have an 8-inch brace height. Anything outside of the 6-8-inch range has another special purpose. So we recommend looking for a bow that is somewhere in-between that range, and it should help you have your most accurate shot. That, and practice of course.
However, if you are extremely experienced in bow shooting, and you have your form down and can do the same thing every single time, then maybe you want to look outside of the 6-8-inches ranges. Here's why:
A smaller brace height means more speed. So, if you have your form and shot on lock, then look towards a smaller brace height. Maybe, 4-5 inches. Since you have already mastered your accurate shot, then you will gain more speed with a bow with a smaller brace height.
Just know, though, that if you have an off day, if your wrist torques or you are shaky on the draw for any reason, with a small brace height, your shooting accuracy will suffer immensely.
Looking into and considering brace height for your purchase is definitely not a beginners game. This feature is something to look for after you've learned to properly hold and shoot with a compound bow. Brace height is definitely an advanced factor to keep in mind for later on if you are not yet a seasoned archer.
10 Best Compound Bows
1

. Genesis Original Compound Bow
The Genesis Original is a weapon for the kids – although it can be shot by all ages. This is a quality piece of equipment and well worth the investment for the young'un starting out. There is no let-off on this – so it pulls more like a traditional longbow or recurve. This makes it simple for kids to shoot as there is no draw length adjustment required.
Quality without the Gimmicks
The Genesis Original comes as the weapon – that's it. It's a great starter and can be set up the way you want. This is the official option of the National Archery in the Schools Program.
Adjustable
With age, muscles tend to change, as in gaining more. Being able to adjust the weight will help as your child grows/ It will prepare them for the amount of poundage they will need to actually hunt. Along with the weight, the length is also able to be adjusted. Perfect for thos growing little arms.
Cost and Value
The Genesis Original isn't cheap in regards to kid's weapons on the market, but it is the best quality. Accuracy, shooting ability, and reliability are what makes this worth the money – and are a great encouragement to the budding archer. The best children's compound option available. If they want a compound and you want something that lasts – this is the choice.
2

. Barnett Vortex 45 Compound Bow
Barnett Outdoors is a prestigious company that produces some of the best slingshot, and archery products in the world. One of their top-selling items is the Barnett Vortex 45 compound, which was specially designed with younger and beginner archers in mind. It was made for right-handed people and has a draw weight ranging from 19-pounds to 45-pounds, allowing some room for acclimation.
Easy Weight Changes
The aim of Barnett is to provide you with comfort and convenience when using their products. The Vortex 45 allows for easy weight changes with a design that eliminates the need for a press.
Comparable to Full Size
As a beginner, you still want the same experiences and feelings professionals have when hunting. This product was built to look and work just like a full-sized compound, even though its dimensions and weight are reduced.
Cost and Value
Made in the USA, you can count on great quality for a reasonable price. It also comes with three arrows to get you started and a holder to keep everything organized and maintained.
3

. Diamond Infinite Edge Pro Compound Bow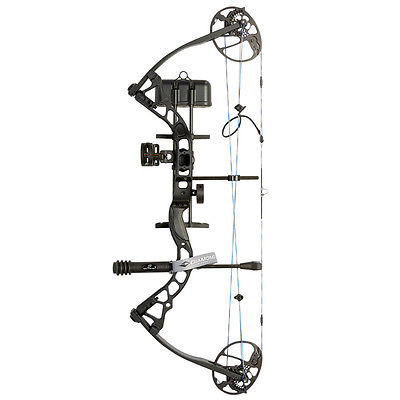 The Infinite Edge Pro comes from Diamond Archery, an offshoot of Bowtech. This means high-quality products at an affordable price. The Infinite Edge Pro builds on the success of the renowned Infinite Edge.
Light Weight Hunting
The Infinite Edge Pro is one of the lighter options on the market. This is great for hunters who demand a weapon that's easy to lug around in the field. Any concerns about stability are quashed by the added stabilizer.
Another Versatile Package
The Infinite Edge Pro offers a wide adjustable range in draw weights and lengths; making it another great choice for a long-term investment. It is one of few products to offer a maximum draw of 31" for those archers with a long reach.
Cost and Value
Another great value, the Infinite Edge Pro sits in the middle of the range and makes for a great choice economically. The Infinite Edge Pro is a great choice for beginners through to experienced archers.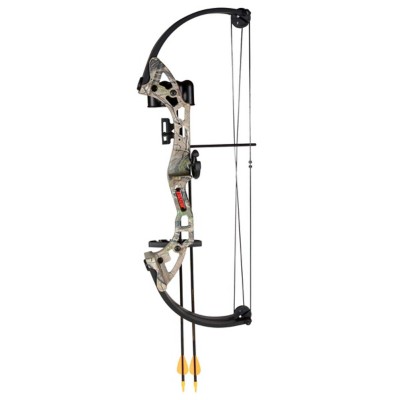 The Brave is another kid's option and fills the niche of the starter for small children. This is a good kid's weapon but shouldn't be overestimated as it seems to be by many. A toy and a starter that encourages children to get into archery.
Everything is provided
The Brave comes with a whisker biscuit arrow rest fitted – setting it apart from similar products. A single pin sight is a simple aiming mechanism. Also included are two safety glass arrows, a quiver with space for four arrows, arm guard, and finger tab. It also comes with a 3-month warranty.
Features
This one is lightweight for kids to handle successfully. You can adjust the draw weight giving them ample room to grow. Starting out with this bow makes transitioning into an adult size that much more easy.
Cost and Value
The Brave is an affordable beginner product, justifiably more expensive than simple toys as it provides some adjustability. The Brave is a good choice for the little one who wants to follow dad/mom and look the part.

5

. Predator Archery Raptor Compound Bow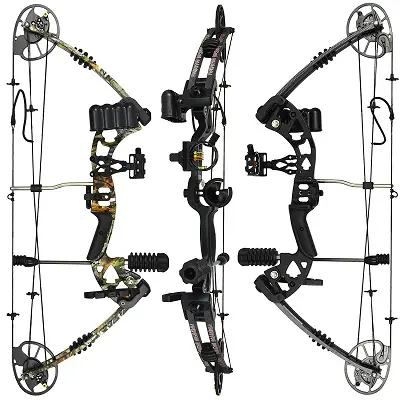 The Raptor from Predator Archer has all the extras and accessories you need to shoot like a professional. This includes a whisker biscuit style rest, a five-pin sight, a peep sight, and a d-loop already installed. The split yoke system lets you adjust the arrow for precise aim and boasts a top speed of 315-feet per second, the best in its class.
Aluminum Body
Unlike other models in the same price range, the Raptor is constructed from high-quality aluminum with no plastics pieces. This gives you a strong product that will last for many years to come.
Adjustable Draw Length
The Predator Archery Raptor is fully adaptable in order to provide you with comfort and convenience. The draw length can be adjusted between 24.5 and 31", and can be done without a press.
Cost and Value
Considering the quality of the material and all the extra features you get with this item, it has one of the best price to quality ratios on the list. It comes in two different colors and is backed by 30 day 100% money-back guarantee.

6

. Leader Accessories Compound Bow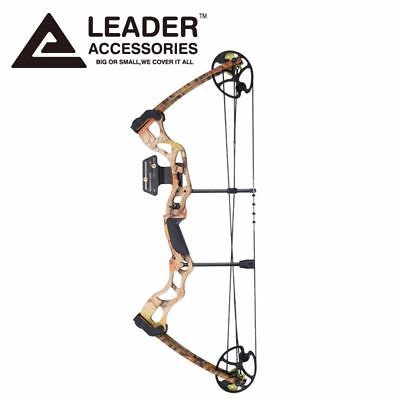 The Leader Accessories Compound is the perfect equipment for anyone who wants to try something new when it comes to hunting. This equipment is highly recommended by many reviewers due to its superior quality and general characteristics. It boasts a top speed higher than most in its class and includes an Allen Wrench which can be used adjust the draw length and weight to fit your needs.
High Max Speed
Most archery products nowadays have an advertised speed of 300 FPS. But Leather Compound comes with an enhanced design that favors the speed and allows it to increase until the highest speed reaches 310 FPS.
Easy to Adjust Draw Weight
The main purpose of this hunting tool is to help you excel in what you're doing while decreasing the effort it takes to do it. Leader Accessories does this with a design that makes it easy for anyone to adjust it with a simple twist.
Cost and Value
This item comes in the lower price range and doesn't include many of the same features others come with, but is still a great buy. You can usually find it on sale and there are also options that include all the accessories you will need.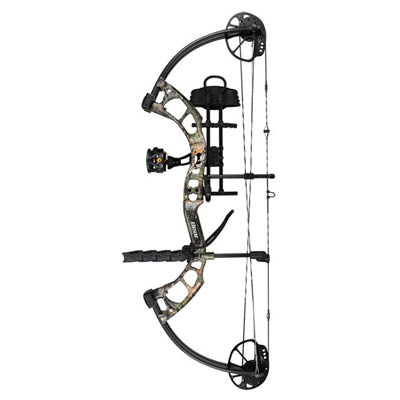 There are many more expensive options on the market, but in all-around performance and compatibility, the Cruzer can't be beaten. It easily takes top place in our ranking.
The Ultimate in Versatility
These weapons are built for all kinds of specifications – but the Cruzer takes it all in its stride. With adjustable draw weights from an incredible 5 to 70 pounds; and draw length adjustment from 12 to 30 inches – this may well be the only one you'll ever need.
Anyone Can Use It
Start the kid out with a product that'll grow with them all the way to adulthood. Dial back the draw weight for the female archer. Or shoot a 'man-sized' 70lb hunting bow all in the one package.
Cost and Value
The Cruzer is a very affordable option, sitting in the middle of the pack on this list. It is well worth the investment. This is a fantastic product for anyone looking to get started in archery or the seasoned hunter. There isn't much this can't do well.

8

. Vortex Hunter – Barnett Compound Bow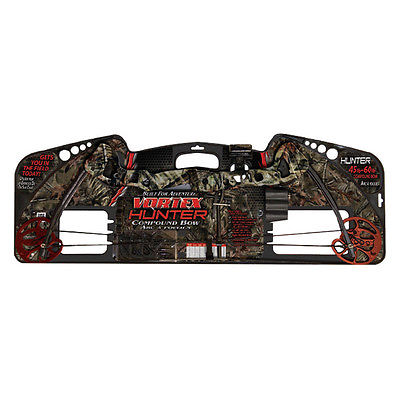 This Vortex Hunter makes the list as it ticks several boxes. In the right hands is as competent as a hunting weapon as most. When you consider this alongside the cost – it's easy to see that this is a good deal more than a kid's weapon.
Low Cost Killer
The Vortex Hunter doesn't compete at the same level as other options in terms of components and materials – but that's to be expected at the price. Draw weights of 45 to 60 pounds easily put it into the hunting weight category.
Weight
Now the weight of the draw offers plenty, but what about the overall weight of the bow? Well, we rest assured that this one won't feel like you are carrying a cinder block. This makes carrying it through the thicket even easier.
Cost and Value
The Vortex Hunter is the low-cost option for beginners and teenagers wanting to shoot something with a bit of power. As a starter weapon, this is a good option. The Vortex Hunter is a low-cost alternative to others on the market. Good to test out archery; but if you're looking for an investment the Bear Cruzer is the best choice.

9

. Drive R - PSE Compound Bow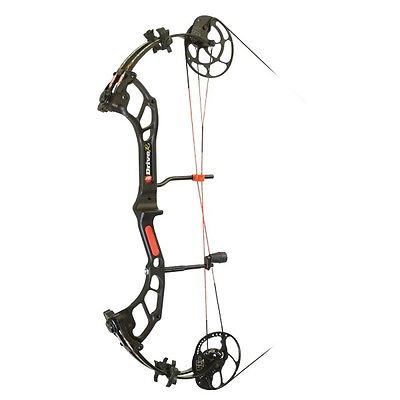 PSE offers a great package in the Drive R – leading technology producing a Pro-grade option at a fraction of the cost of some. This packs a punch and makes a great hunter.
Fast and Light
The Drive R throws arrows at up to 336 fps which is plenty fast enough. Add to this performance the lightweight, coming in at 3.8 pounds, and you've got a fine weapon for the upcoming season.
Easy to Use
Designed with a cam system that is easy to adjust. Which is perfect for beginners as well as veteran bow users. It takes away some of the complications that can arise while sighting and making adjustments to your bow.
Cost and Value
The Drive R ranks in the upper-middle of the price range. For performance and reliability, this is a great value. The PSE Drive R offers experienced archers a great value alternative to pro-level options.

10

. Diamond Archery Edge SB-1 Compound Bow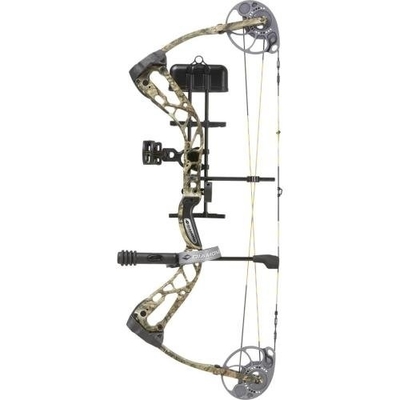 Whether you are shooting for fun or for competition, the Diamond Archery Edge SB-1 compound will serve you well. That's why it made our list. It's a good shooting bow that won't break the bank all too much.
Great for beginners and seasoned archers
This bow is perfect for beginners. For archers that are just starting out and want the thrill of shooting and hitting a bullseye, this bow is for you. It is easy to use. Likewise, this bow is also great for seasoned archers, too. It will aid you while seeking out the large game.
Versatile
This bow is made for all sorts of users. Like we said above, beginners and seasoned archers. But also, it has 63 pounds of limb adjustment and rotating modules which accommodate for 15-inches of draw length, which means that this bow can fit almost all archers.
Cost And Value
This bow isn't cheap, but that's a good thing. It's also not the most expensive on this list. What it is, is a well-made bow that is easy to use, is adjustable and versatile. We don't think you can go wrong with choosing this Diamond bow.

Subscribe to our Newsletter