Best Hiking Shorts Reviewed & Rated for Quality
In a Hurry? Editors choice: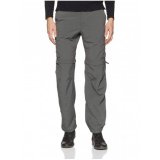 Test Winner: Columbia Convertible

There are many reasons to buy particular
workout clothes
, and so many activities to take part in that would be far easier and more comfortable for those partaking if specifically designed equipment it used. Hiking is no different.
Obviously, as with many or our bipedal activities, we should all start building out our equipment from the feet up. Choice of shoes can be dizzying, but they're also the most important aspect of your workout and
activity gear
. We think, that the second most important thing would be shorts. Or bottoms, as a whole. With that, we set out to discover the most impressive and highest valued products on the market right now.
These 10 options are geared, in some way, towards those looking to partake in lots of hiking.
Standout Picks
Criteria Used for Evaluation
Style
There is a lot to say about the given styles of any or all workout gear the world over. But we should always start -- when it comes to clothing and in particular when it comes to style -- with the reiteration of style being subjective. We can't sit here and tell you, truly, whether something has a proper style or not because we're not coming at the evaluation of these products from the standpoint of any or everyone. Instead, our style remarks are based on what I (the writer of this guide) find to be styling, as well as in comparison to what is commonly considered modern and current in-style trends.
When it comes to hiking shorts, everyone wants to look good while wearing them. If we're going to be red-faced and soaked in sweat moving up mountains, our clothing might as well look a little nice. For the most part, we're lucky that workout fashion doesn't get all that crazy. And we're even more fortunate that the number of choices one would consider "muted" or "simple" are in abundance.
Though there is no way to ensure things on our end match up with yours, we suggest that style be at least a tiny portion of your vetting process.
Fit
I mean, how much of this section do we actually need to go into major details about? The fit of your pants or shorts is crucial for far too many reasons to list off here, and now. But it all boils down into having clothes that stay on, and function properly.
There used to be a world where workout gear basically just consisted of towels sewn together to make garments that would sop up your sweat until all things would be damp. Thankfully, materials have been developed by avid manufacturers who desired a better world, and we have things like moisture-wicking technology and speed dry. But we will save that for another criteria section because we're talking about fit here. With these advancements in the materials, comes a snugger fit.
A lot of the newer technologies in athletic materials demand to be in direct contact with the skin -- this is how it is able to attract the sweat and moisture -- so one will find that modern workout gear is indeed far tighter in fit than in previous decades.
As for measurements, hiking shorts rely on the waist measurement the most, and some include length measurements, which will help you out if you're looking for a specific length. Given that a lot of workout and athletic materials can have a little stretch, some might suggest you go a size down when ordering. It's best practice -- and we suggest this with anything that fit plays a big part in -- to ensure you read through the consumer reviews and comments to see how accurate these things fit.
Value
The value in all things is the sum of all parts, and it truly breaks down into something tangible, and jolly. It is necessarily the complicated opinion based on the value of quality in manufacturing, materials used in the forming, featured added for the quality of life, use case in design and form factor, all matched up against the price tag.
A lot of shorts made for hiking experiences might have a shocking price tag when it comes to the idea that you might only have these shorts for a single activity. Luckily, things like hiking shorts are so niche that you cannot use them for other athletic endeavours, like jogging, or bike riding. It's not an expense that will only be used in this one case if you do not want them to be.
Mixing the price with the quality of materials is key. The mainline materials we listed in the criteria of materials are the ones we put a lot of weight and worth into, so there's really no justification for a higher price on things that don't necessarily have those materials included in their build list.
At the end of the day, the value is strictly based on your opinion of the garment versus the cross-examination of your needs for a said garment. You will find something of great value. We promise. They are out there. Those that purchase products that do not have value only have themselves to blame for not spending more time looking.
10 Best Hiking Shorts
It's essential that while putting these lists together, we ensure that the premium quality items wind up at the top, which can sometimes leave us room near the middle of bottom to throw something just off-beat in there, but today we're starting with the oddball, because they're amazing shorts (some of the time) from Columbia, with a whole lot of beautiful quality.
PANTS!
It's kind of weird that the first highlight, on the first item on a list of shorts, is that they are pants, but it's true! Luckily, they're not pants all the time, just when you want them to be. That's right folks, Columbia has brought back the late 90's and makes a grand pair of athletic pants that zip off at the knee into shorts. This makes them one of the most versatile shorts on the market, even if they don't arrive in shorts.
The Tech
Columbia has a longstanding reputation as an amazing company that manufacturers outstanding outdoor activity wear, and they didn't pull any punches when putting together their Silver Ridge Convertible Pant. They included their patented Omni-Wick technology, an Omni-Shade tech that protects against sun damage.
Cost and Value
These 100% Nylon convertible pants are made with all of the love and care that Columbia has put into all of their garments over the span of their lifetime. They're amazing shorts for the hiking enthusiast, and they can convert back to pants for wandering about in town or throughout your day.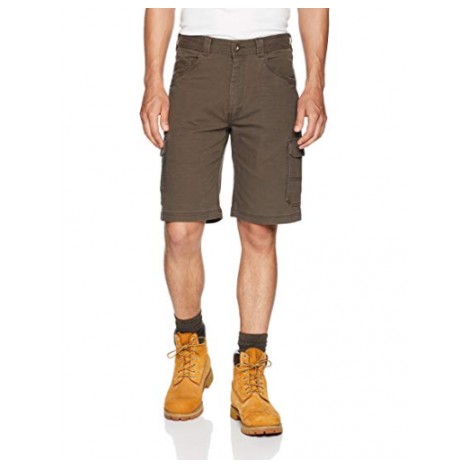 Walls might not be the first company to pop into your head when it comes to thinking about hiking or outdoor equipment, but they sure make a fairly good lasting impression on the folks that trust them enough to wear them. These shorts, their Kick Some Performance Shorts are among their best, and there isn't a better pair in their offerings.
Cargo
It might seem like something one could count on, in addition to the normal short that one could expect in a performance situation such as hiking, but cargo pockets are never going to stop being useful, and they sure aren't going to cease being a feature we look highly upon. Because let's face it, cargo pockets on hiking shorts are the best pockets one could ask for.
Strength
There's no denying that hiking can sometimes be a rather difficult physical task. The effort takes a toll on both the person and gear. This is why the Walls Kick Some Performance Shorts are a some of the best out there, because they are made with 98% sanded cotton duck mixed with spandex, combining for such a strong pair of shorts.
Cost and Value
For the price of a half-decent meal, you can score yourself an extremely strong, and well laid out pair of shorts that will definitely see you to the top of whatever conquer you seek. There are a small handful of lovely colours, even though they are muted, and the stitching is made with structure and solidity in mind.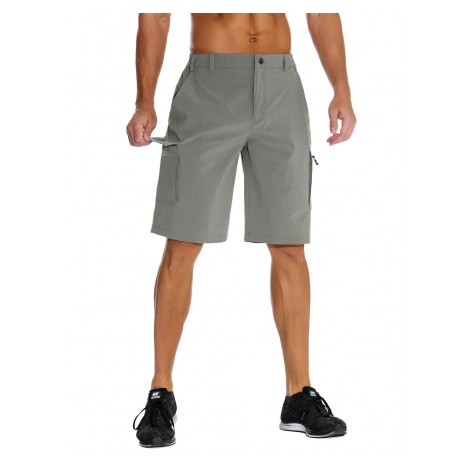 Unitop makes our top three with an astoundingly surprising pair of shorts that take all of the grand things from athletic brands, and mixes in a whole lot of versatility and ruggedness that will get you through any trail you have in front of you.
The Mix
There's a lot of trials and tribulations that go into coming up with the perfect mix of fabrics in order to find the right one for a whole lot of reasons. The biggest reason is to find a proper balance between strength and performance. The Unitop Breathable Soft Quick Dry Hiking Shorts are made with a safe mix between Nylon and Spandex, which allow for the perfect amount of stretch and strength.
Quick Dry
Thanks to its special blend of fabrics, and technological advancements in coatings, the Unitop Mens Lightweight Breathable Hiking Shorts are also quick dry, which means that any moisture they soak up is quickly evaporated with the application of heat or sunshine. It makes for a very comfortable fabric to do physical activities in because they do not stay wet for long.
Cost and Value
It's probably the most comfortable pair of hiking specific shorts that we've got on our list at a price this affordable, and there's no changing that. It's drenched in value, and that won't dry up, even though these shorts are supposed to do just that.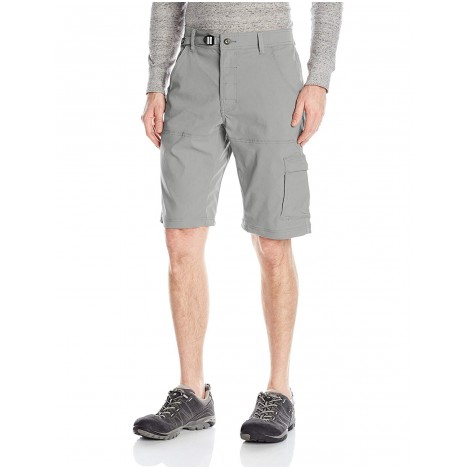 If you're not aware of prAna, they're a very popular, and extremely high-quality athletic wear company that holds strong positions in the yoga and gym workout gear industries. They are beloved by many consumers the entire world over. Here, we've got one of the nicest, and easiest pair of shorts to wear ever made, and they have enough of the tools that hikers seek in order to make them viable for those treks.
Adjustable Waistband
It may not be the sole reason you pursue the activity, but one of the biggest benefits of hiking is the health and cardio workout. This means that one could lose some weight, and tone some shape with their athletics. Unfortunately, that might mean you lose a size on your waist. But luckily, the prAna Stretch Zion Shorts have an adjustable waistband so you can go down a size or two with ease. It also helps secure your shorts while being active.
Water Repellent
On top of being able to stretch in all four directions, having quick-drying fabric, and protection from the sun, the Stretch Zion shorts from prAna also have a water repellent coating which will help keep you from getting soaked if you get caught out in a rain shower. It's the ideal combo of technological advancements.
Cost and Value
With the proficiency and quality of the prAna Zion Shorts, and their historical dependability, these hiking shorts are going to cost you a bit more than maybe you came expecting to pay for high-quality shorts, but for those that take the buy-in for these stellar shorts, you'll be extremely happy.

5

. Eros Sport Core Active Mid-Thigh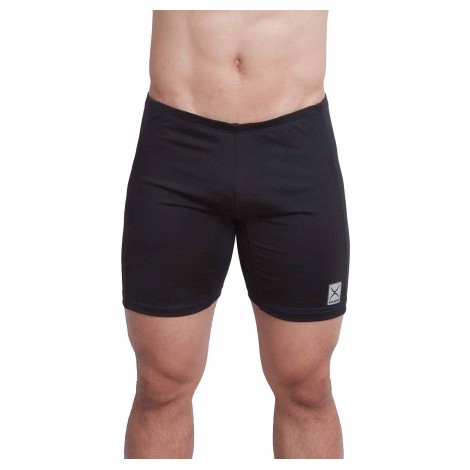 A slight reveal of the mid-thigh is the cherry on top of all the benefits from these workout shorts. Not only do they have a whole lot of stretch to them, but they're great for doing intense workouts. They're tight enough that these also work as chafe-proofing, being able to fit underneath bigger, bulkier shorts smoothly.
Tight
Sometimes we just want to wear a pair of tight shorts. They can make us feel lifted, supported, and held together, as well as compressing us enough to feel secure in the shorts themselves. The tightness isn't just an aesthetic choice, though. The skintight nature of these shorts makes them perfect for yoga, which requires a lot of bending and stretching. Extra fabric is a big no on the mat, and these shorts certainly keep that extra fabric away.
Tough Seams
One thing that all the reviews mentioned is the fact that the seams seem to be stitched with "quality and precision". The seams are often the part on shorts that tend to rip first, as that's where all the stress gets put. Thankfully, these revealing shorts won't be revealing anything extra. The seams are tough, and we haven't seen anyone discussing an accidental rip during yoga; and thank goodness for that!
Cost and Value
Considering the fact that these shorts are considered quite revealing, we're not actually sure the average person will get enough wear out of them to warrant the price. Yes, the quality is amazing, and avid yogis will appreciate the fact that they're such a sport-specific build. We don't know if they're for everyone, though, as they're a very specific investment.

6

. Columbia Creek to Peak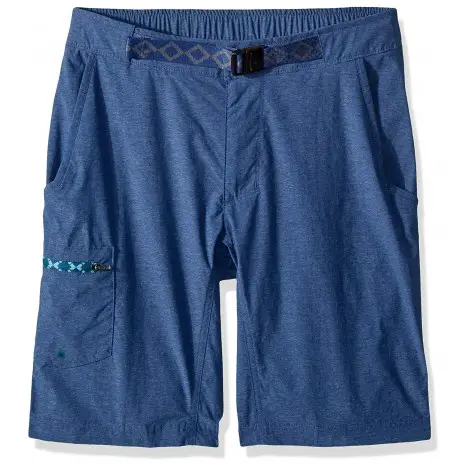 From creek to peak is right, as these bad boys can live through anything and everything. These shorts are like the cockroach of the clothing world: we can do almost anything to them and they're going to survive, living to see another mountain (or another river). Casual, durable, and comfortable, you can't go wrong with this pair of shorts.
"Integrated Belt"
It gets tiring looking for our belt every morning, doesn't it? This is especially true if we're going hiking that day, and don't even want to wear a fancy belt. That's the benefit of having this integrated option. The shorts themselves come with a belt, which makes them even more well-fitting. While some folks state that they run a little large size-wise, we trust the fact that the belt brings them in to a perfect size.
They're Not Swimtrunks
This might be a funny feature to talk about, but we're not sure how else to describe it. These "creak to peak" shorts are built so that they're quick drying. You really are able to walk through water, get them damp, and then be able to hike the rest of the way up the mountain in them without chafing. This is due to their super quick drying technology. Since the fabric is meant to be water repellent/quick drying, it would have been easy for them to look too much like swim trunks. These shorts, however, look nothing like swim trunks. They're stylish, fashionable, and can still take you from creak to peak.
Cost and Value
Halfway through our list and we're seeing a pattern, here. The shorts Amazon offers tend to come in a variety of prices, depending on the size/color of the product. These shorts, surprisingly, are both the least expensive and most expensive of the bunch. While they're not going to be appropriate for those that do rugged, potentially ripping work, they are a good investment for the avid outdoorsman.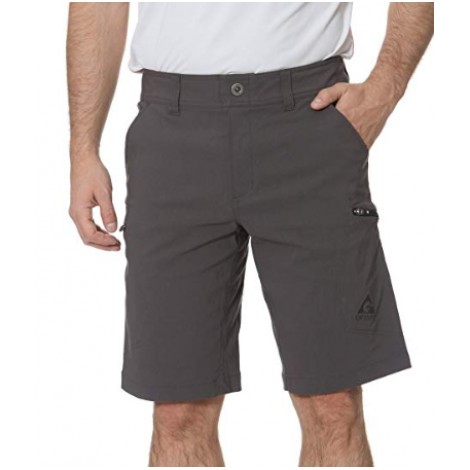 These hiking shorts were built for both the gentle stepper and the rugged mountain climber. Stretchy, durable, but still fashionable enough for a 4th of July picnic, these hiking shorts are truly a must for any closet. Whether you only hike once a year or you go out every weekend, it's worth keeping a pair of these on hand just in case the mountain starts calling.
No Lumps
While TLC might want no scrubs, us average folks are focusing more on the things we can control, like no lumps in our shorts. One of the reviews for these Gerry Stretch River Hiking Shorts mentioned the fact that they make on these shorts avoids any sort of material bunch. While the centre seams on a regular pair of shorts often result in quite a large fabric lump, these pants avoid that by using a separate panel down the centre. The two seams mean the fabric is more evenly divided, giving you a smooth front.
Large Fit
The holy grail of shorts is getting that "true to size" fit. However, we feel that it's just as important to point out when the fit is a little bit larger than what they say. Mainly because we think it's awesome! While some slimmer folks might have to invest in a belt, the huskier folks out there will be grateful for the literal wiggle room. Not to mention the stretchiness protecting them from any wayward seam rips!
Cost and Value
Depending on how long you might have searched for a good, high-quality pair of shorts, these could be considered an amazing deal. Even for those of us that stumbled across them and just want to give them a try, they're still a great price. Well built, flattering, and durable means that they're top of our list-- Even if they aren't the cheapest.



These fashionable shorts are the perfect adventure buddy! Whether you want to act out your Indiana Jones dreams, or you're just looking for some shorts to bring with you on your next backyard camping trip, these pants are definitely going to do the job well. The poly/cotton blend means they're durable while still being breathable, which will make all those sweaty adventures much more pleasant.
Do The Comfort Slide
It's not a cool take on that classic dance move, but it's just as exciting! This pair of shorts features a "comfort slide" waistband. For those that don't want to watch the product video, we'll explain here. Basically, instead of having a drawstring or an elastic to gather and tie, this pair of shorts features a thick elastic band in the waist of the pants. This naturally causes them to adjust to your perfect fit, sliding into place and staying there the second you put them on.
Expansion Options
Not only do many of these pockets feature an extra closure/hook to keep all your items safe and secure, but they also feature the option to expand. The back pockets specifically are built to be able to carry more than one might expect from such a small pair of pants. Their hook and loop closure means that even when stuffed to the brim, nothing is going to come out of those back pockets. They're secure, even when bicycling!
Cost and Value
These shorts are priced at around the middle of our options, and we think that the value does justify the cost. With a huge amount of pockets, secure closures, and a durable, water-and-oil repellant material, these shorts are everything an adventurer could ever ask for. Sure, some of the reviews discuss ways that the organization of the shorts could improve; we think they did a pretty great job as-is, though, which is why we're giving these shorts the thumbs up.

9

. Outdoor Research Ferrosi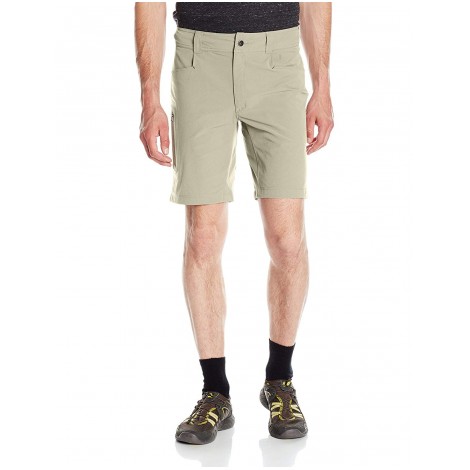 Second to last on our list (but definitely nowhere close to being the least) is this set of Outdoor Research Men's Ferrosi Shorts. These shorts were built for the wilds, but they wouldn't look out of place strutting down Main street or in our local grocery store. Built for adventure, but designed for a summer picnic with your partner's parents, these shorts are a must-have for any double-life-leading dude.
Zippers
Zippers are the greatest invention of the modern age. Backpacks, sweaters, and pants have all be made even better by the inclusion of the zipper, and these shorts have taken it a step further. The back pockets on this pair of pants are built with zipper closures, making them super secure for anyone who likes to keep their wallet (or magnifying glass) tucked in their backside. The zippers also mean there's no chance of breaking, as there are no buttons to pop off.
They Dry Up Faster Than Overcooked Chicken
Confused? Don't worry, we'll explain. When looking for unique features to focus on these shorts, one of the reviews caught our eye. They were explaining that the shorts dried faster than anything they'd ever seen before. You know how one minute your roast chicken is perfectly juicy, and two minutes later you've overcooked it and all the juices are burned? That's kind of how these shorts work. One minute they're damp, and the next they're dry as desert sand, ready to take you on your next adventure.
Cost and Value
With a variety of prices attached to a variety of sizes and colours, some of these shorts are incredibly well priced. While they tend to wear down quickly, they don't rip or break. They're really quite durable, and the lightweight aspect of them is huge. These are solid shorts and definitely, deserve the lower price point. Are they worth the higher dollar amount, though? We're not entirely sure.

10

. LA Police Gear 8 Pocket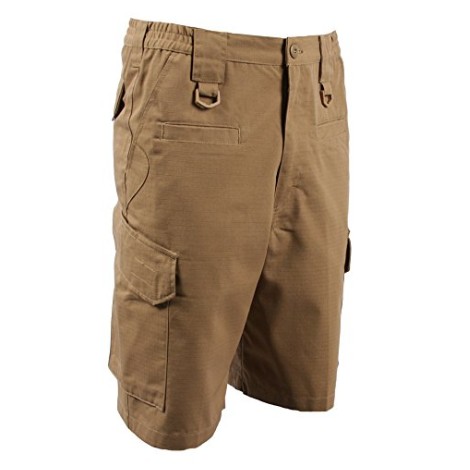 At the end of our list is this stylish set of LA Police Gear tactical shorts. We'll admit, we don't know if these are truly licensed LA Police Gear, or if they're just made to copy police tactical shorts. What we do know, however, is that they're high quality, durable, and can hold up no matter what side of the law you're working on. With an elastic waistband and more pockets than you have items for, this is the best pair of shorts for any working man.
The D-Rings
Even with 8 different pockets, it's still likely that we're going to need some extra space. Keys, radios, wallet chains; the number of extras that can be added onto a good pair of work shorts are incredible. We personally love these shorts because of two special features: the D rings. Each side of the shorts has a D ring that allows for even more carrying power. From clip-on waterbottles to karabiner tape measures, the D rings give that extra oof to these shorts.
Squat Space
One of the biggest concerns we have, when we're buying shorts, is the fact that there might not be enough room for all the junk we have to carry; and we're not talking about the stuff we put in our cargo shorts' pockets. We're talking about a different kind of junk, and one that might end up exposed to the breeze if there's weak stitching involved. Luckily these shorts were made for those of us who are a little thicker. There's plenty of space in the legs and rear area, which means we can bend, twist, and squat to our heart's content.
Cost and Value
This is one of those clothing items that tends to change its price depending on things like size and colour. Generally, though, the range itself is totally reasonable. These shorts are amazing quality and contain a lot of storage options. The wearability is excellent, and their durability is second to none. While they might not be the most fashionable, we think they're still worth the investment.

Subscribe to our Newsletter