Best Hiking Water Filters Reviewed for Quality
In a Hurry? Editors choice:
Test Winner: LifeStraw Personal

Anyone who spends time out on the hiking trail knows the value of having
clean drinking water
. The problem is that we can't just drink any water that we see because these days lakes, ponds, springs, and stream water isn't safe to drink because it can contain all kinds of nasty stuff. We can certainly boil water to kill off any organisms that might be living in the water. But boiling water does nothing to remove any harmful minerals so pollutants such as salt or lead will still be present in the water. So we're going to show you easy to carry and transport water purifiers so you'll never find yourself in a strange place without water.
Standout Picks
Criteria Used for Evaluation
Features
There are some things that are essential to getting your water to a safe drinking point. Leaf, mud, murky debris, and much more has been found in water when you scoop it from its body. What is good to know about is pre-filtering. You will have a lot more success if you pre-filter your water and that way you know that the water will also be a lot more safe to drink.
While many water filters include a pre-filter system, some may not. The role of this filter is to remove the larger debris that could be floating around in your water. If you do not have a filter with a pre-filter system, you will need to filter your water by using a cloth, which will assist in removing the larger debris from the water. With these pre-filter systems, they have been known to clog up. It is essential to clean them out, to assist in the accuracy of your drinking water.
Ease of Use
For several years, boiling water has been the most popular way to filter out the contaminants that you may experience with water that is pulled from a body of water. While boiling water can get rid of some contaminants, it is said that it does not get rid of all. For those who have ever been in a situation where your home water wasn't safe, boil alerts have been issues.
Even though you are boiling the water to remove bacteria, you are not removing dangerous chemicals such as chlorine or lead, or other debris that could make it into your water, so it is recommended that you both filter and boil if you have to boil the water. If you do not have a filter available, boiling will suffice, even though you still pose the risk of debris, viruses, and other containment, still remaining in the water.
As mentioned before, water filters give you the ability to not only filter the debris but also filter containments. Some of these filters will even get rid of viruses and more. Getting a water filter with a pre-filter included, there is no need to boil the water, prior to drinking. Boiling the water is only recommended when that is the only choice that you may have, a good filter can eliminate the boiling process.
Advanced Features
Straws: Survival straws are some of the easiest ways to filter water on the market. What is so great about these straws is that they offer a tiny carbon filter that can catch almost all bacteria and debris, making it incredibly safe to drink and within the proper drinking levels. The greatest thing about the survival straws is that they are low maintenance and incredibly easy to use. You simply walk up to a body of water or fill your water bottle, drip your straw in and drink. These straws are great for emergency and prepping purposes, and they are also great for hiking and camping purposes.
Water Tablets: There are several different purification tablets on the market. When these tablets first came out, people were skeptical of how they work. With that, several tests have been run to test the accuracy and efficiency of these tablets. Tests have shown that these tablets can purify the water, just as much as a normal filter can. One thing you need to do prior to using these tablets is run the water through an actual filter, or cloth, to remove any visible debris from the water. Once that is done, just drop a tablet in, wait 30 minutes and your water will be well below the limits for safe drinking. An easy way to stay safe!
UV Protection
UV Purification: This system is incredible for assisting in the purification of water. This portable, handheld light will clear out water, making it safe to drink by using UV lighting. Those strong UV rays are designed to kill microorganisms within seconds and also damaging any other living viruses. The biggest downfalls of these filters are that they run off of batteries, risking the power source. Also, there is no way that the UV light can get through cloudy water, that being said, you can not purify dirty or muddy water.
Style
Purifying Water Bottles: What is so great about these water bottles that purify the water is you basically fill them up and then let the filter do the job. Low key and easy to use, these water bottles come with carbon filters that catch all the bacteria and debris, making the water safe to drink. What is so nice about these bottles is that you can bring them anywhere and prevent physical issues from happening, especially in an emergency situation. These water filter bottles are known to only catch bacteria and debris, not viruses. But overall, a great and easy choice.
Gravity Filter: These filters are great for the campsite or at any risk situation. Being as they are larger filters, they are better off having a base camp, where you just haul water to them and allow them to filter. What is great about these filters is that they keep all of the bad bacteria at the top as well as debris and allow the water and minerals to travel through the filter and down to the bottom of the canister, leaving you refreshed and your thirst quenched. Great for camping, or base camp, these filters are essential to maintaining fresh water.
10 Best Hiking Water Filters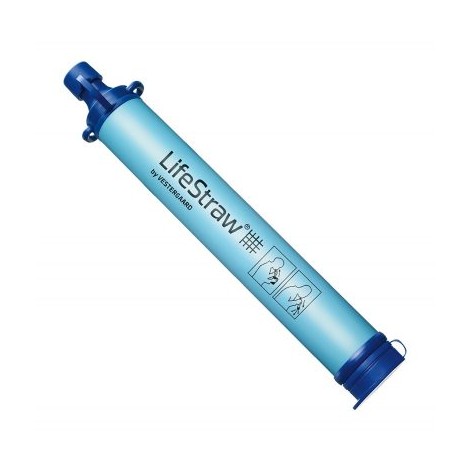 LifeStraw is one of the best choices for a personal water filter. It removes harmful bacteria without using chemicals such as chlorine or iodine. The tool does not require any batteries either so you can trust that it will work when it is needed. It only weighs 2 ounces and comes in a sealed bag so that you can easily pack it in with your hiking or camping gear.
No Chemicals
The LifeStraw does not use any chemicals to purify water. It works by using a hollow fiber membrane that filters out all organisms, minerals, and harmful bacteria. The filter can be backflushed so that you can clean the filter.
Drink from Water Source
You use the LifeStraw by placing the large end into the water and then drinking from the straw end of the straw. As you drink, the water is pulled through the filtering technology and clean water comes out of the other end.
Cost and Value
The LifeStraw is a low-cost product which makes it into an excellent value. The product is inexpensive and lightweight so that you can easily carry it with your gear. It works great for regular usages or even just to have in an emergency.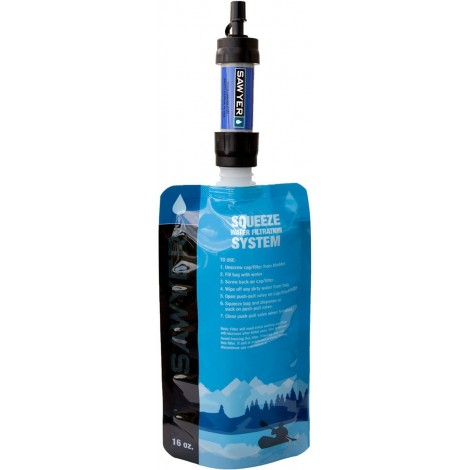 This filter is another excellent choice for hiking. It works by using a hollow microfilter system that traps harmful bacteria such as salmonella or E.Coli. The filter comes with a drinking straw and a reusable water pouch. You can easily filter water and then pour it into a regular water bottle as well. The system is lightweight and it is easy to pack and carry this water filter system.
Reusable Pouch
This filter system is sold with a sixteen-ounce reusable pouch that you can use to store water on the go. The pouch is useful because it allows you to carry water with you as you go on your hike.
Long Lasting
This filter is capable of providing you with up to ten gallons of water between backflushes. If you need more water, you can easily backflush this filter in the field so that it can continue to provide you with safe water.
Cost and Value
This filter system has a low price which makes it into an excellent value. It has additional important features such as a plunger for backflushing, water bladders, and a drinking straw. This filter is an excellent value for its price.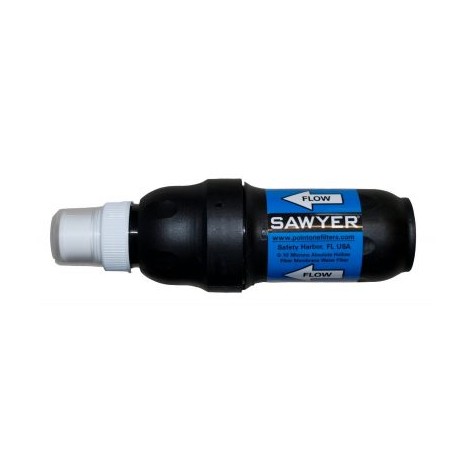 This is a high volume hiking water filter that is ideal for filtering large quantities of water for large groups. The filter system comes with faucet and bucket adapters so that you can empty purified water into a five-gallon bucket if you wish to do so. The filter also comes with a thirty-two-ounce pouch so that you can easily carry water with you while you are hiking.
High Volume Flow
The filter is designed to purify large quantities of water quickly. This makes it into the ideal water filter for large groups of people who all need drinking water. You can even attach this filter to a five-gallon bucket.
Squeeze Pouch
This filter system comes with a large thirty two ounce squeeze system that allows you to carry water while you are walking. It also makes it easy for you to fill other people's water bottles or hydration packs quickly.
Cost and Value
You should expect to see this filter sold at a price that is slightly below the average price for water filters. It is an excellent value because it can safely and reliably filter large volumes of water quickly making it ideal for groups.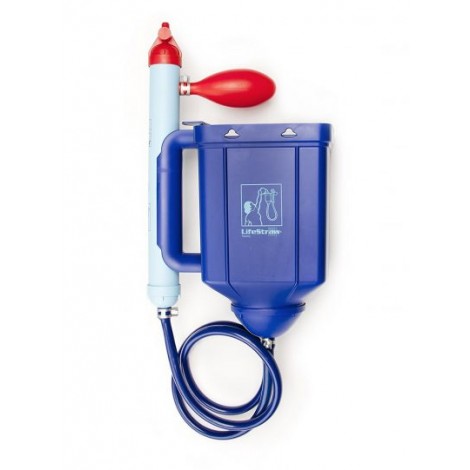 This is another hiking water filter that makes it easy to filter larger quantities of water as needed. It is a gravity fed system that works by filling up a two-liter bucket of water and then letting the water drain through the filter. The purified water comes out of the other end of the system which can be used to fill a water bottle or some other container.
Gravity Fed
This system works by filling the two-liter capacity bucket and then letting clean water drain out of the straw. This allows you to easily filter larger quantities of water which can be useful for larger groups that need more water.
Long Lasting
The LifeStraw can provide a family of four people with clean drinking water for up to three years. It filters about nine to twelve liters of water in a single hour which makes it a great tool for large groups.
Cost and Value
This filter system has an average price for hiking water filters. It gets its value by being able to filter water quickly at a rate of nine to twelve liters of water per hour. This makes it great for large groups.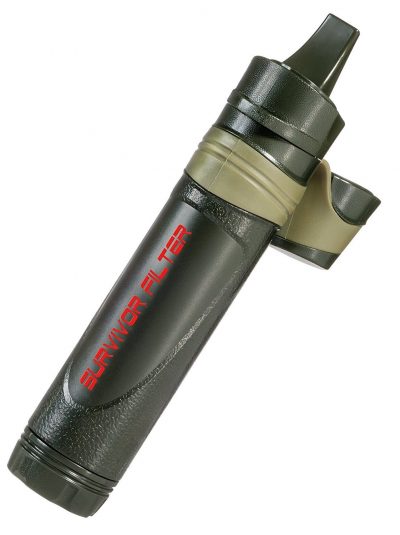 This is an excellent filter that is extremely long lasting and is easy to use on the hiking trail. It is able to filter up to 264 gallons of water before you have to change the pre-filters and the main filter lasts for 26,417 gallons of water. The product is lightweight and is only seven inches long which makes it really easy to pack and carry on the hiking trail.
Protective Mouthpieces
The mouthpiece is designed to keep bacteria out of your clean water. It has a special flip top and a micron filter that ensures your water stays clean without your backwash from polluting the water.
Long Lasting
The product lasts a lifetime because you can change the filters as they are needed. This makes the product into a long lasting product because you just change the filters as needed rather than disposing of the entire filter.
Cost and Value
This filter has a price that is below the average which turns it into an excellent value. It lasts for an entire lifetime which makes it into a great purchase since its the only water filter you will ever need.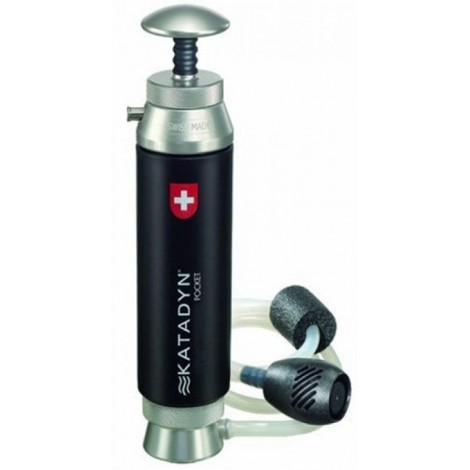 This is an excellent pump style filter that you can use to purify large quantities of water while you are out on the trail. It is perfect for filling large water bladders such as the ones that are found in hydration backpacks. Rather than drinking directly from the filter, you use it to pump water from a lake or stream and directly into a container for the purified water.
Pump Design
This filter comes with a pump design and hoses. You use it by placing on hose into a water source and then placing the other hose into a container for the purified water. Then you pump water until your container is full.
Performance Design
You can filter water extremely quickly by using this water filter because it can filter water at a rate of one quart per minute. This allows you to fill large containers of water quickly so that you can get back on the trail.
Cost and Value
This filter is expensive but it is also extremely high quality. The filter has a twenty-year warranty and has a pump design so that you can filter large quantities of water quickly. You don't have to worry about dirty water mixing with clean water.

7

. Survivor Filter 3-Stage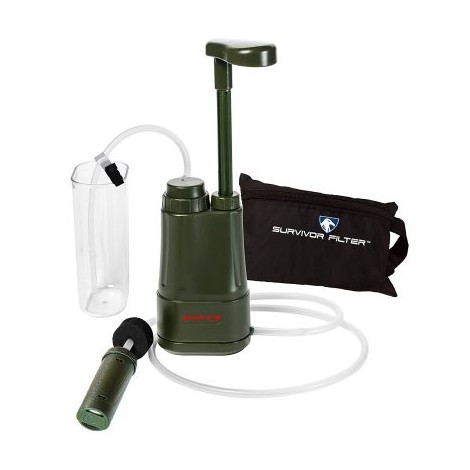 This is another pump style filter that can quickly filter large volumes of water. It is built for long-term use and even emergency situations. The filter uses three filters to remove bacteria, viruses, and heavy metals from your drinking water. This makes it an excellent choice for a filter because you end up with clean and safe drinking water. The filter is easy to use and can be used in different ways.
Filters Heavy Metals
This filter is capable of removing heavy metals which are poisonous. It will remove 99.5% of mercury and will also remove 93% of the lead. This helps protect you from the harmful effects of such heavy metals.
Triple Filteration
This water system uses three filters to completely filter water. It has a pre-filter and an internal filter which filter 100,000 liters of water before they need to be replaced. The final carbon filter lasts for 2,000 liters.
Cost and Value
You can expect to average price for this water filter system. It gets its value by being a heavy-duty filter that is pump driven and long-lasting. This filter is able to remove poisonous heavy metals from the water.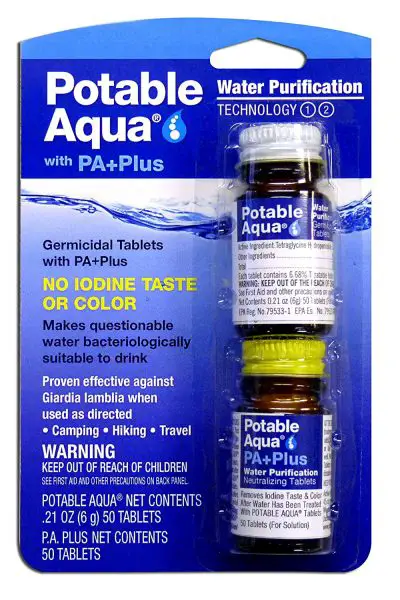 Purifier tablets are an excellent alternative to water filters. Filters can become clogged, dirty, or broken on the trail. The purifier tablets offer a backup solution in situations where a water filter fails to work as you expected. These tablets can treat up to twenty-five quarts of water in as little as thirty-five minutes. These tablets are an ideal choice for emergency situations where you need clean water quickly.
Great for Emergencies
The purifier tablets serve as an excellent backup option in case your water filter becomes lost or damaged. These tablets kill harmful bacteria and help improve the clarity of the water so that it becomes safe to drink.
Treats Large Quantities of Water
These tablets work great for treating large quantities of water. They are able to treat up to twenty-five liters of water in thirty-five minutes which is enough water for a group of people.
Cost and Value
These tablets have a low cost which makes them ideal as a backup device. They are a great value because they are excellent for backup or emergency situations. The tables are able to treat large quantities of water.

9

. Etekcity Filtration Straw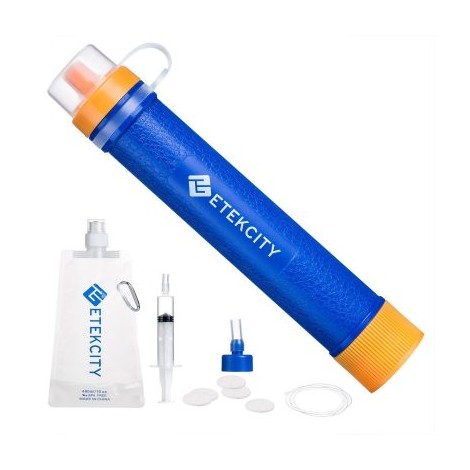 This is another form of hiking water filter that works on a three-stage filtration system. The first stage is a prefilter that filters out large debris in the water. The second stage is a carbon filter that kills bacteria and heavy metals that are in the water. The final filter is a hollow fiber micron filter that removes any elements that are still present in the water.
Removes Heavy Metals
This filter protects you against harmful heavy metals such as mercury or lead. Both of those metals can be extremely harmful but the carbon filter used in stage two protects you against these metals.
Easy to Pack
This filter is small and is really easy to pack into your hiking gear. It also comes with a sixteen-ounce water pouch so that you can keep filter water with you as you go hiking.
Cost and Value
This is a low-cost filter straw that makes it into an excellent value. You can rely on this filter to provide you with clean water throughout your hike. Its low cost makes it into a must-have item for hiking.

10

. KOR Water Nava Bottle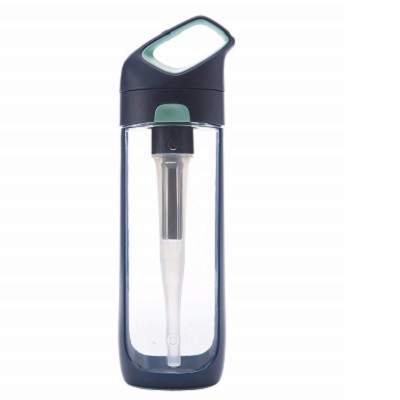 This water bottle features a carbon filter that is made from coconut shell. The bottle is intended to provide you with clean tasting water. It features a hygienic cap so that the spout is protected while the water bottle is not being used. You can easily open this bottle with just the push of a button. The filter is high flow and allows you to drink naturally from the water bottle.
Carbon Filter
The water bottle uses a carbon filter that purifies water as you drink from the water bottle. It is made completely out of coconut shells so that the water bottle is environmentally sustainable.
Easy Flow
The filter and the straw are designed to allow you drink naturally from the water bottle. You won't feel as if you are sucking really hard on the straw while drinking from this water bottle.
Cost and Value
This product has a cost that is below average which makes it an excellent value. The water bottles are able to purify water so that it is safe to drink and it's fully environmentally sustainable.

Subscribe to our Newsletter