Best Heated Dog Beds Reviewed & Rated for Quality
In a Hurry? Editors choice: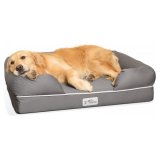 Test Winner: PetFusion Ultimate Lounge

Places to sleep are a necessary dog accessory. They might like snuggling in with us, but it's only natural that they should have a place for themselves to set their fluffy little heads and tails. Dog beds should be big enough to accommodate the dog, as well as soft enough to keep them comfortable. They should be durable as well, since dogs love to chew. The other feature that they should include? Heating. The options below will give them the security and the comfort that all dogs crave. This list has a variety of options that should make all manner of pups squeal with joy.
Standout Picks
Criteria Used for Evaluation
Adjustability
There are two general concepts when it comes to a heated pet bed of any kind. There are those that adjust the heat with electronics and temperature gauges, and those that relay, retain, and disperse natural body heat without the aid of electronics. Both are very stellar options, though one does remove all control from the owner or human in this scenario. Depending on the needs of your pet, there's often a need for the precise control of the temperature in which it is exposed to.
The electronic beds (or the majority of them) on the market, and on our list, have internal temperature readers, that tell the heaters to cool or heat in order to obtain the required and ideal temperature. Other electronic heated dog beds work more or less like the human versions do. There will be a temperature slider, in-line to the power source, and this interface usually has four or so settings. The settings will normally include an "OFF" state, and three temperature settings -- Low, Medium, and High -- for you to choose from.
We -- as we believe you should as well -- took into heavy consideration whether or not the beds on our list that were vetted into the top ten, had at least the minimum amount of adjustability. Though, as we mentioned before, some beds are designed to use your pup's body heat in favor of sustained heat. Making a more portable, and possibly more useful product.
Comfort
There isn't a pet lover on the planet that doesn't have their furry friend's comfort in mind. It's really difficult to be a pet ally, and not have their comfort at the forefront of your every waking thought. Further still, a lot of older pets (dogs in particular) need the comfort of heat in order to remain mobile and comfortable in everyday life. Joint and bone conditions are a tough part of being an aged canine, which is what sends most pet owners down the daunting tunnel of heated dog beds in the first place. Plenty of great, respectable vets will prescribe a heated bed for your pooch sooner rather than later.
It's imperative that a dog bed is comfortable, on the very basic and simple basis. There's no room, or need, or point of having a dog bed that is uncomfortable.
Adding further, that these beds are designed to rehabilitate joint pain, and warm cold pups, there are yet more reasons to not skimp on the comfort. That, comfort, being the overall goal of these products, you can probably understand just why this is such a key criteria for these beds to be judge on. There is not a single bed on our list that does not provide basic or beyond comfort for your pooch.
Comfort should be atop your list of criteria while vetting beds for your dog pal, because trust us, if they could order you a bed, you best believe they'd make it a comfy one.
Style
There truly aren't many marketplaces quite like the one that includes pet furniture, and pet products overall. The entire market is so insanely deep, and filled with all sorts of viable products on many different ends of what feels like a twenty-sided product scale.
Most of all, and maybe this is a more recent symptom of 21st Century consumerism, is the look and style of the products. A lot of people claim that pets don't really care what their stuff looks like. They don't have favorite patterns, or colors (if they can see many), and they really don't care if their new bed is an adorable miniature version of the bed you've already got. What does dictate the necessity for an abundance in styles and visuals in the world of pet products is the humans that look after them.
For that reason, style is going to be very low on our list. These products aren't birthed for us. But, that does put us in an awkward position, because the visual aesthetics of pet products tends to drive sales, so we decided to judge these beds on their style merits regardless of how little it actually means for the functionality of the product, and the adoration of your pup.
If you, or the person you are purchasing this bed for, place a lot of weight in the style, or look of the bed, then perhaps this is a key criteria for you to vet options with.
Value
There isn't a whole lot of disparity between the bottom end and the top end of the heated dog bed market. Though, we will admit that we stayed within a pretty safe search ratio. You can, get pretty crazy when it comes to dog or pet paraphernalia of any kind. Thousands upon thousands of dollars.
We chose a very modest approach to our vetted options. So much so that there isn't a wide range of prices here.
The value, however, is very evident in most of these products. If you take all three of the previously discussed criteria into consideration, there becomes an obvious trend in what makes great quality. There are specific things to look out for, obviously, and these look like premium materials, control over heat, and comfort forms for your pet.
Auxiliary additions to a product can hike the price up but do not add anything that is worth that money to your friendly animal pal. Everything outside of the criteria we've listed is extra, and should remain an extra thought while shopping.
10 Best Heated Dog Beds
1

. K&H Pet Products Self-Warming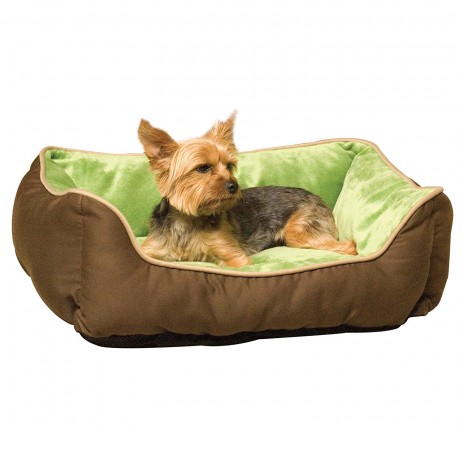 The first on our list is this stylish and fun option. The self-warming product by K&H Manufacturing is one of the top on Amazon that we've seen. K&H Manufacturing has a great, high quality standard that can't be beaten. We love the way that this provides a comfortable, cozy spot for small to medium pups, as well as a heating aspect to keep them warm.
Self-Heating
Those that might be worried about some of the more technical aspects of these could be concerned about the potential danger of having warm electronics so close to their pet. This is a great option for those that have particularly chewy dogs, who might gnaw through cords and power supplies. This product is made of self-heating materials, which warm up and retain heat the more that the pup sleeps on it.
Recycled Fill
Those that have a penchant for sustainability will appreciate this ptoduct. According to the product description, the fill is made from recycled plastic bottles. This makes for an eco-friendly self-heating option that you (the human) can also feel good about.
Cost and Value
For all the positives of this product we think that it's definitely worth the cost. The price is cheaper than we would expect, and it's currently listed with a bit of a sale on it as well. The fact that this is not only sustainably made, but also made of high-quality materials, makes us think that this is a company that can be trusted. The low price, in this case, is just what it is: a total bargain.

2

. PetFusion Ultimate Lounge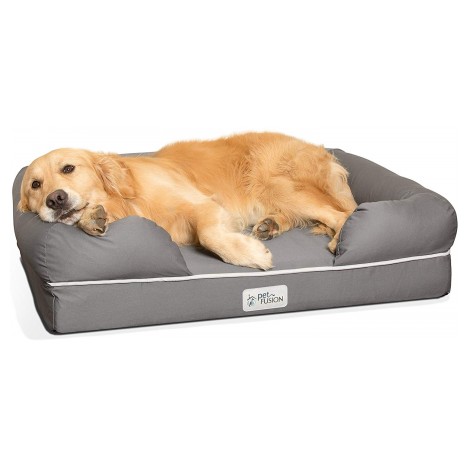 Made for those bigger dogs amongst us, this is an option that rivals some human mattress options. PetFusion labels this as the "Ultimate Dog Lounge" and we're inclined to agree. Not only does it have an incredibly comfortable pillow, but there's also a variety of other practical features. And they're all wrapped up in one big, beautiful style too!
Memory Foam
Real talk, we don't even have memory foam on our bed. That might speak to some personal shortcomings on our part, but that's alright. The important part of any pet parent's life is knowing that their fur baby is comfortable. One thing that we love about this is that the base pillow is made of memory foam. The amount of bounce-back-ability that it has means that we're likely not going to need to worry about deflation, compression, or lumps.
Waterproof
One of the big things to think about with this is the fact that the outside is waterproof. Durability needs to be high when it comes to this type of product, which is part of the reason we really like this one. The cover is waterproof and tear resistant, which means it's safe for even the most bitey of dogs. It's also washable, which means yes, you can remove the cover when an older dog has an accident.
Cost and Value
This is a product that costs about as much as a human mattress topper from IKEA. Is this a bad thing? Not necessarily, though it does mean that it's expensive. We personally think that the quality and practical features of this makes it worth the value, despite the high price.

3

. RIOGOO Electric Waterproof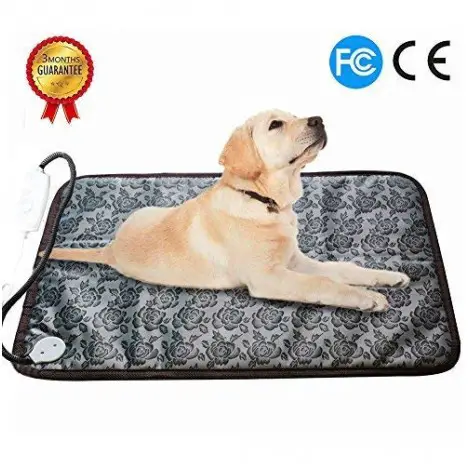 We've finally come to this pet heating pad, which is the first legitimately electric piece on our list. While the other options are powered by self-heating materials (materials that heat due to the animal's body heat) this is one that's actually got temperature control capabilities. This makes it the perfect option for pets that need a little bit more when it comes to warmth.
Chew Resistant Cord
The big question on every pet owners mind is, "will my dog chew through this?" It doesn't matter what we're looking at. Whether it's slippers or electrical wiring, we need to be sure that our dogs are going to be safe. While this is an electrical heating pad, the wires are coated in stainless steel. This makes them chew resistant and very, very safe.
Temperature controlled
Another beautiful thing that we want to mention about this is the fact that the temperature can be controlled. It's possible to set upper limits on this, so the dogs are always able to be safe. Overheating can be just as bad as being cold for a pet, which makes the temperature controlled aspect a huge benefit.
Cost and Value
It's hard to say whether this is worth the cost. While the price is about average, they mention in the product description that it's important to ensure that you've got a blanket or small pillow over top of the pad itself. This could up the cost, making it more expensive. However, on the whole we believe that this heating pad is worth its upfront cost. The durability of the cords, the temperature controls, and the fact that it's waterproof and durable makes it an excellent option for older pets.

4

. K&H Pet Products Outdoor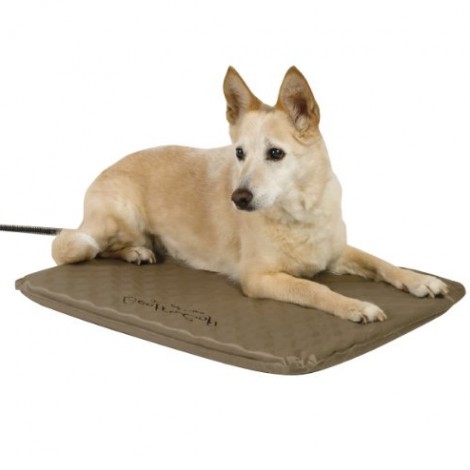 We've seen a few indoor options, but what about those times when you want to bring your furbaby outdoor camping? While it might seem like a good idea to let them share your sleeping bag, the two of you might find you're having some space issues by the second night. This option is able to be used outdoors, which is a unique and valuable way to ensure your pet's comfort regardless of the overnight temperature.
Heats Without Pressure
For many of these, the complaints listed are something along the lines of "it doesn't feel warm". One review had an answer that made a whole lot of sense. Many companies' products don't heat up unless the pet's body is on it, meaning that it's pressure sensitive. This outdoor option is built so it doesn't need pressure to heat. The pad will heat up on its own, which will no doubt get any and all animals interested in the warmth.
Very Durable
The durability of this product type is something that should always be a concern. Not only do we find that they require a little bit more love to keep rambunctious dogs from chewing through, but the outdoor ones need to be extra durable due to the weather and elements. This heating pad is flexible, but it's not necessarily soft. The vinyl makes it particularly scratch proof, and the cover is also easy to wash. All in all this is a durable product that won't breakdown.
Cost and Value
This is one of the ones that's floating in our middle ground price range. The durability of it is huge, and there have been many good reviews of it lasting even outside in harsh winters. We believe that this peace of mind is certainly worth the cost, with the durability and product quality being a bonus value.

5

. K&H Manufacturing Outdoor with Bolster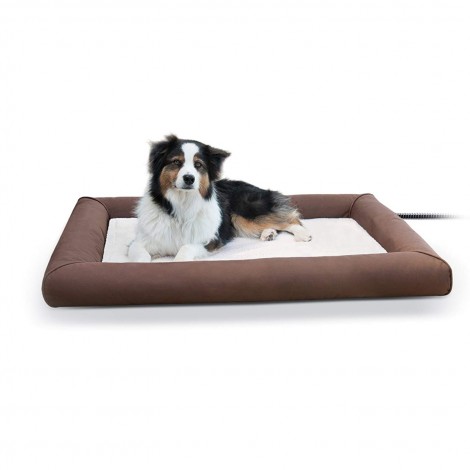 It may be just our personal preference when it comes to pet paraphernalia, but we love when a bed looks as good as it feels. K&H might be one of the most durable and reliable manufacturers, but they also know style. They know exactly how to make these products look as good as they feel for your pup.
Bolster
We'll admit that we don't exactly know any dog to be picky about their bed's bolsters. For those that aren't clear, the bolster is the puffy part that encircles the dog bed. It often provides support and comfort for the dog, giving them a place to rest their heads. It can also add an element of cozy for bigger dogs. The bolster is not only able to be wiped clean, but it's also able to be removed from the product itself.
Free Cover
The last time we got excited about free cover was in college during those fateful pub crawl nights. Luckily for us, this is a little more practical, as the free cover we're talking about slips onto the product. The fleece cover not only adds softness to the otherwise harder areas,, but it also makes it easy to wash. That's an excellent feature, and at no extra cost to you!
Cost and Value
Considering the fact that this is both durable, versatile, and easy to clean, we think that the value is definitely worth the cost. While it is at the higher end of our price range, K&H is worth the expense. Plus, their customer service is also top-notch quality. We don't think you'll be disappointed, even though this is more of an investment.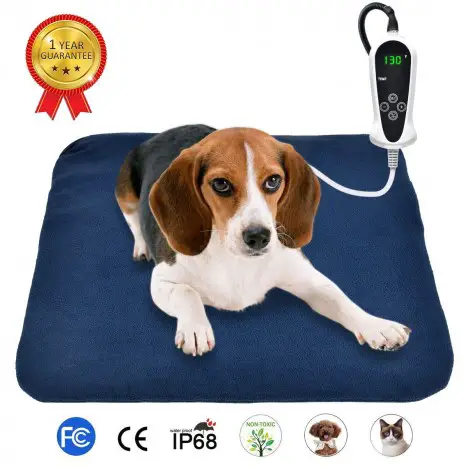 We've looked at a pet heating pad from RIOGOO before on this list, and for good reason. They know their stuff, even if they don't have the reputation that K&H has. We personally love the fact that they offer options in terms comfort for our lovely pets. This is why we've included this alternative to a squishy bed, as it can be used in many different scenarios.
Manual controls
We know, we know; normally manual controls are considered more of an annoying detriment than an actual positive feature. In this case, however, we're glad that they put the control externally. This allows us to set the temperature of the dog bed's heating, and provides access to the timer (which we talk a little more about next). Unlike those internal thermostat-controlled options, the full range of heating is accessible at all times with this bed.
Timer
Another great positive of this product is the fact that there's a timer setting that can increase any pet owner's peace of mind. Instead of worrying about whether or not it was shut off, you can rest assured that the timer will turn it off and on for you. It's a hands-off tool that keeps your pet happy and warm, even when you're out of the house!
Cost and Value
As one of the cheaper options on our list, we can't help but wonder if there was more that they could have done with this. It's a good product that will get the job done. The cords are protected from puppy chewing, and it comes with a removable, washable cover. Is it the one that will give you the most long-term usage? Probably not. But it's definitely good for use on those cold nights that need a little bit of extra warmth.

7

. K&H Pet Products Thermo-Snuggly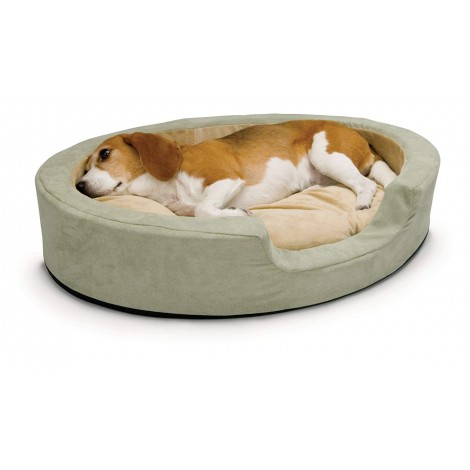 K&H is a name that has appeared on our list before. Many people love K&H, and it's no surprise why! From fantastic material qualities to innovative designs, K&H is well versed in what it takes for a pet product to succeed. This option is different from their others, but we know that it's got the same level of quality that all the others do. With a few other bells and whistles, of course.
Everything Removes
Pets are messy. Whether it's dog treats, hair, or cat litter, pets can't stop tracking and dragging muck and mess around. It's not their fault; after all, when was the last time you saw a dog wash his hands? Because of this, however, we believe that it's important to ensure that everything is removable and washable. Part of the reason we like this is because of that! Even the heating element removes, making it easy to zip, wash, and repeat.
Warranty
Something that many people tend to overlook when purchasing a smaller ticket item like a dog bed is the warranty standards. While some will likely embrace the fact that many dogs will chew through a toy or bed quickly, others want the product to be an investment. K&H provides a 1 year warranty for this bed, making it easy to reach out and reorder/replace depending on the issue.
Cost and Value
The sizes are priced differently, but all of them work out to be what we consider a fair cost for the value you receive. The heating element, temperature consistency, and plushness of the bed all make this a great choice for your dog (or cat). Not to mention the fact that we're also getting the warranty guarantee with it, which makes it a perfect long-term investment piece. Is this bed worth its cost? YES!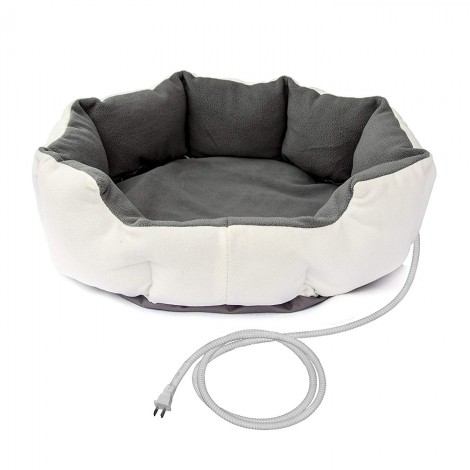 Technology has come far in the last few years. This might be because we all want to treat our wee animals like the furry royals that they are. Or, maybe it's because we've come to terms with the fact that there's more that goes into animal care than just food and vet visits. This thermo-pad from ALEKO makes it easy to keep your beautiful pet toasty and warm no matter what's going on in your life.
Internal Thermostat
It can be a little nerve-wracking to leave anything that uses electricity on and unsupervised. Dog beds are included in that, which is part of the reason that this internal thermostat is such a great thing. The thermostat allows the dog bed to innately know when your animal might be getting a little too warm. This ensures that they're kept at a cozy temperature, rather than a tropical summer one.
Overstuffed
In the same way that most people like fluffy pillows and blankets, so do our pets. While they might not be able to articulate how much they appreciate a little bit of extra fluff, we can tell from their happy faces that they do. Neck support, coziness, and comfort are all reasons why having overstuffed sides can be a good thing. This bed has it in spades!
Cost and Value
At one of the more middle-ground prices on our list, this dog bed is riding the line between being a budget price and a decent chunk of change. We believe that, since it's essentially an all-in-one bed, the cost is definitely equal to the value. The internal thermostat gives enough peace of mind that we would pay much more than this cost for. Not to mention the quality of the build and materials, as well as the length of the cord. Overall, it's a purchase that's definitely equal in terms of value to cost.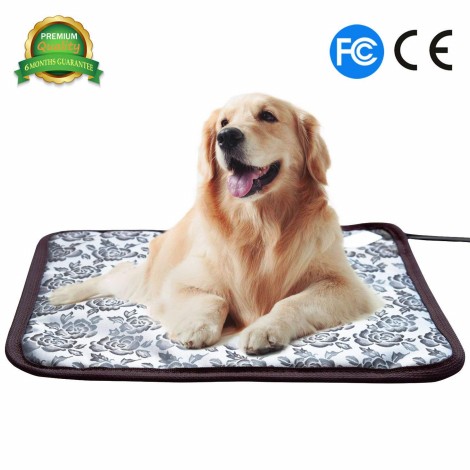 Built to handle animals in general, BohoFarms has a great product on their hands. While it looks suspiciously like the third option on our list, we assure you that there are some key differences.
Smaller Size
The smaller size isn't a bad thing, although we certainly think that your Golden Lab isn't going to be pleased with the outcome if you try and gift this to them. The product description mentions that it's great for newborns, which is probably why the smaller size is offered. This size makes it possible to slide into any free corner and not have it take up an unnecessarily large footprint of the floor. Not to mention the fact that small dogs and cats will appreciate having a perfectly small sized spot to curl up in.
Quick Heating
One other aspect that we want to consider as different from other options is the fact that this one takes very little time to heat up. In the dead of winter our dogs need something to stay warm, and they need it quickly. This pad only takes 10 minutes to heat up, which makes us believe that this is one of the quickest ones on the market.
Cost and Value
Cheaper than some of the other products on our list, we believe that it's a great price. Often those are more expensive, while this one is on the low end of our general price spectrum. However, it's not all sunshine and roses. The quality isn't as great as some of the others we've seen, and there have been a few reports of heating inconsistencies. Overall this is a great option for short term use, but might not be the value you're looking for in the long term.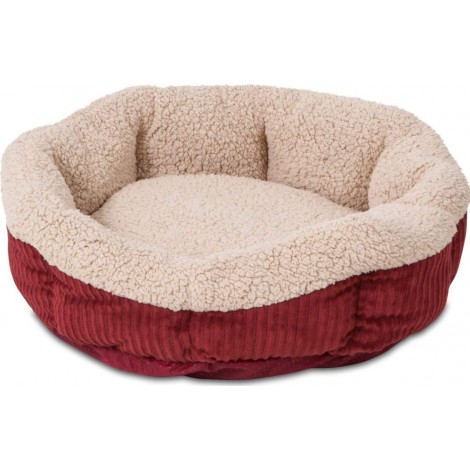 The final option on our list is this self-warming pet bed. We've discussed the benefits of self-warming beds before on this list, but this one was just too good to pass up. Unfortunately, there's just so much more that can go wrong when it comes to electrical work. The self-warming products are a great option for puppy parents who worry about gnawing.
No-Slip Grip
We've mentioned it in passing a few times before, but this is one feature that gets us incredibly excited. Pets can be rambunctious, especially when we're dealing with younger dogs. They often jump up and launch themselves off of their beds, especially when there's the promise of dinner or treats. This pet bed features a no-slip grip, making it possible to place this bed on hardwood and tile without worrying about it sliding out from under our energetic pets.
Variety
This product is interesting because there isn't one uniform size or shape. The self-warming products from Aspen are actually produced in a variety of shapes and sizes, making it possible to find the perfect fit regardless of the dog (or cat). This means that we can get everything from a small round bed all the way up to a large rectangle bed, with the same features and quality!
Cost and Value
This is one of the cheaper beds on our list, and we have to say that it's hard to come up with a reason as to why it might not be worth the value. Not only does this dog bed have a variety of great features, but the quality is pretty good as well. It might not be the most durable, but it's definitely worth its low, budget price.

Subscribe to our Newsletter