Best Dog Beds for Indoor & Outdoor Use Reviewed
last updated:
Oct 15, 2019
Like humans, dogs like to be comfortable when they sleep, so a bed plays an important role in both the health and welfare of the dog. Dogs that are highly active, like hunting dogs, need extra care as they burn lots of energy and need more time to recover. The importance of food, exercise, and rest are well known, but what they rest on may be just as important for their overall health. While there are thousands of different options available for dog beds, here you will find some of the best beds on the market. Each bed has unique features that will benefit the different lifestyles of different dogs. After reviewing all the options that have been rated, you are sure to find a fit for your dog that will both benefit and comfort him during his hours of sleep.
In a Hurry? The test winner after 14 hrs of research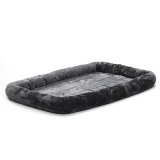 MidWest Deluxe Bolster
Why is it better?
100% Machine Washable
Padded for Comfort
1 Year Warranty
Fits Standard Dog Crates
In a
Hurry? Editors choice: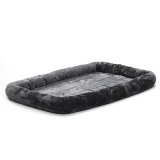 Test Winner: MidWest Deluxe Bolster

15
Researched Sources
10500
Reviews Considered
14
Hours Researching
15
Products Evaluated
Size
Materials
Style
Durability
Value
By Default
BEST DOG BEDS FOR INDOOR & OUTDOOR USE REVIEWED
1

. MidWest Deluxe Bolster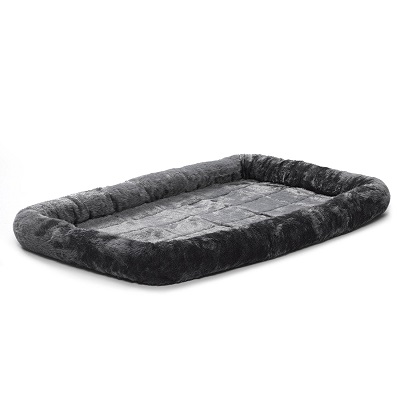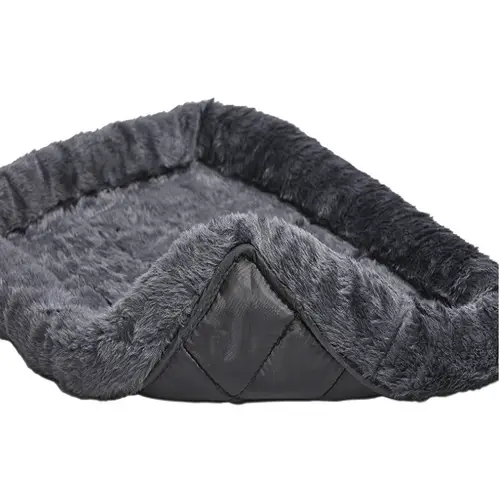 100% Machine Washable
Padded for Comfort
1 Year Warranty
Fits Standard Dog Crates
The MidWest Deluxe Bolster Pet Bed acts perfectly as a stand-alone bed or as a crate pad. This bed offers extra padding and a soft, furry feel around the polyester cushion. The MidWest Deluxe Bolster Pet Bed is incredibly easy to maintain and is also 100% washable, keeping a fresh look, every time it is washed. If you are looking for an easy to maintain pet pad, this is the bed for you.
Material
This soft, furry pet bed has comfort written all over it. The MidWest Deluxe Bolster Pet Bed offers a non-bunch, polyester padding wrapped in a soft, durable ultra-soft, synthetic fur, making comfort key.
Low Maintenance
Tired of your dog bed looking dingy and worn? The MidWest Deluxe Bolster Pet Bed is a low maintenance pet bed that is 100% machine washable and capable of being dried in the dryer. Wash as many times as you'd like and this bed promises to keep shape and style.
Cost and Value
The Mid-West Deluxe Bolster Pet Beds benefits and value outweigh the cost with the features that it has to offer you and your pet. Being low maintenance, this bed is ideal for dog crates or as a stand-alone bed. Backed by a 100%, 1-year warranty, this bed is known to last with durable materials. This bed may just be the bed of your dog's dreams.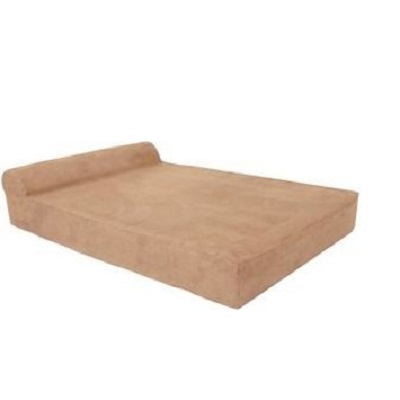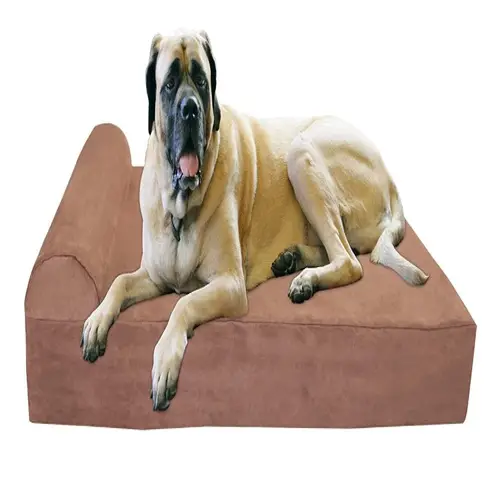 Medical Foam
Micro Fiber
10 Year Warranty
Machine Washable
Attractive Style
This extra-large size is one of the best beds available on the market. As an orthopedic pet bed, this bed alleviates all joint and hip pain a dog can have while laying on the bed. Pressure points are gone when a dog lays on the Big Barker 7" Pillow Top Orthopedic Bed. The microfiber cover is made to last and repel pet hair. You can be sure that your dogs will be in heaven with this Big Barker 7" Pillow Top Orthopedic Bed.
Medical Foam
This is a memory foam bed that offers many medical features. The Foam Contours to the joint, reducing the pressure points on a working dog's joints which can be beneficial for years to come. With quality foam this high, it will never flatten or pancake with multiple uses.
Micro Fiber
The bed is wrapped in microfiber materials. That being said, it is the easier of all cloth materials to clean as it is split many times smaller than the human hair. What that means is cleaning is much easier as you can get in the cracks for hair and germ removal.
Cost and Value
Here is one that is backed by a 10-year warranty! That in itself should tell you how well of a product this is. Known to pull pressure away from a dog's pressure points, the medical memory foam contours to your canines shape and pulls pain away. Microfiber materials make it easy to clean and remain germ-free. This comfortable pad is just what your working dog needs.
3

. Barksbar Gray Orthopedic Pet Bed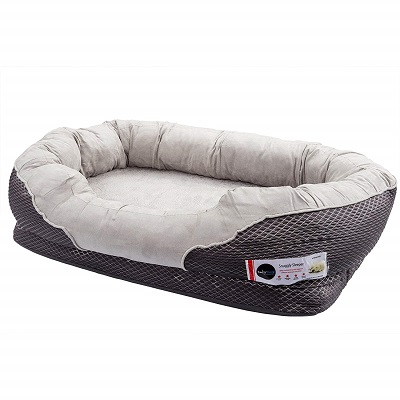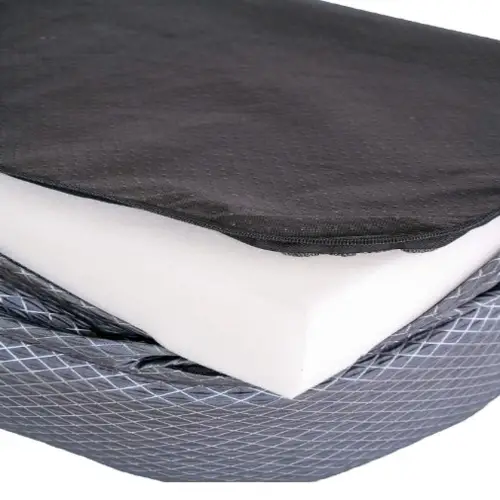 Orthopedic Foam
Ultra Soft Cover
Machine Washable
Different Sizes Available
Not Waterproof
Foam May Stink Over Time
This large, plush bed has a lot to offer your canine friend. The Barksbar Gray Orthopedic Pet Bed is built to last and provide a superior sleep. Each bed is carefully crafted with premium materials like ultra-soft polyester, premium memory foam core, and elegant, luxurious design. The Barksbar Gray Orthopedic Pet Bed has comfort and durability in mind, making it a comfortable sleep for a lifetime.
Premium Materials
The Barksbar Gray Orthopedic Pet Bed is built to last with super soft polyester, orthopedic memory foam core, and a quilted top. Designed to reduce pain and discomfort, these premium materials keep long-lasting comfort and shape.
Maintenance
The Barksbar Gray Orthopedic Pet Bed is an easy bed to maintain. The softcover is easily removable and machine washable, producing a new-like feel, every time.
Cost and Value
Ideal for working dogs and older dogs, the Barksbar Gray Orthopedic Pet Bed is designed to keep your dog's comfort long-lasting. Orthopedic memory foam is inserted into the cover of this bed to help reduce pain and discomfort and is shaped to keep a sturdy handle on your canine's neck. With an easy to remove the cover, you can keep this bed like new for several years to come.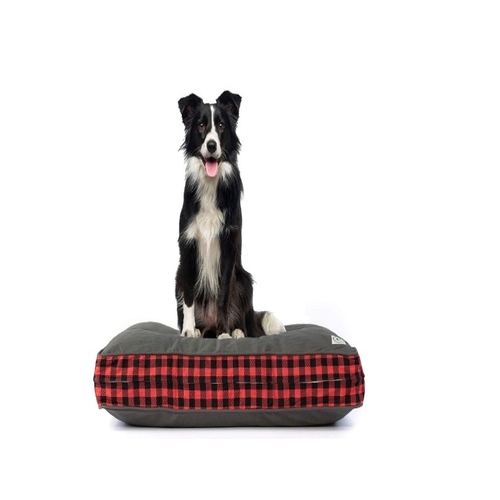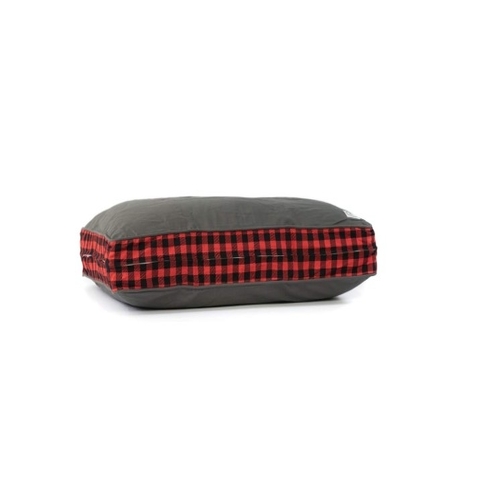 Easy to remove and put back on
Exceptional memory foam base
Machine and hand washable
Comes in a multitude of sizes to choose from
The cover comes in an abundance of colors and patterns
Waterproof
Pricey
Not made in the USA
Quality could be better
Anyone who owns a pet knows just how much love you end up having for these furry little animals. Which is why we want to keep them as comfortable as possible. That is where having a cozy bed for them will come into play. Additionally, having their own bed will give them a sense of pride. This eLuxurySupply pet bed is unlike others, like the name states this is a luxury item, that will make your dog feel as if it's sleeping on a cloud.
Removable Cover
Taking into consideration that most if not all dogs are messy, the brand created their pet bed to come with a removable cover. Constructed out of 100% cotton the covers are machine washable. This is an excellent feature to have as we all know dogs can be messy and things can get smelly when they are. Having this feature allows you to hand wash the cover or place it in the wash in cold water. Furthermore, the fabric is preshrunk as well, allowing you to not have to worry when putting it back on the base. Due to its preshrunk aspect sliding it back into place will be easy every time.
Waterproof
Keeping with the theme of having everything washable and easy to use, the bed is also waterproof. Your dog can drool, spill or even throw up and you will not have to worry about it seeping down to the mattress area. It will remain on top so you can easily wipe it off with a dry cloth or napkin. Additionally, the base is constructed out of memory foam to help keep your dog as comfortable as possible while adjusting to its every curve.
Cost and Value
When it comes to cost and value, this bed is a bit on the higher-end. However, it is well worth the price. This is mainly due to how great the quality of the memory foam is. The bed itself was created to be as comfortable as possible for dogs of all ages. Additionally, there are three different sizes to choose from so you can pick the bed size that best fits your pet. Subsequently, you can tailor the bed to your dog's personality or your home decor as the cover comes in a multitude of colors, prints, and patterns.
5

. MidWest Homes for Pets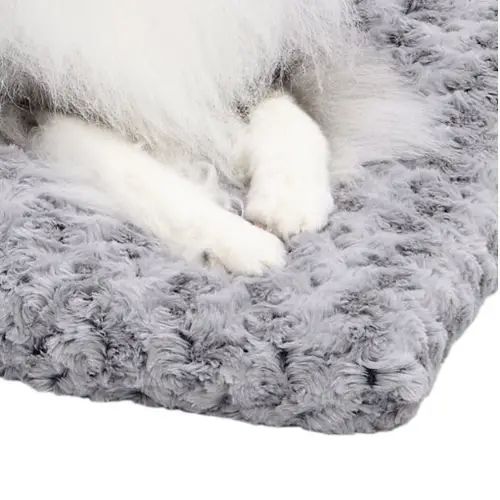 Padded
Machine Washable
Durable Polyester Material
Elegant Style
This beautifully plush, poly-fiber cushion has it all for your dogs! The MidWest Homes for Pets Deluxe Pet Bed offers supreme cushion with a soft, sleek cover. With several sizes to choose from, the MidWest Homes for Pets Deluxe Pet Bed is ideal for your vehicle, home, or pet crates. With an attractive style, this pet bed is sure to make all of your dog's dreams come true.
Materials
The MidWest Homes for Pets Deluxe Pet Bed is made of different fabrics, all beneficial for different reasons. The poly-fiber material is designed to maintain breathability, while the soft, faux fur cover is in place for comfort.
Multi-Use
Featuring 12 sizes to choose from, this is a multi-use pet bed. While you can order it sized to fit your pet crates, these beds also fit beautifully in your car, house, or bedroom, making your dogs comfortable in any situation.
Cost and Value
As an all-around pet bed, it is an elegant style that fits anywhere in your home. The style isn't what makes this bed stand out, the comfortable padded, soft bed is what stands out most to your pets. 100% machine washable, this bed is made to last for nights to come and can easily be cleaned to prevent it from smelling.
6

. First-Quality Orthopedic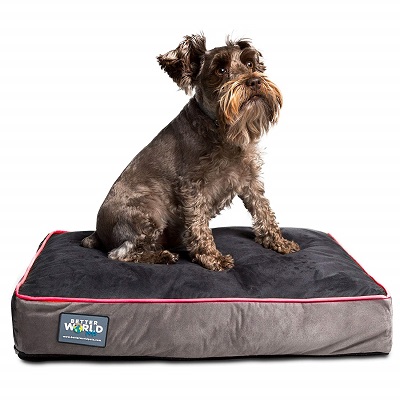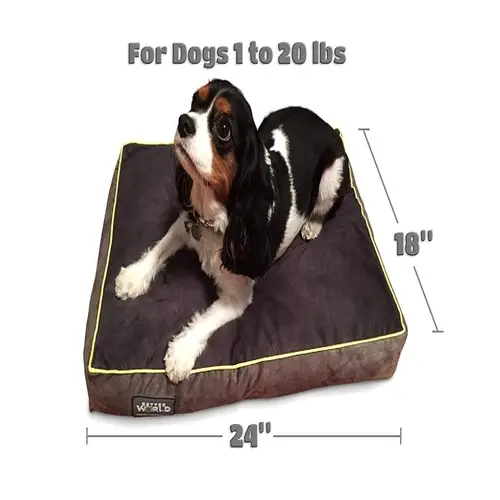 Donates to Good Cause
Added Durability
Skid Free
Waterproof
100% Washable
Waterproof Cover is Noisy
This bed has quality in its name for a reason. The First-Quality Orthopedic Bed is a fashionable bed that will fit the style in any home. What is more important is that this bed is full of orthopedic rated memory foam shreds, making your dog 100% comfortable. Built to last, the First-Quality Orthopedic Bed is washable, waterproof, and skid-free. Why pass on such a quality made item?
Memory Foam
For the perfect softness and support, orthopedic memory foam shreds are inserted into the First-Quality Orthopedic Bed. This bed is guaranteed to keep a firm style with a plush feel.
Durability
With high-quality materials, the First-Quality Orthopedic Bed is made for that rough and tough pooch. With added durability, this bed is sag-proof, skid-free, and waterproof. The durable cover also gives this bed added protection.
Cost and Value
The First-Quality Orthopedic Bed has so much to offer in both comfort, value, and quality. With every purchase, 10% of funds go to a good cause. Made for a tough life, this bed has all of the qualities to put up with the toughest and active dogs. Added 1 year, full warranty puts your mind at ease with the wonderful quality bed.
7

. Pendleton Pet Classics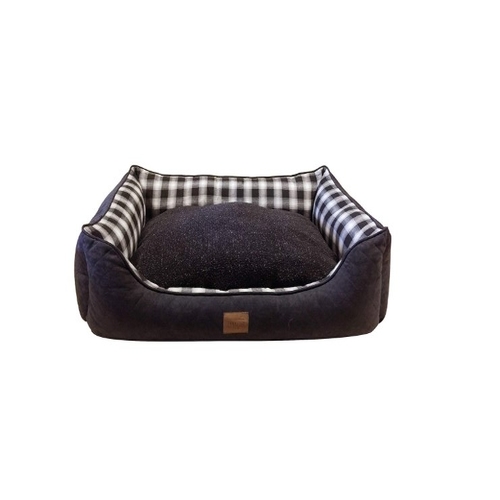 Easy to take care of
Comes in two different plaid styles
Filled with 100% recycled high loft MemoryFiber
Memoryfiber is felt throughout the entire bed so all four sides are taken care of
Pricey
Isn't offered in multiple sizes
With the backing of two medical professionals, the Pendleton Pet Classics comes prepared to give your pet the comfort he or she needs. Featuring a classic, almost vintage silhouette this four-sided bed is great for those that want their pet to have a more relaxed space. It comes in a plaid cover to truly keep up with the vintage feel. Moreover, the plaid comes in two different colors for you to choose from so you get to personalize the bed to your liking.
Easy Care
While everything in the home might take a whole lot of work and washing this item does not! Created to be as easy to care for as possible, its exterior casing is completely machine washable. Not only that but it does work with a zipper so you can zip it on and off whenever needed. Its construction embodies a lighter fit so when you take it off-putting it back on will not become a huge hassle.
100% recycled high loft MemoryFiber
The idea of having a bed for your dog might seem silly for those that have their pets sleep with them; however, even if your pet sleeps with you during the night. For the most part during the day they will be lounging around on the floor and that can create some bone or skin issues along the way. That is why having some sort of elevation from the floor will come in handy. This one is filled with 100% recycled high loft memory fiber for an extensive comfort level. Its also great for colder months as this type of filling helps keep warmth in when your home is cold.
Cost and Value
Can you truly put a price on having your dog be comfortable for longer periods? We think not, but this is on the pricier side. Though it is a bit pricey you will be getting what you pay for in quality and ease of care. Its all about getting the most from this bed and your dog will be able to do just that.
8

. Brindle Soft Memory Foam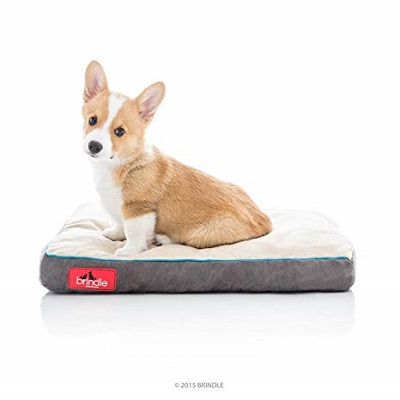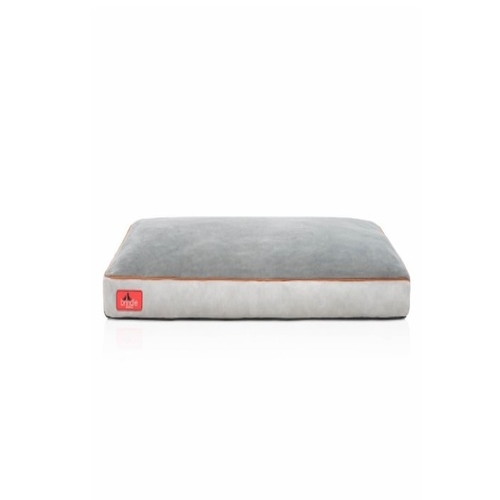 Microsuede
Orthopedic Foam
Washable Cover
Supportive
3 Year Warranty
The BRINDLE Soft Memory Foam Bed is a universal pet bed that can be used in many situations. Ideal for the pet crate or in the bedroom, this pet bed helps all points of pain for your dog. Layered memory foam gives extra support and pain relief to achy joints, while the soft microsuede cover gives additional comfort. With the ability to be laundered, this pet bed will remain sturdy and fresh for several years to come, while maintaining shape for your dog.
Microsuede Cover
The BRINDLE Soft Memory Foam Bed has a soft microsuede cover that helps repel dirt and hair. The cover is made of durable and washable material to help maintain a fresh, new feel.
Orthopedic
The BRINDLE Soft Memory Foam Bed is made to help support achy joints and bones for your dog. Using a 3" layer of shredded memory foam, this bed is both firm and pressure relieving for your dog.
Cost and Value
Backed by a 3-year warranty, the BRINDLE Soft Memory Foam Bed is very sturdy and durable. Pressure-relieving foams help your dog maintain their comfort day and night. Soft microsuede is wrapped around the memory foam, giving an added feel of comfort. 100% machine washable, this pet bed is made to last and keep fresh for several nights to come.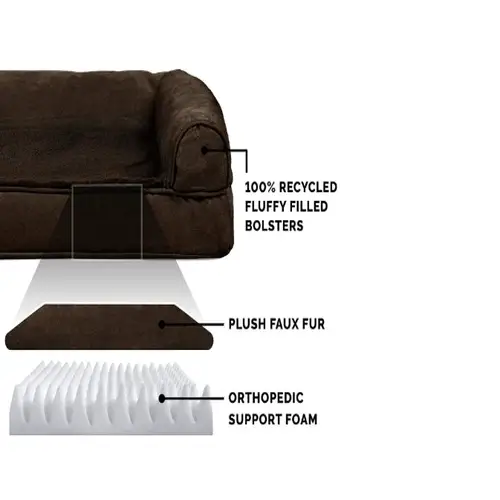 Sleep surface covered in faux fur
Comes in for sizes
Includes orthopedic foam
Helps soothe pressure points
This item is a great choice if you're looking for a new option on a limited budget. Despite being less expensive, it is constructed from polyurethane foam that is CertiPUR-US certified. The design offers your pet great joint support while soothing pressure points. The zippered plush cover is removable, which makes it easier for you to wash it. However, we don't recommend this bed for a naughty dog because the cover isn't tear-resistant.
Faux Fur
One of the best features of this one is the ultra-plush faux-fur which covers the surface your dog sleeps for a soft feel. This certainly improves the comfort and the quality of sleep for a better restoration.
Joint Support
Another big plus for this model is the joint support your pet receives. This is especially important for older dogs and more active dogs that tend to experience more soreness.
Cost and Value
You can find this in four different sizes and four different colors, each priced comparatively low. It's soft and comfortable and great for older dogs who have problems with their joints.
PROS
10

. Reversible Paw Print Pet Bed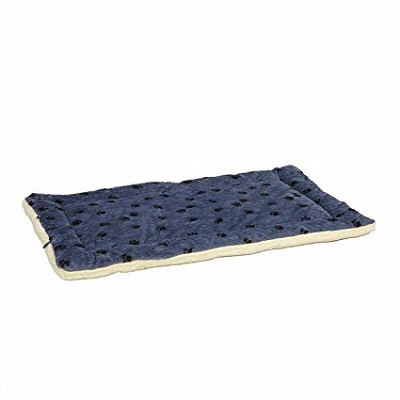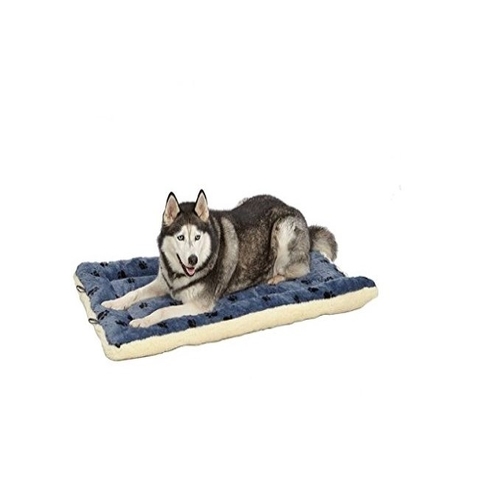 Fleece Bottom
Ultra Soft Faux Fur
Machine Washable
1 Year Warranty
Reversible
Little Padding
Not Waterproof
The Reversible Paw Print Pet Bed is one of a kind! Making the top list by being beneficial for many uses, this pet bed can be used in crates or on the floor. Comfortable padding, this bed is reversible to keep it unique and fun. Offering a fleece bottom and a soft, synthetic fur, the Reversible Paw Print Pet Bed is machine washable and padded to keep long-lasting comfort in any situation.
Materials
The Reversible Paw Print Pet Bed has a soft, padded fleece bottom that can be flipped over to offer a soft, faux fur, polyester material. No matter what side, the Reversible Paw Print Pet Bed keeps comfort going strong.
Maintenance
The Reversible Paw Print Pet Bed is an easily maintained bed that has a removable cover that is machine washable. The removable cover can also be thrown in the dryer on low to remove any remaining pet hair and to keep the bed fresh.
Cost and Value
With so many benefits, the Reversible Paw Print Pet Bed is useful for all things. This bed can be used in metal crates, the back of the vehicle, or as an everyday pet bed. Offering a soft, padded material, this bed is known to keep comfort going strong for years to come. Backed by a 1-year warranty, this bed is nearly maintenance-free and has options to keep it fresh at all times.
Criteria Used for Evaluation

Size
The first and most important thing to get right when buying a bed for your dog is the sizing. It is critically important here to get the right size of bed for your dog and he will thank you for doing so. It needs to meet all weight requirements and be big enough for your dog to stretch out on. If your dog is a puppy, go for the size she'll be when fully grown. Your dog is far more likely to use it if they have room to get comfortable on it.
If you have a mixed dog and aren't really sure exactly where they fall in the "general rules" or breeds list, a good rule of thumb is to measure your dog when they are laying down, add 12 inches and go with the size that fits accordingly.
If you have multiple dogs and want them to be able to share the bed, which is a relatively common desire and practice, be sure to take into consideration both of their weights and sizes and get one that will hold them appropriately. They will be happy and snug together when you do so.

Materials
This is an important criterion for several reasons. First of all, it's important that your dog is comfortable when sleeping. That means the material needs to be pleasant to feel while still able to keep your pet cool or warm. You know your dog better than anyone and what they're needs may be. Fluffy dogs may prefer something cooler to lay on while short-haired dogs prefer something warmer.
Another factor to consider when choosing material is how easy it is to clean. When your dog is running around and getting into whatever is in your yard, you absolutely want the ability to clean all the mud, dirt, poop, and whatever other shenanigans they can get into off of it. No questions asked. Although no one really likes talking about it, it's also critically important to consider what happens if you need to clean bacteria, fleas, their eggs, and/or ticks off of the bed?
To meet this requirement, many beds have removable covers. That way you can simply take it off and either spray it down or throw it in the washer. Others are simply attached and only have the spray down option. This may be completely fine if you only want to keep the bed outside or don't have much that your dog can get into while outside. Some only have the ability to be wiped down. This can obviously be limiting but might be a feasible option depending on your circumstances.
Ultimately, your needs here fully depend on what your individual circumstances are. Carefully examine your surroundings and what your dog will be doing/getting into and go from there.

Style
Do you want an elevated model or one that just sits on the floor? While one that sits on the floor is perfectly fine for an indoor bed, it is just inviting a mess for an outdoor bed unless you have an exceptionally clean dog and/or yard.
There are many benefits to an elevated bed. There's the obvious cleanliness factor. Another semi-obvious feature is the coolness factor. There is far less heat build-up when you are on an elevated, ventilated bed. But what are some others?
An elevated bed offers support. Do you personally like to sleep on a mattress or a bean bag? Which one leaves you feeling better when you wake up in the morning? I'm guessing you chose a mattress and that's because it offers you more support all over, giving your body the ability to get the rest it really needs. The same is true for a dog and an elevated bed offers that support. The support factor can also go a long way to help your dog with joint stress or aches.
Portability is another big factor. It makes it easier to fold up and take with you and is often more lightweight than a soft, cushy, and often heavy bed. Perhaps the biggest pull towards an elevated bed though is its lack of stuffing to chew. Some dogs will chew up a bed no matter what and that becomes incredibly frustrating when they shred the fancy beds you're spending good money on. A structured, no-frills elevated bed solves this problem.
Dual Purpose
Another consideration to take into account when purchasing a new one is: do you want one that is only indoor and only outdoor? Or would you be more interested in combining the two?
Some pros of keeping the beds separate include things like cleanliness and convenience. Do you really want to be bringing germs from outside to the inside of your house? Or is this really not a huge concern since your dog is doing that anyway? Another is convenience. It is a lot easier to have a bed right where you need it to be when you need it to be.

Durability
Durability is important because we want the things we spend our money on to last obviously. It's also important considering the fact that some dogs have a chewing problem, especially when they are younger. Not all beds are made to withstand this type of punishment so if your dog is a chewer then you should look for something that is designed for that type of situation.
Durability also plays a role in how well the bed can handle your dog and for how long. A good frame can be a big help here. What's in a frame anyway? Elevated models are obviously going to have more of a frame than (the basically nonexistent) pillow beds. There are a variety of materials that can go into a frame and they vary from bed to bed.
When considering buying an outdoor version, choose your frame wisely and according to your weather restrictions. Do you live somewhere that is always rainy and humid? Is the type of metal holding up your precious pup's bed going to rust and corrode? Or perhaps it will be freezing cold all winter long or burning hot all through the summer? There are options for all your weather requirements.
The next thing, and perhaps the biggest issue frame related, is can it support the weight of your dog? Most outdoor models come in size-specific options and it is essential to your dog's safety that you get one that will accommodate her weight. I want to reiterate here that just because you like a bed, but it doesn't meet your weight requirements, you should walk away. Your dog will be uncomfortable and risk breaking the bed. It's well worth your time and effort to get the right size bed frame.

Value
For the value, we rated the products on the overall quality to price ratio. What kind of reviews did the bed receive and is it known to last? We also considered extra features that a model may offer, like temperature control and easy to care for material. We also took into consideration if the bed offered a special mattress of features that may improve your dog's sleep and overall health. Then we looked at guarantees or warranties that come with each product, which lets us know how much the company backs its items.
Expert Interviews & Opinions
Most Important Criteria
(According to our experts opinion)
Experts Opinion
Editors Opinion
Users Opinion
By Default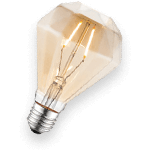 The Right Bed For The Right Dog!
Each bed has unique features that will benefit the different lifestyles of different dogs. Knowing what your dog needs in a bed is the first step to finding a perfect match. Older dogs may need a memory foam bed, to help alleviate pressure on the bones and joints; while younger dogs just need a pad to flop down on at night. Hunting dogs may need a bed that is soft to help them recover from their hunt and a removable, washable cover for those that get down and dirty.
Sleep Is Important!
With all that is now known regarding health and wellness, dog beds are more important now than ever before. Having a bed for your dog offers comfort, support, and pain-relieving properties, which reduces health issues and keeps your dog happier. Do you ever notice at night that your dog is restless, rotating, shifting, digging, or sighing? If so, there is a good chance that your dog is not comfortable. These sleepless nights have the ability to affect performance in a working dog, so why go any longer letting your dog sleep uncomfortably?
Other Factors to Consider

Features
An issue that is specific to outdoor models is the weather that it has to put up with. An indoor bed has very predictable climate circumstances and is unlikely to ever be exposed to anything harsh. For a bed that is guaranteed at least some variability in climate, it is nice to be able to make adjustments – and it may be important to do so.
Perhaps you live somewhere that has a harsh winter but you still want the option of leaving your dog outside for a while. There's a modification for that! There are outdoor beds that are heated, although the effectiveness of the heating ability may be questionable so really do your research and make sure you are getting one that heats well and consistently.
On the opposite end of the spectrum, what happens when you live in a sunny paradise? Or have a yard with no trees or shade? The fact is that man's best friend would be better served if he could find some shade. The good news here is that they also make options for that! You can get canopies or covers that are absolutely worth the extra cost. They will give you further peace of mind and your dog a nice relaxing area to hang out in the great outdoors.
Another thing to consider when you are looking for a climate-appropriate bed is an elevated bed. This will raise your dog off of whatever freezing or burning hot ground they would have been laying on otherwise and offer some degree of relief.
Frequently Asked Questions
q:

Does water pool on the bed when it rains?

a:

This largely depends on the type of bed. Generally speaking though, if you get an elevated bed with a thin or hammock type mattress (most on this list qualify) it will not. Instead, it will go straight through.
q:

How do you make a bed warm for outdoor use?

a:

The easiest answer here is a heated bed, although layering blankets may help to a much lesser extent. If you need a warm outdoor bed, opt for the heated variety.
q:

Is this outdoor model light enough to be picked up by the wind?

a:

There's no easy answer here. It largely depends on how windy it tends to get where you live and what bed you purchase. If the fierce wind is a concern, check the weight of the bed and opt for a heavier one. Downside: it will be less portable.
q:

What is the function of the elevated, cot style?

a:

There are many functions in an elevated bed. Quick version: helpful for tired/achy joints, cooling, better support, and portability.
q:

Is an outdoor bed easy to clean?

a:

Absolutely! Most can just be hosed down or have a removable cover. However; if you're looking for easy to clean, be sure to NOT get a bulky, pillow type mattress.
q:

My dog is a chewer. Will she ruin the bed by chewing on the fabric?

a:

This depends on what type you get. The safest bet here is an elevated cot without any fluff. Your dog is a lot less likely to chew on metal and shouldn't chew on the fabric. However; there is no guarantee here as all dogs are different.
q:

Can I purchase extra covers?

a:

Yes! Most manufacturers will let you buy them separately, although you may have to contact them directly to do so.
q:

Does dog hair accumulate on the bed or fall right off?

a:

Yes, dog fur will accumulate but most beds it's very easy to vacuum, spray down with a hose, or throw in the washer to fix the problem.
q:

If I'm going on vacation and taking my dog with me will I be able to take their bed along?

a:

This one depends on the bed. Many of the elevated beds do fold up into a convenient travel size but make sure to read the full product description before purchasing it as some do not.
q:

What size of bed to I buy for my (insert dog breed here)?

a:

All beds will show a weight limit. You want to buy a bed that will hold your dog's weight without any strain. If you have a puppy, opt for the size they will need when fully grown. Check each individual bed's weight limit so you know how the particular manufacturer sizes things.
Subscribe to our Newsletter