Best Outdoor Dog Beds Reviewed & Rated for Quality
In a Hurry? Editors choice: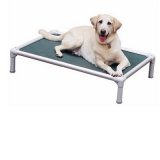 Test Winner: Kuranda Anti-Chew

Some dog owners will tell you that their dog's bed is fit for a king. In some cases their dog even has a more comfortable bed than the owner, just ask my kids they will testify that our
dog's bed
is way more comfortable than theirs. So yes I am guilty of spoiling my dog as well. Dog beds have come a long way over the years. You can find ones that look like an overstuffed pillow, or some that have a beautiful wooden frame and then the soft pillow. Which one you choose depends on your style as well as your dog's needs. But let me ask you this, have you ever thought of purchasing an
outdoor dog bed
for your dog? If you have, then check out the list and find your favorite one today!
Standout Picks
Criteria Used for Evaluation
Durability
Outdoor beds will need to be more durable than indoor beds for obvious reasons. To ensure that you are getting a good quality product you should check out the material it is made of. Can it withstand the elements? Can it withstand your dog? The frame also plays a big role in the bed's durability.
What's in a frame anyway? Elevated dog beds are obviously going to have more of a frame than (the basically nonexistent) pillow beds. There are a variety of materials that can go into a frame and they vary from bed to bed.
When considering buying an outdoor dog bed, choose your frame wisely and according to your weather restrictions. Do you live somewhere that is always rainy and humid? Is the type of metal holding up your precious pup's bed going to rust and corrode? Or perhaps it will be freezing cold all winter long or burning hot all through the summer? There are options for all your weather requirements.
The next thing, and perhaps the biggest issue frame related, is can it support the weight of your dog? Most outdoor dog beds come in size-specific options and it is essential to your dog's safety that you get one that will accommodate her weight. I want to reiterate here that just because you like a bed, but it doesn't meet your weight requirements, you should walk away. Your dog will be uncomfortable and risk breaking the bed. It's well worth your time and effort to get the right size bed frame.
Size
It is critically important here to get the right size of bed for your dog and he will thank you for doing so. It needs to meet all weight requirements and be big enough for your dog to stretch out on. If your dog is a puppy, go for the size she'll be when fully grown. Your dog is far more likely to use it if they have room to get comfortable on it.
If you have a mixed dog and aren't really sure exactly where they fall in the "general rules" or breeds list, a good rule of thumb is to measure your dog when they are laying down, add 12 inches and go with the size that fits accordingly.
If you have multiple dogs and want them to be able to share the bed, which is a relatively common desire and practice, be sure to take into consideration both of their weights and sizes and get one that will hold them appropriately. They will be happy and snug together when you do so.
Style
Do you want an elevated dog bed or one that just sits on the floor? While one that sits on the floor is perfectly fine for an indoor bed, it is just inviting a mess for an outdoor bed unless you have an exceptionally clean dog and/or yard.
There are many benefits to an elevated bed. There's the obvious cleanliness factor. Another semi-obvious feature is the coolness factor. There is far less heat build-up when you are on an elevated, ventilated bed. But what are some others?
An elevated bed offers support. Do you personally like to sleep on a mattress or a bean bag? Which one leaves you feeling better when you wake up in the morning? I'm guessing you chose a mattress and that's because it offers you more support all over, giving your body the ability to get the rest it really needs. The same is true for a dog and an elevated bed offers that support. The support factor can also go a long way to help your dog with joint stress or aches.
Weather Resistance
An issue that is specific to an outdoor dog bed is the weather that it has to put up with. An indoor bed has very predictable climate circumstances and is unlikely to ever be exposed to anything harsh. For a bed that is guaranteed at least some variability in climate, it is nice to be able to make adjustments – and it may be important to do so.
Perhaps you live somewhere that has a harsh winter but you still want the option of leaving your dog outside for a while. There's a modification for that! There are outdoor dog beds that are heated, although the effectiveness of the heating ability may be questionable so really do your research and make sure you are getting one that heats well and consistently.
On the opposite end of the spectrum, what happens when you live in a sunny paradise? Or have a yard with no trees or shade? The fact is that man's best friend would be better served if he could find some shade. The good news here is that they also make outdoor dog beds for that! You can get canopies or covers that are absolutely worth the extra cost. They will give you further peace of mind and your dog a nice relaxing area to hang out in the great outdoors.
Another thing to consider when you are looking for a climate appropriate bed is an elevated bed. This will raise your dog off of whatever freezing or burning hot ground they would have been laying on otherwise and offer some degree of relief.
Value
Another consideration to take into account when purchasing a new dog bed is: do you want one that is only indoor and only outdoor? Or would you be more interested in combining the two?
Some pros of keeping the beds separate include things like cleanliness and convenience. Do you really want to be bringing germs from outside to the inside of your house? Or is this really not a huge concern since your dog is doing that anyway? Another is convenience. It is a lot easier to have a bed right where you need it to be when you need it to be.
On the flip side, however; what are the pros and cons of only getting one bed? The first, and most obvious, is price. Dog beds aren't cheap and considering buying two is a lot more overwhelming than one. Dog beds aren't super heavy or unreasonable to move so having one, dual purpose, the bed is, in fact, a realistic possibility. The elevated beds flip up very easily and are very portable. But, do you really want to be moving it multiple times a day?
BEST OUTDOOR DOG BEDS REVIEWED & RATED FOR QUALITY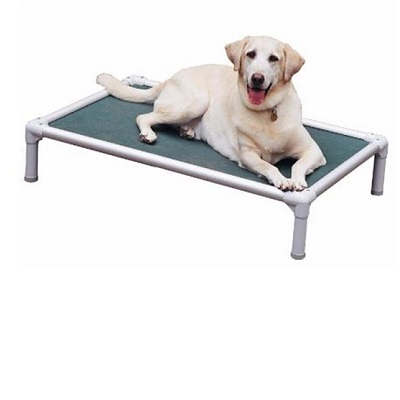 This style of outdoor dog beds is designed for those dogs notorious for constantly chewing their bedding. Nothing is more irritating than having to constantly replace beds and bedding due to the destruction of chewing. This outdoor dog bed is your solution to this problem.
Aluminum Chew Proof Design
This outdoor dog bed's frame is made from a lightweight yet durable aluminum. Most dogs won't even think about chomping on aluminum. Incorporated int the design, the fabric slides into the frame. Eliminating the exposure of overlapping material, reducing the dogs ability to chew on the exposed fabric.
Durable Fabric
Added to their chew proof design is their heavy duty bed material. These outdoor dog beds offer a heavy duty vinyl. Making these beds not only chew proof but very solid in build. Fully assembled this bed can withstand up to 250 pounds. Now that is one tough bed.
Cost and Value
This outdoor dog bed solves that pesky chewing issue for any dog owner. Built strong but lightweight this is one of the toughest outdoor dog beds on the market.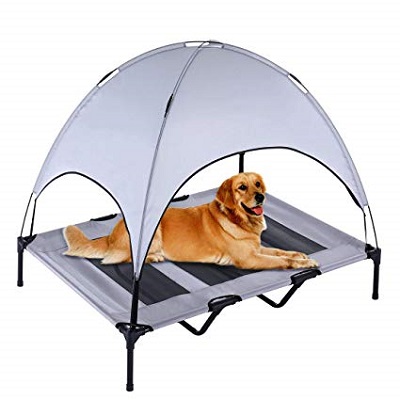 This one is a must-have for those who don't get very much shade in their yard. This style of outdoor dog bed is slightly elevated, but unlike the rest, this one offers one more notch on the luxury belt.
Canopy
If your yard doesn't have much shade then this bed is a perfect match for you. This one comes with a canopy that covers the entire bed. Protecting your dog from the harmful sun. Another great benefit to the canopy, what if you left your dog out when you went to the store. You step out of the store and oh crud it's raining. Well, you don't have to worry, the canopy on your outdoor dog bed has both you and your dog covered.
Easy Assembly
This is the first elevated bed that I have seen brag about easy assembly. No tools needed to assemble this one. That means your dog will be relaxed and protected in no time flat.
Cost and Value
This outdoor pet bed lands right smack in the middle as far as pricing. But with the extra amenities this bed offers, puts it in the top of the charts in your dog's eyes.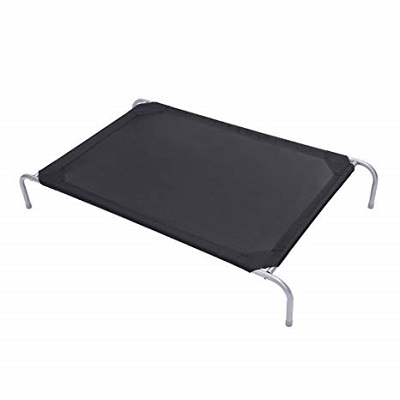 Next, we come to another great brand of outdoor dog bed on our list. This one like some of the others before it on this review is also an elevated bed. Holding your dog just above the ground so he or she can rest comfortably.
Mesh Mat
This bed is equipped with a mesh mat for your dog to lay on. This allows the material to remain breathable therefore reducing the chances of getting mold or mildew. Not to mention keeping your dog cool as well.
Steel Frame
This steel frame constructed bed is tough enough to withstand 110 pounds. That is enough weight for even a large breed dog to use this bed.
Cost and Value
This dog bed has plenty to offer your dog at a user-friendly price for you. Give your dog the comfort it deserves.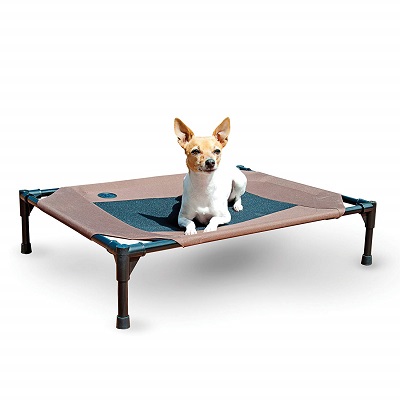 This next outdoor dog bed offers your pooch a little heat while lounging on your porch. You won't have to feel bad on those chilly mornings anymore. Kind to your dog and to you as the owner, this outdoor bed has an easily maintained cover. Making it perfect for both indoor and outdoor use.
Heated
Keeping your dog's body temperature in mind this company has come up with a way to heat the dog bed to your dog's normal body temp. Now no need to worry about leaving this bed on. This specific design of outdoor dog bed can sense that the bed is empty, so the heat won't activate unless your dog is on the bed.
Easy Cleaning
Each of these outdoor dog beds come with a free, yes you heard correct free, removable fleece cover. Now to clean the bed itself all you have to do is wipe it with a damp cloth. As for the cover, just remove and run it through your wash cycle. Who could ask for easier cleanup?
Cost and Value
Keeping your dog from getting too cold is priceless, although this bed does not cost less, you may find that you won't mind the extra cost for your dog's safety.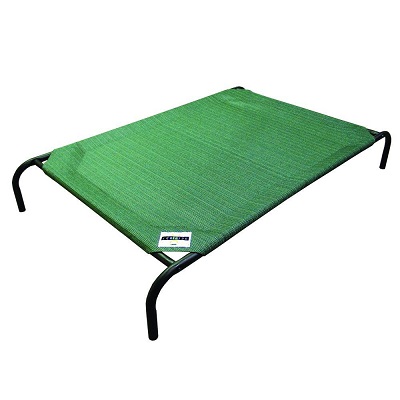 This type of outdoor dog bed will slightly elevate your dog keeping him or her off the ground. Promoting good health habits for your four-legged friend. The Coolaroo outdoor dog bed is also easily moved. Meaning you can easily pack it for your weekend excursions.
Elevated
Promoting good health, this outdoor dog bed will elevate your dog just enough to allow air to flow. This, in turn, will keep your dog cooler. This style of outdoor dog bed also reduces strain to your dog's joints, while their bed material is known for reducing hot spots.
Portable
The frame of this dog bed is designed to be easily moved from place to place. The lightweight yet durable frame allows you to move this bed easily while caring for your lawn or for packing on your next trip.
Cost and Value
This type of outdoor dog bed keeps your dogs health in top shape. You won't have to watch your old timer try to pry themselves off the ground with this slightly elevated style bed. Both the material and frame are built to be durable for years of use. At a low cost to you, your dog can have the comfort and health it deserves.



This type of dog bed is extremely versatile. You can have it inside or out on your porch for your furry friend. Stuffed with a little something different, this bed will keep your dog comfortable for long periods of time.
Versatile
This dog bed is great both in or out of your home. The bottom is designed to be both waterproof and slip resistant. Allowing you to place this bed on your porch, deck, or even in your garage.
Softer Stuffing
This bed is stuffed a little differently than most. The inside is stuffed with a foam that has been shredded. This gives your dog a softer space to lay. Raised edges on the side gives the dog a place more comfortable to rest their head.
Cost and Value
Don't waste your money on two separate beds anymore. With it's specially designed bottom this bed is perfect inside and outside. Your dog will choose this bed time and time again for the comfort alone.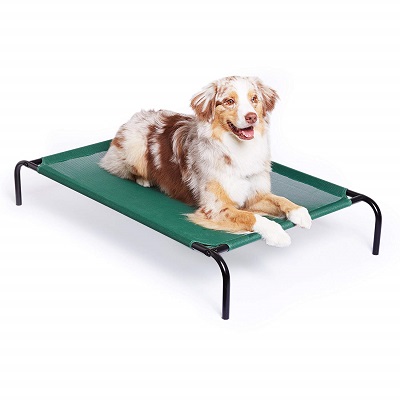 Our next choice for an outdoor dog bed gives you another look at an elevated outdoor dog bed. With its slightly different design, this bed is easily cleaned to maintain your dog's health. This style of elevated outdoor dog beds is lightweight yet durable to handle the weight of your dog.
Cot Style Design
Set up more like a cot, this outdoor dog bed can easily be washed by spraying them with the garden house. But for those dogs who love the mud, The fabric also can be removed easily from the frame so you can toss it in the wash.
Strength
These outdoor dog beds offer three different sizes. Each frame is designed to be light weight. Yet they are durable to withstand up to 130 pounds. Now that is a big dog.
Cost and Value
This brand of outdoor dog bed is a lightweight dog bed, but can withstand a large amount of weight. The cot style design not only makes for easy clean up, it also prevents the bed from tipping. Durability and dependability makes these outdoor dog beds a steal of a deal.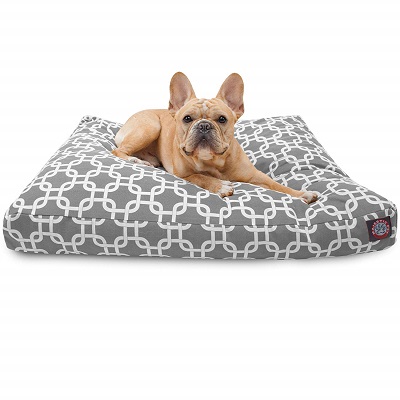 This kind of dog bed offers you both an indoor and outdoor product all in one. So if you would rather not spend the extra money on a second bed then this dog bed is perfect for you. Whether your dog is big or small this company has a bed for them all.
Indoor and Outdoor
Made from a durable outer shell these dog beds are perfect for in and out of your home. Cut your cost by using one bed in two places. Leave your dogs bed outside during the day when they will be out there the most. Bring it in in the evenings to give your dog a good nights rest.
Various Sizes
This style of dog bed comes in a various array of sizes to suit your dogs needs. With a small bed ranging up to 25 pounds, to an extra large bed covering up to 110 pounds. This dog bed manufacturer is sure to have the size you need for your furry friend.
Cost and Value
A dog bed like this one will have you spending a little more at first, only to spend less in the long run. It's like getting two products for the price of one. Use this bed both inside and out, so you only have to pay for one bed. These dog beds come big and small so you should have no trouble at all finding that perfect fit.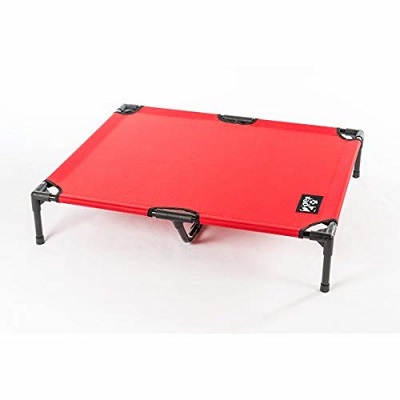 This next outdoor dog bed is another elevated dog bed. Raising them at least 7 inches off the ground this outdoor dog bed promotes health and cleanliness. This brand of outdoor dog bed also promotes a better sleep schedule for your canine friend.
Dog Health
This elevated dog bed is said to be effective in supporting a dogs joints, by getting them up off the ground. Being off the ground allows a better airflow all the way around your dog keeping them cooler. Providing your dog with it's own space, allows your dog the sense of security they need, giving them a much healthier sleeping pattern.
Cleanliness
The material portion of this dog bed is super easy to clean and maintain. This fabric can be wiped clean with a rag or towel. For those occasions when a towel won't cut it, this dog bed can easily be vacuumed or sprayed off with the hose. Whichever method you prefer cleaning and maintaining this outdoor dog bed is a breeze.
Cost and Value
This outdoor dog bed is more cost effective than the other elevated beds we have talked about. Promoting health benefits as well as being easy to clean and maintain. This outdoor dog bed will serve it's purpose for a fraction of the other's cost.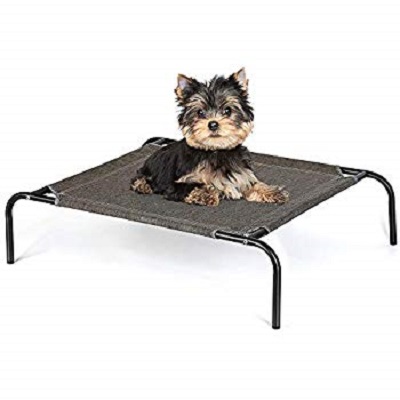 The next brand of outdoor dog bed is tailored for the smaller breed of dog. The plastic material design keeps your dog protected all the way around. Ventilation holes are the key to this beds cooling capabilities.
Ventilation
This dog bed has just the right amount of ventilation holes in the bottom of the plastic base. This allows for air to flow therefore cooling your dog on those warmer days.
Not for Large Dogs
This dog bed is only rated for a smaller sized dog. Typically weigh no more that 20 pounds. This gives them their own personal space without scaring them with a bed that is way to large for them.
Cost and Value
Taking an entirely different approach to the dog bed market, this bed is geared specifically for those small breed owners. Ventilation holes in the bottom provide circulation for cooling your dog off. At not much cost to you, why not give this bed a try.

Subscribe to our Newsletter