Best Double Sleeping Bags Reviewed & Rated for Comfort
In a
Hurry? Editors choice: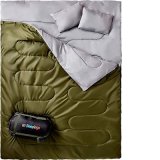 Test Winner: Sleepingo Double Bag

Do you know what's better than an incredibly warm sleeping bag? An incredibly warm one with room for two people that's what. Can I get an Amen on this? Let's be honest when it's a three dog night out there and you ain't' got no dogs the way to ensure you're not going to freeze is to get some body heat going with a friend, a lover, hey, whoever is handy, we don't judge. But if you want to make that happen then you're going to have to get yourself a double sleeping bag or at least a set of bags that can zip up into one super bag. And fortunately, we've dug through all of the best products on the market and we've come up with a list that is going to
keep you warm and cozy
.
Standout Picks
Criteria Used for Evaluation
Effectiveness
People use double sleeping bags during every time of the year, and you will want to make sure that you pick one that is correct for the season in which you will be using it. If you choose the wrong kind, then you can either end up being too warm or too cold while you are sleeping. Being cold or hot can result in anything from a miserable night's sleep all of the way to dangerous and life-threatening situations.
All brands are sold with a temperature rating. The temperature rating will specify the lowest temperature in which they can keep an average sleeper warm while they are inside. In other words, one that is sold as a "30-degree" model means that you should feel warm provided that the temperature does not drop below 30F.
It is possible that you will see two temperature ratings. One rating is the comfort rating, and the other rating is the lower limit rating. The first rating specifies the lowest temperature that the average woman will feel comfortable while inside while she is wearing long underwear, a hat, and is sleeping on an insulating pad that is one inch thick.
The second temperature rating, the lower limit rating, is the lowest temperature that a man will feel comfortable in while he is sleeping. It also assumes that he is wearing long underwear, a hat, and is sleeping on an insulated pad that can be one inch thick. The purpose of the two ratings is because men and women feel comfortable at different temperatures and these two ratings take that into account.
Insulation
The insulation used between the shell and the interior liner serves the critical function of creating a thermal barrier and trapping your body heat around you. Without the insulation, your body heat would escape into the air, and you will not feel warm.
Insulation works by trapping air and creating air pockets inside of the insulation. Since air is unable to move past the insulation, your body heat gets trapped inside which makes you feel toasty warm. It also blocks cold air from penetrating through the thermal barrier and causing your body heat to escape.
There are two main kinds of insulation that is used. The first kind of insulation is made from down features of geese, ducks, or other birds that have down features. These features grow near the bird's skin and are used to keep the animal warm even during cold winter months.
You can also look for synthetic insulation that is made from man-made materials. Each kind of insulation has its advantages and disadvantages so you should be aware of the differences when you are shopping. The synthetic insulation is made using polyester.
Polyester is a material that is made from polymers, and it does not absorb moisture. Lack of moisture allows the sleeping bag to dry quickly when wet. It will also insulate your body in wet conditions. Those that use synthetic insulation are well suited for wet areas because of these reasons. If you are going to be in an area where the ground is wet, or it could be raining, then you should consider using synthetic insulation.
Weather Resistance
The ability to protect you from the outdoor weather should be an essential factor in your choice even if you plan on using them in a camper or a tent. There is no way to know when a tent will blow over in a storm of the roof on a camper may leak, and it is possible that you could end up sleeping outdoors even when you did not plan on doing so.
If you are planning on using one to sleep outdoors in the first place, then you will most certainly want to make sure it can keep your body protected from the weather. Water-resistance is one of the most important factors when you are checking how well the sleeping bag can protect you from the weather.
The best material to look for is a ripstop nylon or a polyester shell. These materials tend to be durable and sturdy and will resist tearing from the brush, rocks, or other sharp surfaces that could puncture the shell. If the shell is penetrated, then you should repair it before using it again as it will create an entry point for moisture.
Once you have checked the shell for durability, you should take a look at its ability to protect you from the wind. The insulation inside works by trapping air, but wind can quickly disrupt that process by blowing through the insulation. Airflow can mean that yours may not be able to keep you warm if you are in windy conditions. You will want to check the shell for wind resistance by placing your mouth against the shell and blowing against it.
Durability
Good quality will mean the difference between one that you purchase and use for years and a one that barely makes it through one camping trip. You should always look for high-quality, even if it means that you end up spending a little extra on it.
You will need to make sure that the zipper is a high-quality zipper that will not jam or break on you since a broken zipper will make it much harder to use. One thing to check is if the zipper is made of plastic or metal. Sometimes a manufacturer will use a plastic zipper as a way to lower the cost. You will want to avoid such zippers and instead look for zippers that use a high-quality metal alloy material instead.
After you have looked at the zipper and the stitching around the zipper, you should check the rest of the stitching. Some of the areas to check would include where the shell and the lining come together, stitching throughout, and also the stitching on the buckles and straps that are used to roll the bag up when you are not using it.
The shell should be thick enough to resist tearing and abrasions that could develop from using the sleeping bag. You do not want to have to experience the shell getting a tear from a loose branch or a rock while you are sleeping outside.
Features
Some do have features that you can use to enhance the experience and make it more useful for you. Some of these features include hoods, stash pockets, pad sleeves, and a pillow pocket.
Having these features can help improve your sleep and can become valuable features to have. Of course, there are plenty of other features that besides these features so you should always be on the lookout for double sleeping bags that have all of the features that you either want or need to have.
BEST DOUBLE SLEEPING BAGS REVIEWED & RATED FOR COMFORT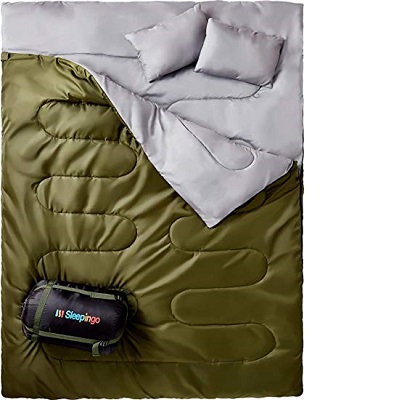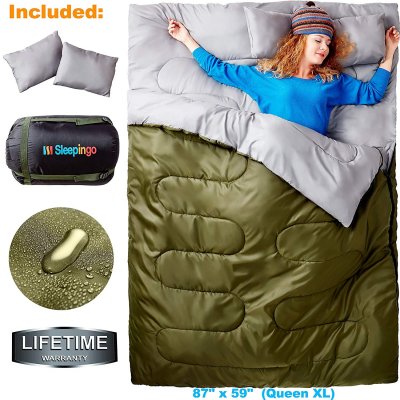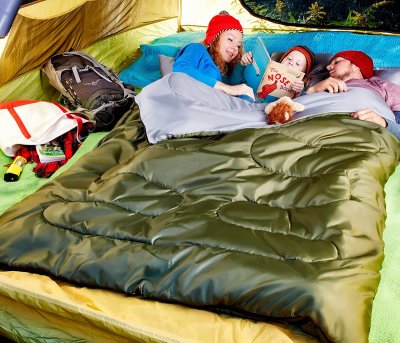 Bringing the comfort of home with you in the woods is a quality that many would not pass up, and the Sleepingo does just that. Use it as an option for two, or separate it to make two single blankets. Along with the 210 thread count bag, receive two travel pillows and a compression sack.
Soft Inner Material
When used as for two, it compares to the size of a queen-size bed, and the soft inner material combined with the water-resistant outer shell makes a versatile option for any outdoor pursuit. Rating down to 32 degrees Fahrenheit, this is a perfect bag for the spring, summer, and fall for your family or couple outing.
Water-Resistant Outer Shell
This bag can be used both in a tent and out in the wide open. The water-resistant, polyester outer fabric will keep you dry and protected from light moisture such as morning dew.
Cost and Value
For ranking out as editors choice and our top pick, the Sleepingo keeps a relatively small price for many features that give you the comfort of your own bed while out in the woods.

2

. Teton Sports Mammoth Double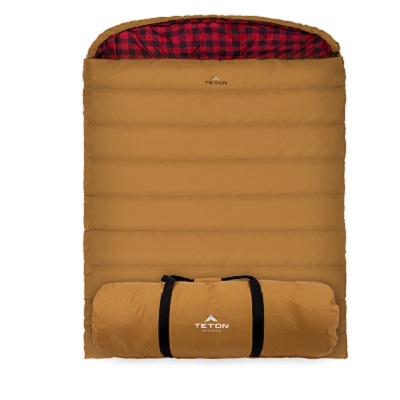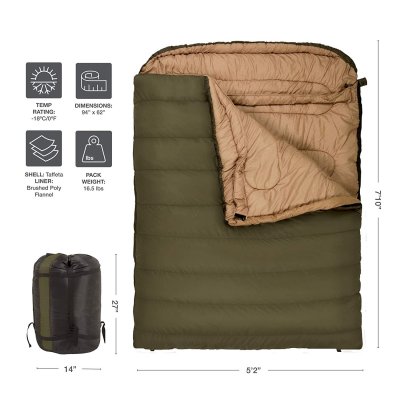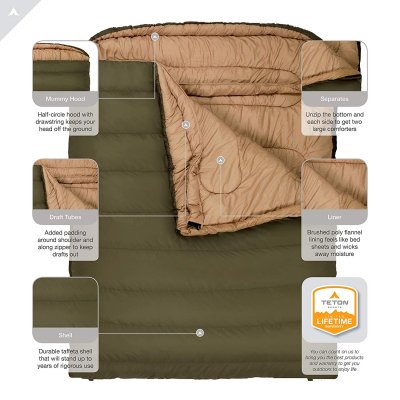 "Mammoth" is a fitting name for this giant two-person option. Weighing in at 16.5 pounds, there is no doubt that this is meant for front-country endeavors, and not as much for backpacking. You have many options as to what kind of bag works best for you, with the choice between either 0 or 20 degrees Fahrenheit, and six different color schemes.
Flannel Lining
The 100% brushed poly flannel inner lining of the bag is an addition to satisfy both comfort and warmth. Many prefer this soft material over more traditional bag linings.
Warmth
Across the board, these behemoths are outfitted with a Tefetta, water-resistant shell, SuperSoft Elite fiber filling, and a flannel inner lining to keep to warm and dry at night. The offset stitch construction and mummy hood ensure no cold spots, and the hollow fibers trap warm air in to keep you toasty.
Cost and Value
Teton Sports has long been known to provide some great sleeping bags, and the Mammoth shows why with a design created for warmth and comfort with your loved one. However, they come with a price, as this is one of the more expensive bags outlined here.

3

. Grizzly by Black Pine Double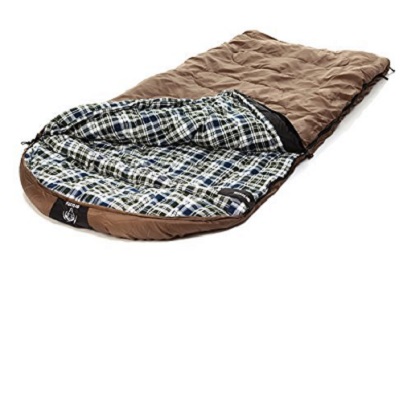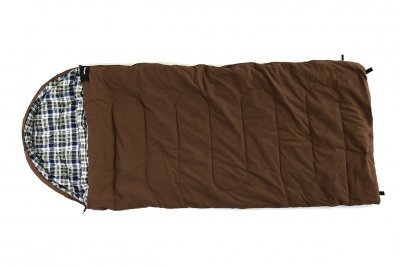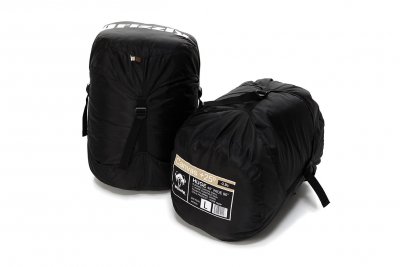 Similar to the Teton Mammoth reviewed above, the Grizzly by Black Pine is a true heavy-duty camping comfort. Perfect for activities that do not require lugging this around for miles on your back, this hefty 14.5-pound bag boasts three temperature ratings, multiple colors, and the choice of either polyester rip stock nylon or cotton duck canvas outer shell.
Three Temperature Ratings
Grizzly was thinking of everyone while designing this with a temperature rating of -25, 0, and +25 degrees Fahrenheit. No matter the season, there is a Grizzly bag likely to work wherever your next adventure may be.
Good for Everyone
Flannel lining and offset stitching paired with microfiber insulation and a mummy hood will keep the cold air out no matter the season. For those who are avid hunters, campers, and all-around travelers, the Grizzly is a bag you can count on to get a good nights rest.
Cost and Value
This rings in as the most expensive item outlined here. Not surprisingly, because their wealth of choices essentially allows you to create your perfect bag, and the durable material is likely to last for many years.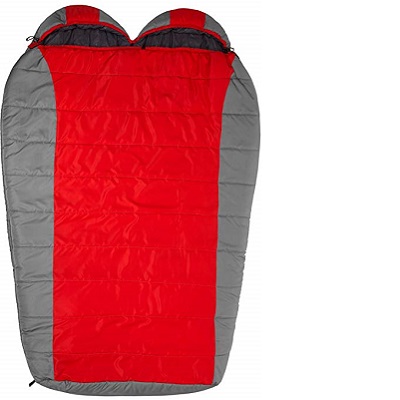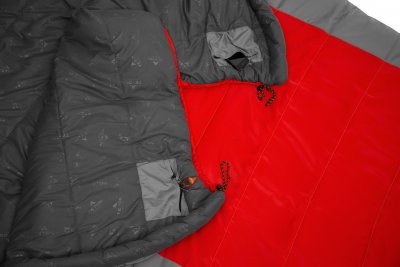 The Teton Sports Tracker is the top choice of many campers and hikers. It is a warm mummy-style bag meant for two people. This has technical features campers, and hikers appreciate.
Provides Warmth
This is best for campers who want maximum warmth when weather conditions are extreme. Those daring enough to rough it when weather conditions are below freezing take comfort in this.
Mummy Shape
Mummy bag hoods are needed to keep warm when the temperature drops. The three-piece hoods pull around the face to keep those inside warm, even in freezing weather. The hood keeps the pillow and heads off the ground.
Cost and Value
It has a lifetime warranty. It shapes to the body lines. The vaulted body-mapping foot-boxes will keep your feet toasty warm, even in freezing weather. There are zipper pullers both inside and out for secure closure.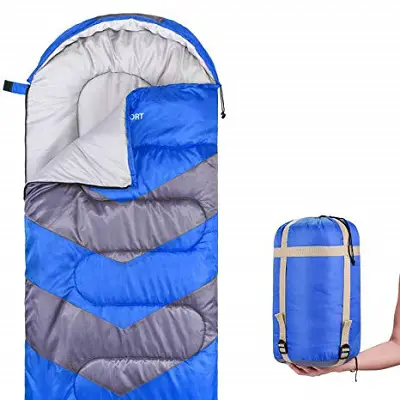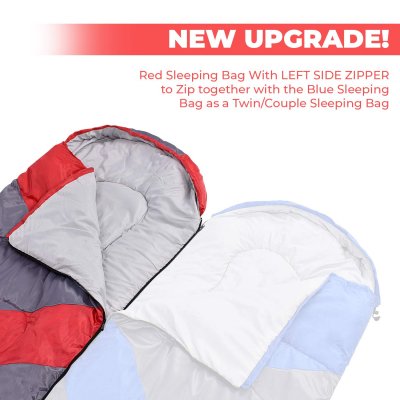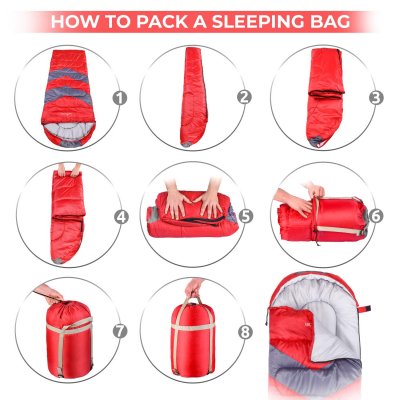 Being light and small enough to pack on your next backpacking adventure, this 5-pound bag features a rip stock polyester outer shell, double polyester fill and a super soft poly green lining.
Fits Easy into Sack
A common complaint of others is that it is quite a pain to get the bags back into the stuff sacks after use. The Abco Tech double sleeping bag has found a way around this, offering an easy time getting it back into its bag and stuffed down tight.
Specifications
Rating down to 20 degrees Fahrenheit, it makes a good three-season option for both front-country outings and back-country endeavors for you and your spouse/family. It also comes with two pillows and a compression sack which it easily fits into.
Cost and Value
Abco Tech manages to keep a relatively inexpensive bag while still holding a comfortable, warm, three-season bag that will hold up in the rain and to tough handling.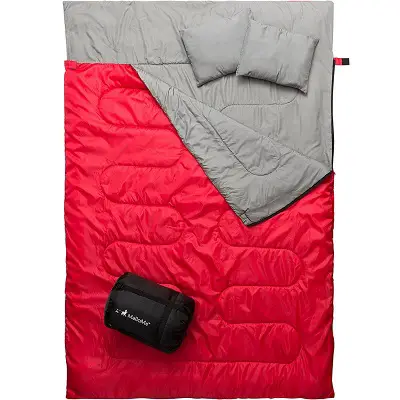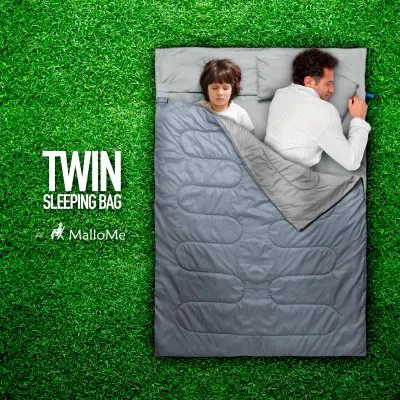 MalloMe Double Sleeping Bags are made to guarantee a night of good sleep after a day of outdoor activities. Regardless of how rough or hard the ground is, this is comfortable. The bag keeps the sleeper safe and warm when temperatures are near freezing.
Durability
MalloMe made this to be weather-resistant and waterproof. Dampness prevention is attained through S-shaped stitching and double-layer technology. It is stitched and shaped to make it durable under any weather conditions.
Comfort
The 100 percent polyester fabric is gentle on the skin. Both sides have zippers that to allow either sleeper to adjust the cover as needed. This fits comfortably in a two-person tent. It is longer than the average style. A person six feet, seven inches tall fits with room to spare. A hood at the top helps keep pillows from sliding.
Cost and Value
Those who rated this felt it was a quality product for the money. Customers who had issues received excellent customer service. Fantastic customer service is a reason people recommend it.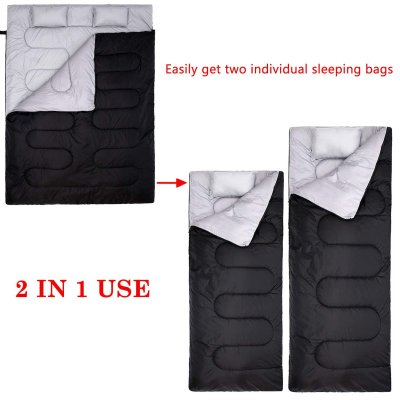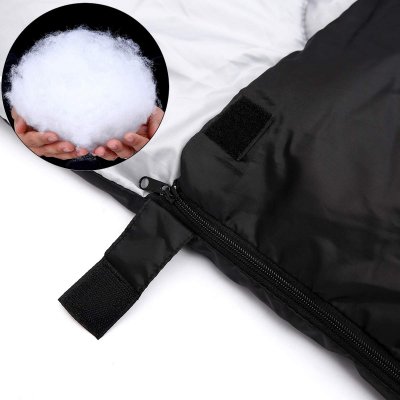 While its thin polyester, water-resistant shell, and cotton filling may not be warm enough for cold temperatures, it has a rating of 23 degrees Fahrenheit which should keep you warm the rest of the year.
Comfortable Pillows
By now I'm sure you've noticed a common theme of many of the pillows that come with these bags are that they are either uncomfortable or too thin. However, the Ohuhu offers pillows that many say are very comfortable while still being compact.
Features
Packing down to 11" x 19.5" and weighing in at a mere 6 pounds, the Ohuhu is right on the line of being small and lightweight enough for your next backpacking adventure. Similar to most other bags outlined, you can separate it into two individual bags, and it is accompanied by two, decidedly comfortable travel pillows.
Cost and Value
Ohuhu holds a similar price point to the Pohoma (mentioned below) and offers many of the same features. It is slightly heavier than the Pohoma but has more comfortable pillows and a slightly colder temperature rating.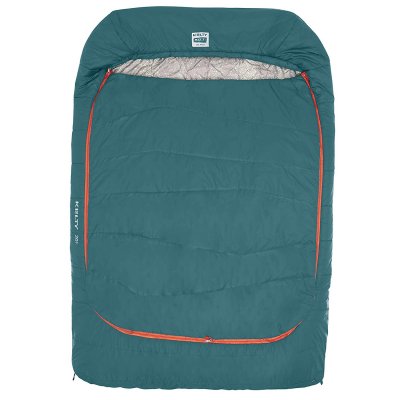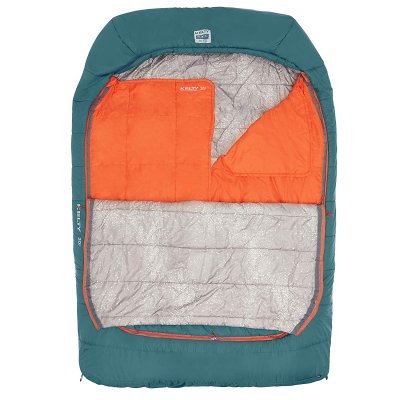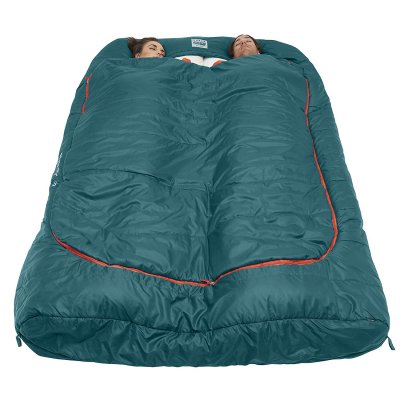 This is a great bag and Kelty is a great company. We love the way the zipper isn't on the border of the bag but rather us around the bag for easy access in and out. Just get settled in and zip up this bag around you and no amount of cold weather will bother you. It also has two built-in blankets and plenty of optional ventilation so you can adjust the amount of heat or coolness to your specifications. Plus as big as this bag is it actually folds up into a fairly portable sack so you can take it with you wherever you go.
Temperature Variable
This bag isn't just one temp fits all. It has plenty of ventilation so you can let in the exact amount of outside air that you want and it also has two blankets included with the bag so you can use them or toss them as needed. The cloud loft insulation is easy not only warm but it dries easily if you're camping trip turns wet and the liner and shell are made of super soft taffeta so not only will you be able to regulate your temperature you can do it in supreme comfort.
Oversized Hood
A hood is always nice to keep your head toasty and this comes with an oversized hood to accommodate two people there's also enough room for two standard pillows so feel free to bring your favorites from home and you can be sure that you'll get a good night sleep no matter how cold it is.
Cost and Value
Not a bad price really. There are some on this list that are plenty more expensive and some that are lower than this but we do like that this one has so many options for climate control and will work in nearly any season.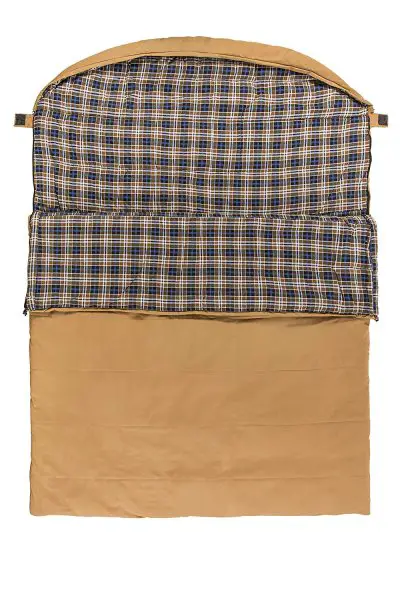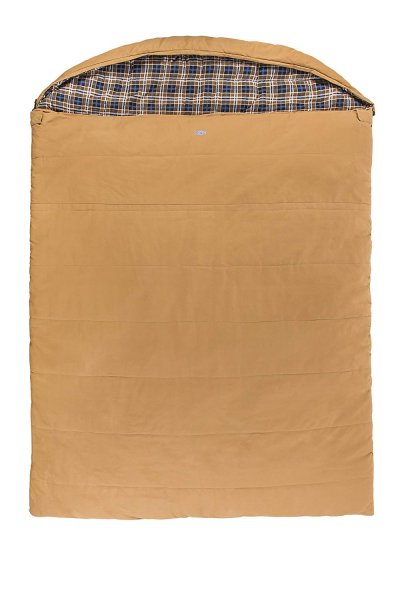 This is a simple bag but it gets the job done. It's designed for two people and it has a durable canvas outer and a flannel liner. Granted you won't get nearly as much temperature control with this as with some of the others on our list but you can't really go wrong if you're looking for a way to keep the two of you warm on a dark cold night.
Tested to Low Temperatures
This bag will keep you warm in temperatures as low as 10 degrees Fahrenheit, that's a solid bag and if you need more warmth than that then maybe you should consider getting somewhere just a bit warmer. The flannel liner is super comfortable and super warm. And the outer canvas lining ensures that this bag will be water-resistant and keep the warm air where it belongs, inside the bag.
Designed for Two people
This is not a zip together bag or just large one-person bag, this bag was designed to comfortably hold twp people and it was also specifically designed for cold weather so don't bring this bag out in the Spring or Summer but when Winter comes but you're not done camping then this is the bag for you.
Cost and Value
This bag comes in at a great price. It's cheap but this is a single-season bag so it makes sense.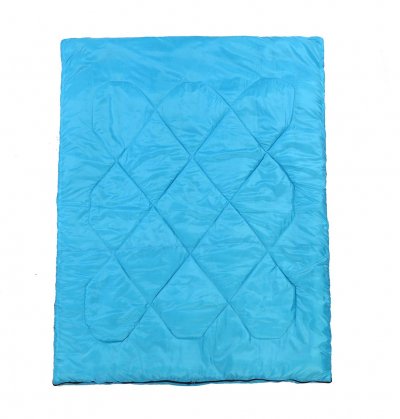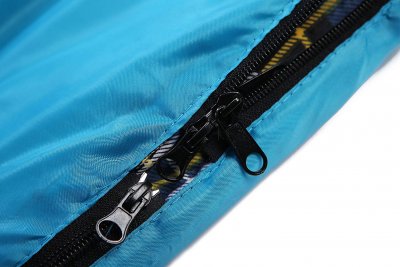 We love the Aircee because it separates into two bags but comes as one bag. So if you get in a fight you can separate the two bags and you can go to the camping equivalent of the dog house. We're kidding we know that won't happen.
Easily Portable
Believe it or not, this bag collapses into an easily portable sack so you can pop it onto the back of your backpack just in case.
Pillows Included
A nice little extra that we appreciate is the two little pillows that come with this bag. They pack nicely and ensure that you don't have to bring a pillow from home.
Cost and Value
For what you get a great little back. This comes in at about the mid-range price but since this separates into two different bags and comes with nice little pillows we like what we get for the money.

Subscribe to our Newsletter