Best Winter Coats for Dogs Reviewed & Rated for Quality
In a
Hurry? Editors choice: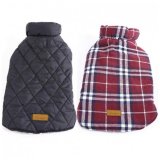 Test Winner: Kuoser Reversible

Winter is cold no matter what kind of material you have covering you - skin or fur. Humans have coats made especially for the cold weather so why shouldn't you canine pal as well? There is only so much warmth that their fur can provide. Here's a list of the best winter coats for dogs on the market. They are made of a variety of materials. Someare waterproof. There's also all of the different styles to think about. Do you want something flashy and eye-catching, or do you just want something that will get the job done? It's all up to you with this wide variety of clothing. It's good to look around and find the right one for your particular dog.
Standout Picks
Criteria Used for Evaluation
Weather Resistance
It can be totally fine to get any old jacket for your dog, but if you are taking your dog on a walk out in the wind or rain, it won't matter how thick their jacket is. You should look for a jacket that is both windproof and waterproof. This means that your dog will be insulated from the cold, even after a long amount of exposure. Many of the jackets on this list are considered both of these things. A waterproof and windproof jacket will do your dog better than a lot of insulation ever will. Look for materials that aren't made of fabric. Water will more quickly slough off of things like that. The other great thing to look out for is that the seals on the dog's jacket are nice and tight. Water falling right off the jacket is great, but oftentimes the water will fall right under the seams of the jacket. Dogs are much less vertical than people, so there are many more holes for water and wind to get into.
Insulation
A nice and thick layer of fabric will keep your dog nice and warm. In those cold months it can feel like you're torturing your animal when you bring them outside to relieve themselves. A thick layer of cloth will make that a much less worrisome ordeal. A good amount of insulation in your dog jacket is especially important for dogs with straight hair, or smaller dogs. For smaller dogs, think of getting one of the jackets on the list that come with more protection than just for the dog's torso. A full bodysuit for a smaller dog will make it so they can be taken anywhere, or at least keep them warm in a drafty house. For larger dogs, you shouldn't need much more than something that covers their torso. This is where your dog generates all of its heat, and if this part stays warm, than the rest of your dog will stay warm as well. It also helps them stay mobile, which will also increase their temperature.
Fit
Dogs come in many sizes, and no two dogs are the same. This makes finding a jacket that fits them very difficult. Dogs aren't shaped the same way as humans are. They are much harder to find clothes for, believe it or not. Many of the jackets on this list are designed to account for that. The most obvious thing to do is to get the right size for your dog. Many of the pages for these jackets come with a sizing chart that should make it easier for you to find the right fit for your dog. Something else to look for is to see how adjustable the dog jackets are. The best jackets will have some kind of adjustable strap that allows you to change the size of the jacket so that you can create a custom fit for your pooch. A jacket that doesn't fit well will often fall off the back of your dog, or won;t cover enough of your dog to be effective.
Protection
A great feature that you can find on many of the jackets on this list are features that are designed to keep your dog safe. This is especially important if you live in the city and walk your dog at night. If you work, then it is very likely that the only time you will be able to walk your dog is in the morning and night. Both of these times are when it is most likely to be dark. If nthis is a situation you often find yourself in, then think about getting a jacket that comes with reflective strips. This will make your dog visible for cars that you might walk by on the trail. Having reflective portions on your dog jacket is also important so that you can keep track for if they get off of their leash. It will make it much easier to find them. When finding a jacket with reflective portions, try to find one that has usefully placed reflective patches. Having them on top of the jacket isn't very useful for having them be seen. They also need to be able to be large enough that they can be easily seen.
Features
There are other useful features to look out for when buying yourself a dog jacket. Something to look out for is a good section of the jacket to attach a leash to. There are two ways that that is done among the jackets on this list. There is one way where there is a zipper that allows you to attach the leash to your dogs collar through a hole in the jacket. The other choice is to use a D-ring, which is an external loop to put the leash through. There are advantages to both of these methods. The zipper means that you will have a snug fit with the leash, but it can also allow cold to get in and under the jacket. The D-ring will make sure thast your dog remains warm, but it can also hold a little looser on your dog, and make it difficult to keep the jacket snug on your dog's back.
10 Best Winter Coats for Dogs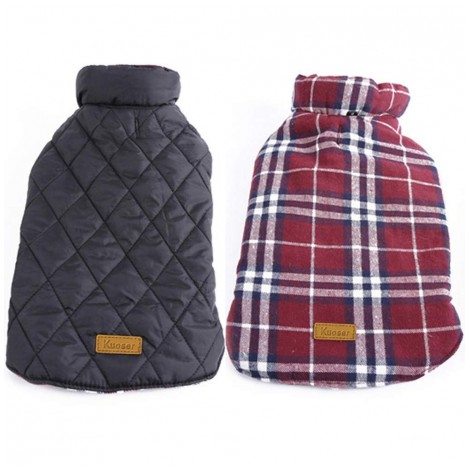 Kuoser's winter coats do a great job of keeping your dog warm. They are waterproof, windproof, and look stylish on any kind of dog.
Made for Warmth
The Kuoser winter coat is styled like a vest that fits over your dogs torso. It is filled with polyester fiber, and is very puffy so that it will keep your dog extra warm. It has been made of waterproof material so it won't get wet and make your dog cold. It also works as a windbreaker for those very windy days.
Stylish Look
The Kuoser is great because it has a very stylish look that will make you want to dress your dog up when you take them around town. It can be worn in different styles. Having two styles with one coat is great for being able switch it up for your dog, without having to buy multiple garments. The plaid vest is a very vintage look, and the all black look is very modern.
Cost and Value
A great thing about the Kuoser is that it does everything you might need out of a winter coat for your dog at a very reasonable price. It will depend on the size of your dog, but Kuoser sells very reasonably priced products. Their clothing comes in many sizes so there will definitely be a size that fits your dog.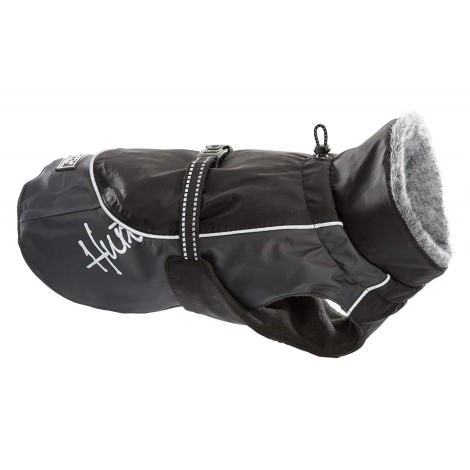 The Hurtta is an ergonomic winter coat that will make sure all of your dog's important parts are well protected from those cold outside days.
Ergonomic Fit
The Hurtta is a great Winter jacket if you want something simple and effective for your pooch. The Hurtta is focused on a close fit around your dog's torso. Keeping your dog's core nice and warm will ensure your dog is happy when outside. It is also very easy to take on and off.
Simple to Use
The Hurtta is great for its simplicity. It is waterproof and well cushioned so that your dog will never be cold while outside again. It has many other features that make it useful for everyday use. It can be very easily cleaned. All it takes is a simple wipe to get any mud or other debris off the coat.
Cost and Value
The Hurtta is a bit more expensive than the Kuoser. This is a very practical winter jacket that will get the job done with no fuss. This is a good choice if you don't worry about the style of your dog's coat. This jacket is easy to use and effective. Another point in its favor is that this jacket is adjustable so that it should fit every dog well.

3

. Weatherbeeta Reflective Parka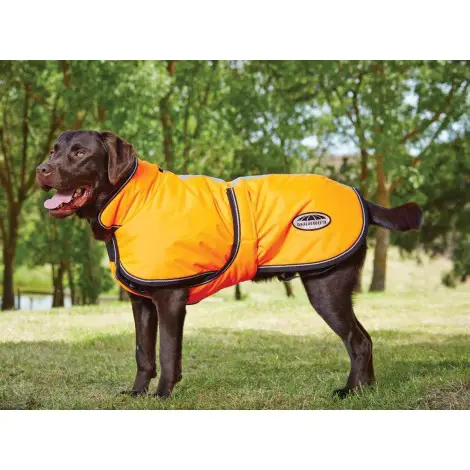 The Weatherbeeta is an effective Winter jacket that will keep your dog warm and safe. It has a thick layer of polyfil that makes it suitable for most climates.
Warm and Cozy
The Weatherbeeta does a good job of keeping your dog warm, even in the most chilly conditions. It is filled with also a half of a pound of warm filling so that your dog will never be cold when he goes outside. This coat is also made of waterproof material that won't become less effective when brought out into the snow or rain.
Other Features
A great bonus to buying the Weatherbeeta is that it is made of reflective material that makes it a great choice for anyone who lives in a busy town, or who has to often walk their dog on busier streets without lights. This coat comes in many bright colors. This makes it doubly effective if you want to make sure your dog is seen when you take them out at night.
Cost and Value
The Weatherbeeta costs a little bit more than other jackets on this list, but it does a really good job in all of the most important ways. It is warm enough for winter. It fits really well on all kinds of dogs, and it will make sure your dog is as safe as possible when you take him out for a walk The Weatherbeeta is a great choice.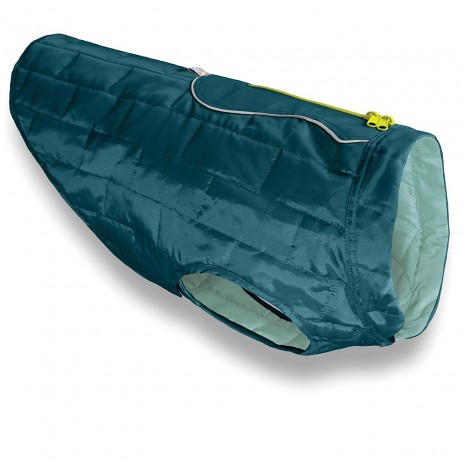 The Kurgo is a very simply designed Winter coat that is very effective at keeping your dog warm on cold Winter days. It has lots of great features that will make you sure that you've made the right choice.
Nice and Warm
The Kurgo is lined with a quilted material that will do a good job of keeping your dog warm, no matter where you plan on taking them. It is also a waterproof coat that means that this material won't degrade over the course of a wet day.
Bonus Features
This coat is also great because it comes with many useful features that will make your life easier. This coat is reversible so that you can put your dog indifferent styles as you need to. This coat also uses reflective material that makes it safe to bring your dog with you anywhere.
Cost and Value
This winter jacket is quite cheap when you look at all the great features that come along with it. It has everything you might need out of a Winter jacket for your dog, but also in a convenient and simple package. Another great thing about the Kurgo is that it comes with a lifetime warranty so you don't have to worry about anything happening to your jacket.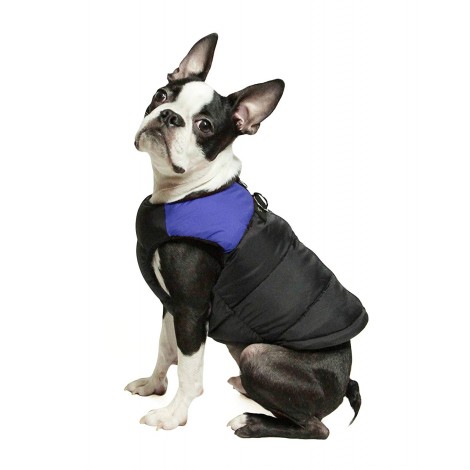 The Gooby padded jacket is a useful Winter jacket for dogs for multiple reasons. It uses a zipper, which makes for a better seal. It also comes in many styles.
Keeps Your Dog Warm
This jacket is very warm and will keep your dog feeling comfortable in any cold situation. This is another waterproof jacket so you won't have to worry about your dog getting cold over time. It also seals up your dog really well. It has thick padding that makes it extra warm. It is also lightweight so your dog won't get irritated by this coat.
Bonus Features
The Gooby has other features that make it a great choice for dog lovers, and lovers of convenience. The Gooby comes with D-rings that make it easy for you to put a leash on your dog, This is convenient because you won't have to go digging for your leash. It is also an easily washable jacket that is easily machine-washed.
Cost and Value
The Gooby doesn't cost too much at all. It is a great price for anyone looking for a Winter jacket that is both comfortable for your dog, and convenient for you. It also looks stylish and has all of the features you might be looking for.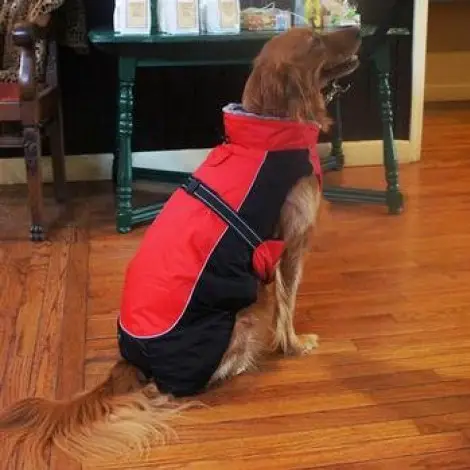 The Alpine is an especially warm dog coat that is useful for those who live in truly wintry conditions. The Alpine is a very warm and heavy-duty dog coat ready for whatever nature throws at you.
Cold Weather Coats
The design of the Alpine is made to keep your dog warm in any kind of cold weather. It is lined with highly insulating flannel on the outside, but also a black fur inside that is designed to keep your dog warm. They are also great at keeping your dog warm because the Alpine is highly adjustable. The collar of the Alpine is rimmed with fur, but can also be cinched off so that the warmth is kept inside the jacket.
Other Features
The Alpine has many other features that make it a convenient choice for someone looking to buy a winter jacket for their dog. The Alpine comes with a D-ring for leashing your dog up. The D-ring can also be covered up so that your dog can stay even warmer. It also has reflective portions on the jacket so your dog will remain visible, even at night.
Cost and Value
The Alpine is a little bit more expensive than other jackets on this list, but they do a good job of keeping your dog warm. These jackets are definitely for those who live somewhere a bit colder.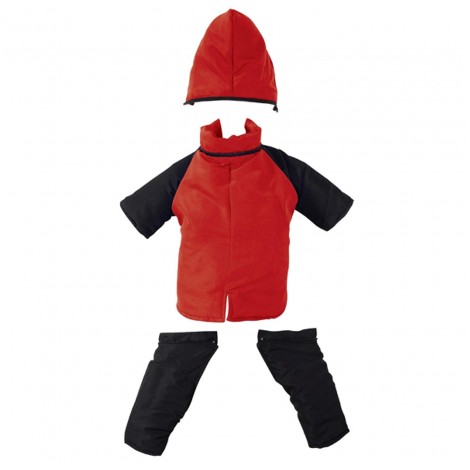 The Casual Canine Snowsuit is different than the other jackets on this list because it also comes with detachable legs and a hood.
Legs and Hood
The legs and hood that come with this jacket mean that it has the most coverage of the jackets on this list. The fact that they are detachable means you can customize the jacket depending on what your dog finds comfortable, and what the weather outside is like.
Other Features
The insulation of this jacket is made up of polyfil and nylon. It is highly insulating and will make sure that your dog is nice and warm in the Winter. It is also machine washable for when your dog gets out in the mud. The hood means that water won't get under the coat and get your dog unnecessarily wet and cold.
Cost and Value
This jacket costs a little bit more than the other ones on this list. It comes with lots of extra features so this choice is good for someone who has a lot of variable weather, or maybe has a dog that is getting especially cold out there.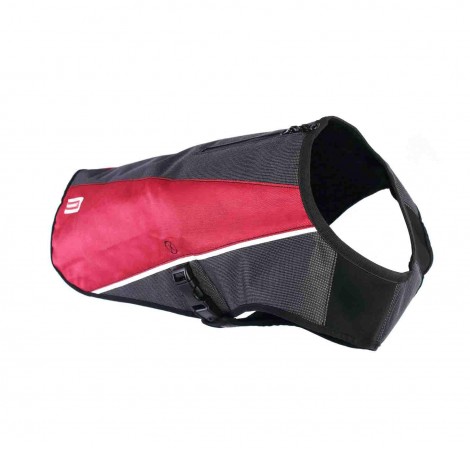 The EzyDog jacket is a lightweight jacket that packs a lot of features into its tiny frame. This jacket fits very well and is not as cumbersome as other dog jackets.
Keeping Dogs Warm
The EzyDog keeps your dog warm and dry by covering all of the important bases that are required in a winter jacket. This fleece jacket is effective as a windbreaker. It is also waterproof for when it is raining outside. It is also great as a down jacket. This jacket is very effective at keeping your dog warm and safe for how lightweight it is.
Other Features
The EzyDog is a great jacket for other reasons besides its lightweight build. It has reflective straps on the outside to keep your dog safe when going out for a walk on city streets. The other great thing about this jacket is it has adjustable holes for all of the legs and the neck. This makes it easy to fit this on your dog, but it also makes it easy to customize the fit so that any dog will get a good fit out of this jacket.
Cost and Value
This jacket is incredibly effective, and you can get it at a very cheap price. This jacket can do anything you need of it, and it will fit all dogs very well.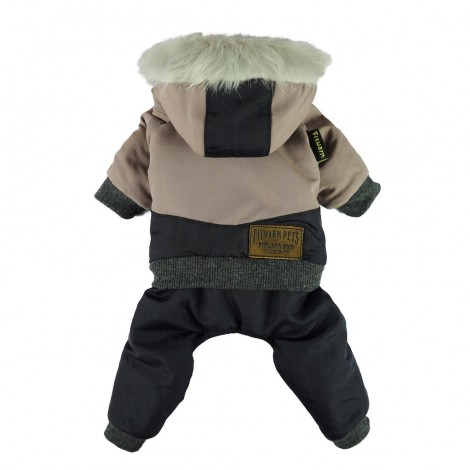 The Fitwarm snow suit is a whole set of clothing for your dog that is extra warm. This is a good choice for those breeds of dog that just seem to be cold all the time.
Very Warm
This is a full snowsuit that is designed for smaller dogs that have a hard time keeping themselves warm when they go outside. The suit has a hood and legs so that you can keep your cold dog completely bundled up. The seal on this suit is very warm and uses fleece to fully insulate your dog.
Small Dogs
The Fitwarm is designed specifically for tiny dogs. Tiny dogs often have a hard time staying warm, even when they remain inside. The Fitwarm is useful for all day wear, as well as being taken outside into the snow. Any time your dog looks cold, just put the Fitwarm on them.
Cost and Value
The Fitwarm is pretty cheap for what you get out of it. It is very warm and small dogs love it for its comfort inside and outside the home. It is easy to take on and off, and has enough sizes to cover all kinds of smaller dogs.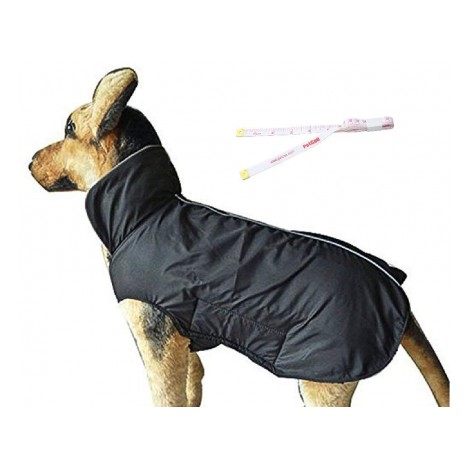 The PETCEE dog jacket is an affordable choice for general use for your dog. It is made of multiple layers of fabric and has a high collar to keep your dog's neck warm.
Warm and Cozy
This jacket is made of a comfortable fleece materials and has multiple layers of cloth to keep your dog warm. It also fits really well because of the attachable strings at the back of the jacket. You can wrap these around your dog's leg and it will keep the jacket fitting very well onto your dog.
Other Features
This jacket has many other useful features that make it a great choice if you are looking for a Winter jacket for your dog. It is reversible so you can choose the daily style for your dog. It also has reflective strips on the outside of the jacket that make this a safe choice for when you want to take your dog out for a walk.
Cost and Value
This is the cheapest dog jacket you'll find on this list. It has many convenient features that make it a great choice for anyone looking to make sure their dog stays warm throughout the Winter months. It is also windproof and waterproof, which makes it a great choice for any kind of outside weather.

Subscribe to our Newsletter