Best Shower Radios Reviewed & Rated for Quality
last updated:
Mar 05, 2019
Looking for a way to enjoy music while you're in the shower? It sounds like you need a shower radio in your life to bring fun to your daily routine! Finding the right one may not be as easy as it sounds, though, as there is a wide range of models to choose from. Some of them are completely waterproof, while others are just protected enough for you to have nearby; some only allow you to listen to the radio, while others can be connected to your favourite streaming app or mp3 player. Whichever you prefer, you want to know that what you are buying is really what you need, and that is exactly what we'll help you with here!
In a Hurry? The test winner after 8 hrs of research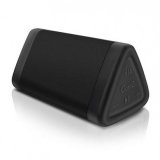 Cambridge Soundworks OontZ
Why is it better?
Water resistant
Connects to blue tooth devices for music
Can answer incoming phone calls
Charges via USB no batteries needed
Portable
In a
Hurry? Editors choice: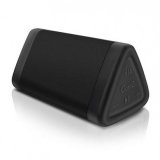 Test Winner: Cambridge Soundworks OontZ

6
Researched Sources
5500
Reviews Considered
8
Hours Researching
10
Products Evaluated
Durability
Water Resistance
Sound Quality
Power Source
Ease of Use
By Default
Top 10 Shower Radios
1

. Cambridge Soundworks OontZ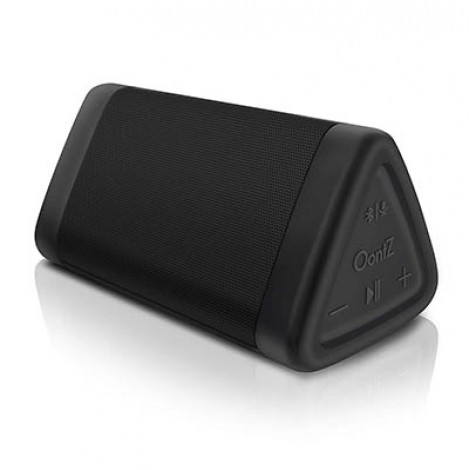 Water resistant
Connects to blue tooth devices for music
Can answer incoming phone calls
Charges via USB no batteries needed
Portable
No skip button
Charge lasts longer only at mid-range volume
This little speaker hooks you up to your own personal music, whether in the shower or out in bad weather. It's water resistant and portable which makes it perfect for activities you might not be able to take it to otherwise. Protect your phone, tablet or other Bluetooth music players by connecting it to the speaker and just sliding it out for use instead!
Don't let its size fool you, this little thing is great for taking a shower or practically anywhere you might want it to go. Its water resistance design means that as long as you aren't taking it into a torrential downpour, or directly into the water flow, it'll just keep going. Along with its design to handle most accidental drops, this is a great way to enjoy any music you have on a Bluetooth device!
Unlike many smaller speakers, this one is built to bring the music to you and let you sing along easily. Its quality construction ensures you get great volume without having to take up the added space. Now you can hear your music from your phone or tablet without having to worry about risking water on it or straining to tell which track is playing!
With its blue tooth connection, you don't have to worry about going through some sort of heavy set up just to enjoy your product the way you want. This one works much like your typical plug and play devices! Add to that, your speaker means you never have to miss a call in the shower again! A handy little button on the speaker means if you get a phone call you have to answer you can do so and not have to rush to get to your phone on time if you're using it for your music! For this price, it is an absolutely amazing buy!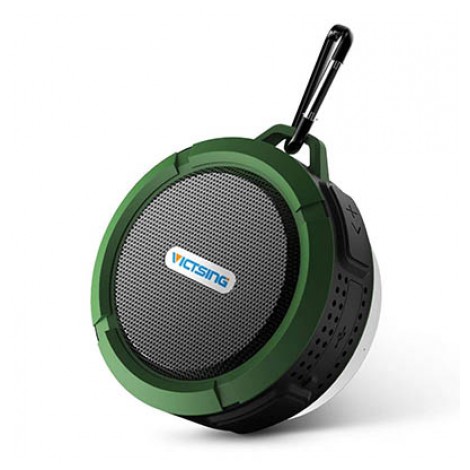 Water resistant
6-hour premium battery life
Skip function
Answer/ignore/return phone calls
Bluetooth connection
"Power on" voice always same volume
Want a small radio speaker you can easily hang up in your shower? Then look no farther than the VicTsing shower speaker. With this small hanging speaker, you can enjoy your music via blue tooth to listen to music through your phone or tablet. Read on to find out more about how this little speaker holds up to our high-performance standards.
Built to be shock resistant, water resistant and with its own rechargeable battery, this little speaker is a great addition for anyone looking for something portable that can be used in the shower or outdoors. So long as it's being properly used and not abused, you'll find this little creation will last and you won't have to worry about it costing you much to handle its job either!
This wonderful product gives you an ease of use that makes it well worth the price. With the ability to easily connect to your Bluetooth devices and the ability to even switch tracks with a light button click, you'll find that few things can match it. Like many of the other shower speakers on this list, you will also find it acts as a speaker so that you can answer phone calls easier even in places where its harder to reach or safely use your phone from!
No batteries needed! This little guy works on a rechargeable battery source which can be charged via the adapter that comes with it. So long as the charger you use is the one designed for it, this speaker will last you a long time, both in charge and overall. Having something that doesn't require much to keep going is a great plus and knowing it also won't take a bite out of your pocket is great news too!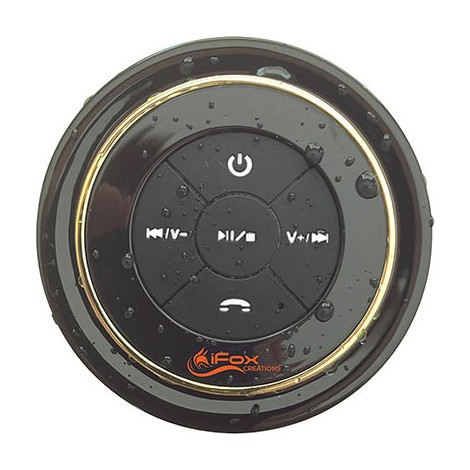 Waterproof
33-foot range with a Bluetooth
100% money back guarantee
Phone connectivity for calls
Easy to use
Easy to read buttons
Not as loud as some others
Suction cup isn't too strong
Want a shower speaker that can go the extra mile? Or maybe you're looking for something that can handle a bit heavier amount of water? This wonderful speaker isn't just water resistant- it's waterproof! Take a look and see just how much of a difference one little change can make- with no risks attached!
Able to be submerged and even take a bit of a tumble, if durability means 'best quality' to you, then you have it in this one! Not satisfied with just assuring you great music quality in your shower, iFox went full-fledged and made a speaker that can take a bath or go for a swim without any worries! Get ready to take your music with you wherever you go!
Easy to use is an understatement here! No matter what Bluetooth device you choose to connect it with, it takes less than three seconds to pair up- and can hold that connection up to 33 feet away! Wondering if it can get any better won't let you down either! This awesome device can answer your phone just as easily as the rest, and that is awesome to know you can catch a phone call safely and quickly no matter how much water your surrounded by!
When looking at any product you always look to see what it is you are getting is worth the amount being asked. When it comes to the iFox product, you are left with little doubt that what you are getting is definitely worth more than what you pay. Between the full water protection, the uses and the 100% money back guarantee you have nothing to think about- especially considering it isn't going to break the bank to begin with!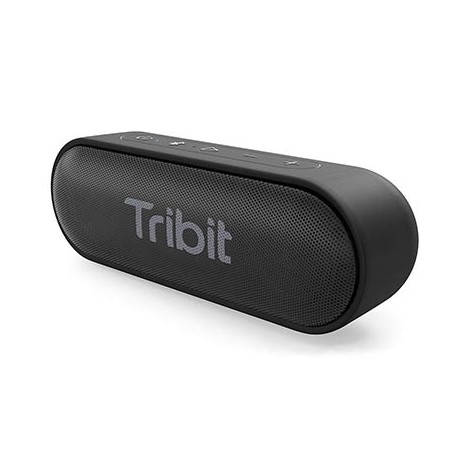 Waterproof/dust resistant
24-hour full charge battery life
Bluetooth 66-foot connection to devices
Works with Alexa
Can connect to non-Bluetooth with extra cable
Great balanced sound quality
Cord to connect to non-Bluetooth comes separately
Need something for water use where it might end up getting more than mild splashing? This little portable is the speaker for you if your preference is heavy showers and swimming parties.
Another wonderful choice for those of us who know we are going to end up dropping it into the water at some point because its simply our luck, this little item will allow us to enjoy music anywhere via blue tooth connection. Whether we want to listen to it in the shower or take a nice long relaxing bath, we can have our music next to us and not worry about how much water gets on it.
How long does one charge last? 24 hours constant music at your side between recharging and that's easily seen to on a full charge. That means you can leave it run literally without turning it off or down for 24 hours and just enjoy. That is incredible for any wireless device on a rechargeable battery- especially one playing your tunes
Not only can this speaker claim durability and a half against water, but it's also dust resistant and is small enough that it would take a lot to break it. If taken care of and used properly, this little speaker is bound to last you for quite some time without the need to buy another making it both durable and definitely valuable and without breaking the bank!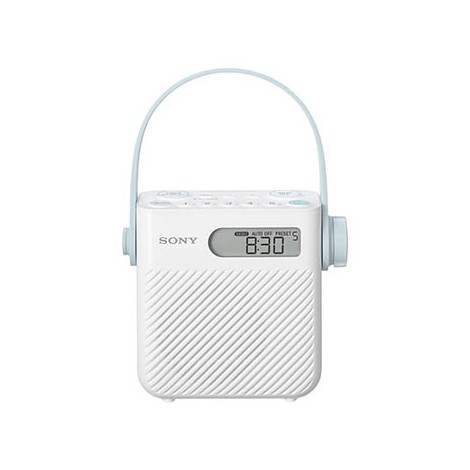 Long battery life (approx 100 hours)
Great reception (must be set up in US)
Nice volume
Water resistant
Looking for something a little smaller that lasts and can go wherever you need it? This portable shower radio might be perfect for your needs. Sony is well known for its quality products and this little item is not a letdown.
This little radio comes with a rubber strap and is water resistant for listening to in your shower. This means you can enjoy your music without worrying about small splashes hitting the radio and causing it to short out. Some radios on our list only come with a suction cup to hold it up, but this one comes with a sturdy rubber strap, so no worries that it could end up falling and getting more water than it can handle.
Worries you might not be able to hear the sound over the water? Don't! For such a small device this thing packs a great volume so that as you listen (or sing along) you can still hear the music over the water and enjoy the feeling of waking up or settling down depending on which you may prefer.
On the side of channels this radio can tune in quite easily with a small set up out of the box when you buy it state side. Once you read the instructions (only 1 page! ) the reception is great! This little radio picks up signals with enough strength that you don't have to worry as much about the phasing in and out that even car radios seem to do. One simple easy to follow page and you can get every station in your area.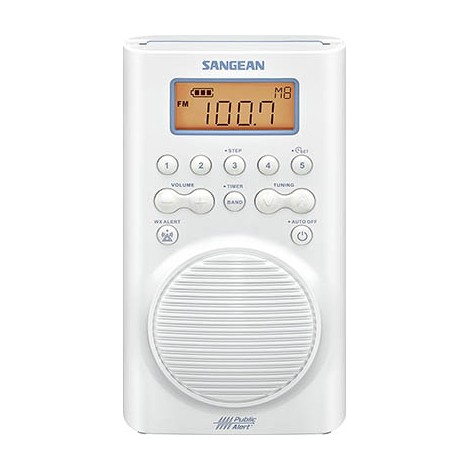 20 station memory
Weather channels
Waterproof
Weather alert system
Built in antenna
Looking for a way to keep track of more than one thing when enjoying your morning shower? Maybe music isn't your thing, or you prefer to have more than one option when it comes to what you listen to. Not all of us have MP3s to enjoy so we take to our radios, and this is one that will definitely keep you on track when showering. Read on for more information.
This radio can handle your shower no matter how much water might get splashed on it, and it's ok if it somehow ends up in the direct flow because it's not just water resistant- it's waterproof! Not only do you get your choice of stations, but it serves as a clock and has multiple weather stations included in its set up as well, allowing you to prepare for the day and know when it's time to quit singing and start drying off.
If you are looking for something that can produce quality sound, you have it with this portable radio. The sound quality is the best with its built-in radio and weather station features and works well with Bluetooth connections as well. If you're looking for something that will warn you of bad weather and keep you updated easily this is definitely the way to go as its alarm also has enough volume to let you know when you need to that you are in the area of a bad storm.
Although a little on the pricey side of things, the fact that this little radio also serves as an early alert weather alarm, a clock and even a clock alarm, and you can set up to twenty stations on auto recall makes it worthwhile. When looking for something to serve you all around this is where you'll want to look.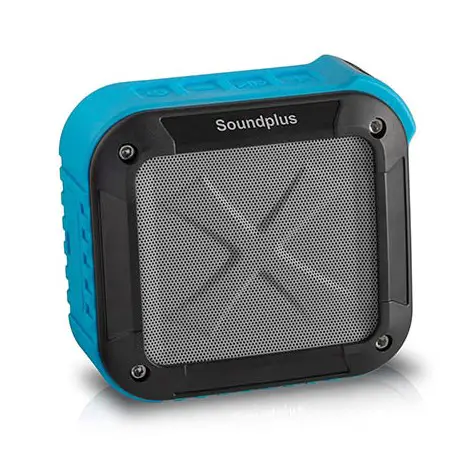 Great sound
Multiple ways to listen in
Extremely portable
Water resistant
Very durable
Shorter batter life
Hard to program radio
Want something that is waterproof but offers more than just Bluetooth for playing your songs? Then you have found the radio/speaker for you! Check out how this cool little item works and decide for yourself if this is just the right fit for your choice- we know it definitely deserves its place on our top 10!
The ease of use for this one comes with its many ways to play music for you, from a Bluetooth connection to an SD card, radio and even an MP# player itself! No matter how you prefer to set up your music for playing, this is the product you have been looking for to play your favorites in the shower or out on a hike in the rain!
This little speaker/radio packs a punch in the volume department. If you are looking for great volume and don't want to have to have it turned all the way up and still have to set it as close as you can get it this is perfect. No need to struggle to hear it, just set it up, turn it up and enjoy your music wherever it is that you are wanting to listen to it.
The quality you get at this price is often disappointing, but this one comes with surprising durability and great volume. With almost every Bluetooth you expect the quality to not be as good as with a direct connection to the music or having a better radio sound than the wireless connection, this one does great with all of its functions. The added SD card for music is an added bonus that makes the little gem great for taking anywhere and getting the music you enjoy without having to fuss to get the right station or syncing up with another device!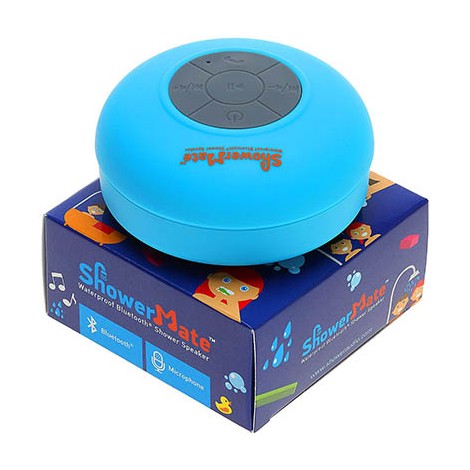 1-year warranty
Water resistant
Answer calls in the shower
Volume not as loud as some
Want a speaker to let you easily seek tracks without a hassle? Need something that fits your shower and your wallet? This speaker is Bluetooth connection and good quality for a price worth looking into.
This easy to use speaker has is easy to use and has a decent sound quality for those looking for a unique look to their shower radio. With acoustics in mind, this little radio is good for smaller showers to allow for greater sound carry and is perfect for those looking for a gift or their first shower speaker.
With a great customer service to back up this little radio, you know if you run into any issues you can find help right away. No wondering if your shower will end up soured by the sudden issues of your speaker taking over, if you need help fixing your radio, or simply need to see if you can get it exchanged, the customer service will help you to making sure your experience with them is great.
The design of this radio lends aid to it's water resistance, making sure water has a hard time settling on its surface and simply slides away. As long as you use it as intended and don't submerge it under constant flow, this little radio will last you a long time for only a small price. With the one-year US warranty, you know you won't have to worry about accidental spills despite its already great pricing!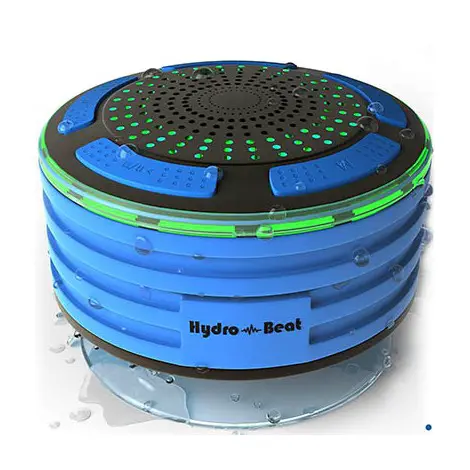 Great sound
Waterproof
Shockproof
Mood lights
Not as much range as some
Fixated on listening to your music underwater? This little speaker can keep you entertained under the shower, or even under 1 meter of pool water if you want! Don't pass up this one just because it's the last one on the list!
Most of the underwater shower speakers we have listed can answer your phone and are Bluetooth, this particular one however is also an FM radio making it stand out a bit. With the genuine full waterproofing instead of just being water resistant, it's worth looking into especially for those of us who tend to have a run in with accidents and splash resistant products getting a little more than a light splash when in use.
Durability is key when you plan to do more than simply use your radio in water filled areas outside the shower. This item is built to withstand even high intensity water use like kayaking and can join you in the pool as much as by it without falling apart at the seams. If you want something that can handle excitement, you will definitely find it here!
Want quality value with your paid for item? This wonderful radio comes with a one-year warranty and a trusted customer service team so that you know you are getting a quality product for your money. No need to wonder if you will get help if you need it, Hydro-beat is there to make sure your product is working for you as it was intended to do from the start.
10

. Gideon AquaAudio Cubo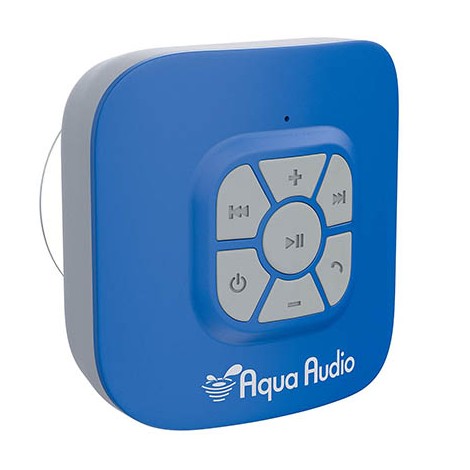 Easy to press buttons
Durable
Good sound quality
Waterproof
Shorter battery life than some
At such a great price, this little speaker could blow your mind easily. It has so many features for it's cost that it just had to be featured on our top ten. Take a look and decide for yourself, but we certainly found it pretty amazing to check out ourselves!
Small enough to slide into your purse, but powerful enough to make a morning shower sound as great as it feels, this little speaker will surprise you with its quality sound and great design. You can take it with you once you are done and just keep enjoying it for up to ten hours. With this good of a volume set up you'll hear every word even as you run your high-pressure water and tune in to your favorite songs via Bluetooth!
Easy to use, a button press, and hold will get you connected quickly to your Bluetooth device, so you can get started with your morning shower or come home and relax to that perfect toon. With easy to read and press buttons you'll be able to keep control of your tunes and even answer your phone quickly from your shower if and when you need to. This little item even runs with Siri which is great for us Apple lovers!
Want something cost efficient but also able to hold its own? This is great for those of us who don't have a lot to spend but still enjoy a morning sing-a-long shower. With all the perks of some of the pricier models and a lifespan that outdoes it's pricing, this portable, waterproof speaker will keep up with you for long enough to make every penny worth it.
Criteria Used for Evaluation

Durability
When you are looking at a shower radiodurability comes hand in hand with its ability to handle water, but it shouldn't stop there. If your radio takes a tumble it should still run afterward. Beyond the shower, if your radio has additional assurances such as dust proofing and shock resistance you are getting an even better deal. So when we looked at these products we checked and rated them both on what the company promises and what their customers had to say about this quality in their product. If they held up beyond the call of duty, we felt they deserved a higher rating than all the rest. If they fell behind the rest, then they likely got knocked off our list for those that could stand up to the test.
Durability doesn't mean that it can take more than accidental issues though, so we kept in mind that there are those who do not take to heart what certain words mean or who don't use the device appropriately and made our judgments based on proper use as much as what it was supposed to handle.

Water Resistance
Some devices are built to handle water better than others, so we took this into mind as we looked over each shower radio on our list. Not all shower radios met this criterion well and so they were quickly pushed aside, however those on our list either held up under the intended use, or did even more by not just being resistant, but full water-proof, which is awesome in our book!

Power Source
We know that how long your radio lasts become vastly important when looking for something for your shower time or any other water activity. After all, you can't just switch to your phone or iPod if you and your device will end up covered in water! Knowing you'll be able to enjoy your shower, bath, pool party or even kayaking experience while listening to your music is important with devices like these. All of the ones on our list will run the length of an active day, and some even longer. No matter what, though, we made sure it wasn't too hard to recharge or get rolling again even after the battery needs charged or replaced!

Sound Quality
Nothing is worse than getting into the shower only to discover that your new radio can't be heard over the water! We carefully checked each product for assurance that this wouldn't be happening to you. Whether you like an ultra-powered spray or just a heavy sprinkle, the radios on this list will be able to be heard as you wash up and sing to your favorite music. We also checked and rated each based on if the sound changed depending on what type of radio it was. Some have great sound with one device but are awful with others. We tried to maintain our list so that no matter what the source of your music was, it connected up properly to your radio speaker to give you the best experience available.

Ease of Use
No radio should be too difficult to use, and that includes those which connect to other devices. Not a single radio on our list takes more than a simple list of buttons pressed directions to get it set up to run perfectly. Some of them even sync with your larger devices such as Alexa or Siri to make things that much easier to operate! No matter what though, getting ready to use your radio won't take forever with anything on our list!
Expert Interviews & Opinions
Most Important Criteria
(According to our experts opinion)
Experts Opinion
Editors Opinion
Users Opinion
By Default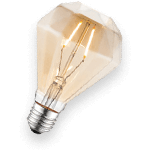 Make sure you can put it somewhere.
You would think that all shower radios are designed with the way it will hang, sit in, or attach to your shower a key thought. Well, it's not always the case. Just make sure you won't have to lay it on the floor of the shower, where it creates a fall hazard.
Consider quality over price.
A radio that is cheap and doesn't hurt your wallet is great, but only if it is any good. If the sound is awful, or the buttons are hard to navigate in the shower, or if the thing isn't really all that resistant to water, well wouldn't it be better to spend a little more for better quality?
Other Factors to Consider

Value
This is a big one for any of our lists on The Gear Hunt. We want you to know that when you get a product you aren't paying a lot for something that simply doesn't cut it. Many of the electronics in this day and age cost a pretty penny, so we want to make sure that each one you may have to lay out good money on will work exactly as it was intended and have a value in its use that far exceeds what you put into it. This is what we look for because more often than not we go out and find that when you put a dollar on something that normally costs fifty, it can end up costing you double just to keep up in the long run. The value of an item can't always be told by its price tag, however, and just because it costs more doesn't always mean you get more. This is why we carefully look at any item that seems to be a bit on the pricey side. We want to know it will outperform and has the backing to make you feel safe in buying it.

Water Resistance
When deciding on a shower radio you should always first decide on whether you need something that is just water resistant for the gentle pour or splash, or waterproof because you get that feeling it may end up under heavy spray assault. There is a big difference between one and the other, and if you aren't careful you can void a warranty with a single misstep. If you're the overly cautious type when it comes to your stuff, or you are certain it won't end up deep in the flow, a water-resistant radio can save you a couple extra dollars at points. However, if you are like some of us and accidents just seem to happen, you will want to make sure your radio will survive a full-on bathtub of water.

Flexibility
If all you want is to listen to the radio, you will want to make sure the option you take is actually a radio and not just a Bluetooth speaker for your devices to play music through. This is often overlooked because most think that a shower radio is still just a radio, but more and more devices are being switched to running with other devices and functioning as both music devices as well as clocks and alarms. A careful selection of your device will mean you get exactly what you are after, and not be disappointed with the results.

Protection
Many prefer, with good reason to have a warranty on their electronics, after all, they are usually very finicky and can break easily. This is especially true if your device is supposed to be capable of handling something like water. Always check to see if the product you are looking at has a warranty, and if it does, what exactly it covers. Not all warranties are the same, and not all of them cover the same length of time either. A manufacturer's warranty is also different from a satisfaction guarantee as the latter means that it doesn't matter why you decided you don't want the product, but the former has a set of restrictions including that the device usually must not have met a fate that goes against proper use- even if it was an accident.
Frequently Asked Questions
q:

What is the difference between water proof and water resistant?

a:

With something that is waterproof, you can usually submerge the device to a certain level and it will still function. A water-resistant device will only hold up to some splashing and still run. The level of water resistance is also something that can vary from product to product, so be careful when choosing something that will be near a possibly large amount of it.
q:

Are all of the listed devices water proof?

a:

No. Some of the shower radios listed here are just water resistant and can take an occasional splash. This is why we tried to make sure that we listed this aspect on all of them, so you can check to make sure you are getting the right one for you.
q:

Does all of these radios on your list have rechargeable batteries?

a:

Some of them do, in fact, most do. There are still a few that don't so when you go to purchase one, make sure to check whether what you are buying has what you want. Most of the time if they don't come with rechargeable batteries these days though, you can find rechargeable batteries of the type you need in a local store.
Subscribe to our Newsletter