Best Rowing Machines Reviewed & Rated for Quality
In a Hurry? Editors choice: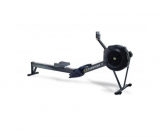 Test Winner: Concept2 Model D

Rowing is a great way to get cardio
exercise
while working your core and your upper body. It's a great exercise since you can use it as your primary cardio workout or mix it into your other workout routine. Rowing machines are a great way to give your lower body parts such as legs, ankles, and foot arches a break from the impact that you often experience with other cardio
exercises
. For some people, this may be the only kind of cardio exercise that they can do since they may not be able to stand to use a
treadmill,
elliptical, or a stepping machine. This review looks at several different styles in an effort to find the perfect fit for your lifestyle!
Standout Picks
Criteria Used for Evaluation
Style
One of the things that you are going to need to decide on is what sort of resistance that you want your rower to have. The choices are water, air, magnetic, and piston. The differences are significant so you are going to want to know about the different kinds prior to making a purchase. Otherwise, you may not be happy with how the rower performs when you decide to start using it.
Water rowers have a flywheel that is inside of a tank of water. They are costly designs but also give a smooth workout and plenty of resistance. It also the closet that you can get to rowing on the water in your home. Air is the next common kind of resistance. Rather than using water, it uses a fan that spins which provides you with resistance. It costs less than water and also will not make a mess of your home if it fails.
Magnetic resistance is the third kind of resistance. It uses electromagnets to create the resistance that you need in order to work out. This means that it will require a source of electricity and you also need to set the resistance prior to starting. Unlike water or air, you will not have a natural rowing feeling with magnetics but they are quiet and less expensive. The final option is a piston which is the most affordable option. Piston machines lack high resistance so they aren't suitable for strong people. You can also only use them for a short period of time or the piston will overheat. The advantage of this system is that it is inexpensive and small so piston machines are great for the home.
Features
Metrics
Most people are going to want to track their workout progress. In order to do this, you are going to need some sort of system that will monitor important metrics such as calories, strokes, distance, and time. More advanced rowers can also monitor heart rate and watts so that you have additional information to use when you are tracking your workout progress. It's important that you keep track of your workout so that you can manage your performance and get into shape or stay in shape.
At a minimum, you should have a rower that gives you a display for calories, time, and stokes. This is the minimum amount of information that you will likely need in order to exercise in an efficient fashion. More advanced rowers give you more information. For example, heart rate tracking is important for when you are training or trying to burn fat.
In addition to having a display, some rowers also work wirelessly with other devices. For example, modern rowers can interface with a smartphone application so that you can record your progress while you are working out. You may also want to get a rower than can use a Bluetooth heart rate monitor so that you can track your heart rate in real time. This will allow you to track your heart rate closely so that you can get the maximum amount of performance. If these metrics are important to you, then you should look for a rower that includes such features. This will allow you to get the best performance from your rower in terms of your workout so that you are more likely to be satisfied with using it.
Resistance Amount
Some people are just starting out and therefore do not need as much resistance as people who have been rowing for a while. For this reason, you going to have to check and make sure that the rower that you are purchasing will give you the proper amount of resistance. Not all rowers are the same so you going to need to try a few different kinds of rowers in the showroom of a store or the gym prior to making a decision about which rower you are going to purchase.
The first two kinds of rowers, air, and water, should, in theory, have an unlimited amount of resistance. This is because they are using natural forces to create resistance and therefore the resistance is based on how hard you are rowing. Many people who are training for competitions prefer these kinds of rowers for this exact reason. They are accommodating to everyone's skill and fitness level and if you are not sure, then you should go with one of these two kinds of rowers.
Magnetic and piston rowers have adjustable resistance settings. Between the two, magnetic tends to provide you with more resistance than a piston because more electricity creates a stronger magnetic field. Many experienced rowers find that the piston rowers do not have a sufficient amount of resistance for them. Piston rowers are great for people who are starting out but they may not offer enough resistance once you get used to rowing. When you are looking at these rowers, you should test the different resistance settings and make sure that they are proper for your body. This way, you will get a rower that is sufficient for your needs.
Size
When you are shopping for rowers, you are going to need to think about the space requirements that are needed in order to use the rower. If you fail to consider how much room the rower is going to need, you may end up in a situation where you can't easily use the rower in your home because you don't have enough room. Almost every rower will provide you with how much room is needed on your floor in order to use the rower. It may be a good idea to give yourself a little extra space in the event that you find that the space requirements are too tight.
Once you are done using the rower, you may need to put it away. This may not be necessary if you have a dedicated fitness space in your home where you can leave the rower out all of the time. However, if you do not have a dedicated fitness area, then you will want to pay attention to how the rower is stored when you are not using it. Many rowers fold up so that they can be stored in a closet. If this is important for you, then you are going to need to look for a rower that has such a feature.
A final feature that you may want to have is wheels. Wheels make it easy for you to move the rower to a different location which is useful for when the rower is used in the home. Wheels should be considered to be a necessity when you are going to fold the rower up and put it away between uses but you may always want to look for wheels.
Durability
Rowers need to be built well enough to withstand the forces that are created by exercising. For this reason, you are going to need to make sure that the rower is well made and is durable. If the rower isn't durable, then you can deal with issues such as the rower breaking when you need to use it or even getting injured when the rower fails. There are a few steps that you can take to make sure that your rower is built well and will last.
One thing to look at is the construction of the frame. Typically frames are made of wood, aluminum, or steel. It doesn't matter what sort of material has been used to make the frame but rather you should make sure that it is built with a high-quality grade and is thick enough for the material. Many users complain about frames bending or wearing out due to metal fatigue so thicker may be better. If the frame is made of wood, you will want to make sure that it is made of hardwoods that are free from defects such as knots.
Bolts and fasteners tend to be another problem area for rowers. Lower cost rowers tend to use low-quality fasteners which tend to snap or break after using the rower for a while. This can lead to users having to go to the hardware store to get replacement fasteners. A well-made rower will use higher quality fasteners that will prevent you from having to go through such as hassle. You should keep in mind that this isn't an exhaustive list of common quality problems in rowers so you will want to do your homework in this area.
Value
You can get a rower at just about any price. Many people find this to be advantageous since it means that you can get an inexpensive option if you are just getting started and work your way up if you start to get serious. You will find all of the features that are commonly found on other cardio machines such as calorie count, heart rate, and time spent. This allows you to track your progress while you are working out so that you can get the most from your workouts. If you need something that is perfect for cardio, then you should consider rowing.
10 Best Rowing Machines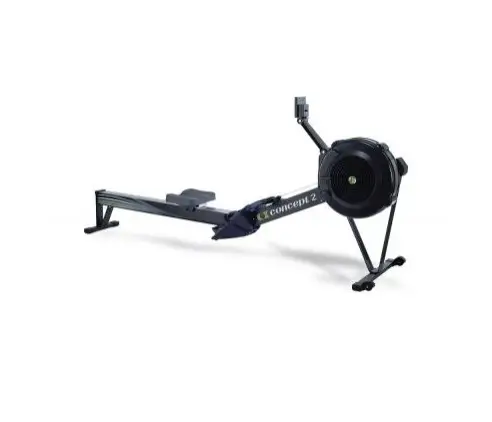 The Model D is a great in home piece of cardio equipment. It's a great way for you to get into shape without having to worry about feeling impacts on your body that you would get from other cardio exercises. You can shape and tone the muscles in your upper body all from the comfort of your own home so that you can look your best.
Real Time Data
Since you can't manage what you can't measure, the Model D tracks important metrics such as calories and heart rate. Such features will help you get the maximum amount from your workout.
Easy Assembly
You won't have any trouble putting the Model D together when it arrives. The entire unit assembled with only eight screws so that you can get started with using it right away.
Cost and Value
The Model D is a premium item that is sold at a price that is well above the average price. It's long-lasting and packed with plenty of features which is why you see it sold at a high price.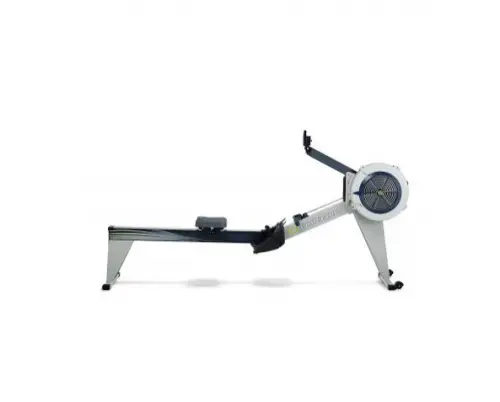 The Model E is a great choice for when you want something that sits higher off of the ground. It's a rower that meets the standards that are required by many commercial gyms and fitness clubs. This allows you to trust the quality so that you can get the most from your workout each and every time that you use it.
High Profile
Most rowers sit low to the ground. This one sits 6 inches higher than other rows which are good for people who are in a wheelchair or have mobility issues.
Commecial Grade
It's built to the same standards as commercial grade rowers. This allows you to trust that it is well made and reliable so that you can focus on staying in shape.
Cost and Value
Since it's a commercial grade row, you will need to plan on paying a high price for this rower. It's well made and is a premium rower that you can trust will last.

3

. Merax Magnetic Exercise Rower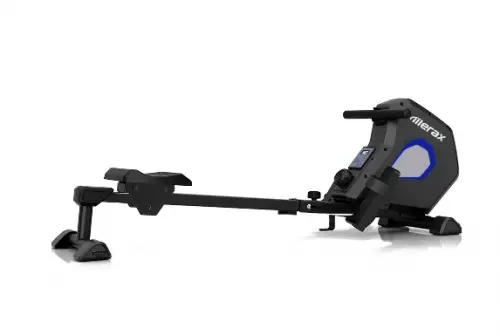 Not only is this a great machine but its cool looking. It has 8 levels or adjustable resistance and it's easily changed mid-workout if you need to ramp up the intensity or take it down a notch. Beyond that, it has a nice padded seat and non-slip footrests, and the seat and rowing length is also easy to set to your own personal standards. And finally, it's foldable and quiet, so we're fans of this one.
8 levels of intensity
The simple twist knob allows you to do what you need to in order to get the best out of your workout. Plus you can do it in the midst of your workout and get the most out of your fitness routine. Plus it has 8 different levels of intensity so it leaves lots of room to specialize a workout just for you.
Large LCD Display
The workout is only as good as the monitor that lets you feel like your burning those calories and rowing those miles. We're kidding of course but we like a monitor that allows you to monitor exactly where you are in your workout so you can know exactly when you can quit, or if you need to add a few miles to your workout. The display shows Time, Counts calories, and tracks your progress over time.
Cost and Value
Here is a model that will provide you with a valuable resource at home to improve your daily workout routine. Adjust the setting to make the machine work to your fitness level. Fold it down for easy storage so it is never in the way.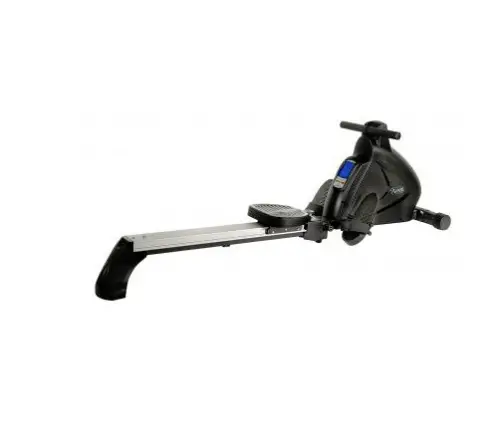 This rower is a great machine to get for home use. It comes fully loaded with features that will help you tone muscles, lose fat, and get into shape. You can adjust the resistance easily while you are working out so that you can get the proper resistance that you need. This will make it easy to get the most from your workout.
Workout Programs
This rower has 12 workout programs. Six of them are cardio, one is a heart rate program, there are four custom programs, and finally a manual program. These programs give you more than enough workout choices.
Back lit Monitor
The rower comes with an LCD monitor that is backlit. This allows you to easily read the display so that you can see the information clearly. The backlights allow you to read the monitor in low light.
Cost and Value
The Avari is sold at a price that is slightly higher than the average price. You get a lot of value for the extra premium since it's fully loaded with features.

5

. Sunny Health & Fitness Rw5515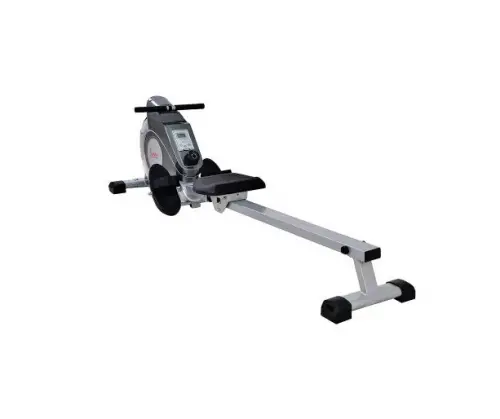 The RW5515 is a great option for a home rower. You can assemble it quick and easy so that you can get started right away. Furthermore, the machine is easy to move around your house thanks to it being lightweight and having wheels. You will love how easy it is to increase the intensity of your workout so that you can get into the best possible shape.
Foot Pedals
This rower has foot pedals that are extra large and steady. This gives you a great non-slip surface so that you can focus on rowing rather than holding onto the rower.
Grip Handlebars
The handlebars on the rower are cushioned with a non-slip surface. The grips allow you to hold the handlebars comfortably while you are using the machine so that you get your best workout.
Cost and Value
You can purchase the RW5515 at a price that is lower than the average price. The lower price turns it into a great option for use in your home since you don't have to spend a premium on it.

6

. Goplus Magnetic Folding Rowing Machine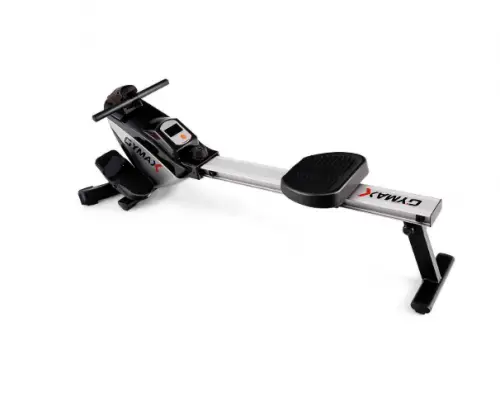 Short and sweet with all the bells and whistles you've come to expect from some of the more pricey machines we've seen on this list. That's why we like the Goplus rower. The aluminum beam is sturdy and it's surprisingly light and foldable. It's a great low price choice that's guaranteed to give you a good workout.
Durable
The aluminum beam is surprisingly strong and provides that smooth as silk gliding motion that you want from a rower. The padded seat is well built and non-slip as are the handlebars and foot pads.
Built-In Wheels
This is a nice little plus that lets you push or pull around the machine easily. It's also foldable of course so the nice combination of wheels and folding ability makes this a piece of equipment that's easy to move and store. And that means you have fewer excuses not to work out.
Cost and Value
Another low price machine on our list. But you get almost everything you want in some of the rowers that cost almost twice as much. What you get is a well-built machine with a great heads-up display, and easy mobility, in a machine that will handle all the punishment you can dish out

7

. Sunny Health & Fitness RW5639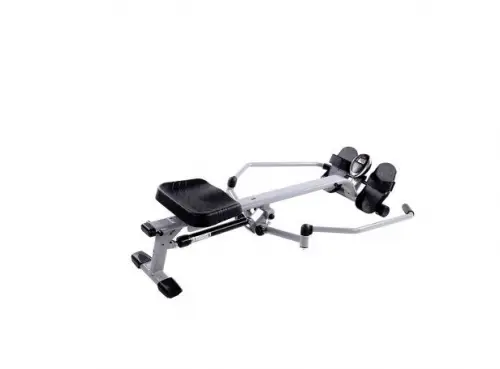 The RW5639 has been designed to give you a boat like feel while you are rowing. This helps you row more naturally than what you can with the machines that have a chain or cord design. It's a small and lightweight unit that is great for home use. You can easily track your progress using the LCD display so that you get the best workout.
Full Motion
This rower has full motion arms that allow you to row in a fashion that is more similar to being in a boat. You can get a better workout on your shoulders using this design.
Foot Pedals
The foot pedals are large and have a non-slip surface. Additionally, there are also foot straps that help to keep your feet locked into place as you use this rower.
Cost and Value
You can purchase the RW5639 at a price that is well below the average price. The lower price turns it into a great option for someone who needs a home exercise solution.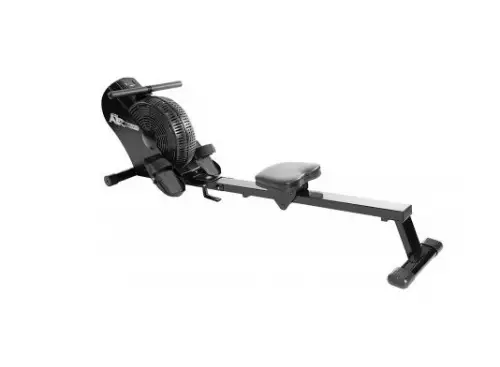 The Air Rower is a great way to get plenty of dynamic wind resistance. This means that the hard you work out, the more resistance you will get since it uses a wind turbine to provide resistance. You will love how comfortable this machine feels while you are using it as well since it has padded bars and seat.
Wind Resistance
The resistance comes from wind turbines. The wind is great because it doesn't limit the amount of resistance that you can get and the move is nice and smooth as well.
Compact Storage
You can fold the air rower when you aren't using it and move it into a storage area with the wheels. This feature turns it into a great system for your home.
Cost and Value
You can purchase an air rower at a price that is slightly lower than the average price. It has many features found in premium rowers so it's an excellent value for the price.

9

. Stamina 35-1402 ATS Air Rower


Another entry in our coolest looking mower category. The space-age housing offers a great wind resistance based, efficient rowing system. The sliding seat is padded, and the large foot plates make this an ideal piece of equipment for the family.
Easily Foldable
This has a foldable frame that will make your storage woes a bit easier to has built-in wheels so it's easy to move around the house or out into the yard if the spirit moves you to get some exercise outside or out of town.
LDC Display
This is standard fare but we like the looks of this one plus it provides all the things you expect and need from an LCD display, strokes per minute, total strokes, distance, speed, time and calories burned. The monitor fits snugly into an easily readable part of the rowers' hardware.
Cost and Value
A bit more towards the high end but it really a cool looking rower that's compact enough to go anywhere but sturdy enough to get you through that huge workout this is a great piece of equipment.

10

. Stamina Body Trac Glider 1050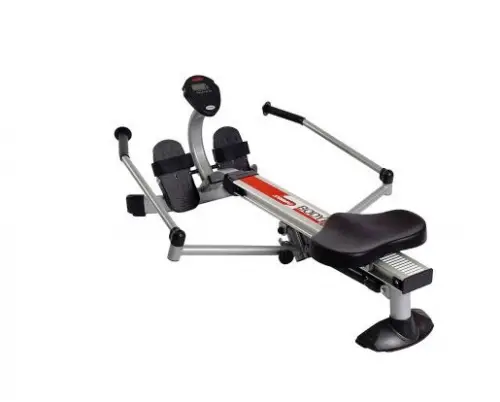 The Trac Glider is a great option for people who are looking for a home-based solution. You will love the feel of the swing bars that are designed to give you a feel that is similar to what you would experience on the water. The footplates and the seat have also been designed for comfort so that you will love this machine.
Molded Seat
The seat has been molded so that it conforms to your body and allows you to row in comfort. This will make it easier to use the rower without getting sore.
Easy Storage
You can fold the Trac Glider up and store it in a closet. This lets you keep it out of the way when you are not using it so it's perfect for the home.
Cost and Value
You can purchase the Trac Glider at a price that is lower than the average price. The low price turns it into an excellent option for the home user since you don't have a pay a premium for it.

Subscribe to our Newsletter