Best Key Finders Reviewed & Rated for Quality
last updated:
Mar 11, 2019
One of the most frustrating experiences can be realizing that you have misplaced your keys. Especially when you are already running behind for the day. There was a time when you would have to drop everything to search the entire house for them. If your anything like myself, you have purchased an alarming number of key racks.  With the best of intentions, to use them to become more organized. Only to find yourself tossing the rack out later because no one is using it. In this day and age, there is a little thing called a key finder. They are great for helping you locate your missing keys when you're already late getting out the door.
This is the best product on our list that is currently in stock: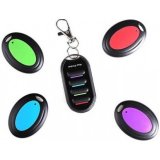 Aoonar
Why is it better?
The alarm has a good volume.
The remote and receivers are color coded.
This option uses technology to extend the life of the battery.
Batteries are easy to access in order to change them.
In a
Hurry? Editors choice: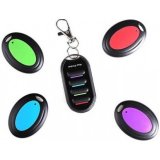 Test Winner: Aoonar

3
Researched Sources
18
Hours Researching
10
Products Evaluated
Responsiveness
Features
Power Source
Sound Quality
Value
By Default
Top 10 Picks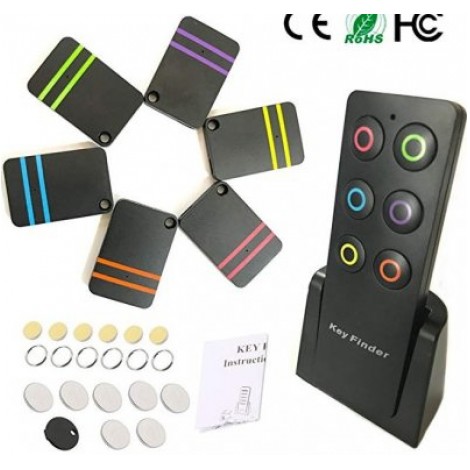 This selection comes with plenty of receivers.
The batteries are easy to reach and require no tools to change.
The receivers and transmitter are color coded.
Receivers have a red flashing light on them.
The alert sound for this is not very loud.
The last selection on the list is one that can be used for a multitude of tracking reasons. Offering you a good number of receivers, you can use this for many occasions.
Tracking Possibilities
With the number of receivers available for you to use you can track many items. Some are nervous about there luggage making it through the airport. Take the system along on the next trip to be sure you leave with the correct bag.
Easy to Change Batteries
Some of these systems will require the use of tools to change the batteries. Typically it is a tiny screwdriver which leads to keeping track of a tiny screw. With this system, all you have to do is slide the back panel off. That will give you immediate access to the battery in order to change it.
Cost and Value
Here is a mid-range price option, that has the potential to do great things for you. Allowing you to track more than one item while remaining simple to use. The battery is easy to get at so changing them will be a breeze.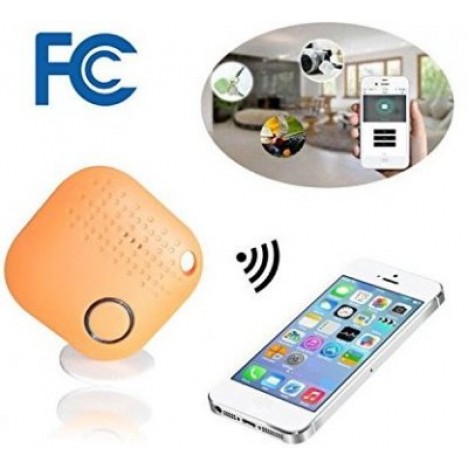 Can send alerts when you are getting too far away from the fob.
You can pair this over a Bluetooth connection.
The fob can also be added directly to the app.
This comes with a one year warranty.
Some users have expressed concerns that there are too many disconnections.
Another great choice when looking at the world of Bluetooth capabilities. The amount of potential in such a small item will blow you away. Afterall as the saying goes "good things come in small packages".
Alerts
Not only can you receive alerts to find your lost item you will be alerted when you leave things behind. When the phone you paired gets too far away from the tracked item, an alert will show on your phone. This allows you to turn back before it is too late.
Pairing or Direct Add
There are two ways for this option to work. Both of which will require the use of the app. You can pair the two items, the phone, and the fob, over the Bluetooth network. Another direction to choose would be to add the fob directly to the app. This eliminates the stress of devices not pairing well or signals getting lost.
Cost and Value
Here is an inexpensive selection to dabble with the Bluetooth possibilities. Allowing you several ways to keep track of the items that you frequently seem to lose. Two different options for syncing the devices make for better connectivity.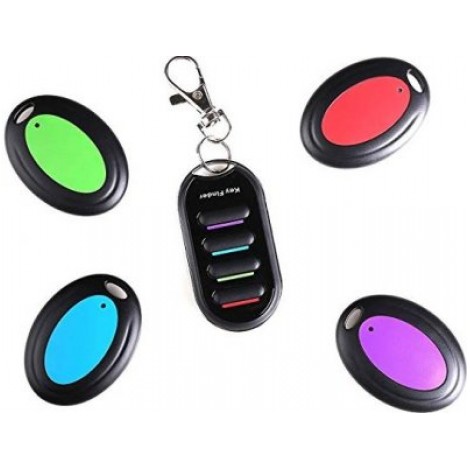 The alarm has a good volume.
The remote and receivers are color coded.
This option uses technology to extend the life of the battery.
Batteries are easy to access in order to change them.
Some users have questioned the durability of this product.
Here is a selection that offers plenty of receivers for you to use. The remote has corresponding buttons for each receiver. With a good range for the frequency, you can use this around the house.
Color Coded
To ensure you are tracking the correct receiver, each one is a different color. As a double measure, the remote has matching color buttons. All you need to do is remember the color you have paired the lost item with. Since forgetting is your thing, we recommend making yourself a list so that you can remember.
Where This Can be Used
Although this has a great frequency range it is best to use this option within your home. Being a radio frequency option, there are no alerts to be missed.
Cost and Value
This selection can be valuable for aiding in the recovery of lost items within your home. The color coding will allow you to be certain that you are searching for the appropriate item.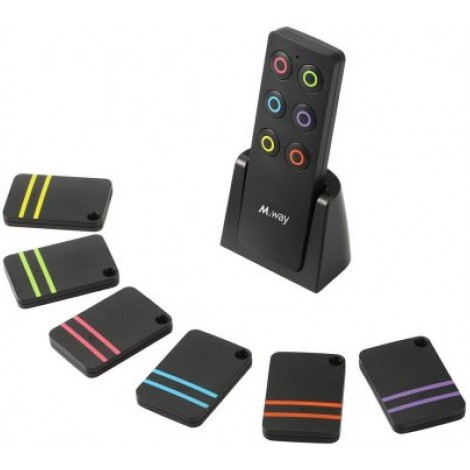 This offers a wide frequency range.
Included are six receivers for you to use.
The alert sound is loud enough to hear.
The transmitter comes with a stand to place on the counter.
The adhesive backing is not that great.
Some users have questioned whether the range is accurate.
This one brings us back to the radio frequency options. Providing you with a wide frequency range you can place this on your toddler's favorite toy. That way you can prevent meltdowns from happening.
Frequency Range
The range provided by this option will pair well with searching within your home. The signal has the strength to pass through walls so you can check a room without even entering it.
More Than Keys
Most people use these to track their keys. This one has the potential to track way more than keys. Children tend to lose their favorite toys which can cause pandemonium in your home. Now you can attach one of these receivers to that favorite toy to aid in the search efforts.
Cost and Value
This one comes at a slightly higher cost than some of the others on the list. With the higher cost, you get a wide range for frequency making searching your home that much easier.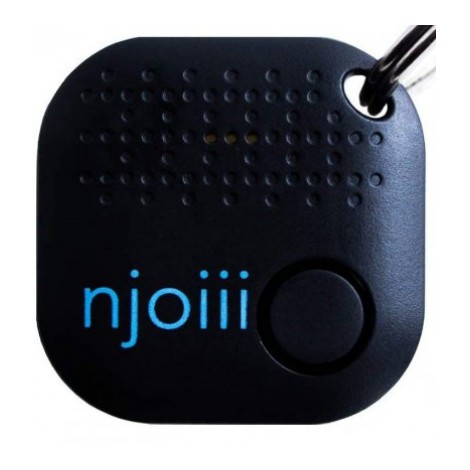 This one is a Bluetooth powered option.
You will get notified when an item is left behind.
The network of users can help find an item that is out of your range.
The battery life is said to be longer than most.
Some users have stated that the app is too complicated to use.
The battery in the fob is not replaceable.
This one gives us a whole new look into the technology department. Giving you options that the others on the list so far have not. This one has so much potential it is hard to know where to start.
Technology
Using the Bluetooth capabilities this one will pair with your phone for endless potential. One great feature is the ability to notify you in the event you get separated from the item you are tracking. When you accidentally leave the item behind, an alert is sent to your phone letting you know you are close to the frequency range. Preventing you from leaving the item behind.
Last Known Location
When it happens to be too late for the alert there is an option to help you out. This one can use their network to pinpoint the items last known location. When a network user comes within range of your item it will notify you with an alert. This will give you a place to start your search.
Cost and Value
The technology used to power this option gives the user plenty of potential benefits. This truly is an inexpensive option for the number of benefits you will have.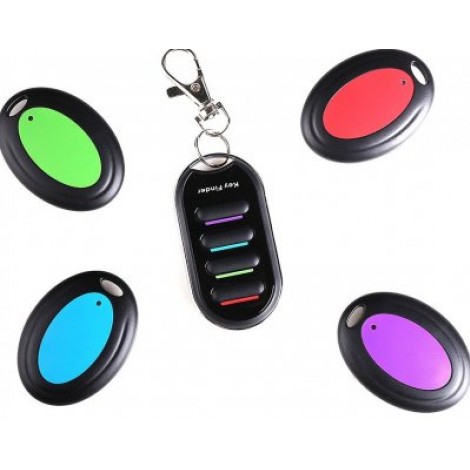 The receivers are lighter in weight than most.
Each receiver is a different color.
This one offers a good frequency range.
There is a flashing red light on each of the receivers.
Some have stated that the beeping is not as loud as they would like.
The adhesive on the back is not very strong.
Now comes a selection that will offer you a great frequency range for finding your lost items. You are not limited to just tracking your keys with this selection. These are smaller in size and lighter weight making them usable in many situations.
The Range
Here is a brand that uses radio frequency to transmit their signal. It is said to pass through walls and doors easily. You can be up to one hundred feet away from the lost item and still be able to get signal.
Light Weight
Some brands have reduced the size of the receivers to allow you more options for use. Many have forgotten to take into consideration the weight of their product. Not with this one, the receivers weigh less than a half an ounce. You can place them anywhere and not even notice.
Cost and Value
Time is a valuable item to waste especially when it comes to searching for lost items. Choosing an option like this can help you regain control over your time. You will no longer be scouring the house for your lost car keys.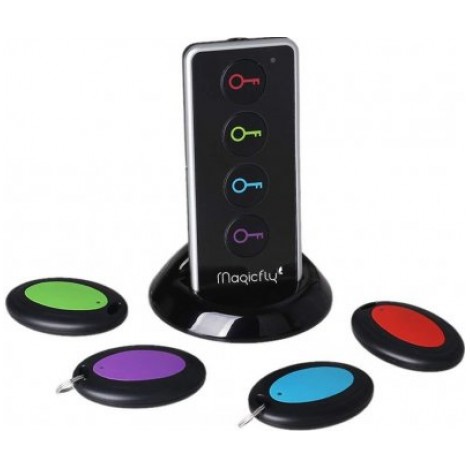 Has four receivers to choose from.
The remote has a flashlight to assist with searching in the dark.
Each receiver comes in a different color.
This is a radio frequency option.
Customers have stated that these seem to drain batteries quickly.
There are statements made that these don't last very long.
Another great selection when it comes to tracking the things we tend to lose. This one comes with a good number of receivers allowing you to track several items at a time. The remote can aid you with your search in the dark as well.
Number of Receivers
This choice comes with not one but four receivers for your tracking pleasure. This is great for those who tend to misplace their possessions often. Working well for those who wish to keep track of all of the families sets of keys as well.
Searching in the Dark
In the event, you drop your keys outside when it is dark finding them even with the beep can be difficult. Here is a remote that can aid you with those difficulties. On the side, you will notice a button that button will activate the flashlight on the remote. Providing you with the light you need to see in the dark.
Cost and Value
Here is a selection that will not break the bank but still holds the potential to track the items you lose. The light on the remote can help you search in the dark for dropped items.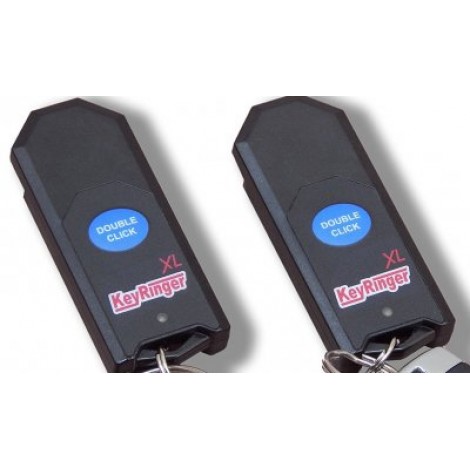 These are made from quality grade plastic for durability.
The technology used drains less battery power.
The battery is easy to get to and change.
These can be paired with your phone or used alone.
Some have made comments that these are too high pitched.
Next up is a selection that will let you choose whether or not to pair them with your phone. One of the more durably constructed options on the market. Even the battery life is greater than most and easy to switch out when the time is right.
Durable
We all drop our keys on a frequent basis so it only makes sense to have a tracking system that will hold up. This one has just what you are seeking. Made from the same plastic as bulletproof windows, you can drop this until your heart's content without causing damage.
Battery Life
One of the more frequent complaints seen is the amount of life you get from a battery. It can be a real pain constantly changing those things. The technology this brand uses will minimize the use of the battery. Providing you with an average of 18-month battery life.
Cost and Value
Here is a durable selection that will have your back even when you tend to drop things a lot. You can download an app to pair them with your phone. If that isn't your thing, you can use one remote to find the other. With this selection, you are definitely getting your money worth.


This comes with four receivers all are different colors.
The size of the receivers is small for discretion.
The remote has a cradle it can be placed in.
There is a flashlight on the remote for searching in the dark.
Some users have stated that the beeping could be louder.
The adhesive backing is not very strong.
The size of the receivers allows you to place them in some discreet places for tracking. Each one has its very own color. With this option, you don't even have to worry about losing the remote.
Receiver Size
The receivers are smaller than some of the others available. That means you can place them in less noticeable places. I mean not everyone needs to know that you tend to lose your wallet often.
The Remote
As we all know remotes in the home are one of the first things to disappear. Here is an option that has a solution to the age-old problem. The remote comes with a cradle for you to place on the counter or table. That way each time you need to use the remote you can place it in the cradle when finished.
Cost and Value
This is an inexpensive way for you to keep track of those items you tend to misplace. The smaller receiver size allows you to be more discreet when it comes to attaching them. As a bonus, you won't even lose the remote as it comes with its own resting cradle.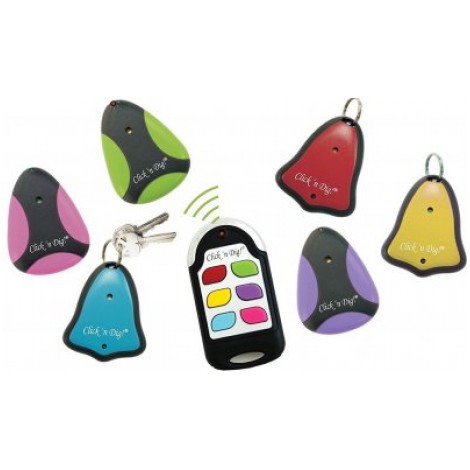 This has a good frequency range.
The alarm for this is louder than most.
There are six receivers to the set.
Each receiver is a different color.
The batteries seem to run low rather quickly.
People have found these to bulky to be attached to a phone.
The first one on the list has plenty of receivers for you to use as you see fit. Tracking your keys or other hard to find items. This one will offer you a wide frequency range. You can even hear the beep from under the couch cushions.
Recievers
The tracking potential is great with this selection. It comes with six receivers. Three of which can be used for keys. While the other three have adhesive on the back for placing on the remote. Each receiver is colored coded to correspond with the colored button on the transmitter.
The Alert
Sound plays an important factor when choosing the right tracker. This one is loud enough to hear even if the remote is buried in the couch. Making it easier to find the object you have misplaced. To aid in the simplicity of things, there is also a flashing light for those dark places things tend to hide.
Cost and Value
You can track up to six of your possessions at once. Use this for aiding in keeping track of the entire families keys. It comes receivers in different colors so there is plenty to go around.
Criteria Used for Evaluation

Responsiveness
Radio Frequency: Using radio frequency means that the base for the system uses this to send an alarm to the receiver. The receiver is the potion that will go with your keys, in case you weren't aware of this fact. Most models will allow you to choose from two to four receivers. These can be used to keep track of a number of items aside form your keys. You can attach them to your remote or even your phone. Place one on those items you lose track of more frequently to reduce the hassle of searching your home. The frequency used is said to be able to go for up to 90 feet, making this perfect for those who tend to need this in their home.
Blue Tooth: In order to use this version you will need a smartphone, as you will have to download an app for the system. The piece that you attach to the item you would like to track is often referred to as a fob. With this type often times you can set the volume and the type of sound to make it more efficient for yourself.
There are selections out there that will allow you a two-way use. This means that when used in reverse you can locate your lost or misplaced phone. The range for these is anywhere from 30 to 160 feet but they do have another great feature. Even if you are out of your range you can still have a chance to find the item. As most phones will still be able to show you where the item was last. This can give you a good idea of where to start your search.
Another option for finding your lost item with this some find to be amazing. While others may find it to be a little intrusive. Some manufacturers have an option that will allow you to use their network of customers to find your lost or misplaced item. When someone, on the network, comes into range of your item the location will be then sent to your phone. There are definitely some reservations about the ability to do this.
Audible: The last technology selection we have come to is one that isn't as common as the previous two that we have talked about. In a sense the equipment talks to each other. Each piece will work as both the base and the receiver. Use one to find the other, this is done with a series of chirps. One will make a chirping noise, once it is within range, the lost equipment will begin to chirp as well. This is another great way to find things within your home or even office.

Advanced Features
Alerts for Range
Some of the products will offer an option that will alert your phone if at any point you are coming to the limit of your range. This is a great feature for those who travel as it can remind you if you inadvertently left your keys behind. Eliminating the hassle of having to backtrack the day to the last place you remember having them. In order to have this feature, you will need the Bluetooth version of the product as well as a smartphone.
The Number of Fobs
The number of fobs or receivers you need will depend on the number of items you will want to keep track of. Some brands will offer one while others offer more. There are also those who will let you order the number that satisfies your needs, usually up to six. Those that offer more fobs have a unique way for you to track which fob is for which item. You will find color-coded buttons on both the base and each fob. You will have to remember which color goes with which item. Perhaps making yourself a list will help you to remember.
Light Options
Some of the receivers will have a flashlight or a light similar that can be used for helping you in the dark. This works great for those times that your hands are full and you drop something in the yard. By the time you realize it could be dark. The light can help you with your search. Some will offer an alarm that will light up as well, simply push the button to watch where the light appears.
Optional Panic Button
Found only on a few models is a button that can be used for your personal security. The panic button can sound an alarm to others that you are in need of assistance. Since these are strictly found on the Bluetooth models the level of threat can send out notifications. When the button is pressed just a couple of times, some of the models will send an alert to a family member using the network. If you need to push the button quite e few times, there are select manufacturers that will have the system alert the authorities in your area. It is best when choosing this option to be sure that everyone using them is aware of this function and the notifications being sent out. You can be sure that way no one is creating a false alarm.

Sound Quality
Sound and Volume
Most of the time the radio frequency finders will have one alarm sound and volume. It is best in those circumstances to try before you buy them. You will need to be sure that the alarm is loud enough for you to hear. Otherwise, the product could be rendered as useless essentially wasting your money. Those who choose to go with the Bluetooth technology will have the opportunity to change both the sounds of the alarm and the volume. This offers you a more customizable experience when using the finder.

Power Source
Batteries
The radio frequency models are the most likely to be run from batteries. Depending on how often you need to use the finder, the batteries could last for months or even up to a year. Bluetooth options that do come with batteries to be replaced will need to be changed slightly more often. Typically users need to change the batteries every three months. For the Bluetooth fobs that the batteries can't be replaced, there are options for you as well. Most of the time the manufacturer will offer a discount for ordering a new fob for the system.
Expert Interviews & Opinions
Most Important Criteria
(According to our experts opinion)
Experts Opinion
Editors Opinion
Users Opinion
By Default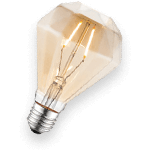 Types Available
The first place to start is with the type of technology used to find your lost possessions. The different technologies will offer a different potential for the user. Choosing one will depend on what features you wish to have or wish not to have. As far as which one would be the best, that is a matter of opinion among users of the different technologies.
Frequently Asked Questions
q:

How do you attach the fob to the item you want to track?

a:

The attachment of the fob will depend on the item you will be tracking and the brand you have chosen to purchase. Most of them will come with a hole intended for use with a keychain. That really doesn't help when it comes to remotes or other items. Some will come with an adhesive backing you can use. Just pull the paper cover off and place the fob where you need it. There have been instances where the adhesive isn't quite strong enough. You may want to use an adhesive of your own as a backup plan.
q:

Does the Bluetooth option use GPS tracking?

a:

Technically they don't use GPS to track your belongings. When the tracked item is out of range, the signal is considered to be lost. The range for these will vary some are as little as 30 feet. While others will offer you up to 160 feet of tracking potential. The Bluetooth technology can, however, use the GPS tracking to provide you with the last known location of the tracked item. This function can at least provide you with a point on which to start your search process.
q:

Will the Bluetooth models share my location with other people?

a:

When looking into the Bluetooth version it is best to check with the manufacturer to see what their rules are for information sharing. Always make sure to read all the paperwork with careful eyes. Your location will be trackable but the sharing of that information will depend on the manufacturer. If this thought makes you nervous, you might want to stick with the radio frequency devices.
q:

How long will the battery last in the receiver portion?

a:

The life of the battery can depend on the number of times the receiver is used. Most of the time a battery should be good for at least several months. When the receiver is used minimal times the battery can hold its strength for a year or longer. When it comes to the Bluetooth receivers there are some noticeable differences. The batteries if they have them are known for losing power faster than the radio frequency models. You will find yourself changing them as soon as three months down the road. Although most of the time these are powered by a non-changeable battery. You will have to replace the receiver, the typical time frame is said to be a year.
q:

How far can the radio frequency models work?

a:

The actual range of the radio frequency will depend on the brand that you have selected. Most will offer you a range of up to 90 feet. There are some factors to the signal capabilities that will come into play for these. Keep in mind that the more obstacles the less effective the finder will be. Metal buildings tend to wreak havoc on the signal strength sometimes rendering them as ineffective.
q:

How many receivers/fobs will I need?

a:

The number of receivers will depend on the number of items you need to keep track of. Some have found this type of product to be useful for keeping track of more than one type of item. Others are tracking keys for a family of four. It is probably best to have an extra receiver just in case as well.
Subscribe to our Newsletter