Best Fitness Sandbags Reviewed & Rated for Quality
In a
Hurry? Editors choice: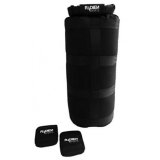 Test Winner: Radien Sports Strongman

Some people regard sandbag training as unconventional and unusual.
Training with sandbags
is a simple and straightforward, versatile fitness tool that challenges your entire body core. Whether your fitness goals are recruiting new muscles, weight loss or improving your momentum and agility, it will help you get the results pretty fast. They offer instability and constant shifting during workouts making your body work keep its balance and control thus build excellent body strength and activate your stabilizer muscles. Sandbags create amazing rotational drills that develop a range of motion not possible with typical gym workouts. In here, we have selected some of the best fitness sandbags out therefore preferred by customers due to their sturdiness, versatility and value.  
Standout Picks
Criteria Used for Evaluation
Capacity
When shopping for a sandbag, it is essential to consider its capacity to endure intense strength building and explosive workouts. Sandbags are ideal for improving your entire body stability, the endurance of your body when faced with varying levels of difficulty and strength. Some of the workouts include bicep curls, walking lunges, squats, deadlifts, and burpees. The weight of the sandbag and the weight of the filler bags minus the weight of the sand are essential so that you can gauge your fitness level and work on your comfortable weight.
Sandbags are ideal for any workout session because they improve and stabilize your muscle strength. The capacity of the sandbag will force your body to use its stabilizer muscles than most standard gym equipment. It thus reduces any risk of injury during the movements. It also improves the grip because sandbags frequently shift every time you try a new handle and creates a workout for your hands. The level of fatigue controls the ability to grip. The capacity of the sandbag also improves the strength and movement of the torso. This happens due to the rotational drills created during the strength building workout.
Versatility
The performance of a fitness sandbag is measured by its ability to offer various strengthening options for your workout. You can use the sandbags during your running exercises, get-ups, shoulder exercises and during your regular training routines. You should be able to perform numerous training exercises from different angles and be able to adjust your weight options depending on your skill level. In this case, your sandbag should have multiple handles and multiple filler bags to allow for flexibility during your training session.
Your reason for choosing a sandbag determines the level of training or fitness and allows for flexibility. Sandbags have different weight limits depending on your preferences. If your fitness goal is to boost your strength, power, explosiveness, and stability to improve your running and agility, then you need a sandbag with a capacity of between 70 to 125lb. If you are a beginner, fitness sandbags will help you in improving your strength and overall health. If you are an expert user, the sandbags help improve and strengthen your entire body muscles and prepare your body to endure intense training, body stability exercises and pushes you to an extreme level to maintain your normal body movements. Due to their versatility, your body can move swiftly with much ease.
Value
There are various fitness sandbags out there of different qualities and cost different. Their cost is influenced by the quality of the material, durability, and performance. They are made of different fabrics, and you should be able to choose the material that will suit your needs and which you can afford. However the more hardened the material, the more the cost and guarantee on durability. If you are an expert user or a seasoned athlete, you can go for a more durable sandbag made of sturdy material. However, this may cost you more than an ordinary one. For a beginner, you can go for a cheap sandbag that will get you started on your workout session, then gradually upgrade with time. The essential thing is to buy a sandbag that will suit your preference and help you in achieving your athlete and fitness goal while giving you value for money.
Durability
A fitness sandbag should be durable and build to last. It should hold up for many months or years without tearing or bursting thus spilling the sand. It should be made of sturdy fabric to withstand heavy training and workout. Most advanced bags have filler bags which allow you to adjust different weights suitable for your workout or needs. The material for filler bags should be of good quality and strong to hold the sand together without spilling it over to the sandbag. The trainees usually get tired very fast while training and are likely to lose grip of the bag resulting in a sudden fall. The inner bags should have Velcro reinforcement for holding the sand compactly to prevent leakage. Where the sandbag is not properly sewn or is of weak material, it is likely to burst or tear easily.
Handles should be preferably made of cloth or rubber and not plastic. Plastic is likely to hurt your face if it trips. Zips should be strong to hold together the weight of the sand. The zipper should be covered with a material to avoid starching of your skin when it comes into contact. Handles should be strong enough to hold the weight of the sand inside the bag.
Size
The weight or quantity of sand that can fit inside should be an important factor when picking a fitness sandbag. It should be of the right size to hold the weight you require for physical fitness and strength building. The size of the bag should match the quantity and weight of the sand it is supposed to hold. When shopping for one, you are likely to notice the weight of the sandbag and the filler bags does not include the weight of the sand. This is because you are free to source for the sand depending on your preferred weight option. As a beginner avoid a bag which is too big for less weight as it will make the weight move to one side and make it unbalanced and uncomfortable to lift. Sandbags have no consistent shape or form as the weight shifts around within the bag. This is suitable for your less commonly used muscles as they are activated to keep the sandbag stable. Most people are preferably switching to sandbags in place of machines due to flexibility in choosing the perfect size to suit their training needs.
10 Best Fitness Sandabgs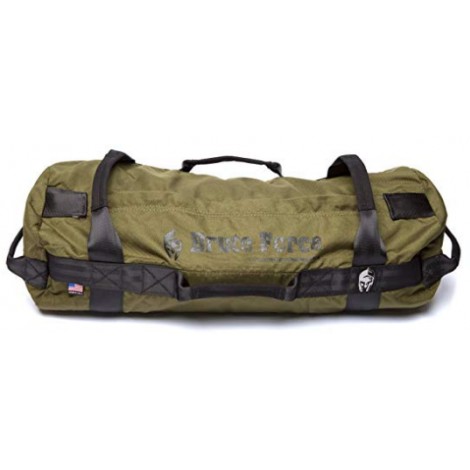 If you are looking to add some professional fitness to your fitness training program, you will not be disappointed by selecting the Brute Force Fitness Sandbag for total body workout and explosive power. It is multifunctional and really works on your entire body in multiple training workouts. Gain all the strength, explosiveness and maximum power with this heavy-duty sandbag. It is ideal for developing all rounded strength and a perfect tool for fitness, mental power and function, and whole body balance. It has different weight options thus allowing for flexibility of your training, such as 25lbs, 75lbs, 125lbs, 200lbs or 400lbs. These have different variations in terms of the number of handles and fillers.
Durability
Quality wise, if you are looking for a perfect tool to add to your home gym or something phenomenon for your professional gym, then the Brute Force Fitness Sandbags are a must have. These fitness sandbags are made of superior material, perfectly constructed and sturdy to withstand rough and tough drills during a training session. Its zipper is firm, and the bag has strong Velcro reinforcements that give you the confidence that they won't burst during intense training. The hand grips are firm and easy to access, and thus you can find force, stability, and power during your movements with minimal distraction. They are built to last, you can slam, beat, drag and toss and the material remains intact.
Versatility
We recommend the Brute Force Fitness Sandbag since they are a great workout tool and multifunctional with multiple handles thus allow for flexibility during your training exercises. The package includes detachable weight bags of varying weights which are easier to switch. Accordingly, you can adjust your workout depending on your preferred intensity.
Cost and value
The Brute Force Fitness Sandbag is a perfect investment for beginners and seasoned athletes and is a perfect way of achieving your fitness and athletic goals. They are of high quality, strong and will give you value for money. Thus you get what you pay for in terms of efficiency and reliability.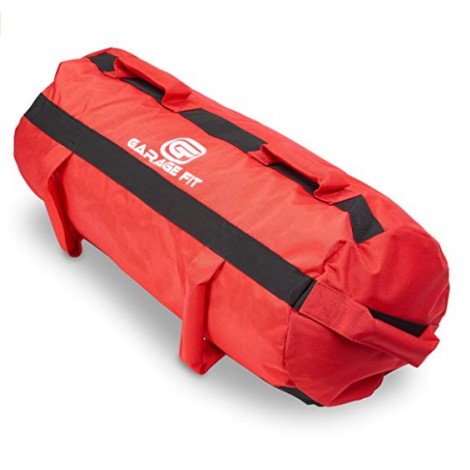 If you are looking for a home gym equipment that will bring back your old school workout memories, then the Garage Fit Workout Sandbag is a sure bet built to last. It is made of sturdy external cover and filler bags that are made of high quality material, water-resistant nylon Cordura and stitched with strong nylon threads. You can, therefore, press or push the bag in any direction without the risk of ripping.
Multiple exercises
The Garage Fit Workout Sandbags has a total of seven handles fitted perfectly around the bag. What I like about this bag is the multiple handles since most bags on the market have an average of four. The handles are versatile and give you the flexibility of various grips and the freedom to choose your preferred training workout and maximize your training program. These sandbags are suitable for all levels of fitness. Whether you are a professional trainer or a new athlete, you can easily adjust the sandbags weights to match your level of fitness by removing the filter bag or adding them back to reduce or increase resistance to boost the challenge.
Reliable and easy to clean
The Garage Fit Workout Sandbags will ensure the sand does not leak. The sturdy material does not burst even during intensive workouts due to the double sealed interior and the sturdy Velcro. The zipper is heavy on the outer shell and ensures all stuff remains in there. The sandbag is also easy to clean, and the color can easily hide dirt; therefore you can use it for a variety of outdoor activities without the need for cleaning.
Cost and value
If you want to change the routine of your workout program, the Garage Fit Workout Sandbags are a perfect pick at a great price and will not disappoint. They are ideal for your whole body muscle strengthening and will maximize your workout and help in achieving your fitness goals. You will be happy with the purchase.

3

. Radien Sports Strongman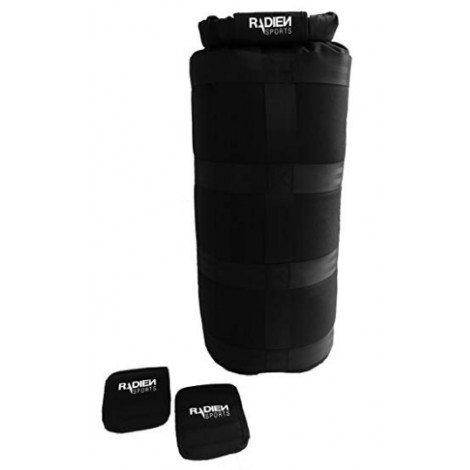 Want to burn your lungs and make your muscles scream? The Radien Sports Strongman Sandbag will get the job done. It is fantastic and holds a weight of between 75 and 225lbs. This sandbag is ideal for various workout routines such as kettlebell reps and strongman events.
Sturdiness
The material of Radien Sports Strongman Sandbag is sturdy and leak-proof with a roll down design that ensures your sand does not leak. The material is sturdily made of two layers of nylon to withstand pushing, slamming, throwing and pulling without tearing. The handles have multiple layers of padded covers that offer a firm and comfortable grip during your exercises.
Versatile
The Radien Sports Strongman Sandbag has several handles that are strapped around the tube; this gives you several grip options; hence you can maximize your training. The multiple filler bags also allows you to choose on your the perfect weight for your exercise depending on your level of fitness. It is ideal for both beginners and experts' athletes.
Cost and value
For the price and exceptional quality, you will not regret picking the Radien Sports Strongman Sandbag for your training. It can still hold up steady and strong even after years of using. It is undoubtedly a 100% money back guarantee, and I would highly recommend it.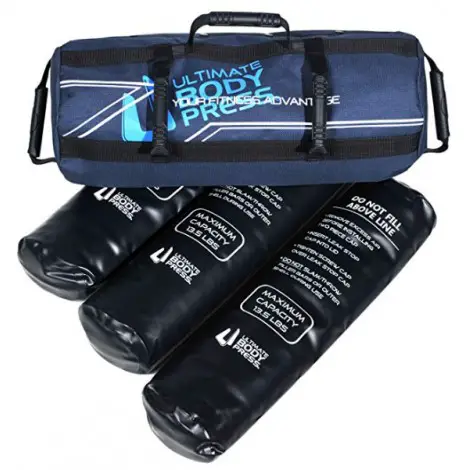 The Ultimate Body Press Sandbag is a muscle recruiting powerhouse that works awesomely due to the shifting nature of sand fillers resulting in instability necessary for muscle build up during a workout. It comes complete with 15 40 pounds exercise and three water filler bags. It also has multiple handle shells that help in developing functional strength thorough weight variations. It has three filter bags that can be filled with sand or water.
Maximum Stability
We chose this product due to its 1050 Cordura outer shell that has multiple handles thus help in optimizing your exercise. It has a triple layer to ensure sturdiness and double stitched to prevent bursting. They are heavy built to boost your gym experience and are similar to large gym bags thus ideal for heavy workouts due to their pretty tough outer shell. The straps and strong and offer a comfortable grip.
Versatility
What I love about the Ultimate Body Press Sandbag is its ability to offer multiple strength building options. The multiple handles and the different weights of the filler bags allow you to choose your preferred exercise options depending on your fitness level. It is versatile because you can use water instead of sand and still work perfectly fine since water holds the same weight like sand and it is easier to fill and boost instability.
Cost and value
They are of high quality and functional sandbags that will give you value for money. If you are looking for portable and cheap workout equipment, the Ultimate Body Press Sandbag is a fantastic training tool that helps in building entire body core strength and fitness. Equip your home gym with this sandbag and continue building on your progress. You will love the results.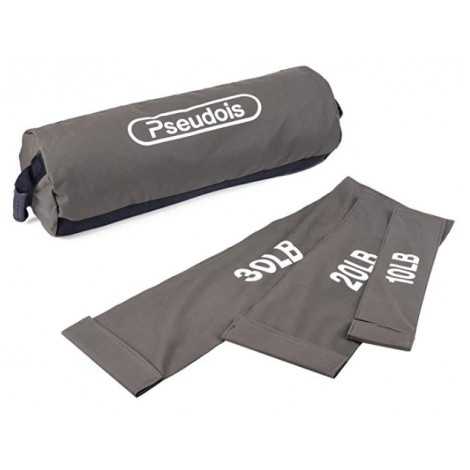 The Pseudois Workout Sandbags are heavy duty and ideal for a serious strength building exercise. The outer shells and inner filler bags are made of sturdy damp-proof oxford fabric. The zipper is strong for a perfect closure, and the Velcro guarantees the bags endurance.
Versatility
The Pseudois have various gripping options fitted with four handles on the outer shell thus allows you to perform numerous workouts during your training sessions. They are easy to grip, therefore you can find force, stability and extra power during your movements without any distraction. The filler bags have different weight variances and are adjustable depending on the intensity of your workout routines either by adding or removing the filler bags.
Sturdy
The Pseudois workout sandbag is made from strong, durable material that will withstand heavy workout training. The handles are firmly sewn around the outer shell to offer a comfortable grip. The sand filler bags too are made of strong, durable fabric and have a double sealed liner on the inside fitted with a sturdy Velcro and a strong zipper; hence the sand stays in there. The sturdiness of the bag ensures it does not burst during your training and the sewn is perfectly done; thus the sand grains do not spill out.
Cost and value
Invest in boosting your strength and thus achieving your athletic and fitness goals by buying the Pseudois. They will develop your explosiveness and muscle strength as you endeavor to increase your entire body strength. They are perfect for the price, you will be surprised at the high quality of the construction and won't regret having them in your home gym.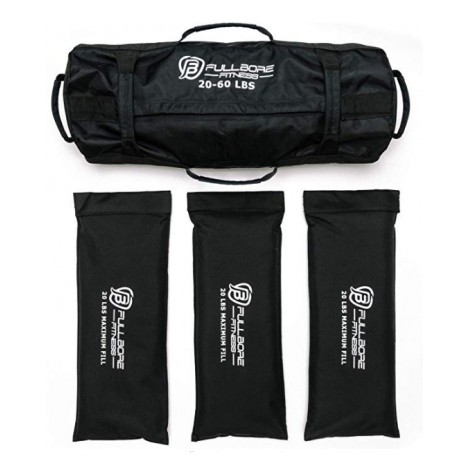 These Fullbore Fitness bags are made from a durable, sturdy outer shell, and a strong zipper meant to endure even the toughest body strengthening techniques. The outer shell and the inner bags are sturdy with a thick Velcro closure on the inside. The stitching is perfectly done, and there is no risk of it bursting and spilling the sand. You can pick it, toss it, throw it and beat without a tear. It is also ideal if you are a beginner since you can start with a filler bag that fits your fitness level.
Adjustable weights and multiple handles
It has three filler bags that can accommodate 20 pounds of sand each. They measure between 20 and 60 pounds. The multiple handles are perfectly sewn on the outer shell and offer a firm grip. Hence you can be able to change quickly, and this gives you the instability needed for intensive strength building and explosiveness.
Versatile
Due to the adjustability in weight, you can use it in your home gym, cross training or fitness camp. You can choose the weight option depending on your desired level of fitness. The sturdiness in the construction allows you to perform hundreds of workout routines without the fear of it bursting. It boosts your muscle power and entire body core.
Cost and value
These are superior quality made from high-grade materials. Order for one today and you will be happy with your purchase. Great product worth every penny.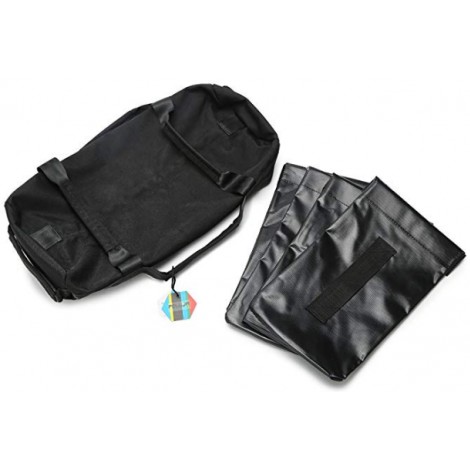 The Pellor Fitness Sandbags are ideal for strength building exercises, cross fit training, heavy duty workout sessions and for your Yoga sessions. Upgrade your home gyms by picking these excellent bodybuilding training sandbags.
Sturdiness
The outer shell of these sandbags is made of a strong, durable Oxford fabric material tested for intense weight sandbags; thus no risk of sand leaking or handle breaking. It has eight handles that allow you to choose from multiple workout options. Its interior is made of a Velcro closure that also guarantees sturdiness.
Multiple Exercise Options
The handles of the Pellor Fitness Sandbags are made of rubber and are properly sewn with double threads thus offer a comfortable grip while you train. You can easily switch from one hand to the other. The inner filler bags are of various weights thus giving you different levels of exercises and fitness. The Four inner sandbags are also made of durable materials, and you can remove or add them to fit your fitness level.
Cost and value
The Pellor Fitness Sandbags are excellent and will hold up for many months to come. They are good for the price and would highly recommend them due to the multi-weight options, versatility, and high quality.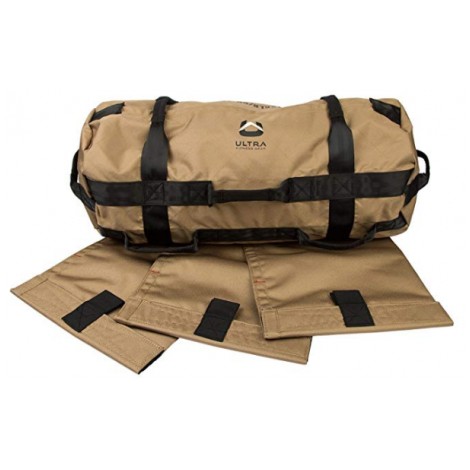 Want to gain some muscle and improve your body tone? The Ultra-Fitness Gear Sandbag are constructed from heavy material, have adequate stitching and swappable inner bags. It makes it easy to adjust the weight options, and multiple handle positions offer versatility for different exercises. You can apply them for different exercise and are a perfect addition to your home gym.
Strong construction
The Ultra-Fitness Sandbag is a must have for any athletes for the strength building and offer perfect training with the sturdy and strong sandbags. The material used in construction is the military Cordura shell, heavily stitched, heavy-duty zipper to offer unmatched strength and quality. The interior has a Velcro closure; thus no risk of the sandbag to burst even during an intense workout.
Versatility
The Ultra Fitness Gear Sandbag has multiple filler bags made of a Velcro design and PVC coated to guarantee sturdiness and ensure sand does not leak. The inner bags offer various weight options thus allowing for versatility in your workout sessions. The bag also has five comfortable handles that give hundreds of grip options and the freedom to choose your level of training depending on your skill level.
Cost and value
There is a lot of potential for using these sandbags, and it is a great concept at a perfect price. It is perfectly constructed and worth the investment, you will be happy with your purchase. The design is elegant, the color appealing and the cross stitching is correctly done. It is built to take any beating and to last long. Pick one today and test your strength.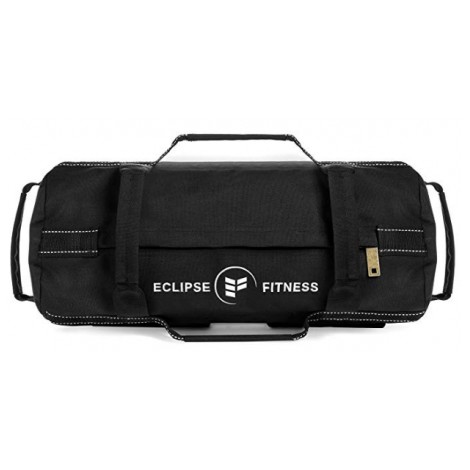 If you are looking for a total body workout and muscle strengthening tool, the Eclipse Sandbag for Fitness is the perfect option. It has a superior design made from high quality and sturdy material to withstand intense workout. The Outer shell is made of high-grade Cordura Nylon that is non slip to give you the perfect grip. It has a double stitching reinforcement on all the seams; hence sand does not leak at all.
Adjustability
The Eclipse Sandbag for Fitness is customized to fit your different training options; the package also includes filler bags of varying weights that can be added or removed depending on your fitness level. The Sandbag has six rubber handles that are covered with Cordura Nylon to offer stability and firm grip. The various handles allow you to do various workouts with different levels of difficulty and maximum explosiveness.
Sturdiness
The material of Eclipse fitness sandbag is heavy duty and leak proof with a reinforced Velcro on the interior and the outside of filler bags opening thus creating a double seal. They are ideal for a body strengthening workout session that will have your muscles burn out.
Cost and Value
The cost is a bit high as compared to other sandbags. However, the quality is top notch and worth the price. The package also allows you to download the training guide for beginners and professionals. You are guaranteed a 100% money back.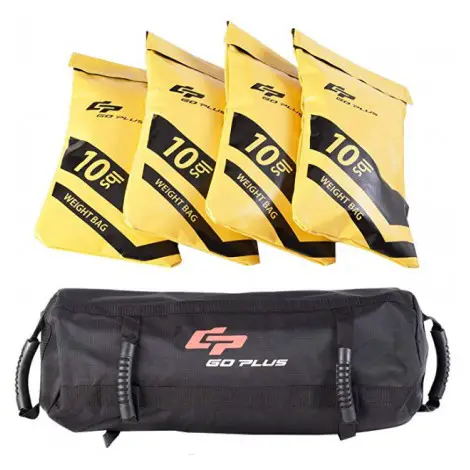 The Goplus Fitness Sandbag can hold sand up to 10lbs and has four filler sandbags that can hold up to a maximum of 40lbs. It has multiple handles properly sewn that allow for a comfortable grip. Its design and stability allow you to upgrade your training and workout to a more muscle strengthening and building routine. It has an interior Velcro reinforcement thus ensures the sand inside does not leak.
Heavy duty
The material is sturdily made of heavy duty oxford fabric. The sandbags are made of durable PVC material with double stitched seams thus will not burst even during intense training.
Versatility
You can do multiple functions with this sandbag such as squats, deadlift, bicep curl, and forward lunge among others. This sandbag has six rubber bags that allow for flexibility during your training to match your training and athlete goals in your exercise. The rubber bands are firmly sewn on the outer shell and are gentle on your hands thus offering a comfortable grip.
Cost and value
The Goplus is an excellent product at a reasonable price and will help you in improving your core stability, strength, and level of endurance. Get one today and improve your workout routine.

Subscribe to our Newsletter