Best Adjustable Dumbbells Reviewed & Rated for Quality
In a Hurry? Editors choice: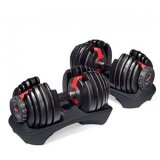 Test Winner: Bowflex SelectTech 552

Attaining the perfect body shape is an essential aspect of life and general well-being. We are aware that cardio workouts are essential in weight reduction and burning extra calories. Workouts that tone your muscles are equally necessary though may require you to buy pricey equipment that is most often classy, complex and of various weight options. Most people will shy away from such equipment due to the high cost. However, there are several adjustable dumbbells available that will suit your specific needs. The main difference with the other standard dumbbell is the ease of adjusting the weight or resistance levels. They are ideal for a serious exercise and will fully engage your entire body core. Do you want a small gym in your home and is wondering where to start? This guide will help you get started.
Standout Picks
Criteria Used for Evaluation
Versatility
It is not just about grabbing a weight and jumping into a workout; you want to be certain that the equipment you opt for will allow you to change plates without losing focus easily. You may not want to slow down your exercise or allow your pulse rate to slow either. Take time to make sure the plates are firmly fit. An adjustable dumbbell should be stable so that you can be able to exercise without any interruptions. You should be able to adjust the weight options depending on your preference.
Buy weights that will fit well into your workout program. There is no need of buying weights that may not be useful in days to come. Pay attention to various increment levels and select one that matches your needs. Some people will buy the adjustable dumbbells to acquire a whole muscle tone while others buy to acquire a light tone. Whatever the reason, you should have your fitness goals in your mind and the reason why you need the equipment.
Your set should have a proper support mechanism to prevent the plates form loosening which could easily bruise you. Ensure they are firmly secured and the weights held firmly. There should be some form of a barrier that separates the plates and the fastener to create some space.
Durability
We all want something that will last long and give us value for our money. An adjustable dumbbell is not an exception. Before setting out to buy a pair of adjustable dumbbells, research first to ensure you buy a durable set that will not wear out soon. Study the features such as the hand weight, handles, enduring, the coating, the firm grip, and the overall construction. It is essential since you will save some bucks by ordering high-quality material. Adjustable dumbbells have a warranty period spanning from two years and above. Therefore you will be at peace knowing you have purchased a quality product that can be returned if found faulty and one that will give you a 100% money back guarantee.
Value
Most gym equipment may be expensive. However, this should not discourage you from attaining the perfect body tone. Several cheap tools can be of use such as adjustable dumbbells. These amazing piece of equipment work by allowing you to change the weight settings depending on your desirable option. They are essential and will be a perfect addition to your home gym. They will also help you achieve your fitness goals at home thereby saving you time and money. There will be no need to subscribe to expensive gym membership when you have adjustable dumbbell at home.
There is no mention of price without considering quality. Most people may invest a lot in buying expensive gym equipment to accomplish their fitness goals. With adjustable dumbbells, you can achieve your desired results at lower price. You only need an introduction kit and a pair of adjustable dumbbells. Therefore go for one that is reasonably priced and of course from trusted brands.
Size
While setting out to buy a pair of dumbbells, it is essential to consider the size. If you are a beginner, you may go for the small sizes to get you started. However, with the adjustable dumbbells, size will not be a big issue since they are generally small. Therefore, they are easy to grip and lift, unlike the standard ones.
Comfort
You may feel discouraged if your set of adorable dumbbells are causing you pain during your work out. The last thing you want is bruises on your arms. Ensure the handles of your adjustable dumbbells are comfortable and threaded regardless of their weight. A dumbbell with a good grip will be ideal and will ensure you have a more relaxed and smooth workout.
10 Best Adjustable Dumbbells
1

. Bowflex SelectTech 552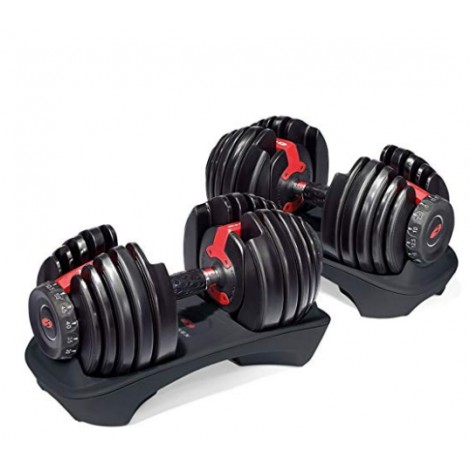 If you are seeking to improve your exercise and boost other activities that are aimed at achieving your fitness goals? Then, you will benefit a great deal by using a pair of Bowflex Selecttech552 adjustable dumbbells. It can transform your workout area into a small gym that produces positive in a short period.
The good thing about these pair of dumbbells is that you can easily adjust the weights to suit your specific requirements. As you increase the intensity of your workout, you can easily adjust the weights from 5.0 to 52.5 pounds with much ease. Fitness experts all over the world recommend the Bow flex due to the thousands of reviews by happy users. Therefore it will fit well into your workout program while promising efficiency and success. Also, they have a sleek design and are sturdy. They are appealing to the eye, and you will fall in love with the encasing made of metal plates.
Space saving
Imagine a situation where you have over fifteen different dumbbells of different sizes? Finding a place to store them would be a headache especially if you have a small house. The Bowflex selecttech552 will save you on space because you can adjust the sizes to suit your need. It is thus easier to transform your home into a small gym that will meet your workout goals.
Versatility
Many users opt for the Bowflex because it is easy to adjust. Unlike other dumbbells that require constant changing of the plates, this pair ensures a seamless and interrupted training session. It has a unique dial feature that allows for easy adjustment of the tension level. It is useful if you prefer different workouts with different weight levels. The instructional manual provides more information on how to optimize your exercise and achieve your goals. The solid steel construction ensures durability and efficiency for any type of exercise. Therefore, you can work out your entire body core and achieve maximum results in a short period.
Cost and value
Most of the users will agree that the price of the Bowflex is relatively affordable and durable too. The equipment will always remain as brand new and will serve your workout needs for years to come.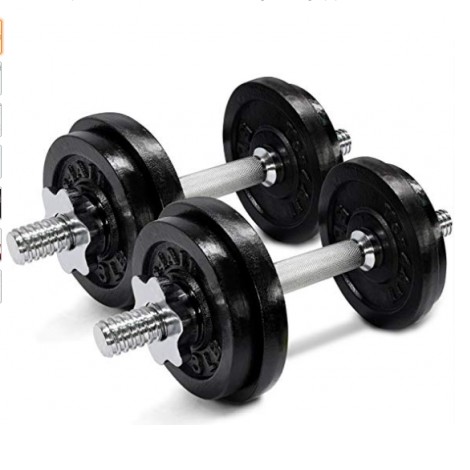 The yes4all is a real deal if you are searching for quality exercise equipment. Various sets are available depending on your specific preference. The list ranges from 40 to 200lbs. It is an attractive piece of equipment with iron plate casting. While shopping for a piece of equipment that will help you in toning down your arm and chest muscles, then the yes4all adjustable dumbbell will be your ideal choice. It is a practical piece of equipment that will work magic on your biceps and triceps as well. They are thus ideal for first time and seasoned users.
Easy to adjust
They are ideal for your workout session at home. The by rods are versatile and lets you do multiple exercises by use of one machine. If you are keen on starting a gym at home, the yes 4all will be the first equipment you must include in your shopping list. The list of workout activities you can do at home with the yes for all is endless. Such as, toe raise, stationary lunge, upright row, lateral raise and kneeling one arm row. You need to set a space in your house and get started. During a workout you may need to keep switching weights, a yes4all adjustable dumbbell gives you the option of switching plates with less hassle. Therefore, your body system does not slow down during your workout.
Use of little space
If you have a large house with extra rooms, you can easily create a room for your home gym and store all your gym equipment there. However, if your house is small, you may not have enough space and the last thing you need is a workout space filled with clutter. A good pair of Yes4all adjustable dumbbell uses little space due to many weight options. You can set an area in your living room, the bedroom or even the library and begin your workout activities. There is thus no need of buying many dumbbells since you can easily adjust to suit your specific preference.
Cost and value
When you think about this fantastic pair of adjustable dumbbells the first question on your mind would probably be whether they are worth a penny. The yes4all guarantee quality at a reasonable price. The good thing about them is that there is no need for maintenance and therefore it will save you money and the agony of buying dumbbells of different weights. They last for long if well-taken care and will make you feel like you are in a premium gym. It is important to refrain from dropping them on hard flow.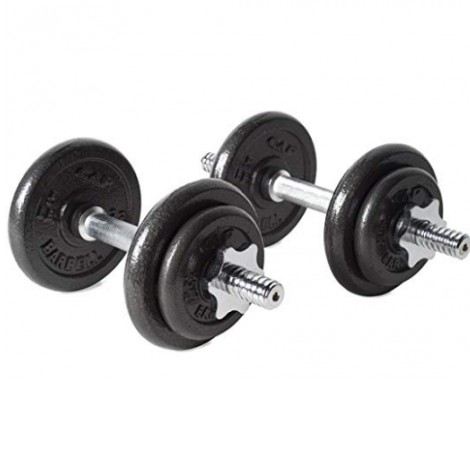 The Cap barbell adjustable dumbbells are one of the best models in the market today. It doesn't come as a surprise that it's a favorite choice amongst fitness lovers. The set weighs 40 pounds with two handles. It has four plates weighing 2.5 pounds, four other plates weighing 5 pounds, four collars and an adorable storage case. It is ideal if you want some nice piece of equipment in your home gym that will save you time and money of visiting the real gym.
Flexible
Like most adjustable dumbbells, the cap barbell has flexible weight options to suit your need. Therefore if you feel that 40lbs is not enough, then you easily adjust upwards. The Cap Barbell is ideal for beginners especially women who will not require heavyweight for their workout. You can also add more plates if you would like to increase the weight of the dumbbells. The dumbbells are expandable thus providing the ability to work on your muscles and ensure a complete body workout.
Ease of storage
The Cap barbell set of adjustable dumbbell will not use much of your space. They come with an elegant storage cover where you can easily store them. Your adorable set of dumbbells will not just lie on the floor, and you work out area is free from confusion. Therefore, where to store your dumbbells should not be an issue since one pair of cap barbell will be enough for your exercises. You will be able to adjust the various weight resistant levels depending on your preference.
Cost and value
The Cap barbell is a relatively cheap piece of equipment that will serve you for a long period. It will give you value for money since there will be no need for maintenance. The plates have iron casting with adorable semi-gloss coating free of rust, therefore, guaranteeing durability.

4

. Power Block GF-SPDBLK24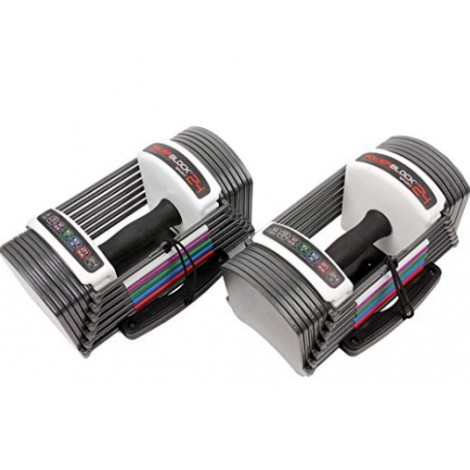 The Powerblock adjustable dumbbells are perfect if you are considering setting up a home gym. You can use them during your work session especially if you have exercise videos. They will make you stronger, and you have a wide variety of weights to choose from depending on your preference. They are ideal for a rigorous work out session and will transform your workout space into a small gym. They come in different models for beginners and experienced bodybuilders.
Can easily switch weights
The power block adjustable dumbbells perfect if you are keen on efficiency, cost-effectiveness, and a stable training session. You can easily adjust the weights depending on your preference. The weight options range from 3 to 24 pounds. There is a special pin that lets you adjust the weight with ease. It is solid and well-balanced equipment as compared to the classic dumbness, and the handles are well cushioned to prevent the wrist from injuries or bruises. They will work well with your exercise sessions especially if you want to reduce weight. The dial system allows for easy weight adjustment thus ensuring you do not slow down on your exercise.
Ease of storage
There are many dumbbells available online; nonetheless, if you are still not decided on what best suits you, the Powerblock adjustable dumbbell is a sure bet. You will fall in love with them since they are easier to store than a whole set of dumbbells with different weights.
Cost and value
If you are shopping for a durable pair of dumbbells, treat yourself with the Powerblock dumbbells. You will make the perfect investment decision for your home gym. They are quite affordable and of high quality. They are worth every penny especially if you are working on a tight budget.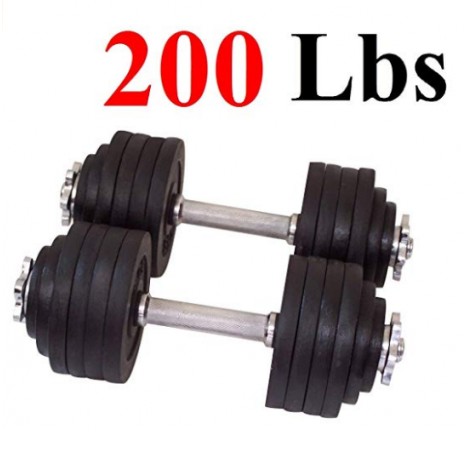 The one pair is a high-quality dumbbell made of iron casting and chrome coated handle. The set includes, one compact chrome coated handle, two 5lbs collars, eight plates weighing 10lbs, two other plates weighing 2.5lbs. It is easy to assemble and will require no tools to get you started. The collars and the chrome coated handles are well fitted to ensure a secure grip.
Versatility
These set of adjustable dumbbells have unique features such as a dial system that allows you to alternate between exercises. Therefore, you are able to maintain the momentum of your workout without having to worry if your heart rate will slow down or your muscles will freeze.
Ease of use
Most people who would like to have the perfect body may not have enough space in their houses for storing different sizes of dumbbells. The One pair is of ideal size and convenient to use. You can set some pace in your home and begin your workout. You can perform various workout activities by adjusting the various weigh options.
Cost and value
They are ideal if you are short on space and do not have enough money to buy dumbbells of varying sizes. They cost less as compared to most dumbbells in the market. You will be pleased with your choice, and the dumbbells will last for many years to come.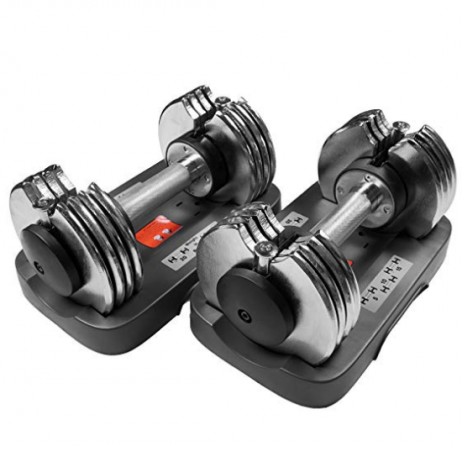 If you are thinking about durability, then the Bayou fitness dumbbells will be your ideal choice. They are made of chrome coated steel; they are a pair of heavy gym equipment that will help you in attaining your workout goals. In the set, you will find two dumbbells weighing 50lb and their storage cases. You will also find a strong steel rod coated with chrome and five in one dumbbell. The lifts weights vary from 10lbs to 50lbs. They are ideal if you wish to have a rigorous and more powerful workout session. They may not be ideal for beginners since they have a weight increment level of 10lb.
Adjustability
The Bayou Fitness adjustable bells are simple to fix, and it all requires bolting the pin to your desired weight option. The dumbbell handle is of ideal length, and this is usually a consideration for seasoned weight lifters because the length of the handle normally determines the weight. What I like about the bayou fitness dumbbell is that the handle is long and this maintains the dumbbell in a compact position and lets you add weight every time you increase the length.
Durability
The main reason that makes the dumbbell stand from other dumbbells in the market is the quality. The plates are coated with chrome, therefore, ensuring durability. The amount of plastic used in these pair of dumbbells is limited, and there is no risk of breakage should you accidentally drop the dumbbell. The equipment is solid steel thus will not break once it accidentally falls.
Cost and value
The Bayou fitness dumbbells are fairly priced and will give you value for money. You will have a comfortable workout session at home without the need for joining the gym, thus saving you in terms of membership fees. It is also durable and is a trusted brand.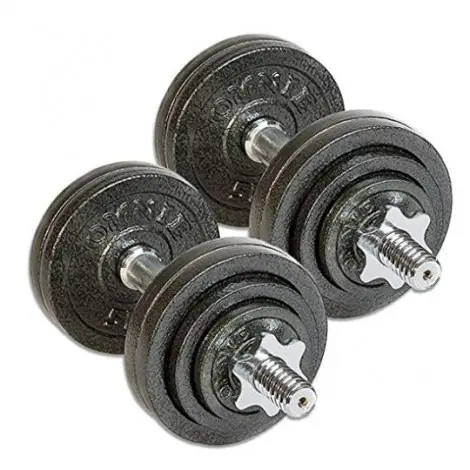 The Omnie adjustable dumbbell set is composed of two dumbbells of weight options ranging from 65lbs to 200lbs. The lifts weights range between 5 to 52.5lbs. It functions as several dumbbells joined together as one. The high-quality iron casting is coated with chrome.
Customizable
You will be able to adjust the lifting weight to depending on your ideal level. There will be no need to have many sets of dumbbells of various weights. Here you have one set of dumbbells with several plates of varying sizes to ensure you can customize your exercise.
Convenience
Working out at home will not only save you money but allow allows you to manage your time effectively. The Omnie adjustable dumbbells present the possibility of building a gym at home at your convenience and achieve your workout goals. It is due to their ease of use and comfortability.
Cost and value
Consider buying these reasonably priced adjustable dumbbells, and you will discover they are flexible and adaptable. You will quickly forget about the price since they guarantee quality and durability.

8

. Bowflex SelectTech 1090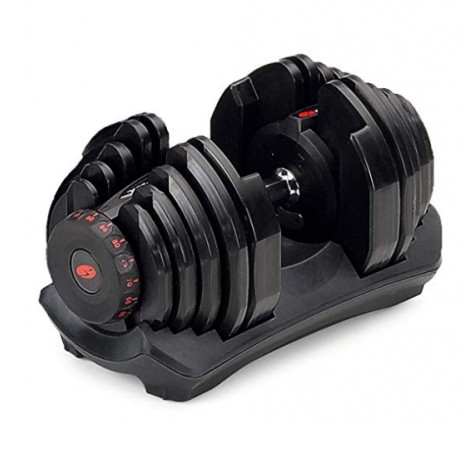 After reviewing the Bowflex adjustable dumbbells, it is clear that it is an easy to use equipment and of high quality. The weights are easily adjustable thus suitable for both the first time users and the seasoned athletes. You can choose your desirable weight by switching on the dial. The tension level ranges from 10lbs to 90lbs. Every dumbbell thus adjusts in increments of ten. It has durable plates that ensure your workout is smooth and quiet. Another important aspect is the instructional DVD that allows you to have access to information on its use.
Size
They are of perfect size thus will not take much of the storage space. The Bowflex adjustable dumbbells are not so bulky; therefore they are easily portable and gentle on the hands. They are suitable for the first time users and will not hurt the arms due to the threaded handles that provide a firm grip. It is indeed a small sized piece of equipment that can easily fit into a little box.
Flexibility
These pair of adjustable dumbbells are popular due to their features such as weight that can easily be adjusted from 5 to 52.5 pounds in increments of 2.5 pounds or the 10 to 90 pounds in increments of 5 pounds. You will achieve your fitness goals by buying this product. The weights have a unique system that lets to change to your preferred weight with much ease.
Value
The price may not be the lowest in the stores. However, you will get the chance to buy one adjustable pair of dumbbells as opposed to buying various dumbbells of varying weight option. The overall cost of purchase is thus low if you could look at the efficiency.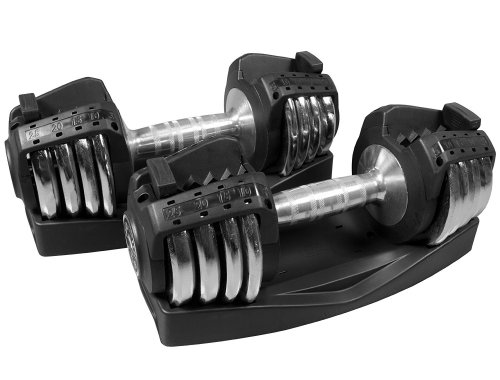 If you are shopping for an adjustable dumbbell that is affordable and that weighs less than 50lb, then the Xmark is the perfect choice for you. It will change the way you view dumbbells. You only need to adjust the weights options to suit your needs. It may be expensive as compared to the old dumbbells. However, you are assured of a quality workout and efficiency. You will exercise at the comfort of your home thus brings some fun into your training session.
Adjustability
It consists of a 25lbs dumbbells and an extra pair 50 lb. Dumbbells or one new dumbbell weighing 50lbs. There is a knob that allows you to adjust the weight depending on your preference. It is a piece of heavy-duty equipment that is coated with chrome thus providing sturdiness and required strength. The lowest weight is 25lb with increments of 5 pounds while the maximum is 50lb with an increase of 10 pounds.
Durability
The Xmark adjustable dumbbell will last you for many years. Most people complain of buying poor quality dumbbells that break upon dropping down. However, the Xmark is made of a heavy duty steel material that is sturdy and strong.
Cost and value
The Xmark adjustable dumbbell is unique in that you can buy one dumbbell if you so wish. Most people cannot lift different weights at the same time. With the Xmark, you will save a few bucks by buying one dumbbell while at the same time focusing on achieving your workout goals.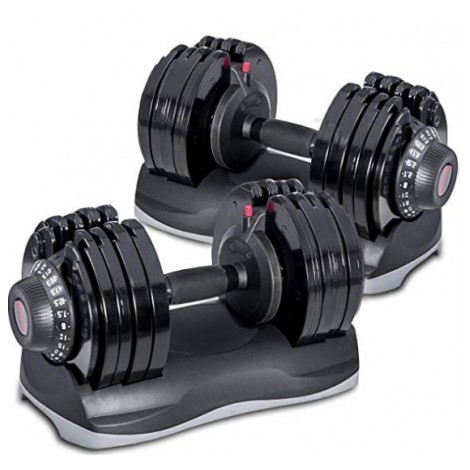 The Merax deluxe is a perfect piece of equipment that promises a smooth, fast and easy workout session. Upgrade your home gym by purchasing this adjustable yet strong pair of dumbbells. It has a dial system that allows you to change between exercise sessions. Your work out session is, therefore, free from interruptions or slowing down.
Flexible to use
The Merax deluxe has a pair of dumbbells for weights ranging from 11lbs to 71.5lbs and an increment of 5.5lb. It has a dial feature that allows you to change different exercise levels. The twelve sets of weights provide a flexible exercise session that engages your entire body core.
Ease of storage
The Merax deluxe is small in size thus will not take up much of your space. It eliminates the need to have many dumbbells in your house since it has a flexible weight system that lets you adjust the different weight options depending on your preference.
Value
The Merax deluxe is a good choice and will provide a perfect weight lifting equipment for your home gym. Though the price is a bit higher, the equipment is durable, and the parts are made of solid construction. Instead of buying many dumbbells with different prices, for the same amount, you can go for an adjustable set of dumbbells. Thus, making the overall value worth it for a perfect selection of Merax deluxe adjustable dumbbell.

Subscribe to our Newsletter