Best Adjustable Dumbbells Reviewed & Rated for Quality
In a
Hurry? Editors choice: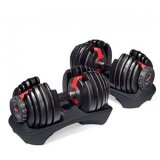 Test Winner: Bowflex SelectTech 552

Attaining the perfect body shape is an essential aspect of life and general well-being. We are aware that cardio workouts are essential in weight reduction and burning extra calories. Workouts that tone your muscles are equally necessary though may require you to buy pricey equipment that is most often classy, complex and of various weight options. Most people will shy away from such equipment due to the high cost. However, there are several adjustable dumbbells available that will suit your specific needs. The main difference with the other standard dumbbell is the ease of adjusting the weight or resistance levels. They are ideal for a serious exercise and will fully engage your entire body core. Do you want a small gym in your home and is wondering where to start? This guide will help you get started.
Standout Picks
Criteria Used for Evaluation
Versatility
It is not just about grabbing a weight and jumping into a workout; you want to be certain that the equipment you opt for will allow you to change plates without losing focus easily. You may not want to slow down your exercise or allow your pulse rate to slow either. Take time to make sure the plates are firmly fit. An adjustable dumbbell should be stable so that you can be able to exercise without any interruptions. You should be able to adjust the weight options depending on your preference.
Buy weights that will fit well into your workout program. There is no need of buying weights that may not be useful in days to come. Pay attention to various increment levels and select one that matches your needs. Some people will buy the adjustable dumbbells to acquire a whole muscle tone while others buy to acquire a light tone. Whatever the reason, you should have your fitness goals in your mind and the reason why you need the equipment.
Your set should have a proper support mechanism to prevent the plates form loosening which could easily bruise you. Ensure they are firmly secured and the weights held firmly. There should be some form of a barrier that separates the plates and the fastener to create some space.
Durability
We all want something that will last long and give us value for our money. An adjustable dumbbell is not an exception. Before setting out to buy a pair of adjustable dumbbells, research first to ensure you buy a durable set that will not wear out soon. Study the features such as the hand weight, handles, enduring, the coating, the firm grip, and the overall construction. It is essential since you will save some bucks by ordering high-quality material. Adjustable dumbbells have a warranty period spanning from two years and above. Therefore you will be at peace knowing you have purchased a quality product that can be returned if found faulty and one that will give you a 100% money back guarantee.
Value
Most gym equipment may be expensive. However, this should not discourage you from attaining the perfect body tone. Several cheap tools can be of use such as adjustable dumbbells. These amazing piece of equipment work by allowing you to change the weight settings depending on your desirable option. They are essential and will be a perfect addition to your home gym. They will also help you achieve your fitness goals at home thereby saving you time and money. There will be no need to subscribe to expensive gym membership when you have adjustable dumbbell at home.
There is no mention of price without considering quality. Most people may invest a lot in buying expensive gym equipment to accomplish their fitness goals. With adjustable dumbbells, you can achieve your desired results at lower price. You only need an introduction kit and a pair of adjustable dumbbells. Therefore go for one that is reasonably priced and of course from trusted brands.
Size
While setting out to buy a pair of dumbbells, it is essential to consider the size. If you are a beginner, you may go for the small sizes to get you started. However, with the adjustable dumbbells, size will not be a big issue since they are generally small. Therefore, they are easy to grip and lift, unlike the standard ones.
Comfort
You may feel discouraged if your set of adorable dumbbells are causing you pain during your work out. The last thing you want is bruises on your arms. Ensure the handles of your adjustable dumbbells are comfortable and threaded regardless of their weight. A dumbbell with a good grip will be ideal and will ensure you have a more relaxed and smooth workout.
10 Best Adjustable Dumbbells
Subscribe to our Newsletter