Best Workout Benches Reviewed & Rated for Quality
In a Hurry? Editors choice: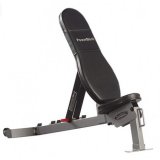 Test Winner: POWERBLOCK

Studies reveal that a
healthy lifestyle
accompanied by regular exercises is essential for your physical and mental health. Workout benches play a vital role in any weight lifting exercise. It can be a challenge choosing the perfect workout bench for your exercises. If you are a beginner, you may not be well versed on the factors to consider before purchasing such as the weight, size, cost, and versatility. However, for a seasoned athlete, this should come out easy. This review guide will analyze some of the best workout benches available and will help you in making an informed decision on what you need to uplevel your workout.
Standout Picks
Criteria Used for Evaluation
Versatility
Workout benches have several adjustable positions that can help you in toning and strengthening your whole body core. There is a wide variety of these benches that come in different forms, sizes and expertise levels. You, therefore, have a choice depending on the reason why you need one and the intensity of your workout session.
Some workout benches have a simple, sleek design and may not be ideal for heavy weight lifting. However, you may use them for simple workout routines such as flat, declined and inclined. The Flat benches are suitable for presses. Their heights and angles are fixed, and the body is made of solid steel to ensure stability and eliminate the risk of falling. In some of the benches, you can adjust the height because of their racking features. Therefore you can do a multitude of exercises such as bench press and squat that emphasize your tummy muscles and the biceps. You can also do declined and inclined exercises.
Capacity
Having a compact and strong workout bench is important to prevent any accidents. Before setting out to buy, check the customer reviews and buy from reputable and trusted brands to get information about the product. If you are planning to buy one for your home gym, chances are you may not have a personal trainer. It is advisable to go for a workout bench that is strong to prevent injury. The bench should support your entire body and another weight. Check its maximum carrying capacity to avoid overloading it and putting much pressure on it.
Value
While shopping for a workout bench, its cost should be a top consideration. A good bench is one that will enable you to perform various exercises. It will give you the stability to do lots of exercises that will result in a perfect workout regime at home. It should have extra features that can be purchased separately such as preacher curl and leg developer. Some of the safest, solid workout benches with a high carrying capacity costs more than the ordinary ones. You pay for what you get. However, it is never that dull. It does not mean you can get a modest bench at a lower price. On the other hand, an expensive bench does not always mean the bench will perform better. Several benches are reasonably priced and will help you in achieving your fitness goals.
Comfort
The workout bench should be able to take your whole body weight, the back, and extra weight while you are still comfortable. It is important for the bench to have a thick pad that is also easy to clean, breathable and of a rough texture to prevent your hands from slipping due to sweat. The upholstery should be of high quality and gentle on your skin without causing any irritation.
Size
Some workout benches are foldable and can be easily stored in a small area. However, there are some that are fixed and cannot be folded. If you have a large house, that should not have a problem since you can set an extra room for your workout. However, if your house is small, its storage will be an important consideration to avoid cluttering your workout place. A workout bench with a foldable design is ideal since you can easily tuck it under the bed or put it safely in your closet.
10 Best Workout Benches
1

. Bowflex 5.1 Adjustable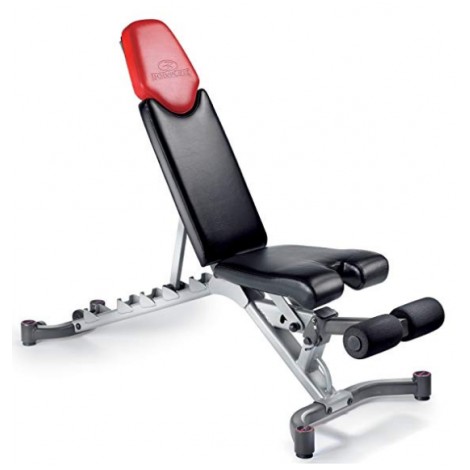 The Bowflex is an adjustable workout seat that will transform your room into an exercise area. It has features that make it more appealing. It has six positions between 17-degree incline to 90 degrees incline. Two other positions allow you to customize your workout. The rack and the free weights will help your feet and work on your muscles. If you are a beginner or slightly experienced, you will appreciate the Bowflex workout bench as an upgrade to your home gym. It is a reliable, solid and adjustable bench, you will have a smooth workout without the fear of it wobbling.
Capacity
The frame of the Bowflex is a high-quality compact, strong commercial steel construction. You are therefore assured of a smooth workout without the risk of the bench breaking or falling. It has a wheeling system that allows you to roll it and keep it safe. The six positions let you work out your muscles from different angles. The Bowflex weighs 66 pounds, and thus it can handle up to 400 pounds which is suitable for many people.
Comfort
When it comes to comfort, the Bowflex guarantees you maximum luxury. The seating area and the backside are cushioned to ensure comfort.
Value
The Bowflex is a durable bench that will last long. Most manufacturers sell with a warranty of up to 30 years. Therefore, you are assured of a product that is an epitome of quality and durability.

2

. Universal UB300 Adjustable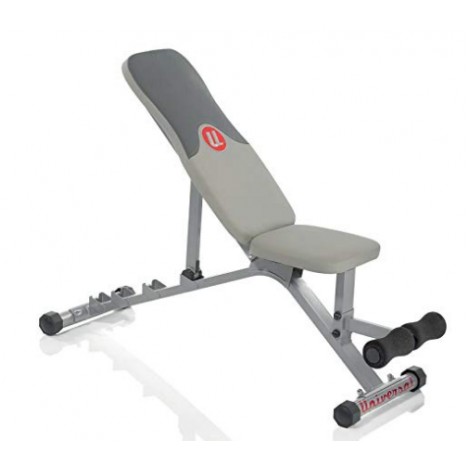 The universal 15 is a simple workout bench that is quite affordable. It has everything you need if you use dumbbells for your exercise or you prefer sit-ups and pressers. The universal bench allows you to work in five positions. Thus you can include various exercises into your workout program. It is a stable bench with stabilizer levelers. It ensures firmness and steadiness. The bench has a contoured design, and the rollers are made of dense foam. The user weight is 250lb while it can support a weight of up to 430lb. It has a dimension of 50.5LX17.5WX37.5H.
Solid
Once you receive an order for your new universal 15 workout bench, you might notice it is light and may worry if it will support your weight. The last thing would be a weak bench that will dump your spirits for a serious workout. However, it is solid with a smart design and allows for weight to spread out uniformly. Even though the universal 15 workout bench is solid, it has a simple structure that is not heavy. It, therefore, means you can create a small space in your home and be able to move it with ease. You can also store it next to a wall without causing much confusion in the room.
Comfort
Unlike other benches that are too hard and uncomfortable, this bench is well cushioned and ventilated. You can focus your workout while on the seat with maximum comfort. The length is also favorable especially if you are of average height and can easily adjust the seat when the backrest is inclined.
Cost and value
If you are a beginner and is looking to buy your first work out bench, then this will be an ideal choice. The Universal 5 position is cheap and will be beneficial in achieving your workout goals. It is a lightweight exercise bench with several positions and also allows you to lift heavy weight.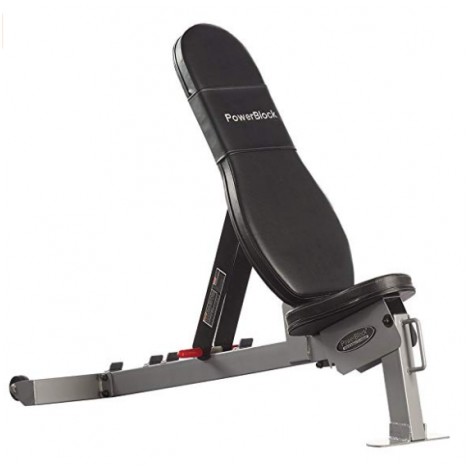 At first glance, you may wonder what is behind the compact and impressive sports bench. However, after a few workouts, you will probably start to wonder why other workout benches are bulky and overly built. The Powerblock workout bench is a cheap option that promises several features for your workout. It has five adjustment positions ranging from 30 to 60 degrees. It measures 50"LX21" WX16"H. It can support weight up to 550lb.
Capacity
The PowerBlock workout bench weighs 57 pounds. Therefore, it's not bulky, has a sleek design, and it's not too clunky. The weight is thus evenly distributed, and you can move around it with ease. The 550pounds capacity is ideal for most people though it also depends on the weights you are lifting. It is of moderate height at only 16" thus you can rest your fit firmly on the ground.
Comfort
What I like about this bench is that unlike other benches, there is a small gap that separates the seat and the backrest, therefore, ensuring comfort while using it. It also has wheels that allow for easier movement. The PowerBlock is made of strong and solid material with a padded seat and backrest to provide support and comfort as you exercise.
Cost and value
As compared to other workout benches in the market, the PowerBlock is relatively cheaper. It is equally important if you are working on a low budget and are keen on achieving your fitness goals and general well-being at a low cost. It is a durable and compact bench with perfect features that will give you various options while ensuring you spend less.

4

. Adidas Performance Flat Training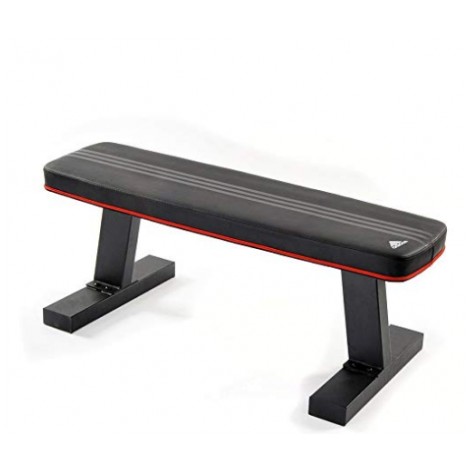 The Adidas flat workout bench is a durable, solid and comfortable for your home gym. It is a bit taller than most benches and will guarantee you safety and desired capacity. You may consider this bench if you are searching for one that will give you better positioning in your workout. It has different positions that maximise your workout routine.
Versatility
The Adidas will provide you with varied angles such as the shoulder, the chest press, and the dumbbell press. Due to its flat nature, you can position yourself to engage your core muscles thus opening your training routine to a whole number of options and possibilities.
Comfort
The Adidas flat workout bench is compatible with most exercise routines such as dumbbell press, shoulder press, and triceps dips. You will feel comfortable using this bench. The high-density cushion guarantees luxury, safety, and comfort and supports your whole body.
Cost and Value
The Adidas workout bench is durable due to its solid steel construction that also includes an elegant powder-coated polish. It has a maximum capacity of 600bs. Due to its durability, it is a sure bet and will give you value for money.

5

. Powerline Folding Multi-Bench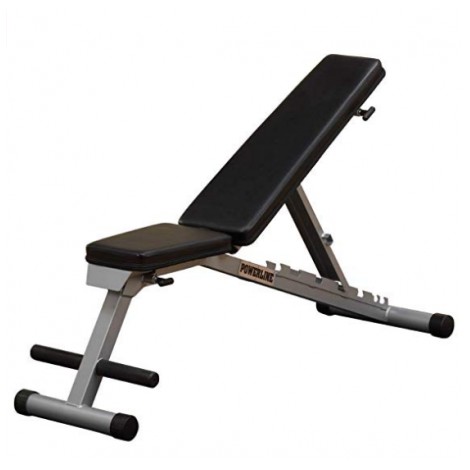 The powerline workout bench is a strong, steady and reliable bench with a uniquely flexible and simple design. It is lightweight; thus you can easily carry it around. It is convenient for your whole body workout.
Entire body workout
The powerline workout bench lets you engage your entire body during your workout session. You only need to understand the manufacturer's instructions to get you started. It offers seven seating angles for you, unlike others which only offer five positions. You can aim at any angle you deem fit. It is ideal for both beginners and experienced users.
Ease of storage
Are you short on space and is wondering if a new bench will add clutter to your home? No need to worry, the Powerline workout bench is foldable, has a simple frame and will not take much of your space. You can even lean it against the wall or tuck it under your bed.
Cost and value
The powerline workout bench is durable with the manufacturer offering a twenty-year warranty. It is quite affordable, and you will be confident that you are spending your money on a quality workout tool. While comparing the price with other models then you will notice that it is affordable and worth your money.

6

. Xmark Flat Incline Decline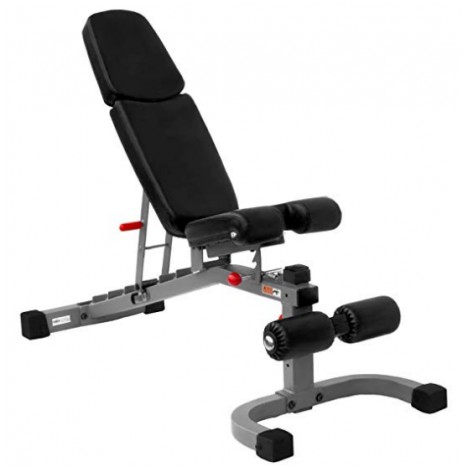 The Xmark workout bench is designed to offer more in terms of incline, decline and flat positions in addition to the curl features. Unlike most workout benches, it does not have a leg developer; thus you will have more space during your workout routine.
Extra features
During a home workout session, it's important to find a bench with features available in most equipment. It saves you cost and creates more room for other cardio equipment. The Xmark has most of the features of premium benches in addition to the bar frame support, therefore, allowing you to select some exercises to include to your workout program. The wheel fixed to the frame in front allows you to adjust the preacher's pad height or detach it.
Comfort
The Xmark seat and backrest are heavily padded to ensure maximum comfort. You back will not hurt when you lie on it especially if you are lifting heavy weights.
Cost and value
When setting out to buy a workout bench that will help you accomplish your fitness goals whether long-term or short-term, it is important to ensure what you are buying is worth your money. The Xmark is worth every penny, it is affordable, durable and will serve you for long.

7

. Ironmaster Super Adjustable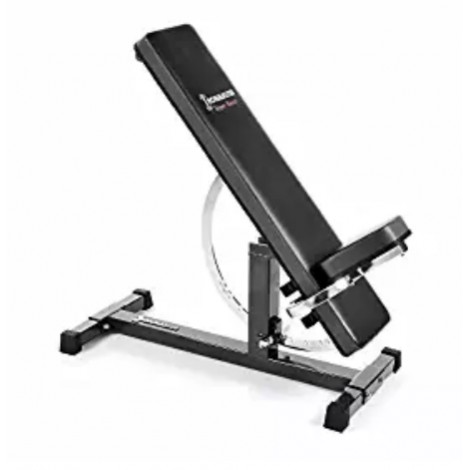 The ironmaster is a strong workout bench ideal for serious weight lifters but also perfect for people who have the intention of setting up a complete gym at home. Its weight is 74 pounds and can be moved easily especially when you remove the inclined seat. It has an ideal height of 44" X 18.75" thus will not strain your legs during your exercise session.
Versatility
Have I mentioned that you could exercise on different angles? Well, the ironmaster super bench is rated high when it comes to versatility in workout benches. It has several positions in addition to the decline. The angles are easily adjustable when using the foot levels, and the seat always attains a perfect position to the backrest as you get you started.
Excellent performance
The ironmaster is as solid as it can get. The structure is solid steel with a semi-gloss coating to prevent rust and scratches. The upholstery is made of heavy-duty material that will be ideal for your workout for many years to come. It ensures all your body muscles are targeted during a workout due to its maximum capacity of 1000 pounds.
Cost and value
It's loaded with beautiful features yet moderately priced. A glance reveals a sturdy, elegantly built bench good for a serious workout and one that will not hurt your budget. The ironmaster is one of the best workout benches that will give you value for your money outside commercial gyms. It earns the trophy in that while it may cost you some extra dollars; however, the total cost of setting it up won't make the price expensive. It is worth noting that for a good price you can do both incline and decline.

8

. Fitness Reality X-Class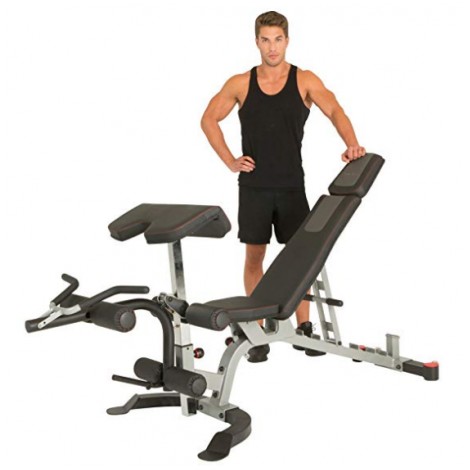 If you are looking for a compact workbench for your home gym, choose the fitness reality. It can support the weight of up to 1500 pounds. It has a detachable leg; thus you can do your sit-ups and ab crunches at ease. The seat and the backrest are made of firm foam. The transportation wheels allow for easier movements. The fitness quality workout bench is an embodiment of comfort. The length and height of the seat are ideal for taller users. It has soft and padded vinyl coated seats, headrest and backrest.
Advanced features
The CAP Barbell has a carrying capacity of 500 pounds while in a flat angle and 400 pounds while inclined. It has been tested to meet quality standards. It has transportation wheels; thus you can move it around easily or store. It has seven different levels of adjustments and three seat adjustments, therefore, providing a perfect angle for every exercise. The pop pins are oversized to provide a firm grip for securing the adjustments. Resistant bands have safety covers.
Versatility
The fitness reality brings the same gym experience at your home. It is made of steel construction with a high-density padded seat and the backrest. It can support a weight of up to 1500 pounds and has an ideal height for users tall as 6.4". The backrest can be easily adjusted to suit your preference. You can do several exercises with this super bench such as shoulder presses, bicep and pectorals workouts, sit-ups and much more. The leg lockdown can be easily detached thus making it lighter. It has a twist lock pin that allows you to lock the detachable seat firmly. The gap between the backrest and the seat is only 1.5 inches. You can workout at various angle adjustments ranging from zero to 15 degrees. The stabilizer bar is u-shaped with flat features thus reduces rocking or any movements.
Cost and value
The fitness reality is a heavy, sturdy and strong bench. It looks like the one you'd find at the gym. The cushions are amazing and supportive with super quality material. Something you would expect at a relatively affordable price.

9

. CAP Barbell Deluxe Utility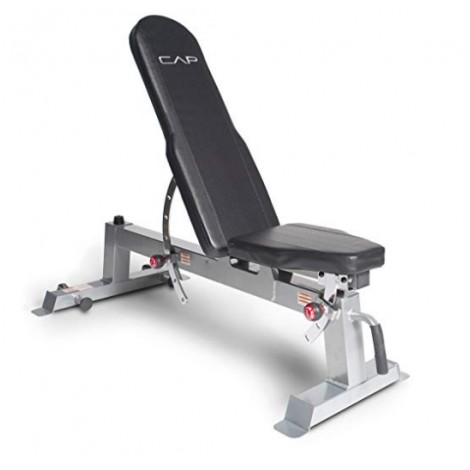 If you are seeking to buy your first workout bench, then the CAP Barbell will be your perfect selection since it has a couple of features to get you started. It will serve you well if you are keen on your weight training exercise. It measures 53" L x 27"W x 45" H and has seven different adjustable positions. It has three seat adjustment that ensures a perfect incline press.
Compatibility
The CAP Barbell work out bench can be used on its own and as a support for other exercise routines like the power cage or the dumbbells. It is strong and easy to adjust. You can adjust the backrest and the seat to various angles and the main difference from other benches is that it can be used with tubes and resistance bands. It has seven backrest positions and three seat angles; thus you will be able to do a whole body workout such as the upper and lower body and a couple of core exercises and back support.
Ease of use
The CAP Barbell workout bench allows you to complete a whole body workout on a seat and backrest that is well padded and soft without causing pain or injury. Another unique addition is the anchor posts at the bottom of the frame that lets you add resistance bands for different workout routines. Therefore, it is ideal if you want a gentler workout for muscle toning or seniors undergoing rehabilitation. If you are keen on a vigorous workout, you can increase the resistance level of the bands.
Cost and value
The CAP barbell workout bench is a full bench that also comes with a reasonable price tag. It has tons of perfect features at a great price thus ideal if your budget is a little bit tight and want something for your fitness goal accomplishment.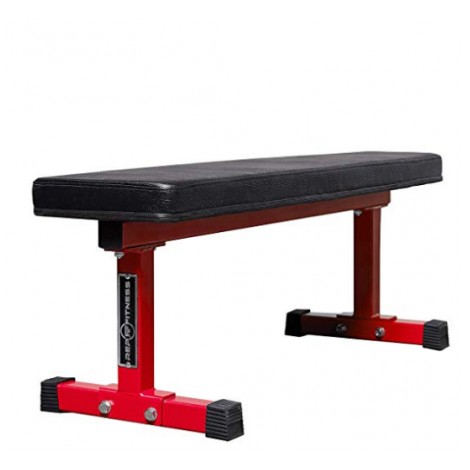 A flat bench maybe a simple home gym addition, however, if you want to upgrade your weight training at the comfort of your home, then the Rep flat bench is a must-have. It has a maximum carrying capacity of 1000lb; therefore it is an ideal selection for professional weight lifters. This load together with the power rack is perfect for chest press where you are lifting heavy weights. You will have a productive workout session that is useful in achieving your fitness goals.
Versatility
The Rep flat bench provides you with different angles for your exercise section. The low flame is ideal if you are keen on entire body workout. It has a dimension of 47x12x17.5 inches; therefore it's an excellent choice if you are tall.
Extra comfort
The padding is optimal and gentle. The backrest and the seat are covered with a long lasting upholstery thus ensuring a convenient workout experience even when lifting heavy weights.
Cost and value
The REP flat bench is an excellent alternative to other premium flat benches and comes at a reasonable price. If you are buying a workout bench for the first time, you may find it overwhelming selecting from several other benches available in the market. You may have a myriad of questions such as, which is the best bench for you and whether it is worth the price. The Rep flat bench is worth every cent considering the numerous benefits you will derive from its use.

Subscribe to our Newsletter