Best Eureka Tents Reviewed & Rated for Quality
last updated:
Oct 24, 2019
Tents are an integral part of the camping experience. They provide shelter from rain, a comfortable place to sleep at night, and protection from bugs and other critters. Further, tents provide privacy from other camping groups and a great place to store items safely. There is no question that a tent is the most practical gear needed when going on a camping adventure. Because of their popularity, the market has become saturated with many companies producing different sizes and styles of tents. One of the top brands that should be considered is Eureka. They have been around for almost 100 years creating tents for anything between frozen tundra to deep forest excursions. To help you find the best model for your needs, we will go over the best Eureka tents available!
This is the best product on our list that is currently in stock: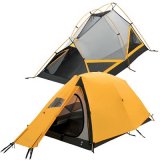 Alpenlite
Why is it better?
Rated for 4 seasons
Durable
Easy setup
Has vents for airflow
In a
Hurry? Editors choice: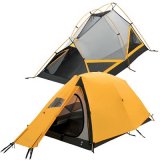 Test Winner: Alpenlite

13
Researched Sources
12500
Reviews Considered
15
Hours Researching
18
Products Evaluated
Materials
Size
Ease of Use
Features
Style
By Default
BEST EUREKA TENTS REVIEWED & RATED FOR QUALITY
Full mesh roof and windows for strong ventilation
Great for amateur campers
Can hold up to 4 people
Easy assembly
Heavier than other Eureka tents
Can leak condensation without rainfly
The Copper Canyon 4 is another unique freestanding tent. This model was designed to fit up to 4 people in an 8 by 8-foot floor space. Additionally, the center height is 6 feet allowing room to stand and maneuver. Along with its steel/fiberglass frames to last long, the tent has a ring and pin assembly making set-up easy.
Strong Ventilation
The Copper Canyon 4 was designed with a full mesh roof that circulates air and reduces condensation. Additionally, the model has large windows on both sides of the tent to maximize airflow creating comfort in hot summer nights.
Electrical Access Port
For those who are able to access electricity in their campgrounds, the Copper Canyon 4 comes with a unique electrical access port to plug in appliances easily. This small feature not only creates convenience but can come in handy for long camping trips.
Cost and Value
This tent costs about as much as the Apex 2XT. With more space, easy assembly, and features such as the electrical access port, this is the perfect tent for amateur camping.
Freestanding model
High-quality double-coated StormShield polyester material
great for backpacking at 7 pounds
Additional storage included
Rainfly doesn't reach the ground
The Apex 2XT is an excellent 2 person tent. Measuring in at 7.5 by 5 feet, there is plenty of room for two. The product comes with full vestibules on either side of the tent for additional storage and to keep other gear out of the rain. The Apex 2XT comes in at only 7 pounds making it perfect for traveling to remote locations. It is well-ventilated, durable, and comes with a rainfly.
Freestanding
The Apex 2XT is one of Eureka's most unique models as it is a freestanding unit. This means no additional weight is necessary to hold the tent down as it can stand on its own. This creates no additional assembly time and overall lessens the weight of the tent.
Material
This tent was created with the double-coated StormShield polyester material making it one of Eureka's most durable tents. Further, the mesh wall is protected with the same StormShield technology to provide extra weather protection.
Cost and Value
The Apex 2XT would be considered the average price for a Eureka tent. This tent checks off many different boxes including being lightweight, durable, weather-resistant, easy to pitch, and features plenty of storage. This outweighs the cost with exceptional value making it an easy top pick.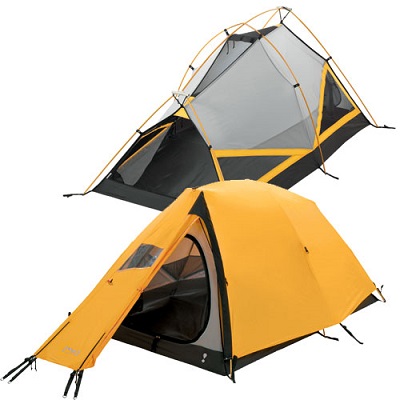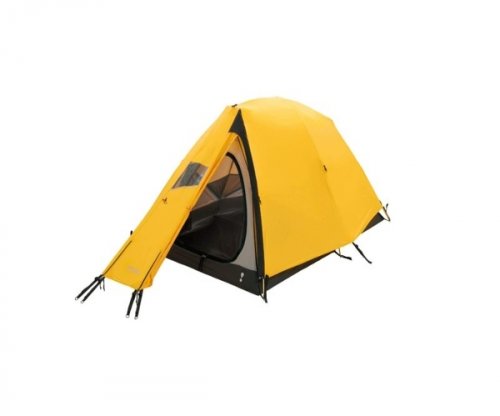 Rated for 4 seasons
Durable
Easy setup
Has vents for airflow
Storage space seems small
This tent is designed to withstand four seasons, making it great for those die-hard campers who use
tents even in the winter months. Not only that but it does tend to be versatile enough to use for warmer occasions as well.
Four Seasons
This tent has been designed for warmth and comfort even in the winter months when you find that you need it the most. The heavy-duty cover for this tend is not only designed to protect you from the rain, but it is also known for handling a decent amount of snow without buckling under the weight.
Versatile
Most four-season campers will tell you that they have separate gear for the colder months. This tent has qualities that make it great for use even in those slightly warmer temperatures. Incorporated into the tent structure are vents that promote airflow, rather than hindering it as some other four seasons tents have the tendency to do.
Cost and Value
Coming in at a lower cost for a more versatile tent option, you definitely won't want to pass this tent up. Made for strength, warmth, and comfort this tent can be used for all four seasons. While other tents on the market claim the same, you will see that this one has stepped up the design to make this statement true.
Accessible electronic ports
High-grade polyester material
Eureka s special Eluminate System
Can sleep up to 6 people
Less cost-effective
Heavy at 24 pounds
The Jade Canyon is a free-standing, 6 person tent. With so much space, there is room for storage in both mesh pockets and overhead storage. In addition, space allows for accessible electronic ports making it great for popular camping grounds. This model comes with 4 windows and a roof to maximize ventilation. With a combination of clips and sleeves, this large tent is easy to set-up making it great for family camping.
Eureka's Eluminate System
The Eluminate System is a removable reflective ceiling panel that has the ability to reflect light from a lantern back to the floor. This illuminates the room withoutthe need for flashlights or dangerous fire substances.
High-Grade Material
The Jade Canyon comes with 1800mm coated 75D StormShield polyester rainfly. The model also includes 75D polyester floors and 2000mm coating walls to offer superb weather protection. The Jade Canyon will truly be long-lasting.
Cost and Value
The Jade Canyon is on the more expensive side of Eureka tents. Although it is costly, it will last long with high-grade materials and is spacious sleeping up to 6 guests. This makes the tent well worth the cost.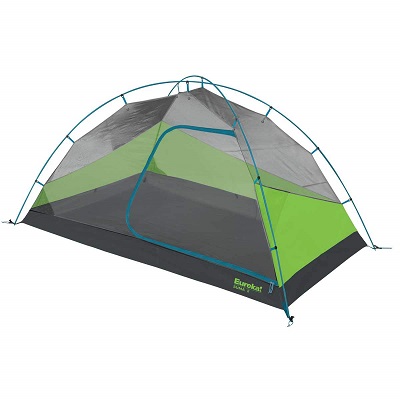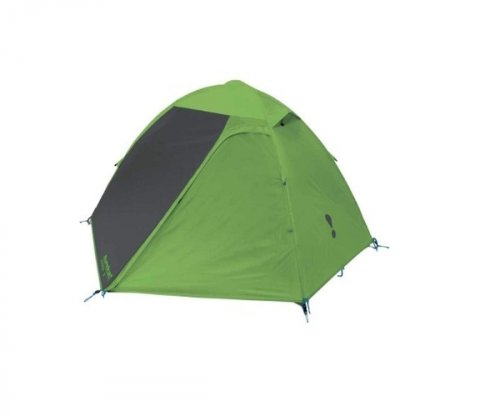 Under 6 pounds
Extra storage space created by the vestibule
Quick pitch time
Cost-effective
Can only fit 1 person comfortably
The model comes with full vestibules on either side for storage, is well ventilated, and comes with a rainfly for extra weather protection. Unlike the 2XT, this model only sleeps 1 comfortably. Additionally, it contains UV resistant material and is not prone to stretching in extreme weather conditions.
Lightweight
This is made out of shock-corded fiberglass poles to make it more lightweight. In total, this tent is under 6 pounds giving you the room to travel with it easily.
All Clip Design
The Suma was designed with all clip freestanding set-up. This, along with posts, instructions, and a grommet, makes for a quick pitch to allow you more time in the outdoors.
Cost and Value
The Suma is on the cheaper side of tents and is less costly than the Apex 2XT. It derives its value from portability while still upholding the quality of a Eureka tent. It does lack some of the high-quality material of the Apex 2XT putting it lower on our list.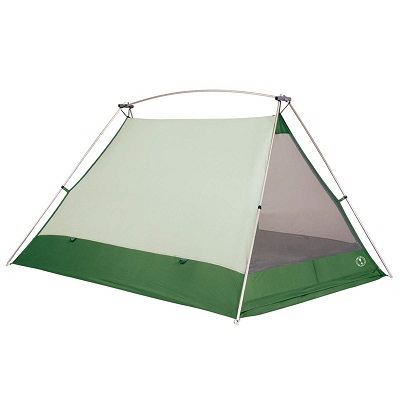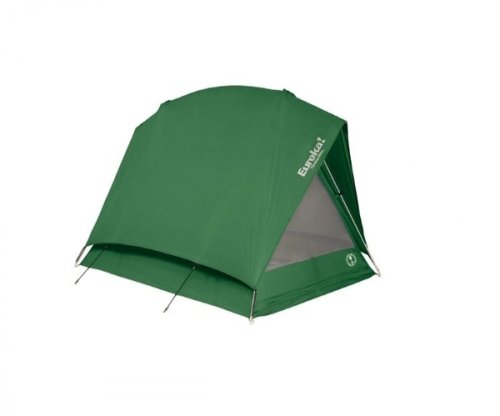 Breathable nylon walls
Storage with two mesh pockets and optional gear loft
Long-lasting classic A-frame build
Cost-effective
Zippers are known to break easily
Tight fit for 2 people
The Timberline comes in both a 2 person and 4 person tent. Since Eureka has been building tents for 100's of years, this model is designed in the classic A-frame style that maximizes comfort without any additional cost. The design is lightweight, at only 5 pounds, making it great for long hikes and biking trips. The windows, as well as the doors, can easily close to allow a sense of ventilation.
Storage
The Eureka Timberline comes with two mesh gear pockets to better keep your tools and gear organized. Additionally, the model comes with loops for clotheslines or flashlights and an optional gear loft. This design utilizes the space for any necessary storage.
Breathable Walls
The walls are made of nylon making them breathable as they circulate more air. With a polyester fly and floor, these walls can be turned into a weather-resistant sleeping area in minutes.
Cost and Value
The Timberline is slightly lower than the first two on our list. With cheaper costs, you still have weather resistance, circulation, storage, and enough space in an A-shaped frame. This holds up its value and secures a spot in the top
Extremely spacious
Comes in two sizes
Constructed to be extremely durable and sturdy
Non-slip bottom helps keep the tent in place the entire time
Difficult to put together if you are doing it alone
Handling it can be troublesome
Built specifically to be convenient and versatile the Desert Canyon tent comes prepared to suit families with 4-6 members. Designed in a cabin style, the tent is ideal for family trips, backyard staycations and even at festival grounds. Its versatility is quite convenient when you want one solid tent that will get the job done correctly every time.
Durable
One of the features you want to keep in mind when finding the right one for you and your family is just how durable it is. Though most tents are quite durable, they're not built the same. Constructed out of steel and fiberglass the tent is quite durable, so much so, that it can withstand heavy pressure from multiple angles. The tent itself was designed to be wind, weather and fun proof. Having this feature enables the tend to be perfect for bad conditions if you happen to come across it when you are camping out of town. Due to this the frame and fabric are both extremely sturdy giving you a durable aesthetic.
Extremely Spacious
If you have a large family, you want a spacious tent, especially if you plan on having your entire family exist in the same tent all day and night long. This tent enables you to do just that without feeling suffocated or overcrowded with too many people. The tent was built to be extremely spacious. Featuring a non-slip platform for an added dose of comfort when sleeping or walking around. Furthermore, there are high pockets and even a gear loft where you can place your items in to give your tent as much ground as possible.
Cost and Value
When it comes to the cost and value of this product it is priced quite high, but it will also depend on how large you need your tent to be. You have the option of having a four or six people tent. Once you decide which one will work best for you, that is when the price will change. Though the price is quite high you are getting a lot from the tent- space, durability and gear pockets to keep your belongings safe.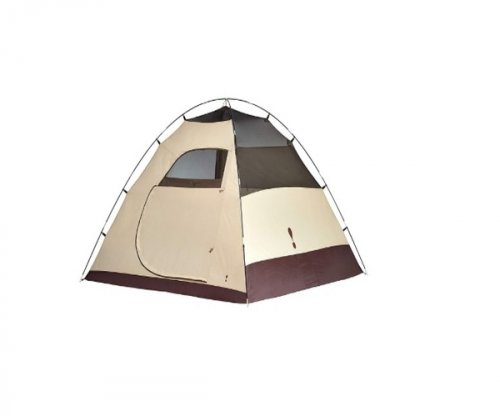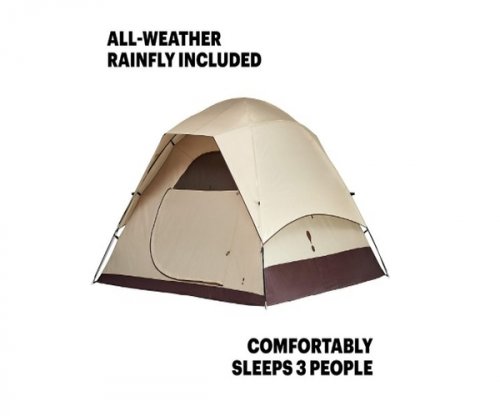 Spacious enough for 4 people
Comes with numerous features for an added dose of comfort
Easy setup
The tent has an additional loft where personal belongings could be stored
Large main door for easy coming and going
Waterproof
No-see mesh roof and siding for easy ventilation
Flooring isn't as great as you would want it to be
Can't withstand as many weather conditions
Featuring a unique design the Tetragon HD was created to give you a more personal tent. Measuring 7ft by 7ft floor wise, 4 ft by 4 inches tall, and weighing 6 pounds and 7 ounces, the tent was designed to fit between 2-5 people but somehow feel intimate and personal. If you have a larger family this might not be the one for you but if you're seeking a tent that provides a cozy touch this is the one.
Durable Construction
Having a sturdy product is key when you're purchasing a tent that you plan on traveling with. Built to last the construction of this one is quite durable. Showcasing a rectangle dome design the tent has a whole frame construction. What this means essentially there is one entire connection that holds the tend together. So instead of having multiple moving parts, you have one solid one that holds it all together. Furthermore, the tent comes with no-see mesh roof and side panels, to enhance the air circulation inside. Additionally, the large door makes coming and go out of the tent a breeze.
Warmth Stays In
Tents were created to keep you somewhat warm when you are outdoors. With that being said this one comes with a bathtub-like flooring that extends to the size of the tent so that it remains as dry and warm as possible. Having this feature gives you added protection against moisture and splashing water. Like most, this one has a gear loft that allows you to place your items directly in the designated space instead of the floor of the tent.
Cost and Value
When it comes to the cost and value of this item, it will vary on the size of the tent that you need according to the size of your family. The smaller the tent you need the less expensive the tent will be. However, you want to remember you are paying for the quality as well as the preferred size. The price is essentially quite reasonable overall.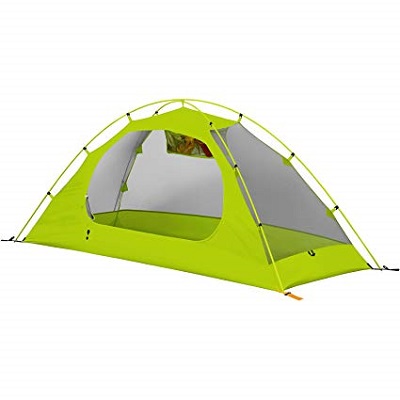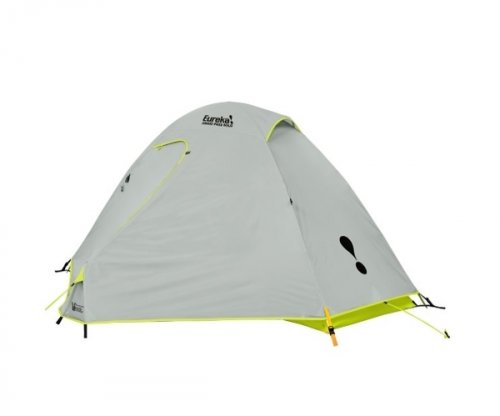 Only 6 pounds
2-pole frame creating a quick assembly
V3 ventilation system
Cost-effective
The front entrance is small
Tent pegs can bend easily with high amounts of pressure
The Midori is a great 1-person, lightweight tent. It comes with a full-covered rainfly that protects you from splashing and general weather conditions. Further, the model was designed with a V3 air system with mesh panels to maximize circulation. The vertical strut in the front creates an area to store equipment or shoes from the rain.
2-Pole Frame
The Midori is built with an aluminum 2-pole frame to make setup easy. Additionally, clips, posts, and a grommet is provided to reduce the assembly time further making it one of the fastest set-up times for a Eureka tent.
Trapezoidal Floor Shape
The Midori is uniquely designed with a trapezoidal floor that narrows one end minimizing carrying weight. In total, this lowers the weight to under 6 pounds which makes it perfect for traveling.
Cost and Value
The Midori is on the cheaper side of Eureka tents. For a low price, you can own a great 1-person tent that can be assembled quickly, is lightweight, and protects you from the elements.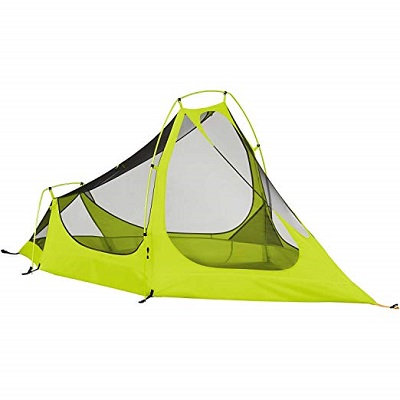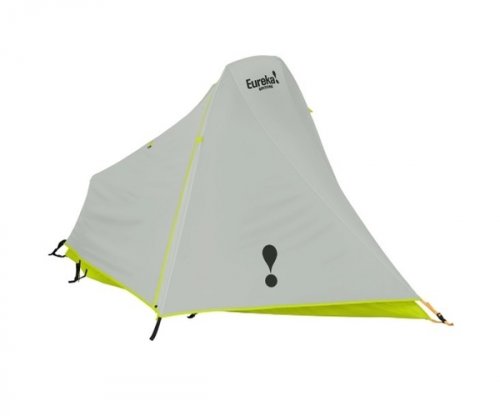 Fantastic for backpacking at only 3 pounds
Quick assembly time
designed to accommodate taller individuals
Cost-effective
Doesn't work well in rocky terrain
Has unused space near the ends
The Spitfire 1 is an exceptional lightweight 1-person tent. With a carrying bag and weighing in at only 3 pounds, this model is made for backpacking. It comes with weather-resistant material that keeps seams taut and high off the ground. It comes with many features including mesh panels for circulation and a reasonably sized vestibule for extra storage.
Large Side Doors
The Spitfire 1 model was built with large doors to make entry and exit easy. This small feature, along with additional headroom, is fantastic for taller or larger individuals.
5 Minute Assembly
The Spitfire 1 only requires 2 stakes for set-up. Further, the poles attach with clips and the sides have release buckles that attach easily to the body to make assembly just under 5 minutes.
Cost and Value
The Spitfire 1 is on the cheaper side of Eureka tents. Although it is cheap, it is easy to assemble, lightweight, and still is made of high-grade aluminum.
Criteria Used for Evaluation

Materials
When looking at Eureka tents, there are a couple of factors and features to take into consideration. The first and foremost is the material being used. Although most tents have some weather-resistant material, the degree to which this holds up is essential. The sturdier material may be more expensive but will last longer at extreme temperatures. If you are an avid camper, then it's important that you look for the best material. Not only will you be better to protect you from the elements, but it is also much more durable. Although it may cost more, it will last longer and be a better value.

Size
Tents are sold to accommodate the number of people who will fit into the tent. Although there is no algorithm used to figure out space per person, it is safe for you to assume that the more people the tent is rated for, the bigger the tent will be.
To choose which tent will best suit your camping needs you will have to consider the number of people you are looking to accommodate, will you need room for pets, and also are you looking to store any gear within your tent. Always keep in mind that tents are generally considered to be close quarters. It is recommended that if you feel you will need a more spacey feel, you should choose a tent that is rated for one more person than that of your party size.

Ease of Use
When looking into a tent, one key feature is the ease of setup, if you have ever put together a tent in the dark, you will know what a hassle setting up a tent can be. Look for one with fewer poles; this will cut down on time it takes to put your tent up. Make sure the tent is user-friendly. Consider how quickly the tent can be pitched and any other additional features that may make your camping experience comfortable.
You may also find setting up the tent comes easier if the poles are connected with clips rather than those pesky pole sleeves. Finding a tent that has color-coded clips and poles will also make for a more hassle-free experience. As for the poles themselves, those made from aluminum tend to outlast those made from fiberglass.

Features
There are a lot of great features that can really improve your camping experience. Here are some of the best features to look for in a tent:
The Height of the Peak
This refers to the highest point of the tent and in most tent designs, this will most likely be in the centermost portion of the tent. The higher the number, the easier it will be to move about in the tent while standing. Keep in mind, in some tent designs the upper portion will have a slanted design, making the height of the peak rest solely in the middle of the tent.
Cabin Tent Style
This refers to the layout of the tent, cabin tents offer one of the highest peak heights, making it easier to move throughout the entire tent while standing. Family tents fall under this style, you may find them with separations for making rooms within the tent, also with larger living space.
Dome Tent Style
The floor plan for dome-style tents makes them better for withstanding the elements, but they will also come with their downfalls. One of these downfalls is that the walls are not as vertical as that of the cabin style tents, therefore decreasing your amount of usable space within the tent.
Walls
For the walls of the tents, you have two options, each with their good and bad features. Your first option would be a single-wall construction, these are known for being lighter in weight than their counterpart.
This type of wall is an all in one combination, which means that the wall and the rain protection cover are one piece. One potential downfall to this construction, these tents can allow moisture to collect within the walls of the tent, this can cause problems in the long run.
The second option you have is the double-wall construction. This one is just as the name states; you get two forms of protection from the walls. The inner part of the walls is normally made from a breathable material, allowing airflow through the tent.
The outer portion of the walls is where you get your protection from any rain or dew forming; this is a cover that adds protection to the breathable inner walls. Although double-wall tents combat your moisture issues, they are known for being heavier in weight, making them slightly more difficult to lug around than the single wall option.
Storage Space
Within the rain cover is typically a space intended for storage, this is known as the vestibule of the tent. Some tents will not come with one but will have the option to attach one to the rain cover. These are great for keeping your gear dry during your camping trip.
Doors
Some tents will only have one door, which can cause a problem when having more than one occupant in the tent. Tents with more than one door can alleviate having to jump over others to get out of the tent. Another consideration when thinking about doors, be sure that the zippers will function adequately time and time again.

Style
Tents have evolved over time to suit campers' specific needs, and since everyone has different needs, there are many styles to choose from. Here are some of the most popular styles and the benefits they offer:
Backpacking: Backpacking tents are normally rated for three seasons, and can accommodate several people at once. These are moderate in price, but with all of their options, can be difficult to choose which one would best suit your needs.
Ultralight: These tents are best suited for those going on a backpacking trip. They are typically the lightest tent on the market, but won't offer much in the department of durability. Their designs are close to that of the backpacking tents, except they have been specially manufactured to lighten up your load, this comes at a high cost to the consumer.
Recreational/Family: The design for both of these types of tents is to make them roomier in order to accommodate more people within them. Found made from heavier materials, these tents tend to be on the clunky side for transport. Some can be found with separations, providing privacy within the tent.
Expedition: Expedition tents fall into the four seasons category, therefore they are constructed to withstand some pretty harsh environments. Normally you will find these to be extra roomy; this provides space to add a makeshift kitchen to your tent, for those times you can't brave the elements. With the added materials and space comes added cost, expedition tents are one of the highest-priced tents on the market.
Expert Interviews & Opinions
Most Important Criteria
(According to our experts opinion)
Experts Opinion
Editors Opinion
Users Opinion
By Default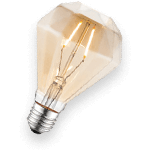 The Tent Cover Is Important
The cover can be found in two different options; the first is one that covers only the top portion of the tent. These will provide a minimum amount of protection against the rain while allowing more natural lighting into the tent. The second choice you have is a cover that will extend to cover the entire tent. This style of cover will offer not only a better form of protection against the rain, but it also gives you more protection from the winds when they pick up.
What To Look For
After looking at their best tents, understanding how each one fits your specific needs is critical for choosing the right one. Needs include understanding price, pitch time, space, and durability. For those looking for a more family-friendly atmosphere, the Copper Canyon or Northern Breeze Screened Shelter is recommended. For those looking for lightweight tents, we recommend the Apex, Midori, or Spitfire as they can be easily packed and assembled.
Other Factors to Consider

Effectiveness
Not all tents provide the same amount of protection and you should know this before purchasing your next tent. In order to ensure that you are getting a model that will best suit your camping needs, make sure to check out it's rating. Here are the ratings and what they mean:
Tents Rated for 3 Seasons
These tents are the most popular amongst campers that prefer camping later in the spring through the early portion of the fall. These tents can be found with panels designed for optimal airflow during those warmer days.
Ample rain protection will come from a cover that fits tightly over the tent, preventing rain from entering the tent. Tents rated for three seasons offer you protection against rain and bugs while giving you a private area for sleep. These tents should not be exposed to heavy winds, snow or expected to hold up during harsh weather.
Tents Rated for 3-4 Seasons
Tents rated for 3-4 seasons will be effective in the early part of spring through the later portion of the fall. These tents will have a couple of extra poles than the tents rated for three seasons.
They provide the structure of the tent with stability; you will notice that tents with the 3-4 season rated won't have as many panels designed for ventilation. The reason for this is simple, to add warmth to the design, some of the ventilation panels have been replaced with solid panels. Although these tents can withstand more weather conditions than the three-season tents, they are not recommended for use in the winter months.
Tents Rated for 4 Seasons
These tents were designed for those who intend to camp in the worst conditions mother nature has to offer. Stronger poles combined with thicker panel material, give these tents the durability and warmth needed to block out the wind or snow.
Their covers will generally cover almost the entire length of the tent, which is known for cutting off the amount of air circulation you can get. Lack of flow makes them not so great for any other season than winter, as the can become very warm and uncomfortable in the summer months.
Frequently Asked Questions
q:

How do you prevent mildew from forming on the walls of your tent?

a:

The best way to prevent mildew from forming on your tent is to make sure it is completely dry before packing it up for storage. In some cases, due to weather, you may need to take your tent down in the rain at the end of a camping trip. This is okay, you will, however, need to set it back up once you are at home. You can even do this in your garage, in the event the weather isn't cooperative. Be sure that your tent has completely dried out before packing it up for storage.
q:

What is the difference between a backpacking tent and an ultralight tent?

a:

The only true difference between a backpacking tent and an ultralight tent is going to be the actual weight of the tent. Ultralight tents are designed to be as light as possible, making them perfect for those who spend a lot of time in the backcountry trekking around.
q:

How long should my tent last me?

a:

For those who camp only a few times a year, your tent if properly cared for should last you for at least 7 years. The more your tent is exposed to the elements, the shorter you can expect your tent to last. You want to clean and completely dry your tent every time it's exposed to any weather as that will extend the longevity of your tent. Additionally, you want to always set up your tent properly so that the frame itself doesn't loosen up along the way.
q:

Why does my tent seem like it is sticking together?

a:

If your tent is starting to stick together, there is a good chance that the waterproofing used on your tent is starting to wear off. This is where that tacky feeling comes from, in order to fix this issue you can retreat the tent with additional waterproofing. You can purchase this in the form of a spray, simply set your tent up in a place that it won't get wet. You will also want a space that has a good amount of ventilation, all you need to do is then spray the outer walls of your tent, be sure to allow ample time for drying before packing for storage.
Subscribe to our Newsletter