Best Cabin Tents Reviewed & Rated for Quality
In a
Hurry? Editors choice: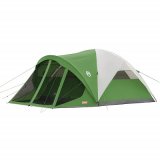 Test Winner: Coleman Evanston

There are tents and there are cabin tents. You know what we mean, we've all been camping with that couple who doesn't really camp so much as bring their house with them into the country. We're talking generators, lights,
propane grills
, and of course big
giant camping tents
that look like small Wal Marts. But hey we don't judge some folks love being in the outdoors but don't want to feel constricted by a tiny little pup tent that's hard to get in and out of. We get that, and we've been known to indulge in a bit of pamper camping in our day when we just want to get out of town but don't feel like roughing it. Thankfully it's a fairly common thing and so there's no shortage of tents that focus on maximum space and maximum headroom and a minimum amount of trouble.
Standout Picks
Criteria Used for Evaluation
Materials
One of the most important features when it comes to evaluating these comes down to the quality of the build and the materials. When we were starting off this guide, we knew right away what we wanted to focus on first.
So, as we began to look at each product, we first studied all of the materials and the type of build the manufacturer went for. Understanding these two concepts can speak volumes about the value of a tent. Furthermore, we also looked to see how the manufactured talked about the build of the product.
Did they talk about durable materials? How are they ensuring consumers that their product is high-quality? Do they offer each purchase a warranty or guarantee? In answering these questions, we were able to highlight the very best on the market today.
Size
When it came to selecting the best products for our list – one consideration we thought was important was evaluating the overall size and weight of each one. In truth, when you are picking out your tent that matches your needs, this should be a pertinent consideration as well.
For example, are you looking for a sizeable 6-10 person tent or a smaller 2-4 person tent? Depending on your needs, it may impact the size of the tent and the weight. Additionally, how do you plan on traveling with your tent?
The size of the tent and weight may implement how you plan to transfer your tent from location to location. In doing so, we tried to offer and select a wide variety of sizes and weights to match as many people's needs as possible. What we learned in doing this project was that many manufacturers offer different sizes of the same tent. For example, if you are interested in the tent that is number one on our list, consumers can pick from either a 6-person tent and an 8-person tent.
Protection
The purpose of a tent is to allow an individual to enjoy living in the outdoors, protected from the surrounding nature. Now, as we can all probably attest, the last thing that any of us want when camping out in nature is a thunderstorm.
Whether that means rain with thunder and lightning or perhaps just a lot of rain and wind - we can all agree that having some degree of protection is essential. With that being said, when we began to create this guide and list - we wanted to ensure that each tent offered some degree of elemental protection.
In this, we quickly learned that many on the market today feature some unique weather protection. For example, the best tents often include windproofing technology and, in some cases, waterproofing materials.
Durability
If you are a first-time camper, chances are, you never had the experience of buying a tent and having it rip or break when setting out. Better yet, you never had the experience of setting up the tent for the first time and, all of a sudden, a gentle gust of wind picks up the tent and destroys it.
Now, when we were creating this list, we wanted to ensure that every single product boasted durability and longevity. To do this, we carefully looked at how each product was constructed, per the manufacturer's description.
You should know, we never base our opinion on just the manufacturer's specifications and pictures. We always took the time to cross-reference this information with what previous customers have said in their reviews. These individuals had the first-hand experience with the cabin tent and can report the quality and durability of the product.
Value
As a responsible consumer, it's up to us to ensure that, when purchasing any product, we are getting our money's worth. With that being said, the best way for anyone to ever figure out if they indeed are is through utilizing something known as the cost and value ratio.
Now, if you have kept up with some of our guides, chances are, you might be familiar with cost and value. If not, let us teach you what this is all about. For this article, to pick out the best products, we wanted to make sure that the price of the products was fair, following the market value.
To do this, we carefully scanned the entire market and kept track of the prices. We noted the most expensive and the cheapest products, to track the industry. The goal of doing this is to help when assessing value.
In understanding the price point of the market and competition, we looked at the value of each tent, knowing the price differences. From doing so, we were able to highlight the best products, at the best prices, and at the best value for you. Only the best valued and best-priced products made our last, naturally.
BEST CABIN TENTS REVIEWED & RATED FOR QUALITY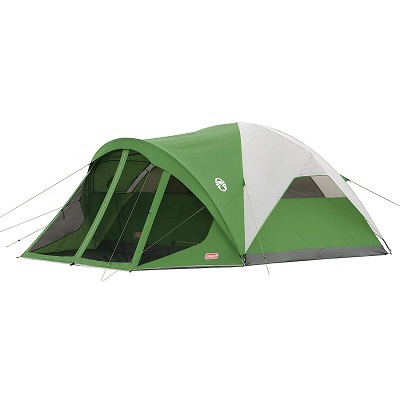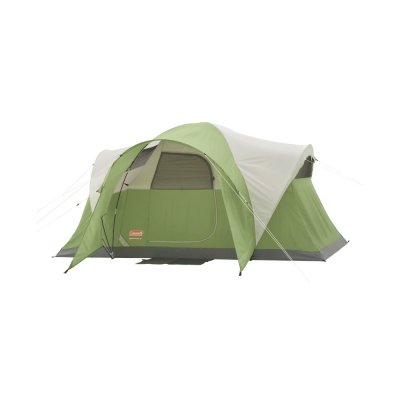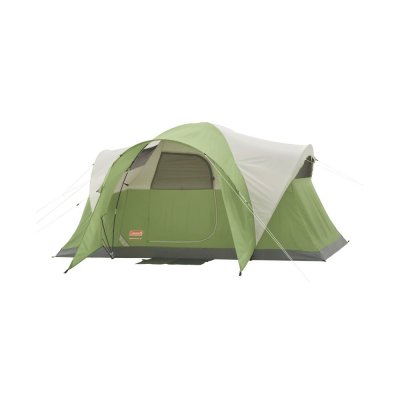 The Coleman Evanston Screened tent comes in eight-person and six-person varieties. Both versions offer ample space that includes a screened-in front porch and the Coleman WeatherTec technology. This tent is made from polyester, a material that is sag resistant and offers UV protection. With a detachable rainfly, the Evanston Screened Tent is a great choice for your home away from home.
WeatherTec
WeatherTec technology is incorporated in the Evanston's overall design. The floor is made of a welded material that helps to eliminate tiny pinholes that may let in water. Also, inverted floor seams overlap the fabric which reinforces the jointing material. Along with a strengthened frame, Coleman boasts that WeatherTec designs can withstand 35 mph winds.
Screened in Patio
The front of the Coleman Evanston Tent is a screened-in patio. This feature offers additional space where you can put chairs so you can relax while protected from mosquitos and harsh sunlight.
Cost and Value
Like all Coleman products, the Evanston Screened Tent is an affordable option. With unique features like the screened porch and WeatherTec systems, you will get your money's worth with the Coleman Evanston Screened Tent.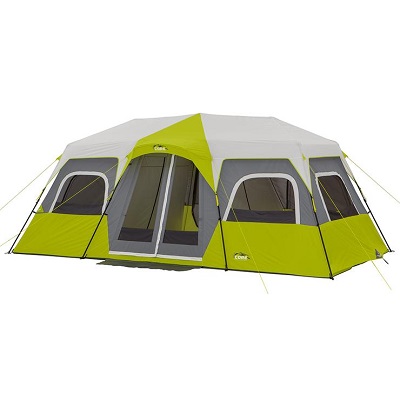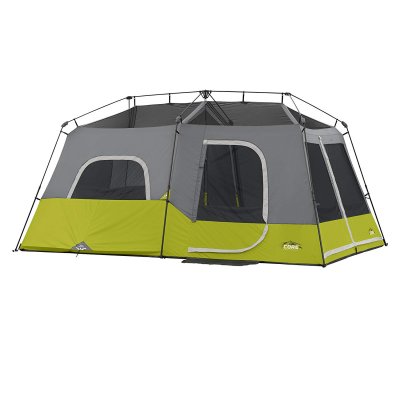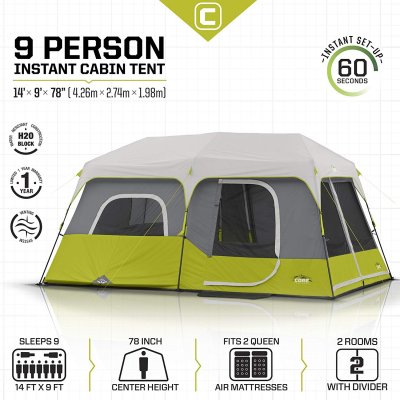 The CORE tent features a classic high wall cabin design. This type of design optimizes the space inside the tent. While it does not measure much bigger than some six-person tents, it sleeps 9 comfortably due to the cabin design features. The mesh windows are unique as they create a panoramic effect inside the tent when the rain fly is not attached to the top.
Fast, Simple, Easy
These are words that are used to describe the ease of setting this tent up. Even one person will find that setting this tent up is extremely easy compared to some other tents. The CORE 9-Person Instant Cabin has an integrated frame system. This is CORE's answer to Coleman's Instant cabin series. The company claims 60 -second set up. I'll let you decide that for yourself.
H2O Block Technology
H2O Block Technology takes advantage of waterproof materials that both repel water and also cause instant beading. The taped rain fly is superior to some due to its seams, connection points, and overall design.
Cost and Value
This tent has some pretty awesome features. The room divider is attached to the inside and can be zipped open and closed. When not in use, the dividers can be secured to the walls of the tent. This is an averagely priced tent that is a great consideration.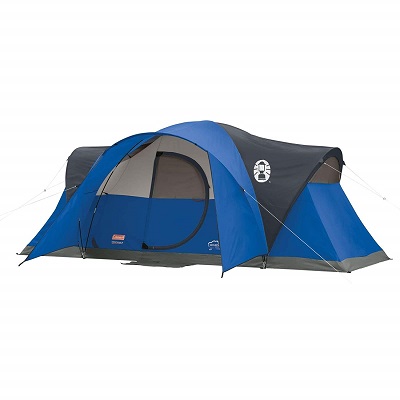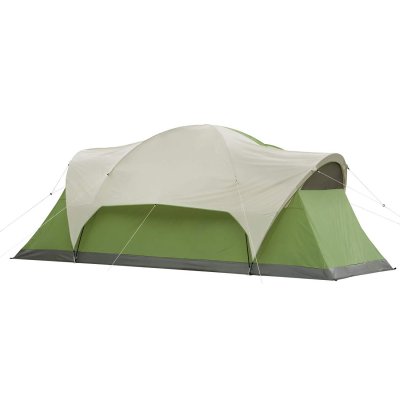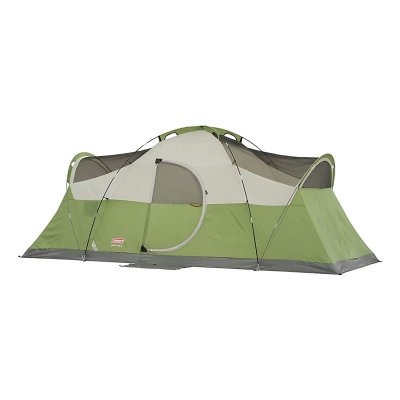 Another from Coleman!? I know, get used to it. Coleman has been creating amazing camping products since 1900 when they sold gas lamps in Oklahoma. The Montana continues this tradition. With an innovated hinged front door and unorthodox window style, this 16'x7' tent is an amazing option.
Defy the Elements
With Coleman's WeatherTec System and the inverted designed windows, Montana provides a strong and dependable shelter option. Not only does the WeatherTec keep microscopic holes from leaking in water, but the high windows and walls also make for a sturdy tent with adequate ventilation.
Hinged Door
A unique feature of the Coleman Montana is the hinged door. One of the more frustrating things about traditional tent doors in that they are sometimes difficult to zip up. Especially if you are trying to quickly close the door during a rainstorm. The hinged door of the Montana is a brilliant feature that eliminates the hassles of trying to hold the door taut while zipping it.
Cost and Value
High walls and hinged door make this tent look like a small cabin. The spacious interior makes walking around upright possible for most people. With these innovative designs and features comes a tent that is a little more expensive than other Coleman tents. However, is still considered a mid-ranged priced tent.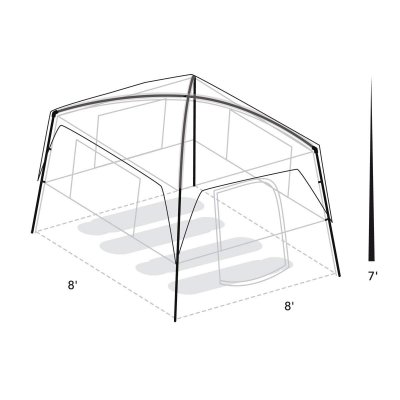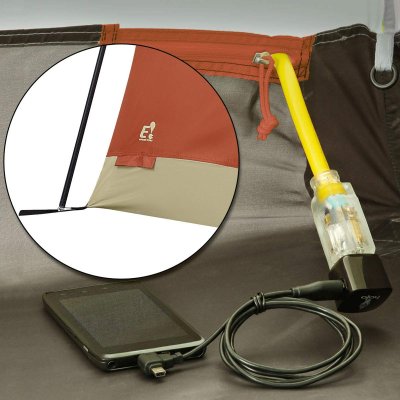 This is actually one of the smaller tents on our list. After all, it can only fit four people comfortably. And trust us, that's definitely on the small side when it comes to this list. But if you're looking for a simple, not too big tent that'll hold the whole family then this is a really good choice. There's plenty of headspace and plenty of outside views. And the walls are almost vertical which makes getting in and out of this tent easy and doesn't give it a pyramid feel on the inside.
Tall and Wide
Thank the vertical walls for making this small tent feel really spacious even though it's actually a bit modest. There's just no empty space inside this tent as the wall is almost straight up and down so every bit of space is usable and plentiful. The ceiling is also a very generous 7 feet so once you're inside you won't feel like you have to bend over all the time.
Wired
Well not so much wired as easy to wire. There's a special weather-resistant outlet that'll allow you to run a power cord into the tent. If you run the cord back to a generator and you can turn the inside of your tent into a home away from home if that's what you're looking for when it comes to a camping adventure.
Cost and Value
Not a bad price, there are plenty of more expensive models on the market but those tend to up the number of occupants significantly. But with the vertical walls, seven-foot ceilings, and a durable steel fiberglass construction then this is a great little family tent for the money.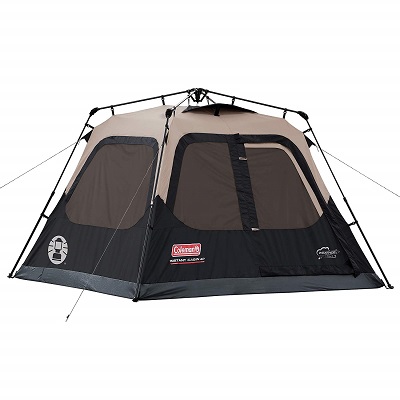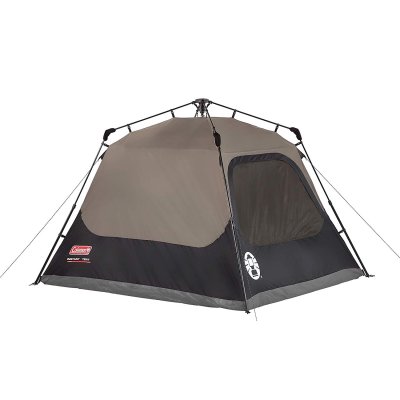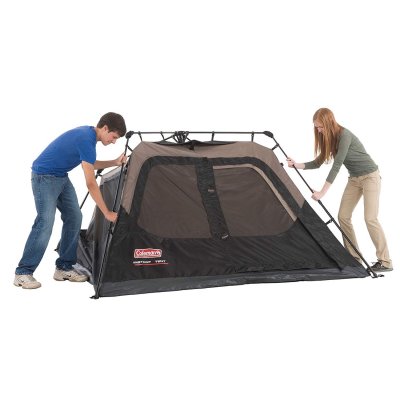 Perhaps one of the easiest tents to set up that is on this list is the Coleman 6-Person Instant Cabin. This tent is pretty much pre-assembled when it is packed making it a breeze to erect even for a single person. The 6-Person Cabin resembles traditional designs with high walls and elevated windows.
One Minute Set Up
The Coleman 6-Person Instant Cabin is true to its name as the set up is almost instant. Tent poles are preassembled and attached while the tent is packed up. All you have to do is unfold it and erect and it's good to go. The WeatherTec wind strong frame makes it a durable tent for you and your camping party.
Tent Kit Option
Coleman offers an additional kit along with the tent. While this option costs a little more, it includes high-quality tent stakes, a rubber mallet, and even a small broom and dustpan. All of which can be stowed away in a carrying bag.
Cost and Value
This is a pretty good tent for the money. It features double-thick material that is very durable. However, there is a lot of room for improvement once you get this tent. All tents, no matter what the manufacturer claims, should be sealed with a tent sealer. Also, an additional rain fly is recommended for additional protection.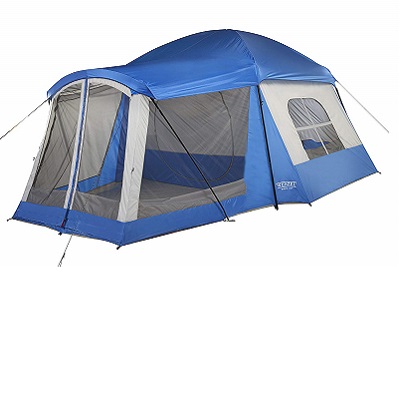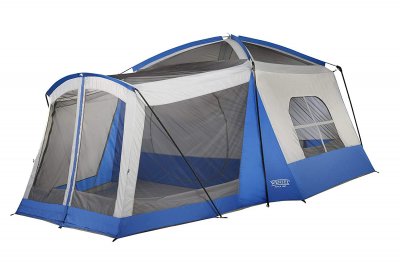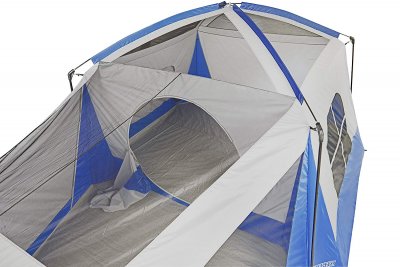 Another tent that has the traditional portable cabin feel is the Wenzel Klondike. This charming model is available in blue or gray and taupe. The 60 sq. ft. screened room is capable of sleeping three or using as a wet/dry type of anteroom to take off muddy or dirty clothes before entering the main portion of the tent.
Screen Room
Wenzel Klondike's most noticeable feature is the screen room. This is a fully functional room that has mesh walls and is able to be zipped closed. During the day, use the room as an additional hangout spot. Later if the weather turns bad, zip up the walls and enjoy 60 sq. ft. of additional sleeping space.
Unique Design
The screen room is not the only thing unique about this. Inverted "T" doors, fiberglass framing, and seams that do not contact the ground will add to this tent's form and functionality.
Cost and Value
The value you place on a tent is based on what you are looking for. This tent has a lot of awesome features in addition to the screen room such as internal pockets that add to the function of a tent. In this case, if you are looking for a blue tent, you get more value out of the Wenzel Klondike. The gray/taupe version of the tent costs around $50 more. Probably because they say taupe instead of brown.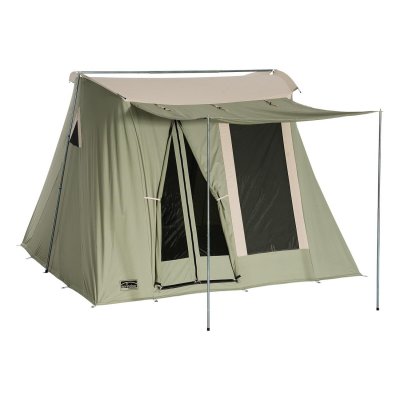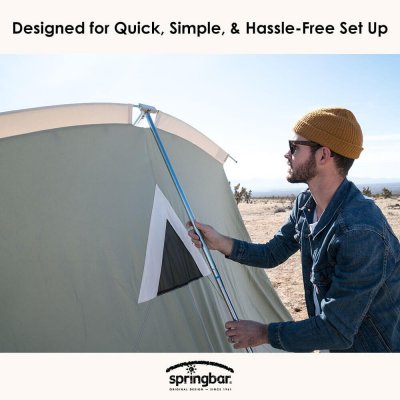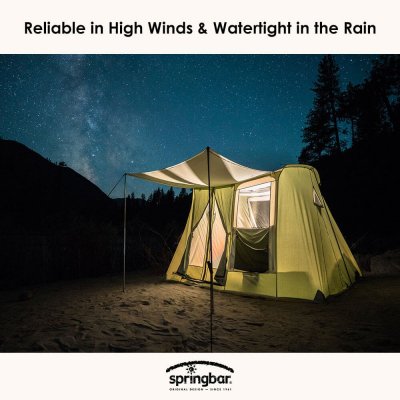 We like this tent because it feels more like a mini home than it does a tent. It comes with a shaded porch and then on the inside you get nearly vertical walls and plenty of screened windows and the cotton duck canvas is plenty weather resistant so you'll stay dry and comfortable in this big six-person tent.
Waterproof Floor
The floor is tough vinyl so even if you're campsite turns into a river the only water coming into this tent is the water that you're carrying in with you on your shoes or shirts. Plus, the inside is well ventilated so any moisture that comes in is going to get out easily and quickly. And the cotton duck canvas tent is guaranteed to be watertight so no matter the weather you're warm.
Easy Assemble Porch
Set up this tent pop up the porch and a few camp chairs and you've turned a tiny tent into party city. Honestly not only does this provide a nice place to put shoes and damp things but it's a great place to while away the afternoon after a hard day of camping or hiking or swimming. Not only that but it drops down in the case of bad weather.
Cost and Value
Make no mistake this is an expensive tent. Way more expensive than some of the others on our list but we like it as it has so many features and it sets up so easily and it holds six people comfortably it's a good choice if you've got the money.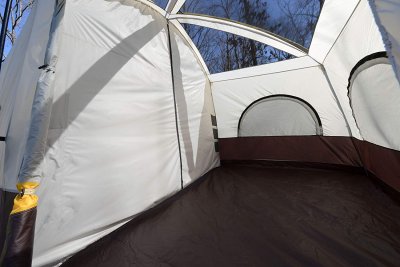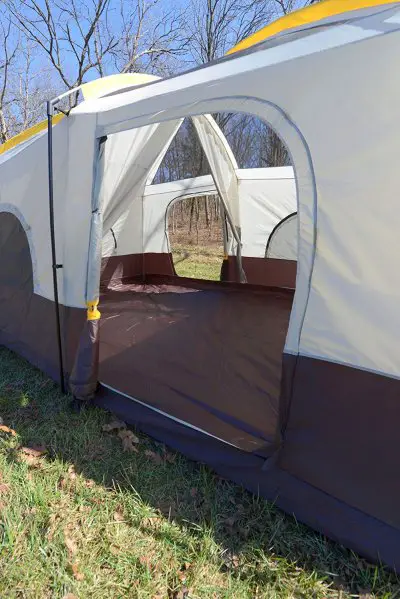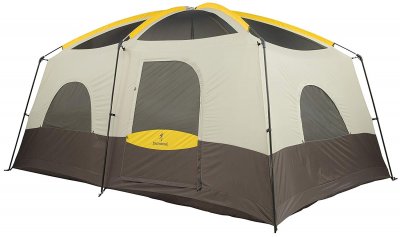 This Browning can hold up to 8 people and it comes with a divider than can actually turn it easily into two living spaces. It's a huge tent, let's be clear you're not going to be hauling this into the backwoods but if you want to do some heavy-duty car camping this is a great tent.
Divided Sections
The divider splits the tent into two rooms which can then house two families. It's a great little feature and while one tiny shred of fabric doesn't really provide any privacy it does at least put some distance between folks who don't want to get too close to their camping friends.
Tall
The Center point of this tent stands at just over 7 feet tall. That's a lot of room to roam in an 8 person tent so not only will you never feel crowded in this tent you won't feel like you have to bend over all the time.
Cost and Value
Not a bad price for all the room you get. The best thing this tent has going for it is it's height and size so that's what you're paying for, there aren't a whole lot of bells and whistles beyond that.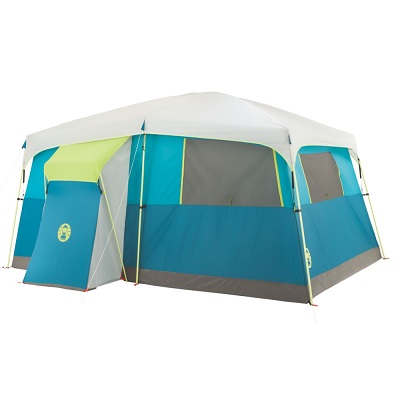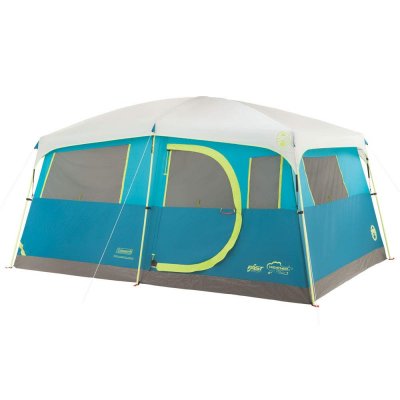 Tenaya Lake is located in Yosemite National park. The lake is a great location for water activities and for hiking as it has a trail that wraps around it. The lake is also known for the beautiful granite rocks that surround it. Coleman captured the majestic qualities in the Tenaya Lake Fast Pitch Tent. This tent seems to be tailor-made for family camping.
Closet Space
The Tenaya Lake Fast Pitch Tent features an extra 2 sq. ft. of closet space that protrudes out from the tent. Along with a hanger bar and shelves, the closet gives you extra space and helps keep you organized.
Traditional Cabin Design
The Tenaya Lake is 13' x 9'. The cabin design makes use of this space with high walls and windows. The spacious interior is 6' 8" at its high point which makes this tent easy to walk around in even for taller individuals.
Cost and Value
The Coleman Tanaya Lake Fast Pitch Tent is less expensive than others that have the same features. High selling points are the closet and the Fast Pitch design that makes for easy setup. However, this tent is by no means meant for extremely rugged camping. The lighter material may rip if pushed close to its advertised limits.

10

. Standing Room Family Cabin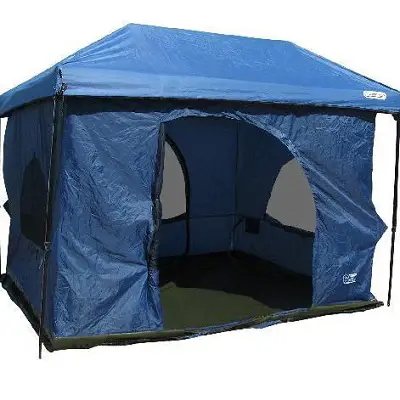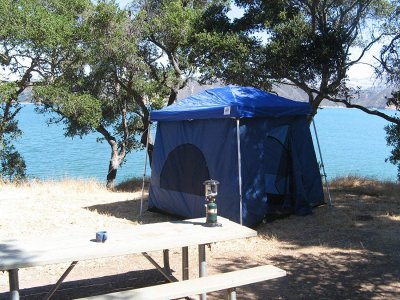 This is a unique idea. The Standing Room Family Cabin allows you to convert a pop-up canopy to a cabin tent. The two opposing "D" shaped doors make it possible to set multiple tents up next to one another for a large communal style experience.
Completely Waterproof Roof
While most tents have mesh or mosquito netting on the roof, the Standing Family Cabin has a roof that is completely waterproof, eliminating the need for a rain fly. Windows and two doors help with ventilation.
Spacious Cabin
The 10' x 10' cabin is 8.5 feet tall and has the bathtub style floor to keep water away from the seams and out of your tent.
Cost and Value
As with most things, you get what you pay for. While this tent is recommended at best value, take into consideration that the canopy frame does not come with it so if you don't already own one. However, if you do own a canopy, consider the Standing Room Family Cabin.

Subscribe to our Newsletter