Best Canopy Tents Reviewed & Rated for Quality
In a Hurry? Editors choice: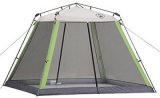 Test Winner: Coleman Instant Screenhouse

Whether it is a
day at the beach
, a yard sale, a barbeque, or a sporting event, the best canopy tents can help you and your family stay out of the elements. They are great for protection from the rain, sun, wind, or even
bugs on a hot summer night
. Over the past decade, canopies have not only become affordable but have immensely improved in quality. Additionally, technology has advanced leading to fast assembly time. Contemporary canopies now take less than 5 minutes to build without any clunky instructions or unnecessary parts. Companies are now creating an assortment of accessories and bags to customize your experience.
Standout Picks
Criteria Used for Evaluation
Size
You will need to take the width and the height into consideration when you are looking to purchase one of these. Some people only need small tents that can be set up and taken down easily while other people need large party tents that will provide shelter for large groups of people. You may also need to consider width and height when you are limited to the amount of space that you are allowed to use.
The size of the tent will also become a factor in terms of transportation and storage as smaller tents are easier to move and store while large tents may even require machinery to move them to different locations. You should always figure out what size tent you need prior to purchasing it and match the tent to your needs.
Features
Canopy tents can have features that can help enhance the usability of the tent. For example, some tents have detachable sidewalls that will provide you with additional shelter when you need it. Sometimes these tents have vents in the ceiling that allow warm air to escape from the tent while keeping the rain out of the tent. You may also come across features such as adjustable height or other innovations that help set the tent apart from a competitor's tent.
While all serve the same basic functions some are better than other tents in terms of features. Here are some of the more popular features that people find useful. UPF rating is one such feature that many people look for. It is always important for you to protect your skin from the sun's harmful UV radiation. Too much exposure to sunlight can lead to minor all the way up to severe sunburns.
Sidewalls are also another useful feature that many people look for. These walls can be added and removed from the tent as needed so that you increase the amount of shelter that the tent is able to provide. Some do not come with any sidewalls, but offer a place for you to add or remove sidewalls should you choose to purchase them. Others come with a single sidewall and allow you to purchase additional sidewalls if you want to have more.
You may also see tents that offer vents in the ceiling. Tents trap heat and on hot summer days, the interior of the tent can get hot if too much heat is trapped underneath the tent with no way to vent. The use of sidewalls may also increase the temperature inside the tent as well. One way that you can control the temperature is to look for a tent that has ventilation in the ceiling.
The ability to adjust the height of the tent may also prove to be useful and is often another sought-after feature. You may want to increase the height of the tent in situations where you have tall people or tall items inside of the tent. The extra height will help to make sure that everyone and everything can fit inside of the tent.
Portability
You will want to think about how you are storing the tent when you are purchasing it since you will not be using the tent all of the time. In addition to storing the tent, you will need to think about how you will transport the tent from one location to another. Many will come in a storage bag that you can use the put the tent away between uses.
Large tents may not come with a storage bag and may even need to be moved around with a forklift if they are too heavy to carry. You will want to look at what storage materials are sold with the tent and how much space it will take when you need to transport the tent from one location to another.
Smaller tents typically come with a storage bag where you can store the tent and the frame in a single place. A storage bag is convenient because it allows you to transport the tent as a single unit rather than having to carry the frame, canopy, and possibly any ropes or stakes that are used with the tent. If your tent comes with a storage bag, then you will want to look for a few different useful features that will make it easy to store and transport the tent.
The last thing you should consider when you are looking at the tent bag is the overall thickness of the bag and the seams. A tent bag should be thick enough to hold the tent without breaking and it should also resist punctures from the frame. You should also take a look at the seams to make sure that they are strong and will not break when you have to pick the tent up. Weak seams will pop or pull apart under a heavy load which will ruin the tent bag. The tent bag should also be large enough to hold the tent and the frame as well as any accessories that are sold with the tent.
10 Best Canopy Tents
1

. Coleman Instant Screenhouse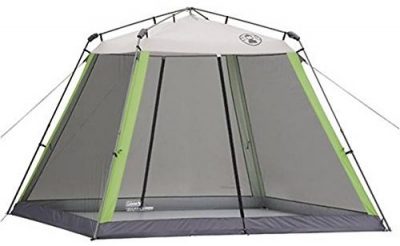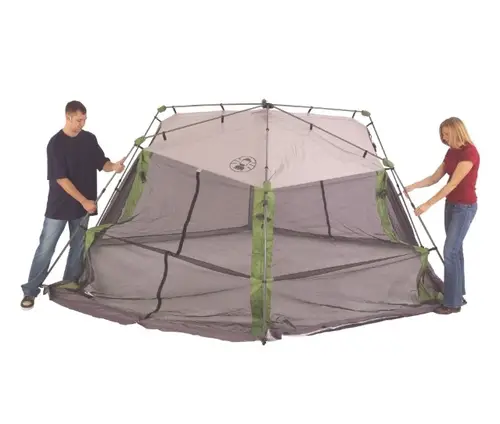 The Instant Screenhouse by Coleman is one of the top on the market. With durable fabric, this tent can withstand both rain and shine. The canopy measures 10 feet by 10 feet and comes with two large T-zip doors for easy entrance and exit. The Instant Screenhouse comes with a lightweight carry on bag that fits into most cars to make traveling convenient.
Screen Door
The Coleman Instant Screenhouse comes with a built-in screen on all four sides. This adds an additional layer of protection for you against wind and bugs. This is perfect for outdoor activities in wooded areas.
Easy Set Up
This product takes less than one minute to completely assemble. This is one of the fastest setup times allowing you to get out of the rain or sun quickly.
Cost and Value
With additional layers of protection, portability, and sturdy material, the Instant Screenhouse is one of the best-valued on the market. Additionally, consumers can pick up the products at a very low price. As a leading outdoor company, this puts the Instant Screenhouse on the top of our list.

2

. Coleman Back Home Instant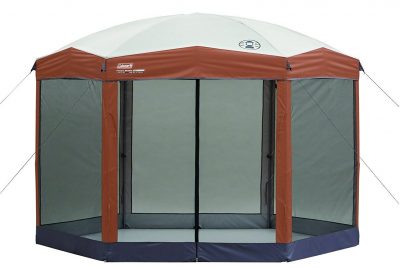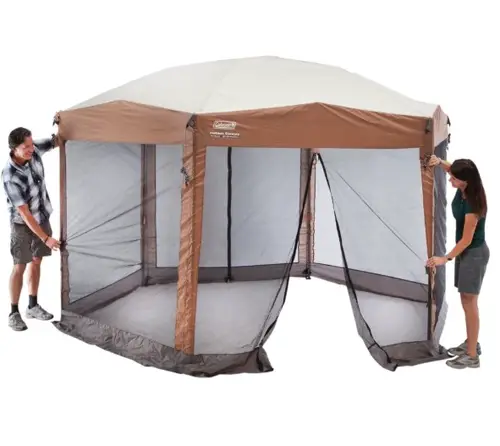 The Back Home Instant is the ideal camping tent. The canopy comes with adjustable screens to protect from wind and bugs and two large doors in the front and back. This tent is slightly larger than its Instant Screenhouse brother at 12 feet by 10 feet. Additionally, like its brother, it comes with a lightweight carrying bag that fits inside most cars. This product can be set up in less than 3 minutes with just 3 steps.
High Ceiling
The Back Home Instant Screenhouse has a vaulted ceiling to accommodate taller guests. With a taller ceiling, this product has a sizeable amount of shade for its guests maximizing protection against sun and rain.
Great Material
This Coleman product comes with twice the Polygaurd fabric for great durability. Additionally, it includes UVGaurd for ultraviolet protection and a UPF of 50+.
Cost and Value
The Back Home Instant Screenhouse is on the more expensive side. It derives its value from UVGaurd, extra shade, and high ceilings. Along with screen protection and an easy build, the value easily outweighs the costs securing its spot in the top 3.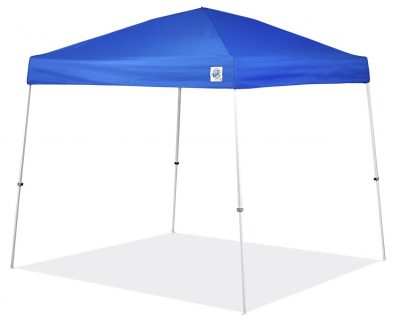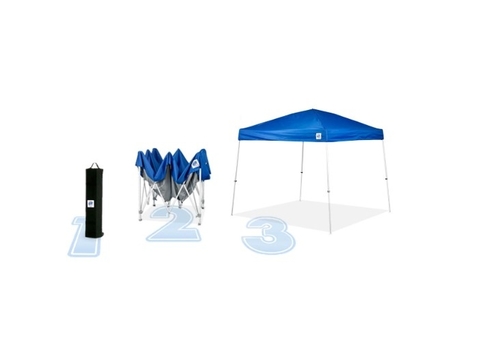 The E-Z UP Sierra II is a great design for portability and ease of use. The tent comes with a travel bag and is one of the most lightweight, convenient canopies on the market. With an aerodynamic roof structure to bend along with the wind, this is a great beach canopy that maximizes wind resistance. With many different options and sizes, the Sierra II allows for tremendous customizability.
Fire Resistant Fabric
The Sierra II comes with durable fire-resistant fabric and UV guard to block 99% of UV rays. This fabric can spend more time in the sun while keeping you and your family cool.
Low Setup Time
With a folding steel frame and no loose parts, the Sierra II by E-Z UP can be set up in 1 minute. Additionally, assembly requires no additional tools and ropes to set in place.
Cost and Value
The E-Z UP Sierra II is considered the average price for canopies. Even though it is priced moderately, the tent has exceptionally high value with fire-resistant fabric, easy setup time, portability, and high wind resistance.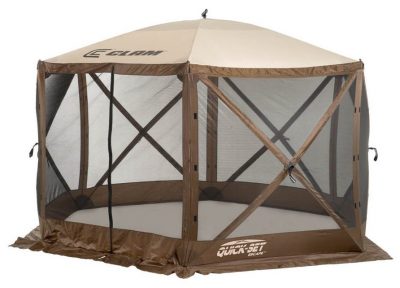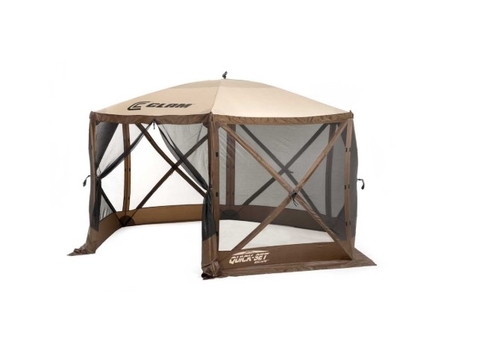 The Clam Corporation 9879 is an excellent product for spacious comfort. It features a mesh enclosure to help keep wind and bugs out. With an adjustable frame, the canopy can be set up in just under a minute. The material used protects you from both rain and UV rays. Additionally, it comes with a sturdy carrying case for easy traveling.
Spacious Interior
The Clam Corporation 9879 is 94 total square feet of interior space. With so much room, you can fit a standard picnic table inside accommodating up to 6 guests.
Security
The canopy comes with sturdy tie-down ropes and multiple heavy-duty stakes. This gives the Clam Corporation 9879 power against windy days and rain with no additional tools required.
Cost and Value
This product would be on the more expensive side. The value is made up of a quick setup time while maintaining a comfortable spacious interior. Although it might be over budget for some, it is the perfect fit for outdoor family activities.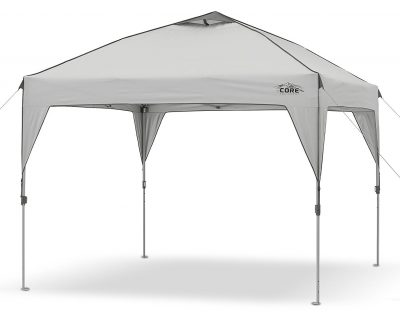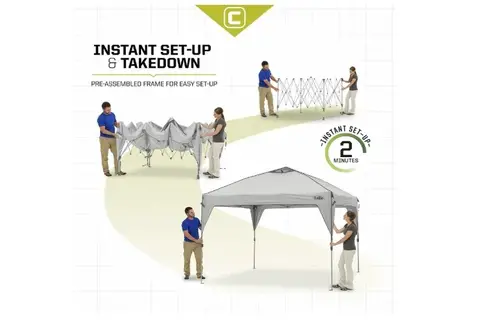 The Core Instant Shelter is a great multi-functional canopy that is both easy to use and long-lasting. The one-piece steel frame is built with solid structural integrity that can be set up in less than 2 minutes. Further, the canopy comes with vents for additional circulation and weather protection with the Core H2O Block Technology. The product comes with a wheeled carry bag that is perfect for music festivals, tailgating, and camping.
Pinch-Free Buttons
The Core Instant Shelter comes with pinch-free buttons on the legs. As the canopy locks into place, this makes setup hassle-free and easily completable in under 2 minutes.
Adjustable Height
This product comes with three leg lock adjustments to choose canopy height for maximum versatility. It can reach a height of 112 inches leaving room for any tall guest.
Cost and Value
The Core Instant Shelter is the average price for pop-up canopies. What makes this product above and beyond is the hassle-free setup with pinch-free buttons and adjustable height. Its versatility and portability make it a great canopy for countless events.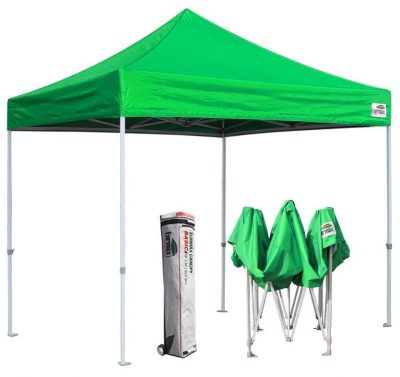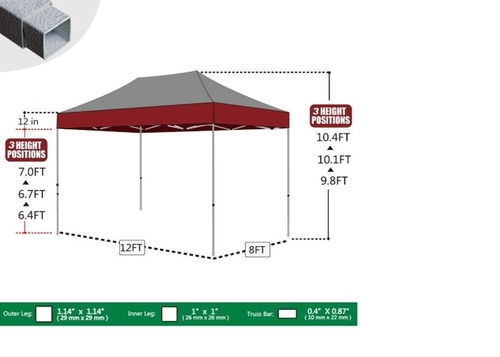 The Eurmax Basic model is a commercial grade canopy that contains a truss design and powder coat finish. With one of the most sturdy frames on the market, Eurmax prides itself on creating industrial-grade models for any terrain and weather. Additionally, they offer 100% waterproof and fire-resistant fabric for extra protection. With a thumb-lock slider and height adjustment, the Eurmax allows for easy setup.
Convenient Carrying Bag
The Eurmax basic comes with a wheeled bag to assist with travel. Additionally, their bonus carry bag comes with a 2.7-inch wheel for easy transportation in rough terrain which is great for hiking.
100% Satisfaction Guaranteed
Eurmax prides itself on its customer service to provide satisfaction to those who are having problems. They will fix canopies and ship parts at no extra cost if you are ordering through them.
Cost and Value
The Eurmax Basic would be considered slightly above average. Although this may be the case, with their customer service support and industrial-grade canopy, its cost is supported by value.

7

. Caravan Titanshade Canopy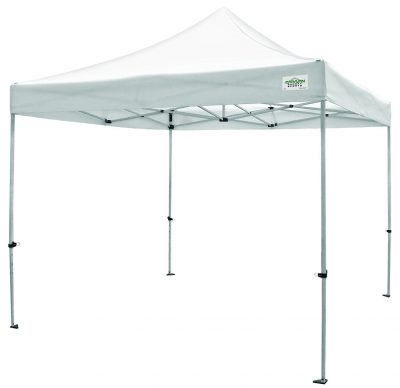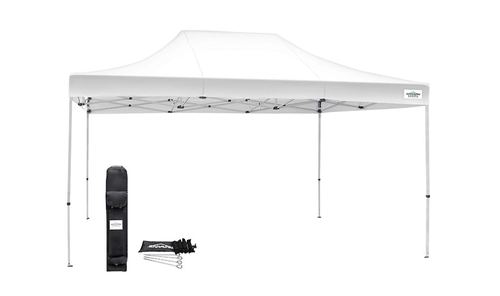 The Caravan Titanshade Canopy is a lightweight, reliable canopy. Built with a powder-coated heavy-duty steel frame, this tent was built to last. Further, this protects the frame from corrosion, peeling, or chipping. With 99% UV protection and a polyester canopy top, this is the perfect balance for both commercial and recreational users. Even with its high-grade steel, the product is still compact and lightweight for easy traveling.
Pull Pin Technology
Their pull pin technology mitigates the risk of getting pinched when setting up the canopy. The caravan is the only brand that carries this specific type of technology.
Full Truss Ceiling
The Caravan Titanshade Canopy creates a cross-system design for maximum strength and stability. Additionally, the design creates a tall ceiling that is 11 feet tall in the center.
Cost and Value
The Caravan Titanshade Canopy is on the more expensive side of canopies. Its value comes from its high-grade steel giving it the ability to last long and withstand erosion. Even so, it's still not as long-lasting compared to its Eurmax competitor putting it slightly lower on the list.

8

. Ohuhu Pop-Up Instant Shelter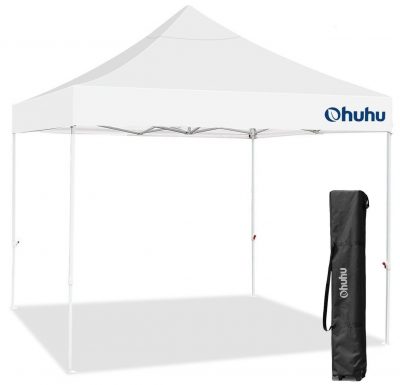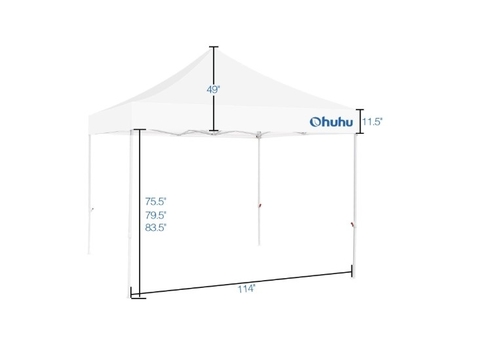 The Ohuhu Instant Shelter offers unique functionality in a lightweight, stylish canopy. With easy storage and a wheeled bonus bag, there is little difficulty traveling. Full UV protection blocks out 99% of UV rays making it perfect for summertime sporting events. The Ohuhu Instant Shelter stands at 12 feet tall putting it on the larger side.
High-Quality Fabric
The Ohuhu Instant Shelter is built of heavy-duty 420D oxford fabric. This gives extensive waterproof resistance and durability while maintaining effective protection against other elements.
Easy Setup
This product can go from unassembled to assembled in minutes. It comes with an adjustable frame with multiple height levels and velcro straps to make putting on the canopy top easy.
Cost and Value
The Ohuhu Instant Shelter is on the cheaper side. Its value lies in its cost-efficiency. Apart from this, the product still offers high-quality fabric and easy setup to create even more value.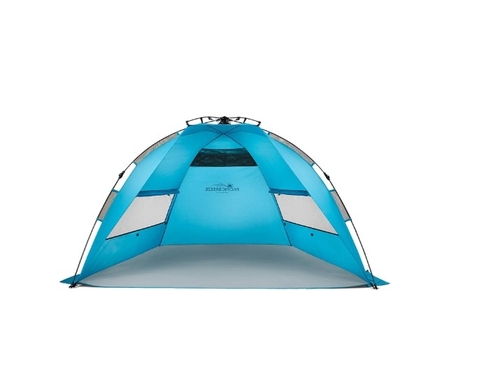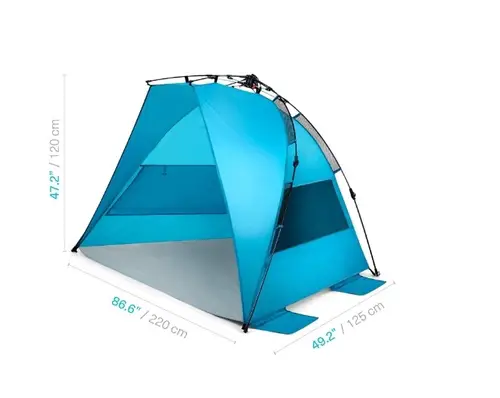 Canopy tents are one of the most underrated items on the market. Though some people might not consider them to be as important as traditional tents they very much are. One of the main areas where you might want to take yours is to the beach. The beach is one of the wonders of the world but its also mess; however, taking a tent such as the Pacific Breeze Easy Setup Beach Tent is the way to go. Built specifically for the beach this tent gets the job done!
Protection
When you're at the beach, a lot is going on, especially, if you are there with family and children. Furthermore, there is an abundance of elements that are also occurring at once such as sand, wind, and excessive sun exposure to name a few. To combat this the Pacific Breeze Easy Setup Beach Tent comes with UPF 50+ sun protection paired with large windows for an added dose of ventilation. Having UPF works in your favor because it enables you to remain safe and away from the sun while you embrace and fall in love with everything the beach has to offer.
Spacious
Measuring 87 inches in length by 47 inches in height and 49 inches in diameter this is extremely spacious. Featuring a lightweight fiberglass construction paired with resistant PE flooring, this tent allows you to sit inside and feel comfortable while still being at the beach. Many people don't realize that being under the sun can be not only damaging to the skin but its also draining. Therefore, having something that will shield you away from the sun will not only come in handy, but it will ensure you remain cool.
Cost and Value
When it comes to the cost and value, it sits at a mid-range price point. Having a mid-range priced product enables you to feel comfortable purchasing without feeling as if you are spending too much. Furthermore, the tent comes with a carrying case, sand pockets, stakes, and a 1-year warranty.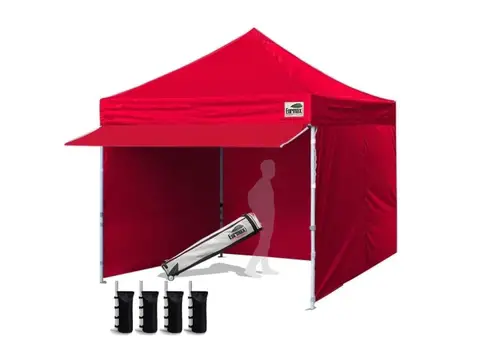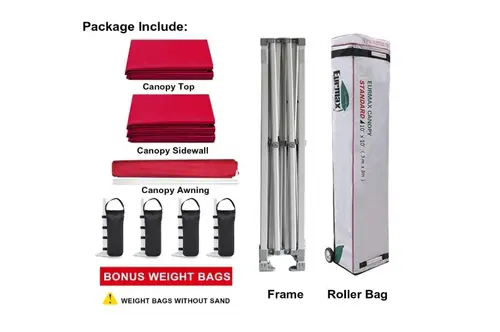 When it comes to having a canopy tent most people will consider it an item that can only be used for one thing at a time. However, that is not always the case many tents are quite versatile. The Eurmax 10 x 10 Canopy Pop-Up tent is one of those products that can be used for an array of different events. Whether you use it for the beach, for shade while outside or it becomes a permanent fixture in your home, this tent is exceptional to have.
Built to Last
Unlike many other options in the market, this one was built to last. You can almost say it was specifically created with longevity in mind. Measuring 10ft by 10ft, this canopy is pretty big. Additionally, it's built out of a durable steel frame, that as been customized to fit the tents aesthetic perfectly. The steel frame has been paired with a fire retardant certified polyester that has a PU coating that helps block about 99% UV rays. Even the seams of this canopy have a purpose, the seams have been sealed to prevent water penetration helping your product be as waterproof as possible.
Easy Set-Up
Just like it was built to last it was also built to be easily and quickly set up. You no longer have to worry about setting up ahead of time to get it right from the beginning. This one comes with an easy thumb lock system that will lock your canopy into place, yet can be released when you want to take it down. Additionally, it comes with a wheeled roller bag for easy transportation.
Cost and Value
When it comes to the cost and value of this product, it is very much on the pricier side. Though it is pricey you are getting an excellent price product with a durable frame that makes it worth the price. Although, some will argue that it's too pricey if you want an elegant touch that you can transport this is the canopy for you.

Subscribe to our Newsletter