Best Family Tents Reviewed and Rated for Quality
In a
Hurry? Editors choice: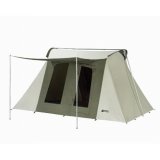 Test Winner: Kodiak Canvas Deluxe 8-Person

Camping is a favorite and traditionally summer-oriented activity for many families. If your family is not renting a
camper or a trailer
, then a tent is the best option for shelter while you and your kids are enjoying the natural outdoors. Unlike the options of yesteryear with an old-school canvas covering and a real "roughing it" level of discomfort, modern family camping shelters are designed with a combination of practicality and sensibility; thankfully, they are also more comfortable and depending on the size needed, spacious. We have researched and determined the top ten options on the market so you can use this information to choose the best one for you and your family.
Standout Picks
Criteria Used for Evaluation
Capacity
When families go camping, especially larger groups, space inside the shelter becomes a premium. That is why it's so essential for people interested in a family-sized product to consider how much space they need. Our research team determined that capacity was the top criterion for this top ten list, so we looked specifically at products on the market designed for four or more people and that offered some extra space for storage and gear. In particular, we looked at many options that offered separate room capabilities and entry areas that would keep living and sleeping spaces clean and clear of dirt and debris.
Features
When you are going camping with your entire family or a large group of friends, you want to have amenities that will make your stay in the great outdoors fun but also warm, dry, and comfortable. Our team researched key features such as ventilation and breathability, privacy dividers, canvas durability, and waterproofing levels. We also examined products on the market that included extra rooms, shelving, pockets, or other storage because that is a necessity when traveling with family anywhere and anytime.
Value
Camping with family can be a memory-making experience, but for those families for whom it is a regular occurrence, it is worthwhile to invest in a product that is large enough for the whole group and that provides the extra features that are must-haves. Whatever your family's size and specific needs, there is sure to be an option within your budget on this list that also offers the value that you are looking for in a three-season shelter.
10 Best Family Tents
1

. Kodiak Canvas Deluxe 8-Person
For large families or camping groups, the Kodiak Canvas Flex-Bow Deluxe is a durable and treated product that will keep campers dry and comfortable outdoors. Made of superior material and offering plenty of space for large parties, this is the ideal choice for families who want to enjoy nature without the discomfort that lesser made shelters provide.
Rugged and All-Season
Made of marine-grade Hydra-Shield canvas, the Canvas Flex-Bow is made to withstand any weather conditions as an all-season tent. The custom-woven, treated cloth includes a double-fill design and dry-finish, silicone treatment that keeps it watertight and breathable. This design keeps it dry and comfortable, even in rainstorms and downpours. The Canvas Flex-Bow lets water vapor escape thereby minimizing condensation, mugginess, and humidity. No matter the season, this has you covered.
Extra Features
This product includes two funnel-flow vents for air circulation and temperature management. The 6-foot, 6-inch ceiling height offers plenty of space and light is provided courtesy of the four large windows and two large D-shaped doors. The doors and windows are covered with a sturdy yet breathable mesh to protect against mosquitoes and other pesky insects. Additionally, the Canvas Flex-Bow has a reinforced vinyl floor, an 84 x 78-inch awning, a large storage bag, and a customizable gear loft with organizer pockets.
Cost and Value
A top-quality product like the Kodiak Canvas Flex-Bow is not inexpensive; however, the construction, water resistance, durability, and its many additional comforts and features are well worth its price. Larger families or camping parties will want to check out this incredibly versatile and rugged product.

2

. NTK Arizona GT 9 to 10 Person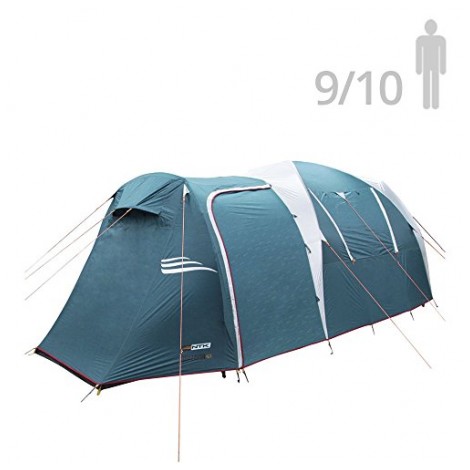 The NTK Arizona GT 9 to 10 Person Sport provides families with the ultimate camping experience. Spacious and easy to assemble, this puts quality, comfort, and safety first for families who want to enjoy their outdoors experience in a large, sturdy shelter.
Full Coverage and Easy Assembly
At 6.2 feet, the NTK Arizona GT offers maximum comfort for groups of 9 to 10 people. With two rooms, three windows, and two doors, lots of light and space makes this comfortable for large parties. It has a double layer polyester and polyurethane-laminated canvas with UV protection. Large mesh vents encourage ventilation and large D-style doors are perfect for evening gatherings and family time. The included rainfly features cover the entire thing to the ground and keep all occupants safe and dry.
Extra Features
This includes utility pockets, a gear loft for gear storage, and an aluminum pin-and-ring system for easy assembly and tear down. The mosquito mesh keeps out the smallest insects and offers some privacy as well. The floor has an anti-fungus covering with an inner layer that keeps the floor dry and comfortable. The package also includes a heavy-duty carry bag, compression straps, and an ID label for personalization.
Cost and Value
The NTK Arizona GT is priced quite reasonably for a product that can comfortably house 9 to 10 people and belongings. Add in the extra features and comforts, and you have an excellent deal.

3

. CORE 9 Person Instant Cabin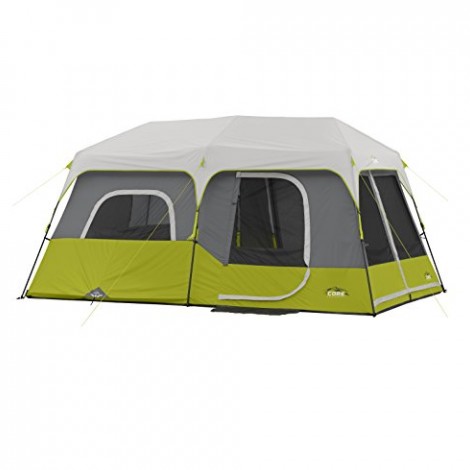 The CORE 9 Person Instant Cabin has plenty of space, breathability, and protection from the elements, making it a top choice for family shelters on our list. This camping shelter offers plenty of extra features too, and all for an extremely reasonable price.
Breathable and Spacious
With a center height of 78-inches, the CORE gives families lots of space; there is room for two queen air mattresses and gear. The CORE can be set up within 60 seconds, making it highly convenient for families on the move. It has adjustable air intake ground vents that draw cool air in while hot air escapes through the large mesh ceiling. This stays cool and comfortable for all occupants inside it.
Extra Features
The CORE has a room divider, wall storage pockets, rain fly coverage, a carry bag, and stakes. The oversized mesh ceiling panels offer a clear view of the sky, and the removable rainfly fabric has wide, thick, heat-sealed tape to keep it dry during wet conditions. Additionally, an electrical cord access port, which is fully closable when not used, it included.
Cost and Value
For its size and amenities, the CORE 9 Person Instant Cabin is a steal at its market price. It offers many of the same features as more expensive models but at a lower price. Camping families that are on a budget will find the CORE an attractive shelter option.

4

. Browning Camping Big Horn
Built to last, the Browning Camping Big Horn Two-Room is ideal for hardcore camping families who want a spacious shelter at a fair price. With its weatherproofing measures, this large and durable product is suitable for camping in a variety of weather conditions.
Long Lasting Protection
The Camping Big Horn product has a protective awning over both large doorways. Factory sealed floor and fly seams provide excellent weather protection. The durable floor made of polyester oxford keeps the inside dry no matter how hard it rains outside. A full coverage rain fly screen provides further protection from insects and the elements. The Big Horn is designed to last for years worth of camping adventures.
Extra Features
This features straight walls, a wall divider, and an extra tall center for spaciousness and ease of movement. Six windows, two large doors, and a mesh roof provide light and ventilation. The Big Horn has a polyester rain fly, mesh storage pockets, steel stakes, and ropes.
Cost and Value
The Browning Camping Big Horn is an excellent choice for large camping families who are on a budget or who don't need some of the extra features available in more expensive models. This offers roominess, ventilation, and weather protection, all at a low price.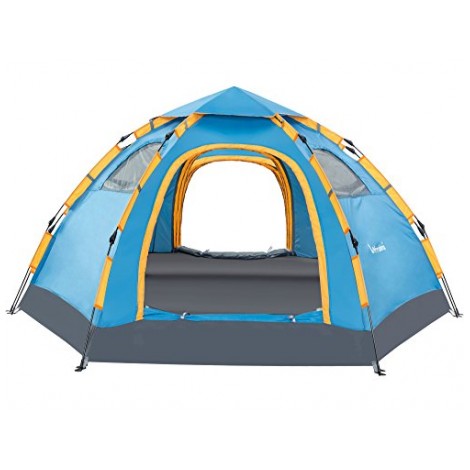 The Wnnideo Instant option is a quick pop up that is waterproof and comfortably fits 4 to 5 family members. With elasticized fabric and efficient design, this camping shelter provides every essential element that your family needs while spending time outdoors.
Automatic, Windproof Design
This Wnnideo is an instant set up shelter that is easy to assemble and operate, and just as convenient to take down. Although it is easy to set up, the Wnnideo is durable enough to withstand windy and wet weather. The frame is wind-responsive and has guy-out triangles and redesigned, sturdy poles. It is six-angled, a design that makes the room wider and more stable in windy and rainy weather. Waterproofing is a priority with this; the main body, windows, and doors are made of waterproof Oxford canvas. The interior and floor are lined with waterproof silver coating.
Extra Features
This includes four detachable mesh screens, two screen doors with two-way zippers, three top screens, and deal doors for light and ventilation. For easy carry, this product comes with a shoulder bag with plastic buckles to prevent damage during transport. When camping season is over, it can be folded up in thirds and hung up on the wall, out of the way.
Cost and Value
Families that want to camp in a sizeable space with general amenities without spending a small fortune should check out the Wnnideo. It's easy to assemble, is weatherproof, and provides plenty of room and ventilation.

Organization and spacing is the name of the game with the Coleman 8-Person with a built-in closet. With lots of weather protection and storage, this is a great way to camp with a large family yet keep everyone's belongings organized and neat.
Organized Spaces
This cabin has a built-in closet which includes a hanger bar and shelves. These are perfect locations for clothing and gear so they are easy to locate and out of the way. The 8-person designed space has a room divider for privacy and a hinged door for easy exit and entry. With a center height of 6 foot, 8-inches, there is lots of space to stand up and move around easily.
Extra Features
This Coleman model includes a WeatherTec system, inverted seams, and welded floors for water resistance. An included rain fly cover also works to keep water and dampness away. Additionally, an e-port is included to make it easy to power up your digital belongings inside. A wheeled carry bag is in this package for easy take down and transport and an area to hang up a lantern near the center in the dead.
Cost and Value
The Coleman 8-Person with a Built-In Closet is an affordable option with multiple additional features. Larger families or families who camp and bring lots of gear will find this a great choice for spaciousness and quality.

7

. Tahoe Gear Gateway 12-Person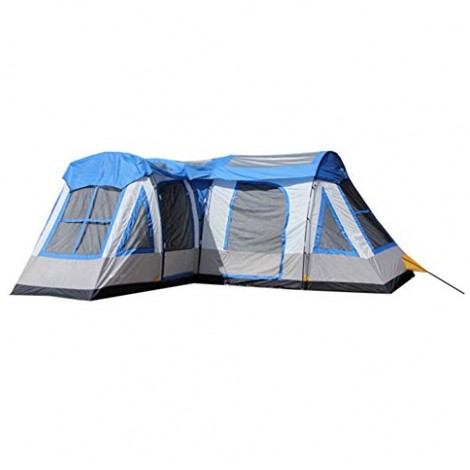 Generous space and ample comfort are the hallmarks of the Tahoe Gear Gateway 12-Person Deluxe Cabin. For large families or camping groups, or smaller parties with lots of gear, this easily assembled shelter is an excellent choice for space and flexibility.
Practical and Comfortable
The L-shaped Tahoe Gear Gateway offers a practical design with the potential to divide into three separate rooms with privacy dividers. The ceiling's center height reaches 7-feet and allows campers to stand up and move easily throughout.
Extra Features
This includes a fly with guy ropes to secure it in windy weather. A solar shield reflects the sunlight and keeps it cool in warmer weather. The polyester body keeps the occupants safe from wet weather.
Cost and Value
The Tahoe Gear Gateway is available for an affordable price. It offers copious amounts of space for people and gear and won't leave a dent in the family budget.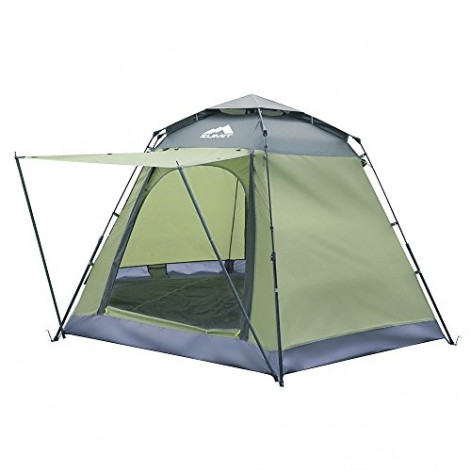 The ZUMIT can comfortably house 3 - 5 people, making it a top shelter selection for smaller families or groups that enjoy camping. Available at a reasonable price, this ZUMIT is rugged and ready for camping season.
Lightweight and Roomy
This has more roominess than it may seem at first due to the hexagon shape. The shelter itself is lightweight with an anti-tear polyester canvas including PU coating. This waterproof quality will keep the whole family dry even on rainy days at the campsite. The door and side windows keep ventilation flowing.
Extra Features
The ZUMIT features a front awning for sun and rain coverage. It also comes with a portable bag that makes it easy to put it away and transport it when done. The floor is seamless, and the cabin itself has a rain fly, mosquito mesh, elastic poles, stakes and limbs, and wind ropes.
Cost and Value
While not as loaded with features as some other products on this list, the ZUMIT provides the basic comforts in a quickly assembled product. Its price is more than reasonable for smaller families or groups who enjoy camping a few times during the summer.

9

. Wenzel 8 Person Klondike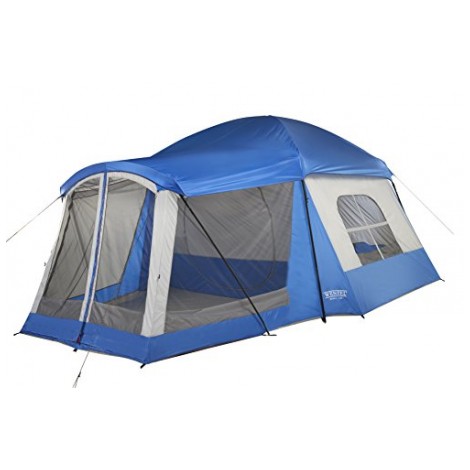 For large camping families on a budget, the Wenzel 8 Person Klondike is a fantastic shelter option worth some consideration. This roomy product can fit up to 8 people and includes a screened sitting room that serves as a front porch. With added weather protection and space for gear, the Wenzel Klondike is a great way to experience the outdoors at an affordable price.
Lots of Space
The Klondike has a spacious front awning for dry entry and protection from the elements. Measuring at 16 x 11-feet, this has 98 square feet of space, including a 60 square foot front screen room that three or more people can stay comfortably. This three-season product also has 6.5-feet of headroom.
Extra Features
This comes with a rain fly, mesh roof vents for cool air flow, a separate gear loft, zippered windows, and a carry bag for storage and transport. With one large door and two windows, there is plenty of light and air coming in. The full mesh roof and windows are screened to keep insects out, and a rear vent encourages a cooling ground breeze. The canvas is double-stitched, and the polyester fabric has a water-resistant coating to keep it and its insides dry during rainstorms.
Cost and Value
The Wenzel 8 Person Klondike is just the type of camping shelter that large families need. It provides lots of space, is waterproof, and is priced perfectly for budget savvy buyers.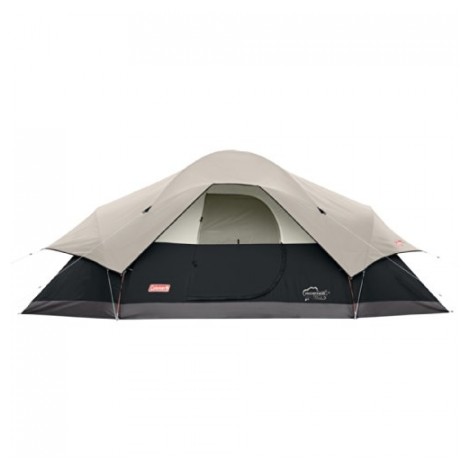 With durable construction and practical design, the Coleman 8-Person shelter has the roominess necessary for large camping groups and the gear that comes along with them. With weather protection and room dividers, this shelter is a great way to get the family together for camping at a price that works with any budget.
Strong Frame and Design
This durable, spacious product is 17 x 10-feet, 6-feet at center height, and can comfortably sleep eight people. It includes the option of creating up to three separate rooms with >removable privacy walls. The frame is strong enough to withstand higher winds with a wind-responsive frame, guy-out triangles, and redesigned poles.
Extra Features
This Coleman model has welded, waterproof floors and inverted seams to keep moisture and water out. It is easy to assemble, take down, and pack away with >multiple bags for the shelter, stakes, and poles. Additionally, it has zipper cuffs made of weather-resistant fabric to keep the elements outside where they belong.
Cost and Value
The Coleman 8-Person offers lots of room and protection from wet weather, and all at an affordable cost.

Subscribe to our Newsletter