Best Tree Tents Reviewed & Rated for Quality
In a Hurry? Editors choice: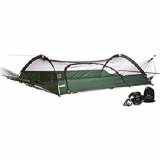 Test Winner: Lawson Hanging Blue Ridge

Wouldn't it be nice if you could spend a night in your hammock and not have to
worry about bugs
or rain or any of the other bothersome things that make your hammock problematic in a long hot summer. Well, guess what, with some of our tree tents you can basically turn your hammock into a summer home away from home and you can spend as many nights as you want out in the environment without having to worry about getting wet, or getting mosquitos. Our biggest concern is that once you get one of these strung up you might never come inside. These also come in handy if you're
camping on the soggy ground
and just want to get off the floor and avoid any dampness or any insects that might find their way into your ground-based tent. Here are our favorites.
Standout Picks
Criteria Used for Evaluation
Comfort
If an individual plans to sleeping 5+ hours in a tree tent, it better be comfortable right? Well, we took into consideration how important a person's night sleep is. With that, we had to include comfort as part of the criterion because comfort reigns supreme. Now, these are not known for being the most comfortable. However, the ones we have included include different design elements to ensure maximum comfort.
For example, a couple of them include a pad bottom design where they do not bend or contour as much. Another aspect of comfort is if the tent or not acts more like a hammock than a tent. With that, it was important for us to find out what makes a tent comfortable, especially if it is going to be wrapped around a tree. Now, some tents even allow for an inflatable mattress to be included, which is an added bonus. This and many more comfortable points we took into consideration.
Durability
Why is durability important? Well, first of all, if an individual is using it for camping purposes, it becomes the individual's home for how many ever evenings they will be using it for. Therefore, they need to be made from the best quality materials for many different purposes. It was clear to us as we began writing down criteria's to look for that quality had to be the most important key.
The quality of a tent will not only supply perfect shelter for the evening, but it will be an individual's place of safety when out in the wilderness. With all of this said, areas we had to focus on quality were the zipper of the tent, the mesh of the tent, the area an individual will be laying down in, the quality of the stitching and lining and many other aspects. This leads us to another aspect, which only enhances the quality of a tent.
Materials
The materials were crucial for us when developing this list. The reason being that the wrong materials can only lead to a dreadful experience and night sleep. Therefore, it was very important for us to include tents that were made from the best materials. Some of these materials include spandex, cotton, mesh, and many more. The right materials also ensure the longevity of the product.
With bad materials, a person that trusts the tent to hoist them up properly can suffer from accidents, aches, and pains. Therefore, we looked deeply into the best materials and concluded that the ones on this list were designed and made to hold the weight of an individual enough to stay sturdy and durable. Other than that, the materials are important to ensure an individual's safety.
Ease of Use
One of the most important aspects of a tent that we had to take into consideration was the assembly process. Why is this crucial? Well, if the process is not easy the last thing an individual wants to do is spend hours setting up a tent. More so, setting up with the intention of beating the sun from disappearing can be stressful if the assembly process is not easy.
Therefore, we had to take into consideration what many users were saying about the process of setting up. With that said, many of these are easy to assemble because one, everything is in the same packaging, and two, they are designed for fast assembly of max, fifteen minutes.
Value
As we have included in every product, this is one of the most important elements when it comes to picking out the right one. Without taking cost and value into consideration, an individual may overpay for one that is not that good of quality. However, we did the research so you do not have to!
We can ensure our readers that all of the models that we have included are designed for the best bang for your buck. Now, it is important to keep in mind that the price will go up depending on the materials the brand used and other factors. These factors include if the manufacturer included a water-resistant coating if it is designed with more comfortable materials and if it is designed larger to accommodate two people. These and other factors will cause the cost to fluctuate, it is up to the reader to determine the best choice.
BEST TREE TENTS REVIEWED & RATED FOR QUALITY
1

. Lawson Hanging Blue Ridge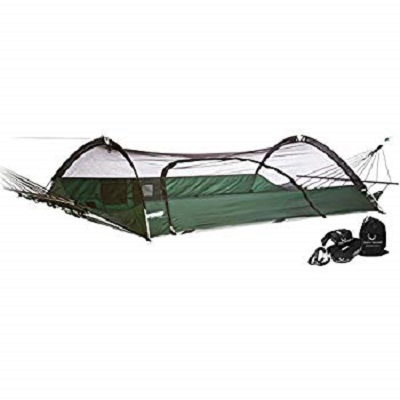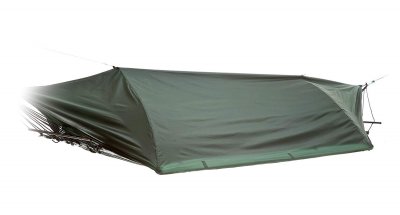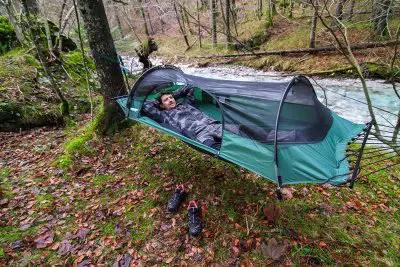 From Lawson Hammocks, a well-known name in the hammock community comes this camping hammock. Compared to traditional hammock tents, the Blue Ridge is designed for a flat sleeping surface. Allowing the camper a bigger range of motion and the ability to sleep in other positions. Winner of the Gear of the Year Award, this one includes both rain and insect protection to keep you safe from the elements. It can also be used as a traditional ground tent. This award-winning piece of equipment is worth considering when purchasing a tent.
Not Your Grandpas Hammock
The design allows for a flat, more bed-like, sleeping surface. One of the hang-ups (pun intended) with some hammock tents is that cocooning effect when you lay in it. For some people, this may be uncomfortable. The Lawson Blue Ridge uses multiple connection points on the tent that lead down to a single strap. This supports the belly of the hammock and gives it a flatter surface.
Protected
Along with an attached mosquito net, the Blue Ridge also comes with a rain fly that can attach to the whole thing. This makes it more like a traditional tent. The included rainfly is waterproof and rip-resistant.
Cost and Value
Given the unique design and material, you would expect it to cost a little more. And you'd be right! But while the Blue Ridge Camping Hammock may run a little more than other varieties, the sheer versatility of it makes up for the cost. As stated, it can perform as a tree tent or a ground tent and is compact and portable enough to be carried almost anywhere.

2

. Everest Double Hanging Tent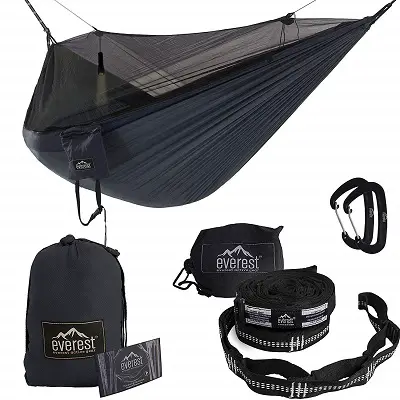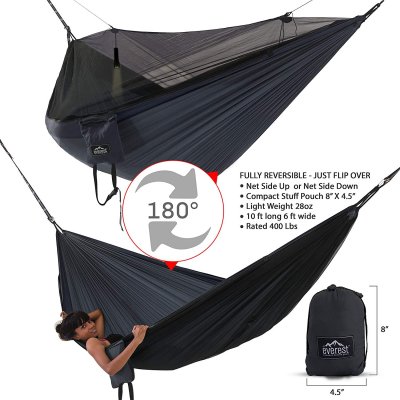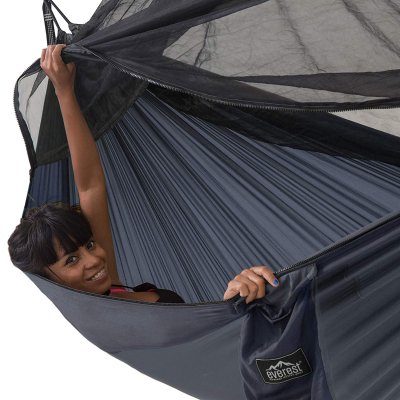 From Everest Active Gear comes the Everest Double Hammock Tent. This jumbo-sized model measures 10 feet long and is rated for operational use at 400 lbs. It doubles as a tent or a hammock. With a quick flip, it transforms into a hammock. As a result, you can go from having a shelter to relaxing in seconds.
Internal Gear Pouches
The Everest Double Hammock Tent features internal and external gear pouches as well as hanging loops. Internal pouches allow you to store items within reach while the loops make it possible to hang things like lights or fans. The attached carry bag also serves as an external pouch for objects you want to keep close by.
Built to Last
The mosquito net is made from a heavy grade polyester. Every square inch of the netting has 2100 holes no not only mosquitos but also smaller insects will be kept out. The YKK zippers are high quality and perform flawlessly time after time while the ripstop nylon material will give you a durable place to relax.
Cost and Value
The Everest Double Hammock lies in the middle of the high-end models and the more budget-friendly varieties. This makes for a high-quality piece of equipment that is also affordable.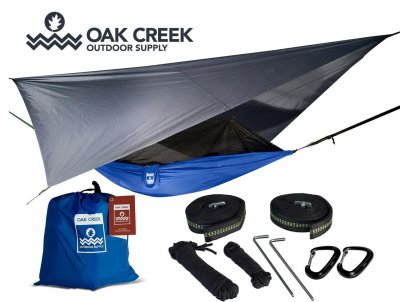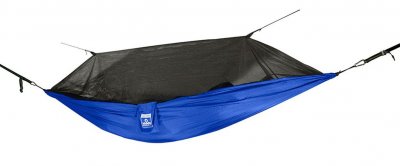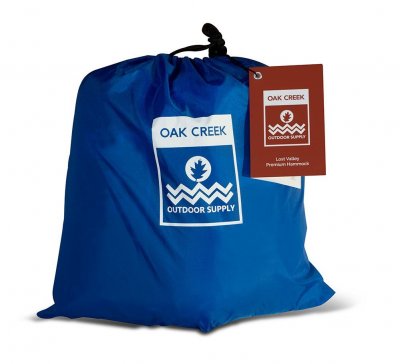 This is one of our favorites because it's so simple to use. Give us a few trees and in no time at all, you're up off the ground safe from the elements and safe from the bugs and safe from ravaging badgers and Possums that want to make your tent home in inclement weather. We love everything about this tent, the accessory pouch, the mosquito netting the strong construction and the surety that this tent will stand up strong to the worst nature can throw at it.
All-Weather Construction
The parachute nylon material construction is tough and fairly rip-proof, and the reinforced stitching and knotting will last forever. The aluminum carabiners won't bend or break and will stand up to the heaviest person in your camping troupe. The nylon material won't rip or tear and finally there's weather and mosquito netting so you can be outside no matter how rough the weather or the mosquitos.
Folds up Nicely
All the parts of this tent fold up nicely into a small nylon bag that is easy to carry so not only does it not take up too much space in your backpack it can be easily stowed in your attic or basement so it's close at hand and available whenever you need it.
Cost and Value
This tent comes at a great price. Easy to carry, easy to put up and it's a wonderful little hammock that will allow you to spend as much time outside as you'd ever want no matter the wind, no matter the weather. All you need is this tent and a good book and a few snacks and you might just end up spending most of your free time out in this hammock.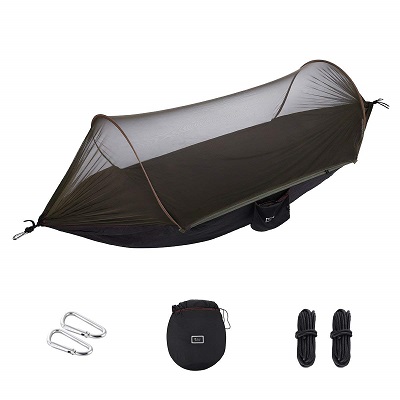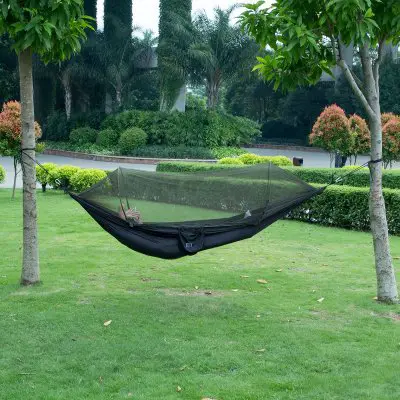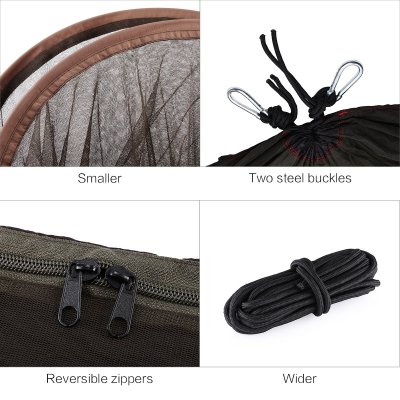 This is a multi-functional hammock tent that can also be used as a sleeping bag or a swing. This comes with everything you need to hang the tent. It also has a carrying bag that it folds into that also doubles as a gear pouch. This saves you from having to leave the comfort of your bed to reach for objects you might leave on the ground. The included mosquito net cover keeps you protected from the flying pests that may try to visit you during your trip.
Room for Two
The isYoung Hammock Tent is rated for operational use at 440 pounds. This makes it suitable for two people and allows extra bedding to be added for even more comfort. The nylon parachute fabric is rip-resistant and antibacterial. Therefore, it is easy to clean and keeps you healthy.
All-in-One
Included with the tent are two carabiners and two 118 inch nylon ropes. The tent, ropes, and carabiners all fit nicely inside the attached bag. When you are done with the Hammock Tent, just flatten fold and tuck it inside the bag. The ropes and carabiners can then be stuffed along with it giving you a compact and portable shelter.
Cost and Value
Being ranked fairly high by consumers, you would think that this would be on the expensive side. However, this tent is very affordable and was almost ranked best value on the list.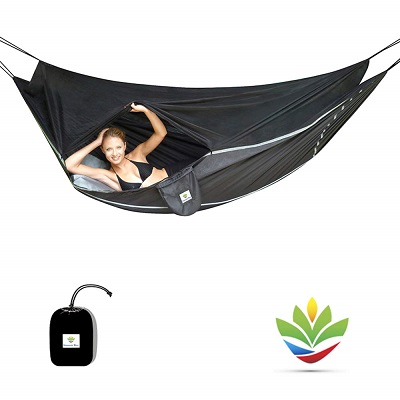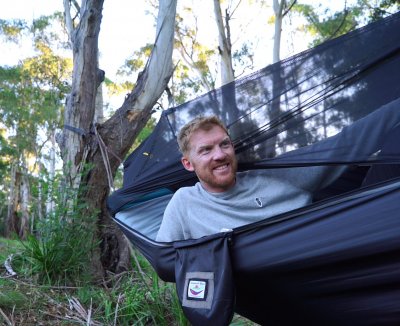 Hammock Bliss, a company known for producing quality hammock products, presents the Sky Bed. This hammock is designed with built-in suspension and an internal sleeve that allows you to slip bedding material into the belly of the Hammock. This has an asymmetric design that allows the hammock to lie flatter for a more comfortable experience.
Floating Mattress
The sleeve that is built into the hammock belly allows for an inflatable mattress to be included in the suspended camping experience. This sleeve will accommodate any 20" x 72" sleeping pad or air mattress.
Innovative Design
The Hammock Bliss Sky Bed is made of ripstop nylon for increased durability and abrasion resistance. It also has a mosquito net that will keep out gnats and even sand flies. The built-in suspension system makes the hammock more stable and easier to get in and out of compared to others.
Cost and Value
The Sky Bed sits at a mid-range price. While it is not considered a "budget" model, you will not have to sell a kidney to buy it. Increased comfort and stability means that you get plenty of value for the dollar.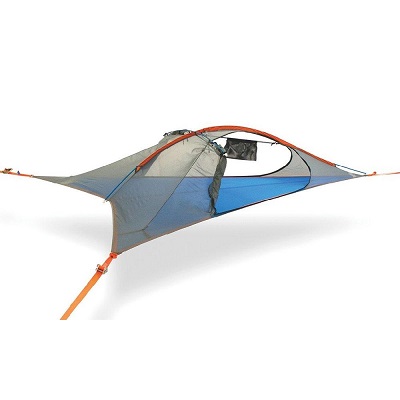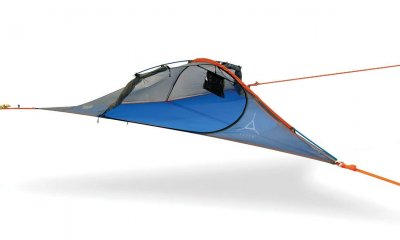 This two-person suspended tent is around 50% lighter than the previous Tentsile product listed. The lighter weight makes the Flite Plus perfect for backpacking and longer treks outdoors.
Enhanced Design
Tentsile states that Flite Plus is one of their most advanced tents. Featuring a micro-mesh roof to keep the bugs away and an intelligently designed crossbar to give you extra space inside the tent. The Flite Plus was created for long hikes in mind so Tentsile made it lighter than its predecessors. One way they did this was by having one ratchet incorporated into the straps.
Multipurpose Rain Fly
Included with the tent is a waterproof polyester rain fly. This included rain fly is available in a variety of colors. The fly can also be folded and attached in a way that creates a windbreak.
Cost and Value
Tentsile is a company that produces products on the higher end of the spectrum. The Flite Plus is one of Tentsiles' more affordable tents but it still has a bit of a higher price point. With Flite Plus's unique designs and features, paying a little extra is worth it.

7

. Hennessy Hanging Scout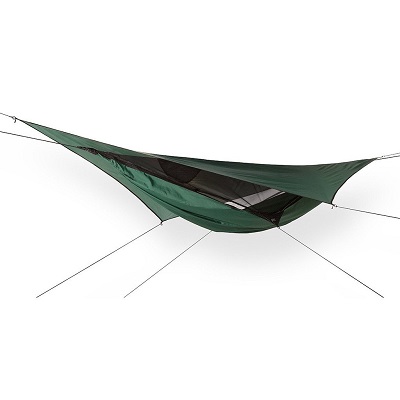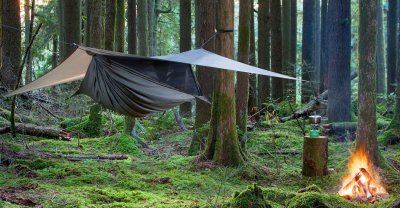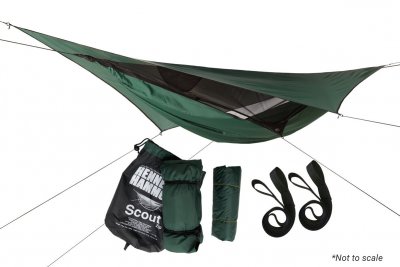 The Hennessey Hammock Scout is a perfect tent for anyone looking to try a camping hammock for the first time. Its portable size and design make it easier to carry than a traditional tent. It also has two anchor points on the sides of the hammock in addition to the top and bottom to help spread out the hammock. Helping to eliminate that cocooning effect. This also keeps the tent sturdy and makes it easier to get into than others.
Perfect for Boy Scouts and Young Campers
The Hennessy Hammock Scout is made for shorter individuals. With a suggested height limit of 5'8", kids and teens will find it perfectly suited for them. Hennessey Hammock also makes a larger hammock called the Expedition that suits taller individuals more.
Good Things Come in Small Packages
This a great starter that comes with a polyurethane-coated, rip-resistant rain fly. It also includes ropes, straps, and clips necessary to hang the hammock and rain fly.
Cost and Value
As one of the smaller models on the list, it is a perfect beginner tent. The Scouts moderate price range will give you plenty of bang for your buck. Hennessey Hammock also has other accessories available such as rain catchers for camping.

8

. G4Free Portable Camping Hammock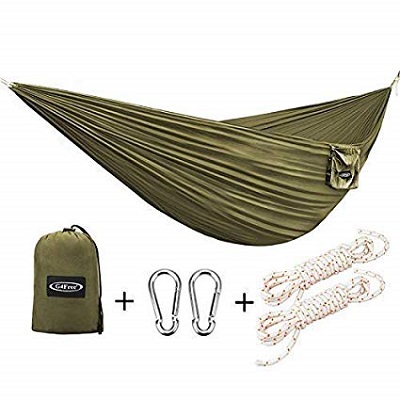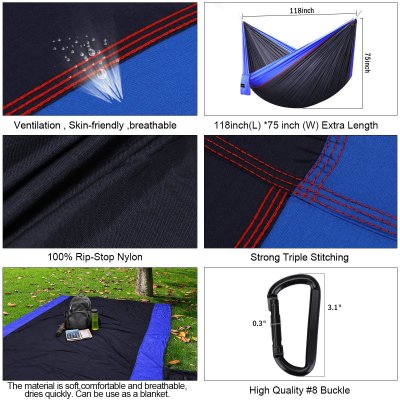 The G4Free Portable Camping Hammock is an ideal choice for those backpackers, families, or anyone searching for ways to rest at a reasonable price. Lightweight, weighing in at only 28 ounces, making it very easy to take with you during long distances.
Much Room
The length of this hammock tent is about 9.8 feet, with a width of about 4 feet, making it large for a comfortable night's rest. There is also room to fit a sleeping bag and sleeping pad for added comfort.
Large Weight Limit
This hammock tent has a weight limit of up to 440lbs. Meaning, two average size children or a large size adult can be well-supported when assembled.
Cost and Value
The G4Free Portable Camping Hammock Tent is well worth the money at a very reasonable price. There is no reason not to try with their 100% money-back guarantee.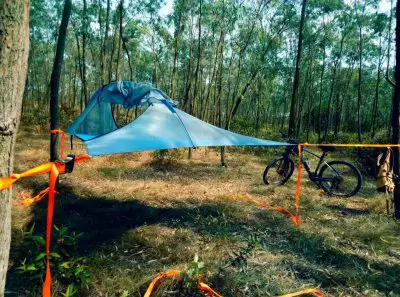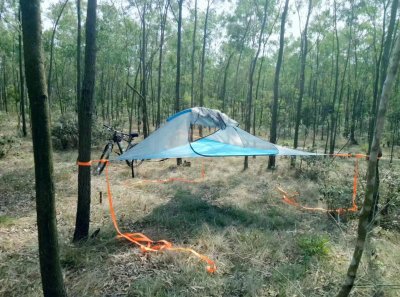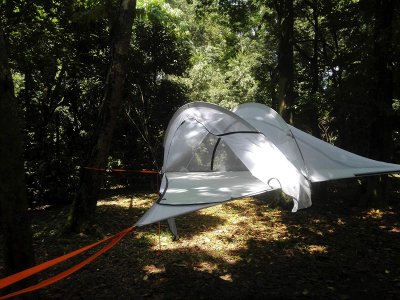 This elevated tent design isn't so much a hammock as a kind of pop up treehouse. Elevated on tough poles this tent gets you off the ground away from groundwater, and insects. It's strong and can hold up to 550 pounds of weight so it's plenty strong for two people or even two adults and a couple of small kids. We also love that it's built to be mosquito proof and to let in all the cool night air but comes with a weatherproof top in case the rain tries to ruin your night out.
Easy Set up
All you need is a triangle type set up that allows this tent to never touch the ground. Simply attach the three straps to three nearby trees and tighten them up and suddenly you have a way to stay off the ground and sleep in comfort. You do need three anchor points but you also have plenty of line so you should be able to find a setup point without too much trouble.
All Weather
Once off the ground you really don't have to worry about wind or weather with the included all-weather mesh cover. While the initial tent itself works as a mosquito net the weather mesh encloses the entire tent easily if the weather turns foul.
Cost and Value
A bit pricey but we do love the way this tent works. A few strong trees and a bit of work and suddenly you're camping trip is off the ground, safe from groundwater, safe from insects and just a great way to enjoy camping.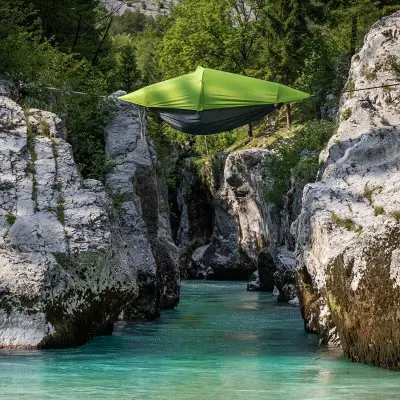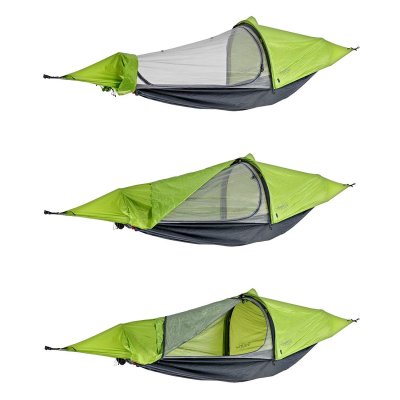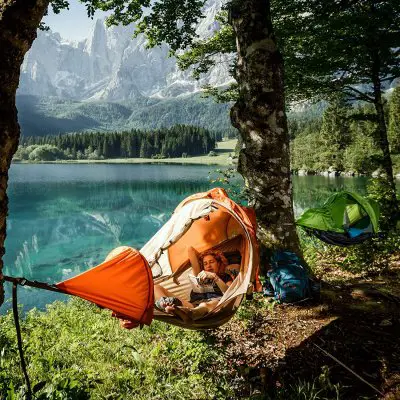 This simple one-person tent is one of our favorites because it's super easy to set up and is incredibly comfortable and snug once you get up off the ground.
Critter Proof
The entire tent is made of mosquito-proof netting and it lets in all the cool breezes without letting in any mosquitoes
Rain Poncho
Yes, it's true, take down the tent and the rain cover converts into a weather poncho. That's a neat little feature that adds to this tent's really smart construction.
Cost and Value
It's a bit pricey but truly this tent is built to last and moves and travels easily. So if you're looking for an easy way to get off the ground while camping this is one tent that's totally worth the cost.

Subscribe to our Newsletter