Best Camping Cots Reviewed & Rated for Quality and Value
So, you've got your gear ready to go on a camping trip. You've got a tent, blankets, all the hunting gear you could need. But do you really want to be sleeping at the mercy of the forest floor? While some tents can offer protection the harsh terrain you come across while camping, you may find yourself stuck in uncomfortable positions and fighting off bugs that find their way into your tent at night.
A solid and affordable cot will help you take on the possibility of uncomfortable nights and keep you at your best during your days with a good night's sleep.
Featured Recommendations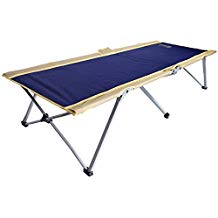 Byer of Maine Easy Cot

Our rating
Easy to Set Up
Price:

See Here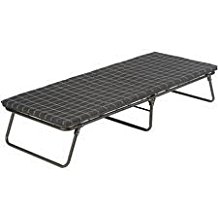 Coleman 2000020269

Our rating
High Weight Capacity
Price:

See Here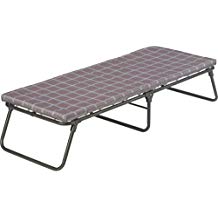 Coleman 2000020271

Our rating
Easy to Trasnport
Price:

See Here

10 Best Camping Cots
1. Byer of Maine Easy Cot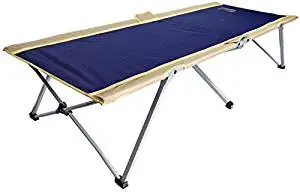 This cot has been on the market for years. It is a reliable and sturdy tool that stood the test of time. To set up the cot, remove it from the carrying bag and open it. No tools are required to set up the cot in a matter of seconds. It is just as easy to fold and store.The cot folds to a relatively small size.

Expand to see more
Construction

Construction includes 600 denier polyester, multiple fabric reinforcements, and welded steel legs. The strong construction guaranteed a 330 pound capacity. Extra webbing pieces beneath the bed fabric reinforce the strength.

The cot weighs 21 pounds. It is not meant to be carried long distances. The cot does have a carrying case designed with a shoulder strap made of the same durable fabric as the cot. It should be used in places that have car access.

Comfort

People who sleep on their sides or back sleep comfortably on the 78" x 31" size of the bed. The cot is 18 inches above the ground. All of the cot's length is usable. No end bars are in the foot and head area. There are also no back breaking bars beneath the fabric. It is all canvas. No unpleasant metal touches the the sleeper on a cold night. The design of the cot covers the sidebars completely.

Cost and Value

Possible uses include beaches, regular camping places, summer open-air music festivals, trailhead hotels, and vacations. It also comes in handy for sudden overnight guests. The nice designed cot is easy to fold and store. The price of the cot is on the higher end of the spectrum, but is a reliable tool and receives high ratings from people who purchase it.

Great price
Great size
Incredibly easy setup
Reliable
Steel frame
The height and length are not accommodated by all tents
2. Coleman 2000020269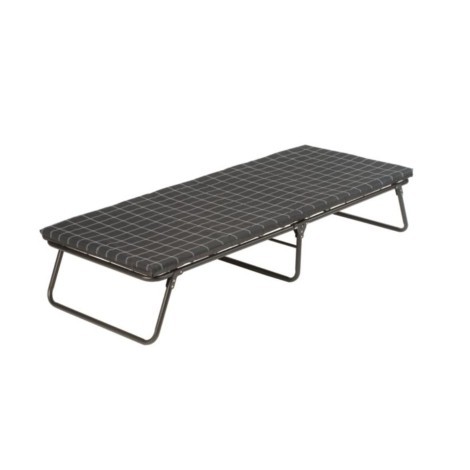 This thick foam cot with some impressive spring coil suspension strives to be as comfortable and durable as possible. The heavy-duty steel frame holds a lot of weight and can fit even your tallest hunters. It also gets compact and folds up easily for transport and storage to make it easy to pack and carry around as you move through your hunt or hike.


Expand to see more
Comfort

The mattress on this cot combines thick foam for comfort and mattress memory as well as spring coil suspension to keep you as stable and comfortable as possible throughout the night.

Can Hold Anyone

This cot has a durable steel frame support system that can hold up to 300lbs. It's also built to house anyone up to 6ft 6in. This means you can fit your largest party member on it or have some kids share it to avoid carrying around too many cots.

Features/Specifications

This product is just under 20lbs to carry, which is a nice trade-off for the 300lbs it's able to withstand while in use. It measures 39.5 x 10 x 11.2 inches all the way around and can hold someone just over 6ft 5in tall. The frame is steel and the mattress is a comfortable foam, spring coil suspension combination.

Price/Value

This cot is a little more up there in price but you're getting a pretty impressive mattress system for that price. It also holds quite a bit of weight, so if you've got several little campers, it'll save you money in the long run.

Decision Time

This is a solid option for a hunting cot. It's fairly lightweight, can hold a lot of weight itself, and is easy to transports and store when not in use. If you want something that's not too expensive but will last, this is the option for you.
Durable
Can hold a lot of weight
Comfortable
Padded Bedding
Fabric on the mattress can tear
Legs can be difficult to lock in place
3. Coleman 2000020271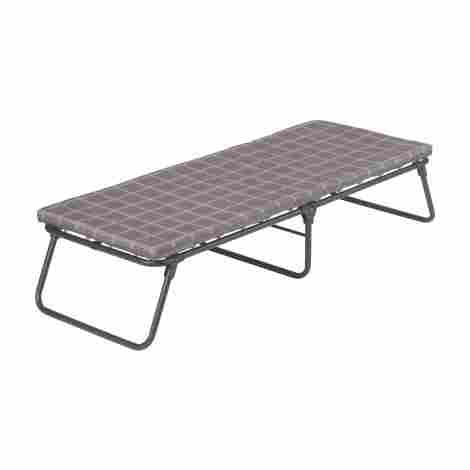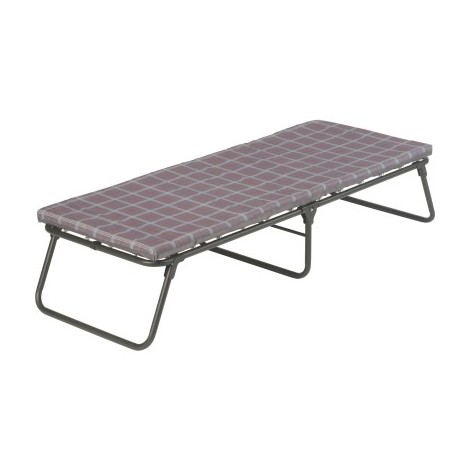 This is another Coleman cot with all the promises of the durable thick foam mattress and the spring coil suspension. It's got heavy-duty steel construction on the frame but holds smaller bodies at just fitting a 5ft 7in person and 275 lbs.


Expand to see more
For Youngsters
While plenty of average or smaller sized adults could use this cot, this is another one that seems like a perfect fit for a
young camper
. It maxes out at just under 300 lbs for the weight limit and can only accommodate someone measuring 5ft 7in.
Mattress System
Despite the sizing and weight differences, this one still boasts a pretty impressive mattress system of thick foam and spring coil for a comfortable and sturdy sleep.
Features/Specifications
It measures at 69 x 25 x 15 inches all the way around and is just under 20lbs at 18.1 which makes it fairly easy to carry. It comes in black and the mattress is made of thick foam.
Price/Value
This is a lower priced cot, which matches its function as best for a smaller child. It's a good buy for a budding hunter or hiker.
Decision Time
This is one you'll want for yourself if you fit the height and weight measurements but it's best for a child or teen. Be warned, however, the cot isn't too much lighter, so keep that in mind before you buy it for someone a little too young.
Good for smaller campers
Durable make
Sturdy mattress
Fairly lightweight
Not designed for most adults
4. Disc-O-Bed Youth Kid-O-Bunk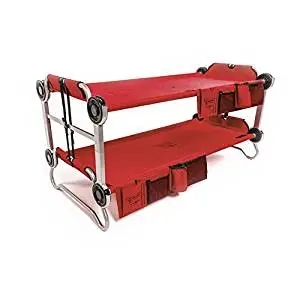 This incredible camping bed is a versatile, portable, and collapsible sleeping arrangement for two kids. It is suitable for outdoor or home use. Kids love the unique system. It has three modes - bench, two single cots, or a bunk bed.
Expand to see more
Great for Kids

The cots are made for young children under three years of age. The system is useful when visiting grandparents, for sleepovers, travel sport teams, summer camps, ordinary camping, or vacations with the kids.

The cots do not have a guard rail, but the sleep area is lower than the rails on the side of the cots. It would be difficult for a child to roll off. Locking straps attach the upper bed to the one below. They offer peace of mind that the system is fixed and secure. When used indoors the design of the feet is floor-friendly.

Versatile

The bench configuration is very useful It transforms the beds into a sitting area. There is no need to pack extra chairs.The beds pack separately. Each organizer has multiple pockets and a bottle holster. The organizers are removable and washable. The bed fabric can also be removed and washed


Cost and Value

It is hard to find a product as versatile as the Disco-O-Bed Youth Kid-O-Bunk. The system is not cheap but reviews state it is appropriately priced for what it offers.The configuration works well in large tents especially those having a standard hubbed design with vertical walls.

Available in five colors - green, lime green, red, teal blue, and navy
No pads are needed for the sleeping system
The frame is made from powder-coated, anti-rust steel.
Included are two side organizers and two carry bags.
Requires assembly, no tools are needed
5. KingCamp Bed Cot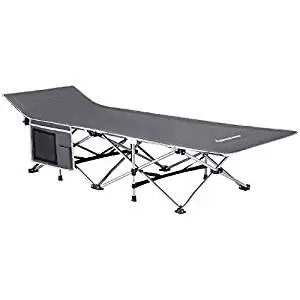 King Kamp is a professional brand that is a leader in manufacturing and distributing outdoor gear. This comfortable, supportive, and strong cot provides a good night's sleep. It measures 74" x 26" when unfolded.

Expand to see more
Construction

A cot of this size is long enough for six-foot campers to fully stretch out. Stability is no concern thanks to the high-strength steel support, steel tube brackets, and triangular shape. The fabric used in the construction of the cot is breathable 600D double oxford that provides excellent ventilation.

The bed weighs just under 16 pounds, It can support as much as 220 pounds. In under a minute, the cot folds to a size slightly larger than a camping chair. The upward angle at one end of the cot eliminates needing a pillow. There is a side pocket to keep bear spray, a pocket knife, and a headlamp at arm's reach.


Versatility

It is ideal for outdoors and indoors. The cot can be taken to campsites, gardens, backyards, beaches, and parks. These cots are not only used as pool, patio, and camping furniture, but are found in reflexology offices and beauty salons around the world. They are ideal for unexpected guests, explorers, campers, children and adults. It is designed to suit the needs of outdoor lovers. The cot is a multi-purpose item.

Cost and Value

A storage bag makes transporting and storage easy. The cot fits in the trunk of most cars.
The unique design is one reason it is such a sought after cot. A simple wiping will clean the cot. It exceeds the expectations of those who purchase it. Because it is built to last, the cot is an economical purchase. It falls in the medium range of quality camping cots.


Comfortable without pillows
Compact
Lightweight and portable
Versatile
It is not as wide as most large camping cots.
6. Kamp-Rite 3897765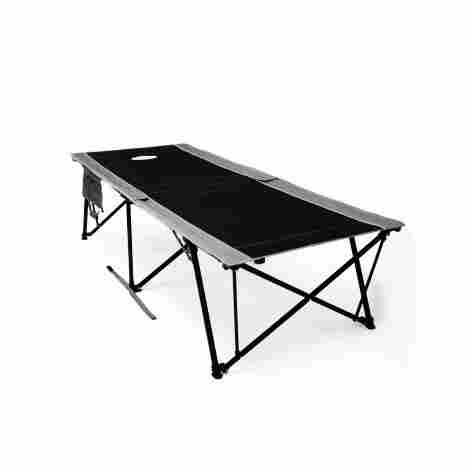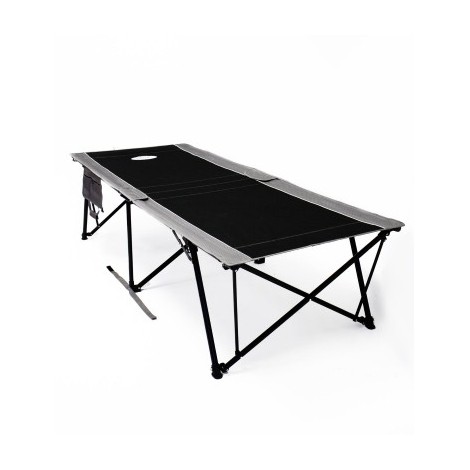 This cot is all about, as the name suggests, quick and easy opening. This cot opens in seconds with ease. It's oversized to hold large users or several users, it also comes with two storage pouches that become a carrying handle when moving the cot around. It also comes with a zippered bag for easy mobility.


Expand to see more
Quick Setup
While many of the cots on this list focused in on weight requirements and durability, this cot is all about the
quick setup
and easy use. This cot sets up in seconds and can be carried around easy in the including carrying case the easy to use handles.
Storage
Also unlike many of the cots on this list, this one comes with some storage options for you. Two pouches are available to you when the cot is in its folded out position. They're ideal for holding small valuables like keys, phones, or wallets.
Features/Specifications
This measures at 42 x 9 x 8 inches all the around and is an impressively light 15 lbs. It's heavy duty frame, despite the lighter weight and easy use, can hold up to 400 lbs without a problem. It comes with storage pouches that can double as handles, and a bag to make carrying the folded up cot easy.
Price/Value
This is another cot that's got an average price for some above average amenities. For all its ease and extras, this is a pretty good price to go off of and the value is certainly in your favor.
Decision Time
If you want a cot that's easy to set up and easy to carry around, this is the one for you. If the durability factor isn't huge (ie, no one oversized) then this is a solid option.
Quick setup
Storage pouches
Very lightweight
Easy mobility
7. Teton 120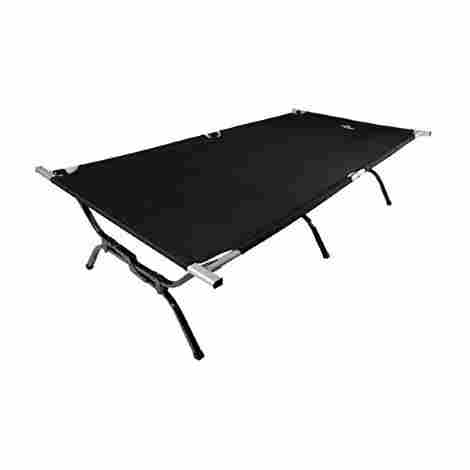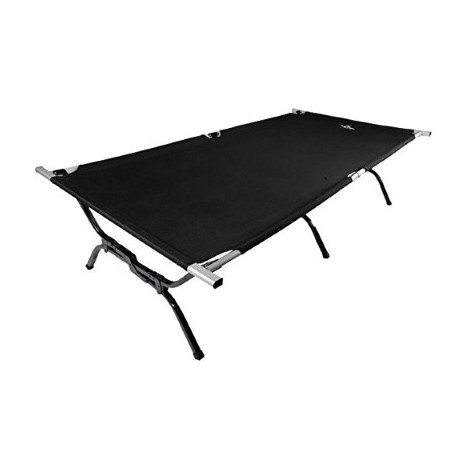 This is a large cot with an excellent weight capacity to match. It features a patented design with S leg steel for sturdiness throughout use. It's got comfort and a nice warranty to protect your purchase if anything happens.


Expand to see more
Large

As the name on this one suggests, this is an extra-extra-large cot. So keep that in mind when thinking about your camp size and your needs as far as that is concerned. It's wide though, bigger than a twin mattress and can hold up to 600 lbs if you need to sleep multiple people on one cot.

Sturdy Design

To be that wide and hold that much weight, you've got to have a solid and trustworthy design going on. It features a patented s-leg steel design that can hold a solid amount of weight.

Features and Specifications

This measures at 75 x 25 x 17 inches all the way around and weighs 20 lbs. The bed itself is made of 600D heavy duty poly canvas and the frame is made of reinforced, patented steel. The legs are X-leg steel for maximum hold and solid durability through use.

Price/Value

This is one of the best options out there in terms of size and durability, so the price matches that but it's a great investment for any future camping trips.

Decision Time

If you want a large cot and don't mind the extra weight, this is a great option to sleep multiple people to one cot (or yourself if you're tall).
Large
Durable
Trusted brand
Sturdy
Can be difficult to assemble
8. Coleman 2000020273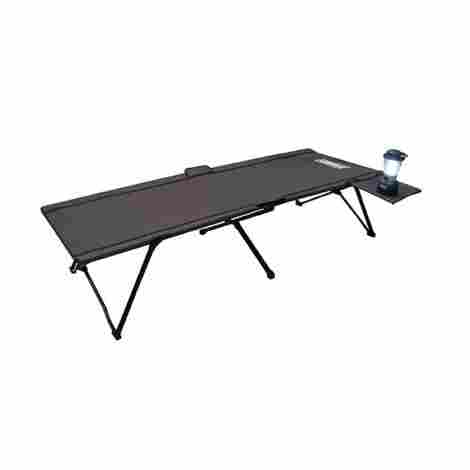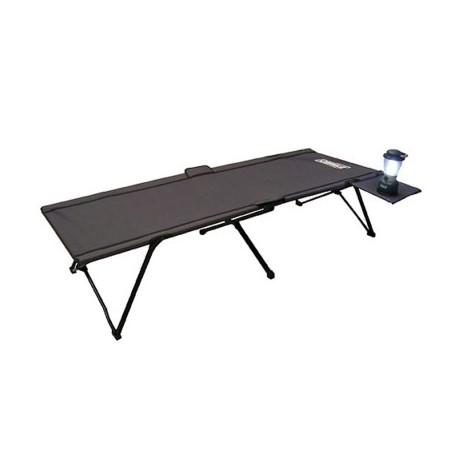 While this is another wide design, it's not nearly as large as the Teton. But not everyone needs a cot that large. This is a twin size with a heavy duty frame and some tough polyester on the mattress that can hold up to 300 lbs throughout the night. It also comes with some nice removable amenities like a cup holder.


Expand to see more
Wide Design

This design is wide and extra long to fit someone up to the height of 6'8'' and 300 lbs. For kids, this means you can sleep multiple to the one cot without having to back extra sleepers. It's not extra large, but it's big enough to comfortably fit one adult or several kids.

Extra Perks

Unlike the Teton, this one actually comes with some comfort perks. There is a removable side table included that features a cup holder, room for snacks, magazines, or any personal items you want to keep off of the wilderness or tent floor.

Features and Specifications

It measures 11.25 x 10 x 39.5 inches all the way around and is an impressive 7 lbs to carry around with you on your camping trip. It comes in a nice canvas green and is made of a sturdy polyester material and durable steel in an X-frame style to ensure durability throughout the night.

Price/Value

Owing to the size difference, this is also a much lower price than the Teton and you're getting less with that. However, the added bonuses with this are pretty great, so the value vs. the price is certainly in your favor

Decision Time

This is a great cot for any families in need of something to take on their hunting trips. It can hold kids and adults and offers ways to help store and use any food or games you bring with you on the trip.
Large
Storage space
Lightweight
Durable
The canvas on the mattress can tear
9. Forfar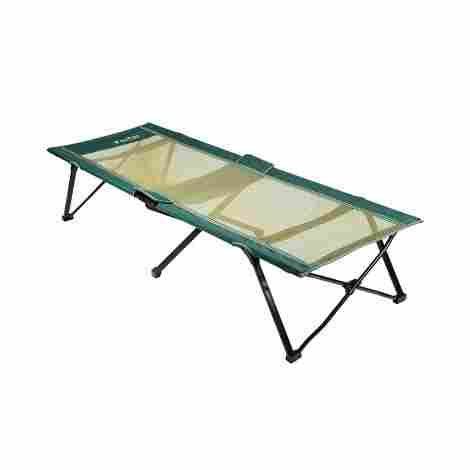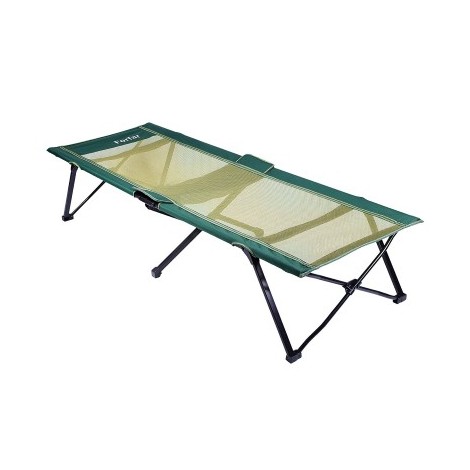 This is a cot that wants to combine pretty much everything into one. It's comfortable, it's got good standard make, it's durable, and it holds up to 260 lbs. It comes with easy storage and carrying equipment.


Expand to see more
Quick Setup
This is another one that boasts only seconds to set up. It folds and unfolds with ease and is easy to put into its travel bag for good mobility as well.
Good for Kids
Like some of the others on here, this is a good one for kids because of the weight restriction on it and the easy setup and deconstruction design.
Features/Specifications
This measures 74.8 x 26.6 x 15 inches all the way around. The fabric is PVC Oxford for comfort and durability and comes in military green. It weighs 19.5 lbs and is ideal for hiking or as a spare bed in the home.
Price/Value
This is a moderately to slightly up there priced cot but you get what you pay for with this one and a little bit more.
Decision Time
This is another one
good for kids
but not kids who are too young, the weight is still pretty heavy to carry so you'll want to be mindful of that before purchasing.
Easy to setup
Good for kids
Good material
Solid base
Not best used with adults
10. Mountain Trails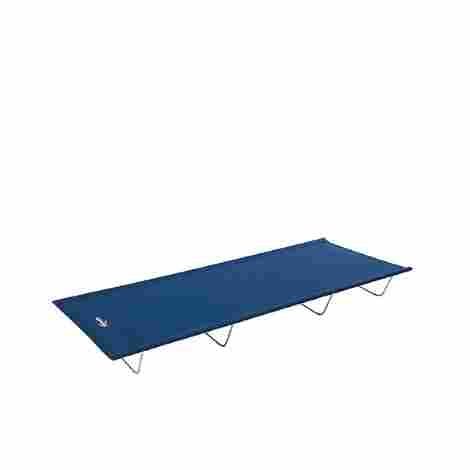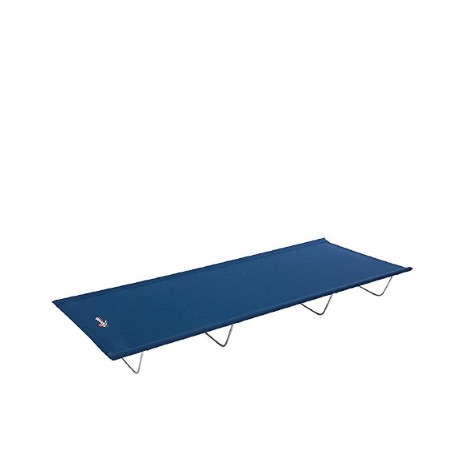 This is another one on the slightly smaller side but still boasts a lot of holding power when it comes to fitting sleepers. The weight capacity is less at 225 lbs and it's an inch or so shorter when it comes to length. But it's a rugged make and a quick assembly. It also comes with transport and
storage bags
for easy mobility.
Expand to see more
Rugged Frame

Like many of the beds on this list, the frame is made of quality steel. However, the steel on this one is a rugged, powder coated frame to take on weight and the elements that might come your way.

Ease of Use

This bed prides itself on being quick and easy to carry around and assemble. It includes a carry bag for easy transport and quick storage when you need it. It's also quick and easy to put together.

Features/Specifications

This bed is 6'7'' in length and 30 inches wide. It can hold just under 230 lbs and features 600D polyester on the mattress portion itself. The frame is made of coated steel.

Price/Value

This is a fairly low priced cot, but keep in mind that's for a reason. This will get the job done but it won't offer you anything new to add to this. So keep that in mind while looking at the price.

Decision Time

This is designed best for a younger, smaller user, possibly a scout or budding hunter.
Rugged design
Large
Easy to use
Easy to transport
Best used for children and youths
Criteria Used to Evaluate Camping Cots
Going into the market, finding ten camping cots and listing them together from number one to ten is easy; anyone can do it. However, to explain the criteria we have used to select the ten, may not be so easy; the reason why a numbered of comparison websites don't do this. Well, we do, because we believe that it is better to be objective than to be subjective.
Price

We always advise that buying anything based on price alone is not a good idea. However, we always indicate that you need to look at the cost to decide whether the product is excellent value for your money or not. We tend to expect products that are more expensive to have better features and quality than ones that are less expensive.
When we looked at the camping cots featured here we, first of all, categorized them according to the price range in which they fall. The categorization helps us not to have a list of either expensive or cheap only products. Also, it helps us not to end up comparing two products that are not in the same class.
Features
Once we have classified the camping cots according to their price ranges, we start to look at the features. For instance, if a camping cot has more features than the other ones in its class, it goes higher on our list.
For us, the most important feature we look for is how portable it is. What this means is that it must be lightweight and if it has a bag inside which it can be carried, we certainly think that it was made for camping. But by saying it should be lightweight, we are not suggesting that it must be flimsy; it still has to be durable.
Another feature we always look at when we evaluate these kinds of products is how easy it is to assemble. Once it has been assembled, we expect the cot to be stable and not make funny noises when you are sleeping on it. Then, of course, there is the storage. We selected beds that can be compacted and stored easily.
User Reviews

Even though we may want to test all the products we feature, this is not possible. So, we go online and look at what the people using these products are saying. The great thing about big retailers such as Amazon is that they only permit verified buyers to rate these products. So, we know that the reviews are not just gimmicks by the manufacturers pretending to be users.
We always start with some products; sometimes more than 50. To get to the ten, we compare different trusted sites, along with those of manufacturers. If we see a product that is consistently getting higher ratings from different independent sources, we include it in the list. However, this is not the end, we look at the features again, and then we rate them on our site.
Best tips for mounting a camping cot
The way you mount your camping cot will depend on how it's made and the type. However, there are a few tips which you can follow to make your life a little easier.
If the camping cot has manufacturer instructions that came with it, check and see how many pieces you should have. You don't want to end up struggling to put the cot together only to realize that there is a missing piece. Most of the time the camping cot will come with three parts, a metal frame attached to a canvas and then another two independent rails.
When you mount the camping cot, and you notice that the fabric is a bit too firm and somewhat tricky to maneuver, don't worry, they are like that in the beginning. Once you have the cot standing on its legs, sit on the canvas. Sitting on it will help it to stretch. Just ensure that you do this carefully because you don't want to collapse the cot just in case there is a weak link somewhere.
Another tip you can use to stretch the canvas when you are mounting the cot is to punch the canvas down along its whole area with a fist. You can employ this method if you are afraid that sitting on it while still mounting can collapse it.
Once you are done putting all the parts together, according to the specifications of the manufacturer, test the cot to ensure that it sits still when you sleep. You wouldn't want to leave it until the middle of the night to see that something is wrong. Can you imagine attempting to fix a cot when you are half asleep?
FAQ
Frequently Asked Questions
Q: What should I consider before buying a camping cot?
A: Of course in our list above, we have selected the best ten we could find but we know that like everything else in life, one choice cannot be the best for everybody. The best one for you will depend on a number of things including how you are going to use the cot, for example, a car camper who has the capacity to carry a heavier camping cot will care more about luxury and comfort. This type of camper will look for something study with more padding.
However, if you are a light backpacker you will have to sacrifice comfort for lightweight. Whether you are buying a more affordable camping cot or one that is more expensive, you want to ensure that it is easy to assemble and also to store apart from being durable and comfortable.
Q: Why do I need one?
A: If you have ever gone camping with children who will not sleep until they are on a bed, you will probably understand the reason why you need a camping cot. Also, some people who are still new to camping may find it difficult to sleep on the floor of a tent. Sometimes you camp in places where there are bugs walking all over the place, so you may want something that will ensure you are not sleeping on the ground.
Q: What are the advantages of a having a cot?
A: The main advantage is that camping cots ensure that you are not sleeping on the ground. Camping sites are different; some will have relatively smooth ground where you can sleep yet others could be rocky. The cot will ensure that your overall sleeping comfort is boosted. If you also have issues getting up and down, the camping cot will give you an elevated platform to make the process easier.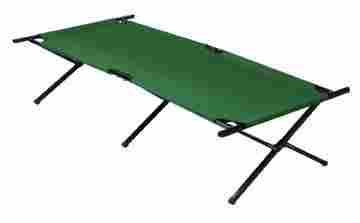 Another advantage is that a cot can keep you warmer on a cold night. Cold air settles on the ground and if you are in contact with the ground, it's easy for the heat your body produces to be conducted to the ground and leave you feeling cold. The same happens in hot weather, the cot allows air to circulate freely below and top of you when you are sleeping.
Q: What material are they made from and which one should I choose?
A: Mostly, camping cots are manufactured from polyester and nylon. Some will also be manufactured from cotton. We would advise you to select one made from either nylon or polyester fabric. When compared to cotton, these two types of material are easier to clean. Apart from being harder to clean, cotton also takes a longer time to dry. If you always camp in hot weather, check out for cots manufactured from mesh fabric; it's much cooler in warm weather.
Q: What is the average size?
A: There are different camp cot sizes. However, the average size is about 75 inches long and 25 inches wide. Most adults will fit comfortably on a cot this size. If you are taller than the average person, check out for a longer cot. If you also happen to be heavier than the average person, you can get cots measuring up to 40 inches wide. You can also get cots that are shorter than the average, especially if you are buying for kids.
Q: How easy will my camping cot be to assemble?
A: This will depend on the kind of cot you have bought. Your simple cots are designed to be very easy to assemble. Usually, when you buy the cot brand new, it will have some form of instructions on how you can unfold the cot and then snap everything into place. To avoid frustration with straightforward stuff, ensure you keep the little paper with the assembly instructions. Then you get the more sophisticated cots that require some effort to assemble.
With these camping cots, you may not just get away with snapping things together; there may be a need to thread cords into the fabric, put together tension springs and have them inserted into the body of the tent. However, even the sophisticated camping cots are still pretty easy to put together. It shouldn't take you more than a few minutes to get going.
Q: What is the average weight of one?
A: A camping cot whose frame is made from aluminium will weigh an average 18 or so pounds. You can also get a cot weighing around 3 pounds. These are designed for backpacking in the countryside. The weight depends on the material used to manufacture it. For example, if you select a heavy-duty cot made from steel, it will be much heavier. Also, cots that are oversized will generally be heavier than the average or smaller ones.
You should really worry about the weight of the camping cot if you will be moving around a lot. However, if you are going to be using it for extended periods in a single place and you have sufficient transport to carry it around, weight should really not be an issue. You would rather worry about comfort and support.
Q: How portable are they?

A: Portability is one of the main features you have to look for. All cots made for camping should collapse somehow so that they can be transported easily. Apart from transporting, the tent should also be easy to store when you are not using it. It mustn't take lots of space. Some will collapse into something smaller and others will totally disassemble. Check the size of the cost when still packed and its weight; this will give you an idea of how portable the cot will be.
Check whether it has a carrying bag and shoulder straps. If it does then you know it was made to be portable. If you always have transport to carry the cot around, portability may not be such a big issue. So, you may have a bigger leeway when you select your camping cot.
Q: Will it fit in my tent?
Again, this depends on the size of the camping cot and also the size of your tent. Mostly, portable cots will fit into a tent that is designed to fit in one or two people. These will weigh an average 3 pounds. These cots are usually designed for use by backpackers. However, if you are going to buy a cot like this one, you have to do so with the understanding that they are minimalist. They are not very high up the ground. Also apart from talking a lower weight capacity, don't expect them to be durable.
Q: How can I assess how much comfort and support a cot will give?
A: It depends on the fabric and springs used to make it. You will discover that you can adjust some tension systems to attain the level of comfort and support you require. You should also check whether the spring system on the cot you want to buy can be fine-tuned by manipulating the supports. Another way to make a cot more comfortable is to consider those that come with extra padding.
However, the more comfortable you want from one, the more weight you have to accept.
Another way of creating extra comfort is to use a foam mattress topper or camping pad. This will not only make you more comfortable, it will also make you warmer on those cold nights.Look out for those cheap models that compromise on quality so that they can have a lower price. Look at the way the crossbars are positioned. You don't want the discomfort of sleeping with a crossbar pushing against your back.
Q: Which frame should I choose, steel or aluminium?
A: Well, it depends on a number of things. The average camping cot frames are made from aluminium. What this means is that most people favour aluminium. The reason behind this is that it is strong yet lightweight. If you want a heavy duty one, then you should go with a steel frame. This type of frame will take more weight. However, if you are concerned about the weight the cot will take, always check the weight rating supplied by the manufacturer.
Q: Can I use one for daily use at home?
A: We think that the name camping cot means that it was made for camping. Most of these cots are not manufactured for daily use across the year. Of course, some are heavy duty but we would rather advise you to sleep on a bed if you are at home; that would be more comfortable. However, if you need extra space for visitors and you have a camping cot, by all means, you can temporarily use it as it is better than sleeping on the floor.
Conclusion
Not all camping cots are made the same, just like the people using them. You'll want to keep the weight and height requirements in mind and take to heart the age suggestions on many of these products to ensure you're not going to regret your purchase.
Sources