Best Running Rain Gear Reviewed & Rated for Performance
In a
Hurry? Editors choice: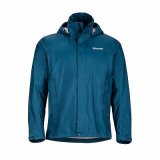 Test Winner: Marmot Precip Lightweight

If you're the type that doesn't ultimately enjoy running in the rain but won't let a little
rain
stand in your way, there are solutions to the struggle. Part of what makes these runs the most enjoyable or simply a bearable workout is
equipment we use
to keep us warm and focused while exercising. With this best of list, I set out to find the best gear for your rear. I chose a variety of products that would be well suited to accompany you on your rainy runs and organized them to what would suit just about anyone's needs. From
running shoes
to
waterproof gloves
there is surely something in this list that you will need to add to your running set up.
Standout Picks
Criteria Used for Evaluation
Effectiveness
In selecting these products a very important aspect that needed to be available as they needed to be waterproof. This was a key trait I selected for anything that was relating to electronics or the storage of valuable personal belongings that would be carried during a run. So you can rest assured anything that is on this list will be comfortable with rain.
Another element you must contest when running in the rain is generally the wind. This element can take an already cold rain and amplify the temperature making it the worst run of your year. Many of the fabrics on this list are waterproof but what isn't commonly known is that if a product is waterproof it is inherently windproof as well. Many of these products will work to keep the wind at bay while you run.
Being that it will at some point get what when choosing the products for this list I needed to ensure that the presence of water would not only be incapable of damaging it but able to do so without hindering its performance. The way these products works will not be affected by water in any way other than making them wet.
The bouncing and jostling created while you run are sure to send anything you happen to be wearing or carrying scuttling around in random directions. I tried to pick products that would be able to withstand the movement you generate while running without causing any issues for any runner.
You already have a task at hand the job is simple and all you need to is run, right? Sometimes that is easier said than done and staying motivated to run particularly in the rain can be challenging. From a way to access your music to be able to manipulate your phone the products in this list were selected for their ability to assist you in running as much as possible.
Materials
No one wants to be the person that takes their cell phone and places it in a waterproof case just to find out that the case did absolutely nothing to prevent water from destroying an overpriced phone. These products not only had to stop the rain, they needed to do it every time you needed it. With this in mind, I included products that would remain as consistent as it was the day of purchase.
Time and time again we end up finding products that look amazing and use a high-quality picture to present a seemingly perfect product that won't surrender even during the most demanding use. Trying to save you from this hassle I selected products that only used the highest quality materials in their development.
As with almost every type of item, there is a large selection of products to choose from and the best way to distinguish them is from their brand. Branding is a major part of every industry and can help to determine the product of quality before you even see and feel the item. By using some of the top brand name items I was sure to include only brands that were synonymous with reliability when making this list.
Durability
How durable an item is generally varies based on the amount of maintenance that is required for that item. Often times this maintenance requirement can become more of a burden that it is worth. The products I present to your require very little or no maintenance other than what you would commonly expect depending on the product.
Sometimes the only price tag we see is the one that's associated with what you pay at checkout. Not apparently obvious is the upkeep cost that a is associated with a product and in some instances, this cost exceeds the value of the product itself after a short period of time.
Many of the products I featured use fabrics and with that comes the potential for tearing or ripping. The smallest tear can compromise the integrity of even the most durable fabrics. With this at the forefront of my mind, I tried to select fabrics that were elastic and would stretch rather than tear.
Value
The open and free markets we trade inbreed very interesting outcomes and seemingly create an environment that is survival of the fittest for the products we purchase. The lower quality and poorly designed products fall by the wayside and plummet while the better items are pushed to the forefront and blessed with a satisfied and often recurring customer. While some are mandated and tested generally this environment is where industry standards are formed and are an unspoken way of doing business.
Each one of these items was selected for a purpose that would assist you in running in the rain. From the headphones for music to the rain pants that keep you dry I tried to focus on what the purpose of the product was and if it were capable of fulfilling its intended purpose. I carefully handpicked each of these items as they exceeded what their intentions were original.
With this list being more geared towards a specific event rather than a specific line of products I made it my mission to find a diverse group of products that would be well suited for running in the rain. I chose articles of clothing, electronics, asset storage, and any products that would help to improve your performance.
Features
Part of what makes a great product is the assurances and the knowledge that the company producing them stands behind their product. Not only is it a good policy but it increases the value exponentially by ensuring you experience a long-lasting product. Many of the items I've chosen included limited or other types of warranty that assure your investment isn't a waste.
The tiny bits and bobs that are added with your purchase but not expected can often make your day. Perhaps they shoes came with another set of laces or your headphones had a carrying case these innocuous items add a little something special to the value. These little amenities played a small role in the placement of the products I selected.
No matter your income the affordability of a product was a key trait I tried to regulate. When a product has a particularly high cost I try to closely analyze it and see what about the product can cause that type of price inflation. Furthermore, I compare them to other products of a similar design with a lower price. If there is no apparent reason as to the mark up I generally avoid those products.
I organize this list based on numerous different factors and variables but I also place the items by relevance. If technically an item has more features but isn't as suitable for the proposed task I place it below the more relevant item that is better for the job. The final aspect I take into account is how the price is compared to other items on this list.
BEST RUNNING RAIN GEAR REVIEWED & RATED FOR PERFORMANCE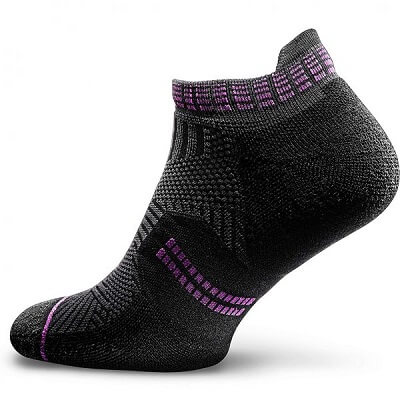 Common sense would tell you that when you're running in the rain, you'll want waterproof socks. Right? After all, you opt for waterproof shoes, waterproof jackets, waterproof phone cases--so you should opt for waterproof socks as well, no? Well, no. Most waterproof socks--while effective--are actually rather bulky, rather heavy. That means that your run can suffer. You may be uncomfortable, or slower, or your form can be thrown off. That's why it's better to opt for something breathable, something light, and something with superior moisture wicking capabilities to keep your feet comfortable and dry.
Organic Merino Wool
If you're looking for something long-lasting that guarantees quality, look no further. These socks have been constructed using 100% pure organic merino wool, which means it's soft, light, and smooth to the touch. In addition to that, it's functional too; merino wool is naturally breathable and can absorb up to a third of its weight in moisture.
Compression fit
There's nothing more aggravating than socks that slip as you run. You've perhaps been there. You're running, trying to reach your goal, but you're sidetracked the entire time because you have to keep bending down and to pull your socks up. With this pair of socks, you won't have that problem; its compression fit and superior arch support guarantee that it'll remain secure and in place.
Cost and Value
With all the benefits this sock offers, it really should be priced more. As it stands, it's more than reasonably priced; its cost reflects its value. It offers durability, breathability, comfortability, functionality, and it's even antibacterial. In short, it's a great buy.

2

. Marmot Precip Lightweight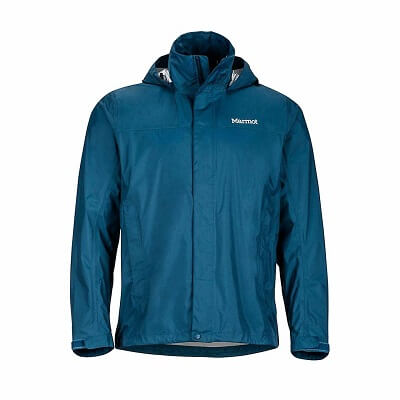 Running in the rain doesn't have to be synonymous with getting soaking wet and the Precip jacket can certainly attest to that. This jacket is lightweight, waterproof, and will provide extra protection from harsh winds. With a large variety of single and two-tone color options, these jackets are very accessorizing and can accommodate any wardrobe. The Precip Jacket uses a waterproof breathable shell that prevents water from entering your jacket. This jacket uses velcro cuff straps to prevent moisture from entering your hands and helps in heat retention.
NanoPro 2.5-layer
The Precip Jacket uses a NanoPro layering that is microporous coating designed to prevent water from entering the jacket. This porous membrane is a very breathable material and was changed to be more air permeable than older designs.
Pit Zips
With the heat that our bodies can generate it's no surprise that often times even the most air permeable jackets can't keep up. In trying to combat the warmth your body can store, the manufacturer added a feature called Pit Zips. Pit Zips are a zippable opening that is found under your arm and runs along your sides that can be opened and closed as you need more or less heat. This ingenious design will help any runner maintain their body temperature, particularly on the warmer and muggy rainy days.
Cost and Value
Running in the warm rain can be one of the most wonderful events you can experience and like a double-edged sword, cold rain running is nearly the polar opposite. With the temperature of the rain, we run in being hit or miss having a jacket like this on standby will prove to be invaluable. The Pit Zips and NanoPro layering are very unique additions that help to combat your environment and the pit zips particularly are unheard of in most other jackets. This jacket falls in the upper middle priced range compare to other products on this list but is nearly a necessary amenity to cold rain running.

3

. The North Face Ultra 109 GTX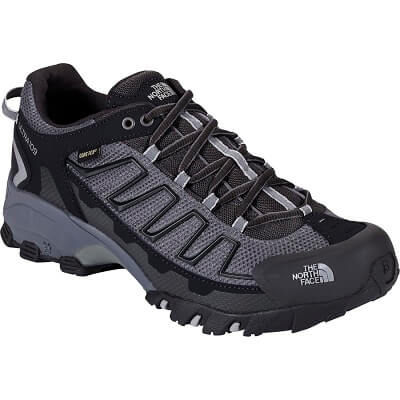 You would generally expect to find this brand on a jacket and what may not be so surprising is that The North Face delivered a shoe that is a must-have for any rain runner. Much like their jackets, these shoes are waterproof and they accomplish this with the use of a breathable Gore-Tex membrane making these shoe ideal for rainy running. The sole of the shoe is comprised of an UltrATAC design that is made to grip any surface in wet conditions.
Gore-Tex Waterproof
The Gore-Tex waterproof membrane is a porous membrane that is used in the interlining of the shoe. This membrane has billions of tiny pores that will prevent water from entering your shoe on contact. This works because water molecules bond together and bead up, then roll off the surface because they cannot fit inside the billions of tiny openings. Furthermore, this membrane allows any moisture or sweat from your feet to exit because they are small enough to fit through this porous lining.
Rigid Snake Plate
Included in the heel part of the sole The North Face added a rigid snake plate. This plate is designed to flex and bend around the terrain you're standing on much in the way your feet naturally do. This plate provides flexible stability that is unparalleled in the running shoe industry.
Cost and Value
The success of any runner can be measured by the footwear they choose and the 109 GTX by The North Face doesn't disappoint. As the number one product on this list, if you take anything from this page today, these shoes are phenomenal additions to your gear. The rigid snake plate heel and Gore-Tex membrane interlining make these shoes a formidable opponent to the elements you will encounter on your rain filled escapades. These shoes do have a higher selling point but it's not uncommon for what The North Face has to offer.

4

. Garmin Forerunner 735XT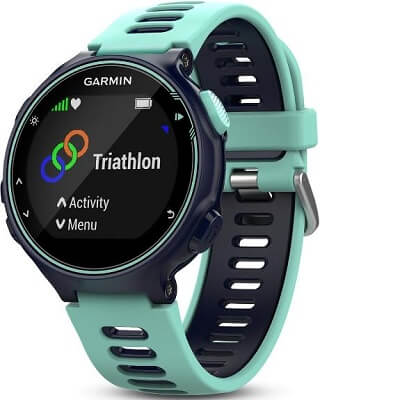 While it is a controversial and debated subject amongst cardiologist the general consensus is that your target heart rate is a good guideline for how far you should push yourself safely. The Garmin Forerunner 735XT is one of the best ways to keep your heart rate in check even during a run in the rain with its waterproof design. This watch can be fully submerged and even be used while swimming. This watch uses the pulse in your wrist to monitor your heart rate allowing you full mobility during your run.
Activity Tracker
A good way to ensure you're keeping your exercise routine dynamic is comparing your workouts and changing them regularly. Garmin made that simple and easy by giving you the ability to save and compare your previous runs allowing you to compete with yourself and get your best possible workout.
Asset Watch
This watch comes with a unique serial number that is registered when you purchase this product. This serial number can be used to locate the watch and will prevent any theft or find the product should you lose it.
Cost and Value
Staying safe while exercising your cardiovascular system is a very important part of running. This watch is quite capable of identifying your target heart rate and keeping you aware of it while you exercise. As the most expensive product on this list I would really only recommend it to someone that was entirely dedicated to running passionately and was striving to outperform themselves regularly.

5

. Columbia Watertight Cap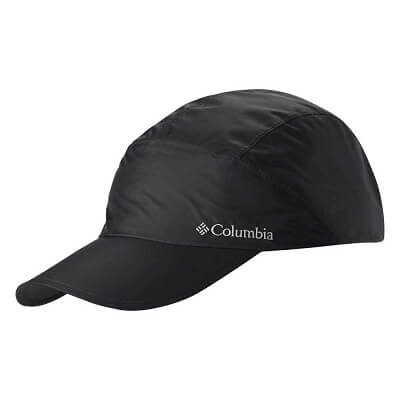 Many spring showers or rainfalls can occur even on sunny days with a clear sky and often times this is accredited to the wind carrying nearby storm droplets. While many people may recommend sunglasses while running they can tend to bounce and will generally block some part of your peripheral vision. This Watertight cap will rest securely on top of your head while you run and keep the sun out of your eyes and rain off your face and head. Columbia uses its Omni-Tech nylon and polyester shell that is waterproof and breaths well.
Mesh Lining
Columbia included a mesh lining on the interior of this cap that lays between your head and the exterior shell. This lining works to allow breathability to the cap by making small gaps that can escape around the sides of the cap.
Large Bill
The larger bill that is added to this cap provides increased sun protection and more rain off your face. This bill isn't bent at the same angle as a standard baseball cap and this keeps the bill from interfering with your peripheral vision which is particularly useful if you run in areas with vehicles or other pedestrians.
Cost and Value
Exactly as described this cap will keep you seeing clearly while running in the rain sunshine or not. The mesh lining provides added comfort and breathability that keeps you cool while wearing this cap. This cap comes in at a much lower price point and considering the high-quality materials the value is rather high in comparison to other products featured in this list.

6

. Columbia Storm Surge Pants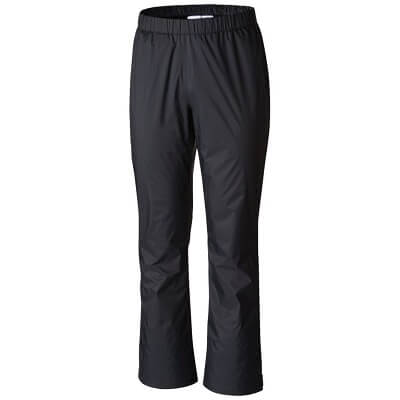 When running in the rain your legs seem to take the brunt of the water exposure. Not only will they get soaked by the falling rain but as your feet land in small puddles that water has a tendency to rush up your legs making sure to encompass your entire lower half. Columbia decided to face this issue head-on and produced high quality and waterproof pair of pants. The Storm Surge is made primarily of nylon and polyester and can be tightened with the use of a drawstring. This allows them to adjust to your specific size and body shape while remaining firmly in place even during demanding physical activities.
Adjustable waist
A very common problem with running pants is that as you move the waistband if not properly supported will sink and lower as your legs move back and forth. The Storm Surge pants use a combination of an elastic waistband that will naturally shrink to your size and shape and uses a drawstring to tighten during more demanding use.
Three-Layer Omni-Tech Protection
With a design that is used by nearly every waterproof product, you can find Columbia uses a three-layer fabric arrangement that will prevent any water from saturating and penetrating to your legs. Additionally, the Omni-Tech coating used on the exterior of the pants is stain resistant and will help to prevent the build-up of dirt and grime.
Cost and Value
With your legs already having to endure a substantial amount of stress while you run keeping them happy and healthy is a critical part of running in the rain. Having dry legs will prevent chafing and provide an all-around better workout. These pants are machine washable so cleaning them is as doing your standard load of laundry. Coming in at an upper middle price point these pants have a very get what you pay for feel. While being more expensive than your common waterproof pants they make up for it with breathability and universal quality no matter the task.

7

. Trim Fit Life Running Gloves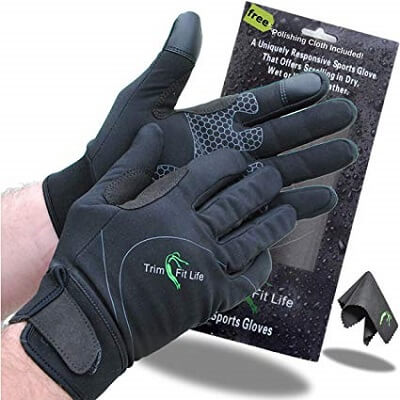 Running in the rain can take a toll on your body, and in particular your hands. When your body gets cold it naturally responds by pulling in blood from your extremities and keeping your core warm. While running in colder rain Trim Fit produces a durable pair of running gloves that will retain the heat around your hands and keep them warm during your run. They use materials that will transfer the conductivity from your hand allowing you to use touchscreen devices.
Reinforced Stitching
Many running gloves I've run across would fray and tear at the stitching after water contact. Trim Fit Life use a nylon thread reinforced stitching that will keep from fraying and tearing during use and with water contact.
Touch Screen Function
The digital age is fraught with peril and even on your runs in the rain advertisements find a way to interrupt your music and concentration with a popup and exceptionally long commercial-like video. These gloves have a conductive finger pad at the end of each index finger that allows you to close those pesky ads and anything else you need to on your phone.
Cost and Value
Trim Fit Life didn't stop at just a waterproof glove for running, with the added features like a 4-way stretching fabric that provides mobility and the silicone printed grip for grasping objects this product provides the full experience. These gloves are in the very low price range so any runner can add these to their shopping cart on a budget.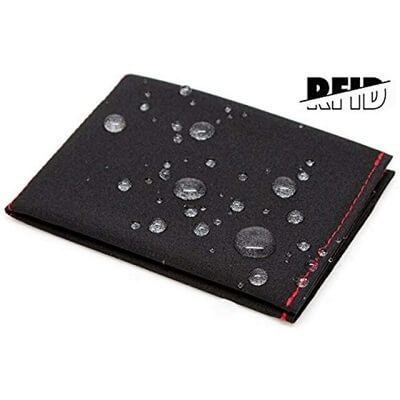 I'll never forget when I first started seriously running as part of my regular exercise routine. My plan was to follow a trail and at the end arrive at a gas station that I would get a water bottle at and save me time by killing two birds with one stone. Mother Nature decided to intervene and throw a monsoon in my path completely drenching me and the money I would use to buy water. Swearing to never again make that mistake again and working to prevent others this same problem I present the Slimfold waterproof wallet. This slim wallet will easily fit in any pocket and is waterproof keeping any important personal belongings safe and dry during a rainy run or sweat drenching workout.
Simplistic Design
This wallet uses a very simplistic bi-fold design that uses a full-sized money pocket and dual-sided card storage slot setup that can hold up to 8 cards. Folding in half allows this wallet to be discreetly stored anywhere you could fit a folded bill.
Waterproof Soft Shell
The rain getting to your credit and debit cards, ID's, cash, or other important documents is the last concern you will have with this wallet. In the production of this wallet, Slimfold used a mixture of fabrics and leathers that they likened to a mixture of Gore-Tex and Kevlar that is waterproof and extremely durable.
Cost and Value
If you tend to carry any cash or cards around with you even while running this wallet is more of a need than a want. While more and more banks are making new cards on the spot, there is still a large number that still makes them off-site then mails them to you. This will cost you more time and potentially money. Slimfold used some of the best materials to produce this wallet and it is represented in the price tag. This wallet will cost a pretty penny up front but the endurance and durability help to level the value.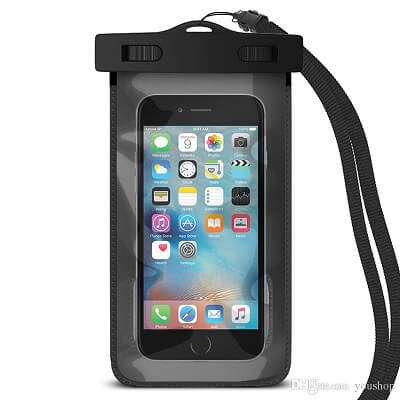 Whether you're an extremely busy worker or just someone that enjoys using their phone for music during a rain-filled run, phones are being exposed to tumultuous weather more frequently. Furthermore, each phone is unique in shape, size and weight so finding a phone case that not only prevented exposure to the elements but would be capable of embracing any phone was my next challenge. This universal phone case is the perfect addition to your rain gear and will keep your phone dry even if it were to become fully submerged.
Fits Any Phone
Many cell phone cases use a rather rigid frame that wraps around your phone and is very specific to the type of phone you use when it comes down to the sizing. This universal case uses a pouch-like design that is embodied by a larger frame that is capable of holding numerous different phones of various sizes.
Snap and Lock access
This universal case uses a snap and lock access system that requires you to slide 2 different buttons simultaneously to open the case. This locking system will prevent you from accidentally opening your phone case at an inopportune time which could potentially cause damages.
Cost and Value
Phones are quickly becoming the primary access point for all your content and contacts. Protecting this asset from bad weather while you exercise can be difficult. With today's phones reaching prices in excess of a thousand dollars, a cheap and efficient case is the perfect solution for keeping your phone dry during your rainy run. If it even prevents your phone from breaking due to water damage in a single instance it will potentially save you in excess of 100x its own value.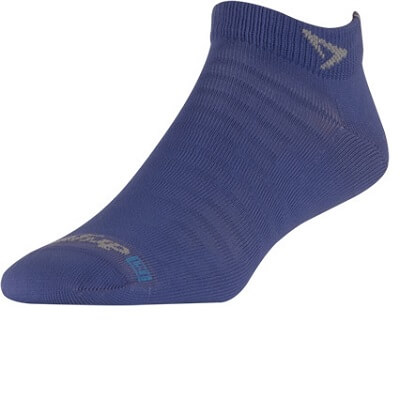 Nearly as important as the shoe you wear, the socks you choose to use while running can and will affect your performance. At first, I considered using a waterproof sock that would potentially prevent moisture from reaching your feet. Many of the waterproof socks I encountered were bulky, rigid, and would cause a feeling of swampy feet. Rather than taking that avenue of approach I chose socks that would work to keep the moisture away from your feet and would hold steadfast despite the presence of moisture.
Dual-Layer Moisture Removal
Many thin socks struggle to protect you from water or blistering. These Hyperthin socks us a dual-layered fabric design that works to pull sweat and moisture away from your feet to the exterior layer that is meant to push the water out and repel outside water.
Dense Padding
With the goal of remaining an extremely thin sock, Drymax went with a dense padding rather than thick airy padding that would take up a lot of room and could cause problems with tighter fitting shoes. This dense design provides your feet with a stable and soft platform to run with that won't cause friction or blistering.
Cost and Value
Considering the design traits and huge benefits that runners can experience with these socks their positioning on this list speaks for itself. When compared to your standard socks this single pair will cost roughly would you would normally expect to spend on six standard pairs of socks so they are more costly. The true value comes from Drymax keeping a runner in mind when developing this high-quality blessing of a sock.

Subscribe to our Newsletter