Best Drawer Dividers Reviewed and Rated for Quality
In a
Hurry? Editors choice: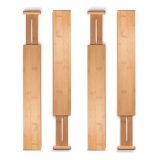 Test Winner: Bambusi

We all know that drawer--the junk drawer. Stuffed to the brink with random papers, old batteries, and broken pens. The black hole where all loose odds and ends wait out the rest of their days. And while this may seem like a household staple--nay, a necessity--it doesn't have to be this way!
Behold this Ten Best List that brings you simple yet effective solutions to the age-old junk drawer problem: Drawer Dividers. They come in an array of sizes, shapes, and materials, but they are all designed to
maximize all of the storage space
that you have.
While some dividers are best used for that chaotic junk drawer, some are intended to restore order to your sock drawer and to keep your shirts from unfolding messily as your bedroom dresser opens and closes. So whatever your untidy-drawer needs may be--we've got you covered.
Standout Picks
Criteria Used for Evaluation
Application
When we compiled the products in this Ten Best List, we considered each of their applications. By this, we mean how they can be applied for use in the household.
While all of the items on our list are meant to be bring order and organization to your home, they aren't all one-size-fits-everything Some of the products on our list are best suited for smaller organizational purposes like craft, junk, and hardware drawers. Others are better able to help you bring order to your dressers, vanities, shelves, and closets.
We, of course, love a specialized product that does what it does best, but we also love those products that serve multiple purposes and can be used around the house instead of in just one specific place.
Ease of Use
Some household items that are designed to make your life easier simply don't work and end up creating more of a headache for you than they're worth. That's why we work so hard to bring you products that actually do what they say they're going to do, the way that they say they're going to do it.
For us, our organizational needs are constantly changing. That's why we value products that are easy to install and easy to take down and move. There are tons of products out there that don't stay in place, causing users to secure them with more permanent methods. Not only is this a hassle, but it is also messy and damaging to the doors--and permanent!
So we highlight products that are easy to put in place, that stay in place, and that are easily removed when you want them to be.
Size
Size was an important consideration as well. We make sure to include all of the dimensions of products on our list so that you can get the product that is the right size for you. While you can use some of these products end to end, you get the best results when each end sits against your drawer.
While some of the options on this list come in set sizes, almost all of them can be adjusted. Pay attention to these dimensions as they are true to size. They will not get any bigger or smaller so you have to stick with what you get.
Materials
We feature products on this list that are made from bamboo, aluminum, and plastics. We love featuring bamboo items because they are a renewable resource. We also love how lightweight and durable aluminum is.
And while the world is trying to cut down on plastics, sometimes it's the best man for the job. We work to bring you plastics that are BPA free and that are tested to be safe and recyclable.
Value
You really can't put a price on peace of mind, and nothing delivers that like an organized house. We love the items on our list because they bring order and organization without adding extra clutter and storage units to your house.
Forget about buying big plastic bins that take up tons of space. These products fit right inside of the furniture you already have and actually help you to utilize more of the space within.
And most of these products are beyond inexpensive. While you will have to purchase multiple orders to outfit all of the drawers in your house, it is a great investment for your sanity and it won't take up any extra space.
10 Best Drawer Dividers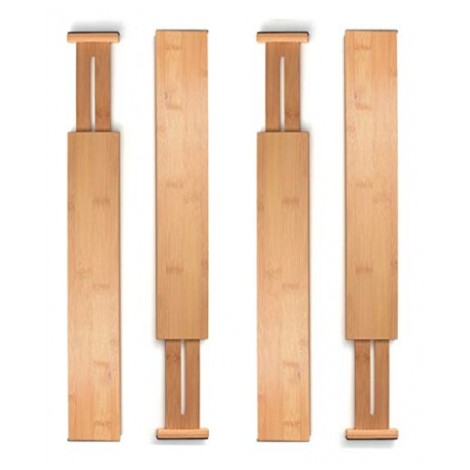 Bambusis are the first to make our list because they are of high quality and super versatile. You can use these guys to bring order to your closet, cabinet, or drawer whether it's in your bedroom, your bathroom, or your kitchen. They are super functional and aesthetically pleasing to boot.
Long in Size
These Bambusis are large in size and can be adjusted to fit most storage spaces. At their shortest, they are 17 inches in length and at their longest, they are 22 inches in length. They are about 3 inches tall. You can get them in 2 or 4 packs depending on your organizational needs.
Because of their basic shape, you can arrive at an endless number of organizational configurations with right angles.
Made From Premium Bamboo
Even though the Bambusis are made from premium quality bamboo, they won't cost you a fortune. In fact, you can outfit all of the drawers in a whole kitchen maximizing your kitchen storage with these dividers and spend a fraction of what it would cost to custom drawers made. Plus, this option is adjustable and can change with your changing needs.
They are super easy to adjust to your desired width because they are spring loaded and you won't need a single tool. They feature grips on either end so that they won't slip, and they also serve to protect against wear on the inside of your cabinets or drawers. Don't worry about damage from pressure either, because these guys have been tested to be safe.
Made from 100% premium bamboo, these guys aren't stained and haven't been treated with any dangerous chemicals--plus they are produced with sustainable methods. You can wash them easily with mild soap and hot water, and you will be able to enjoy them for years and years to come.
Cost and Value
Though the Bambusis ring up at the top of our price range, we love their value because they are the highest quality product out there for the least amount of dough. They are adjustable, durable, and sustainably produced and they provide endless storage possibilities.

2

. Practical Comfort Organizer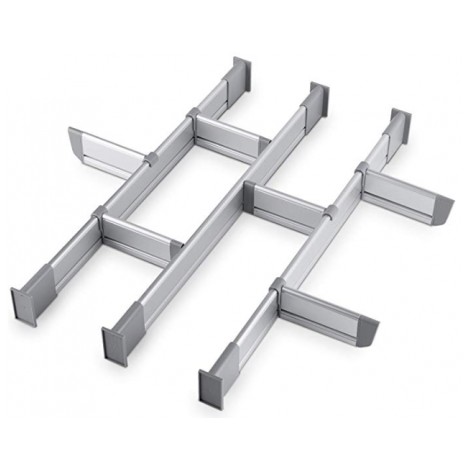 The Practical Comfort Adjustable Organizer is the most premium quality product on our list and it does more than any other product as well. It comes in three size options and if you can find the right fit for your drawer, this product has the potential to bring lots of easy organization into your life.
3 Size Options
The Practical Comfort Adjustable Organizer is your all-in-one organization stop. Get the right size fit for your drawer, and this opens up tons and tons of storage options.
You can get this product in small (15.3 inches long to 17.5 inches long), medium (17.5 inches long to 19.7 inches long), or large (19.7 inches long to 22 inches long). Each measures 1.65 inches tall, so you can't stack things high against it.
Each purchase comes with 3 long organizers which separate the space into sections. These are what the measurements above refer to. But each purchase also comes with 6 additional pieces that hook over the longer organizers to create even more compartments. These slide easily and can be adjusted in a flash.
This product is sturdy enough to organize your workout gear and yoga pants, plus it can keep your little socks from becoming lost amongst the clutter.
Made from Metal
The Practical Comfort Adjustable Organizer is the first and only on our list to be made from metal. The main organizers and smaller organizational pieces are made from aluminum (brushed). They are capped and finished with high-quality plastic to make for a sure grip and easy slide.
You won't need tools to complete the installation. Instead, these organizers are secured in place with adhesives that leave behind no sticky residues. In fact, you can rearrange the organizers multiple times before the adhesives lose their stickiness.
These won't crack under pressure and will stay in place better than other products on the market. They also won't bend or warp your furniture, or leave bumps and scratches behind.
Cost and Value
The Practical Comfort Adjustable Organizer rings up at the very top of our price range but we love its value because it is made from premium quality materials and because it offers more versatility in storage options than other products on the market.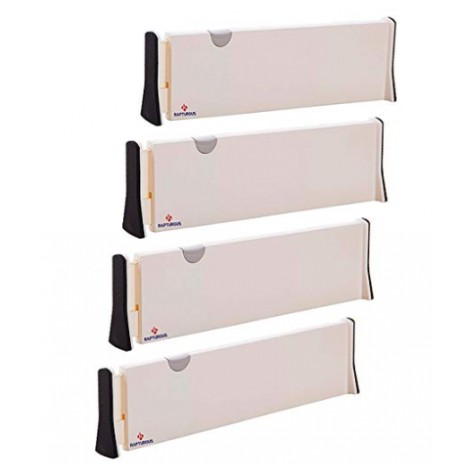 These products from RAPTUROUS are designed more with a bedroom dresser in its organizational mind. While these will fit in some oversized kitchen drawers, their dimensions lend themselves much more towards organizing clothes inside of a dresser or closet.
Super Big for Bedroom
As we mentioned, these are great for use in the bedroom. If you've ever had trouble finding your wool socks or keeping your underwear separate from the tangled mess of your bras, this is the hero you've been waiting on. They are higher than others on our list at 4 inches and they have a wide range of lengths from 11 inches to 17 inches long.
This makes them ideal candidates for oversized bedroom dressers that can sometimes feel like a black hole. You can even use more than one per drawer so that you can finally utilize the full height of oversized drawers in the bedroom. But you can even find a use for them in oversized kitchen cabinets as you will finally be able to keep your dish towels and napkins separated.
Made from Reliable Materials
These options from RAPTUROUS are made from EVA foam and heavy-duty plastic. They are easy to adjust into place with their spring loaded action and you won't need tools, although a rubber mallet could help to secure the product in place.
Once the product is secured into the desired spot, it isn't going anywhere. To move and adjust the placement, simply push down on the release button at the top and the spring action closes and allows you to easily remove the product.
These have been tested to be safe on your drawers and won't leave dents and marks on the inside. They are even approved to be used in changing tables for baby.
Cost and Value
This product from RAPTUROUS rings up in the high middle of our price range and we love its value because it comes in a 4 pack, they are higher than other products on the market, and because they are designed specifically so you can get more storage use out of those oversized drawers.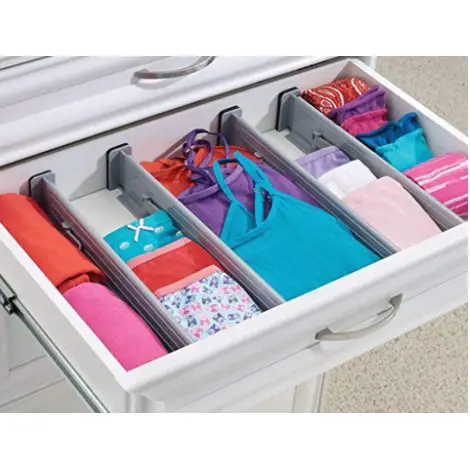 These Adjustable Organizers from mDesign are made to fit almost anywhere. Whether you need to deliver order to your kitchen junk drawer or you can't keep your delicates from getting all mixed together, this product is just the one for you.
Purposeful Sizing
This isn't the tallest product on our list, but it is great for a wider array of smaller drawers. It measures 2 and a half inches tall and can be adjusted from 13.25 inches long to 20.75 inches long. You can fit many of these in a single drawer to bring even more superior organization into your life. It's especially great to use in children's dresser to help to keep their clothes folded and tidy.
If you decide to use these in the kitchen or in the bathroom vanity with make up and other messy items, you can easy remove these and clean them with soap and water. However, they are not dishwasher safe.
Made from Chlorine and BPA Free Plastic
These are made from chlorine and BPA free plastic. They are super durable and feature padded foam on the end to protect your furniture from dents and damage. You won't need any extra tools to get these guys up and running either.
With a handy lever on the size, you can size it correctly by lifting the lever and adjusting it to the appropriate length. Once you've gotten the right size, lower the lever and lock it into place. This product features a strong locking pin made from steel that ensures it keeps its shape and doesn't move around when set.
Cost and Value
The mDesign Adjustable Drawer Organizer rings up in the middle of our price range and we love its value because it's the perfect size for smaller drawers and because you can fit more than one of these in each drawer to bring even more organization.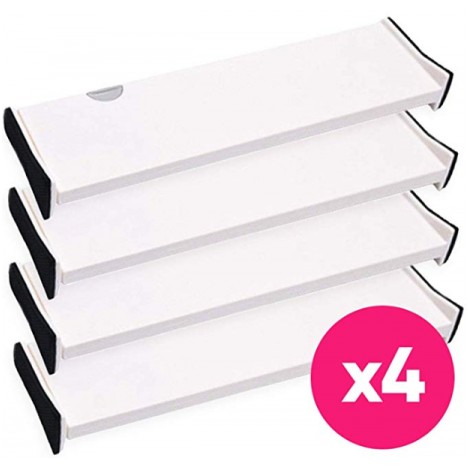 The Berry Ave Organizers come in a 4-pack and are heavy-duty enough to organized even glass spice containers in your kitchen. That means they're no match for heavy silverware either. And because they have some height to them, they are a great option for use in the bedroom as well.
Great Size for Kitchen and Bedroom
These Berry Ave Organizers are also 4 inches tall making them a great option for the kitchen and the bedroom. Ranging in length from 11 inches long to 17 inches long, these will fit most spaces and help you to bring organization to chaos.
They are sturdy and heavy enough to handle even tough jobs without moving around like others out on the market. And they feature smooth corners and edges so that they won't snag your delicate items like silks, bras, scarves, and more.
Designed to Keep Furniture Protected
These organizers feature strong rubber foam padding on both ends which form a grip that won't let go. They won't damage the inside of your furniture or leave scratches behind once they're removed. They also won't leave any icky residues behind. This makes them a great option for renters or for those looking to sell.
The spring loaded action is built to last and won't weaken over time. That means you won't make yourself crazy having to readjust these organizers every time you open up your furniture.
Cost and Value
The Berry Ave 4 Organizer rings up towards the top of our price range and we love its value because they stay in place and they are sturdy, and because they come with a satisfaction guarantee.

6

. KLOUD City Plastic Partition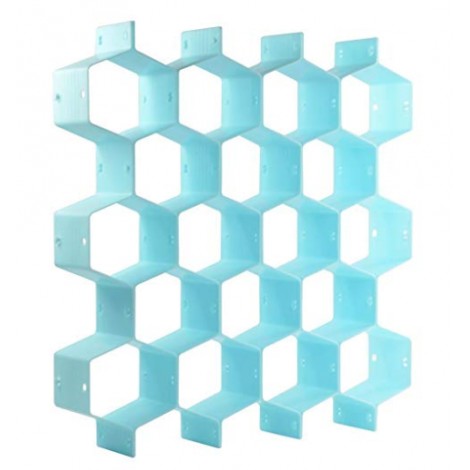 The KLOUD City Plastic Partition features a honeycomb design. This makes it great for all types of furtinure (just so long as it fits in the drawer). Because of its design, it doesn't matter if it moves around once your items are stored because they walls won't collapse and items can't escape.
Comes in 8 Pieces
We absolutely love the look and design of this product. It comes in 8 separate pieces that easily snap together. Literally, you can have the whole set in one piece in about 1 minute. And because it comes in separate pieces, you are able to have control over the total size which means you are able to accommodate different drawer dimensions.
Great for Intimates, Handy Supplies, and Crafts
Bet you've never heard this before! But this product is ideal for organizing intimates, Handy Supplies, and crafts. It is made of sturdy plastic so it won't bend or fold even when supporting heavier items. And in all, it creates 18 closed storage spaces and another 14 partials storage spaces at the perimeter.
That means you can separate your undies from your favorite sports bras. Your nighties will even fit in here. And for your handy supplies, this is a great way to separate nuts, bolts, screws, and nails. It will even hold drill bits and small tools. Plus, if you have a messy craft drawer, this will be a dream for you. You will finally be able to foster your creative genius because you won't spend most of your time searching for items.
Cost and Value
The KLOUD City Plastic Partition rings up at the very bottom of our price range and we love its value because its cute, fun, and your sock and underwear drawer are totally in love with it. So long as the dimensions work for your furniture, this is an amazing product.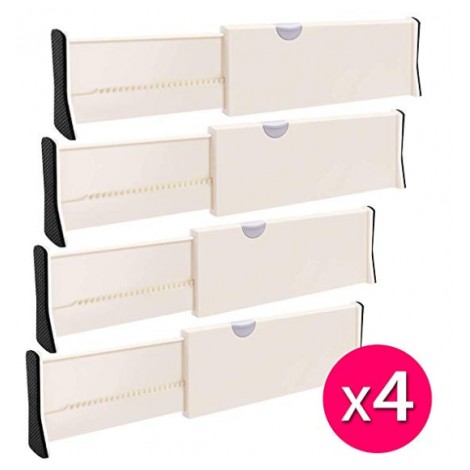 The JONYJ organizers are a great sturdy option that will fit most spaces. They are easily adjustable and snap into place with just one click. Plus, they are spring loaded to stay upright and are strong enough to separate your favorite towels and other heavy items.
One-Click Install
These organizers are super easy to install and they can fit almost any space. They measure 4 inches tall and range between 11 inches long and 17 inches long. They have notched grooves for various different lengths and they lock into place with one simple click. And removal is just as easy. Simply pull up on the button you clicked down and your organizer will pull out in a jiffy.
Because these are taller organizers, they are better for organizing larger items. If you have bathroom storage that is impossible to keep tidy, consider stacking a few of these on top of each other to give even more height between items (8 inches total).
And you can even use these organizers from side to side (not just front to back). With this in mind, you can add them to shelving units to create a front and back storage feature, perhaps even keeping more sensitive items in the back to keep away from children and to keep hidden from guests.
Quality Construction
Once these guys go up, they won't come down until you want them to. They have a super strong spring that keeps them in place and the EVA padding on either end grips and doesn't let go. These guards also serve to protect your furniture from pressure and wear and tear.
Cost and Value
The JONYJ organizers ring up towards the top of our price range but they are super versatile and a perfect size for almost any job. Plus, they are super easy to install and adjust which means they can change with your changing needs.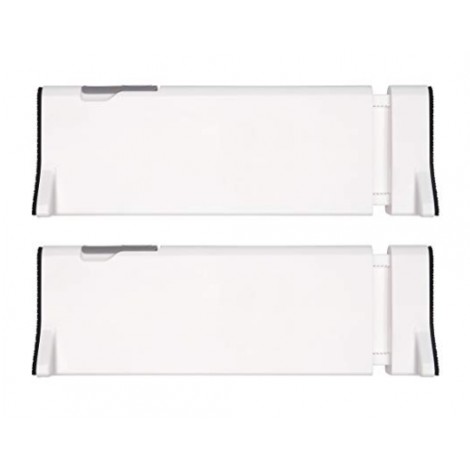 The OXO Good Grips Expandable organizers have some cool features that we haven't seen on other products on our list so far. With little legs at the bottom of each organizer, the product has even more stability and is guaranteed to stay in place.
Legs for Stability
Each OXO Good Grip organizer comes with 4 miniature stabilizing legs--2 on each end. While most products are simple rectangles that tip, these will stay upright. Combine that with heavy spring-loaded pressure, and you've got an organizer that isn't going anywhere, no matter what you stack up against it.
These are so simple to get into place. The lever is located at the top so you can easily see it and operate it. Place the product in the desired space, expand it until you can't anymore and then lock the lever into place. To remove, lift the same lever up.
Great for Most Drawers
These organizers from OXO are great for most drawer sizes. They are 4 inches tall and expand from 11 inches long to 17 inches long. Their clean, white design makes them a great addition to any piece of furniture and they won't look bulky and clumsy inside.
Cost and Value
The OXO Good Grips Expandable organizers ring up in the middle of our price range and we love their value because they are a patented product that is easy to install and that has stabilizing legs to keep it upright and secure.
For the price, you are only getting a set of 2, not 4, like others on our list.

9

. Lipper International Bamboo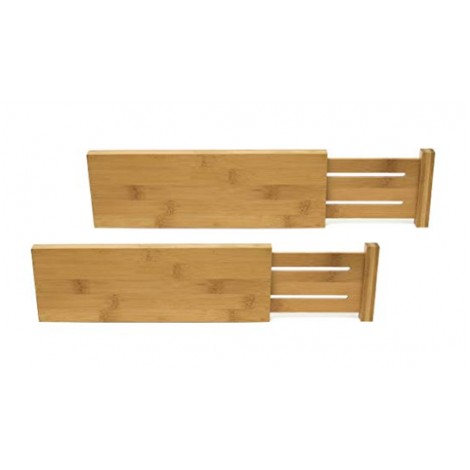 The Lipper International Bamboo organizers are another sustainably produced bamboo option that people love. They are durable and free from plastic, and they are a classy addition to any home--especially in the kitchen where guests see the inside of your drawers more frequently.
Sturdy Bamboo
The Lipper International Bamboo organizers are made from sustainably sourced bamboo. Bamboo is a rapidly regrowing natural resource that doesn't cause harm to the environment. Plus, they give off a classy look and blend well into the interiors of most furniture.
With a tension spring loaded inside, you can get the perfect fit for whatever storage needs you have. There are no notches with specific sizes that other products on the market have. This means you can have more control over your organizers, especially for furniture that isn't a standard size.
2 or 3 Packs
This product comes in packs of 2 or 3. They are sized to fit most spaces and are a little taller than other products on our list at 4.15 inches tall. They range in length from 12 and ¾ inches long to 17 and ⅜ inches long.
Cost and Value
The Lipper International Bamboo organizers ring up in the middle of our price range and we like its value because it is made from renewable bamboo. However, you only get 2 organizers in our featured set, while you get 4 of the Bambusis for less than twice this cost.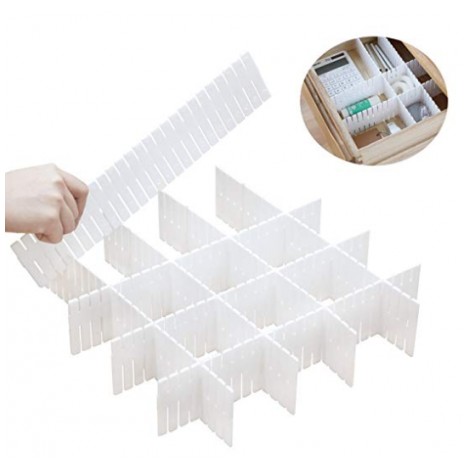 The ESTAY DIY Plastic organizers are different than other items on our list and they are way more inexpensive than the previous items as well. While these aren't the best for larger items, they will work for smaller organizational purposes and are a gem for those messy junk drawers.
Tons of Configurations
With this set, you have tons of different options for designing just the right organized space for you. Each piece comes with notches on the top and bottom so that you can create different sized storage zones so you can create both large and small compartments with the same set. You can also cut these pieces to fit any space that you have.
This set is ideal for bathroom or bedroom vanities that have tons of cosmetics rolling around in them. They are also great for the infamous junk drawer. If you are an avid crafter, you can restore order to your beads and nick-nacks in a breeze.
Made from Sturdy Plastic
While the picture may look flimsy, these organizers are actually quite strong, especially when you put a bunch of them in one space. If you think about the plastics used to make yard signs for politicians and the like, these are a bit stronger than that because they are solid.
With each set, you will get 8 organizers that measure 2.75 inches tall and 12.6 inches long. Like we said before, you can easily cut these so that they fit your exact needs. But cut with care! You don't want to waste any of your organizers so if you have to cut, try to do so in a way that leaves you with cut-ends that you can use.
Cost and Value
The ESTAY DIY Plastic organizers ring up at the very bottom of our price range and we love their value because they are super adjustable and because they are great for organizing smaller items. Plus, they really can be cut and customized to fit any size space and they're stronger than they look.

Subscribe to our Newsletter